These S'more cookies are a perfect treat to bake with your kids. Made with one bowl, they are easy and quick to make.  The marshmallows get caramelized in the oven, bringing the flavor of summer cookouts right into your kitchen. You can easily double this recipe and freeze some for later use. As messy as it gets when you bake with kids, it is such a pleasure to see them glow with pride when they savor their creations. It makes the sugar and flour on the floor definitely more charming.
S'more Cookies Recipes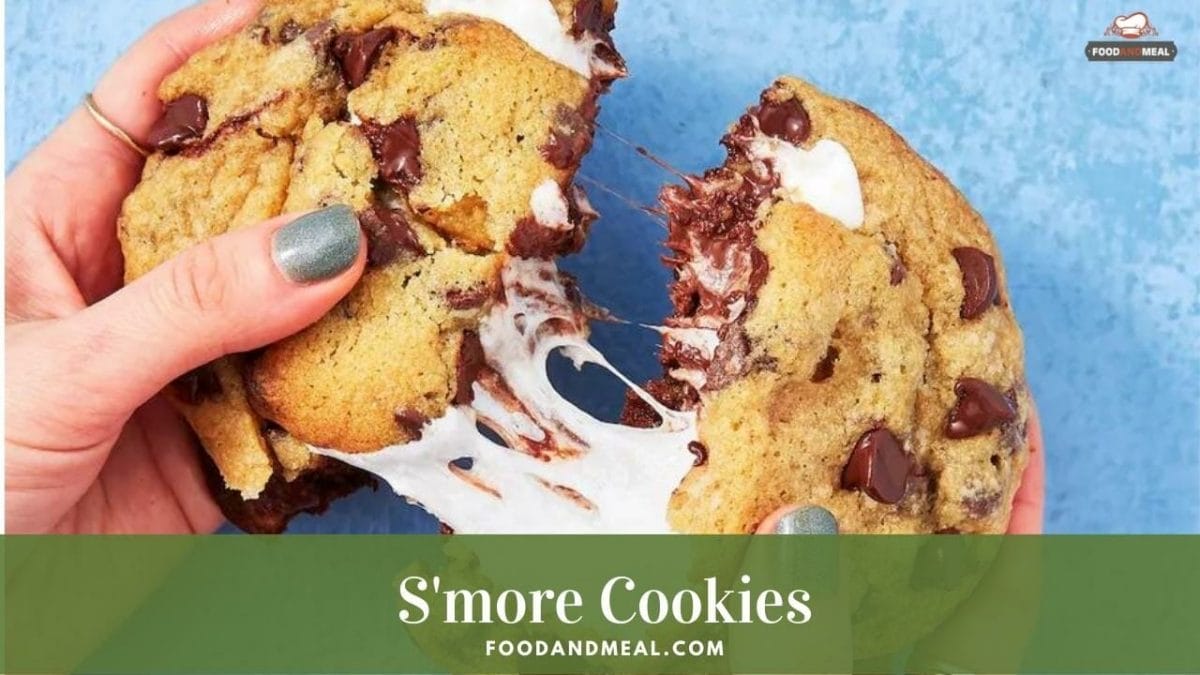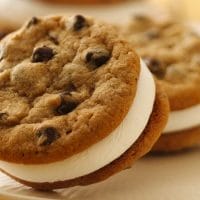 S'more Cookies
S'more Cookies are a mash-up of all of the traditional flavors of s'mores. This recipe is topped with graham crackers and baked to perfection. This dessert will have you craving one right now. And if you're one of those people who don't like chocolate, there are a variety of other chocolate-flavored options available. Read on to learn how to make them. And don't forget to try the recipe below!
Print
Add to Collection
Go to Collections
Instructions
Preheat oven to 350 and prepare a cookie sheet covered with parchment.

In a small bowl, combine the flour, baking powder and salt.

In a large bowl, mix both the white and brown sugar into the softened butter for approx. 3 minutes with a spatula until the mixture is creamy and light, and fully incorporated. Add the egg and 2 teaspoons vanilla extract, and gently combine. Add the flour mixture in 2-3 parts and mix until just incorporated. Add the mini chocolate chips and marshmallows.

Using a small cookie dough scoop measuring about 1 teaspoon, place cookies onto the prepared cookie sheet. You can flatten these a little bit with the back of a spoon if you wish. Try to make sure marshmallows are not directly on the bottom of the pan to avoid burning them.

Bake for 9 minutes. Allow to cool on the cookie sheet for 2 minutes before placing on a rack to cool.
Notes
 Just make sure you thaw them completely before serving to ensure they're as delicious as you remember them to be.
Share by Email
Share on Facebook
Share on Twitter
Nutrition
Serving:
4
serving
|
Calories:
918
kcal
|
Carbohydrates:
84
g
|
Protein:
5
g
|
Fat:
64
g
|
Saturated Fat:
39
g
|
Polyunsaturated Fat:
2
g
|
Monounsaturated Fat:
17
g
|
Trans Fat:
2
g
|
Cholesterol:
165
mg
|
Sodium:
439
mg
|
Potassium:
325
mg
|
Fiber:
4
g
|
Sugar:
74
g
|
Vitamin A:
1494
IU
|
Calcium:
130
mg
|
Iron:
3
mg
© Food And Meal
This website provides approximate nutrition information for convenience and as a courtesy only. Nutrition data is gathered primarily from the Spoonacular Database, whenever available, or otherwise other online calculators.
About S'more Cookies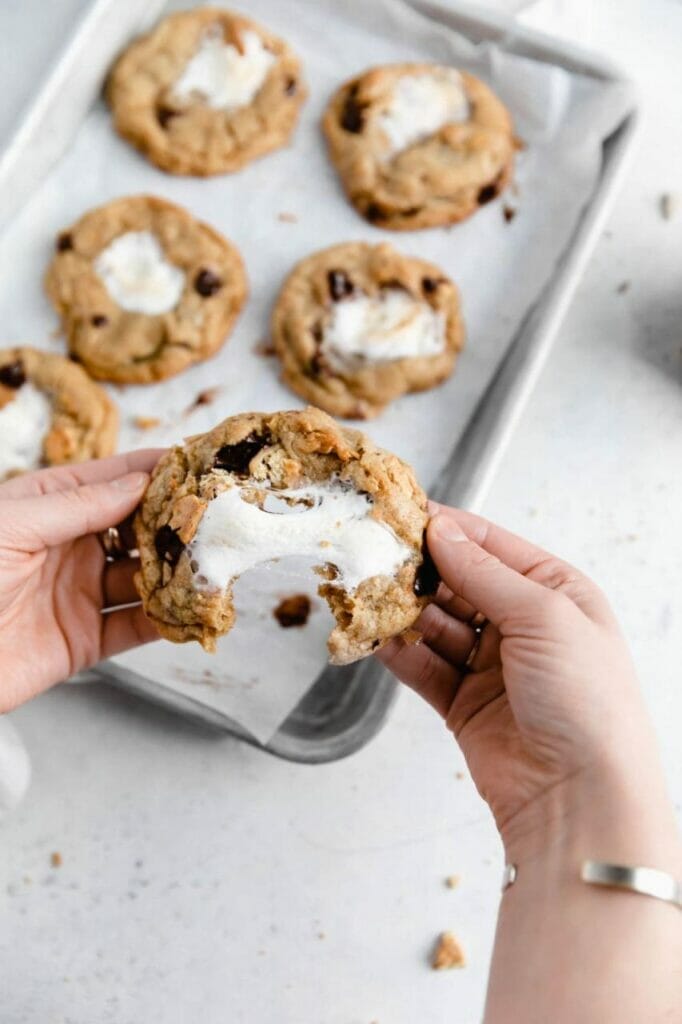 S'mores cookies are a mash-up of all of your favorite s'mores flavors
S'mores cookies are the perfect treat to enjoy when you want to have a s'mores night with the family. They are easy to make, delicious, and easy to eat! The cookies contain all the flavors of a classic s'more, but are even better than the original. To make these cookies, start by making the cookie dough. Once you have the dough made, you can begin baking. Once you've finished mixing and shaping the cookie dough, you'll need to bake the cookies for at least 5 minutes. If you're not planning to eat them right away, you can always thaw them out and enjoy them later.
Once the cookies are finished baking, you can decorate them with mix-ins and make them even more delicious! To make them even better, try to underbake them a little bit, so that the marshmallows remain soft. Make sure that you use marshmallows that are fresh, and you also make sure to use larger pieces of graham cracker.
They are made with all of your favorite traditional s'mores flavors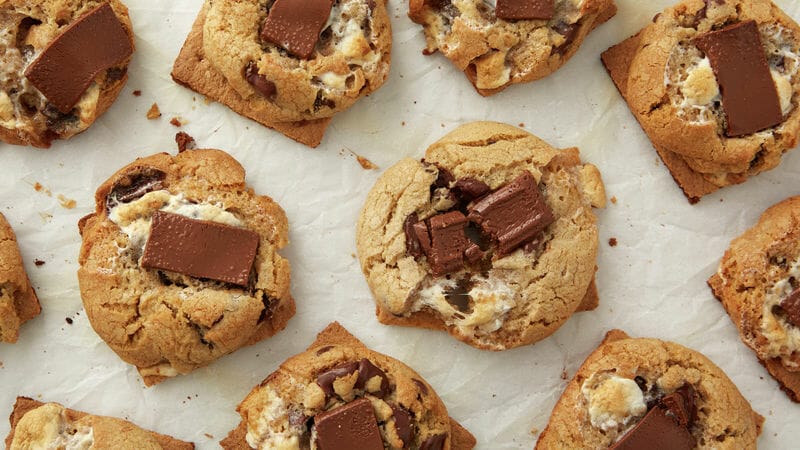 S'more Cookies are a delicious mashup of the traditional s'mores with chocolate chip cookies. These cookies are a bit more fussy than your typical chocolate chip cookie and use milk or semisweet chocolate chips, graham crackers, and mini marshmallows. The cookies are baked on parchment paper and topped with crushed marshmallows. These delicious cookies make the perfect dessert to enjoy while enjoying a campfire with your family.
S'more cookies are super chocolately, thanks to the addition of chocolate grahams. These grahams aren't traditionally associated with s'mores, but they add a crispy layer to the cookie that really brings out the flavor of the classic s'more. To get the ultimate chocolate experience, you can even add two cups of chocolate chips to the dough.
They are baked up to perfection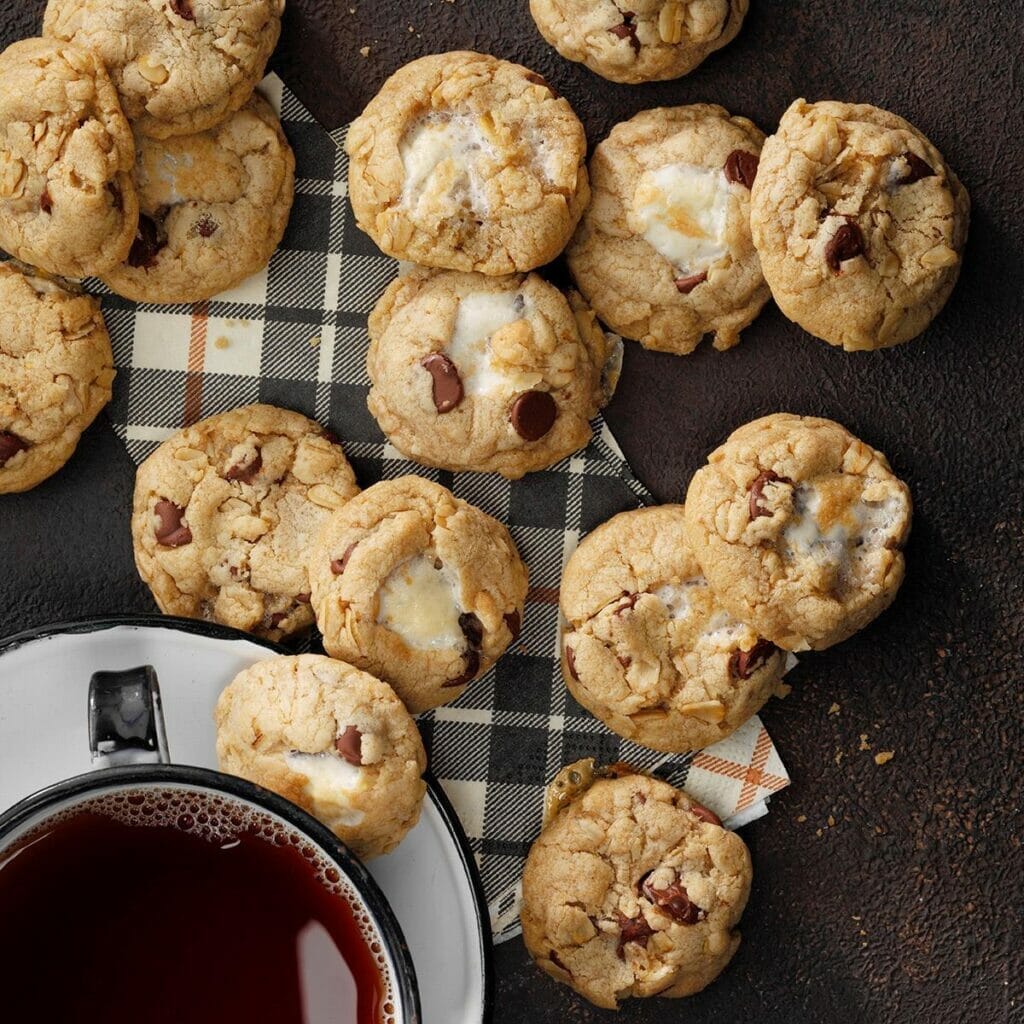 S'more cookies are rich, chocolatey treats topped with marshmallow and buttered graham cracker squares. These delicious treats are worth cheating on your diet for, but they do require some extra steps. To make this dessert, you must prepare the ingredients beforehand. These simple steps will make the cookie assembly easier. Here are the steps for baking S'more Cookies. These cookies are baked up to perfection and will make your next dessert a hit!
First, measure the flour carefully. Most recipes fail due to incorrectly measuring the flour. When using the wrong amount of flour, the cookies will end up too dry and not spread well. To ensure the correct amount of flour, use a food scale to weigh the ingredients, or a spoon to scoop the flour into a measuring cup. Don't scoop the flour directly into the container, as it will leave 1/4 cup or more of extra flour.
They are topped with graham crackers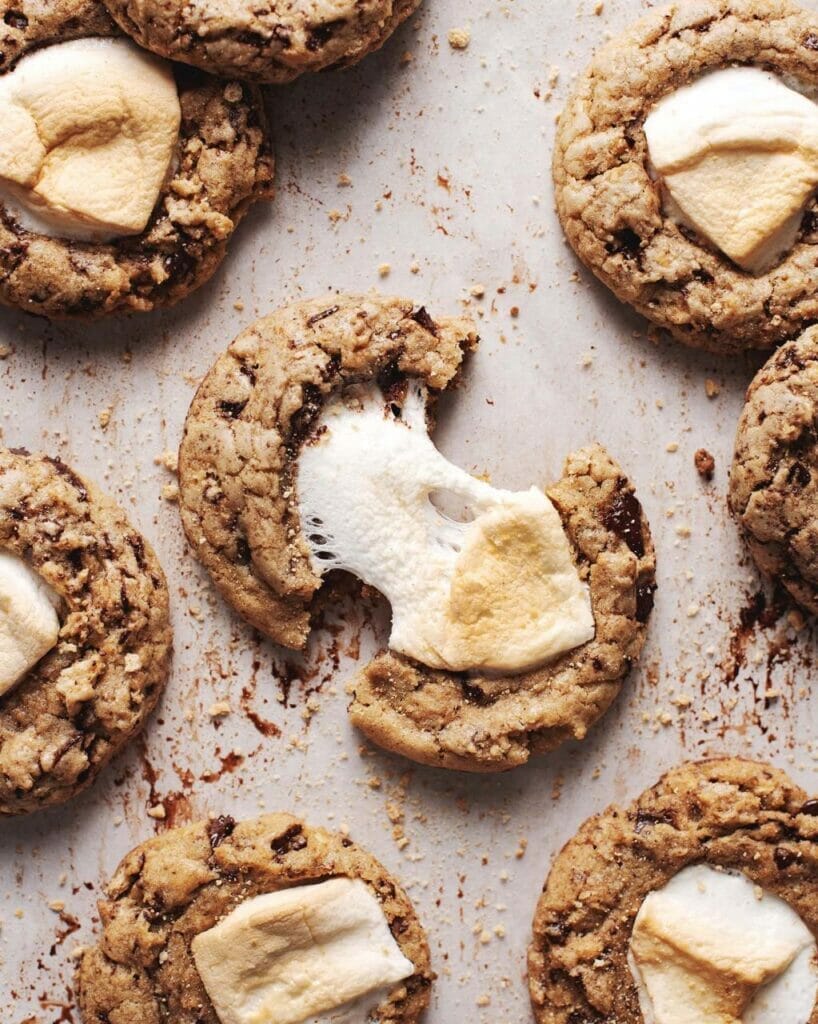 Smore Cookies are delicious, chocolate chip-topped cookies made with mini marshmallows and graham crackers. They are baked on top of a graham cracker square, and finished with a piece of Hershey's chocolate bar. You can eat one or a dozen of these cookies. They are best served warm, so you may want to make a double batch.
To make smore cookies, you'll first need to purchase chocolate chips and marshmallows. If you don't have any, you can substitute digestive biscuits, which are a neutral, slightly sweet cookie. Afterward, you'll need to add a little extra vanilla extract and a bit more butter to the mixture, so make sure you measure the correct amount. Alternatively, you can substitute digestive biscuits for graham crackers.
They are delicious with a glass of cold milk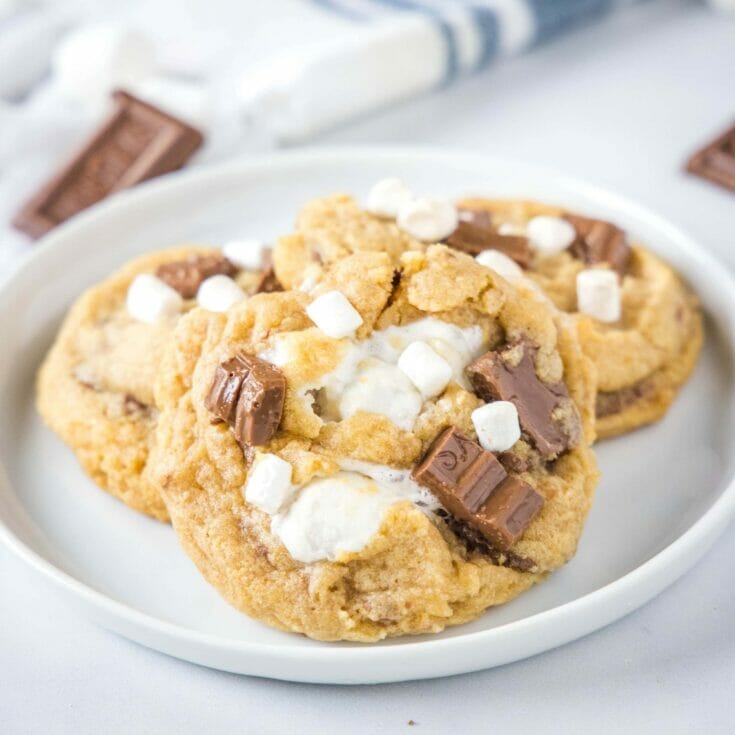 S'Mores Blossom Cookies are a fun treat that you can take to work, school, meetings, or even to your neighbors. Dress them up and enjoy an American summer holiday. Try making them with your favorite chocolate bar and a cookie scooper. Your friends and neighbors will be impressed! After a few minutes, you'll have a perfectly delicious treat for them and their guests.
These cookies are delicious with a glass of cold milk. Make sure you chill them thoroughly before eating. The marshmallows will become chewy after being frozen, but you'll still be happy you made them! The cookies will keep in an airtight container for up to five days. These cookies are also great for making ahead and freezing them for later. Just make sure you thaw them completely before serving to ensure they're as delicious as you remember them to be.
Want to read more? Click the follow button right now! And you may have them at no cost. Foodandmeal gives you culinary and cultural trips around the world that you couldn't find anywhere. Feel free to accompany us so that all the cooking tips and techniques are to your fingers.
Affiliate DisclaimerAbout The Author
As an affiliate, we may earn a commission from qualifying purchases. We get commissions for purchases made through links on this website from Amazon and other third parties.