Welcome to my kitchen, where we're about to embark on a delightful culinary journey. Today, I'm sharing a recipe that's very close to my heart – Strawberry Rugelache. These delicate pastries are a testament to the art of baking, a perfect blend of sweet, flaky, and fruity. Join me as we uncover the secrets behind this exquisite treat.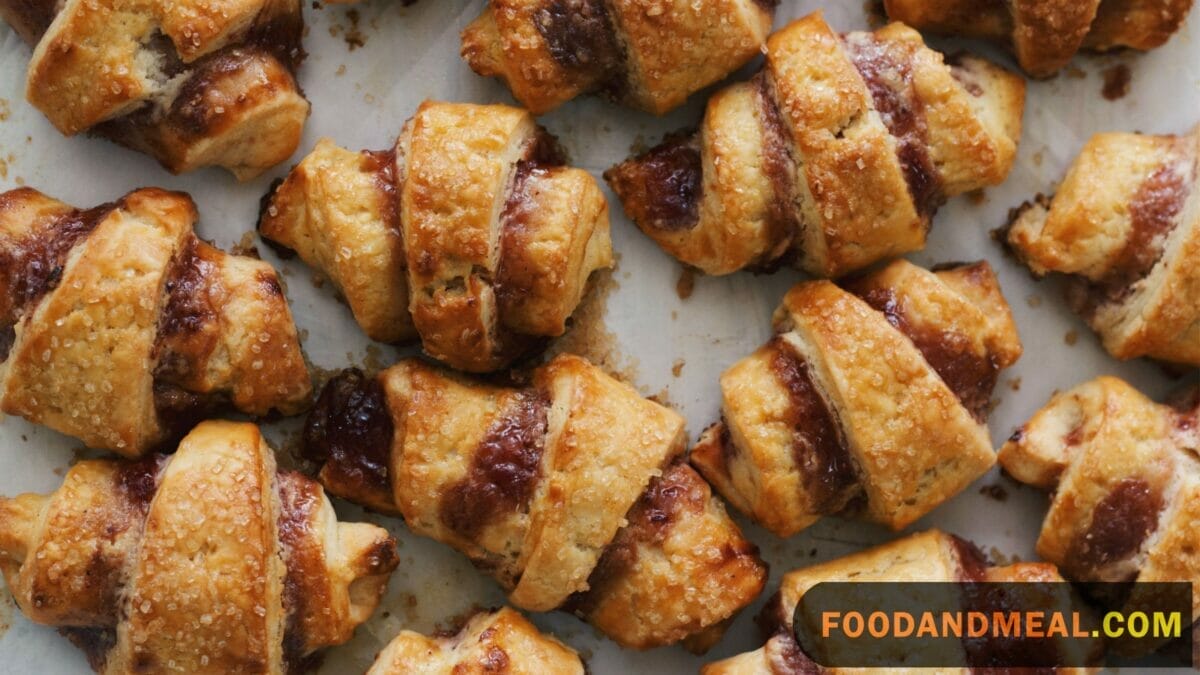 Strawberry Rugelache recipes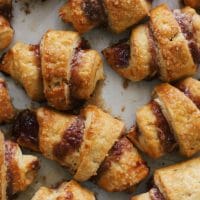 Strawberry Rugelach
This simple fruit-filled doughnut recipe is a family favorite for Easter. With just four ingredients, it's a perfect dessert to serve at any holiday, from a family gathering to a New Year's Eve celebration. Ingredients include strawberry jam, cream cheese, walnuts, dried currants, and cream cheese. Try experimenting with your own combination to find your favorite. This recipe will be a hit with the entire family, and you're sure to enjoy it!
Print
Add to Collection
Go to Collections
Instructions
Mix the cream cheese and the butter at high speed with a paddle attachment, until light and fluffy. Add 1/4 cup granulated sugar, the salt and vanilla extract. Lower the speed and add the flour, mixing until just combined.

Roll the dough into a ball on a well floured surface, and cut into 4 quarters. Wrap each piece in plastic, and place in the fridge for 1 hour.

Prepare the filling by combining 6 tablespoons of granulated sugar, brown sugar, 1/2 teaspoon cinnamon, and the walnuts into a small bowl.

On a well-floured board, roll each dough quarter into a 9-inch circle. Spread the dough with 2 tablespoons strawberry jam and sprinkle 1/2 cup of the filling on top. Press the filling lightly into the dough. Roll the dough forward with the long side facing you, then slice into 1/2 inch sections, with a serrated knife, being careful to not press the dough down too much.

Place the cookies on a pan sheet lined with parchment paper and chill for 30 minutes.

Preheat the oven to 350 degrees F.

Brush each cookie with the egg wash. Combine the remaining 3 tablespoons granulated sugar and 1 teaspoon cinnamon and sprinkle on the cookie tops. Bake for 15 to 20 minutes, or until the cookies are lightly browned. Cool on a rack.
Notes
You can even store the leftovers in an air-tight container for up to 3 days. You can also heat them up and enjoy the melted chocolate.
Share by Email
Share on Facebook
Share on Twitter
Nutrition
Serving:
4
servings
|
Calories:
1263
kcal
|
Carbohydrates:
111
g
|
Protein:
16
g
|
Fat:
86
g
|
Saturated Fat:
43
g
|
Polyunsaturated Fat:
17
g
|
Monounsaturated Fat:
20
g
|
Trans Fat:
2
g
|
Cholesterol:
220
mg
|
Sodium:
292
mg
|
Potassium:
355
mg
|
Fiber:
5
g
|
Sugar:
50
g
|
Vitamin A:
2246
IU
|
Vitamin C:
4
mg
|
Calcium:
141
mg
|
Iron:
4
mg
© Food And Meal
This website provides approximate nutrition information for convenience and as a courtesy only. Nutrition data is gathered primarily from the Spoonacular Database, whenever available, or otherwise other online calculators.
Alternative Method: Making Strawberry Rugelache Using a Food Processor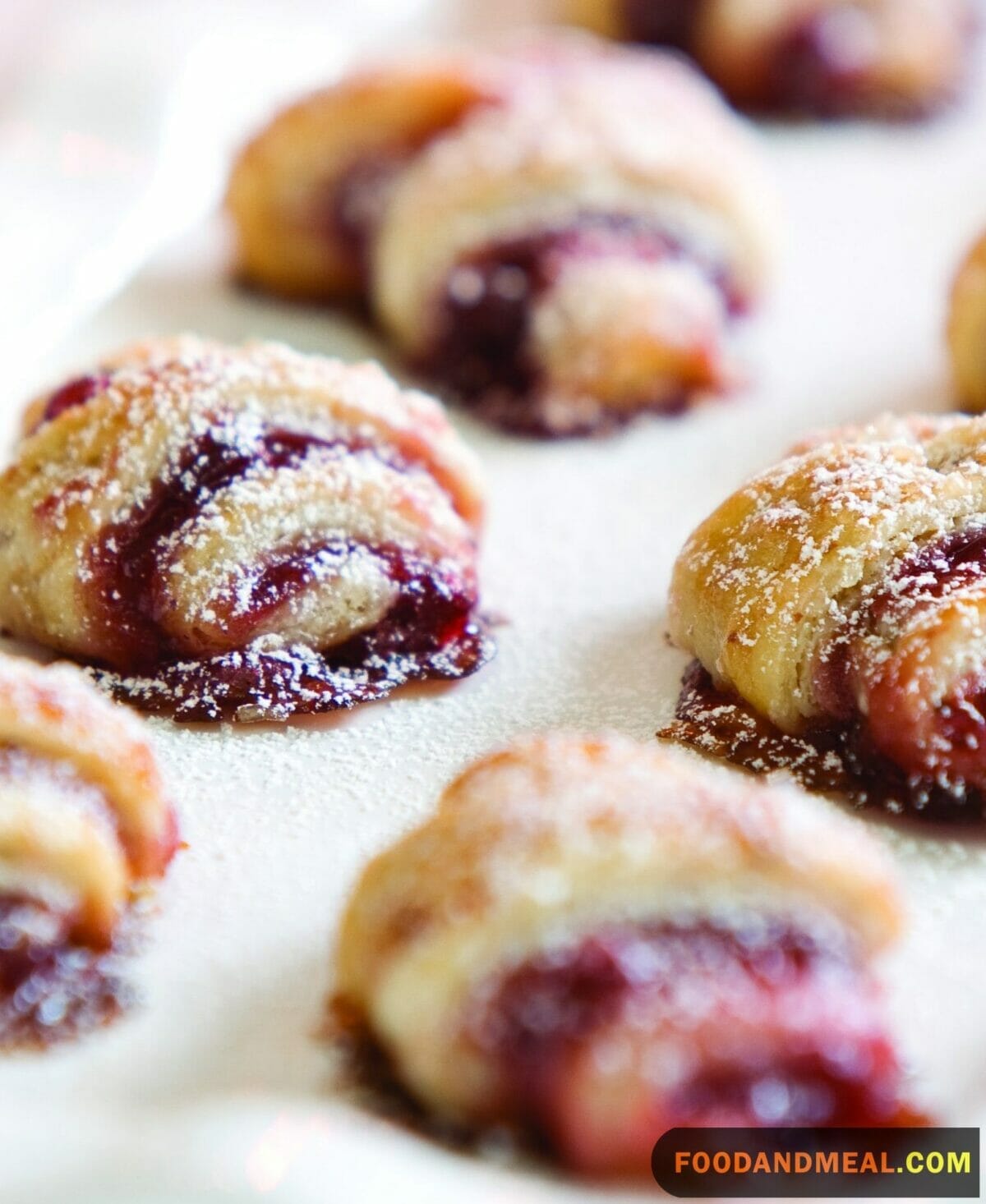 Ingredients:
For the Dough:
1 cup unsalted butter, cold and cubed
8 oz cream cheese, cold and cubed
2 cups all-purpose flour
1/4 teaspoon salt
For the Filling:
1 cup ripe strawberries, finely chopped
1/4 cup granulated sugar
1 teaspoon cornstarch
1/2 teaspoon vanilla extract
Instructions:
Preparing the Dough:
Place the cold, cubed butter and cream cheese in your food processor.
Pulse the ingredients until they start to combine and resemble coarse crumbs.
Add the flour and salt to the processor.
Pulse the mixture a few more times until the dough comes together into a ball. Be careful not to overmix.
Remove the dough, shape it into a disk, wrap it in plastic wrap, and refrigerate for at least 30 minutes.
Making the Filling:
In the same food processor (no need to wash it), combine the chopped strawberries, granulated sugar, cornstarch, and vanilla extract.
Pulse until the mixture thickens slightly and the strawberries are finely chopped. It should have a jam-like consistency.
Assembling the Rugelache:
Preheat your oven to 350°F (175°C) and line a baking sheet with parchment paper.
On a lightly floured surface, roll out the chilled dough into a circle about 1/8-inch thick.
Spread the strawberry filling evenly over the dough, leaving a small border around the edges.
Using a pizza cutter or a sharp knife, cut the dough into triangular segments.
Roll up each segment from the wide end towards the point to create a crescent shape.
Place the rugelache on the prepared baking sheet, leaving some space between each.
Baking:
Bake in the preheated oven for 20-25 minutes, or until the rugelache turns golden brown.
Remove from the oven and let them cool on a wire rack.
Tips for making Strawberry Rugelache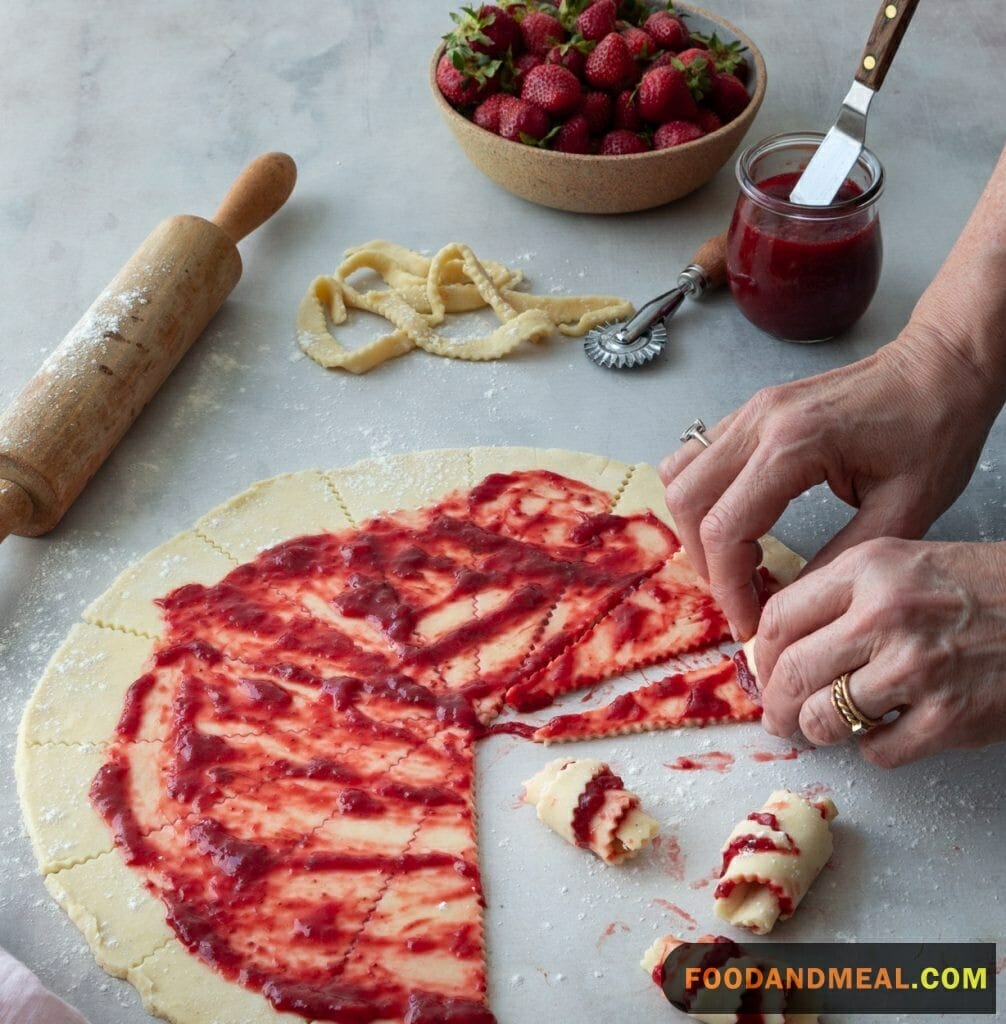 Cooking Tips
Keep It Cold:The key to flaky pastry is keeping the dough and ingredients cold. Work quickly and return the dough to the fridge if it gets too soft.
Don't Overwork the Dough: Overmixing or over-kneading the dough can lead to tough rugelache. Handle it gently to maintain that desirable flakiness.
Proper Strawberry Filling: Ensure your strawberry filling isn't too runny. Use cornstarch to thicken it, preventing soggy rugelache.
Size Matters: Consistency in the size of your rugelache pieces is crucial for even baking. Use a ruler or a template for precise cuts.
Allow for Cooling Time: Let the baked rugelache cool for a while before indulging. They'll firm up as they cool down.
Serving Suggestions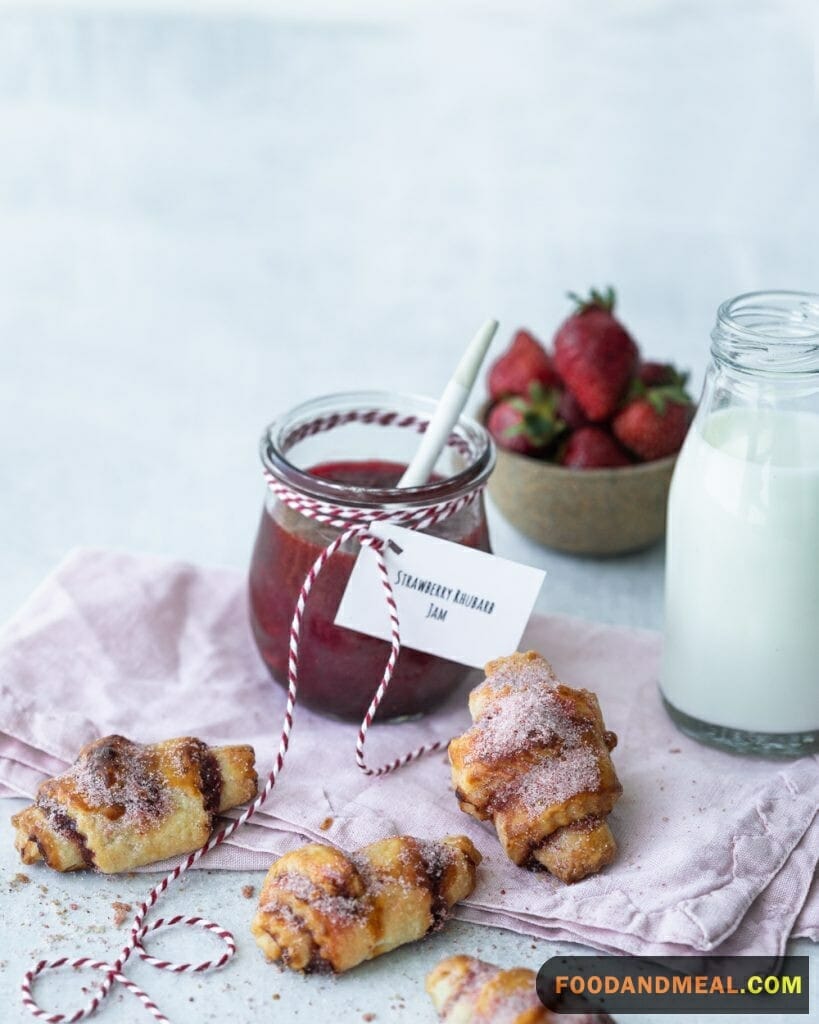 Recommend Sides and Garnishes:
Whipped Cream: A dollop of freshly whipped cream adds a luxurious touch to your rugelache.
Dusted Sugar: Sprinkle powdered sugar on top for a sweet finish.
Fresh Berries: Serve with a side of fresh strawberries or raspberries for a fruity contrast.
Beverage Pairings:
Hot Tea or Coffee: Pairing your rugelache with a hot cup of tea or coffee is a classic choice.
Iced Tea: On a warm day, opt for iced tea to refresh your palate while savoring the pastry.
Different Ways to Serve:
Afternoon Tea: Arrange your rugelache on a pretty platter with tea cups and saucers for an elegant tea time.
Dessert Platter: Serve them alongside other pastries and desserts for a delectable dessert platter.
FAQs about Strawberry Rugelache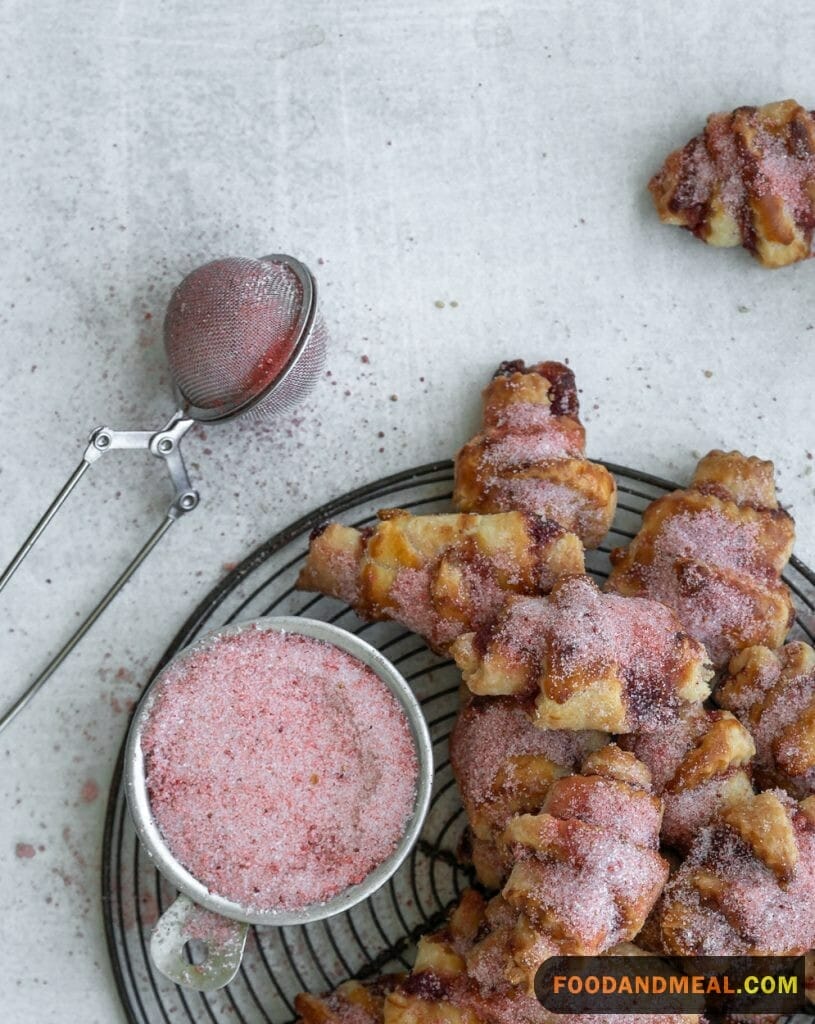 Can I make Strawberry Rugelache ahead of time?Absolutely! Once baked and cooled, store them in an airtight container at room temperature for up to 3 days. You can also freeze them for longer storage.
Can I use frozen strawberries for the filling?Yes, frozen strawberries work well for the filling. Thaw and drain them before using to avoid excess moisture.
How do I prevent the dough from sticking while rolling?Use a lightly floured surface and rolling pin to prevent sticking. Excess flour can make the dough tough, so use it sparingly.
Can I add nuts or chocolate chips to the filling?Absolutely! Feel free to customize your rugelache with chopped nuts, chocolate chips, or any other fillings you desire.
What's the best way to reheat leftover rugelache?To reheat, place them in a preheated oven at 350°F (175°C) for about 5 minutes to regain their warmth and flakiness.
Discover the joy of baking Strawberry Rugelache with us. Transform your kitchen into a bakery. Share this recipe and subscribe for a lifetime of delicious adventures.
Affiliate DisclaimerAbout The Content
As an affiliate, we may earn a commission from qualifying purchases. We get commissions for purchases made through links on this website from Amazon and other third parties.