Rise and shine, foodies! We're about to embark on a culinary journey that will make your mornings brighter. Our Egg Muffin Cups are like sunshine in a muffin tin. They're quick, customizable, and packed with flavor. In this blog post, we'll walk you through the recipe, share some creative variations, and leave you hungry for more. So, let's get cracking!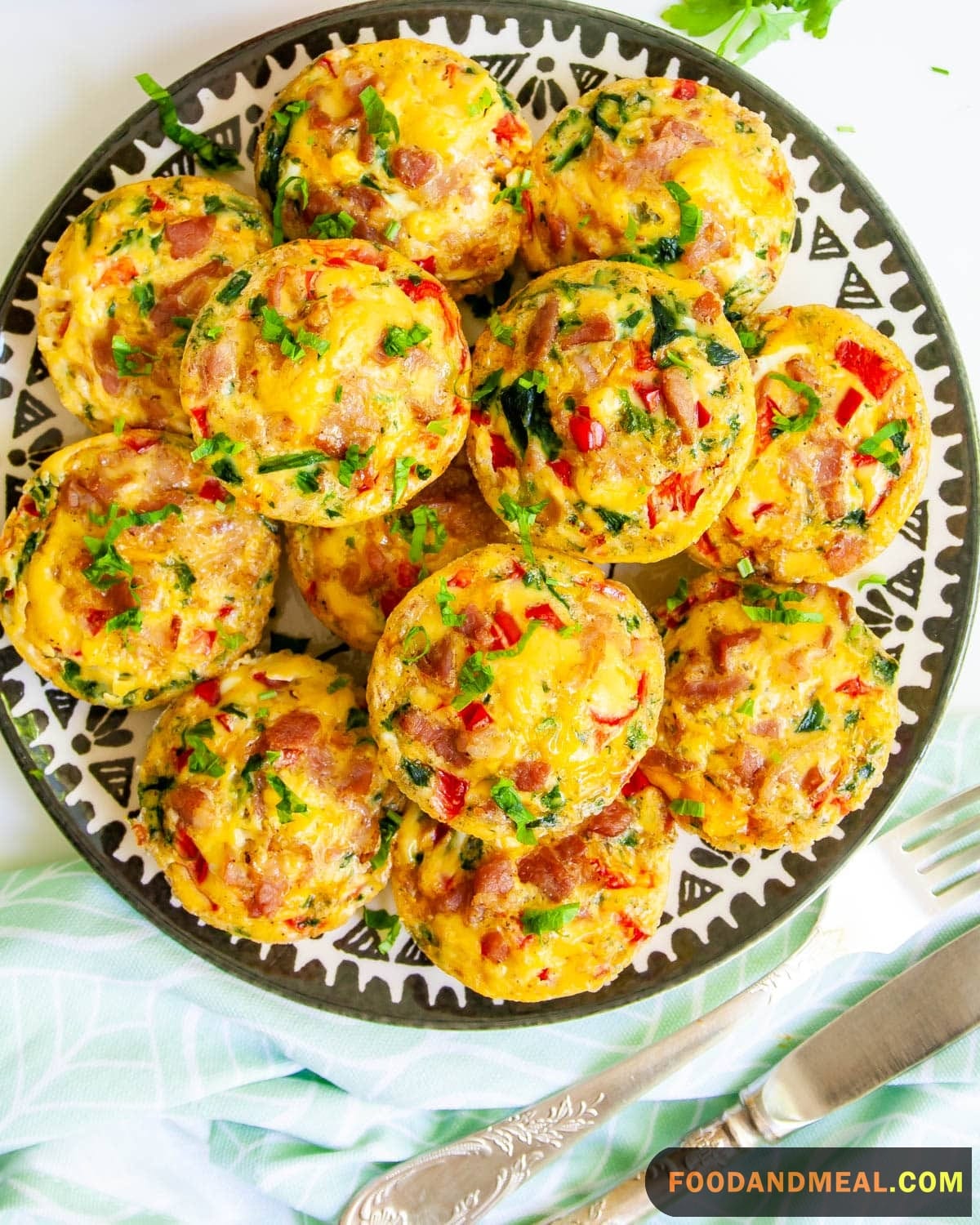 Egg Muffin Cups Recipe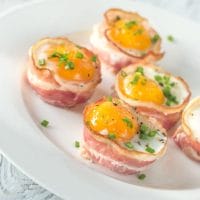 Egg Muffin Cups
Start your day right with these incredibly easy Egg Muffin Cups, made with Ham, Asparagus & Goat Cheese. They're great for make-ahead and are super versatile plus they can be made with any ingredients. They're the perfect grab-and-go meal.
Print
Pin Recipe
Add to Collection
Go to Collections
Equipment
Ingredients
12

eggs

1

cup

about 4 oz. of crumbled goat cheese

1

cup

thin asparagus

cut into quarter inch pieces

1

cup

diced ham

1

tsp.

Olive oil

1

tsp.

kosher salt

divided

1

teaspoon

dry mustard
Instructions
Preheat oven into 350⁰F and slightly grease a standard muffin pan.

Put skillet over a medium heat and pour olive oil. Saute the asparagus and season with ½ tsp. of salt and a dash of black pepper.  Cook for about 4-5 minutes or until the asparagus tenderizes.

Add the ham and cook for another two minutes.

Next, allocate portions of the sautéed ham and asparagus among the cups in the muffin tin. Top each with a tablespoon of the crumbled goat cheese.

Into a large bowl, crack and lightly beat the eggs. You can then add the mustard and what was left of the salt.

Again, allocate portions of the egg mixture among the muffin cups.

Bake the muffin mixture for at least 20-25 minutes or until the top is lightly golden brown.
Notes
Muffins will keep airtight for up to 1 week in the fridge; reheat gently in the micro or serve cold.
Share by Email
Share on Facebook
Share on Twitter
Nutrition
Serving:
1
serving
|
Calories:
100
kcal
|
Carbohydrates:
6
g
|
Protein:
7
g
|
Fat:
6
g
© Food And Meal
This website provides approximate nutrition information for convenience and as a courtesy only. Nutrition data is gathered primarily from the Spoonacular Database, whenever available, or otherwise other online calculators.
Pin Recipe
Alternative Method: Microwave Magic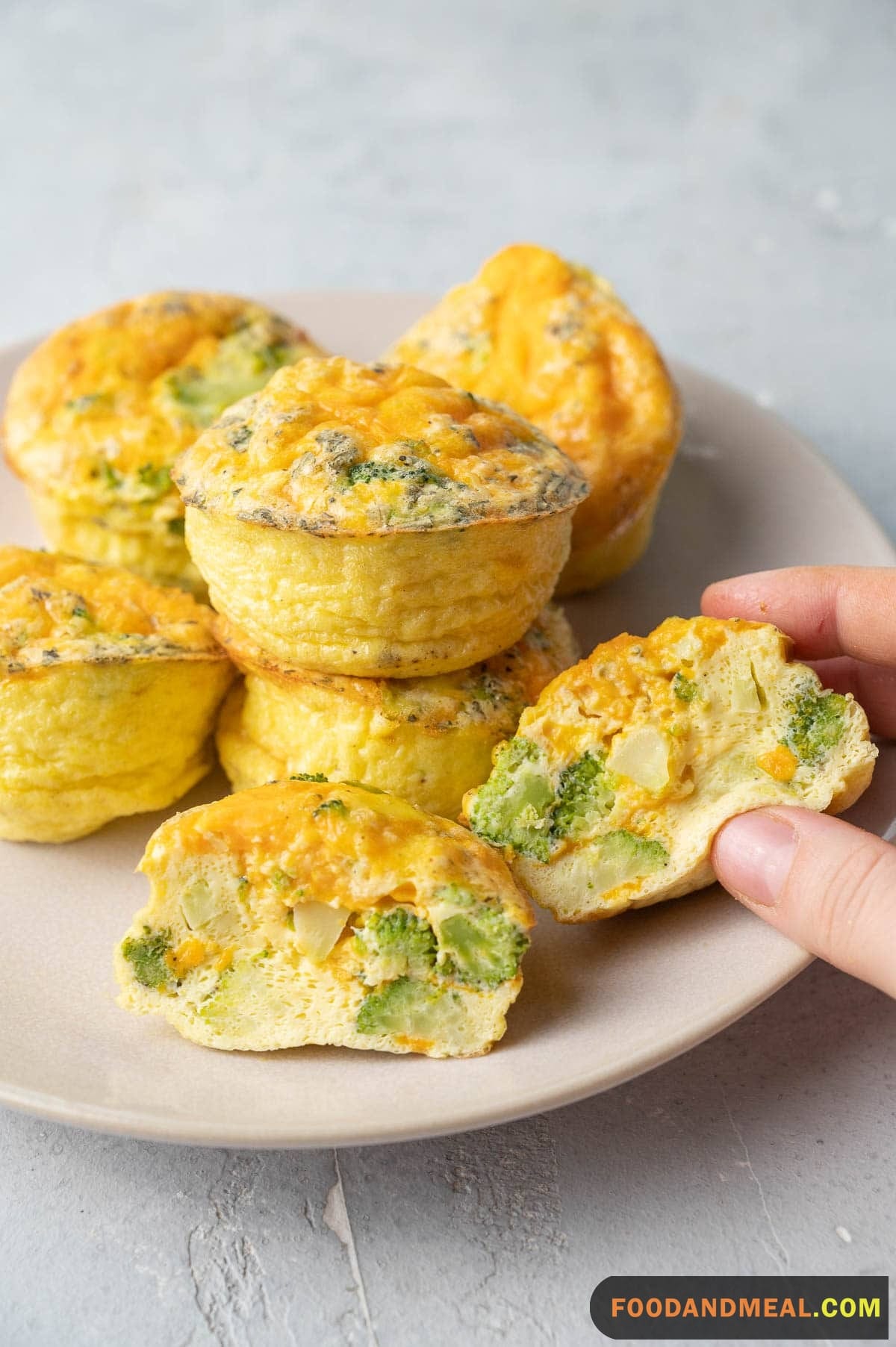 Ingredients:
4 large eggs
1/4 cup milk
Salt and pepper to taste
1/2 cup diced bell peppers
1/2 cup diced tomatoes
1/2 cup diced spinach
1/4 cup grated cheese (your choice)
Cooking spray or a bit of butter for greasing
Instructions:
Prepare the Mug: Grease a microwave-safe mug or ramekin with cooking spray or a touch of butter. This ensures the Egg Muffin Cup won't stick.
Whisk Eggs: In a bowl, whisk together the eggs, milk, salt, and pepper until well combined.
Layer Ingredients: Add a layer of diced bell peppers, followed by diced tomatoes, diced spinach, and grated cheese into the mug.
Pour Egg Mixture: Gently pour the whisked egg mixture into the mug, ensuring it covers all the ingredients.
Microwave Magic: Place the mug in the microwave and cook on high for 1 minute. Keep an eye on it as microwave cooking times may vary.
Check for Doneness: After 1 minute, carefully remove the mug from the microwave (it will be hot). Check the Egg Muffin Cup's doneness. If it's still slightly runny, microwave for another 15-30 seconds until it's cooked to your liking.
Enjoy: Let it cool for a minute, and then savor your Egg Muffin Cup directly from the mug or slide it onto a plate.
Tips for making Egg Muffin Cups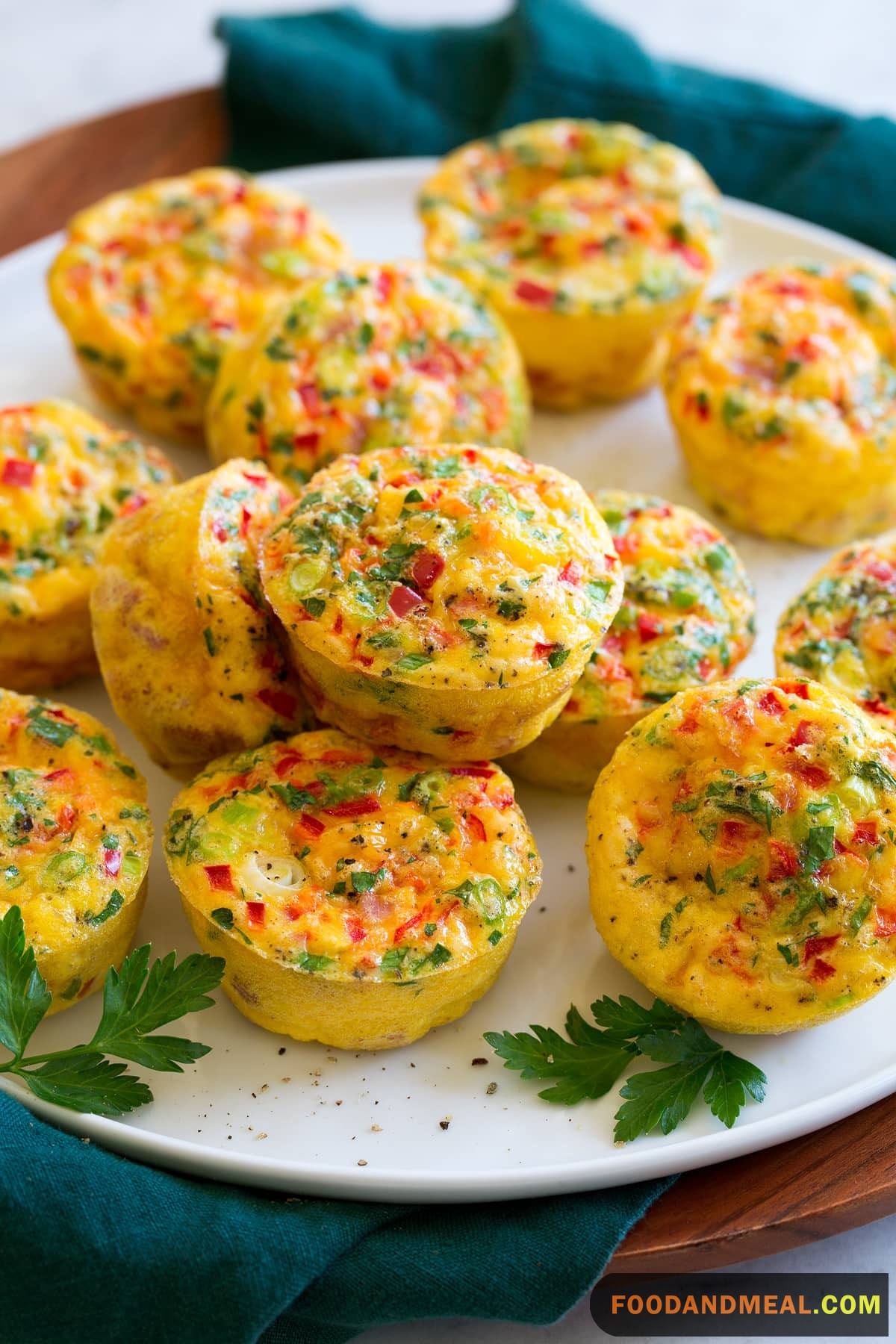 Serving Suggestions: Elevate Your Breakfast Experience
Sides That Shine:
Avocado Smash: A generous scoop of creamy avocado paired with a sprinkle of sea salt and red pepper flakes.
Fresh Fruit Salad: A colorful medley of seasonal fruits adds a refreshing touch to your plate.
Crispy Bacon or Sausage: For the ultimate breakfast experience, savor the combination of savory muffin cups with crispy bacon or your favorite breakfast sausage.
Garnish Galore:
Chopped Fresh Herbs: A dash of chopped chives, parsley, or cilantro adds a burst of fresh flavor.
Hot Sauce or Sriracha: If you crave a little heat, drizzle your muffin cup with hot sauce or Sriracha.
Grated Parmesan: A sprinkle of grated Parmesan cheese takes these muffin cups to gourmet heights.
Beverage Bliss:
Freshly Brewed Coffee: The classic pairing of a steaming cup of coffee with your Egg Muffin Cup is a match made in breakfast heaven.
Mimosa or Bellini: Elevate your brunch game with a sparkling mimosa or fruity Bellini.
Green Smoothie: For a healthy twist, blend up a green smoothie packed with spinach, banana, and almond milk.
Creative Presentation:
Muffin Cup Sandwich: Slide your muffin cup between a toasted English muffin for an on-the-go breakfast sandwich.
Mini Breakfast Buffet: Arrange an assortment of muffin cups with various toppings, allowing everyone to customize their breakfast.
Sweet and Savory:
Pair with Pancakes: For a balanced breakfast, serve your Egg Muffin Cups alongside a stack of fluffy pancakes and maple syrup.
Yogurt Parfait: Create a delightful contrast by serving these savory muffin cups alongside a sweet yogurt parfait topped with granola and berries.
Cooking Tips: The Secrets to Perfect Egg Muffin Cups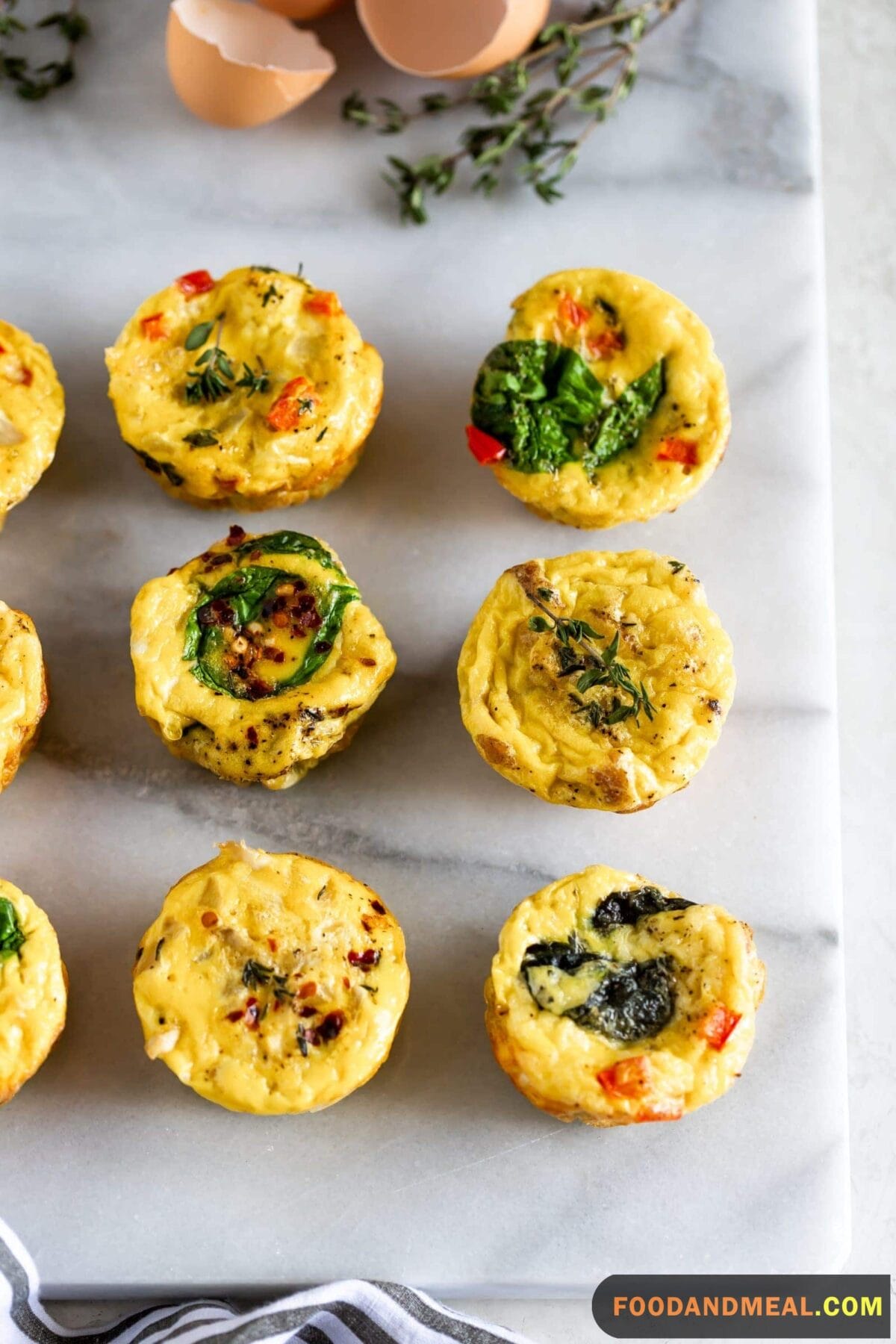 Fresh is Best: Opt for fresh ingredients. Use ripe vegetables and quality cheese for the most flavor.
Pre-Cook Ingredients: For ingredients like spinach or bacon, consider pre-cooking them slightly to remove excess moisture.
Non-Stick Spray: If you're baking in a muffin tin, make sure to thoroughly grease it with non-stick cooking spray to prevent sticking.
Uniform Mixture: Whisk the eggs, milk, salt, and pepper until they're well combined and the mixture is uniform.
Endless Variations: Don't be afraid to experiment with different ingredients like mushrooms, onions, or even a touch of pesto for unique flavors.
Keep an Eye: While baking, watch your muffin cups closely. They can go from perfectly cooked to slightly overdone in a matter of minutes.
Allow to Cool: After baking, let your muffin cups cool for a few minutes before attempting to remove them from the tin. This helps them set and prevents breakage.
FAQs of Egg Muffin Cups
Can I Make Egg Muffin Cups Ahead of Time? Absolutely! Bake a batch, let them cool, and refrigerate. In the morning, a quick zap in the microwave or a few minutes in the oven will reheat them perfectly.
Can I Freeze Egg Muffin Cups? Yes, you can freeze them for longer storage. Wrap each muffin cup in plastic wrap and store them in a freezer-safe container. When ready to enjoy, thaw and reheat.
Are Egg Muffin Cups Healthy? They can be very healthy! Control ingredients like cheese and use lean protein and lots of veggies for a nutritious breakfast.
Can I Use Egg Whites Only? Absolutely. You can use only egg whites or a combination of whole eggs and egg whites for a lighter version.
What's the Best Way to Reheat Leftover Muffin Cups? The microwave works well for reheating. Start with 20-30 seconds per muffin cup and adjust as needed.
Discover the joy of breakfast with Egg Muffin Cups – easy, versatile, and delicious. Share the recipe and subscribe for more culinary adventures!
Affiliate DisclaimerAbout The Content
As an affiliate, we may earn a commission from qualifying purchases. We get commissions for purchases made through links on this website from Amazon and other third parties.