With each drop, you taste nature. With each sip, a story. Hemp milk is not just a drink; it's an experience. Having poured my heart, soul, and years of expertise into perfecting this, I'm thrilled to share my version of this creamy marvel with you.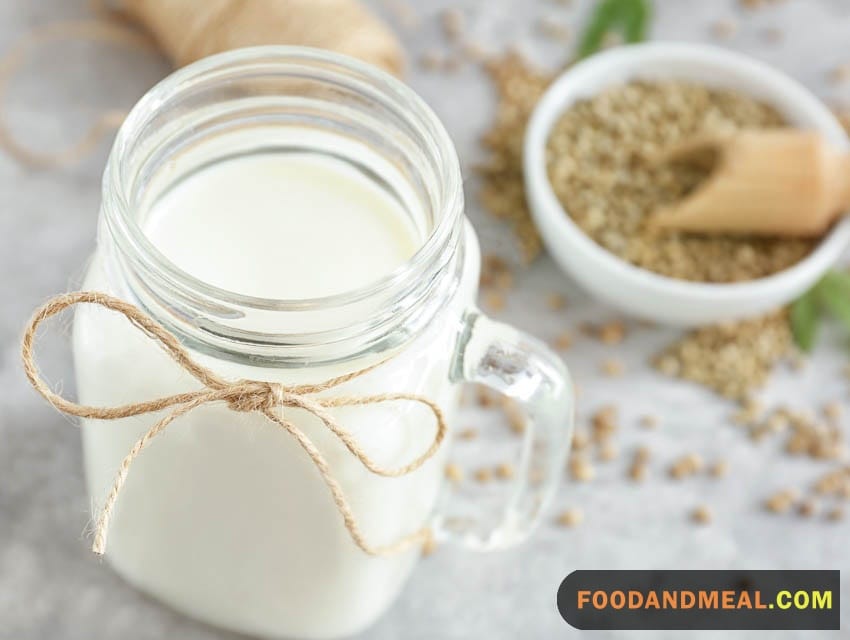 Hemp Milk Recipe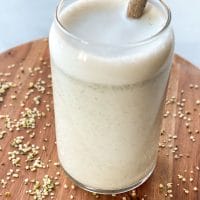 Hemp Milk
Dive into the delightful world of hemp milk, a nutritious and tasty alternative to dairy. Discover its versatility, from morning cereals to elegant desserts. If you loved this hemp milk journey, don't forget to share this recipe with your friends and family! Also, for more delectable insights, hit that subscribe button and join our culinary community.
Print
Add to Collection
Go to Collections
Ingredients
1/2

cup

shelled hemp seeds

3

cups

filtered water

1

tablespoon

maple syrup

pinch sea salt
Instructions
Place all ingredients into a high-powered blender and blend for 60

to 90 seconds or until very smooth.

Place a nut milk bag or cheesecloth into a large jar or pitcher and

pour hemp milk through the bag, squeezing out the milk, and

leaving the pulp behind.

Store hemp milk in the fridge for 3 to 4 days.
Notes
Variation:
Chocolate Hemp Milk: You can add to the hemp milk 1⁄4 cup cacao powder or
unsweetened cocoa powder.
Dates Hemp Milk: Add 4 pitted Medjool dates, mix and stain.
Vanilla hemp milk: Add 1 teaspoon vanilla extract.
Share by Email
Share on Facebook
Share on Twitter
Nutrition
Calories:
18
kcal
|
Carbohydrates:
4
g
|
Sodium:
12
mg
|
Potassium:
15
mg
|
Sugar:
4
g
|
Calcium:
14
mg
|
Iron:
0.01
mg
© Food And Meal
This website provides approximate nutrition information for convenience and as a courtesy only. Nutrition data is gathered primarily from the Spoonacular Database, whenever available, or otherwise other online calculators.
Crafting Hemp Milk Using a Slow Juicer
The essence of any plant-based milk lies in its texture and consistency. While blenders are the conventional choice, diving into the world of slow juicers can be a delightful and game-changing experience. Slow juicers, known for their ability to extract the maximum liquid from ingredients while preserving their nutrients, can offer a uniquely rich and creamy texture to hemp milk. Here's a specialized method for all the gourmet adventurers out there:
Ingredients:
Shelled hemp seeds: 1 cup
Filtered water: 3 cups
Optional: Sweetener of your choice, vanilla extract or cocoa powder for flavor variations
Instructions:
Soak in Splendor: Begin by soaking the hemp seeds in water for about 2-3 hours. This softens them slightly, allowing the juicer to extract the creamy essence more efficiently.
The Great Setup: Assemble your slow juicer as per its manual. Make sure to have a bowl or jug at the outlet for the hemp milk and another for the residue.
Feed Gradually: Drain the soaked hemp seeds. Start the slow juicer and gradually feed in the hemp seeds. As they get crushed, they will release their creamy liquid.
The Water Dance: Slowly add the filtered water through the juicer. This helps extract any remaining goodness from the seeds and ensures you get the most out of them.
Flavor Play: If you're aiming for a flavored twist, now's the time! Add your chosen sweetener, vanilla extract, or even cocoa powder to the milk and give it a gentle stir.
Final Filter: Though the slow juicer does a commendable job, for an ultra-smooth texture, consider straining the hemp milk through a fine-mesh sieve or nut milk bag.
Chill & Serve: Transfer the hemp milk to a glass bottle or jar and refrigerate. Shake well before use and enjoy its creamy, rich texture in all its glory.
Cooking Tips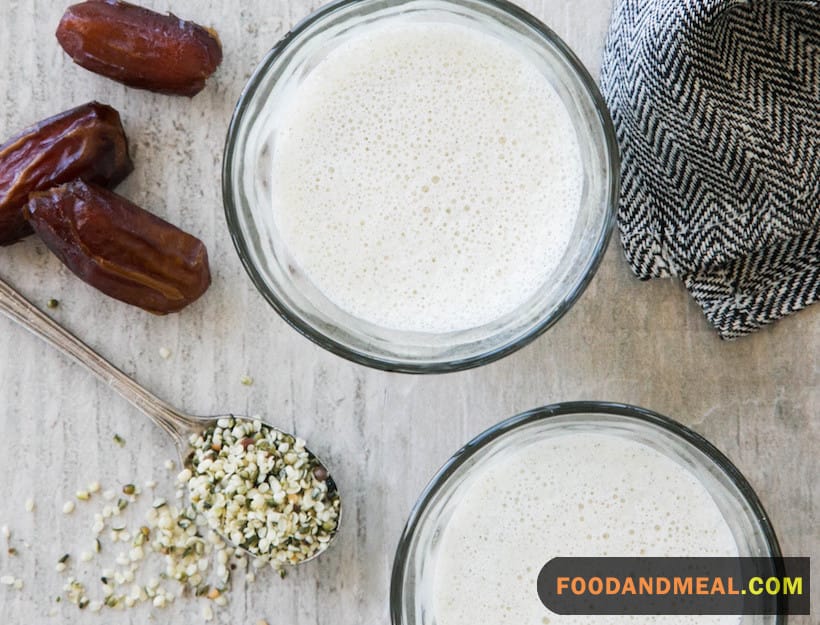 Embarking on the hemp milk adventure is rewarding, but a few nudges in the right direction can transform good results into sheer perfection.
The Right Seed: Always ensure you're using fresh shelled hemp seeds. The fresher the seed, the creamier and more aromatic the milk.
Cold Storage: While soaking hemp seeds, use cold water and, if possible, soak them in the refrigerator. This retains the fresh flavor of the seeds.
The Straining Game: Never rush the straining process. Gentle pressure ensures you extract the milk without pushing through the gritty bits.
Sweetening Sensibly: Hemp milk has a distinct taste, which can be altered drastically with sweeteners. Start with small amounts, taste, and adjust accordingly.
Flavor Finesse: While adding flavor enhancers like vanilla or cocoa, ensure they're of the highest quality. Remember, with something as pure as hemp milk, every addition is pronounced.
Serving Suggestions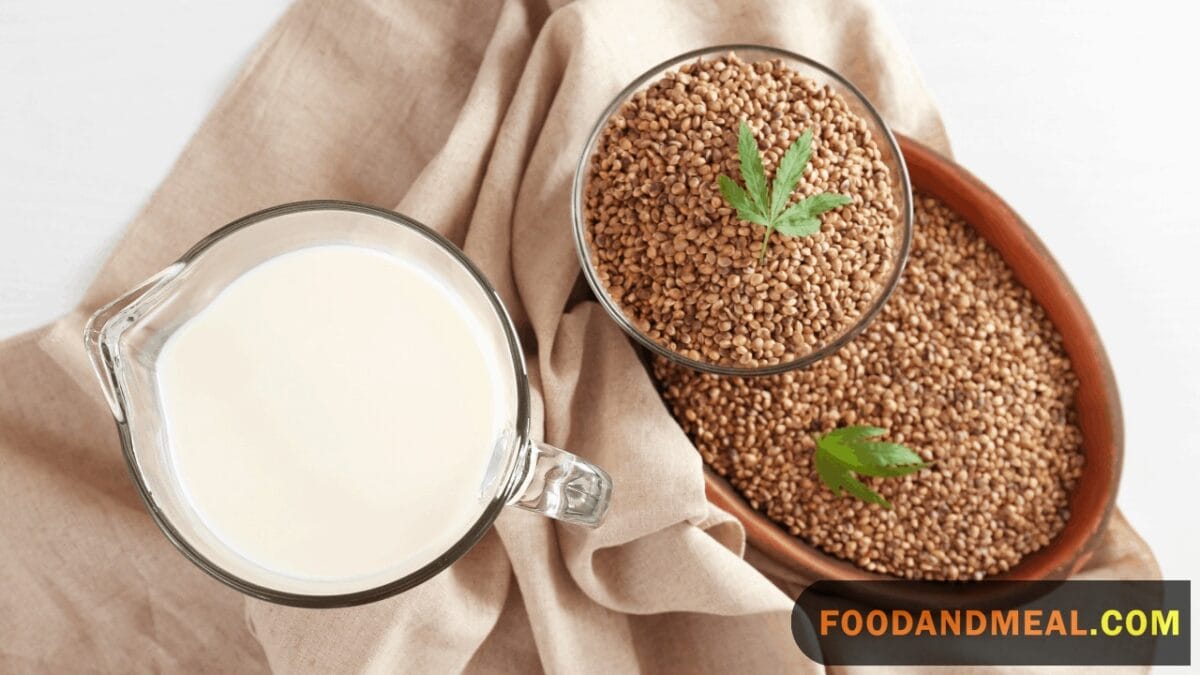 Morning Glory: Hemp milk shines brightest at breakfast. Pour it over your granola, cereal, or oatmeal, and watch your mundane morning meal transform into a gourmet experience.
Coffee and Tea Companionship: The next time you're brewing a cup of joe or steeping some tea, consider hemp milk as your creamer. Its subtle nutty notes can add an intriguing twist to your beverage.
Smoothie Supreme: Mix it into your daily smoothie. The creamy texture it lends is unparalleled, complementing fruits, and even vegetables perfectly.
For the Little Ones: If you've got kiddos who frown at the regular milk, jazz up their glass with a drizzle of cocoa and hemp milk. Nutritious and delicious!
Desert Dream: Fancy a panna cotta or a pudding? Use hemp milk. The depth of flavors it introduces is beyond words.
5 FAQs on Hemp Milk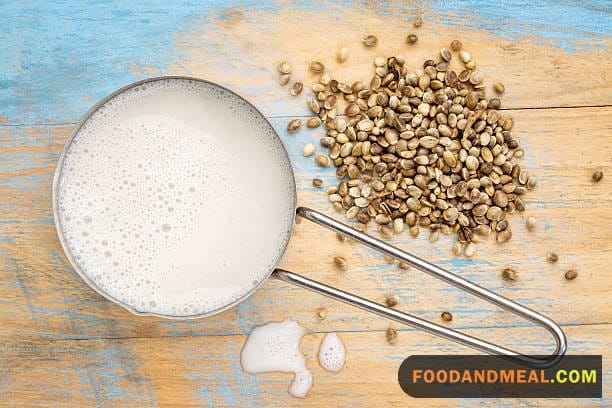 How long does homemade hemp milk last? Typically, your homemade hemp milk will be in its prime for about 3-5 days when stored in the refrigerator. Always give it a sniff and a taste check before using, as fresh ingredients can sometimes be unpredictable.
Is there a noticeable taste difference between store-bought and homemade hemp milk? Absolutely! Homemade hemp milk has a fresher, creamier, and more pronounced flavor. Store-bought versions often contain preservatives or additives which can alter the natural taste and mouthfeel of the milk.
Can I heat hemp milk? Yes, you can! However, heat it over a gentle flame and avoid bringing it to a boil. Excessive heat might affect its taste and nutrient profile.
I noticed my hemp milk separated after a day. Is this normal? Absolutely normal! Natural hemp milk, without stabilizers or emulsifiers, will separate. Just give it a good shake before using.
How should I store leftover hemp milk? Always store your hemp milk in a sealed container in the refrigerator. Glass containers are a great
Unearth the secrets of crafting perfect hemp milk at home. Dive into our detailed guide, filled with tips, serving suggestions, and more. Start your hemp journey today!
Affiliate DisclaimerAbout The Author
As an affiliate, we may earn a commission from qualifying purchases. We get commissions for purchases made through links on this website from Amazon and other third parties.