Imagine the sweet aroma of baked apples and cinnamon wafting through your kitchen, the anticipation of that first bite, and the warm, comforting feeling it brings. Today, I'm sharing my cherished Apple Crumble recipe, a dessert that embodies the essence of home. Whether it's a chilly fall evening or a special gathering, this dish is a crowd-pleaser. Let's dive into the world of apple goodness and create memories with each spoonful.
Apple Crumble Recipe
Apple Crumble
With apples available all year round, there's just no reason to wait for apple season to make it, although it's a fantastic project after a day of apple picking with the kids in the fall. Consider this treat for a holiday meal ender or your next potluck.
Print
Add to Collection
Go to Collections
Instructions
Step by Step
Preheat oven into 350°F (= 177°C) and butter a 9-inch baking dish.

If you have already prepared your apples, transfer them into the baking dish. Be sure that you fill ¾ of the dish so if you need more, feel free to add apples.

Make the crumble topping by whisking the flour, brown & granulated sugars and cinnamon together into a bowl.

Pour the crumble topping over the apples and make sure that they are completely covered. Lightly press down the topping to pack it over the apple chunks.

Bake the apple crumble for about 45 minutes to 1 hour, or until the top attains a golden brown tan, the juices are bubbly and the apples are cooked through.

Remove from the oven, let it cool a bit and serve with sauce, cream or ice cream.
Notes
If you want a more lively presentation, you can add some sugared apple slices as topping.
You can also add a teaspoon of lemon juice to give the crumble a tangy twist.
Share by Email
Share on Facebook
Share on Twitter
Nutrition
Serving:
1
serving
|
Calories:
363
kcal
|
Carbohydrates:
56
g
|
Protein:
2
g
|
Fat:
15
g
© Food And Meal
This website provides approximate nutrition information for convenience and as a courtesy only. Nutrition data is gathered primarily from the Spoonacular Database, whenever available, or otherwise other online calculators.
Alternative Method: Slow Cooker Apple Crumble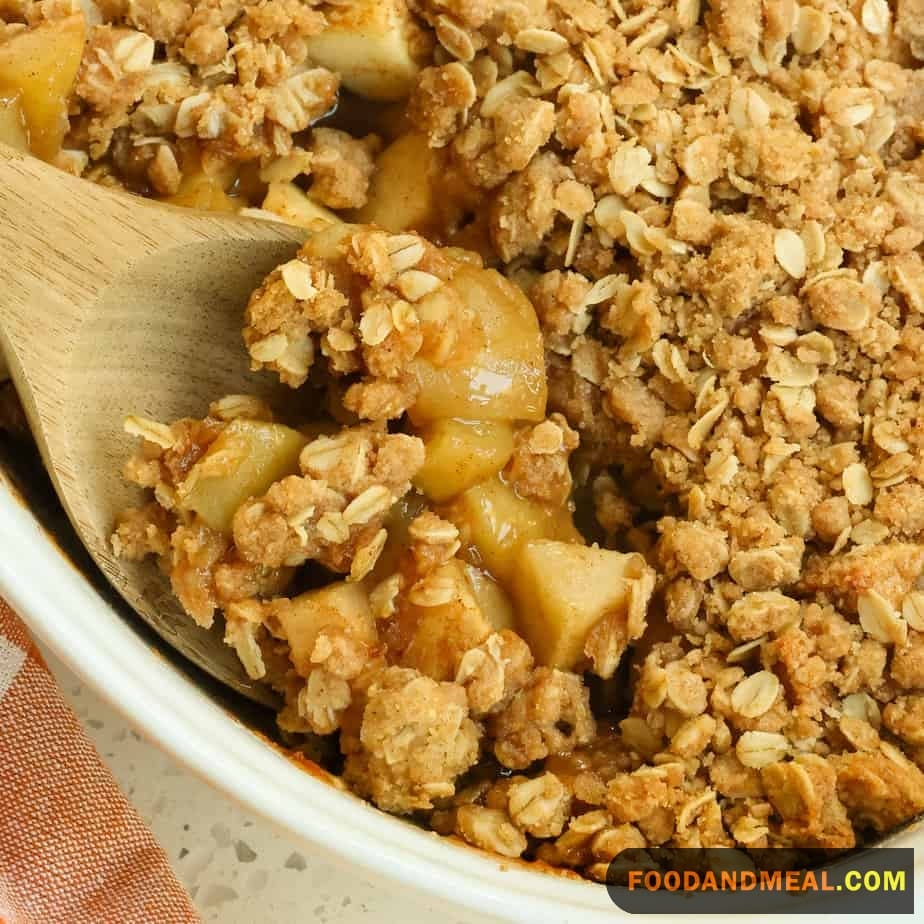 Ingredients:
6 cups of peeled, cored, and sliced apples (mix of your favorite varieties)
1 cup granulated sugar
1 teaspoon ground cinnamon
1/4 teaspoon ground nutmeg
1/4 teaspoon salt
1 cup old-fashioned rolled oats
1/2 cup all-purpose flour
1/2 cup unsalted butter, cold and cubed
Instructions:
Prepare the Apples: Start by peeling, coring, and slicing your apples. You'll want them to be uniform in size to ensure even cooking.
Mix the Apples with Spices: In a large mixing bowl, combine the sliced apples with sugar, ground cinnamon, ground nutmeg, and a pinch of salt. Toss the apples until they are well-coated with this aromatic mixture.
Create the Crumble Topping: In a separate bowl, make the crumble topping by mixing rolled oats, all-purpose flour, and cubed, cold unsalted butter. Use a pastry cutter or your fingers to work the butter into the dry ingredients until the mixture resembles coarse crumbs.
Layer in the Slow Cooker: Grease the inside of your slow cooker lightly to prevent sticking. Begin by layering half of the apple mixture at the bottom.
Add the Crumble: Sprinkle half of the crumble mixture evenly over the apples in the slow cooker.
Repeat the Layers: Repeat the process with the remaining apples and crumble topping.
Cook on Low: Cover your slow cooker and set it to the low heat setting. Let the Apple Crumble cook for about 3-4 hours. The apples should become tender, and the crumble topping will turn golden brown.
Serve and Enjoy: Once the Apple Crumble is done, serve it warm, preferably with a scoop of vanilla ice cream or a dollop of whipped cream.
Tips for making Apple Crumble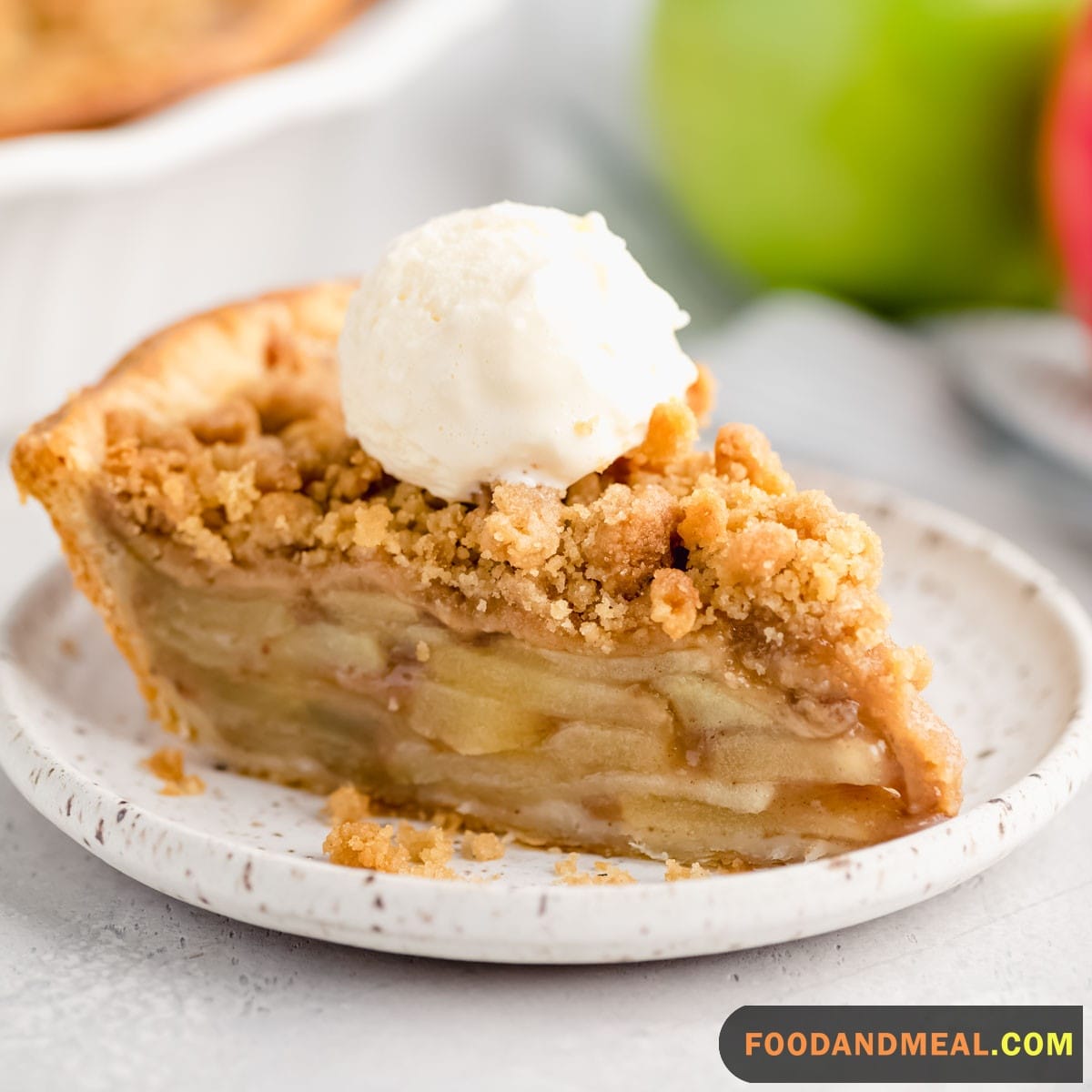 Cooking Tips
Apple Selection: Choose a mix of sweet and tart apple varieties like Granny Smith and Honeycrisp for a balanced flavor profile.
Uniform Slicing: Ensure that your apple slices are of uniform thickness. This ensures even cooking, and no one gets an overcooked or undercooked apple bite.
Spice it Right: Adjust the amount of ground cinnamon and nutmeg to suit your taste. Experimentation is encouraged – some prefer a heavier dose of spice!
Crumble Texture: When making the crumble topping, don't overmix. You want those buttery crumbles for that perfect texture.
Monitor the Slow Cooker: While using a slow cooker, keep an eye on it, especially if it's your first time. Slow cooker sizes and temperatures can vary, so adjust the cooking time accordingly.
Don't Peek: Avoid lifting the lid of your slow cooker too often. Every time you do, you let out precious heat and can significantly lengthen the cooking time.
Serving Suggestions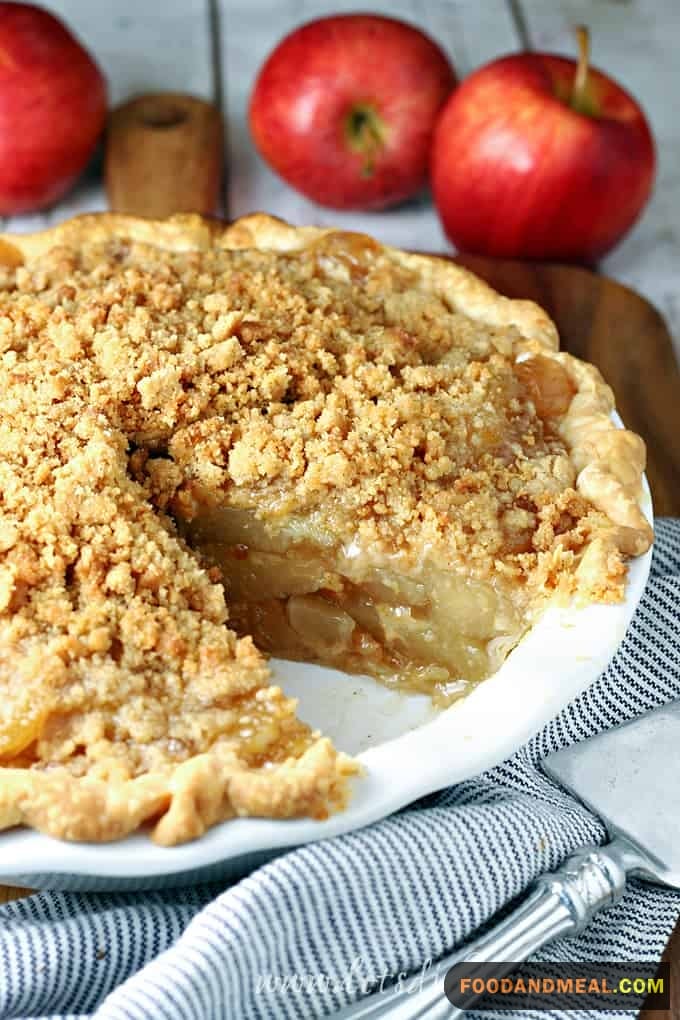 Ice Cream Paradise: A scoop of creamy vanilla ice cream is the classic pairing. The warm crumble and cold ice cream create a delightful contrast.
Caramel Drizzle: Drizzle warm caramel sauce over your serving for an extra layer of sweetness.
Whipped Cream: Dollop a generous helping of whipped cream for a light and airy addition.
Cheddar Cheese: If you're feeling adventurous, serve a slice of sharp cheddar cheese alongside your Apple Crumble. The combination of sweet and savory is surprisingly delicious.
Warm Beverage: Enjoy your Apple Crumble with a steaming cup of coffee or a soothing mug of tea for a cozy dessert experience.
Frequently Asked Questions about Apple Crumble
Can I use other fruits besides apples? Absolutely! You can make crumble with various fruits like peaches, berries, or a mix of your favorites. Adjust sugar levels based on the fruit's sweetness.
How do I store leftovers? If you somehow have leftovers, refrigerate them in an airtight container for up to 3-4 days. Reheat in the microwave or oven.
Can I make it gluten-free? Yes, you can! Simply use gluten-free oats and a gluten-free flour blend for the crumble topping.
Can I prepare the crumble ahead of time? Certainly! You can prepare the crumble topping ahead and store it in the fridge. When ready to bake, layer it over your sliced apples.
Can I use pre-made pie filling? While homemade is always preferred, using pre-made pie filling can save time. Just adjust the sugar and spices to taste.
Get expert answers to your Apple Crumble questions. Ingredients, storage, and more insights. Enjoy this timeless dessert!
Affiliate DisclaimerAbout The Content
As an affiliate, we may earn a commission from qualifying purchases. We get commissions for purchases made through links on this website from Amazon and other third parties.