From the high-altitude fields of the Andes to our modern kitchens, quinoa has traveled far. Not just a super grain for your meals, but a treasure when transformed into milk. Join me, as we unravel the secrets of making impeccable quinoa milk, capturing its essence in every sip.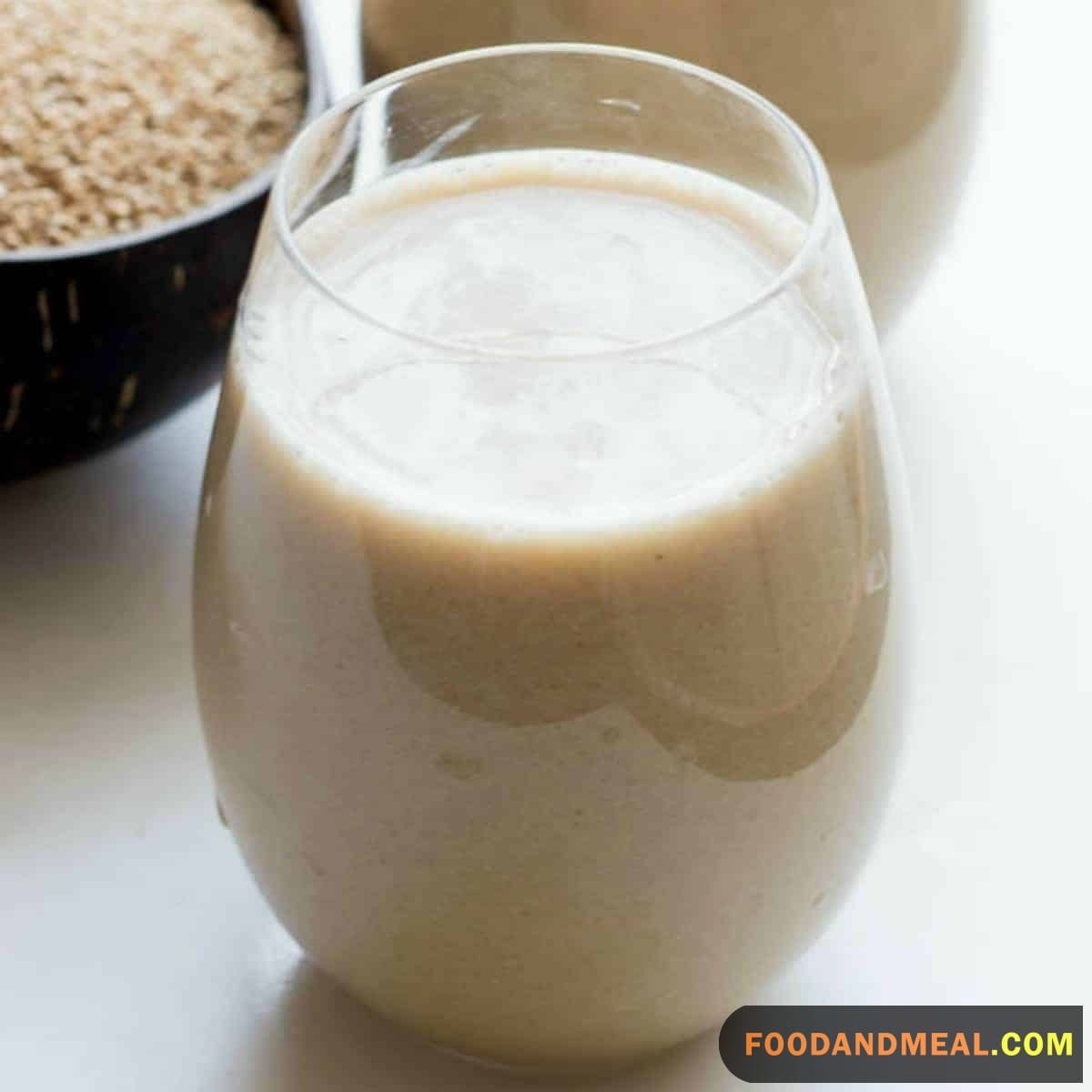 Quinoa Milk Recipe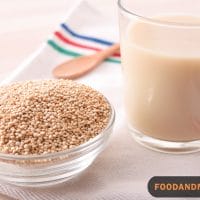 Quinoa Milk
Dive into the world of quinoa milk, a delightful, nutty alternative to traditional milk options. From its simple preparation to its versatility in recipes, quinoa milk is a revelation. Loved our guide? Share it with fellow food enthusiasts and don't forget to subscribe to our blog for more culinary wonders!
Print
Add to Collection
Go to Collections
Ingredients
1/2

cup

white quinoa

water, as needed

1

pinch

salt
Instructions
Place the uncooked quinoa in a fine-mesh sieve and wash it

thoroughly to wash off the bitter coating.

Put the washed quinoa into a glass container with a lid.

Cover the seeds with water, put the lid on it and place it in the

fridge overnight.

Next day, pour the soaked quinoa into a sieve and wash it again.

Put the quinoa into a pot with 2 cups fresh water and a pinch of

salt.

Bring it to a boil, covered.

Turn the heat down and simmer the quinoa (covered) until all the

water is absorbed, (about 20 minutes).

Place the cooked quinoa in a blender with 2 more cups of water

Blend on high for 1 minute, then add water until the milk reaches

the desired consistency.

Strain the quinoa milk through cheesecloth into a bowl.

Sometimes there will still be flecks of quinoa in the milk. But they

will settle out later.

Pour the quinoa milk into a quart-size jar, and stick it in the fridge

to cool.

The milk may separate a little and then stir just a little.

The milk will keep about a week.
Notes
Tip: Add any desired sweeteners and flavorings at your choice.
Share by Email
Share on Facebook
Share on Twitter
Nutrition
Sodium:
19
mg
|
Potassium:
0.01
mg
|
Calcium:
0.01
mg
© Food And Meal
This website provides approximate nutrition information for convenience and as a courtesy only. Nutrition data is gathered primarily from the Spoonacular Database, whenever available, or otherwise other online calculators.
Making Quinoa Milk Using a Pressure Cooker
Pressure-Cooker Quinoa Milk
Ingredients:
1 cup of quinoa (washed and drained)
5 cups of water
Optional: Sweeteners or flavorings like vanilla extract, dates, or a pinch of salt
Procedure:
Preliminary Prep: Begin by rinsing the quinoa thoroughly under cold water using a fine-mesh strainer. This helps in removing the natural saponin coating, which can impart a bitter taste.
Pressure Cooking: Transfer the washed quinoa to the pressure cooker and add in 5 cups of water. Secure the lid and set the cooker to high pressure for 15 minutes.
Natural Release: Once the cooking time is over, turn off the pressure cooker and let it release the pressure naturally. This usually takes about 10-15 minutes.
Blending: After the pressure is completely released, open the cooker and let the quinoa-water mixture cool for a few minutes. Transfer this to a blender and blend on high until the mixture becomes smooth and creamy. If you're adding any sweeteners or flavorings, now's the time to do it!
Straining: Pour the blended quinoa mixture through a nut milk bag or a fine-mesh sieve placed over a large bowl. Use your hands to squeeze out as much liquid as possible.
Storing: Transfer the strained quinoa milk to a clean bottle or jug. Store in the refrigerator and consume within 3-4 days. Shake well before every use, as natural settling might occur.
Cooking Tips for Perfect Quinoa Milk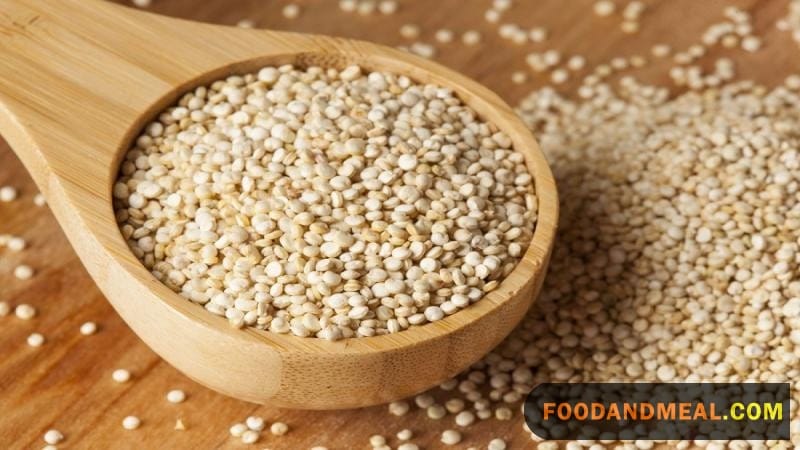 Making quinoa milk might seem straightforward, but a few tips can elevate your quinoa milk game from good to 'Oh wow!'.
Rinse Thoroughly: Always rinse your quinoa multiple times. This ensures the removal of saponin, which can make your milk taste bitter.
Opt for White Quinoa: While quinoa comes in various colors, white quinoa has a more delicate flavor profile, making it ideal for milk.
Cold Storage: After blending, allow your quinoa milk to chill in the refrigerator for an hour. This lets the flavors meld and offers a more refreshing taste.
Watch the Water Ratio: If you prefer creamier milk, reduce the water by a cup. For a lighter consistency, add an extra cup.
Serving Suggestions for Quinoa Milk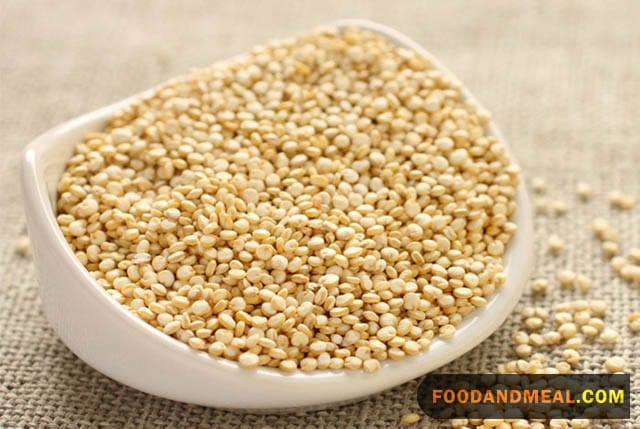 There's something truly special about the nutty, earthy flavor of quinoa milk. It's versatile, rich, and lends itself to various culinary expressions. How should one enjoy it, you ask?
Morning Ritual: Quinoa milk is a fantastic addition to your morning cereals or oatmeal. Its slightly nutty undertones pair beautifully with granola and fresh berries.
Beverage Delight: Feeling a bit experimental? Use quinoa milk as a base for your smoothies or shakes. It blends well with fruits like strawberries, blueberries, and bananas.
Coffee and Tea: Yes, you read that right! If you're a coffee or tea aficionado, using quinoa milk instead of your regular dairy gives a unique twist to your brew. Plus, it froths rather nicely for that perfect cappuccino!
Dessert Companions: Pair quinoa milk with your favorite desserts. Whether it's a slice of rich chocolate cake or a plate of cookies, a glass of chilled quinoa milk is always a good idea.
For the Littles: Kids can sometimes be picky, but introducing them to quinoa milk with a dash of cocoa powder or a spoon of honey can make for a delightful treat.
FAQs on Quinoa Milk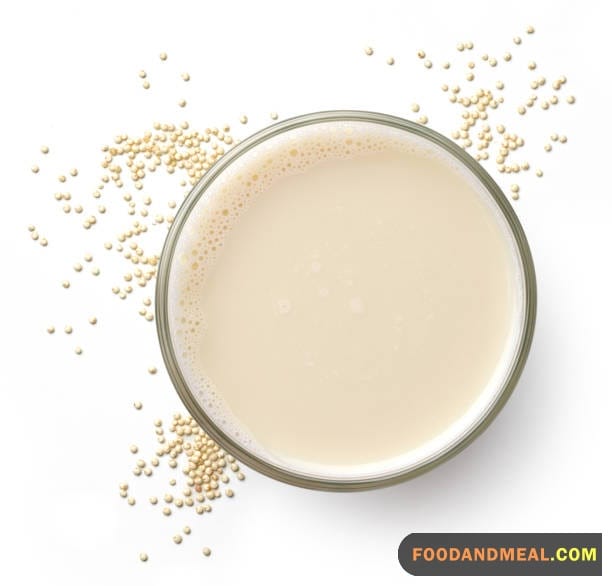 How long can I store quinoa milk?
Quinoa milk remains fresh in the refrigerator for 3-4 days. Always store it in a sealed container, and remember to give it a good shake before using.
Can I freeze quinoa milk?
While you can freeze quinoa milk, it might change the texture slightly upon thawing. It's best consumed fresh.
Why is my quinoa milk bitter?
The bitterness often comes from the saponin coating on quinoa. Ensure you rinse your quinoa thoroughly to avoid this taste.
Can I sweeten my quinoa milk?
Absolutely! You can sweeten it with natural sweeteners like dates, maple syrup, or honey. Adjust to taste.
What do I do with the leftover quinoa pulp?
Zero waste is the mantra! Use the pulp in smoothies, baking, or even stir it into your oatmeal for added texture and nutrition.
Dive into our latest post on crafting the perfect quinoa milk. Nutty, creamy & utterly delicious, it's a must-try! Click to explore.
Affiliate DisclaimerAbout The Author
As an affiliate, we may earn a commission from qualifying purchases. We get commissions for purchases made through links on this website from Amazon and other third parties.