This blueberry crumble muffin recipe is unique because Yottam Ottolenghi's cleverly includes green apple in the mix. The apple's acidity  works well with the blueberries and lemon zest.  This recipe has the beautiful look and texture of a coffee cake, and is very easy to make.
Blueberry Crumble Muffin Recipes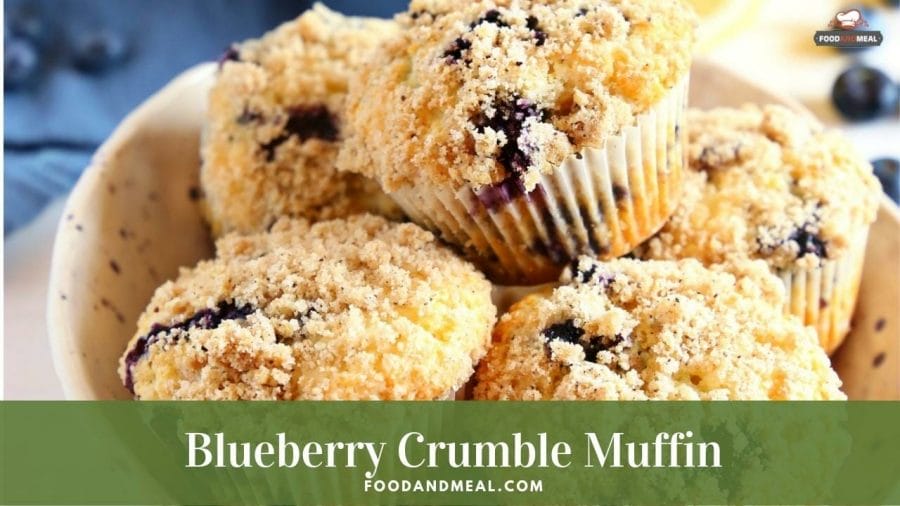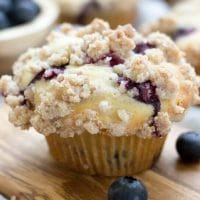 Ottolenghi's Blueberry Crumble
There are many variations of the classic Blueberry Crumble. There are crumbles made with apples, oats, frozen blueberries, and even a frozen version! This is an easy, no-fail dessert that everyone will love! Read on to discover how to make this delicious dessert! And don't forget to serve it with ice cream! This dessert is guaranteed to become a family favorite! This blueberry crumble recipe is delicious!
Print
Pin
Add to Collection
Go to Collections
Instructions
Preheat the oven to 325 F. Line a muffin pan with paper liners.

Stir together the flour, baking powder, and salt and set aside.

In a late mixing bowl, lightly whisk together the eggs, sugar and melted butter (make sure it's not too hot).

Whisk in the milk and lemon zest, then gently fold in the fruits.

Add the sifted dry ingredients and fold together very gently .Make sure you stir the mix just enough to combine; it should remain lumpy and rough.

Work the crumble ingredients together with your hands until the dough is crumbly and there are no lumps of butter left.

Spoon the mixture into muffin liners, filling them to the top. Generously cover with the crumble topping to form small domes over the batter, then dot with a few extra blueberries.

Bake for 30-35 minutes, until a skewer inserted into the enter of a muffin comes out clean.

Remove from the pan while they are still warm.
Video
Notes
This simple dessert will make your guests swoon!
Share by Email
Share on Facebook
Share on Twitter
Nutrition
Serving:
4
servings
|
Calories:
1521
kcal
|
Carbohydrates:
288
g
|
Protein:
26
g
|
Fat:
32
g
|
Saturated Fat:
18
g
|
Polyunsaturated Fat:
2
g
|
Monounsaturated Fat:
8
g
|
Trans Fat:
1
g
|
Cholesterol:
168
mg
|
Sodium:
931
mg
|
Potassium:
467
mg
|
Fiber:
8
g
|
Sugar:
149
g
|
Vitamin A:
1080
IU
|
Vitamin C:
5
mg
|
Calcium:
533
mg
|
Iron:
10
mg
© Food And Meal
This website provides approximate nutrition information for convenience and as a courtesy only. Nutrition data is gathered primarily from the Spoonacular Database, whenever available, or otherwise other online calculators.
Other Crumble Recipes
Blueberry Crumble
To prepare this delicious treat, you must start by preparing the crumble topping. You can either use a pastry cutter or food processor to make the topping. To make the crumble topping, you can combine cold butter with chopped nuts. Next, place the blueberries in a baking dish. Spread the crumble topping evenly over the blueberries. Bake it for 45 minutes or until the crumble topping is golden brown. Once baked, you can serve it warm with vanilla ice cream.
The blueberries should be mixed with sugar, cornstarch, cinnamon, nutmeg, and flour. After mixing these ingredients well, you should pour the mixture into a 9-inch baking dish. After that, you can mix together the crumble topping ingredients and process until combined. Add the blueberries to the crumble mixture, and combine it with your hands until crumbly. Then, bake it for 40 minutes. Serve warm or at room temperature.
You can also serve the crumble cold or at room temperature. To make this delicious dish even easier, you can bake the blueberries and apples separately and let them cool completely. You can even make double the recipe and freeze one portion for another time. You can even make the crumble ahead of time, and simply assemble it just before serving. Then, just top it with vanilla ice cream! This simple dessert will make your guests swoon!
Apple and blueberry crumble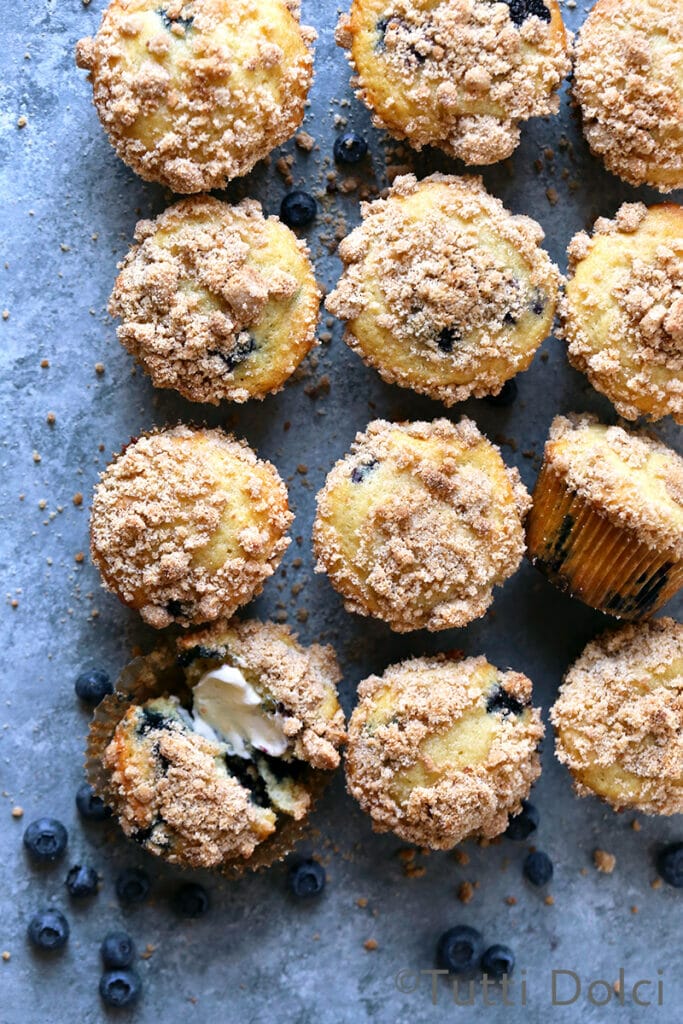 If you're looking for a simple dessert that tastes like autumn, consider making an apple and blueberry crumble. The topping is made from flour, sugar and butter, and can be stored for up to 3 days. Once made, the crumble is delicious served with custard or ice cream. If you'd prefer a more luxurious dessert, try substituting ground hazelnuts for the almonds.
A delicious dessert for any occasion, this apple and blueberry crumble recipe is gluten-free and made with ingredients such as gluten-free brown bread and oats. The recipe makes six servings, and has a low calorie content at 303 per serving. To make it gluten-free, simply omit the sugar altogether. This recipe yields a perfect dessert for a fall gathering or a holiday meal!
The crumble topping can be baked up to two days in advance. Just cover it with aluminum foil and store it in the refrigerator for up to 3 months. Once you're ready to serve it, simply reheat it in the oven or microwave. It's best served with ice cream, but it's even better with custard or cream. It's delicious either way. You can also freeze the crumble to enjoy it later.
Another popular addition to the crumble is oatmeal. Oatmeal can be sprinkled on the crumble before baking, or mixed into the crumble while baking. Oatmeal can replace 50g of flour in the crumble recipe. A simple crumble recipe is perfect for a cozy Sunday morning treat! The crumble will taste as good as you remember it when you're craving it after a long day at work.
Frozen blueberry crumble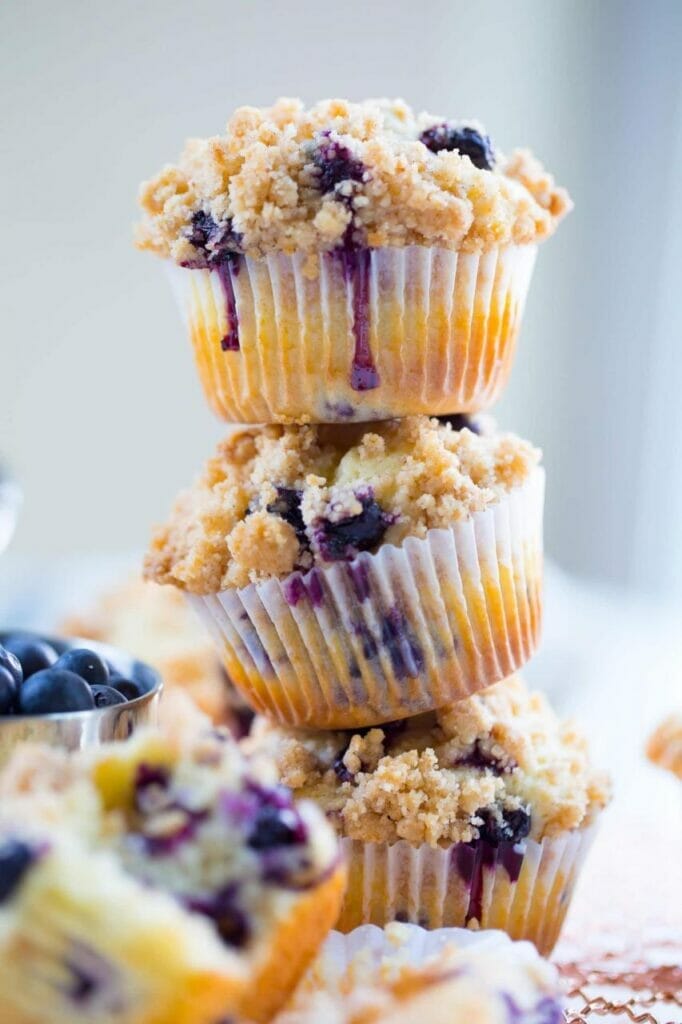 A frozen blueberry crumble recipe is the perfect dessert for any celebration. The crumble is quick and easy to prepare. Once frozen, it can be served cold or at room temperature. If you have a large quantity of blueberries, you can freeze a portion of the berries in the freezer. You can serve a single serving or make more for a crowd. If you have guests, you can make several servings and freeze the leftovers.
First, you'll need a few cups of blueberries. Next, combine the blueberries with flour, sugar, cinnamon, salt, and lemon juice and zest. Add the remaining ingredients and stir to combine. Frozen blueberry crumble will keep for up to a month. Thaw in the refrigerator for a day before serving. For best results, bake the blueberry crumble in the oven for 35 to 40 minutes.
You can substitute fresh or frozen blueberries. The amount of blueberries that you use depends on how sweet you like your blueberries. When you cook blueberries, their juices will be released, forming a thick jammy filling. You can add whipped cream or vanilla ice cream if desired. In addition to blueberries, you can also add a tablespoon or two of maple syrup. Lemon juice and lemon zest add a natural sweetness to the filling.
Oat crumble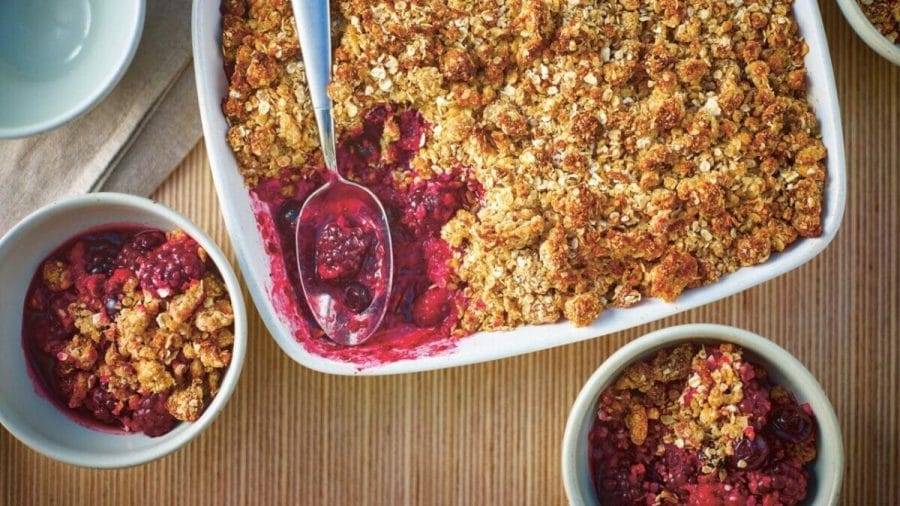 The perfect dessert to serve when you are looking for a quick and easy recipe is a blueberry crumble. This simple recipe combines fresh blueberries with a buttery oat crumble. It takes less than an hour to make and only requires a few simple ingredients. To start, make the blueberries as sweet as you like them. Mix them with lemon juice, two tablespoons of flour, and sugar. Next, place the blueberries in a 9-inch pie dish.
If you want to change up the texture and flavor of your blueberry crumble, you can add walnuts or pecans to the oat topping. Another option is to add half a cup of chopped nuts to the crumble mixture. Once all the ingredients are mixed, spread the crumble mixture into a baking dish. Serve warm or cold. If desired, top with ice cream or whipped cream.
Another option for a crumble is to substitute the blueberries with another fruit. You can also use dark-colored peaches or cherries. For a nut-free version, substitute granulated or brown sugar. Also, if you don't like nuts, you can use honey or maple syrup. Make sure you use the correct type of sugar for your crumble. You can also substitute the oats with almond meal or gluten-free oat flour.
Fruit crumble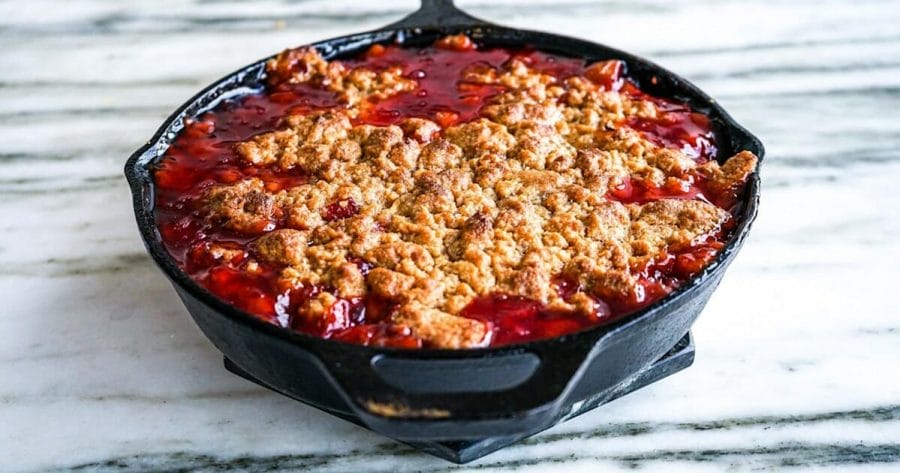 A blueberry crumble is a traditional English dessert, and is one of the easiest to make. It only takes about ten minutes to make and is as tasty as other winter desserts. You can use frozen blueberries if you don't want to cook them yourself. This recipe is easy to make, and makes a great dessert for a special occasion or for your next family get-together. Read on for the details.
First, you must select ripe fruit. If you don't have ripe blueberries, use slightly under-ripe fruit. This will help release the juices faster in the oven. Also, ripe fruit will make the crumble recipe easier to prepare. Make sure the fruit is as ripe as possible before adding it to the recipe. This way, the blueberries will release their juices faster and ensure a delicious, moist crumble.
To make your crumble gluten-free, you may substitute almond flour with streusel or finely ground nuts. If you cannot find almond flour, you can use white whole wheat flour or even oat flour. In case you are vegan, you may use a vegan brown sugar instead of regular white sugar. It will have a more caramel-like flavor and have a soft texture, whereas regular white sugar will have a shortbread texture and a tender fruity filling. You can use a food processor to make the crumble topping finer. For an even juicier fruit crumble, buy frozen blueberries.