There's something about the scent of coconut wafting through the kitchen that transports me straight to a tropical paradise. Imagine sinking your teeth into a light, fluffy cupcake, each bite a harmony of sweet, nutty coconut goodness. My years as a chef have taken me on numerous culinary journeys, but the creation of the perfect coconut cupcake recipe, oh, it's a true masterpiece. This is not just a recipe; it's an artwork, a soulful expression of flavors melding together to dance gracefully upon the palate.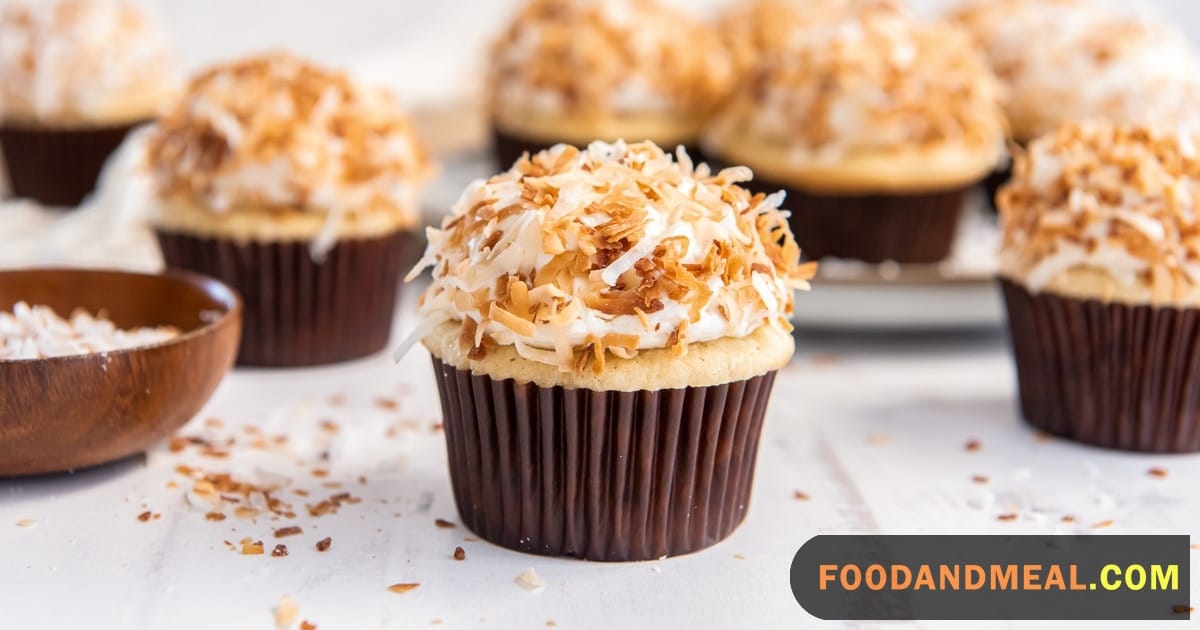 Coconut Cupcake Recipes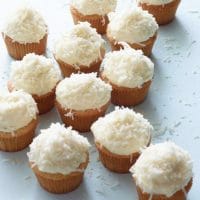 Ina's Coconut Cupcake With Cream Cheese Frostings
If you want to make delicious Coconut cupcakes, try using this recipe. Coconut flavoring is a great addition to any cupcake recipe. This cake recipe is also delicious when paired with Coconut buttercream. You can even add your own twist by using coconut oil and milk. 
Print
Pin Recipe
Add to Collection
Go to Collections
Instructions
Preheat the oven to 325 degrees F.

In the bowl of an electric mixer fitted with the paddle attachment, cream the butter and sugar on high speed, about 5 minutes. With the mixer on low speed, add the eggs, 1 at a time, scraping down the bowl after each addition. Add the vanilla and almond extracts and mix well.

In a separate bowl, sift together the flour, baking powder, baking soda, and salt. Alternately add the dry ingredients and the buttermilk to the batter, beginning and ending with the dry. Mix until just combined. Fold in 7 ounces of coconut.

Line a muffin pan with paper liners. Fill each liner to the top with batter. Bake for 25 to 35 minutes, until the tops are brown and a toothpick comes out clean. Allow to cool in the pan for 15 minutes. Remove to a rack to cool completely.

To make the frosting, cream together the cream cheese, butter, and vanilla and almond extracts in an electric mixer fitted with the paddle attachment (on low speed.) Add the confectioners' sugar and mix until smooth.

Frost the cupcakes and sprinkle with the remaining coconut.
Notes
The cupcakes should be allowed to cool to room temperature before frosting them. You can even store them in the fridge for up to three days.
Share by Email
Share on Facebook
Share on Twitter
Nutrition
Serving:
4
servings
|
Calories:
590
kcal
|
Carbohydrates:
74
g
|
Protein:
7
g
|
Fat:
31
g
|
Saturated Fat:
20
g
|
Polyunsaturated Fat:
1
g
|
Monounsaturated Fat:
7
g
|
Trans Fat:
1
g
|
Cholesterol:
115
mg
|
Sodium:
235
mg
|
Potassium:
186
mg
|
Fiber:
2
g
|
Sugar:
57
g
|
Vitamin A:
853
IU
|
Vitamin C:
1
mg
|
Calcium:
85
mg
|
Iron:
2
mg
© Food And Meal
This website provides approximate nutrition information for convenience and as a courtesy only. Nutrition data is gathered primarily from the Spoonacular Database, whenever available, or otherwise other online calculators.
Pin Recipe
Microwave Coconut Cupcakes Method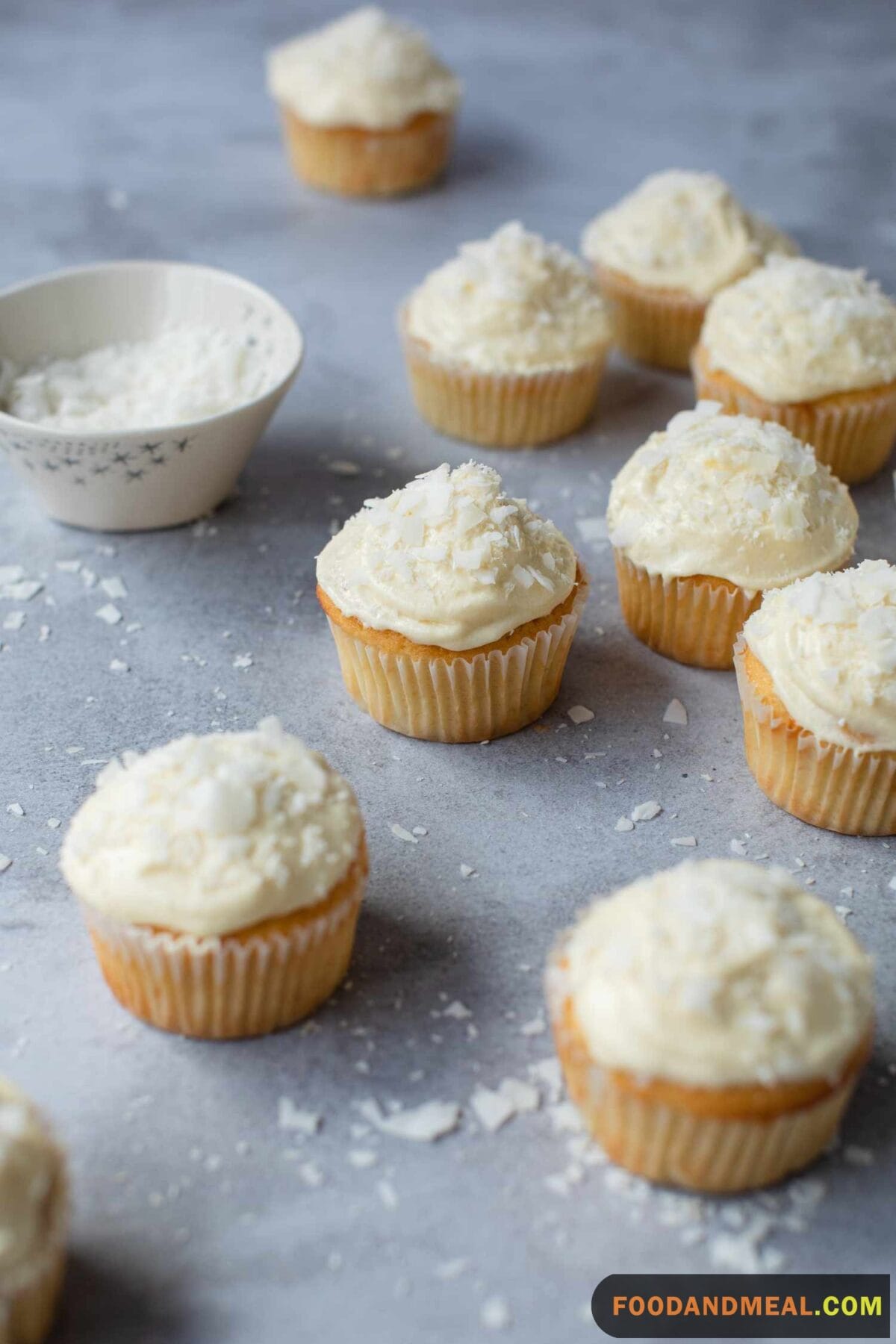 Ingredients:
Same as the original recipe
Tools:
Microwave-safe silicone cupcake molds
Method:
Mix the Batter: Begin by preparing the batter as per the original coconut cupcake recipe. Ensure that all the ingredients are mixed well and that your batter is smooth and lump-free.
Prepare the Molds: Lightly grease the microwave-safe silicone cupcake molds. If you want to keep it simple and quick, there's no need to line them, but ensure they're clean and dry.
Fill the Molds: Spoon the batter into the molds, filling them about two-thirds full to allow space for the cupcakes to rise.
Microwave Setting:

Before placing the molds in the microwave, ensure it is clean and free from any residue to avoid unwanted flavors or smells.
Place the filled molds on a microwave-safe plate to ease the process of taking them in and out.

Cooking Time: Microwave on high for about 2 minutes. The exact time might vary depending on your microwave's wattage, so keep an eye on them. You're looking for the top to be solid and springy to the touch.
Cooling Time: Let them cool for a minute or two in the microwave before removing them. Be careful; the molds will be hot!
Check for Doneness: Use a toothpick to check if the cupcakes are done. If it comes out clean, they are ready; if not, microwave for another 30 seconds.
Cool and Decorate: Let the cupcakes cool completely before attempting to decorate. Apply the coconut cream frosting as per the original recipe and garnish with a sprinkle of toasted coconut flakes for an extra touch of charm and flavor.
Tips for making Coconut Cupcake
Serving Suggestions
Recommend Sides, Garnishes, or Beverages
Imagine your Coconut Cupcakes paired with a warm, invigorating cup of chai tea, where the spicy undertones of the tea meld seamlessly with the sweet, tropical allure of coconut. For the garnish, consider a gentle dusting of cocoa powder or a sprinkle of toasted coconut flakes to enhance both visual appeal and taste.
Different Ways to Serve the Dish
Serve these heavenly treats on a rustic wooden platter for a touch of elegance. Adorn each cupcake with a delicate mint leaf or an edible flower to elevate the visual aesthetics. You could also explore serving mini versions as part of a high tea assortment or as an exquisite dessert canapé for evening soirées.
Cooking Tips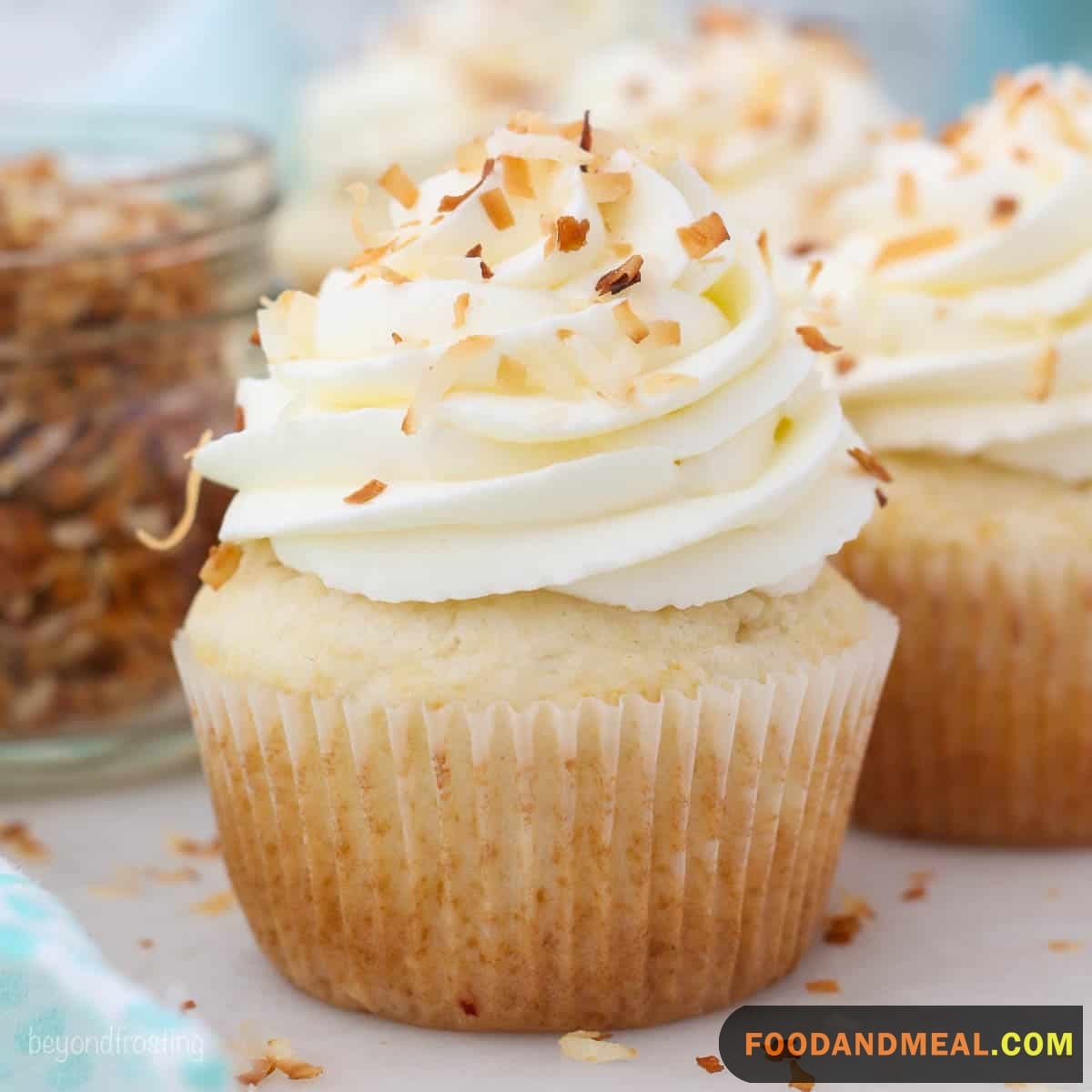 Tips and Tricks for the Best Results
Always sift the flour; this simple yet often overlooked step ensures a light, airy texture. Use coconut milk for a richer flavor and a moist crumb. When it comes to mixing, a gentle touch is your best companion – overmixing is the adversary of fluffiness in the world of cupcakes.
Avoid overfilling the cupcake molds; giving the cupcakes room to rise ensures a perfect shape. Pay heed to the baking time; an extra minute can be the difference between a moist delight and a dry encounter. Remember, every oven has its unique temperament, so always do the toothpick test to ensure perfect doneness.
FAQs of Coconut Cupcake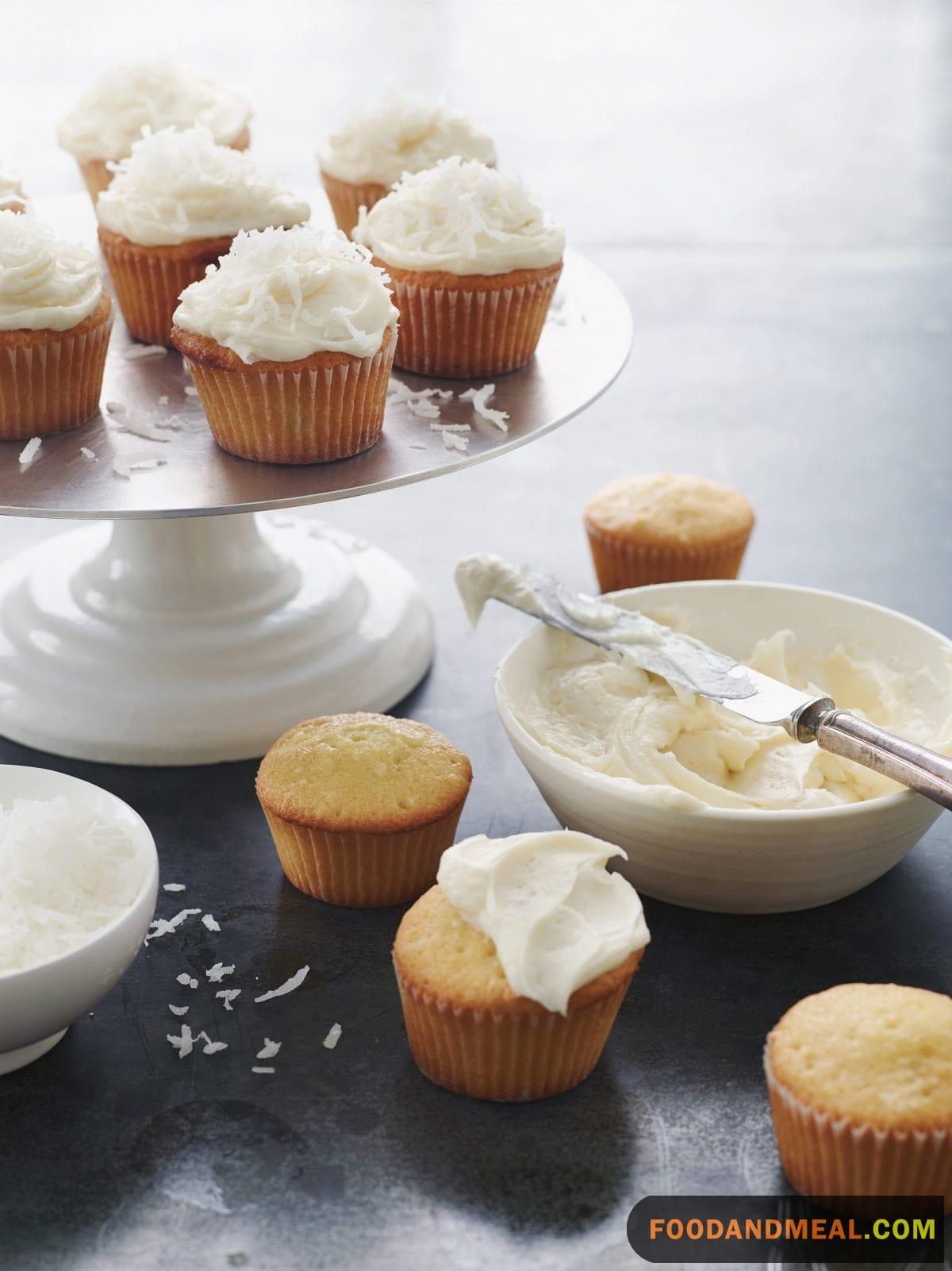 Can These Cupcakes Be Made Vegan? Absolutely! Substitute eggs with flax eggs and use canned coconut milk and vegan butter. The delightful coconut flavor remains unmarred, offering a plant-based indulgence for vegan dessert lovers.
How to Store Leftover Cupcakes? Store any uneaten cupcakes in an airtight container at room temperature for up to 2 days. For longer storage, refrigerate them; remember to bring them to room temperature before serving to revive their tender crumb and exquisite flavor.
Can I Use Coconut Extract for an Enhanced Flavor? Yes, adding a dash of coconut extract can intensify the coconut flavor. However, exercise restraint—a little goes a long way, and you wouldn't want to overpower the delicate balance of flavors.
How Can I Ensure My Cupcakes are Moist?Ensure your ingredients are fresh, and always opt for full-fat versions where applicable. The moisture content in full-fat ingredients aids in achieving that desired tender, moist texture in every bite.
Can the Cupcakes be Frozen for Later Use?Certainly! Place the fully cooled cupcakes, without frosting, in a single layer in a freezer-safe container. They'll keep their flavor and texture for up to two months. Thaw at room temperature and frost before serving to savor their fresh, delightful taste.
Dive into the tropical ecstasy of our Coconut Cupcakes! Follow the recipe, indulge in the flavor, and share the joy with friends. Your sweet escape awaits!
Affiliate DisclaimerAbout The Content
As an affiliate, we may earn a commission from qualifying purchases. We get commissions for purchases made through links on this website from Amazon and other third parties.