As pretty as the canelés look, the flavor of these bite size Caneles Tea cakes is the best part. It is a combination of cake and custard, a heavenly vanilla-scented hybrid. The batter needs 24 hours in the fridge to thicken, giving the canelés their creamy texture. While using a canelé silicone mold would be best, (available at Bonjour Cuisine shop) you could try a small or medium size muffin tin and adjust the cooking time depending on the size of the mold.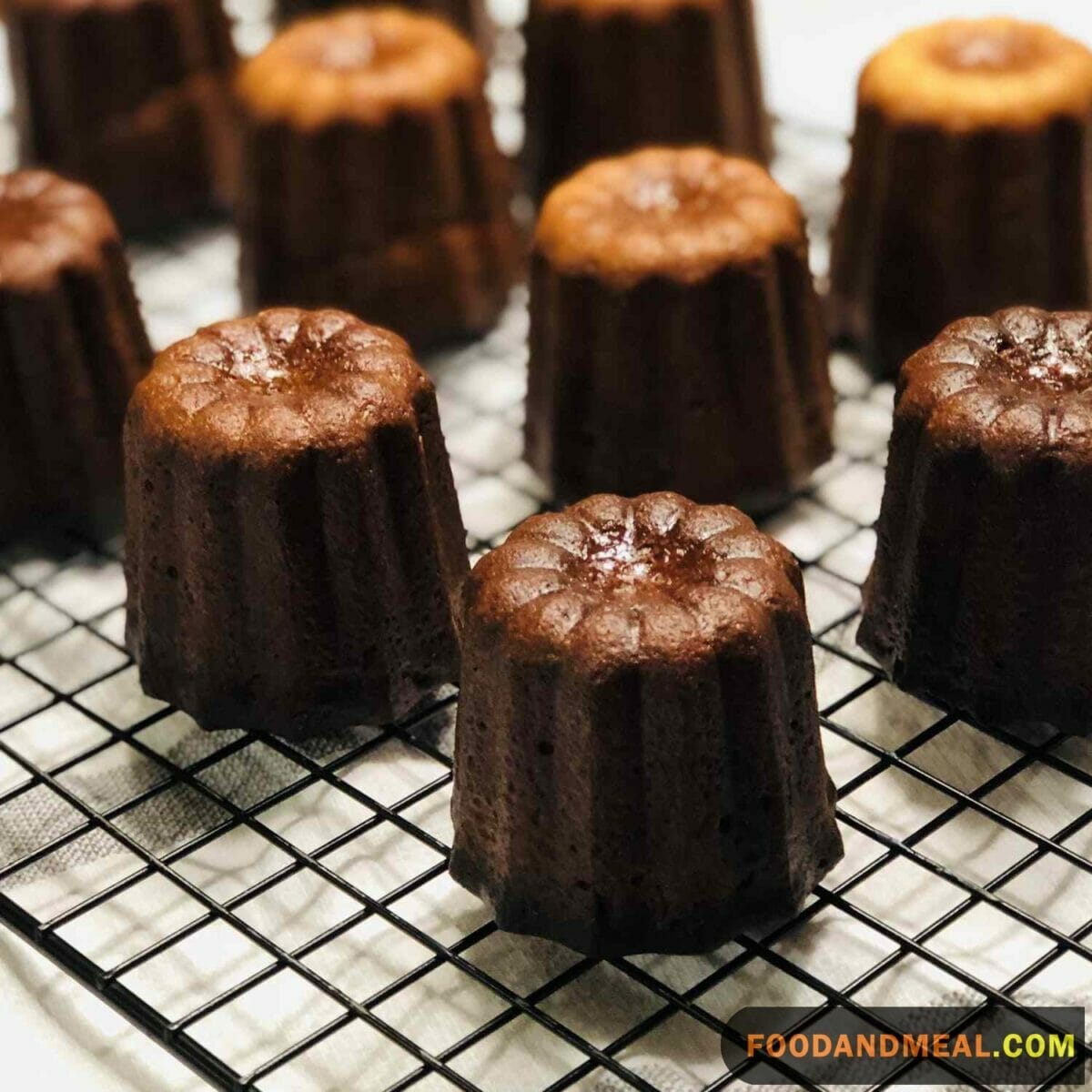 Caneles Tea cakes Recipes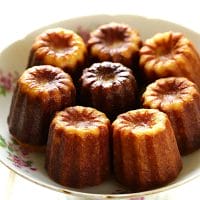 Caneles Tea cakes
Caneles are French pastries that are usually eaten the day they are prepared. Caneles should be prepared at least 24 hours ahead and are best consumed the day of baking. You can find a recipe for caneles in this article. You'll discover how to prepare the cake's delicate interior. This recipe also provides tips for making a caramelized outer shell. You'll need a hot oven and a thermometer to measure the correct baking time.
Print
Add to Collection
Go to Collections
Equipment
Instructions
In a small saucepan, bring the milk and pieces of butter to a simmer over low heat. Cut the vanilla bean down the middle and scrape the seeds with a knife into the saucepan. Simmer for 5 minutes.

In the meantime, sift the flour into a large bowl, as well as the sugar. Add the egg and the egg yolk, and stir well to combine, using a large spatula. Don't worry if the mixture becomes lumpy, it will become smooth again once you add the milk. Slowly add the heated milk and butter, and stir until completely smooth. Let the batter come to room temperature and place in the refrigerator for 24 hours.

Preheat the oven to 475 F.

Use butter spray or melted butter to generously coat the canelé mold. Place the mold in the freezer for 5-10 minutes until the butter becomes hard.

Place the mold on a sheet tray and fill each cavity with the batter.

Bake the canelés at 475 for 4 minutes, then reduce the temperature to 360 F and bake for another 55-65 minutes, until golden brown.

Unmold the canelés on a cooling rack.
Share by Email
Share on Facebook
Share on Twitter
Nutrition
Serving:
1
serving
|
Calories:
182
kcal
|
Carbohydrates:
29
g
|
Protein:
3
g
|
Fat:
7
g
|
Saturated Fat:
4
g
|
Polyunsaturated Fat:
1
g
|
Monounsaturated Fat:
2
g
|
Trans Fat:
1
g
|
Cholesterol:
64
mg
|
Sodium:
54
mg
|
Potassium:
121
mg
|
Sugar:
29
g
|
Vitamin A:
274
IU
|
Calcium:
101
mg
|
Iron:
1
mg
© Food And Meal
This website provides approximate nutrition information for convenience and as a courtesy only. Nutrition data is gathered primarily from the Spoonacular Database, whenever available, or otherwise other online calculators.
Alternative Method: Making Caneles Tea Cakes Using an Air Fryer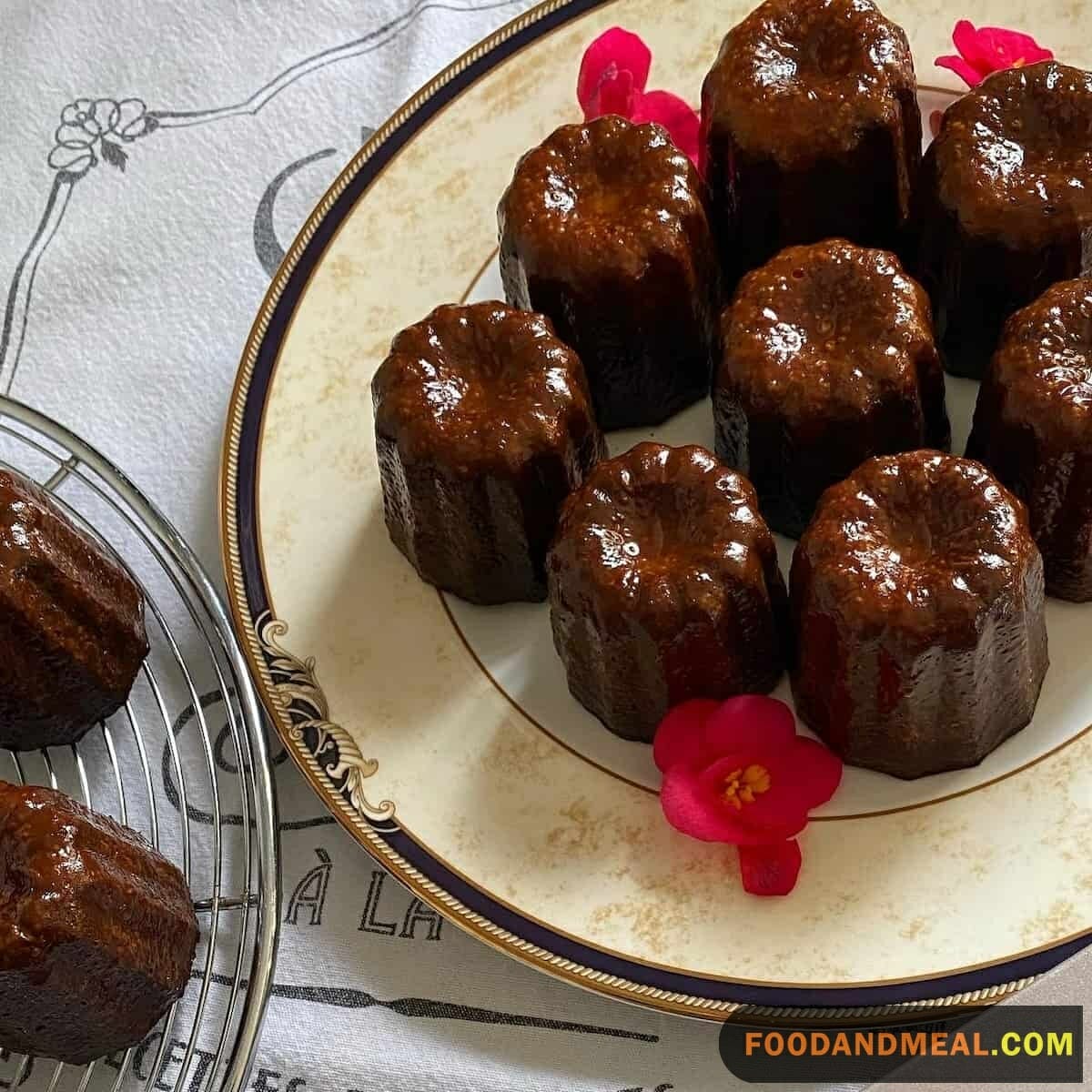 Ingredients:
1 cup whole milk
2 tablespoons unsalted butter
1 vanilla bean or 1 teaspoon vanilla extract
1/2 cup all-purpose flour
1 cup granulated sugar
2 large eggs
1 large egg yolk
A pinch of salt
Cooking spray
Instructions:
Prepare the Batter:

In a saucepan over medium heat, combine the milk, butter, and the seeds scraped from the vanilla bean (or vanilla extract). Heat until the mixture is hot but not boiling. Remove from heat and let it cool to room temperature.

Combine Dry Ingredients:

In a separate bowl, whisk together the flour, sugar, and a pinch of salt.

Mix the Eggs:

In another bowl, whisk together the eggs and egg yolk until well combined.

Combine Wet and Dry Mixtures:

Gradually pour the cooled milk mixture into the dry ingredients, stirring continuously to create a smooth batter. Then, fold in the whisked eggs until you have a homogeneous mixture.

Preheat the Air Fryer:

Preheat your air fryer to 350°F (175°C) for about 5 minutes.

Prepare the Molds:

Lightly grease your Caneles molds with cooking spray or a small amount of melted butter.

Fill the Molds:

Carefully pour the batter into the prepared Caneles molds, filling each about 2/3 full.

Air Fry the Caneles:

Place the filled molds into the preheated air fryer basket. Cook for approximately 20-25 minutes, or until the Caneles have a deep, golden-brown crust.

Cool and Serve:

Once done, remove the Caneles from the air fryer and let them cool in the molds for a few minutes. Then, gently pop them out of the molds and allow them to cool further on a wire rack.

Enjoy:

Your homemade Caneles Tea Cakes are ready to be enjoyed! Serve them warm or at room temperature with your favorite hot beverage.
Tips for making Caneles Tea Cakes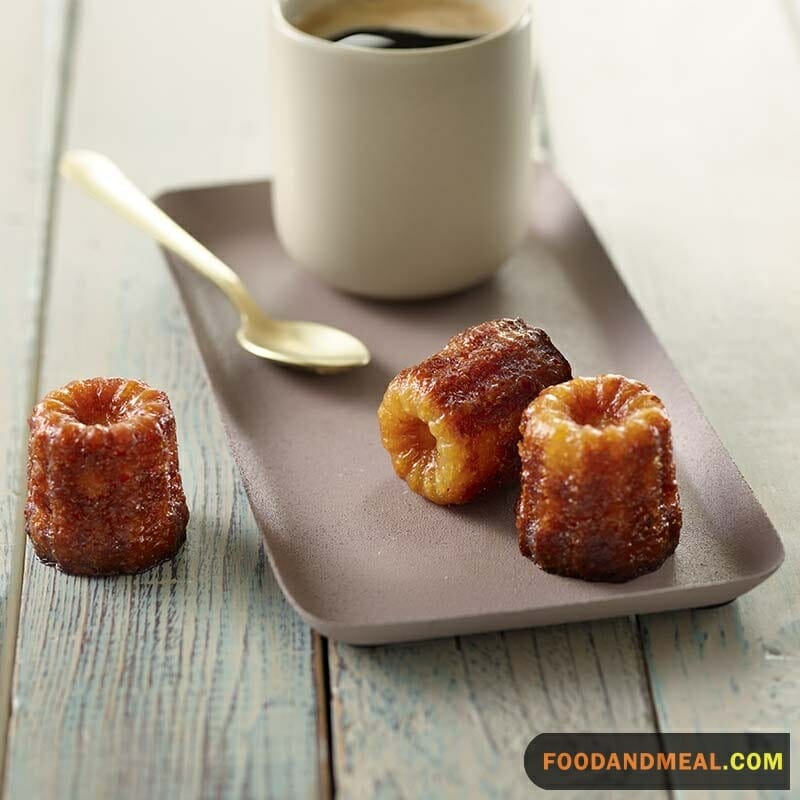 Cooking Tips
Mastering the Batter Resting Time: Patience is key when making Caneles. Allow the batter to rest in the refrigerator for at least 24 hours. This resting period allows the flavors to meld and the texture to develop its characteristic custardy interior.
Properly Grease Your Molds: Ensure you thoroughly grease your Caneles molds with butter or cooking spray. This step is crucial to achieving that coveted caramelized crust without sticking.
Don't Overfill the Molds: Fill your molds only about 2/3 full with the batter. Overfilling can cause the Caneles to rise too much and lose their distinctive shape.
Monitor the Baking Time Closely: Keep a watchful eye on the baking process, especially during the last few minutes. Achieving the perfect golden-brown crust is the goal, and this can happen quickly.
Rotate the Molds for Even Baking: If you're using an oven, consider rotating the molds halfway through baking to ensure even caramelization on all sides of your Caneles.
Serving Suggestions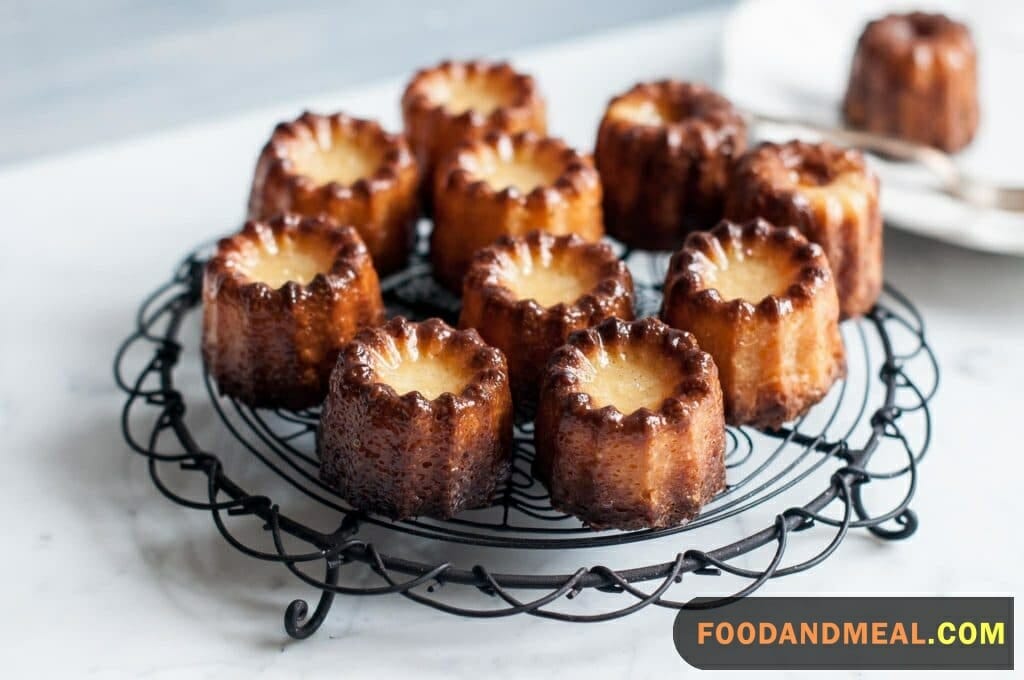 Recommend Sides and Garnishes:
Caneles pair wonderfully with fresh berries, especially raspberries or strawberries, adding a refreshing contrast to their sweetness.
A dollop of whipped cream or a scoop of vanilla ice cream is a luxurious addition.
For an elegant touch, dust the tops of your Caneles with powdered sugar or cocoa powder before serving.
Beverage Pairings:
Caneles are best enjoyed with hot beverages such as coffee, espresso, or a rich black tea.
To enhance the French experience, serve them with a glass of sweet Bordeaux wine.
Different Ways to Serve:
As an afternoon tea treat, arrange your Caneles on a beautiful platter with tea cups and saucers.
For dessert, plate them individually, garnished with fresh fruit and a drizzle of honey.
FAQs about Caneles Tea Cakes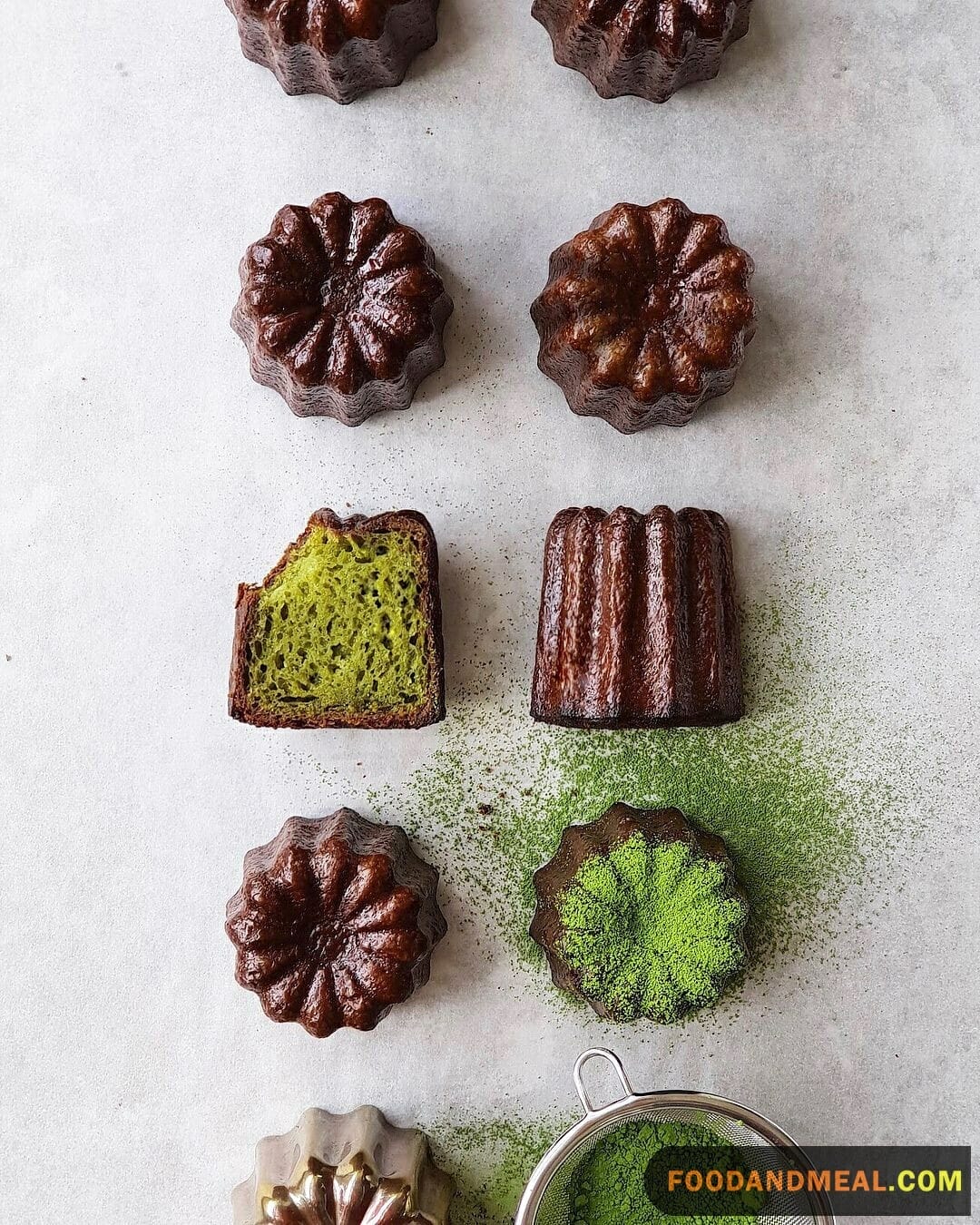 Can I freeze leftover Caneles Tea Cakes?Yes, you can freeze Caneles. Place them in an airtight container or zip-top bags, separating layers with parchment paper. They can be stored for up to 2 months in the freezer.
How do I reheat frozen Caneles? To reheat, simply place frozen Caneles in a preheated oven at 350°F (175°C) for 10-15 minutes, or until they are warmed through and the crust regains its crispiness.
Can I use silicone molds instead of traditional copper molds? Yes, silicone molds can be used, but traditional copper molds are preferred for achieving the classic caramelization and texture.
Can I substitute vanilla extract for a vanilla bean? Yes, you can use vanilla extract as a substitute. Use 1 teaspoon of vanilla extract for the same flavor.
Why did my Caneles turn out too soft or not caramelized enough? Overfilling molds, not resting the batter, or not achieving the right oven temperature can lead to these issues. Follow the tips provided, and you'll improve your results with practice.
Master the art of making Caneles Tea Cakes with our expert recipe. Indulge in French pastry perfection today. Share and subscribe for more culinary adventures.
Affiliate DisclaimerAbout The Content
As an affiliate, we may earn a commission from qualifying purchases. We get commissions for purchases made through links on this website from Amazon and other third parties.