A delicious, moist Vanilla Oreo Cake that melts in your mouth, and comes together quickly and easily. The Oreo bits are an added bonus! However, you can interchange for your cookie of choice, or omit them all together if you prefer. In addition, frosting this cake can make it the perfect celebration dessert. Our favorite is to serve it with berries and a steaming cup of coffee for a delicious afternoon break.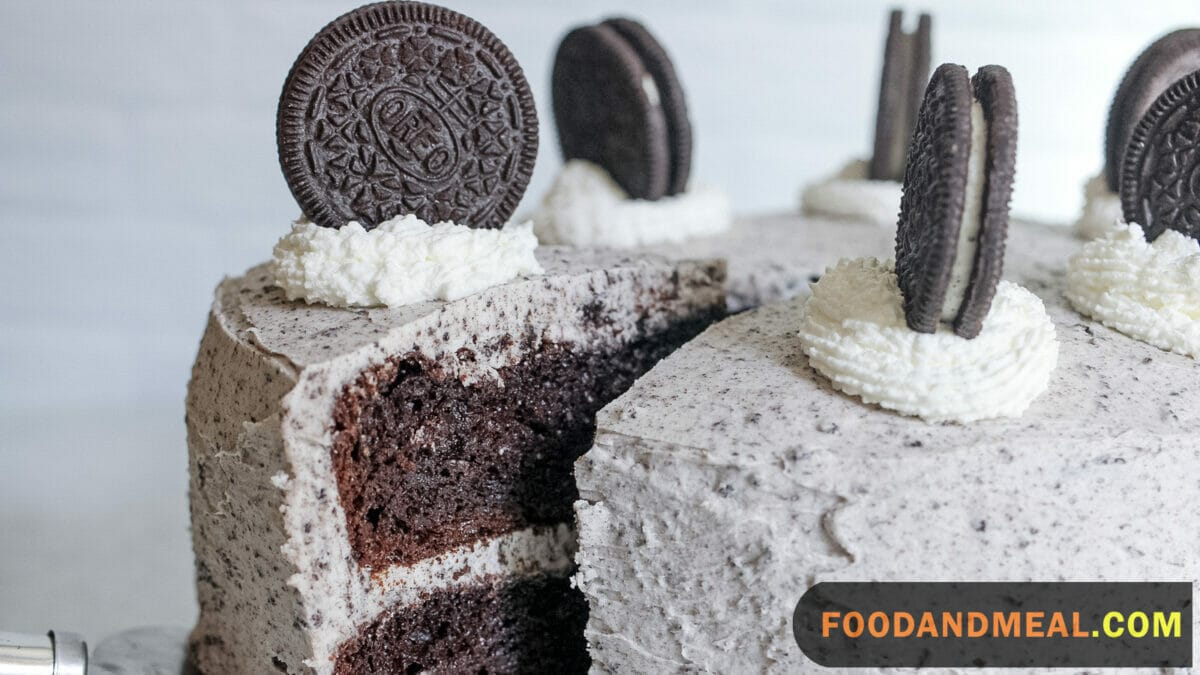 Vanilla Oreo Cake Recipes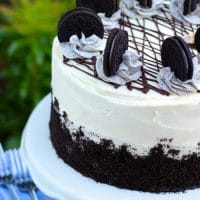 Vanilla Oreo Cake
The Vanilla Oreo Cake is the perfect treat for any occasion. This cake is loaded with Oreos, resulting in a rich vanilla flavor and crunchy bits throughout. The top of the cake is covered with a powdered sugar glaze. If you like, you can even add Oreos to the filling, or top the cake with even more Oreos! To bake this delicious treat, you will need a large bundt pan or individual loaf pans.
Print
Add to Collection
Go to Collections
Equipment
Instructions
Preheat oven to 350 F.

Grease the bottom and sides of a 9 inch springform pan with vegetable oil.

In a medium bowl, mix the flour, baking and salt with a whisk.

Using a stand mixer, mix the eggs with the sugar at high speed for about 3 minutes or until pale yellow and fluffy. Reduce speed to medium and add the vanilla, followed by the vegetable oil in a slow pour, until incorporated.

Reduce speed to low and add half the flour mixture. Scrape down sides as needed. Add half the milk to the batter and mix. Repeat with remaining halves of flour and milk.

Remove the bowl from the stand mixer and gently blend the Oreo cookies into the batter with a spatula. Pour the batter into the prepared springform pan and sprinkle remaining 2 tablespoons sugar on top.

Bake for 40-50 minutes, or until the cake is golden and a toothpick inserted in the center comes out clean.

Place pan on a wire rack and cool for 10 minutes before removing the side of the pan. Allow cake to cool for about 1 hour before serving.
Notes
The vanilla Oreo cake is a great dessert for any occasion. The combination of vanilla ice cream and Oreos is one of my favorite flavors. It is a delicious way to celebrate the flavor of your favorite cookie. After a slice of your vanilla Oreo cake, you can serve it for dessert. A simple treat, which is perfect for any occasion! It will make your guests ask for more. Once it's cool, you can serve it for company!
Share by Email
Share on Facebook
Share on Twitter
Nutrition
Serving:
4
servings
|
Calories:
1021
kcal
|
Carbohydrates:
128
g
|
Protein:
13
g
|
Fat:
52
g
|
Saturated Fat:
10
g
|
Polyunsaturated Fat:
25
g
|
Monounsaturated Fat:
13
g
|
Trans Fat:
1
g
|
Cholesterol:
127
mg
|
Sodium:
748
mg
|
Potassium:
232
mg
|
Fiber:
2
g
|
Sugar:
77
g
|
Vitamin A:
253
IU
|
Calcium:
145
mg
|
Iron:
6
mg
© Food And Meal
This website provides approximate nutrition information for convenience and as a courtesy only. Nutrition data is gathered primarily from the Spoonacular Database, whenever available, or otherwise other online calculators.
Alternative Method: Vanilla Oreo Cake in a Microwave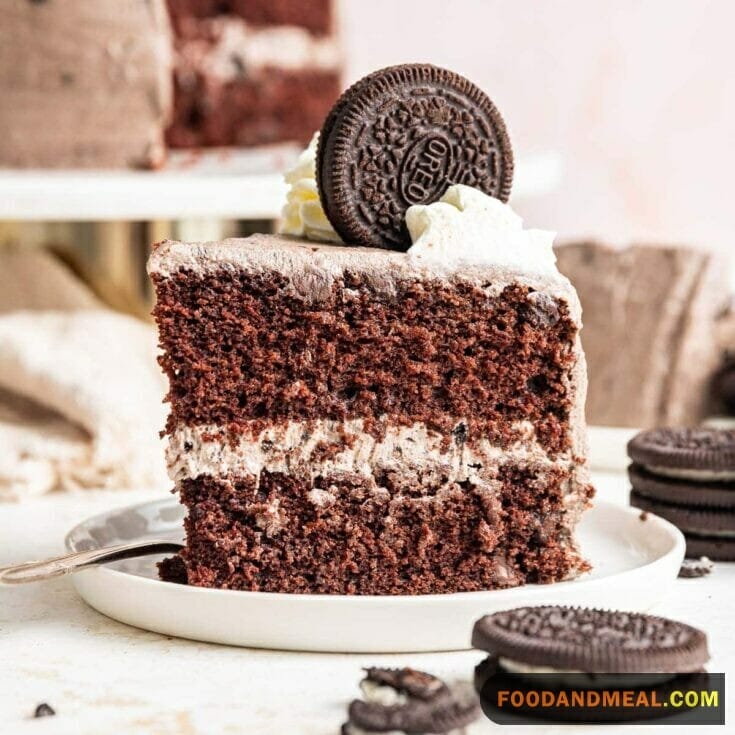 Ingredients:
1/4 cup all-purpose flour
2 tablespoons granulated sugar
1/8 teaspoon baking powder
1/8 teaspoon baking soda
2 tablespoons unsalted butter, melted
3 tablespoons milk
1/4 teaspoon vanilla extract
2 Oreo cookies, crushed
Instructions:
In a microwave-safe mug or ramekin, combine the all-purpose flour, granulated sugar, baking powder, and baking soda. Mix well to ensure there are no lumps.
Add the melted unsalted butter, milk, and vanilla extract to the dry ingredients. Stir until you have a smooth batter.
Gently fold in the crushed Oreo cookies into the batter, leaving a small amount to sprinkle on top.
Microwave the mixture on high for 1 minute and 30 seconds. Keep an eye on it as microwave cooking times may vary. The cake should rise and firm up.
Carefully remove the mug or ramekin from the microwave (it will be hot!), and let it cool for a minute or two.
Garnish your microwave Vanilla Oreo Cake with the remaining crushed cookies.
Enjoy your quick and easy Vanilla Oreo Cake straight from the microwave. Be cautious as it will be hot. You can also add a scoop of vanilla ice cream for an extra treat.
Tips for making Vanilla Oreo Cake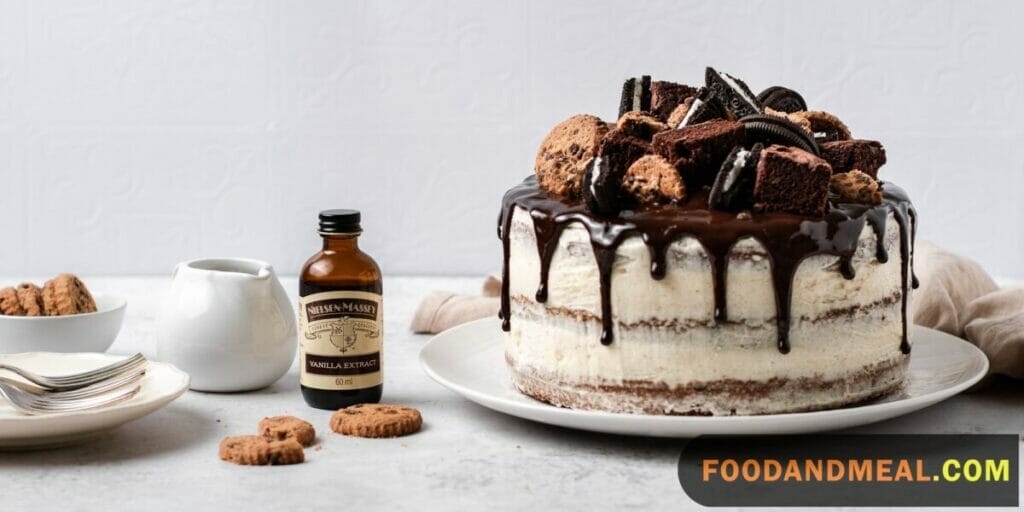 Serving Suggestions
Complementary Flavors: Pair a slice of Vanilla Oreo Cake with a scoop of creamy vanilla ice cream. The contrast of warm cake and cold ice cream is heavenly. For a touch of indulgence, drizzle some chocolate or caramel sauce over the top.
Fresh Berries: Add a burst of freshness with a side of fresh berries like strawberries or raspberries. Their natural sweetness balances the rich flavors of the cake.
Coffee or Tea: Enjoy your Vanilla Oreo Cake with a cup of your favorite coffee or tea. The warm beverage complements the sweetness of the cake and enhances the overall experience.
Garnish Galore: Get creative with garnishes. Sprinkle extra crushed Oreo cookies, dust with powdered sugar, or add a dollop of whipped cream. These finishing touches not only add flavor but also make your cake visually appealing.
Personalized Slices: If you're serving this cake at a gathering, consider pre-slicing it into smaller portions. This way, your guests can enjoy without the hassle of cutting their slices.
Cooking Tips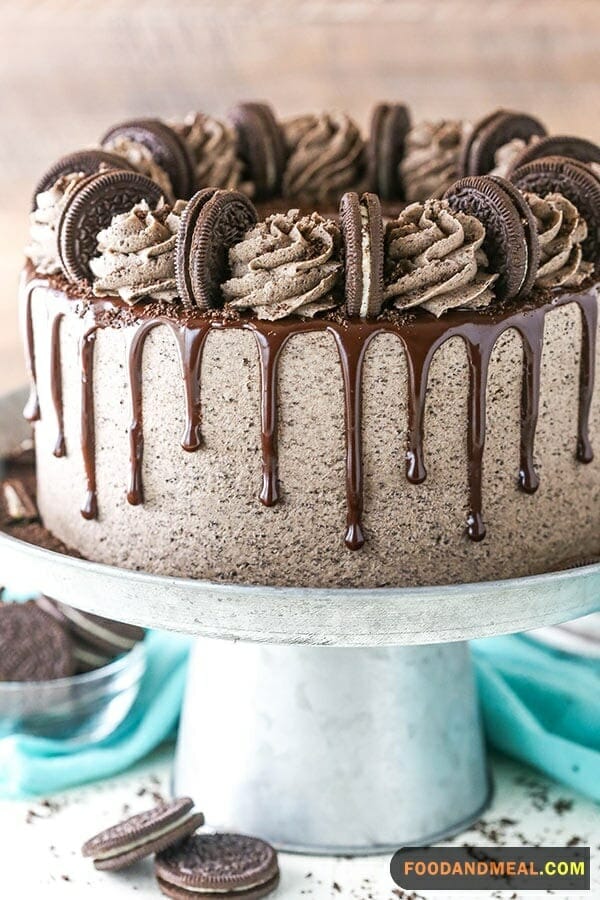 Quality Ingredients: Begin with high-quality ingredients, especially the cake mix and Oreo cookies. Using fresh, premium ingredients will elevate the flavor of your cake.
Room Temperature Ingredients: Bring your eggs, butter, and milk to room temperature before you start baking. Room temperature ingredients mix more evenly, resulting in a smoother batter and a better rise.
Crushed Oreo Consistency: When crushing the Oreo cookies, aim for a mixture of fine crumbs and slightly larger pieces. This balance creates a delightful texture in your cake.
Even Distribution: After adding the crushed Oreos to the batter, fold them in gently to ensure even distribution. This ensures that every bite is packed with that Oreo goodness.
Avoid Overmixing: Be mindful not to overmix the batter once you've added the dry ingredients. Overmixing can lead to a dense cake. Mix until just combined for a light, tender crumb.
Frequently Asked Questions about Vanilla Oreo Cake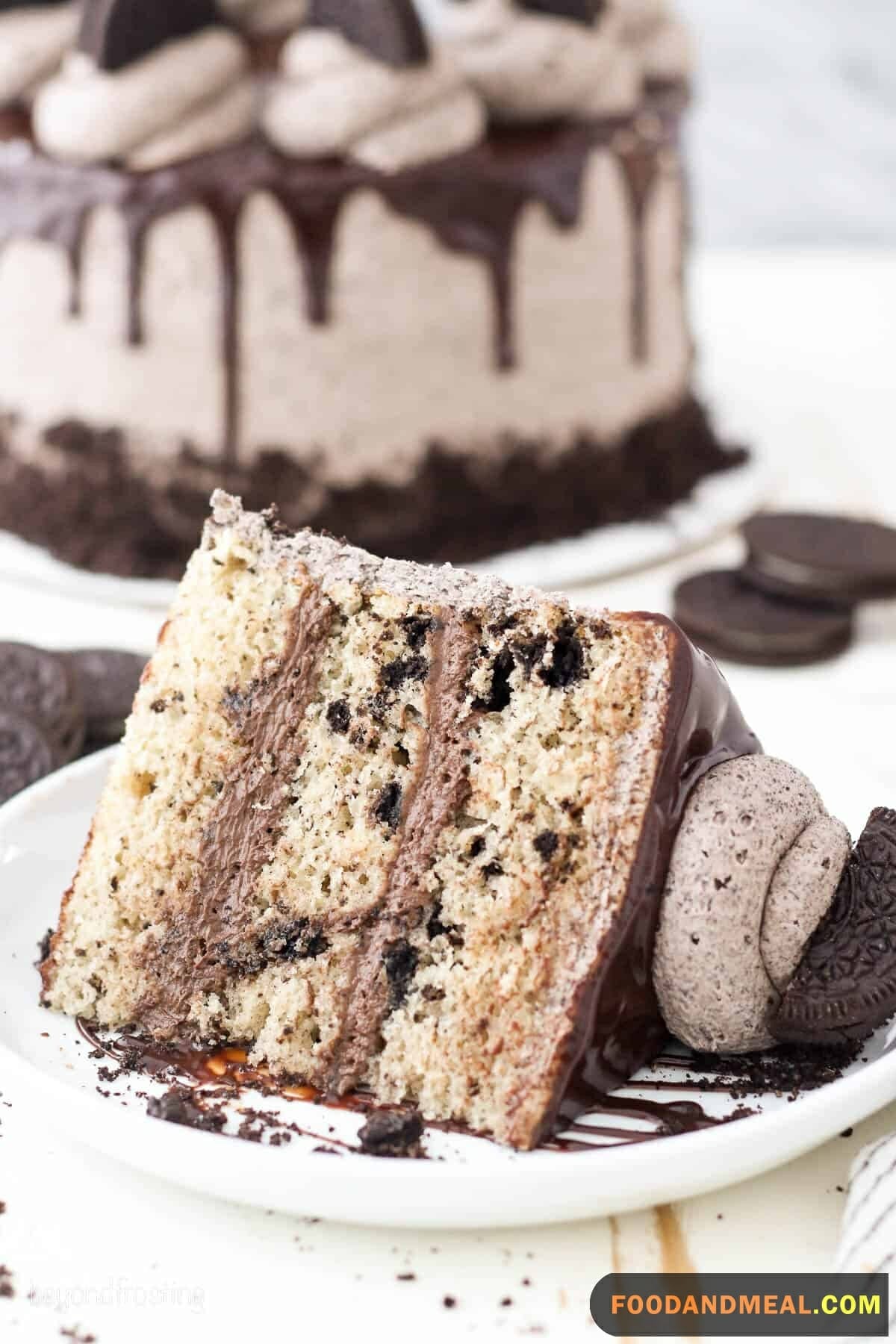 Can I use Double-Stuffed Oreos for a stronger flavor? Absolutely! Double-Stuffed Oreos can add an extra layer of creamy goodness to your cake. Just be mindful of the sweetness and adjust the sugar in your recipe accordingly.
How do I keep my cake moist for longer? To maintain the moisture of your Vanilla Oreo Cake, store any leftover slices in an airtight container. You can also place a slice of bread in the container to help retain moisture.
Can I freeze Vanilla Oreo Cake? Yes, you can freeze this cake. Wrap individual slices tightly in plastic wrap and store them in an airtight container in the freezer for up to three months. Thaw slices in the refrigerator before enjoying.
Can I make this cake eggless? Certainly! You can replace the eggs with alternatives like applesauce, yogurt, or mashed bananas for an eggless version. Check the recommended substitutions on the packaging of your cake mix for the best results.
What type of cake mix should I use for this recipe? I recommend using a vanilla or yellow cake mix for this recipe. However, feel free to experiment with other flavors to create your unique twist on Vanilla Oreo Cake.
Unlock the magic of Vanilla Oreo Cake with our step-by-step recipe. Subscribe for more delightful culinary adventures.
Affiliate DisclaimerAbout The Content
As an affiliate, we may earn a commission from qualifying purchases. We get commissions for purchases made through links on this website from Amazon and other third parties.