Marble pound cakes are such a classic treat. But they are definitely not all created equal…This recipe, adapted from the wonderful Bake From Scratch online magazine, is a keeper! It is tasty and rich, and it's nearly impossible to stop at one slice.
Marble Pound Cake Recipes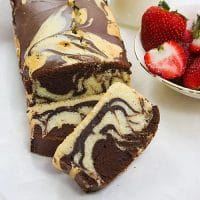 Marble Pound Cake
A classic Marble Pound Cake recipe calls for the use of cocoa powder, but you can also use real chocolate for an even more decadent flavor. This will make the chocolate swirl portion of the cake taste more like a rich brownie than a marble cake. You can also make your own buttermilk at home by mixing 1 tablespoon each of lemon juice and white vinegar with one cup of regular milk. This process takes about 10 to 15 minutes.
Print
Pin
Add to Collection
Go to Collections
Equipment
Instructions
Butter and flour a 10-inch Bundt pan or angel food cake pan with removable bottom.

In the bowl of a stand mixer with the paddle attachment, beat 1 cup butter, 11⁄2 cups sugar, and 1 ½ teaspoons vanilla at medium speed until fluffy and pale, a minimum of 6 minutes. Add egg whites one at a time, beating well after each addition, about 15 seconds, and scraping down sides with a rubber spatula. With mixer on medium-high speed, add melted white chocolate, beating until smooth, about 1 minute. Add 1 ½ cups flour and 1 teaspoon salt, and stir with a rubber spatula just until combined. Scrape white batter into a bowl, and set aside.

Return bowl to stand mixer. With the paddle attachment, beat remaining 1 cup butter, remaining 1 ½ cups sugar, and remaining 1 ½ teaspoons vanilla at medium speed until fluffy and pale, at least 6 minutes. Add eggs, one at a time, beating well after each addition, about 15 seconds. Add egg yolks, two at a time, beating well after each addition, about 15 seconds. Scrape bottom and sides of bowl with a rubber spatula. With mixer on medium-high speed, beat until smooth, about 1 minute. Add cocoa, remaining ¾ cup flour, and remaining 1 teaspoon salt. With mixer on low speed, add buttermilk, beating just until batter comes together. Scrape bottom and sides of bowl with a rubber spatula, and stir just until combined.

Using a large (2- to 3-ounce) spring-loaded ice cream scoop, alternately scoop white and black batters into prepared pan. Tap pan lightly on counter to settle batter.

Place pan in a cold oven, and bake at 300°F (150°C) until lightly browned on top and a wooden pick inserted near center comes out clean, 1 ½ to 2 hours. (This bake time depends on how long it takes your oven to preheat. Start checking after 1 ½ hours, and continue baking in 10-minute intervals until cake is done.) Let cool in pan on a wire rack for 10 minutes. Invert cake onto wire rack, and unmold from pan. Let cool completely.
Video
Notes
 The recipe makes a gorgeous marble pound cake that's easy to make! You'll love it!
Share by Email
Share on Facebook
Share on Twitter
Nutrition
Serving:
4
servings
|
Calories:
1951
kcal
|
Carbohydrates:
228
g
|
Protein:
24
g
|
Fat:
112
g
|
Saturated Fat:
68
g
|
Polyunsaturated Fat:
6
g
|
Monounsaturated Fat:
30
g
|
Trans Fat:
4
g
|
Cholesterol:
527
mg
|
Sodium:
1306
mg
|
Potassium:
538
mg
|
Fiber:
8
g
|
Sugar:
168
g
|
Vitamin A:
3226
IU
|
Vitamin C:
1
mg
|
Calcium:
156
mg
|
Iron:
4
mg
© Food And Meal
This website provides approximate nutrition information for convenience and as a courtesy only. Nutrition data is gathered primarily from the Spoonacular Database, whenever available, or otherwise other online calculators.
About Marble Pound Cake Recipe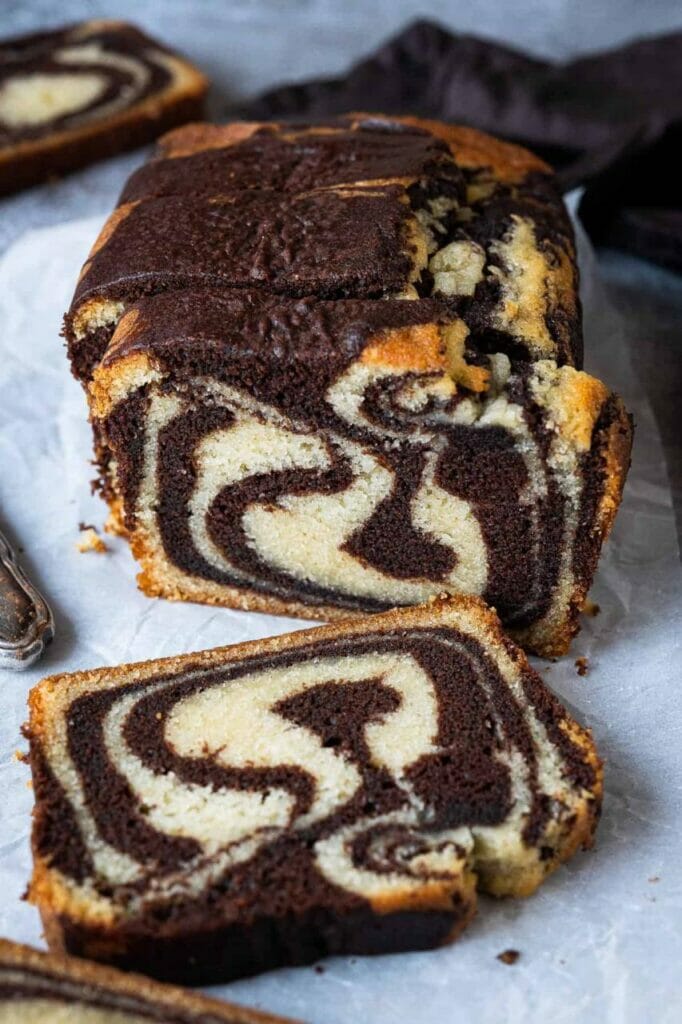 Unsweetened chocolate
To create a perfect marble pound cake, start by softening the butter. Then, add the large eggs, which should be at room temperature or can be placed in a bowl of warm water for 10 minutes. Use gluten-free measure-for-measure flour (like Bob's Red Mill), or cake flour for a finer crumb. Unsweetened cocoa powder should be used instead of milk.
Then, cream butter and sugar together until pale in color, about 5 minutes. Add vanilla and then gradually add cocoa powder, mixing until well blended. This mixture will form a smooth dough, and the batter will be pale yellow in color. Once the batter is combined, pour in the dry ingredients. Make sure the dough is well-greased, and the cake is ready to bake! You can even freeze the finished marble pound cake, which looks so pretty!
While most marble cake recipes call for cocoa powder, real chocolate adds a richer flavor to the swirled portion of the cake. This version makes the chocolate portion of the cake taste almost like a chocolate brownie. To make your own buttermilk, combine one tablespoon of lemon juice with one tablespoon of white vinegar and regular milk. Allow this mixture to sit for 10 to 15 minutes before using it. The batter should then be poured into the prepared bundt pan.
Unsweetened almond milk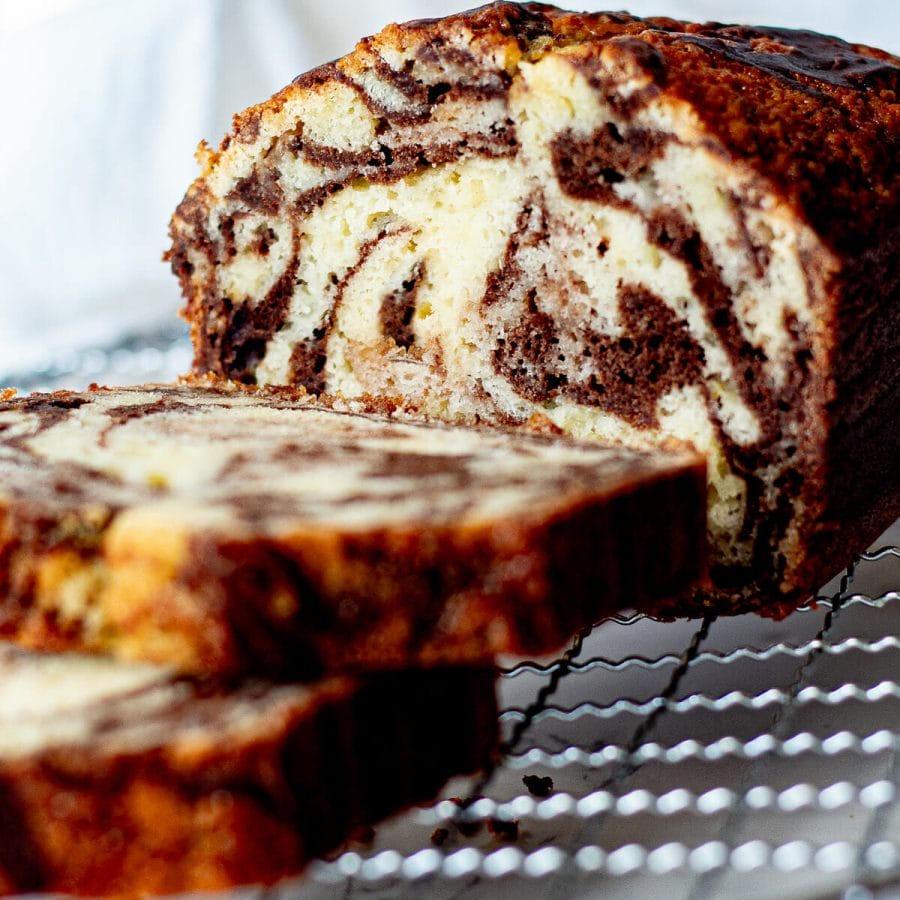 To make a marbled pound cake, you'll need two types of unsweetened almond milk – regular and almond. If you use regular milk, you can double the amount. If you use almond milk, you can reduce the amount by half. You can also substitute 2 tablespoons of unsweetened almond milk for each cup of almond flour. However, you'll need more eggs – at least one extra for every 1/4 cup of almond flour.
To make the top layer of the marbled pound cake, you can make a chocolate buttercream. To make the frosting, follow the Buttercream Frosting recipe, but substitute 1/4 cup cocoa powder for the regular milk. You can also add chocolate chips or white chocolate chips if you like. If you'd like to add a cream cheese layer to your marbled pound cake, add it to the batter before adding the vanilla batter.
Next, you'll add the flour, baking powder, salt, and almond milk. Use a stand mixer fitted with a paddle attachment to beat in the remaining sugar. After each addition, beat the eggs for one minute. Add the flour mixture, then the almond milk, and finally, the cocoa powder paste. Combine all the ingredients until a smooth, velvety marbled cake is the result. It is the perfect marbled pound cake recipe.
All-purpose flour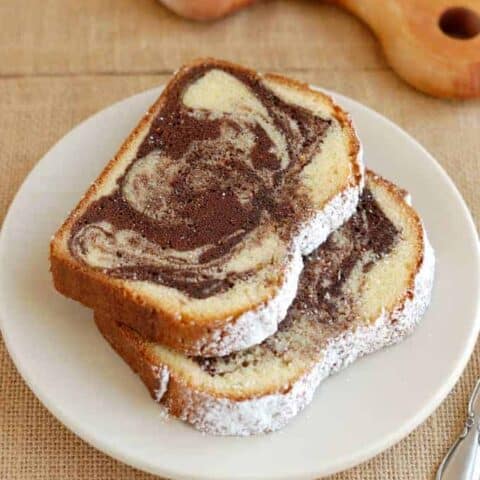 You can make a beautiful marble pound cake with all-purpose flour if you're not allergic to gluten, but be sure to use unsweetened cocoa powder. A good brand is Bob's Red Mill. Use cake flour to get a finer crumb, or use a gluten-free mix. Marble pound cake recipe calls for 2 cups of all-purpose flour. For a lighter marble-looking cake, you can replace one-third of the batter with cocoa powder.
When mixing your marble-colored batter, you should use freshly ground baking powder. You can check for this by testing a small amount of the cake batter on a piece of cardboard. You can also increase the amount of liquid by adding buttermilk or sour cream. You can store the cake at room temperature for up to 5 days. If you make the cake ahead of time, you may want to keep it in a plastic container in the fridge.
A good pound cake should have a crumb that's soft and moist. A moist toothpick should come out of the cake with crumbs. You can eat this marble-colored pound cake as is or freeze it for up to three months. Just remember to defrost it before serving. The recipe makes a gorgeous marble pound cake that's easy to make! You'll love it!
Chocolate buttercream frosting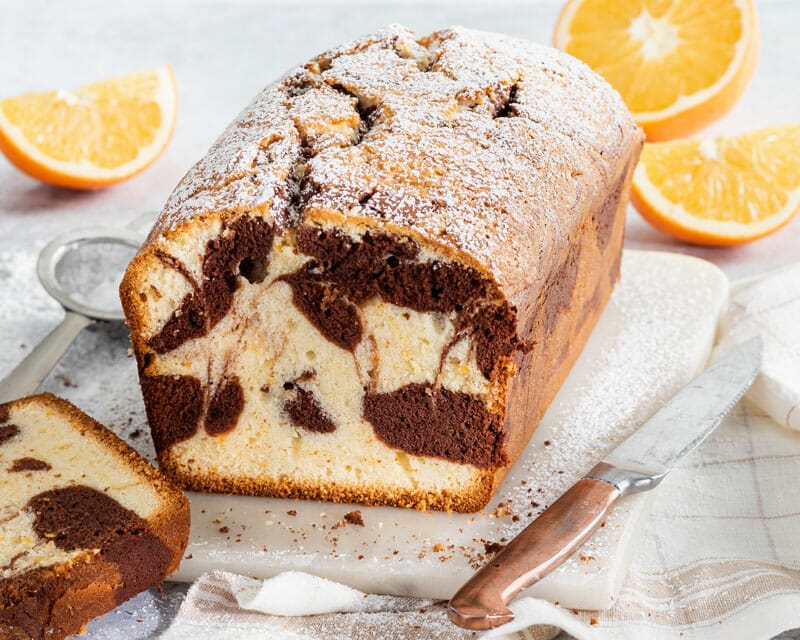 To create a chocolate marbling on your marble pound cake, simply mix the two types of chocolates, cocoa powder, and butter. The batter will be lumpy and difficult to mix well with a spatula, but don't worry. You can just leave it as is, or you can decorate it further. Chocolate buttercream frosting is delicious on marble pound cake, as well. Make sure to lightly tap your pans when mixing the chocolate and buttercream, and use an offset spatula to create a marble effect.
To make a marble pound cake with chocolate buttercream frosting, first, prepare your cake. Place the bottom layer on a cake plate. Spread the chocolate buttercream on top of the layer. Repeat the process for the second layer, and then the third layer. After the first layer is frosted, use the remaining buttercream to frost the entire cake, and then top it with the third layer. Chill the cake for at least 40 minutes before frosting it.
Before you begin making the chocolate buttercream frosting for marble pound cake, make sure that the eggs are at room temperature. Adding too much flour will cause them to curdle, but you can adjust the recipe and bake it as usual. When baking the marble pound cake, use a rectangular baking pan with a deep enough rim to hold the two layers together. If you don't bake it long enough, the cake will be dry and will sink.
Baking time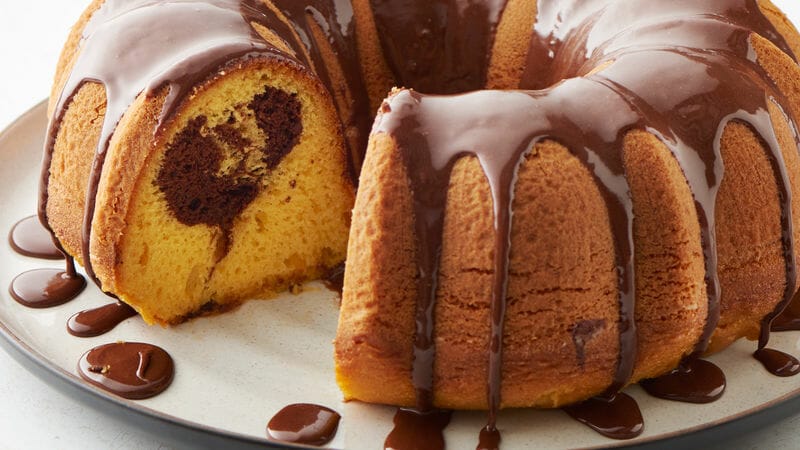 This recipe for a marbled pound cake has both traditional and modern styling. You can use either a ten-inch or a twelve-cup Bundt pan to bake the cake. Make sure to prepare the pan by spraying it with nonstick cooking spray or using Pam with Flour. Then, melt chocolate in a small saucepan. Once melted, add the chocolate to the batter and stir until blended. Remove the cake from the oven and cool on a wire rack.
If you'd like to make a chocolate and vanilla marble pound cake, you'll need cake flour. But if you're short on that, you can substitute all-purpose flour and add some cornstarch. The book also breaks the ingredients into two parts, including a discussion of the different ways to mix and prepare batters. After reading the book, you'll have a better idea of how long it takes to make this classic marble pound cake.
A classic pound cake with a moist, buttery texture, marbled with chocolate and vanilla ganache is the ideal way to celebrate a special occasion. This cake is moist and rich with a chocolate flavor that is close to fudge. It also has a gorgeous marbled look and can be made with high-quality ingredients. Make this recipe today! You'll be delighted with the result!
Ingredients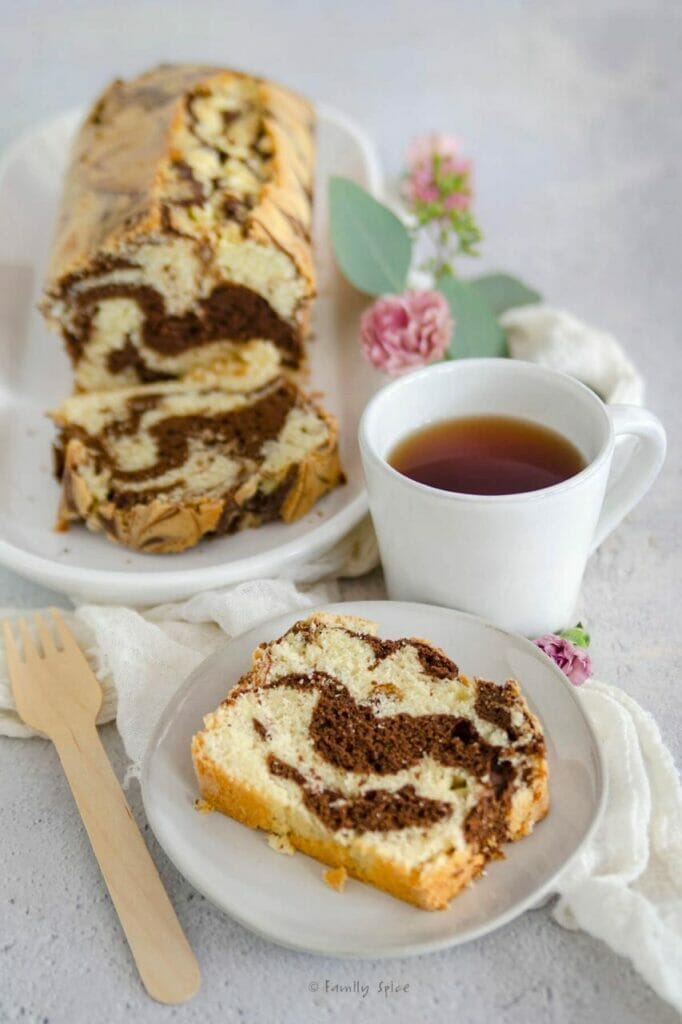 The basic ingredients for marble pound cake are butter, eggs, sugar, vanilla extract, and cocoa powder. You can use cocoa powder or real chocolate for a more intense flavor, and you can also try adding a little ganache on top. Using real chocolate makes the chocolate swirl portion of the cake taste like a decadent brownie. To make homemade buttermilk, simply combine 1 tablespoon lemon juice, 1 tablespoon white vinegar, and regular milk. Allow the mixture to sit for 10 to 15 minutes before using.
A basic recipe for marble pound cake is quite simple. You simply combine two types of cake batter: vanilla and chocolate. This combination gives you a soft, tender, and buttery cake that tastes like chocolate and vanilla. This cake is buttery, moist, and easy to make and is perfect for any occasion. The ingredients are simple and can be found in any pantry. Whether you're baking the cake for a special event or just to treat yourself, you'll be sure to be delighted with the results.
For a truly decadent treat, try the marble loaf pound cake. This moist cake is dainty and sweet enough for dessert, but rich enough to be enjoyed as a breakfast or snack. It makes a large loaf and will keep in your freezer for several days. Add fresh fruit to the top before serving to get an extra-rich slice. You can even make this cake as a double-layer.
Food And Meal blog gives you culinary and cultural journeys around the world that you couldn't find anywhere. Feel free to accompany us so that all the cooking secrets and techniques are to your fingers.