Welcome to a world of frothy indulgence! As a seasoned chef and devoted food blogger, I'm thrilled to unveil the recipe for the Easy Frappuccino – a symphony of flavors, textures, and pure enjoyment. Brace yourself for a refreshing experience that's not only a breeze to create but also an invitation to embrace the joys of crafting your own coffee concoction. Get ready to blend, sip, and relish the magic in each chilled sip.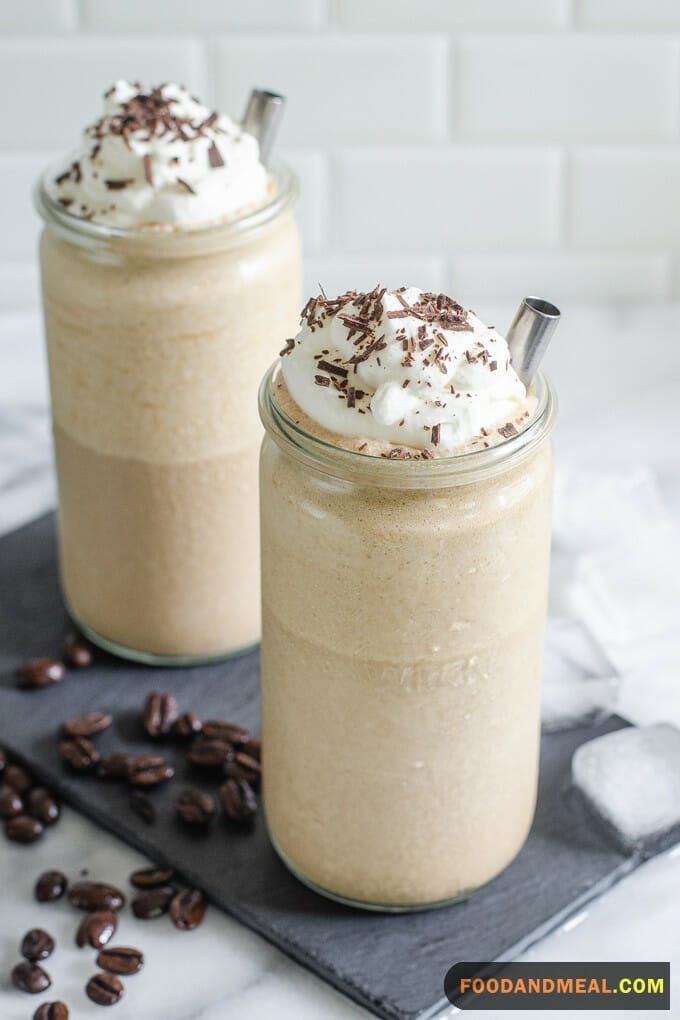 Easy Frappuccino Recipe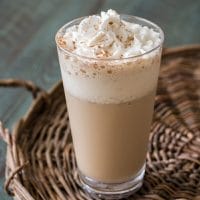 Easy Frappuccino
From your kitchen to your glass, the Easy Frappuccino is your gateway to a world of chilled coffee delight. As a food blogger and culinary enthusiast, I'm delighted to share this recipe that combines the art of crafting with the joy of sipping. Elevate your coffee break with a frappuccino that's not just easy to make, but also a reflection of your culinary finesse. Blend, sip, and revel in the pure pleasure of crafting your own chilled masterpiece.
Print
Pin Recipe
Add to Collection
Go to Collections
Equipment
Ingredients
Ingredients for Your Frappuccino
1

Tsp

Sugar, White

1/4

Tsp

Pectin, Dry

1/4

Cup

Milk, Cold and 2% Variety

3/4

Cup

Coffee, Espresso Variety
Ingredients for Your Flavoring
1

Tsp

Cocoa, Unsweetened Variety

1

Tbsp

Coffee Flavoring, Vanilla or Almond Preferable

1

Tsp

Baking Flavoring, Liquid Variety and Cinnamon
Instructions
Add at least 3⁄4 of a cup of your hot coffee and your desired sugar into a blender. Blend on the highest setting for the next 30 minutes or until your sugar is fully dissolved.

While your blender continues to run, pour in your remaining ingredients.

Continue to blend for at least an additional minute before serving. Enjoy!
Notes
Customize the sweetness level by adjusting sugar or sweetener.
Add a splash of vanilla extract for extra depth of flavor.
Feel free to experiment with different milk alternatives for a unique twist.
Toss in a handful of ice cubes for the perfect frothy consistency.
Share by Email
Share on Facebook
Share on Twitter
Nutrition
Calories:
250
kcal
|
Carbohydrates:
40
g
© Food And Meal
This website provides approximate nutrition information for convenience and as a courtesy only. Nutrition data is gathered primarily from the Spoonacular Database, whenever available, or otherwise other online calculators.
Pin Recipe
Tips and tricks
Quality Ingredients: Begin with fresh, high-quality ingredients. Use freshly brewed coffee or espresso for the best flavor foundation.
Brew and Chill: If using coffee, allow it to cool completely before blending. Chilling the coffee ensures that your frappuccino won't become overly diluted by ice.
Ice Consideration: Balance is key when adding ice. Too much ice can water down the flavors, so start with a moderate amount and adjust as needed for desired thickness.
Texture Enhancement: For a creamier texture, use frozen banana slices or add a scoop of Greek yogurt. These ingredients lend a velvety consistency and a dose of creaminess.
Sweetness Control: Adjust sweeteners to your taste. Opt for natural options like honey, maple syrup, or agave. Add sweetness gradually and taste-test as you go.
Milk Alternatives: Experiment with different milk alternatives like almond, oat, or coconut milk. Each imparts a unique flavor and texture, allowing for endless customization.
Flavor Extravaganza: Enhance your frappuccino with extracts like vanilla, almond, or even a touch of cocoa powder. These additions elevate the flavor profile.
Serving Suggestions: Elevate Your Easy Frappuccino Experience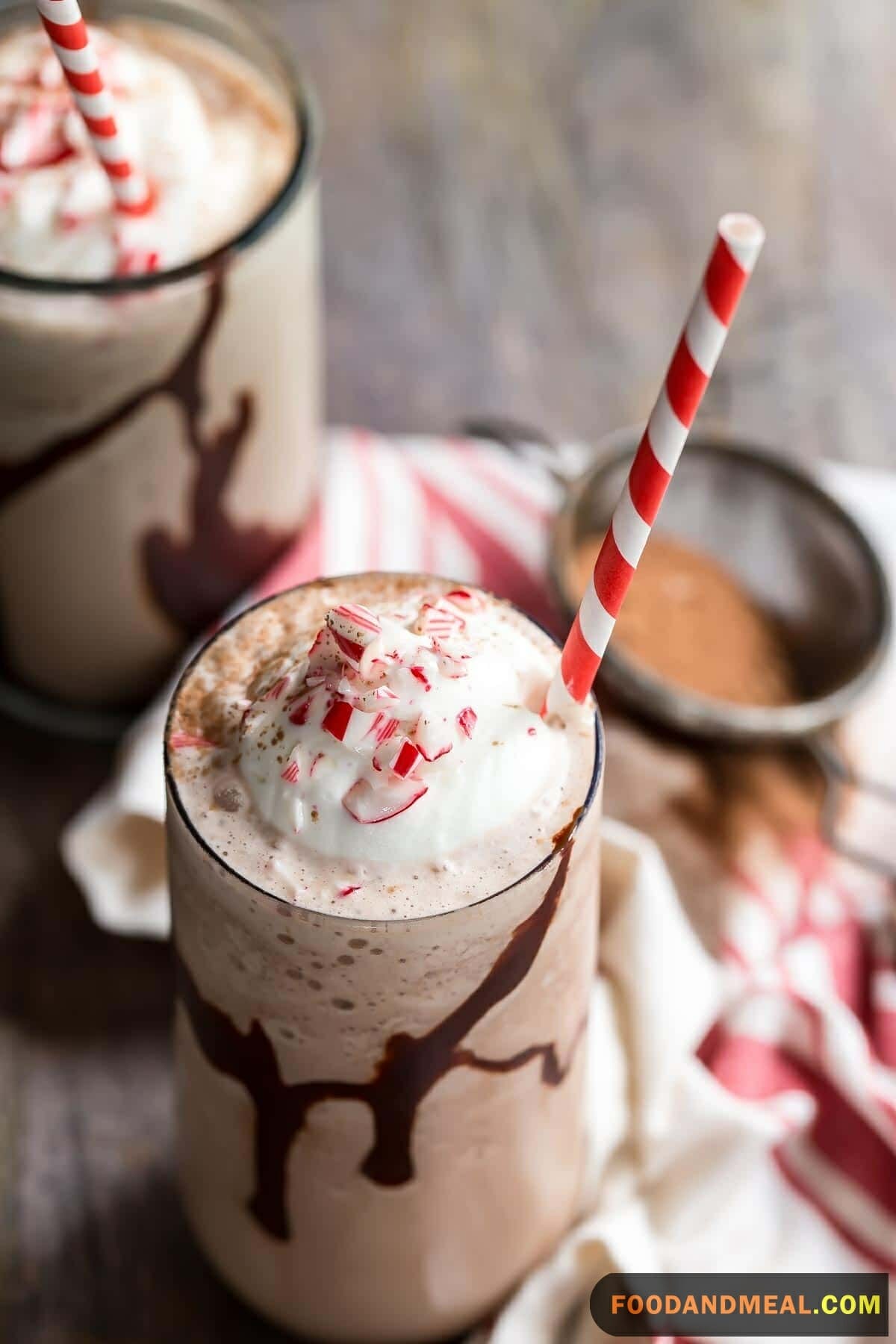 Morning Bliss: Start your day on a refreshing note by pairing your Easy Frappuccino with a bowl of Greek yogurt topped with fresh berries and a sprinkle of granola. The cool frappuccino complements the creamy yogurt, creating a balanced and energizing breakfast.
Poolside Indulgence: Bask in the sun with a tropical twist. Sip on your Easy Frappuccino alongside a plate of tropical fruits like mango, pineapple, and kiwi. The fruity medley harmonizes beautifully with the chilled coffee creation.
Afternoon Treat: Elevate your afternoon snack with a side of biscotti or almond cookies. Dip these crunchy delights into your frappuccino for a satisfying combination of textures and flavors.
Outdoor Adventure: Pack a thermos of your Easy Frappuccino for a hiking or picnic excursion. Pair it with an assortment of trail mix and energy bars for a refreshing boost during your outdoor escapade.
Dessert Delight: Turn your Easy Frappuccino into an after-dinner treat by serving it alongside a slice of chocolate cake or a fruit tart. The coffee's refreshing quality balances the richness of the dessert.
Flavor Fusion: Create a flavor fusion by pairing your Easy Frappuccino with a slice of spiced pumpkin bread or cinnamon swirl coffee cake. The warm spices complement the coffee's chilled bliss.
Cocoa Harmony: Combine your coffee creation with a small cup of hot cocoa. Sip alternatively for a delightful play of temperatures and flavors that invigorate your senses.
FAQs of Easy Frappuccino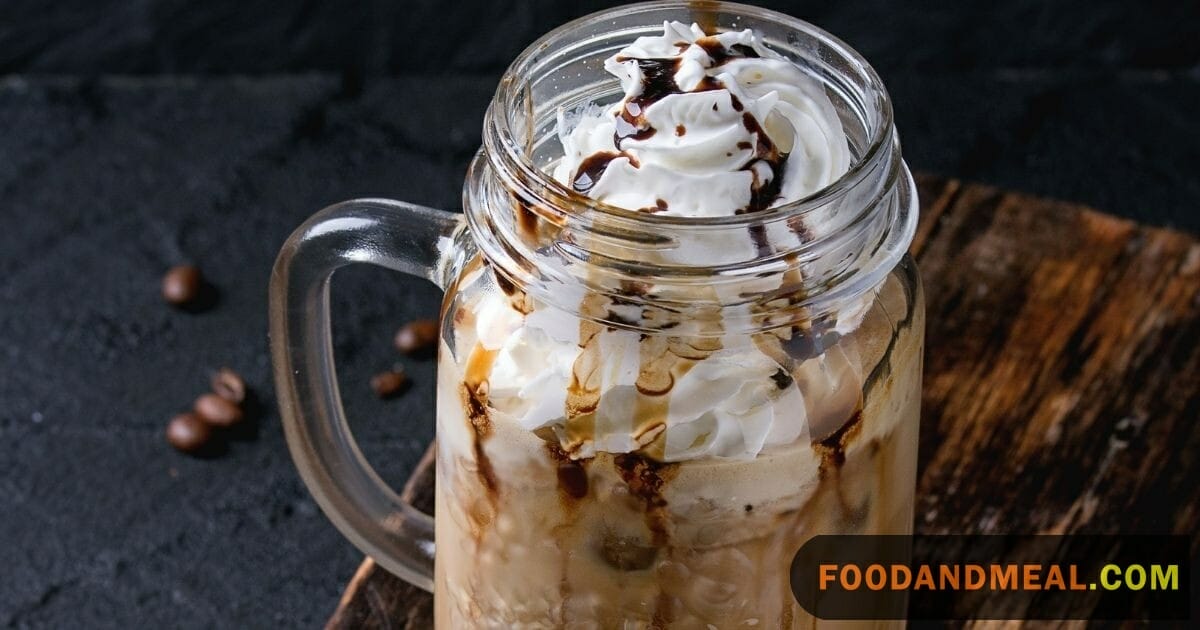 Can I make an Easy Frappuccino without a blender? While a blender ensures the perfect frothiness, you can use a handheld milk frother to achieve a similar texture. It won't be as icy, but it'll still be creamy and satisfying.
Can I make an Easy Frappuccino with decaf coffee? Absolutely! Swap regular coffee with decaf to enjoy the refreshing frappuccino experience without the caffeine kick.
How can I make my frappuccino dairy-free? Opt for almond, coconut, or oat milk as a dairy-free alternative. They add a lovely creaminess while catering to dietary preferences.
Can I add flavors like chocolate or caramel to my frappuccino? Certainly! Add a drizzle of chocolate or caramel syrup before blending for a gourmet touch. Top with whipped cream and extra drizzle for a decadent treat.
How should I store any leftover Easy Frappuccino? For the best experience, enjoy your frappuccino immediately after blending. If you have leftovers, store them in an airtight container in the freezer and blend again briefly before serving.
In that last sip, you've embraced a moment of pure delight. Your Easy Frappuccino creation, a blend of taste and expertise, has painted a smile on your lips and a touch of culinary magic in your day. Cheers to your craft and to the joy of sipping your masterpiece.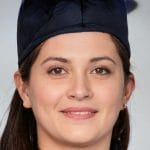 Hi! I'm Nazia of 'Nazia Cooks', a self-taught baker and cook residing in Chennai. Rooted in the rich South Indian culinary landscape, my palate has expanded to embrace global flavors. I revel in crafting fusion dishes, melding traditions to birth unique tastes.
Affiliate DisclaimerAbout The Content
As an affiliate, we may earn a commission from qualifying purchases. We get commissions for purchases made through links on this website from Amazon and other third parties.