Valentine's Day is a day reserved for extra romance and love-giving for your significant other and loved ones.  If you're thinking of surprising them with something personal, try to create a heart-shaped cake.  Intimidated with the shape, you say?  Try these simple steps and tricks for your Valentine heart-shaped cake.
Ingredients of Valentine cake
1 box of 2-layer size cake mix, flavor of your choice
1 pack of vanilla flavored instant pudding and pie filling, size of four servings
1 cup of cold milk
¼ cup of powdered sugar
1 tub or 8 oz. of whipped topping, thawed
¼ of  red food coloring
Small candies and chocolates or multicolored sprinkles for topping
Materials
1 eight-inch round baking pan
1 eight-inch square baking pan
Medium bowl
Wire whisk
Directions to make heart shaped cake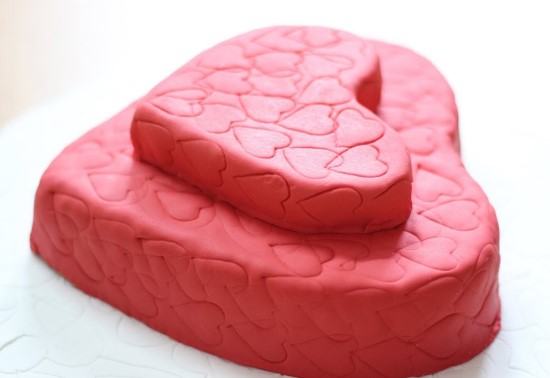 Preheat your oven for about 350 degrees Fahrenheit whilst preparing the cake mix. The box provides the instruction of the steps in how to bake the cake base.  Get your baking pans and proceed into greasing them. After greasing, put a little flour on them as well. Pour the mix, making sure that you divide it equally to the two pans and bake.  After baking, cool for 10 minutes and take out from the pans. Let them stand until completely cooled.
Get the cold milk and pour into a medium bowl. Add the pudding mix and sugar into the milk and whisk for 2 minutes in order for the ingredients to blend.  Gently add the whipped topping and red food coloring while continually stirring the mixture.
Get the round-shaped cake and cut it in half. Place the square cake to a diagonal position and place each half of the round cake on both top sides of the diamond, forming a heart.
Use a little amount of pudding mixture to paste the pieces together and evenly smear the frosting onto the cake.
You can decorate the cake your style using candies, chocolates and sprinkles.
Incoming search terms:
valentine cakes
valentines cake
valentines day cake
Valentine Day cake
heart shaped cake
pics of valentines day cakes
Valentines cakes
valentine cake
valentine day cakes pictures
Valentine day cake
if you interested, please click here for more recipes