Welcome to a world of chocolatey indulgence! If you're a fan of rich, gooey, and utterly irresistible desserts, you're in for a treat. Today, I'm sharing my secret recipe for crafting the most decadent Fudgy Chocolate Brownies. These brownies are the epitome of comfort and satisfaction, a dessert that will have your taste buds dancing with joy. So, let's dive into the art of baking and create a masterpiece that's bound to become a family favorite.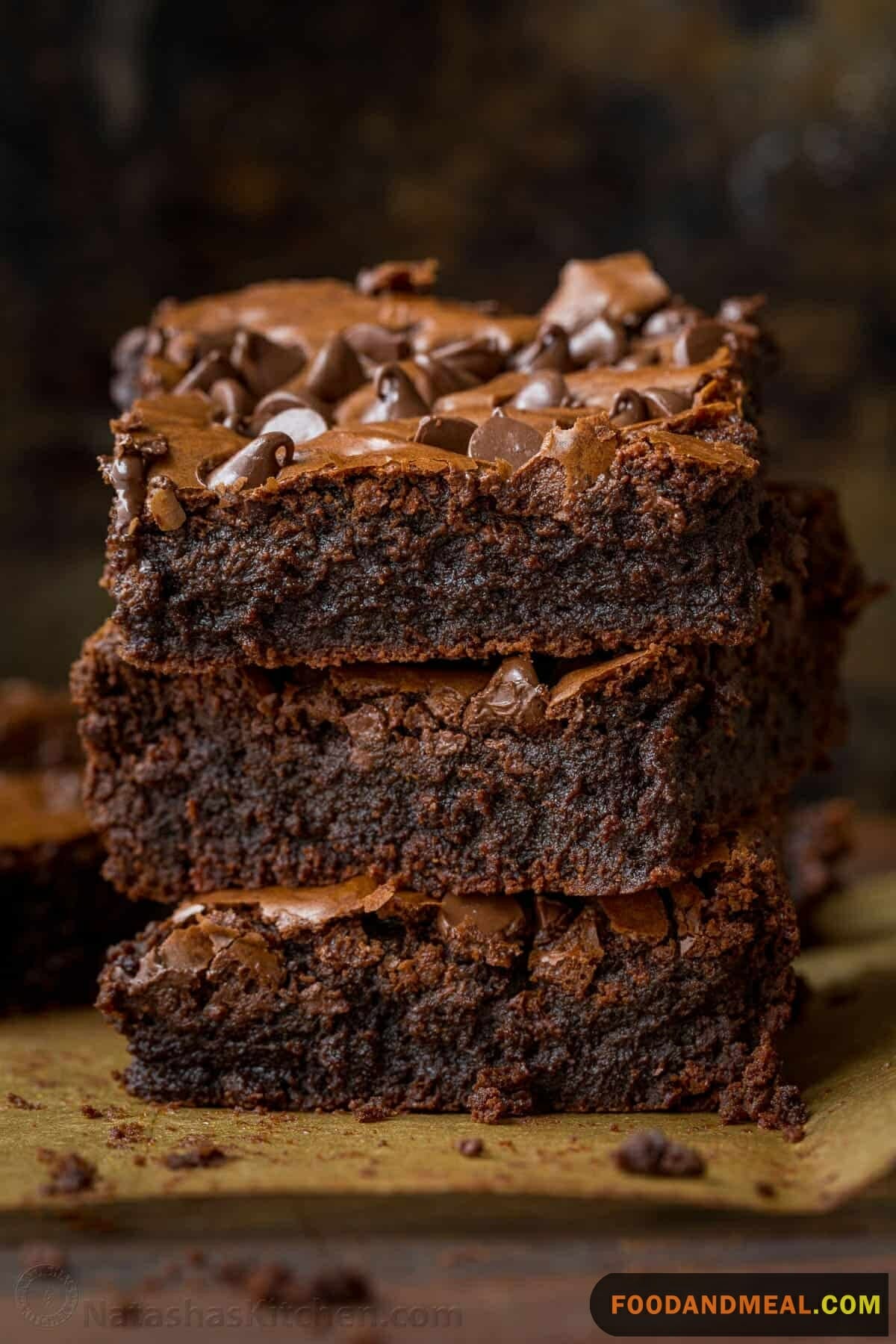 GWYNETH's Fudgy Chocolate Brownie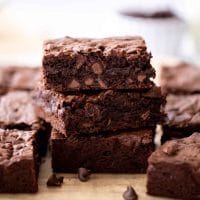 Fudgy Chocolate Brownie
In August, fruity desserts rule. Chocolate, while popular all year round, takes a backseat to fruity desserts. During this time of year, a classic brownie is much more appealing than a chocolate layer cake. Here's how to make the perfect fudgy chocolate brownies! Read on to discover more! And don't forget to share your version with your friends! This delicious recipe is sure to be a hit with any chocolate lover.
Print
Pin Recipe
Add to Collection
Go to Collections
Instructions
Preheat the oven to 350 F. Line a 9 X 11 inch baking dish with parchment.

Sift the flour, cocoa, baking powder, and salt together in a large mixing bowl.

In a separate bowl, whisk together the 1/2 cup vegetable oil, syrups, coffee, soy milk and vanilla. Mix the wet ingredients into the dry ingredients, being carful not to overbeat.

Pour half the batter into the baking dish. Sprinkle with half the chocolate chips. Pour the rest of the batter into the baking dish, and sprinkle with the rest of the chocolate chips.

Bake for 30 minutes (less if your pan is shallow, more if your pan is deep), or until a toothpick has just a bit of chocolate on it when you test the cake. Cool.
Notes
A brownie should be slightly underdone when baked. A toothpick inserted into the center should come out with flecks of chocolate. If you bake your brownies for more than 35 minutes, you risk the cake becoming too dry and crumbly. However, you can bake them for a bit longer if you want to keep them longer. You can also store them in the freezer for up to three months if they don't get eaten within the first few days.
Share by Email
Share on Facebook
Share on Twitter
Nutrition
Serving:
4
servings
|
Calories:
1026
kcal
|
Carbohydrates:
164
g
|
Protein:
14
g
|
Fat:
42
g
|
Saturated Fat:
12
g
|
Polyunsaturated Fat:
16
g
|
Monounsaturated Fat:
7
g
|
Trans Fat:
1
g
|
Cholesterol:
12
mg
|
Sodium:
544
mg
|
Potassium:
569
mg
|
Fiber:
16
g
|
Sugar:
92
g
|
Vitamin A:
49
IU
|
Calcium:
446
mg
|
Iron:
6
mg
© Food And Meal
This website provides approximate nutrition information for convenience and as a courtesy only. Nutrition data is gathered primarily from the Spoonacular Database, whenever available, or otherwise other online calculators.
Pin Recipe
Alternative Method: Fudgy Chocolate Brownies in a Microwave
Ingredients:
1/2 cup (1 stick) unsalted butter
1 cup granulated sugar
2 large eggs
1 teaspoon pure vanilla extract
1/3 cup unsweetened cocoa powder
1/2 cup all-purpose flour
1/4 teaspoon salt
1/4 teaspoon baking powder
Instructions:
Prepare the Microwave-Safe Dish: Start by selecting a microwave-safe dish or brownie pan. Make sure it's suitable for use in the microwave, and lightly grease it with cooking spray or a small amount of butter.
Melt the Butter: In a microwave-safe bowl, place the butter and microwave it for about 30 seconds, or until it's completely melted. Be cautious not to overheat; you want it melted, not boiling.
Mix the Batter: After melting the butter, add sugar to the same bowl and whisk until well combined. Then, add the eggs and vanilla extract, and continue to whisk until the mixture is smooth.
Incorporate Dry Ingredients: In a separate bowl, sift together the cocoa powder, flour, salt, and baking powder. Gradually add this dry mixture to the wet mixture in the microwave-safe bowl, stirring until the batter is uniform and free of lumps.
Microwave It: Pour the brownie batter into the greased microwave-safe dish, spreading it out evenly. Place it in the microwave.
Microwave Cooking: Microwave the brownie mixture on high for 4-6 minutes, depending on your microwave's wattage. Start with 4 minutes and then check the brownies with a toothpick. If it comes out with a few moist crumbs, they are done. If not, microwave for an additional 1-2 minutes.
Cool and Serve: Allow the brownies to cool in the dish for a few minutes before cutting them into squares. Serve warm or at room temperature, and enjoy the gooey, fudgy goodness.
Tips for making Fudgy Chocolate Brownies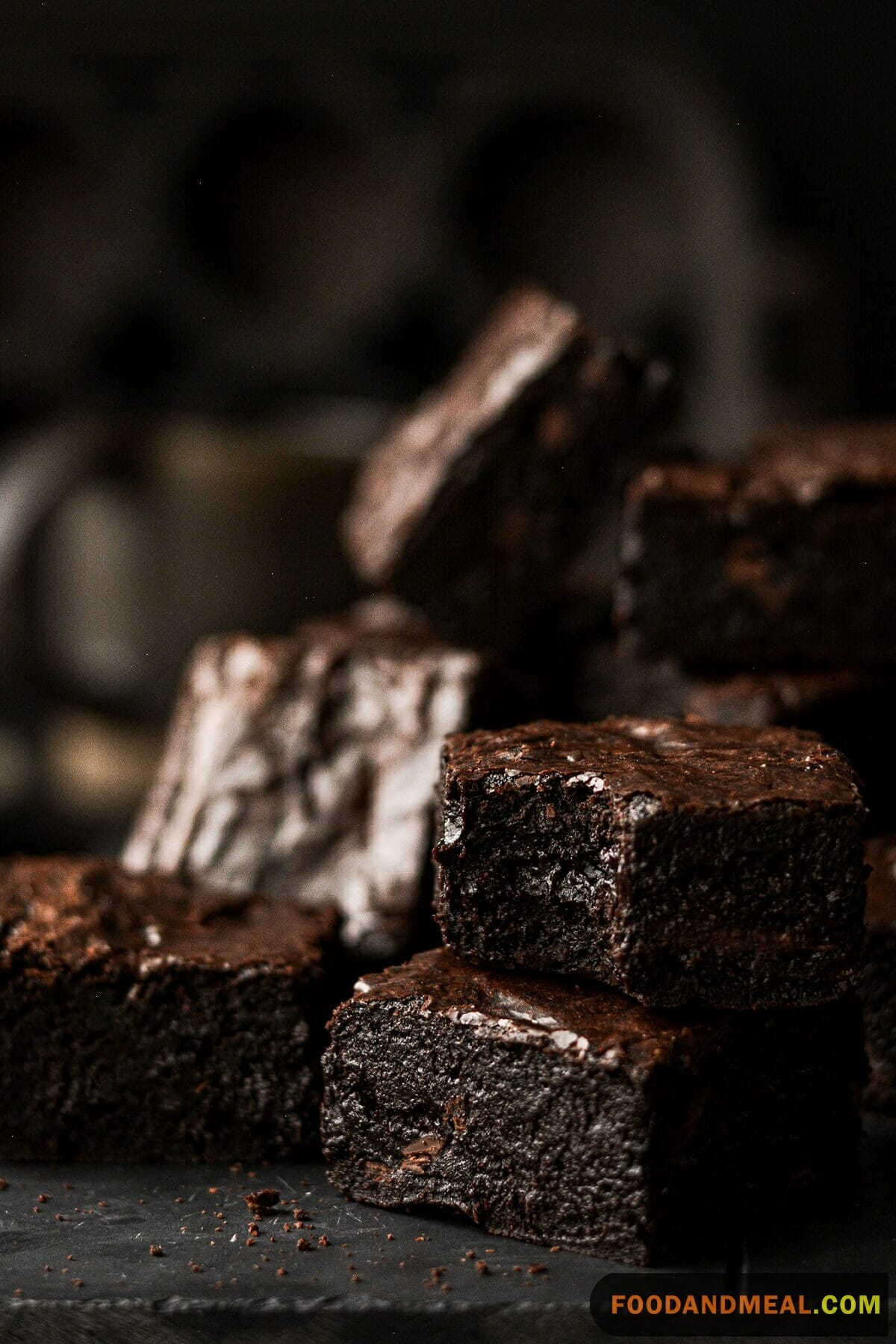 Cooking Tips: Get Perfectly Fudgy Brownies Every Time
Use Quality Ingredients: Start with high-quality ingredients, especially good cocoa powder and real butter. It makes a significant difference in flavor and texture.
Don't Overmix: When combining the wet and dry ingredients, mix until just combined. Overmixing can lead to tough brownies.
Proper Greasing: Ensure your pan or dish is thoroughly greased to prevent sticking. Parchment paper can also be a lifesaver.
Toothpick Test: To determine doneness, insert a toothpick into the center of the brownies. It should come out with a few moist crumbs, but not wet batter.
Cooling Time: Let your brownies cool in the pan for a bit before cutting them. This helps them set and makes for cleaner slices.
Add-Ins: Get creative with add-ins like nuts, chocolate chips, or swirls of peanut butter for extra flavor and texture.
Serving Suggestions: Elevate Your Brownie Experience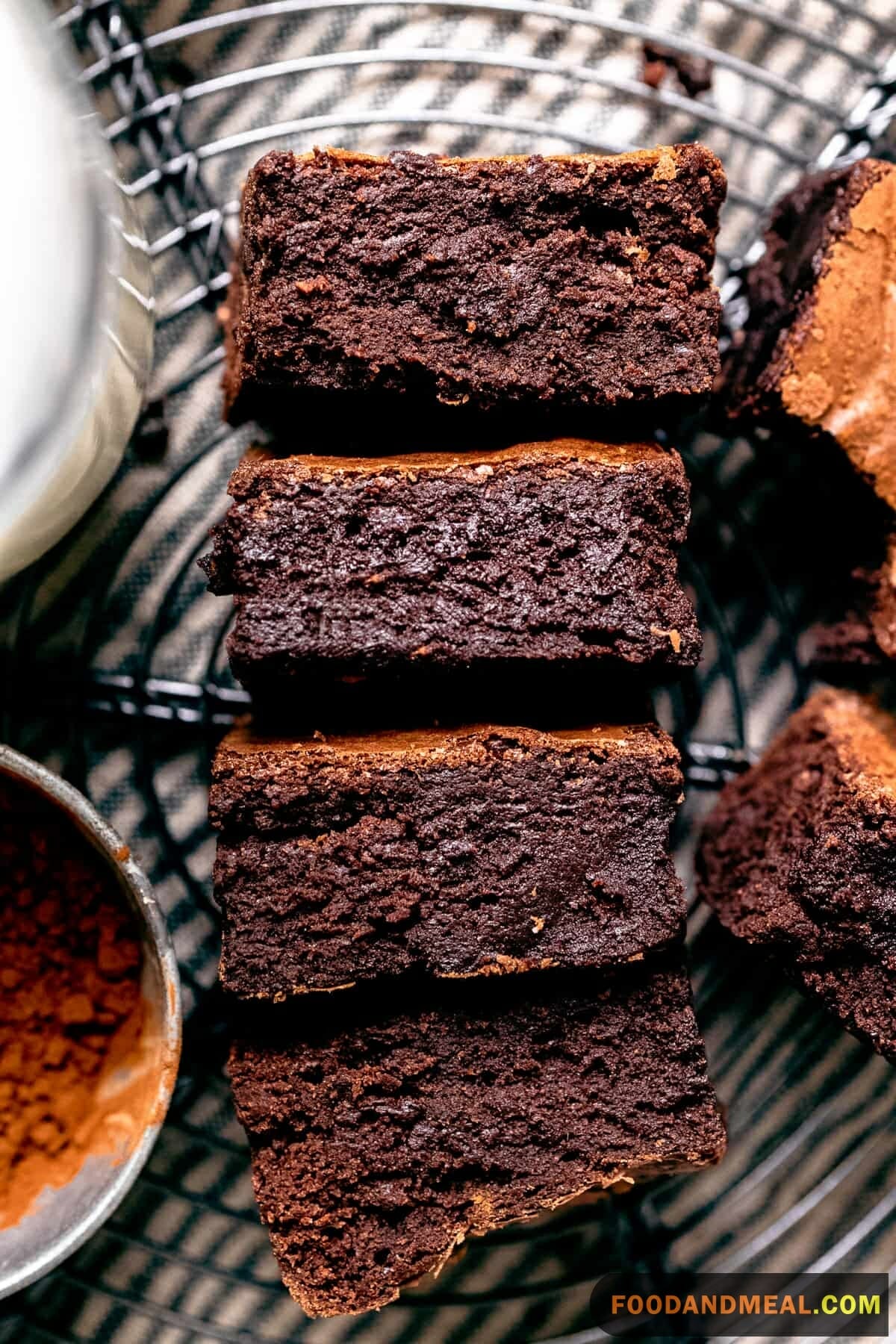 Vanilla Ice Cream: A classic pairing, warm brownies with a scoop of vanilla ice cream is sheer indulgence.
Berries and Whipped Cream: Fresh berries like strawberries or raspberries and a dollop of whipped cream add a fruity contrast and creaminess.
Hot Fudge Sauce: Drizzle warm brownies with hot fudge sauce for an extra layer of decadence.
Coffee or Milk: A cup of coffee or a glass of milk balances the richness of brownies.
Brownie Sundae: Combine all the above for the ultimate brownie sundae experience.
FAQs: Your Burning Brownie Questions Answered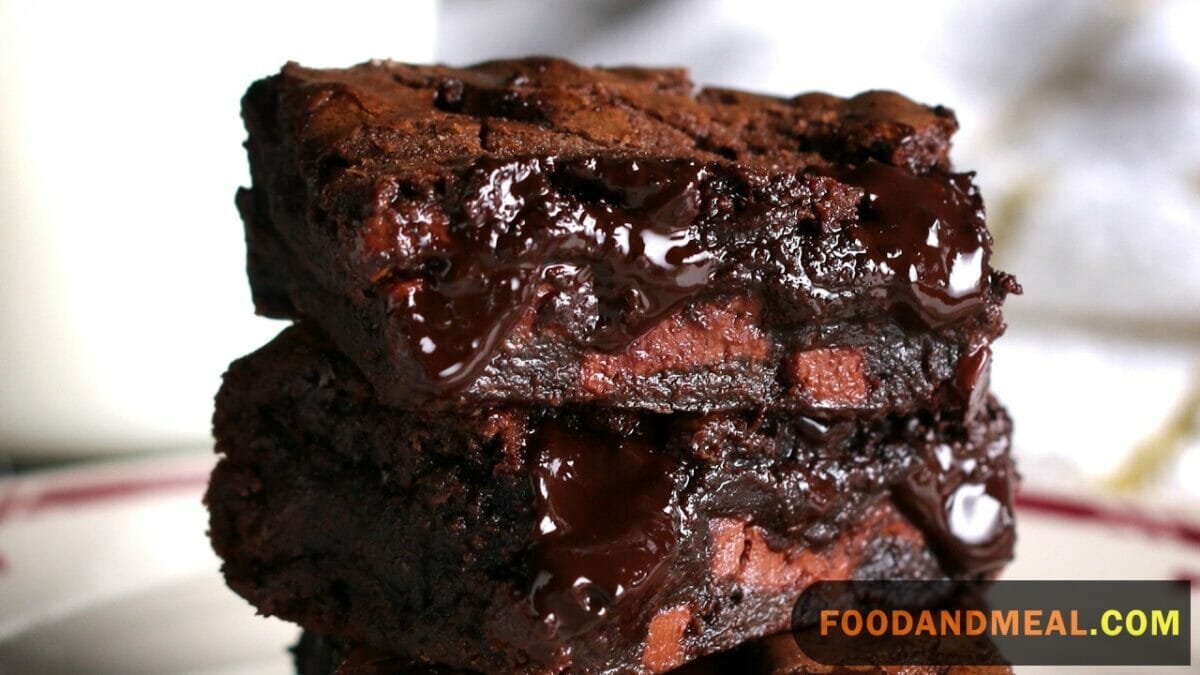 How do I store leftover brownies?

Place them in an airtight container at room temperature for up to 3 days or in the fridge for a week. For longer storage, freeze them in a zip-top bag, separating layers with parchment paper.

Can I make brownies without eggs?

Yes! Substitute each egg with a flax or chia egg (1 tablespoon ground flaxseed or chia seeds mixed with 3 tablespoons water). It works like a charm.

Why are my brownies too cakey?

You might be using too much leavening agent (baking powder/soda) or overmixing the batter. Reducing these factors should result in fudgier brownies.

Can I make brownies gluten-free?

Absolutely. Use a gluten-free flour blend in place of regular flour. You won't even notice the difference.

What's the secret to a shiny, crackly top?

It's all about whisking the sugar vigorously with the eggs until the mixture becomes glossy before adding other ingredients. This creates that coveted shiny crust.
Indulge in the ultimate chocolatey delight with our Fudgy Chocolate Brownie recipe. Master the art of fudgy perfection and elevate your dessert game.
Affiliate DisclaimerAbout The Author
As an affiliate, we may earn a commission from qualifying purchases. We get commissions for purchases made through links on this website from Amazon and other third parties.