Picadillo is a traditional Latin dish that is made with ground beef, tomatoes and peppers. Every Latin American country makes their version a little different and this one is the Cuban version that uses olives, raisins/currants, garlic, oregano and a bit of red wine vinegar. The name Picadillo comes from the verb Picar which means "to mince".
I always loved empanadas which are Latin pastries that are stuffed and either baked or fried. I chose to bake mine as they are much healthier and a lot less messy. The word empanada comes from the verb "empanar" which means "to wrap or coat in bread" To see how I made my Baked Picadillo Empanadas, keep reading.
baked empanadas Recipes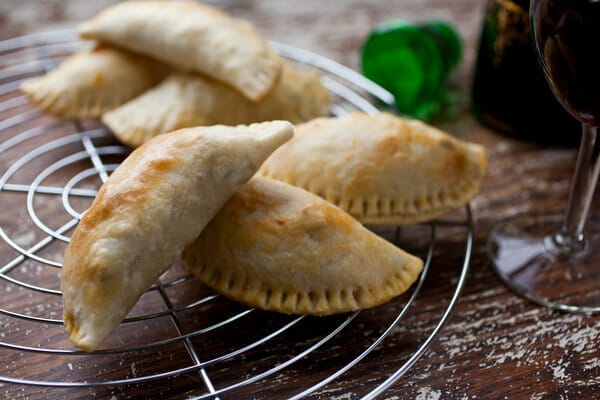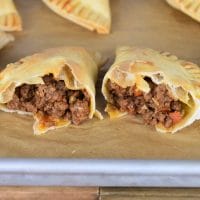 baked empanadas
These empanadas are packed with flavorful picadillo filling and are sure to be a hit at your next party! The dough is made from scratch and is nice and flaky. The filling is a mix of ground beef, onions, garlic, tomatoes, and spices. These empanadas are best served fresh out of the oven, but they can also be frozen and reheated.
Print
Pin Recipe
Add to Collection
Go to Collections
Instructions
Heat the oil in a 12″ cast-iron skillet over medium-high heat. Add cinnamon stick, onions, and peppers; cook, stirring, until vegetables are soft, about 10 minutes. Add half the ground cinnamon, oregano, cloves, and garlic and cook until fragrant, about 2 minutes. Add ground beef and cook, breaking it up with a wooden spoon, until it browns, 8-10 minutes. Season with salt and pepper; add raisins, olives, and tomatoes. Cook until liquid has evaporated, about 20 minutes. Stir in remainder of ground cinnamon, almonds, and vinegar.

Once done, let cool before you make your Empanadas.

Preheat oven to 375 degrees.

Dust a wooden board with some flour and lay out a empanada disc onto it. Place about 2 heaping tablespoons of the meat mixture into the center of the disc. Carefully fold over to close to form half circles. With the tines of a fork, crimp the ends close as I have it in the picture. Lay out on a baking sheet lined with non stick foil. Brush the empanadas with the egg wash. Bake for 20 minutes or until golden brown. Enjoy!
Notes
Embrace your inner chef and experiment with unique fillings – from classic beef to daring vegetarian combinations. It's time to infuse your empanadas with your creative flair. Are you prepared to embark on a flavor journey?
Share by Email
Share on Facebook
Share on Twitter
Nutrition
Serving:
1
serving
|
Calories:
934
kcal
|
Carbohydrates:
44
g
|
Protein:
47
g
|
Fat:
65
g
|
Saturated Fat:
20
g
|
Polyunsaturated Fat:
6
g
|
Monounsaturated Fat:
32
g
|
Trans Fat:
3
g
|
Cholesterol:
208
mg
|
Sodium:
589
mg
|
Potassium:
1598
mg
|
Fiber:
11
g
|
Sugar:
9
g
|
Vitamin A:
2023
IU
|
Vitamin C:
58
mg
|
Calcium:
215
mg
|
Iron:
8
mg
© Food And Meal
This website provides approximate nutrition information for convenience and as a courtesy only. Nutrition data is gathered primarily from the Spoonacular Database, whenever available, or otherwise other online calculators.
Pin Recipe
Empanada fillings
To make the filling, mix together the olives and tomato sauce in a medium saucepan. Add 1/2 teaspoon Tabasco, 1/4 teaspoon ground cumin, and 1/4 teaspoon dried oregano. Add raisins if desired. Simmer mixture for 20 minutes, until thick and seasoned. Transfer mixture to a serving dish. Serve with a dipping sauce.
To assemble the empanadas, first make the filling. Place one heaping tablespoon of filling on each empanada circle. Fold over the dough, and press the edges together to seal. Repeat with remaining empanada dough. Brush with beaten egg.
To assemble baked picadillo empanadas, preheat oven to 350°F. Meanwhile, prepare the filling for baked empanadas. Combine the picadillo, cheese, and egg. Spoon the filling on the bottom half of each rectangle, leaving about 3/4 inch on the bottom edge. Fold dough over the filling and bake until done.
The dough can be made ahead of time. First, sift flour into a large bowl. Add butter and mix at medium speed. Mix until combined. Then, add egg and vinegar, and beat for another minute. Add water if necessary. After the dough is completely incorporated, cover with plastic wrap and refrigerate for up to 24 hours. To assemble the empanadas, roll out half of the dough. Roll out dough to a thickness of 1/4 inch. Cut out shapes about 4 to 5 inches in diameter.
Cooking Tips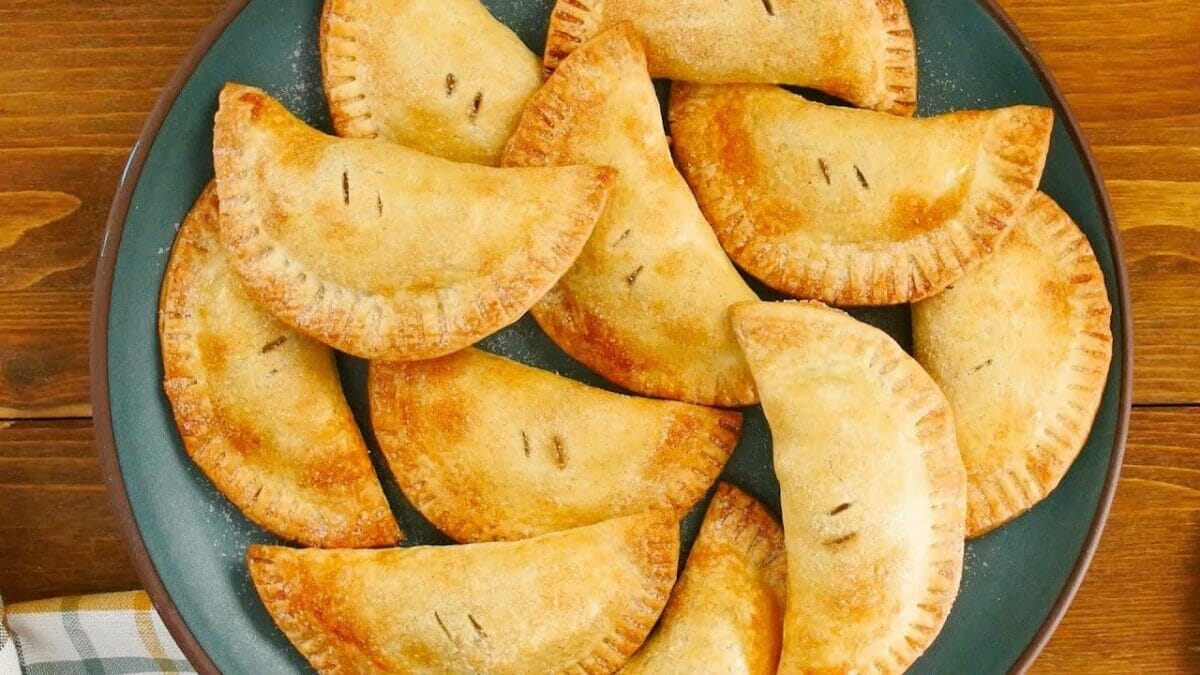 Creating the perfect batch of Baked Empanadas is all about finesse and attention to detail. Here are some cooking tips to guide you towards golden, flaky success:
Chill the Dough: Ensure your empanada dough is well-chilled before rolling. This keeps it firm and easier to work with, resulting in a crispy crust.
Master the Fold: Use gentle pressure when sealing your empanadas. Press firmly but don't squish the filling out. A well-sealed empanada prevents leaks and maintains that delightful pocket shape.
Ventilation Matters: Cut a small slit or poke a hole in the top of each empanada before baking. This allows steam to escape and prevents the crust from getting soggy.
Egg Wash Magic: A light egg wash gives your empanadas that gorgeous golden sheen. Don't forget to brush it on before baking for that irresistible visual appeal.
Baking Brilliance: Preheat your oven to ensure even cooking. Bake on a parchment-lined tray for easy removal and cleanup. Keep a close eye – you're aiming for a deep golden hue!
Serving Suggestions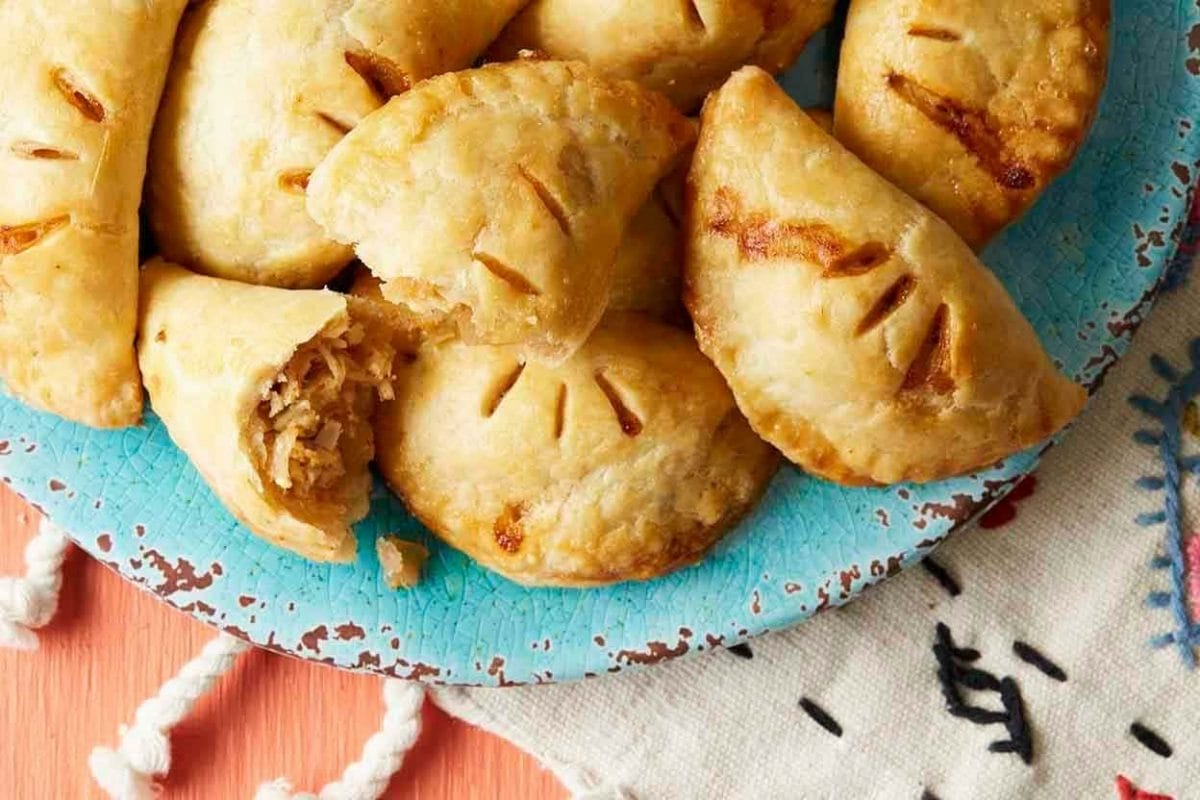 Baked Empanadas aren't just a dish; they're a versatile experience that can suit various occasions. Here's how to serve them up:
For Family Gatherings: Set a platter of assorted empanadas at the center of your table. Pair them with a zesty chimichurri sauce for dipping and a crisp garden salad on the side.
Game Day Snacking: Embrace the handheld delight of empanadas as a game day snack. Serve with a refreshing pitcher of fruity sangria or chilled beer.
Elegant Appetizer: Elevate your dinner party with mini empanadas as elegant appetizers. Offer a trio of sauces – spicy aioli, tangy salsa, and smoky barbecue – for a flavor extravaganza.
Kids' Lunches: Little ones adore empanadas! Make mini versions filled with kid-friendly options like ham and cheese or mild chicken. Add a side of carrot sticks and apple slices for a balanced lunchbox.
Cocktail Party Chic: Impress your guests at a cocktail party by serving petite empanadas with sophisticated fillings like goat cheese and caramelized onions. Accompany them with a selection of wine and craft cocktails.
FAQs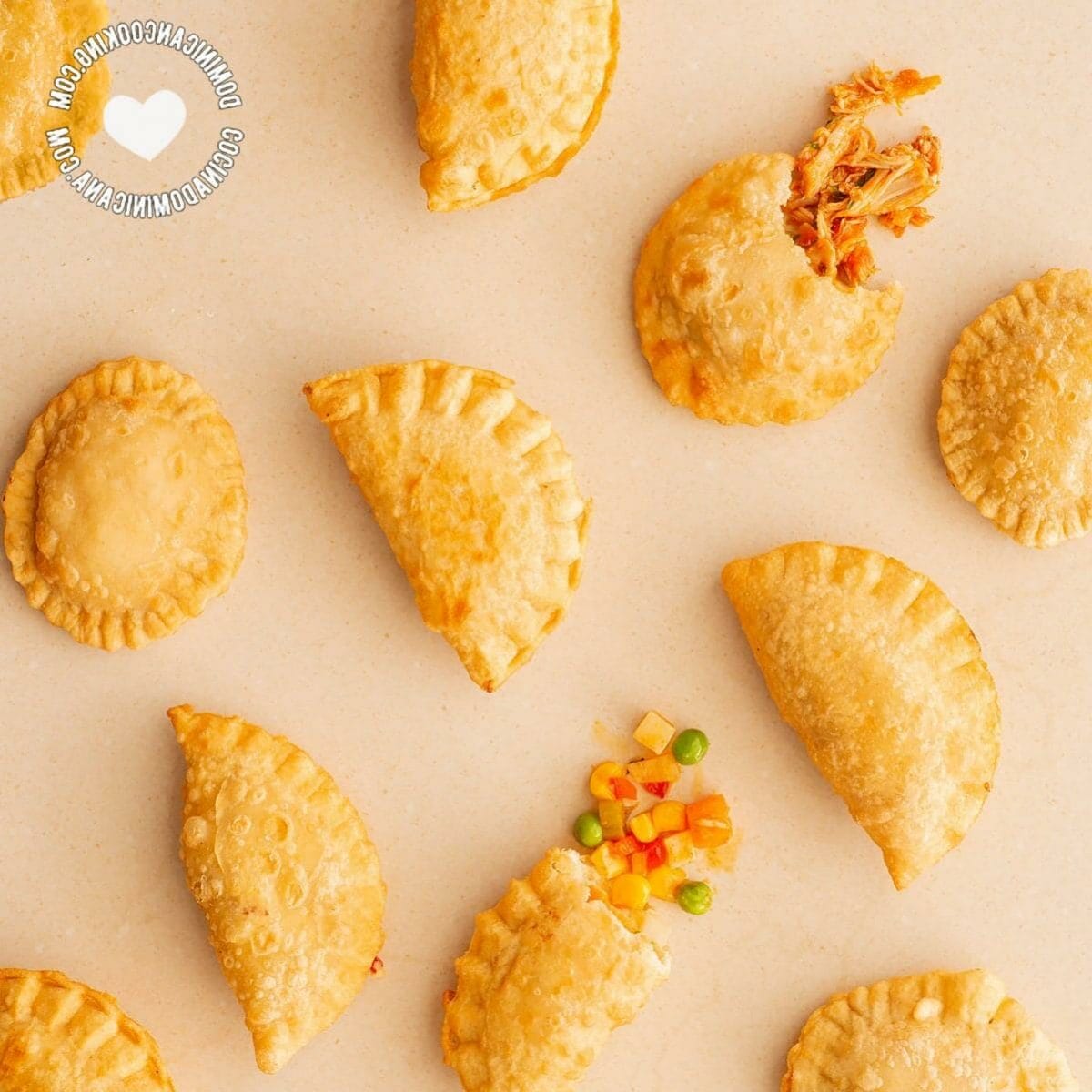 Q: Can I make the dough ahead of time? A: Absolutely! Prepare the empanada dough a day ahead, wrap it tightly in plastic wrap, and refrigerate. This allows the flavors to meld and makes the rolling process smoother.
Q: What's the best way to reheat leftovers? A: To rekindle that flaky magic, reheat empanadas in a preheated oven at 350°F (175°C) for about 10 minutes. This restores the crispness and ensures a delightful experience.
Q: Can I freeze unbaked empanadas? A: Yes, indeed! Freeze unbaked empanadas on a tray, then transfer them to an airtight container. When you're ready to enjoy, bake them directly from frozen, adding a few extra minutes to the baking time.
Q: How do I store leftover baked empanadas? A: Store leftover empanadas in an airtight container in the refrigerator for up to 3 days. To maintain their crispness, place a paper towel in the container to absorb excess moisture.
Q: Can I make sweet empanadas? A: Absolutely! Embrace your creativity and fill empanadas with sweet fillings like fruit compote, chocolate, or cream cheese. Dust with powdered sugar before serving for a delectable dessert twist.
Now that you're armed with these tips, serving suggestions, and answers to FAQs, you're ready to embark on an empanada adventure that will undoubtedly tantalize taste buds and create lasting memories. Enjoy the joy of creating and savoring these delectable golden pockets!
Baked Empanadas hold the power to create unforgettable moments around the table. Extend the warmth by sharing this recipe with fellow food enthusiasts and those seeking culinary excellence. Stay connected to culinary wonders by subscribing to my blog for exclusive content that keeps the kitchen magic alive.
I'm Tracy F Hilton, a devoted culinary professional shaped by a mix of natural aptitude and refined skills from a top culinary school. In the dynamic kitchen environment, I'm a catalyst for seamless operations and timely, high-quality dish preparation. My culinary creations are a blend of art and skill, offering visually and gustatorily delightful experiences. A learner at heart, I'm continuously honing my craft, embracing new techniques, and culinary innovations. My positive, collaborative nature is amplified in fast-paced settings, showcasing my commitment to team efficiency and guest satisfaction. Each dish I present is a meticulous blend of tradition and innovation, promising an unforgettable dining experience that marries taste, aroma, and aesthetic appeal in perfect harmony. Join me on a gastronomic journey where each bite encapsulates a rich, evolving narrative of flavors and culinary artistry.
Affiliate DisclaimerAbout The Content
As an affiliate, we may earn a commission from qualifying purchases. We get commissions for purchases made through links on this website from Amazon and other third parties.