Working moms can easily relate for a need of extra few minutes of sleep before dashing to the kitchen and make breakfast every morning.  It can be pretty exhaustive even with just the start of the day.With a little adjustment and managing of time, the luxury of few extra minutes can be possible.  The answer: an overnight eggnog French toast casserole would be perfect.Eggnog French Toast Casserole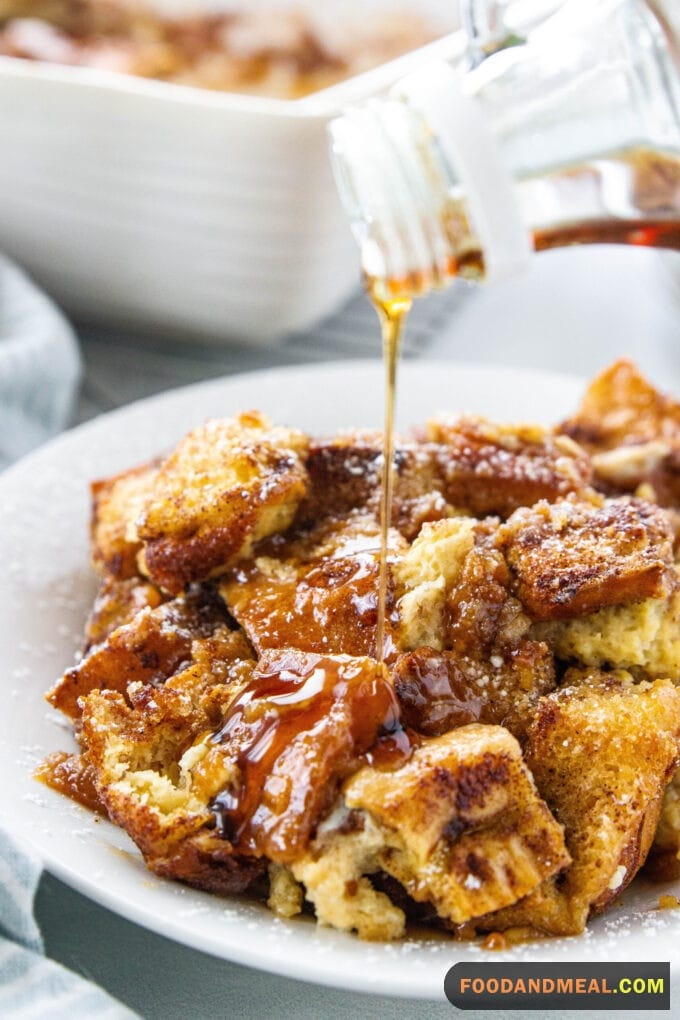 Eggnog Toast Casserole Recipe
How to Make an Eggnog French Toast Casserole – 7 easy Steps
This Eggnog French Toast Casserole is an easy brunch perfect for your holiday morning! With 3 ingredients and a decadent eggnog glaze, it'll be your new favorite tradition! 
Print
Add to Collection
Go to Collections
Equipment
Ingredients
1

large loaf of French bread

cut into 2-inch cubes

2 ½

cups

eggnog

¼

cup

+ 2 tbsp. of dark brown sugar

2

tsp.

Ground cinnamon

½

tsp.

ground nutmeg

4

tbsp.

rum

optional

1

cup

chopped wallnuts
Instructions
Direction to make Eggnog French Toast Casserole

In a large bowl, whisk together the eggs, sugar, cinnamon, nutmeg, rum and eggnog.

Get a 9×13-inch glass baking dish and coat it with cooking spray. Place the bread cubes on the dish and press them down gently to fit.

Get the eggnog mixture and gently pour it over the bread cubes. Next, using a rubber spatula, press down the bread cubes to help the bread get soaked up with the mixture.  Let it soak up the eggnog mixture overnight.

Top the dish with the chopped walnuts and cover it tightly with aluminum foil. Put it into the fridge for overnight to let it chill.

The next morning, preheat your oven into 350⁰F for 30 minutes.

Unwrap the dish while on it, put it into the oven and bake for about 15-20 minutes.

The nice brown top signals that your eggnog French toast casserole is ready.
Notes
Tip
You can substitute milk for the eggnog if it's not available.
You can use bourbon instead of rum, or completely leave it out on the recipe.
If you have a sweet tooth, you can top your eggnog French toast casserole with maple syrup before serving.
 Time and Serving
Preparation : 24 hours
Cooking : 50 minutes
Serving : 6-8
Share by Email
Share on Facebook
Share on Twitter
Nutrition
Serving:
1
serving
|
Calories:
310
kcal
|
Carbohydrates:
42
g
|
Protein:
17
g
|
Fat:
6.8
g
© Food And Meal
This website provides approximate nutrition information for convenience and as a courtesy only. Nutrition data is gathered primarily from the Spoonacular Database, whenever available, or otherwise other online calculators.
Alternative Method: Slow Cooker Eggnog Toast Casserole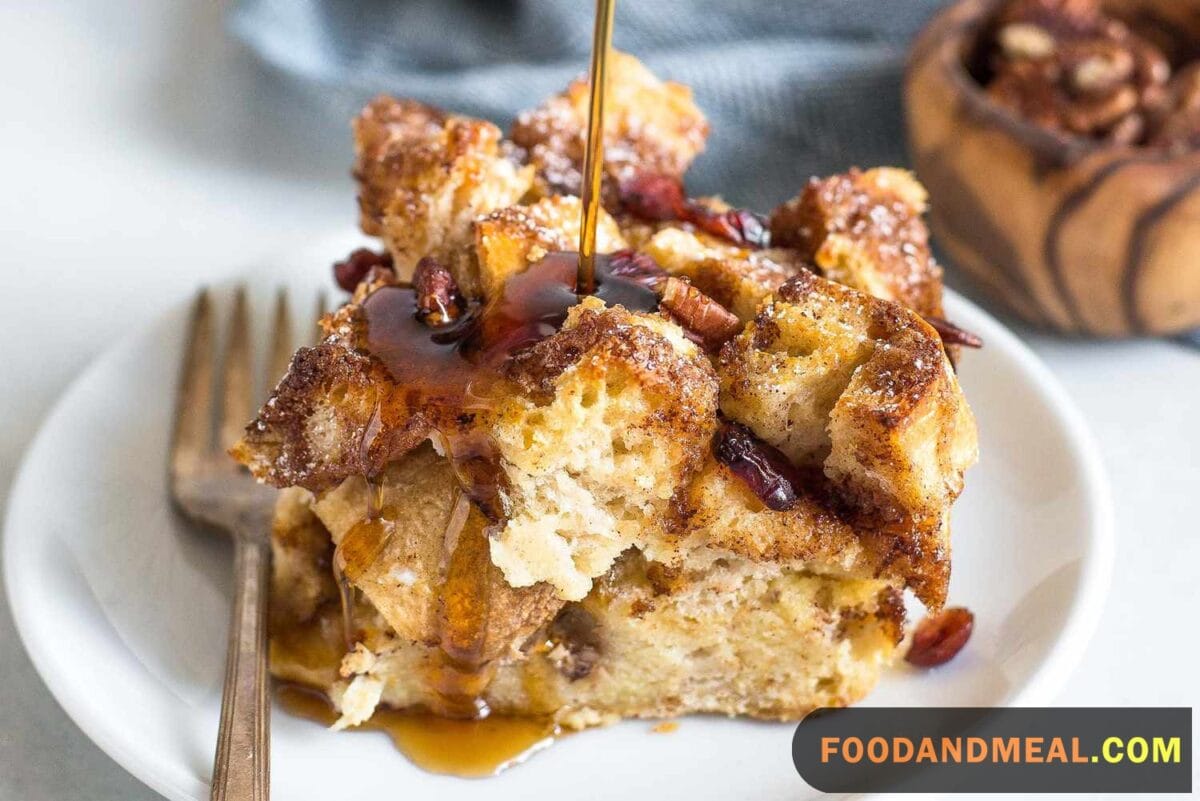 Ingredients:
1 loaf of French bread, cubed (approximately 8 cups)
4 large eggs
2 cups of eggnog
1/2 cup of granulated sugar
1 teaspoon of vanilla extract
1/2 teaspoon of ground nutmeg
1/4 teaspoon of ground cinnamon
1/4 cup of unsalted butter, melted
1/2 cup of raisins or dried cranberries (optional)
Cooking spray or butter for greasing the slow cooker
Instructions:
Prepare the Slow Cooker:

Grease the inside of your slow cooker with cooking spray or butter to prevent sticking.

Layer the Bread Cubes:

Place half of the cubed French bread into the bottom of the slow cooker.

Add Raisins or Cranberries (Optional):

If you're using raisins or dried cranberries, sprinkle half of them over the bread cubes in the slow cooker.

Repeat Bread Layer:

Add the remaining cubed French bread on top of the first layer.

Add More Raisins or Cranberries (Optional):

If you're using raisins or dried cranberries, sprinkle the remaining half over the second layer of bread.

Prepare the Eggnog Mixture:

In a large mixing bowl, whisk together the eggs, eggnog, granulated sugar, vanilla extract, ground nutmeg, and ground cinnamon until well combined.

Pour Over Bread:

Slowly pour the eggnog mixture evenly over the bread cubes in the slow cooker. Ensure that all bread cubes are soaked in the mixture.

Melt the Butter:

In a microwave-safe bowl or on the stovetop, melt the unsalted butter.

Drizzle with Butter:

Drizzle the melted butter over the top of the bread and eggnog mixture in the slow cooker.

Cook on Low:

Cover the slow cooker and set it to the low-heat setting.

Cooking Time:

Let the Eggnog Toast Casserole cook on low for approximately 3 to 4 hours. The exact cooking time may vary slightly depending on your slow cooker, so it's a good idea to check for doneness after 3 hours.

Check for Doneness:

To check if it's done, insert a toothpick or knife into the center. If it comes out clean and the casserole has a firm, custard-like texture, it's ready.

Serve Warm:

Serve the Eggnog Toast Casserole warm, either directly from the slow cooker or by gently removing it and placing it on a serving platter.

Optional Toppings:

Enhance the flavor with a sprinkle of powdered sugar, a drizzle of maple syrup, or a dollop of whipped cream just before serving.

Enjoy Your Slow Cooker Creation:

Gather your loved ones, and savor the delightful flavors of this slow cooker Eggnog Toast Casserole, perfect for a cozy holiday breakfast or brunch.
Tips for making Eggnog Toast Casserole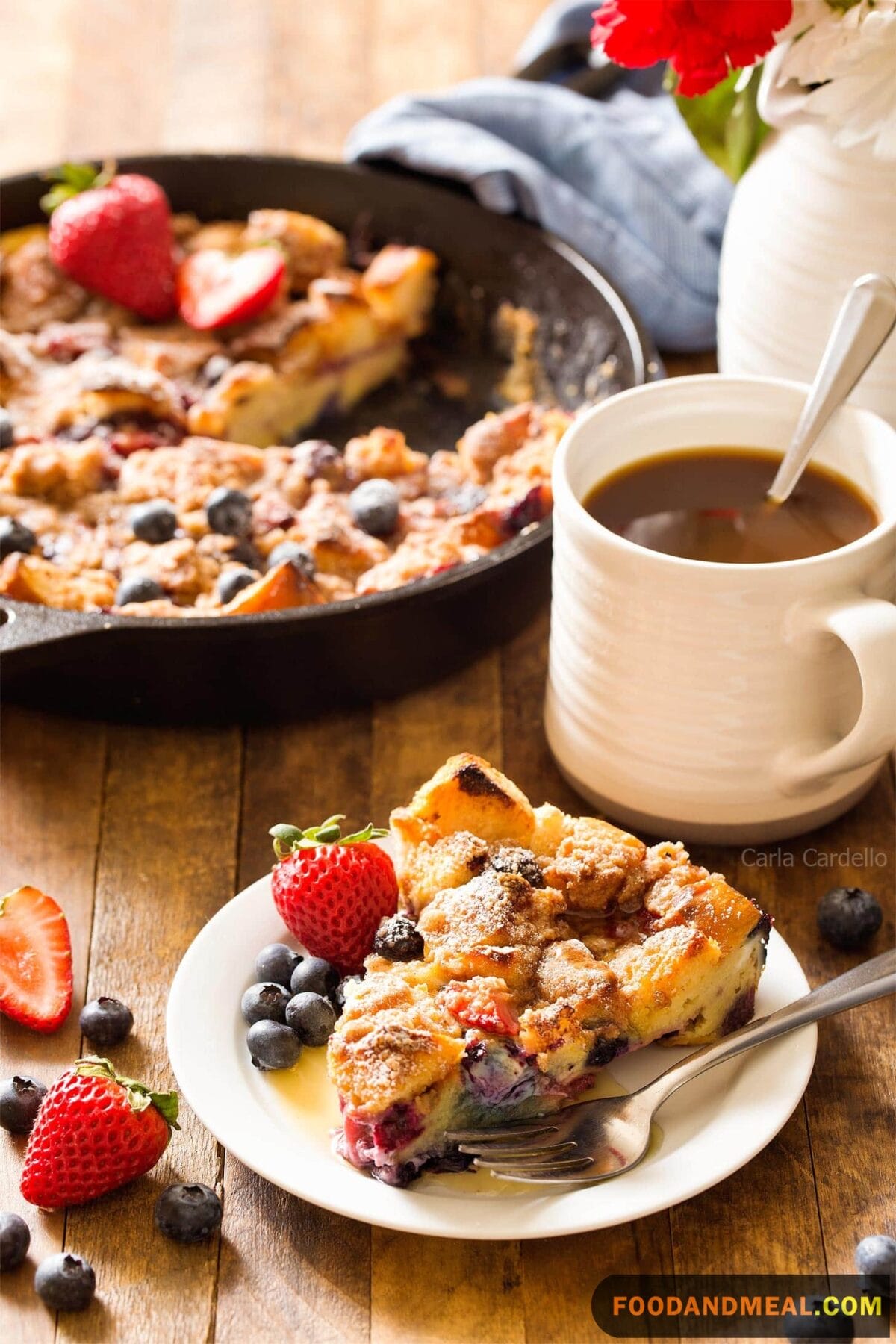 Cooking Tips
Use Stale Bread:To achieve the perfect texture, it's best to use stale bread. Fresh bread may become too mushy when soaked in the eggnog mixture. If your bread is not already stale, you can cut it into cubes and let it sit out uncovered for a few hours or overnight.
Evenly Soak the Bread:When pouring the eggnog mixture over the bread, make sure each bread cube is evenly soaked. Gently press down on the bread to ensure absorption. This results in a uniform and custard-like texture.
Allow for Resting Time:After assembling the casserole, let it rest for about 20-30 minutes before baking. This allows the bread to fully absorb the eggnog mixture, leading to a better consistency.
Avoid Overbaking:Be mindful not to overbake your Eggnog Toast Casserole. Overbaking can result in a dry and less creamy texture. The center should be set but slightly soft when done.
Customize the Spices:Adjust the spices to your taste. If you prefer a stronger nutmeg flavor, increase the amount. Conversely, reduce the spices if you want a milder flavor profile.
Serving Suggestions
Sides and Garnishes:
Fresh Berries: Top your slices of Eggnog Toast Casserole with a medley of fresh berries like strawberries, raspberries, or blueberries. Their vibrant colors and fruity flavors contrast beautifully with the richness of the casserole.
Whipped Cream: A dollop of homemade or store-bought whipped cream adds a delightful creaminess and a touch of indulgence to each bite.
Maple Syrup: Drizzle warm maple syrup over your servings for a sweet and slightly earthy note that pairs perfectly with the eggnog and spices.
Chopped Nuts: Toasted chopped nuts, such as pecans or walnuts, bring a satisfying crunch and nutty flavor to your casserole. Sprinkle them on top just before serving.
Dusting of Powdered Sugar: A light dusting of powdered sugar enhances the presentation and adds a touch of sweetness.
Beverages:
Eggnog: Double down on the eggnog experience by serving this casserole with a chilled glass of classic eggnog. It's the perfect pairing for eggnog lovers.
Coffee: A cup of freshly brewed coffee, whether black or with your preferred creamer, provides a balanced contrast to the richness of the casserole.
Tea: Enjoy a cozy cup of tea, such as chai or cinnamon-spiced tea, for a comforting beverage that complements the warm spices in the dish.
Milk: For a family-friendly option, a glass of cold milk, whether regular or plant-based, pairs wonderfully with the sweet and creamy flavors.
Frequently Asked Questions about Eggnog Toast Casserole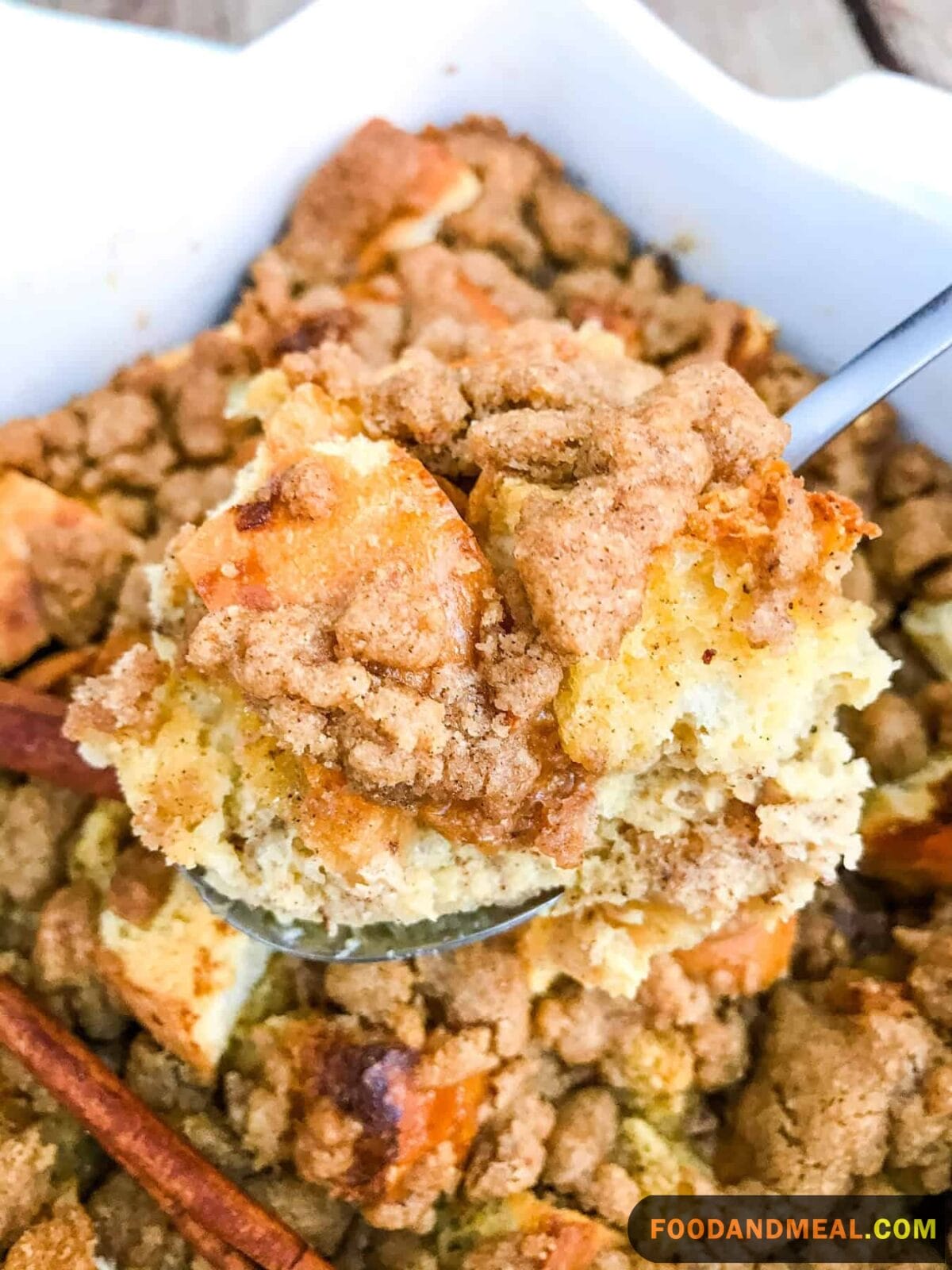 Can I Make Eggnog Toast Casserole Ahead of Time?Absolutely! Eggnog Toast Casserole can be prepared in advance. After assembling the casserole, cover it tightly with plastic wrap or aluminum foil and refrigerate it overnight. When you're ready to bake, simply remove it from the fridge, allow it to come to room temperature for about 20-30 minutes, and then bake as directed.
Can I Freeze Eggnog Toast Casserole?Yes, you can freeze Eggnog Toast Casserole. After baking and cooling the casserole, wrap it tightly in plastic wrap and then aluminum foil or place it in an airtight container. Label with the date and freeze for up to 2-3 months. To reheat, thaw it overnight in the refrigerator and warm it in the oven or microwave.
Can I Substitute Dairy-Free or Lactose-Free Ingredients?Absolutely! You can make this casserole with dairy-free or lactose-free alternatives such as almond milk, coconut milk, or lactose-free eggnog. Additionally, use dairy-free butter or margarine to grease your baking dish.
What's the Best Way to Reheat Leftover Eggnog Toast Casserole?To reheat leftover casserole, preheat your oven to 350°F (175°C). Place individual servings or the entire casserole, covered with aluminum foil, in the oven. Heat for about 10-15 minutes, or until warmed through. Alternatively, you can microwave individual servings for about 1-2 minutes until hot.
Can I Use Whole Eggs Instead of Just Egg Yolks?While the recipe calls for egg yolks for a custardy texture, you can use whole eggs if you prefer. Using whole eggs will result in a slightly different texture, but it will still be delicious. Use the same quantity of whole eggs as indicated for the yolks.
Elevate your holiday breakfast with Eggnog Toast Casserole. Discover the recipe that will make your mornings merrier.
Affiliate DisclaimerAbout The Content
As an affiliate, we may earn a commission from qualifying purchases. We get commissions for purchases made through links on this website from Amazon and other third parties.