Welcome to my culinary haven, where we'll be embarking on a journey to discover the warm, comforting embrace of a classic dessert – Apple Crisp. This beloved recipe has been a part of my family traditions for years, and I can't wait to share it with you.
Apple Crisp Recipes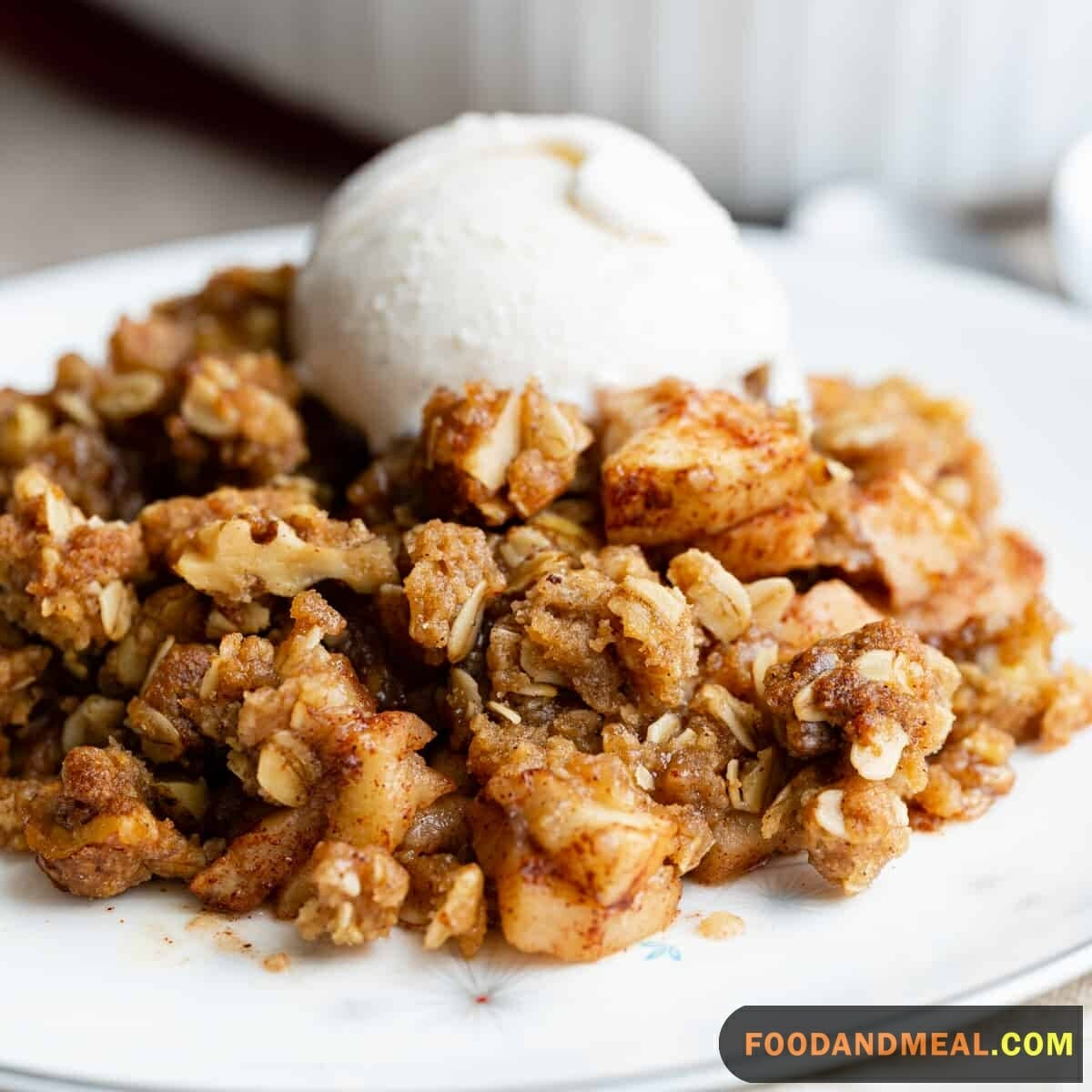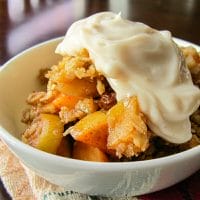 Apple Crisp with Oatmeal Cookie Crumble
An apple crisp is a dessert made with chopped apples baked with a brown sugar and streusel topping. The name is similar to the English dessert apple crumble, but the American version has a streusel topping. Originally, the United States called it an "apple pie," but it is now known as an "apple crisp" in the UK, Australia, and New Zealand. Both terms are often used interchangeably.
Print
Add to Collection
Go to Collections
Instructions
Preheat the oven to 350 degrees F.

Peel, core, and cut the apples into slices. Place in a large bowl and add remaining filling ingredients. Pour into a 9 by 12 by 2-inch baking dish.

Combine the crumble ingredients in the bowl of an electric mixer fitted with the paddle attachment. Mix on low speed for 1 minute, or until the mixture is crumbly. Sprinkle evenly over apples, covering completely.

Place the baking dish on a sheet pan and bake for 50 minutes to 1 hour, until the top is brown and the fruit is bubbly. Serve warm with vanilla ice cream.
Notes
When you're making your apple crisp, you should use thinly sliced apples. Thin slices are best because they cook evenly. If the apples are too thick, you'll end up with a dense and chewy dessert. Using a slicer, you can easily transfer the topping to a smaller baking dish and make it easier to serve. If you want to serve it warm, you can even freeze it and store it in the refrigerator for a few days before serving it.
Share by Email
Share on Facebook
Share on Twitter
Nutrition
Serving:
1
serving
|
Calories:
295
kcal
|
Carbohydrates:
72
g
|
Protein:
3
g
|
Fat:
1
g
|
Saturated Fat:
1
g
|
Polyunsaturated Fat:
1
g
|
Monounsaturated Fat:
1
g
|
Cholesterol:
1
mg
|
Sodium:
106
mg
|
Potassium:
270
mg
|
Fiber:
6
g
|
Sugar:
53
g
|
Vitamin A:
124
IU
|
Vitamin C:
10
mg
|
Calcium:
46
mg
|
Iron:
1
mg
© Food And Meal
This website provides approximate nutrition information for convenience and as a courtesy only. Nutrition data is gathered primarily from the Spoonacular Database, whenever available, or otherwise other online calculators.
Alternative Method: Apple Crisp in a Slow Cooker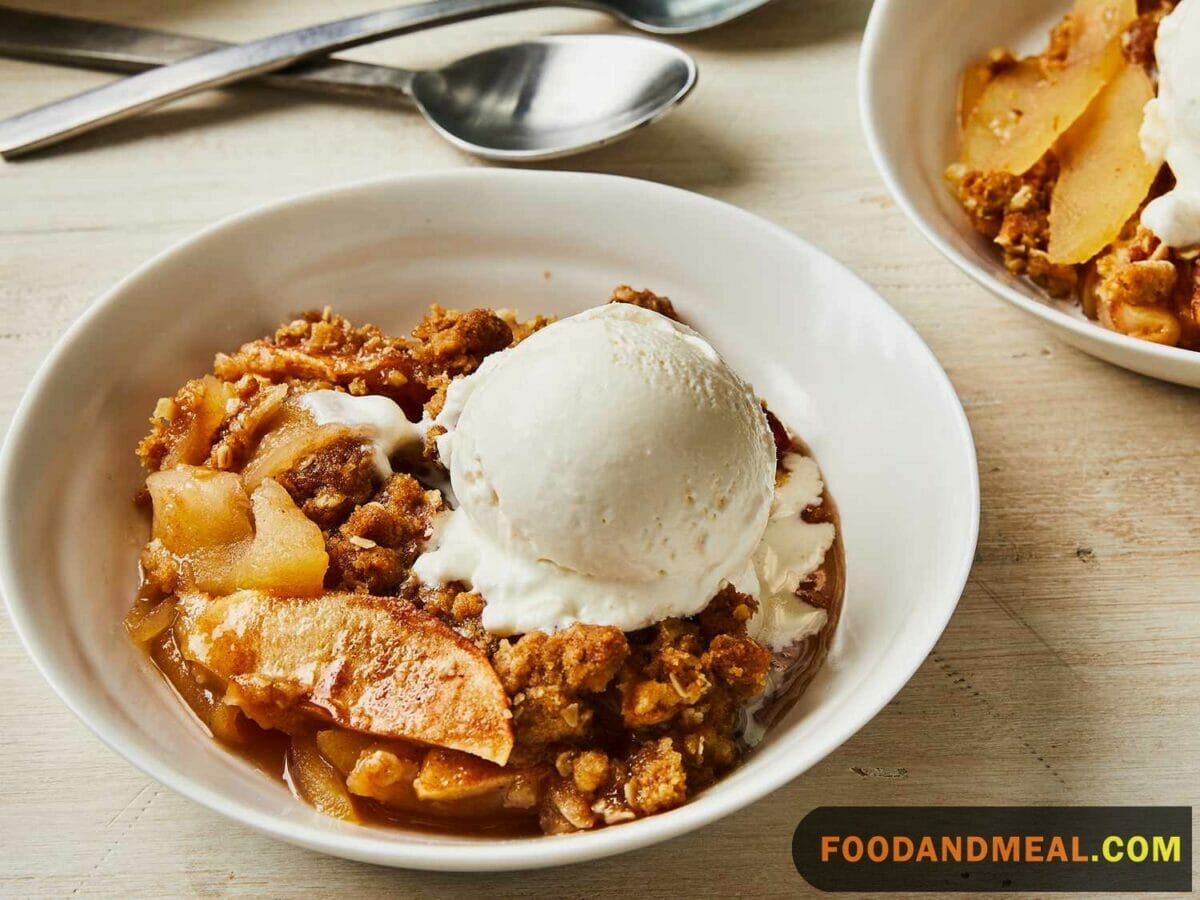 Ingredients:
6 cups of peeled, cored, and sliced apples (a mix of varieties for depth of flavor)
1/2 cup granulated sugar
1 tablespoon cornstarch
1 teaspoon ground cinnamon
1/4 teaspoon ground nutmeg
1/4 teaspoon salt
1 cup old-fashioned oats
1/2 cup all-purpose flour
1/2 cup brown sugar, packed
1/2 cup (1 stick) unsalted butter, cold and diced
Vanilla ice cream or whipped cream for serving (optional)
Instructions:
Prep the Apples: Start by peeling, coring, and slicing your apples. You can vary the thickness of the slices according to your preference, but aim for roughly 1/4 inch.
Mix the Filling: In a large bowl, combine the sliced apples, granulated sugar, cornstarch, ground cinnamon, ground nutmeg, and a pinch of salt. Toss everything together until the apples are well coated.
Prepare the Crumble Topping: In a separate bowl, mix together the old-fashioned oats, all-purpose flour, brown sugar, and cold diced butter. Use a pastry cutter or your fingers to incorporate the butter until the mixture resembles coarse crumbs.
Layer in the Slow Cooker: Grease the inside of your slow cooker to prevent sticking. Start by layering half of the apple mixture at the bottom, followed by half of the crumble topping. Repeat with the remaining apples and crumble topping.
Cook Slow and Low: Set your slow cooker to the low heat setting and cook the Apple Crisp for 4-5 hours. You'll know it's done when the apples are tender, and the crumble topping is golden and crisp.
Serve and Enjoy: Scoop out generous portions of the warm Apple Crisp into bowls. For an extra touch of indulgence, top it with a scoop of vanilla ice cream or a dollop of whipped cream.
Savor the Moment: Gather your loved ones around, dig into your slow-cooked Apple Crisp, and relish in the cozy, homemade goodness.
Tips for making Apple Crisp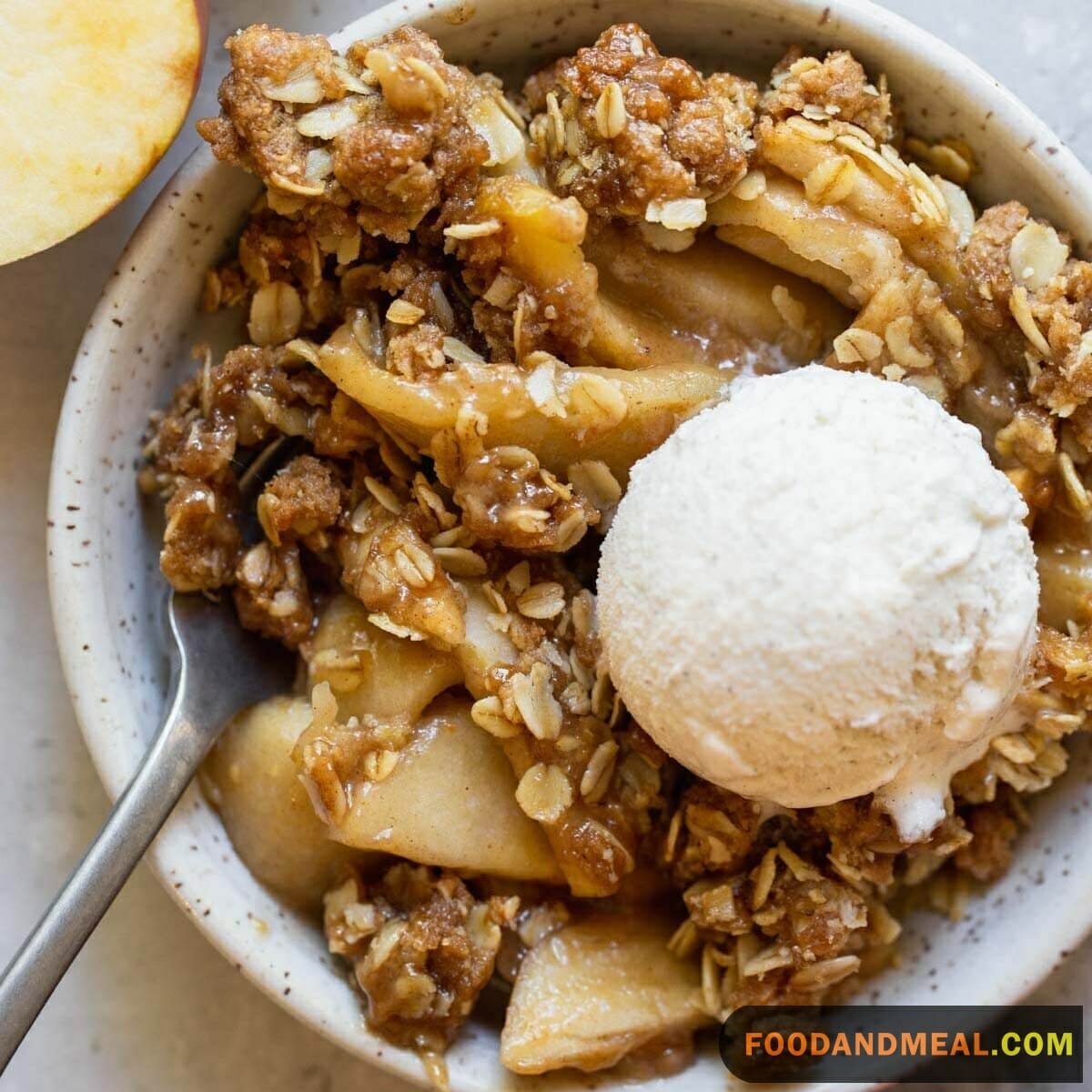 Serving Suggestions
Pair with Complementary Flavors: Apple Crisp pairs beautifully with vanilla ice cream, but don't stop there. Consider serving it with a dollop of freshly whipped cream or a drizzle of warm caramel sauce for an extra layer of decadence.
Add a Crunchy Twist: For a textural contrast, sprinkle some chopped nuts like toasted pecans or almonds over your Apple Crisp. The nutty goodness will enhance the overall experience.
Beverage Pairings: Pair your Apple Crisp with a hot cup of apple cider, a scoop of cinnamon-spiced gelato, or even a glass of dessert wine like a late-harvest Riesling. The combination of flavors will dance on your palate.
Breakfast Brilliance: Leftovers can be transformed into a breakfast delight. Reheat your Apple Crisp in the morning and enjoy it with a scoop of yogurt for a comforting start to the day.
Upgrade Your Presentation: Serve individual portions of Apple Crisp in charming ramekins or mason jars. It not only looks enticing but also makes portion control a breeze.
Cooking Tips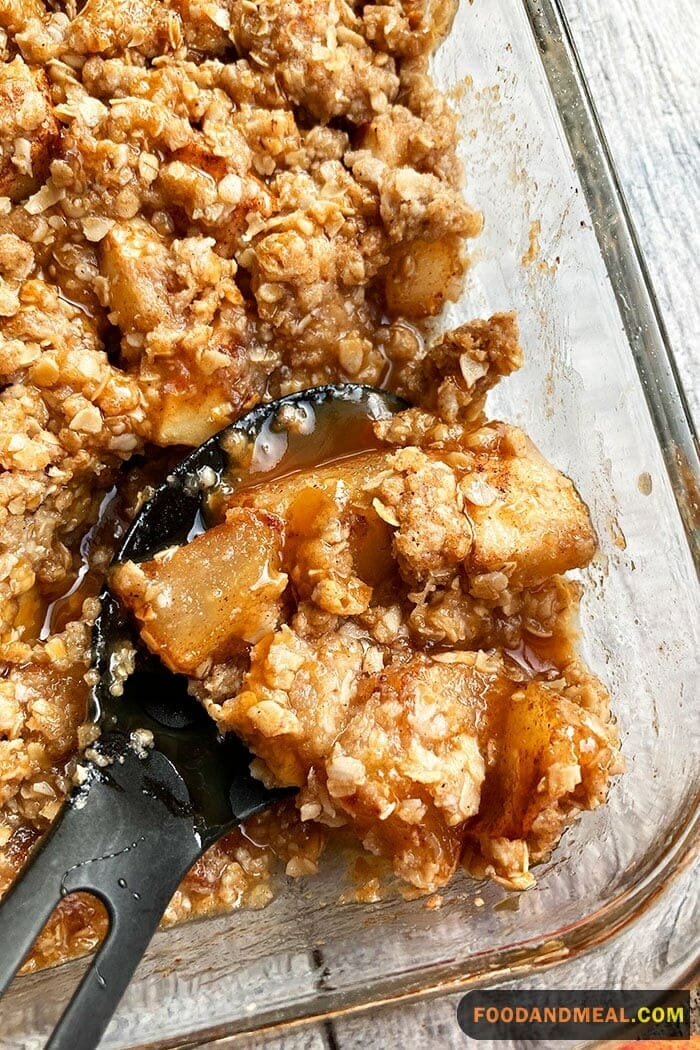 Choose the Right Apples: Not all apples are created equal for baking. Opt for a mix of sweet and tart varieties like Granny Smith, Honeycrisp, or Braeburn for a balanced flavor profile.
Don't Rush the Crumble Topping: When making the crumble topping, make sure the butter is cold and diced. Take your time incorporating it into the dry ingredients to achieve that coveted crumbly texture.
Even Apple Distribution: Ensure that your sliced apples are evenly distributed in the slow cooker to promote consistent cooking. Don't pile them too high; it's better to use a wider cooker than a tall one.
Avoid Overcooking: Keep an eye on your Apple Crisp towards the end of the cooking time. Overcooking can turn those beautifully tender apples into mush. You want them soft but not falling apart.
Leftover Love: If you have leftovers (though it's rare), store them in an airtight container in the refrigerator for up to 3 days. To reheat, simply pop it back in the slow cooker on low for a cozy dessert encore.
Frequently Asked Questions about Apple Crisp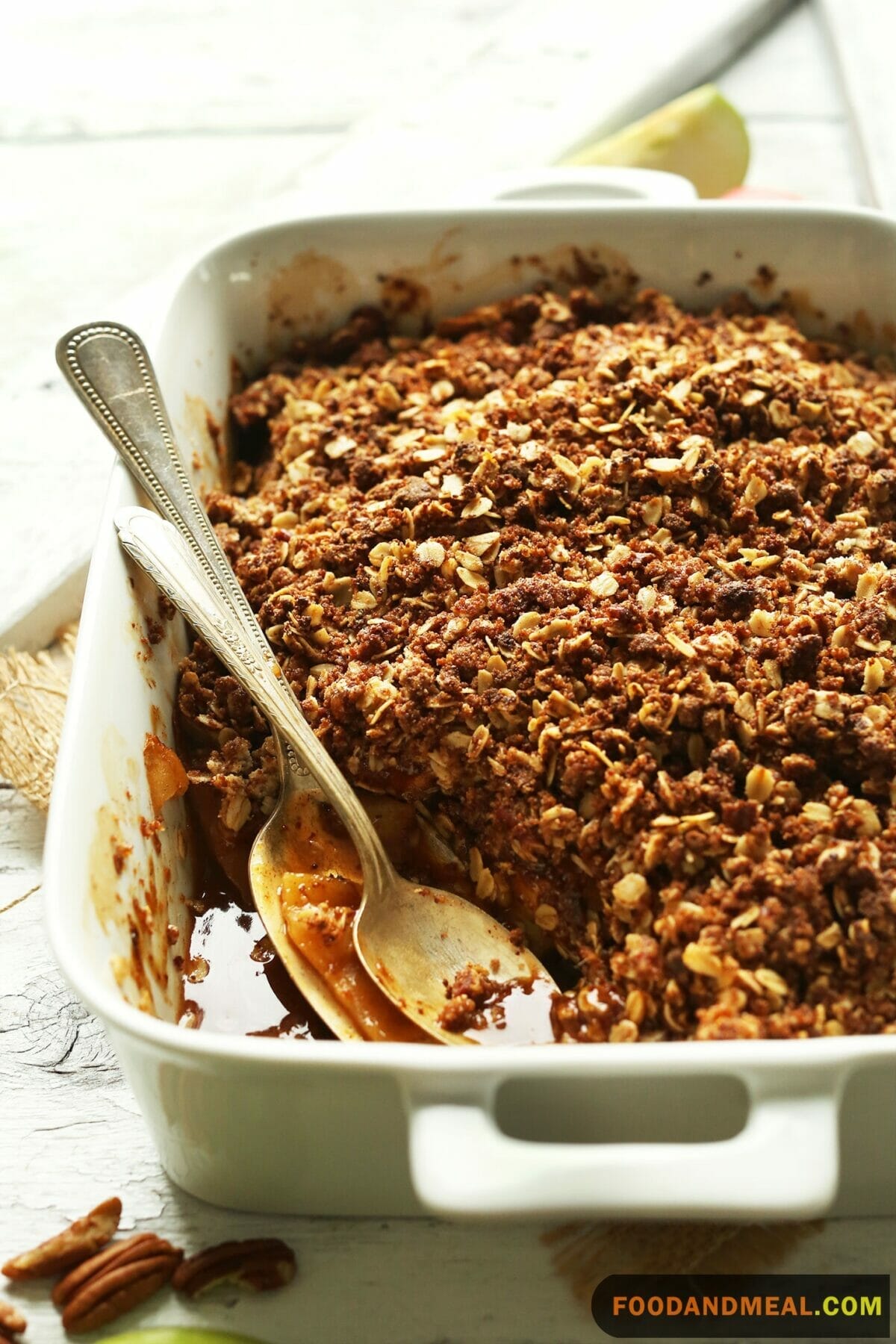 Can I use frozen apples for this recipe? While fresh apples are recommended for the best texture and flavor, you can use frozen apples in a pinch. Just be aware that they may release more moisture during cooking.
Can I prepare Apple Crisp in advance? Absolutely! You can assemble your Apple Crisp in the slow cooker the night before, store it in the refrigerator, and start cooking it when you're ready. Perfect for busy schedules or special occasions.
What's the best way to reheat leftover Apple Crisp? To reheat, place individual servings in the microwave for a quick warm-up, or return the slow cooker insert to low heat to gently reheat larger portions. Don't forget the ice cream or whipped cream on top!
Can I reduce the sugar in this recipe for a healthier version? You can certainly reduce the sugar in the filling or crumble topping to suit your preferences. Keep in mind that it may affect the sweetness and texture of the dessert.
Can I use gluten-free flour for the crumble topping? Yes, you can substitute gluten-free flour in the crumble topping without sacrificing flavor or texture. It's a great option for those with dietary restrictions.
I'm Tracy F Hilton, a devoted culinary professional shaped by a mix of natural aptitude and refined skills from a top culinary school. In the dynamic kitchen environment, I'm a catalyst for seamless operations and timely, high-quality dish preparation. My culinary creations are a blend of art and skill, offering visually and gustatorily delightful experiences. A learner at heart, I'm continuously honing my craft, embracing new techniques, and culinary innovations. My positive, collaborative nature is amplified in fast-paced settings, showcasing my commitment to team efficiency and guest satisfaction. Each dish I present is a meticulous blend of tradition and innovation, promising an unforgettable dining experience that marries taste, aroma, and aesthetic appeal in perfect harmony. Join me on a gastronomic journey where each bite encapsulates a rich, evolving narrative of flavors and culinary artistry.
Affiliate DisclaimerAbout The Content
As an affiliate, we may earn a commission from qualifying purchases. We get commissions for purchases made through links on this website from Amazon and other third parties.