Baking is my therapy, and today, I'm inviting you to join me in my happy place. We're diving into the world of Butter Pecan Cookies—a heavenly blend of butter, pecans, and a touch of magic. Whether you're a baking enthusiast or a newbie in the kitchen, you're in for a treat. So, roll up your sleeves, preheat that oven, and let's bake up some delicious memories.
Butter pecan Cookies Recipes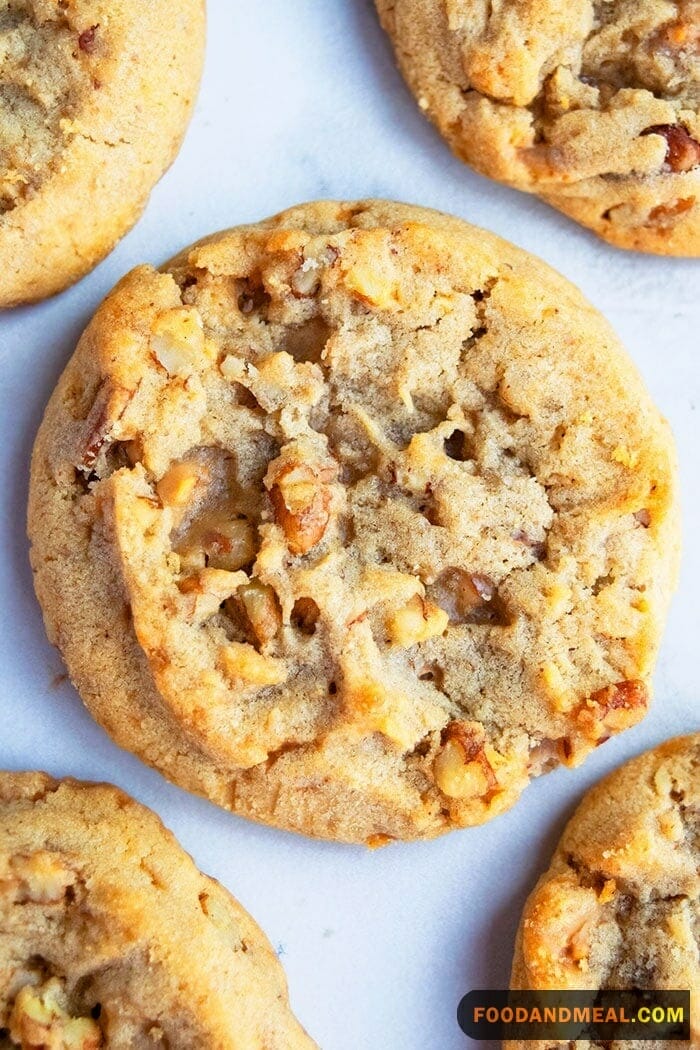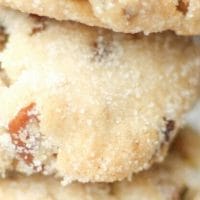 Butter pecan Cookies
Making delicious butter pecan cookies is surprisingly easy. The first step is to toast the pecans in the butter. You can skip this step if you want, but if you don't, it's a quick and simple way to give them a better flavor. After that, you'll need to prepare the cookie dough. This step takes just a few minutes. Then, you'll need to stir in some flour and cornstarch. Lastly, you'll need to sprinkle sea salt to enhance the nutty pecan taste.
Print
Pin Recipe
Add to Collection
Go to Collections
Instructions
Preheat oven to 350.

On a baking sheet, toast pecans about 6 minutes, or until fragrant. Let cool, finely chop.

With an electric mixer, cream butter and 1/3 cup sugar until light, about 1 minute.

Beat in salt, vanilla, and flour, scraping down sides of bowl, just until dough comes together. Fold in pecans.

Separate dough into 12 pieces; squeeze down to shape into balls.

Roll in sugar. Place 3 inches apart, on a baking sheet topped with parchment paper. Gently flatten with the bottom of a glass (reshape sides if necessary).

Sprinkle with sugar.

Bake until golden brown, rotating halfway through, about 15 minutes.

Cool cookies on a wire rack.
Notes
For the most perfect butter pecan cookies, make sure the dough is chilled for at least four hours. Doing so will cause the cookies to spread, so be sure to allow the dough to chill properly before baking. They can be frozen in the fridge for up to a week. These are ideal for gifting. You can even make them ahead of time. They are a delicious treat for any occasion. So, prepare your favorite batch of butter pecan cookies.
Share by Email
Share on Facebook
Share on Twitter
Nutrition
Serving:
1
serving
|
Calories:
171
kcal
|
Carbohydrates:
14
g
|
Protein:
2
g
|
Fat:
12
g
|
Saturated Fat:
5
g
|
Polyunsaturated Fat:
2
g
|
Monounsaturated Fat:
5
g
|
Trans Fat:
1
g
|
Cholesterol:
20
mg
|
Sodium:
26
mg
|
Potassium:
39
mg
|
Fiber:
1
g
|
Sugar:
6
g
|
Vitamin A:
240
IU
|
Vitamin C:
1
mg
|
Calcium:
8
mg
|
Iron:
1
mg
© Food And Meal
This website provides approximate nutrition information for convenience and as a courtesy only. Nutrition data is gathered primarily from the Spoonacular Database, whenever available, or otherwise other online calculators.
Pin Recipe
Alternative Method: Butter Pecan Cookie Skillet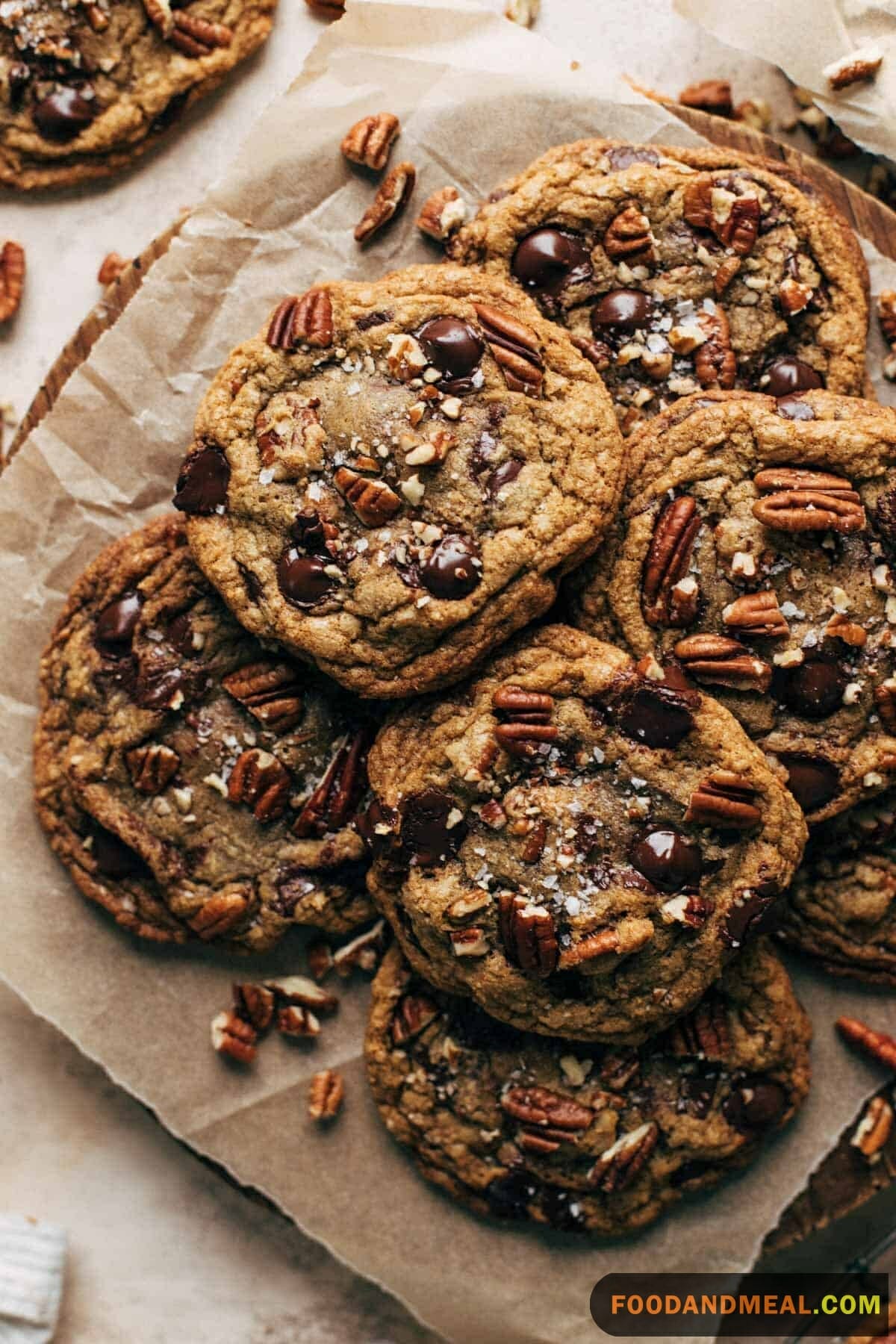 Ingredients:
1 batch of Butter Pecan Cookie dough (follow the main recipe)
10-inch cast-iron skillet
Instructions:
Preheat the Skillet: Preheat your oven to 350°F (175°C) and place the cast-iron skillet inside while it heats up. This ensures the skillet is hot when the cookie dough is added.
Prepare the Dough: While the skillet is preheating, prepare your Butter Pecan Cookie dough as per the main recipe.
Grease the Skillet: Once the skillet is hot, carefully remove it from the oven (remember, it's hot!). Add a small amount of butter or cooking spray to grease the skillet evenly. This will prevent the cookie from sticking.
Press the Dough: Place your prepared cookie dough directly into the hot skillet. Using a spatula or your hands (be cautious, it's hot!), press the dough evenly into the skillet.
Bake in the Oven: Return the skillet to the preheated oven and bake for approximately 20-25 minutes, or until the edges are golden brown, and the center is set. The cooking time may vary slightly, so keep an eye on it.
Cool Slightly: Once baked, remove the skillet from the oven and let it cool slightly. The cookie will continue to cook a bit in the hot skillet, creating that lovely gooey center.
Serve Warm: Serve your Butter Pecan Cookie Skillet warm, straight from the skillet. You can top it with a scoop of vanilla ice cream for an extra indulgent treat.
Tips for making Butter Pecan Cookies
Cooking Tips
Room Temperature Ingredients: Ensure your butter and eggs are at room temperature. This helps in achieving a smooth, well-incorporated cookie dough. Cold ingredients can lead to uneven mixing.
Don't Overmix: When adding dry ingredients to the wet mixture, mix just until combined. Overmixing can result in tough cookies. A few streaks of flour are okay; they'll disappear as you fold in the pecans.
Chill the Dough: Don't skip chilling the cookie dough. It helps firm up the dough, prevents excessive spreading during baking, and enhances flavor. Give it at least 30 minutes in the refrigerator.
Proper Pecan Chopping: For a great texture, chop the pecans finely. This ensures they're evenly distributed throughout the dough, giving every bite a nutty crunch.
Uniform Cookie Size: Use a cookie scoop or tablespoon to portion out the dough. This ensures consistent cookie size and even baking. Leave enough space between them on the baking sheet for spreading.
Check Early: Keep a close eye on your cookies toward the end of the baking time. They can go from golden brown to overdone quickly. Remember, they'll continue to cook a bit after removal from the oven.
Cool on the Pan: Let the cookies cool on the baking sheet for a few minutes before transferring them to a wire rack. This allows them to set without breaking.
Serving Suggestions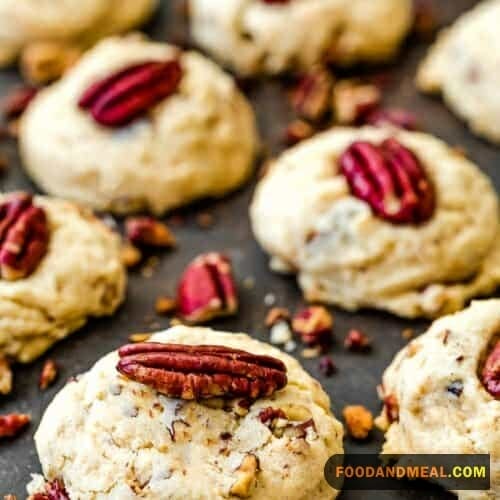 Classic Pairing: Serve your cookies with a glass of cold milk for the ultimate classic combination. The creamy milk balances the richness of the cookies.
Ice Cream Sandwich: Create decadent ice cream sandwiches by placing a scoop of vanilla or butter pecan ice cream between two cookies. Roll the edges in chopped pecans for extra flair.
Pecan Pie Sundae: Crumble the cookies over a bowl of vanilla ice cream, drizzle with warm caramel sauce, and sprinkle with chopped pecans. It's like enjoying pecan pie in sundae form.
Coffee or Tea: These cookies are the perfect companion to a hot cup of coffee or tea. Their buttery goodness complements the warm beverages.
Gifts in a Jar: Make a thoughtful gift by layering the dry ingredients of the cookie recipe in a mason jar, along with a note on how to complete the recipe. Decorate the jar for a personal touch.
Frequently Asked Questions about Butter Pecan Cookies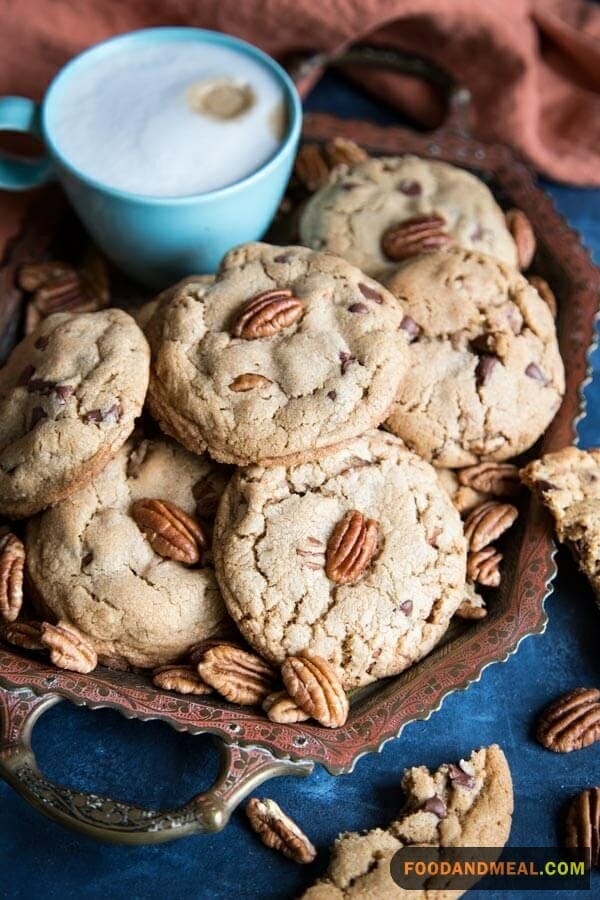 Can I freeze the cookie dough?

Yes, you can freeze cookie dough for later use. Shape it into a log or scoop individual portions onto a baking sheet, freeze until firm, and then store in an airtight container or freezer bag. Dough can be frozen for up to three months.

How do I store leftover cookies?

Keep leftover cookies in an airtight container at room temperature for up to a week. If you want to prolong their freshness, consider using an airtight container with a slice of bread to maintain moisture. For longer storage, freeze cookies for up to three months.

Can I use other nuts instead of pecans?

Absolutely! Feel free to experiment with your favorite nuts or a mix of nuts. Walnuts, almonds, or macadamia nuts can all be excellent choices.

What if I don't have brown sugar?

While brown sugar adds a lovely depth of flavor, you can substitute it with an equal amount of granulated sugar if needed.

My cookies spread too much. What went wrong?

Overmixing the dough, using warm or melted butter, or not chilling the dough adequately can lead to excessive spreading. Follow the recipe instructions, and ensure your dough is properly chilled for best results.
Bake Butter Pecan Cookies that melt in your mouth. Join our community of cookie enthusiasts today!
Affiliate DisclaimerAbout The Content
As an affiliate, we may earn a commission from qualifying purchases. We get commissions for purchases made through links on this website from Amazon and other third parties.