A breakfast of individual Oatmeal Cookie Yoghurt Cups filled with yoghurt and cut up fruit is a beautiful way to start the day. This is our favourite kind of recipe, quick and easy, as well as healthy and delicious. You could of course fill these with ice cream, pudding, there are endless options!
Oatmeal Cookie Yoghurt Cups Recipes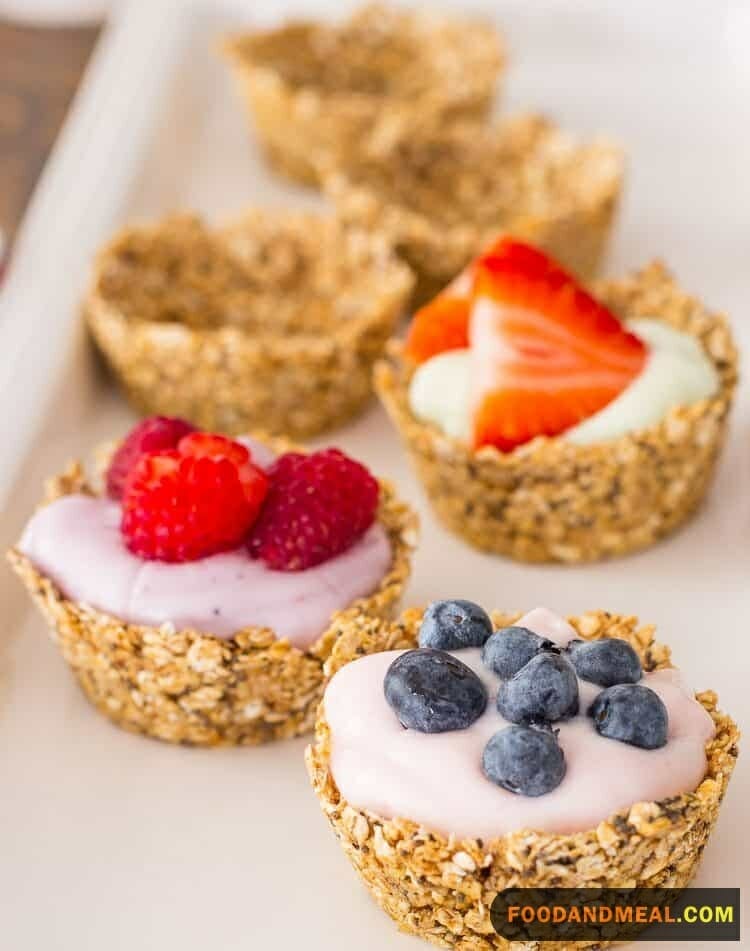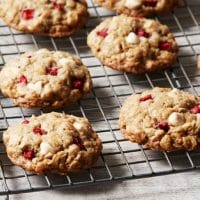 Oatmeal Cookie Yoghurt Cups
Oatmeal cookie yoghurt cups are a delicious breakfast treat that can be enjoyed at any time. You can make them using any type of milk, including whole, 2%, or almond milk. High-fat milk varieties will produce richer flavoured cups. These treats keep well in an airtight container for up to 5 days. They can also be frozen, stored in a single layer, for up to 2 months.
Print
Add to Collection
Go to Collections
Equipment
Instructions
Preheat the oven to 350 F.

Grease two muffin tins.

Combine all the ingredients together in a large bowl with a wooden spoon. Press dough into the muffin tins in the shape of cups.

Bake until cookies are evenly browned, about 20 minutes. Let cool before filling with yoghurt and topping with fruit and honey.
Notes
So, why wait any longer? Start making some tasty treats today! Just be sure to save this recipe to your favorites!
Share by Email
Share on Facebook
Share on Twitter
Nutrition
Serving:
1
serving
|
Calories:
404
kcal
|
Carbohydrates:
43
g
|
Protein:
9
g
|
Fat:
23
g
|
Saturated Fat:
2
g
|
Polyunsaturated Fat:
6
g
|
Monounsaturated Fat:
14
g
|
Trans Fat:
1
g
|
Cholesterol:
2
mg
|
Sodium:
150
mg
|
Potassium:
336
mg
|
Fiber:
4
g
|
Sugar:
21
g
|
Vitamin A:
29
IU
|
Vitamin C:
1
mg
|
Calcium:
163
mg
|
Iron:
2
mg
© Food And Meal
This website provides approximate nutrition information for convenience and as a courtesy only. Nutrition data is gathered primarily from the Spoonacular Database, whenever available, or otherwise other online calculators.
Alternative Method: Chilled Oatmeal Cookie Yoghurt Cups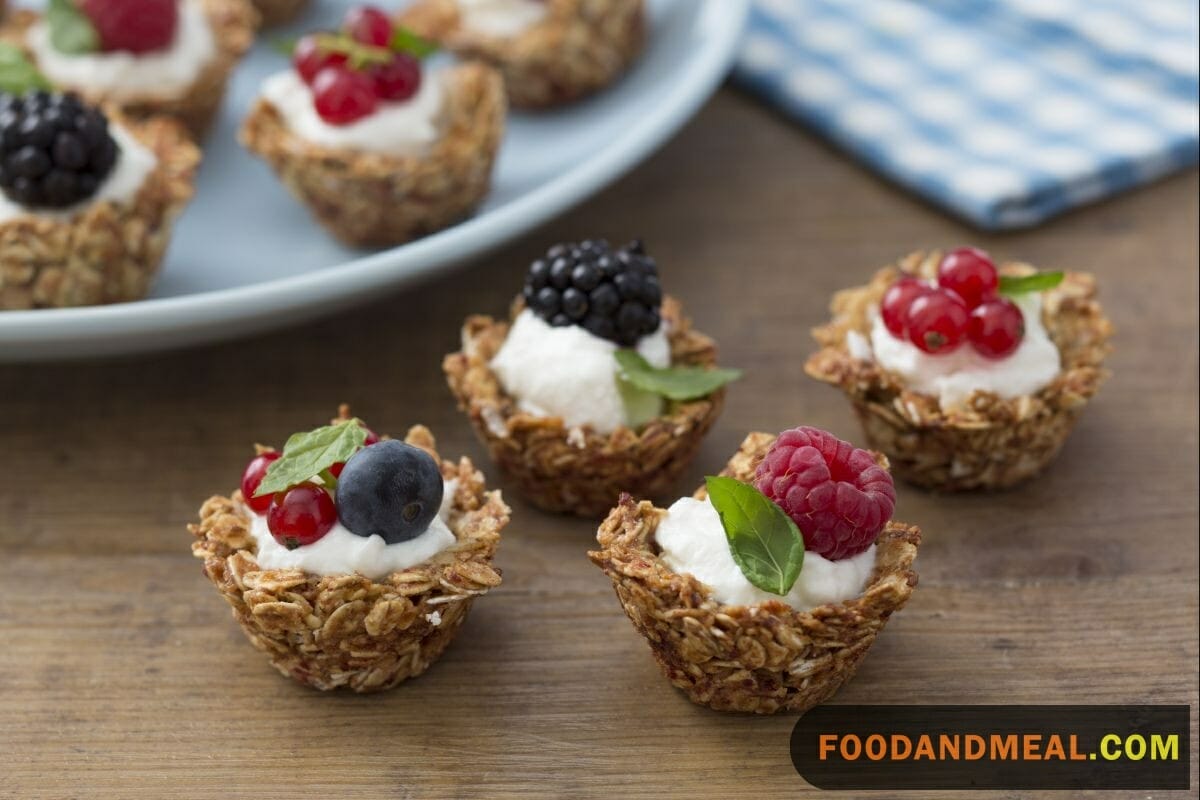 Ingredients:
1 1/2 cups old-fashioned rolled oats
1/2 cup unsweetened shredded coconut
1/2 cup honey or maple syrup
1/4 cup melted coconut oil
1 teaspoon vanilla extract
1/2 teaspoon ground cinnamon
A pinch of salt
1 1/2 cups Greek yoghurt (full-fat for creaminess)
1/2 cup fresh berries (blueberries, raspberries, or strawberries)
Honey for drizzling (optional)
Instructions:
Prepare the Oatmeal Base: In a mixing bowl, combine the rolled oats, shredded coconut, melted coconut oil, honey or maple syrup, vanilla extract, ground cinnamon, and a pinch of salt. Mix until everything is well incorporated.
Layer the Cups: Take small serving cups or glasses. Begin by adding a spoonful of the oatmeal mixture as the base.
Add Yoghurt Layer: Layer a generous spoonful of Greek yoghurt over the oatmeal mixture.
Add Berries: Drop a few fresh berries on top of the yoghurt layer.
Repeat Layers: Continue layering with more oatmeal mixture, yoghurt, and berries until you reach the top of the cups. Finish with a berry on top for garnish.
Chill: Cover each cup with plastic wrap and refrigerate for at least 2 hours or until the mixture sets and becomes delightfully chilled.
Serve: Drizzle honey over the chilled cups for a touch of sweetness, if desired.
Enjoy: Grab a spoon and enjoy these refreshing Chilled Oatmeal Cookie Yoghurt Cups as a no-bake alternative to the traditional version. Perfect for a cool, satisfying dessert on warm days.
Tips for making Oatmeal Cookie Yoghurt Cups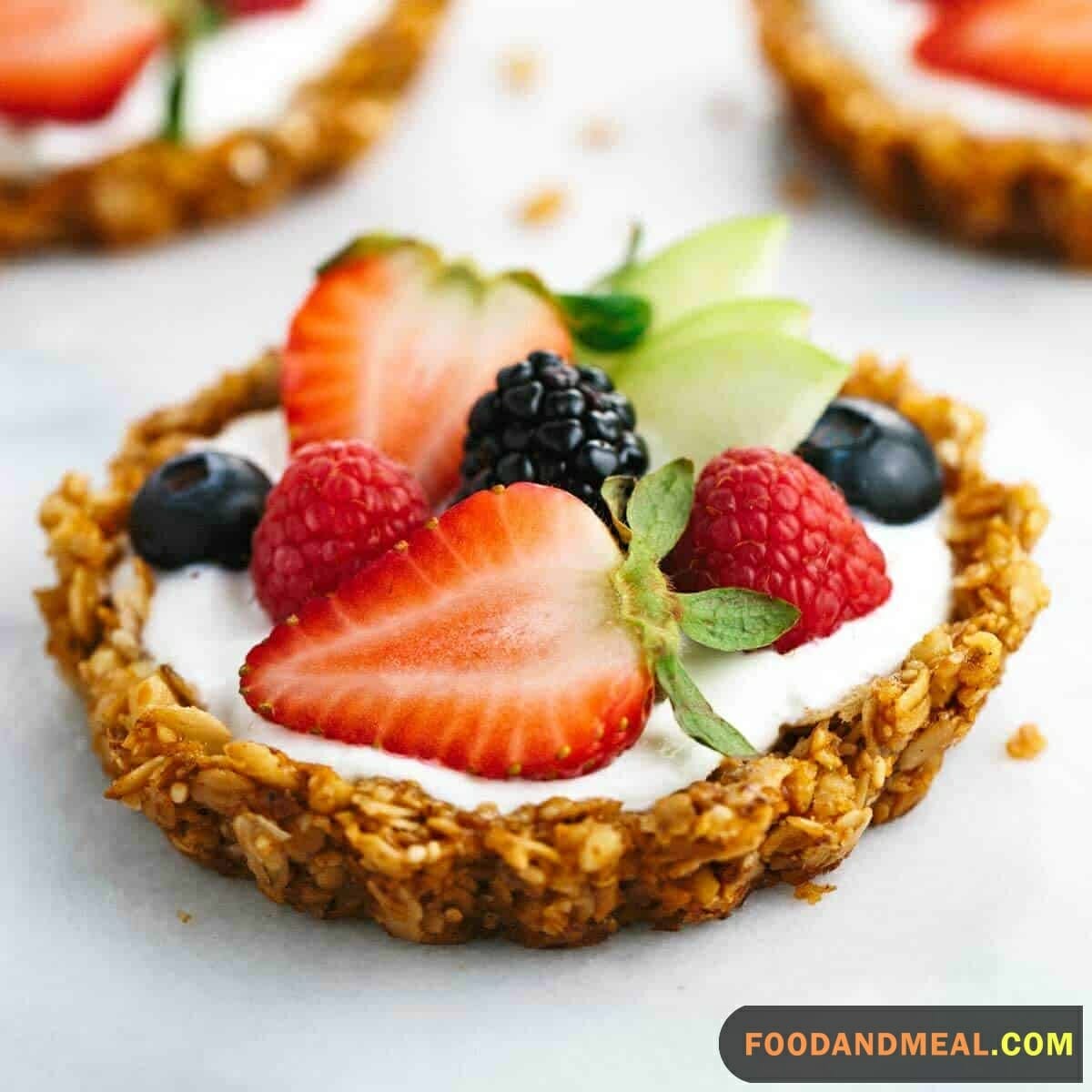 Serving suggestions
Recommend Sides, Garnishes, and Beverages:
Fruit Salad: Serve with a side of fresh fruit salad for an extra burst of fruity goodness.
Toasted Coconut: Sprinkle some toasted coconut flakes on top for a tropical twist.
Mint Leaves: Garnish with a few fresh mint leaves for a refreshing touch.
Different Ways to Serve:
Brunch Delight: Include these cups as part of a brunch spread for a delightful morning treat.
Dessert Trio: Serve alongside mini cheesecakes and chocolate mousse for a dessert trio that wows.
Yoghurt Parfait: Layer the oatmeal mixture, yoghurt, and fruits in a glass for an elegant parfait.
Cooking Tips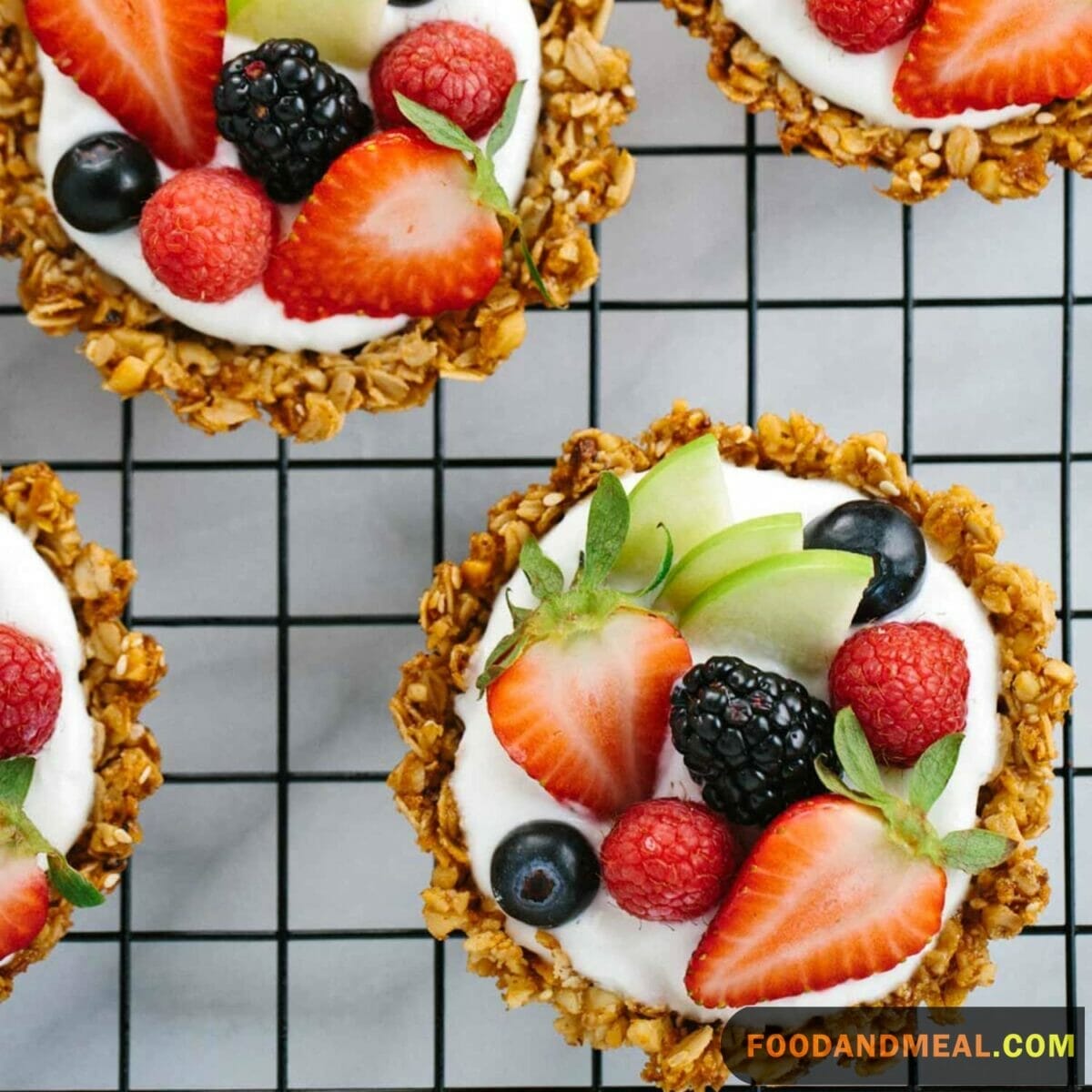 Offer Tips and Tricks:
Choose Quality Ingredients: Use high-quality yoghurt, honey or maple syrup, and fresh berries for the best results.
Adjust Sweetness: Tailor the sweetness by adding more or less honey/maple syrup to suit your taste.
Texture Matters: Experiment with the oatmeal mixture's texture; some like it crunchier, while others prefer it softer. Adjust the oat-to-liquid ratio accordingly.
Common Mistakes to Avoid:
Soggy Oatmeal: Avoid over-soaking the oats, as they can become mushy. Mix just until they're coated and slightly softened.
Skipping Chilling Time: Chilling allows the flavors to meld, so don't rush this step.
Neglecting Garnishes: Don't forget the final touch – garnishes like toasted coconut or mint can take your cups to the next level.
FAQs of Oatmeal Cookie Yoghurt Cups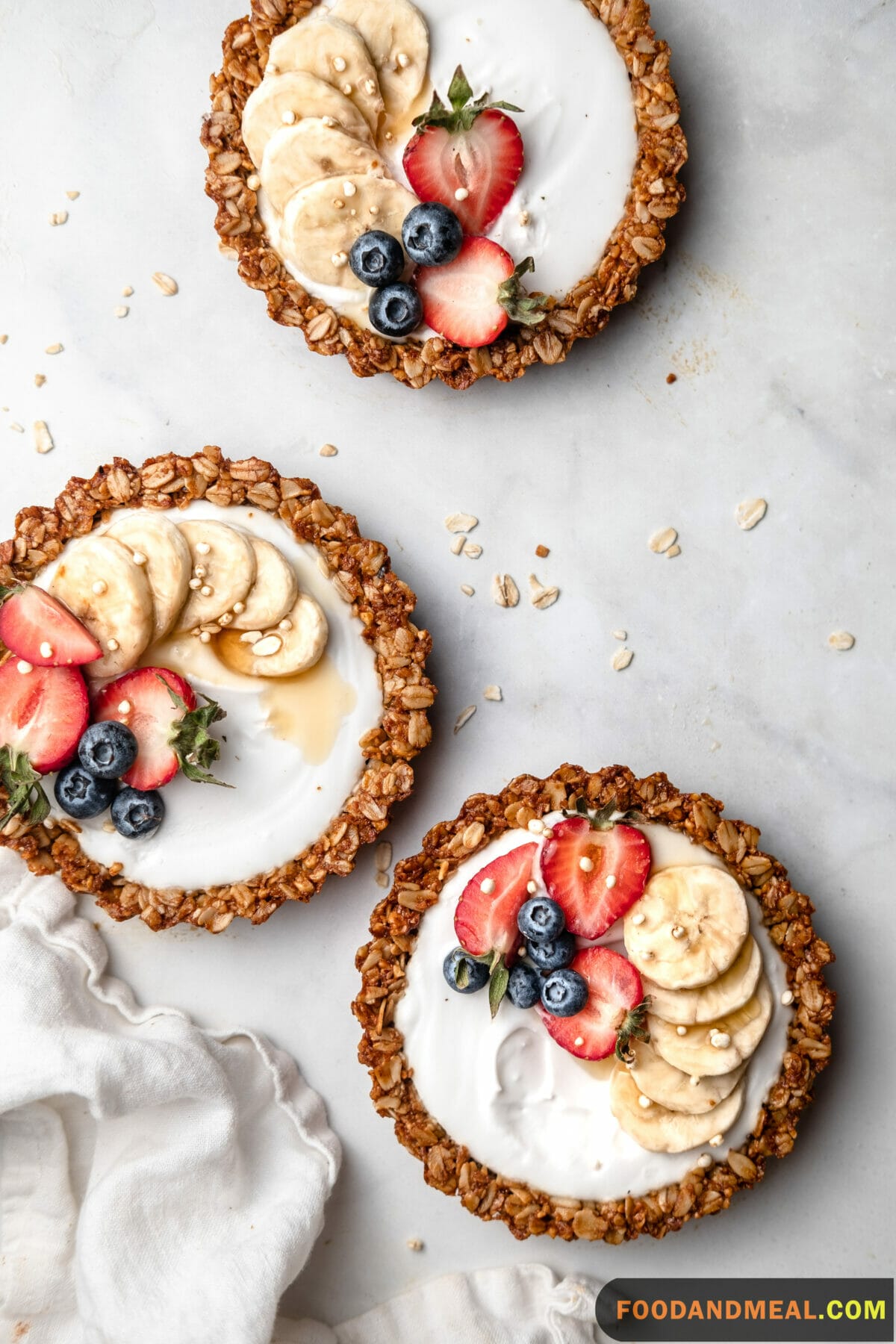 Can I use instant oats instead of rolled oats?While you can use instant oats, rolled oats provide a heartier texture that many prefer.
Can I make these cups in advance for a party?Absolutely! These cups can be made a day ahead and stored in the refrigerator until it's time to serve.
How long do leftovers last, and how should I store them? Leftovers can be stored in the refrigerator for up to 2-3 days. Cover them to keep them fresh.
Can I use dairy-free yoghurt and honey for a vegan version? Yes, you can easily make this recipe vegan by using dairy-free yoghurt and a vegan sweetener like agave nectar.
Are there variations to this recipe I can explore?Absolutely! You can customize by adding nuts, seeds, or different types of fruit for a personalized touch.
Discover the magic of Oatmeal Cookie Yoghurt Cups, where oatmeal cookies meet creamy yoghurt. Share this scrumptious recipe and stay connected with our blog for future kitchen adventures.
Affiliate DisclaimerAbout The Content
As an affiliate, we may earn a commission from qualifying purchases. We get commissions for purchases made through links on this website from Amazon and other third parties.