The allure of Japanese cuisine lies in its intricate balance of flavors, and the Veggie Beef Hot Pot is no exception. With each bite, you're transported straight to a cozy eatery in Tokyo. Ready to embark on this culinary voyage? Let's begin!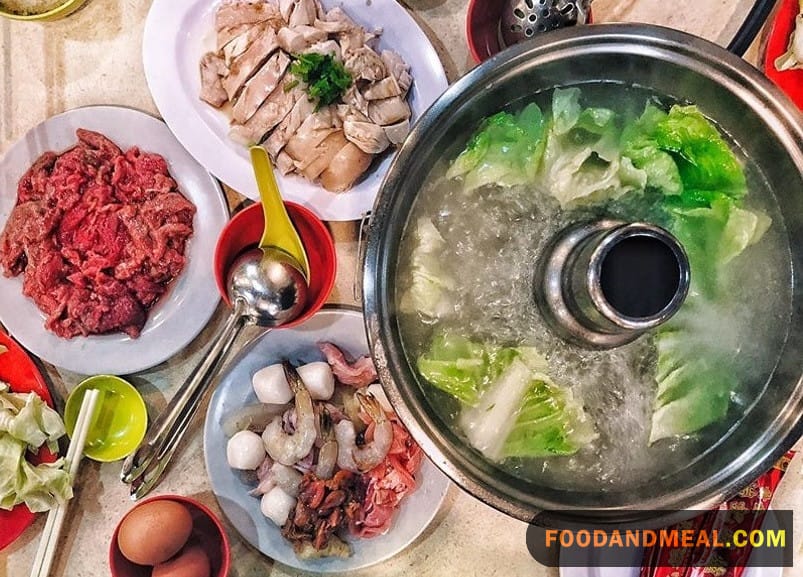 Veggie Beef Hot Pot Recipe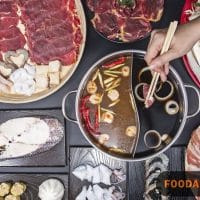 Japanese Veggie Beef Hot Pot
Dive into the flavors of our Veggie Beef Hot Pot – a Japanese culinary treasure. If this delightful recipe warms your heart as much as ours, don't forget to share it with friends and subscribe for more drool-worthy recipes!
Print
Add to Collection
Go to Collections
Instructions
Press tofu till it is about 2/3 of its original thickness.

Set oven to broiler. Line baking sheet with foil, then spray using non-stick spray. Spray tofu, too. Place tofu on baking sheet.

Broil for 8-10 minutes on center oven rack. Flip. Broil for eight more minutes. Allow to cool and cut into 16 x one-inch cubes.

To prepare sauce, mix sauce ingredients together in medium bowl. Adjust as you desire and set the sauce aside.

Soak noodles for a minute in heat-proof bowl of boiling water. Drain. Rinse under cold water. Cut in halves.

Add water with a bit of oil to table top burner on dinner table. Provide family and friends with chopsticks, skewers or small strainers. Allow them to cook their own tofu, beef and veggies in hot broth and enjoy dipping them in sauce.
Notes
A good broth is the foundation of this hot pot. Whether you opt for a dashi, beef, or vegetable base, ensure it's rich and flavorful. Always choose thinly sliced beef, preferably with a bit of marbling. It not only cooks quickly but also adds a luxurious texture to every bite.  While I've recommended some classic veggies, feel free to mix it up based on what's in season. The magic of this hot pot lies in its versatility.
Share by Email
Share on Facebook
Share on Twitter
Nutrition
Calories:
284
kcal
|
Carbohydrates:
23
g
|
Protein:
18
g
|
Fat:
13
g
|
Saturated Fat:
5
g
|
Polyunsaturated Fat:
1
g
|
Monounsaturated Fat:
6
g
|
Trans Fat:
1
g
|
Cholesterol:
41
mg
|
Sodium:
907
mg
|
Potassium:
377
mg
|
Fiber:
2
g
|
Sugar:
9
g
|
Vitamin A:
2628
IU
|
Vitamin C:
4
mg
|
Calcium:
71
mg
|
Iron:
2
mg
© Food And Meal
This website provides approximate nutrition information for convenience and as a courtesy only. Nutrition data is gathered primarily from the Spoonacular Database, whenever available, or otherwise other online calculators.
Preparing Veggie Beef Hot Pot using a Slow Cooker
Method:
Broth Preparation: Start by pouring your chosen broth (dashi, beef, or vegetable) into the slow cooker. If using a concentrated dashi or broth base, ensure it's well-diluted with water as per the package instructions.
Meat Addition: Gently place the thinly sliced beef into the broth. Given the slow cooking method, even tougher cuts will become tender, so don't hesitate to use them if that's what you have on hand.
Vegetable Layering: Add hardy vegetables first, like radishes, carrots, and turnips, as they take longer to soften. About an hour later, incorporate medium-cook time veggies such as bell peppers, mushrooms, and tofu. In the last 30 minutes of cooking, add delicate vegetables like bok choy, spinach, and green onions.
Seasoning: Sprinkle in your desired seasonings – soy sauce, mirin, sake, or just salt, and adjust to taste. Remember, the flavors will intensify over the slow-cooking period, so start with a lighter hand and adjust near the end.
Cooking Time: Set your slow cooker to low and let the magic happen for about 5-6 hours. For those in a bit of a hurry, the high setting for 2-3 hours works, but the flavors might not be as deep.
Serving: Once cooked, stir gently to ensure everything is well-mixed. Ladle the hot pot into individual bowls, ensuring each has a good mix of beef, veggies, and broth. Garnish with chopped spring onions, sesame seeds, or a dash of chili oil for an extra kick.
Cooking Tips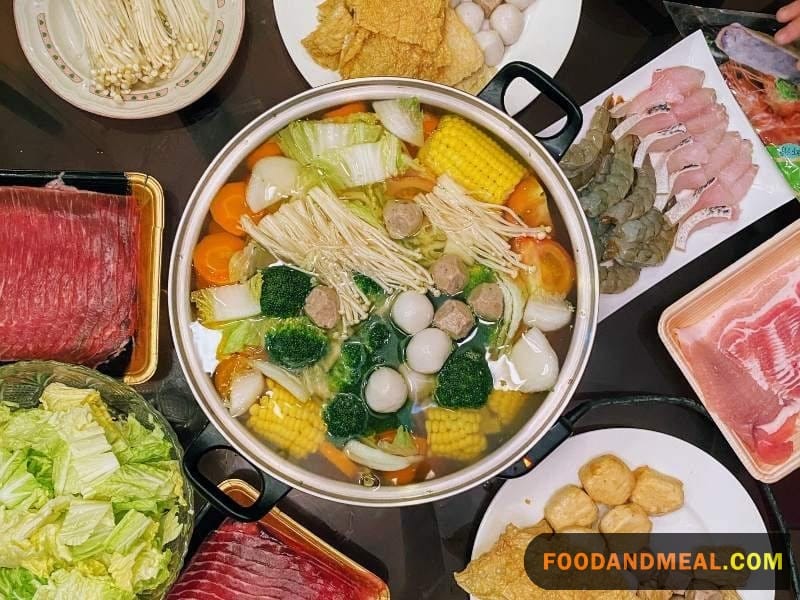 Broth Balance: While it's tempting to go heavy on flavors, start light. You can always add more seasoning later, but an overly salty broth can overshadow the dish's essence.
Meat Matters: Invest in quality beef. Even if it means using less, the taste and texture difference in a hot pot can be astounding.
Vegetable Variance: Make sure your veggies are fresh and crisp. Wilted vegetables can release excess water and dilute your broth.
Heat Handling: Never let your broth come to a roaring boil; a gentle simmer ensures the ingredients retain their flavor and texture.
Tofu Tip: If using tofu, drain and press it to remove excess water. This allows it to soak up the broth flavors more effectively.
Serving Suggestions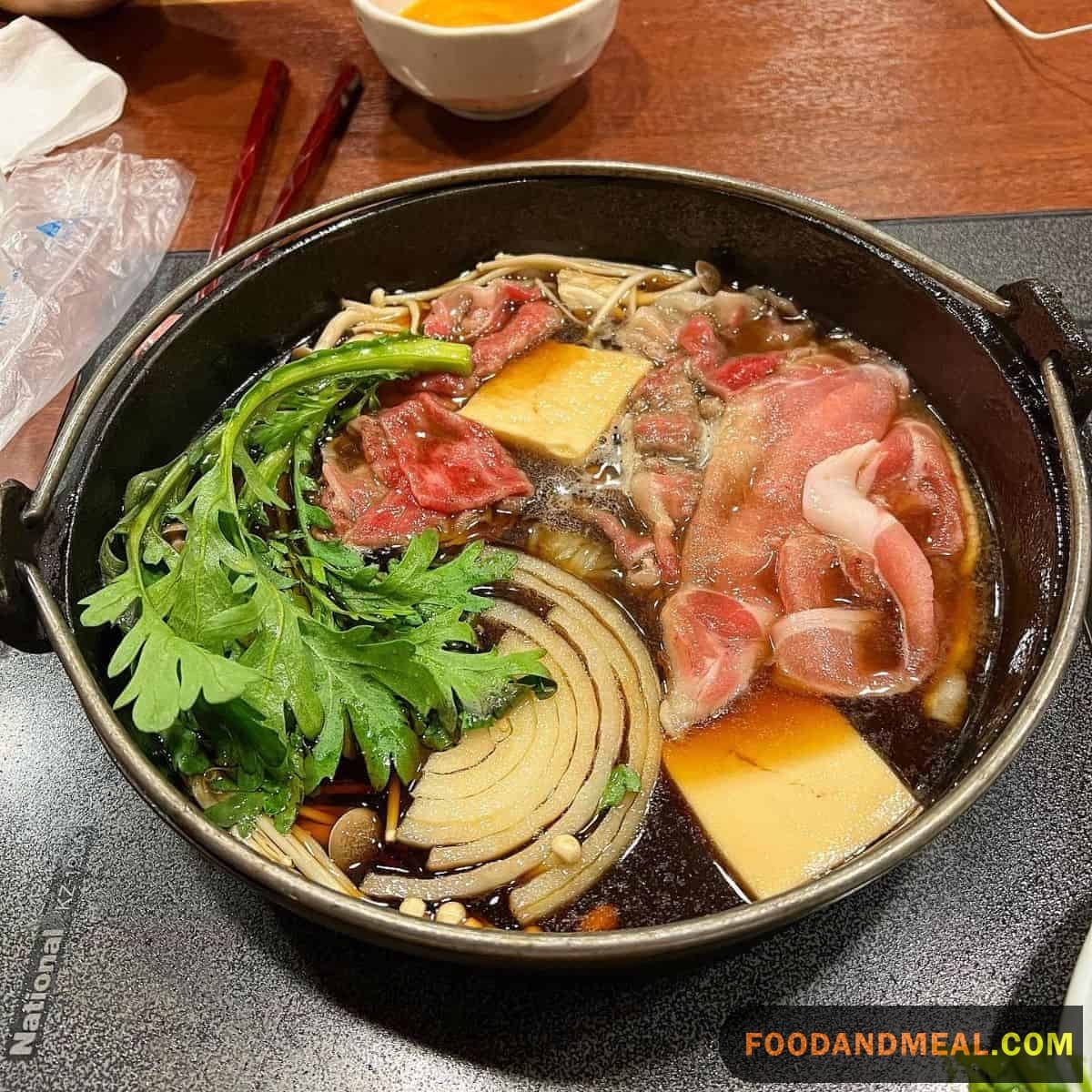 Occasions: This dish is perfect for those chilly winter nights or when you're hosting a dinner party. Its communal nature makes it a fantastic choice for family gatherings or a romantic dinner for two.
Audience: While it's a hit among adults, especially with a good glass of sake, children might also love the interactive aspect of the hot pot. Just ensure that the spices are adjusted to their palate.
Complementary Sides: Serve with a side of steamed jasmine or sticky rice to soak up that delicious broth. A light cucumber salad or some edamame beans sprinkled with sea salt would be a delightful accompaniment.
Beverages: A cup of green tea or cold Asahi beer would work wonders. For non-alcoholic choices, a yuzu or plum-based drink adds a refreshing touch.
Serving Styles: While traditionally served in a communal pot, you can also ladle servings into individual bowls, especially if catering to a larger crowd or if you've added a bit more kick to the broth.
FAQs of Veggie Beef Hot Pot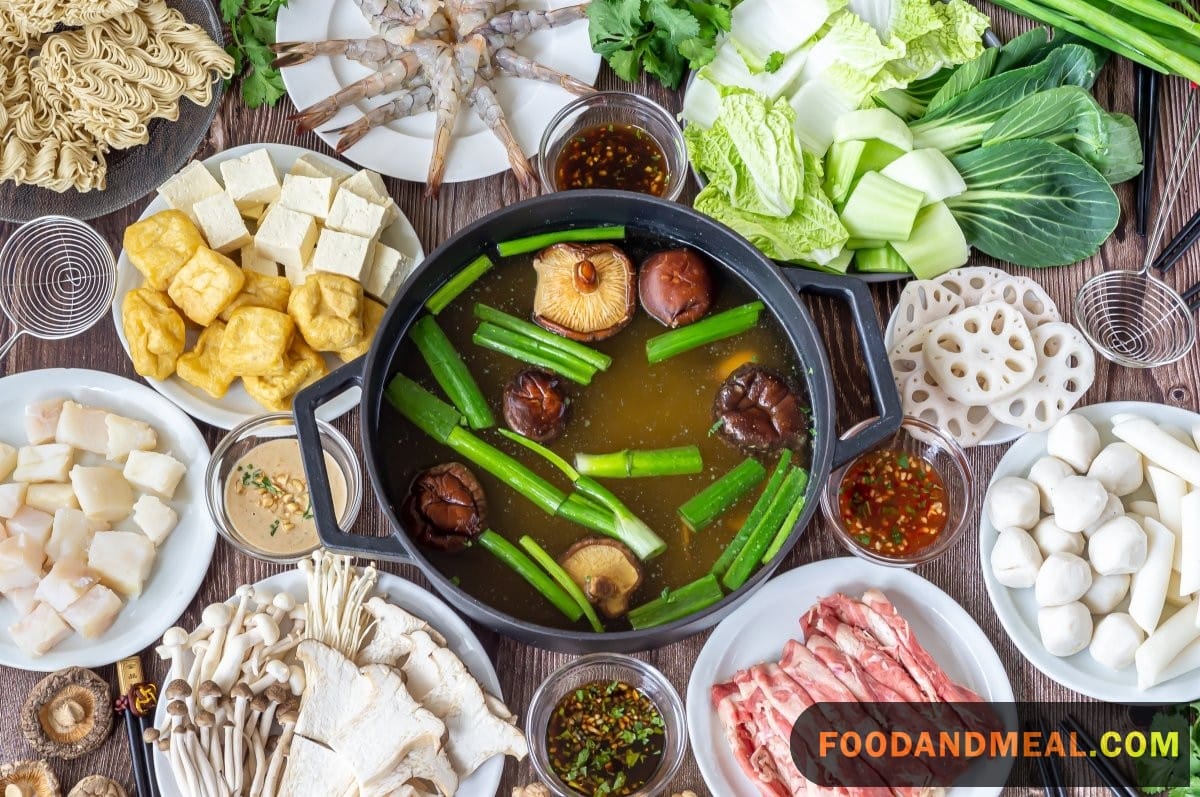 Can I use chicken instead of beef? Absolutely! Chicken, especially thigh pieces, can be a great substitute for beef. Just adjust the cooking time as chicken cooks faster than beef.
What if I don't have some of the suggested vegetables? The beauty of the hot pot lies in its versatility. Feel free to substitute with whatever you have on hand or prefer, like zucchini, kale, or broccoli.
How spicy is the broth? While traditional Veggie Beef Hot Pot has a mild flavor, you can adjust the spiciness to your liking. Add more chili or a dollop of spicy paste if you like the heat.
How long can I store the leftovers? Store any leftovers in an airtight container in the refrigerator for up to 2 days. When reheating, ensure it reaches a boil to ensure safety.
Can I prepare the broth in advance? Yes, preparing the broth a day in advance can enhance its flavors. Store it in the fridge and reheat when ready to use.
Dive into our Veggie Beef Hot Pot recipe – a true Japanese delight! Discover the magic and flavors of this dish. Try, taste, and treasure!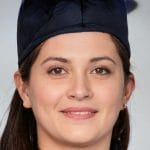 Hi! I'm Nazia of 'Nazia Cooks', a self-taught baker and cook residing in Chennai. Rooted in the rich South Indian culinary landscape, my palate has expanded to embrace global flavors. I revel in crafting fusion dishes, melding traditions to birth unique tastes.
Affiliate DisclaimerAbout The Content
As an affiliate, we may earn a commission from qualifying purchases. We get commissions for purchases made through links on this website from Amazon and other third parties.