Sometimes you can find your refrigerator stocked with various left-overs.  If, perchance, you have turkey sausage, broccoli and tomatoes, then you're in luck.  We have the right Crustless Quiche recipe just for you.  Since it's a quiche we're talking about here, be sure that you have a couple of eggs and cheese.You don't need to go to an expensive restaurant or order junk foods from fast food.  You and your family will enjoy the healthy goodness of this recipe to your heart's content.
Turkey Crustless Quiche Recipe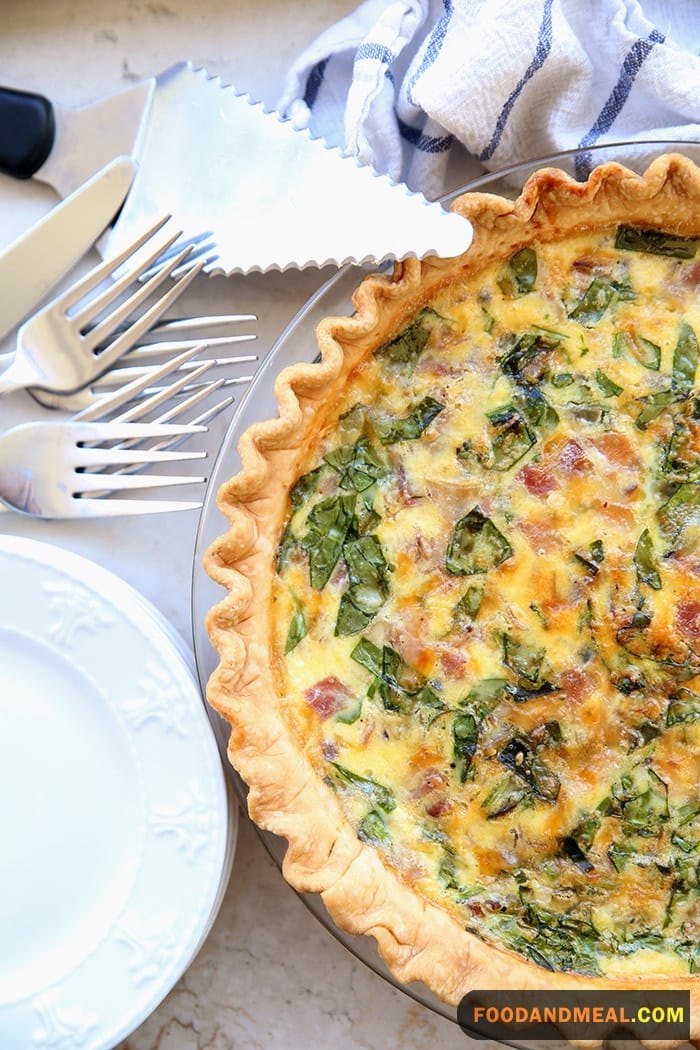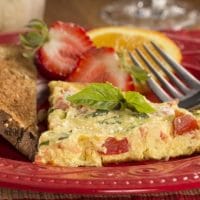 Turkey Sausage, Broccoli and Tomato Crustless Quiche
Turn your holiday leftovers into a light lunch. This Turkey Sausage, Broccoli and Tomato Crustless Quiche uses leftover turkey breast and vegetables for protein and vitamins that will fill you up and get you back on track with healthier eating.
Print
Add to Collection
Go to Collections
Ingredients
8

oz

or about 1 ¼ cups of cooked turkey sausage

sliced

1

medium or 1 cup of tomato

chopped

1

cup

broccoli

steamed or frozen then chopped

6

eggs

½

cup

Milk

½

tsp.

of kosher salt

½

tsp.

of freshly ground black pepper

½

tsp.

of dry mustard

1

cup

of cheddar cheese

shredded
Instructions
Turkey Sausage crustless quiche

Preheat your oven to 400⁰F and proceed into coating a 9-inch glass pie plate with cooking spray or oil.

Arrange the sliced sausage, tomato and broccoli by layering them in the prepared pie plate. Top the ingredients with the shredded cheddar cheese.

After that, whisk the eggs, milk, salt, pepper and mustard together until they are all well incorporated.

Pour over the arranged sausage, broccoli, tomato and cheese in the pie plate.

Bake the quiche for about 35-40 minutes or until the egg is cooked and the top of the quiche is browned.

You can serve the quiche immediately; it makes 4-6 slices.

simple Turkey Sausage crustless quiche method
Notes
Let cool 5 minutes before serving.
Share by Email
Share on Facebook
Share on Twitter
Nutrition
Serving:
1
serving
|
Calories:
90
kcal
|
Carbohydrates:
3
g
|
Protein:
9.4
g
|
Fat:
4
g
|
Cholesterol:
101
mg
© Food And Meal
This website provides approximate nutrition information for convenience and as a courtesy only. Nutrition data is gathered primarily from the Spoonacular Database, whenever available, or otherwise other online calculators.
Alternative Method: Slow Cooker Turkey Crustless Quiche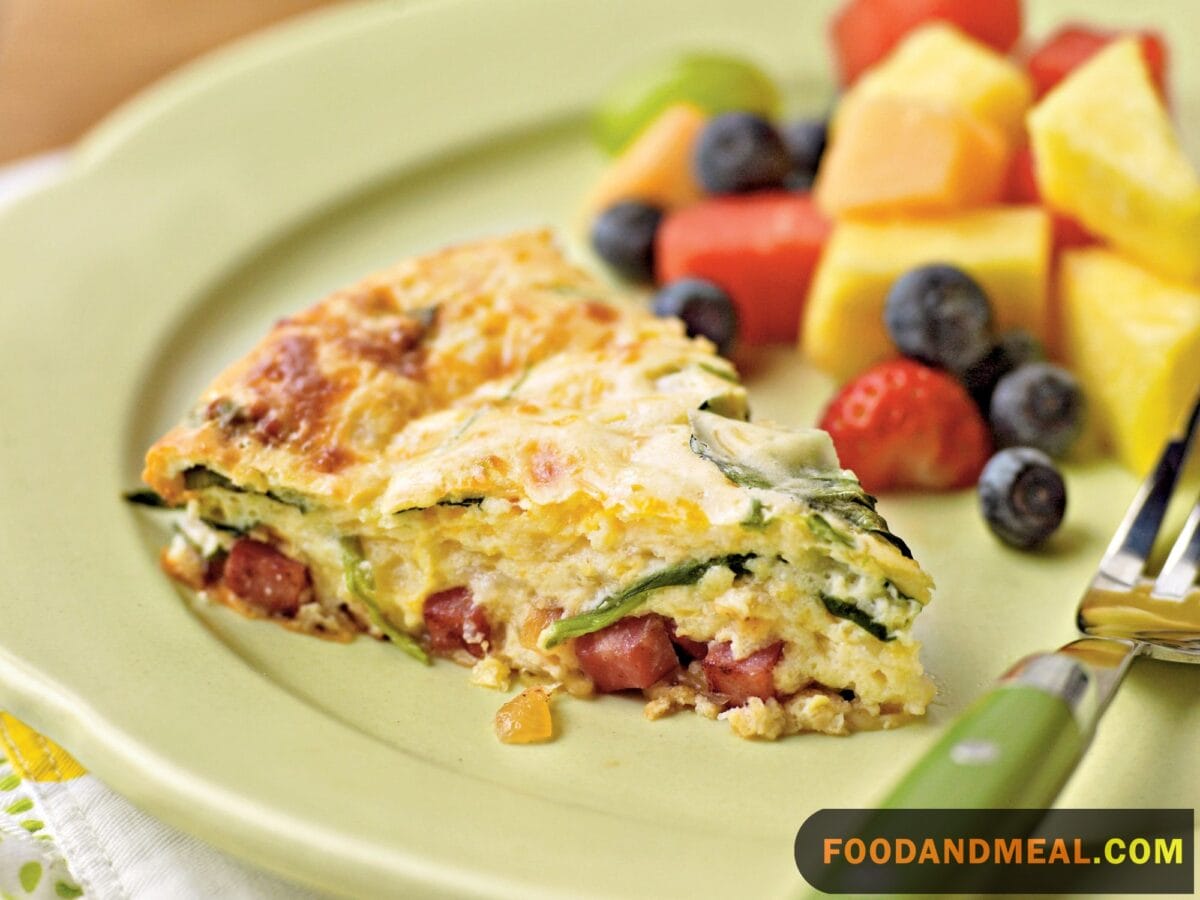 Ingredients:
1 pound ground turkey
1 cup diced bell peppers (any color)
1 cup diced onions
1 cup diced mushrooms
1 cup spinach leaves, chopped
1 cup shredded cheddar cheese
8 large eggs
1 cup milk (any type)
1 teaspoon garlic powder
1 teaspoon dried thyme
Salt and pepper to taste
Instructions:
Prepare the Slow Cooker: Grease the inside of your slow cooker with cooking spray or butter to prevent sticking.
Cook the Turkey: In a skillet over medium heat, cook the ground turkey until it's browned and no longer pink. Season it with salt, pepper, and garlic powder. Drain any excess fat.
Layer the Ingredients: Start by adding a layer of cooked turkey to the bottom of the slow cooker.
Add Veggies and Cheese: Follow the turkey layer with diced bell peppers, onions, mushrooms, and chopped spinach. Sprinkle half of the shredded cheddar cheese on top.
Repeat Layers: Repeat the layering process with the remaining turkey, vegetables, and cheese.
Mix the Eggs: In a separate bowl, whisk together the eggs, milk, dried thyme, and a pinch of salt and pepper until well combined.
Pour the Egg Mixture: Carefully pour the egg mixture over the layers in the slow cooker. Ensure that the eggs evenly cover the ingredients.
Cook Slow and Low: Set your slow cooker to the low setting and let the quiche cook for about 3-4 hours. Check for doneness by inserting a knife into the center – it should come out clean when it's ready.
Serve: Once cooked, let the quiche cool for a few minutes, then slice and serve. Garnish with fresh herbs or extra cheese if desired.
Tips for making Turkey Crustless Quiche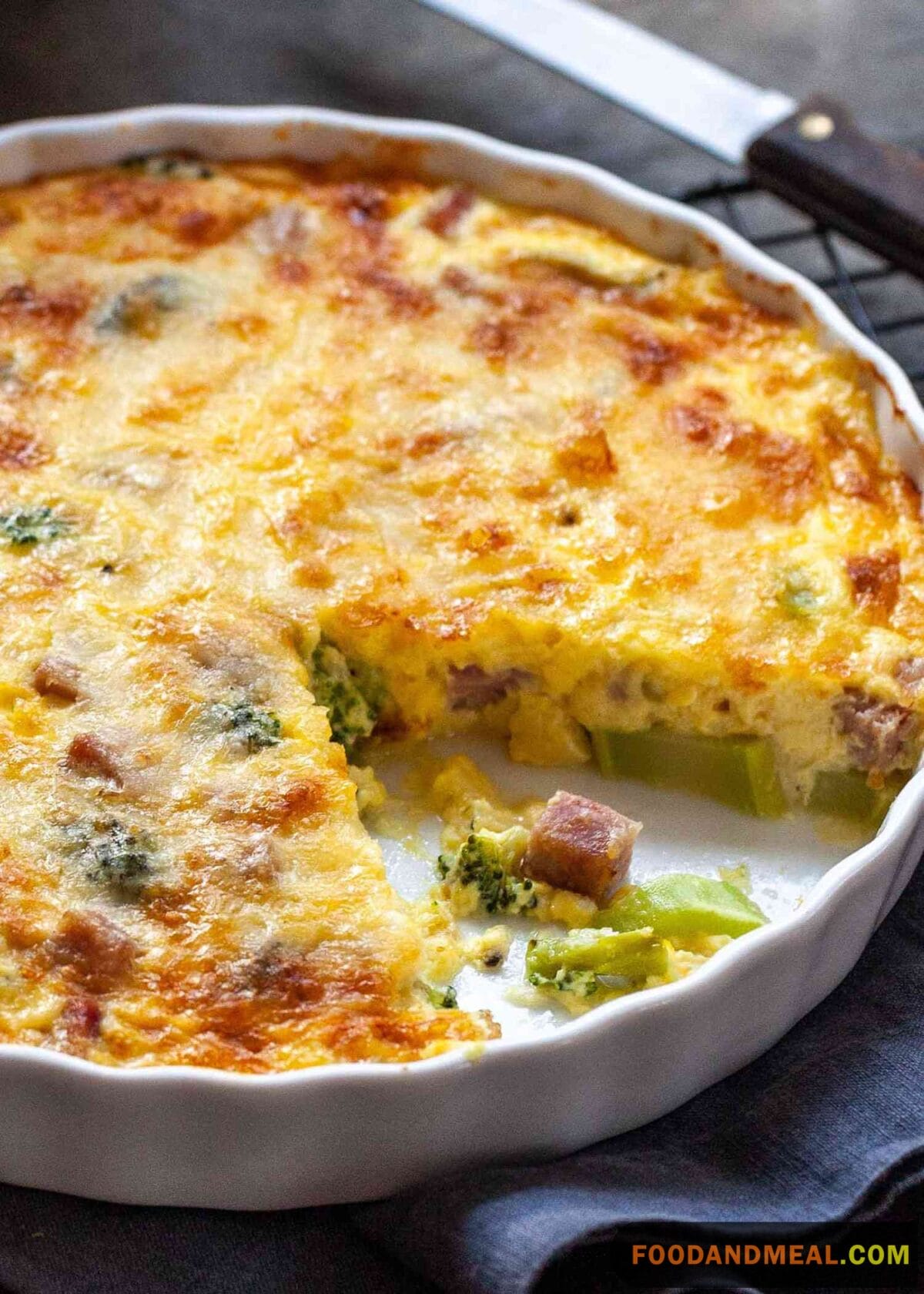 Cooking Tips
Tips for Success:
Use Lean Turkey: Opt for lean ground turkey to keep your quiche on the healthier side. It provides great flavor without excess fat.
Precook the Turkey: Fully cook the ground turkey before adding it to the quiche. This prevents excess moisture and ensures proper seasoning.
Choose Fresh Veggies: While you can use frozen vegetables, fresh ones add vibrant flavors and textures. Don't be shy about experimenting with your favorite veggies.
Mix Up Cheese Varieties: Cheddar is fantastic, but you can mix in other cheeses like Swiss, mozzarella, or feta for added depth of flavor.
Customize Herbs and Spices: Feel free to experiment with your choice of herbs and spices. Fresh herbs like thyme, basil, or parsley can elevate the taste.
Common Mistakes to Avoid:
Skipping Greasing: Failing to grease the slow cooker may result in sticking and difficulty when serving. Always grease it well.
Overcooking: Keep an eye on the cooking time. Overcooking can lead to a dry quiche. A knife inserted into the center should come out clean when it's done.
Adding Wet Ingredients: Ensure that your cooked turkey and vegetables are drained to prevent excess moisture in the quiche.
Using Room Temperature Eggs: Using cold eggs straight from the fridge can affect the texture. Let them come to room temperature before whisking.
Serving Suggestions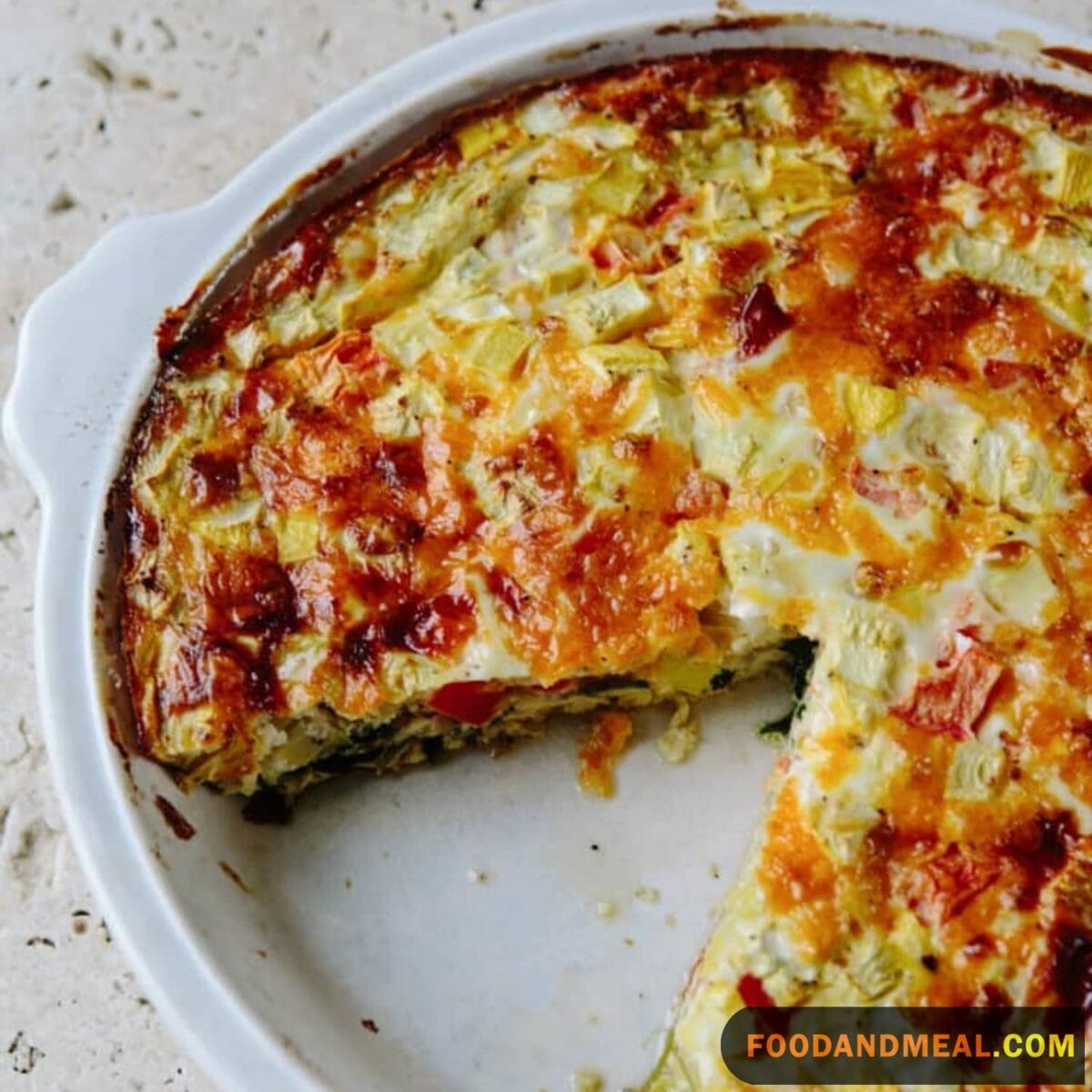 Sides and Garnishes:
Fresh Salad: Serve a crisp, mixed green salad with a light vinaigrette on the side. It adds freshness and balance to the meal.
Fruit Salsa: A fruit salsa with diced mango, pineapple, and cilantro is a refreshing accompaniment that contrasts beautifully with the quiche's savory flavors.
Toast or Croissants: For a heartier meal, offer slices of toasted whole-grain bread or warm buttery croissants.
Beverages:
Mimosa: Elevate your brunch experience with a classic mimosa – equal parts of sparkling wine and fresh orange juice.
Iced Coffee: A chilled glass of iced coffee, either plain or sweetened, pairs wonderfully with the quiche's richness.
Ways to Serve:
Brunch Buffet: If you're hosting a brunch gathering, set up a buffet with your quiche, sides, and beverages for a delightful DIY experience.
Picnic Adventure: Pack slices of quiche, a vibrant salad, and some iced tea for a delightful picnic in the park.
Weekday Breakfast: Enjoy leftovers for a quick and satisfying breakfast throughout the week.
Frequently Asked Questions about Turkey Crustless Quiche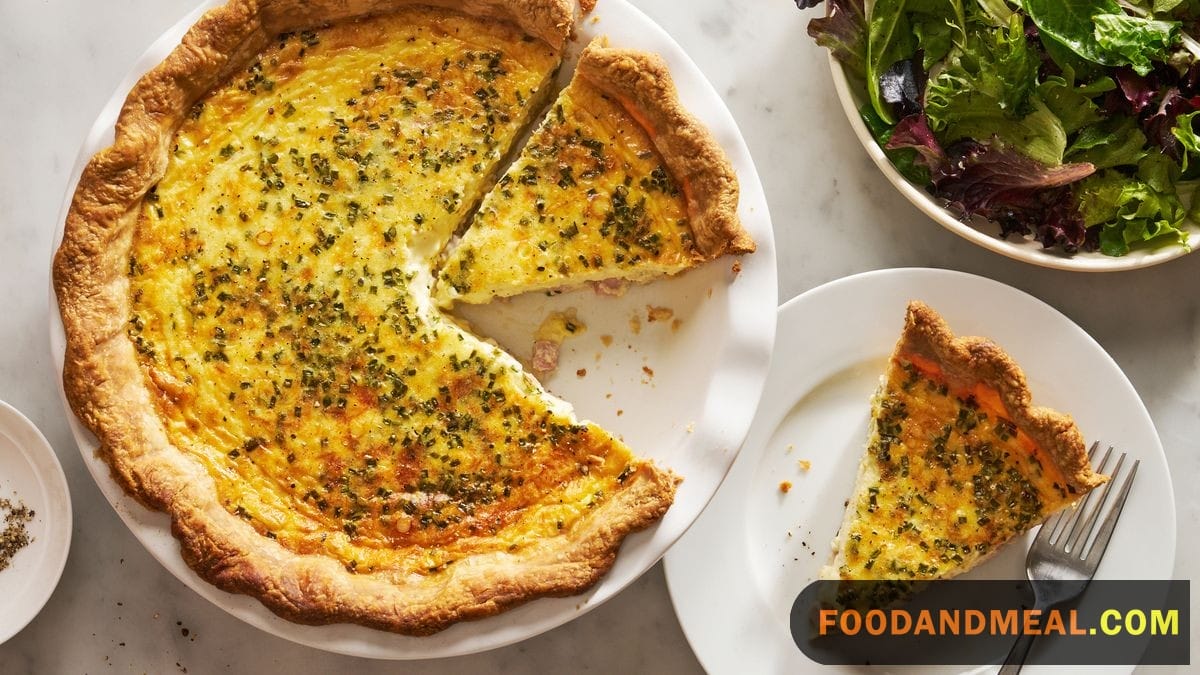 Can I freeze the quiche?Absolutely! Slice the quiche into portions, wrap them well, and freeze. Reheat in the oven or microwave for a quick meal.
Can I use other meats instead of turkey?Of course! You can substitute turkey with cooked bacon, ham, or even sausage for a different flavor profile.
What's the best way to reheat leftovers?For the best results, reheat individual portions in the microwave or warm slices in the oven at 350°F (175°C) until heated through.
Can I make this quiche in advance?Yes, you can prepare the quiche a day ahead, refrigerate it, and bake it when you're ready. It's perfect for brunch gatherings.
Can I make this quiche in a different appliance, like a conventional oven?Certainly! You can use a conventional oven by following the same layering and cooking instructions but adjust the temperature to 350°F (175°C) and bake until it's set in the center (usually around 45-55 minutes).
Discover the Ultimate Brunch Delight! Dive into the delightful world of Turkey Crustless Quiche. This easy recipe is a perfect balance of flavors and textures. Explore tips, serving suggestions, and more in this culinary journey.
Affiliate DisclaimerAbout The Content
As an affiliate, we may earn a commission from qualifying purchases. We get commissions for purchases made through links on this website from Amazon and other third parties.