Ever found yourself craving a dish that's both earthy and oceanic in flavor? Let me walk you through a timeless Japanese classic that has graced my table countless times – the Mushroom Oyster Hot Pot. Dive into a pot filled with the umami of mushrooms and the brininess of oysters, all simmered to perfection.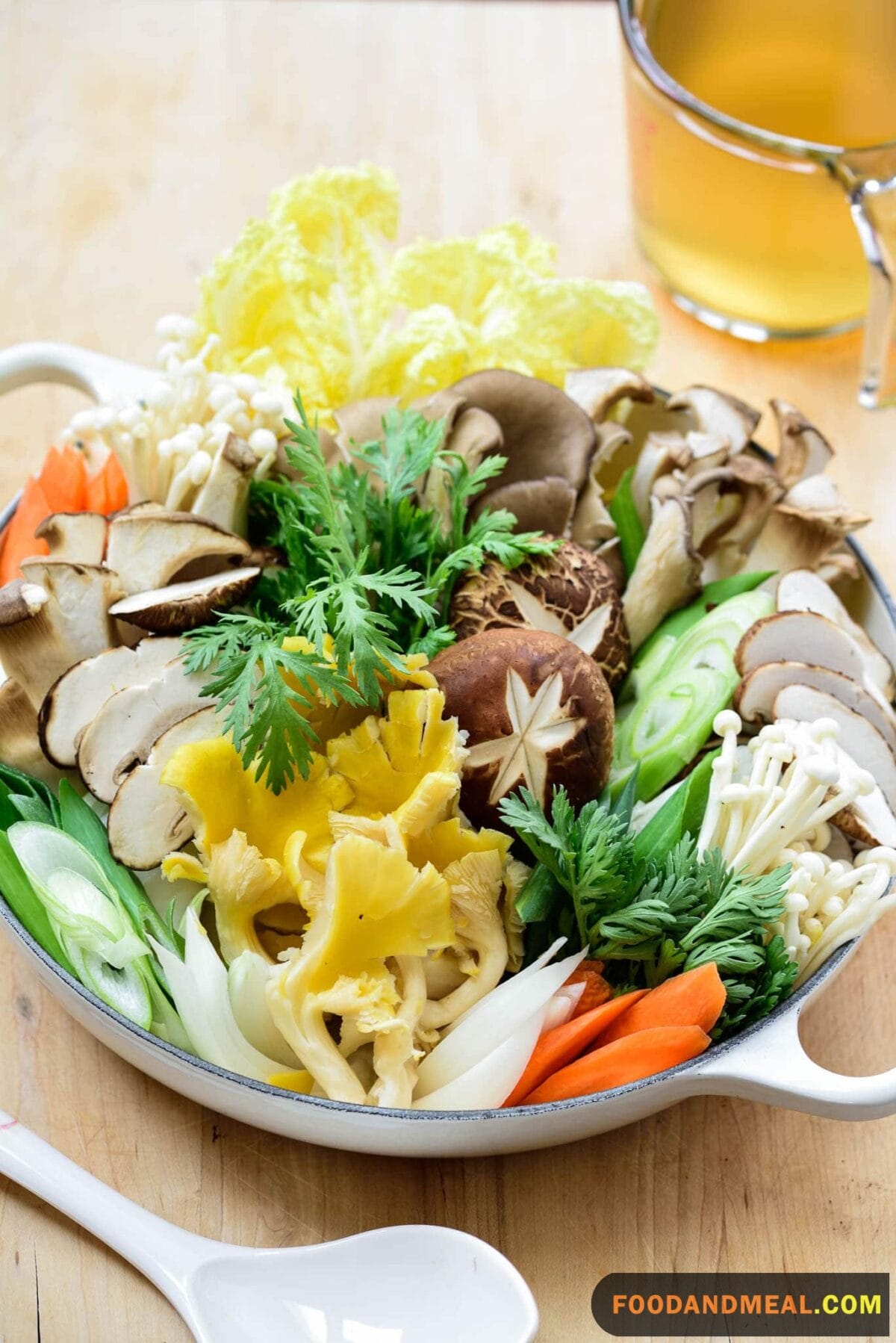 Mushroom Oyster Hot Pot Recipe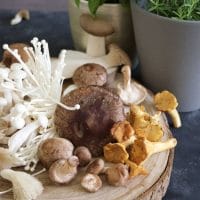 Japanese Mushroom Oyster Hot Pot
Dive deep into the world of Japanese cuisine with the delectable Mushroom Oyster Hot Pot. A symphony of flavors and textures awaits your palate. If you've enjoyed this authentic recipe, don't forget to share it with fellow food enthusiasts and subscribe to our blog for more culinary adventures.
Print
Add to Collection
Go to Collections
Ingredients
3

oz. of

noodles, potato starch, dried (kuzukiri)

12

oysters, shells removed, with any debris cleaned out

4

de-stalked mushrooms, shiitake

14

oz. of

mushrooms, mixed shimeji and enoki, etc.

5

leaves of

cabbage, Napa

1⁄2

bunch of

stem-trimmed chrysanthemum leaves

1

diagonally sliced carrot, large

1

white part of leek, small, sliced on diagonal into 3⁄4-inch pieces

5 & 1/3

oz. of

tofu, firm, cut in four pieces

54

fl. oz. of

broth, dashi

1⁄4

cup

sake, cooking

2

tablespoons

mirin

2

tablespoons

extra soy sauce, Japanese
Instructions
Soak the noodles in hot filtered water for six to eight minutes, using directions on the packet. Drain them. Arrange the noodles, veggies and oysters in oven-safe, round casserole dish.

Combine the soy sauce, mirin, sake and dashi and 1⁄2 teaspoons of sea salt in hot pot (nabe dish) on med. heat. Bring up to simmer. Cook for 12-15 minutes, till veggies become tender.

Provide individual bowls and chopsticks. Allow your guests to cook the tofu cubes in boiling broth. Enjoy with dipping sauce.
Notes
Adjust to Taste: Remember, the essence of a hot pot lies in its adaptability. Feel free to adjust the ingredients according to your preferences. Found a new mushroom variety? Toss it in! And once you've enjoyed the dish, do share your unique version and subscribe for more tailored recipes from my kitchen!
The Broth Matters: For an enhanced taste, always ensure your broth is simmered well, allowing the flavors to meld beautifully. The right broth elevates the hot pot experience. Once you've nailed it, don't forget to share your success story and subscribe for more insider tips.
Freshness is Key: Always choose the freshest oysters for that unbeatable briny kick. The fresher the ingredients, the more vibrant your hot pot will be. Found a trusted oyster supplier? Share the joy in the comments and subscribe for more culinary revelations and secrets!
Share by Email
Share on Facebook
Share on Twitter
Nutrition
Serving:
1
bowl
|
Calories:
165
kcal
|
Carbohydrates:
21
g
|
Protein:
12
g
|
Fat:
3
g
|
Saturated Fat:
1
g
|
Polyunsaturated Fat:
1
g
|
Monounsaturated Fat:
1
g
|
Trans Fat:
0.02
g
|
Cholesterol:
20
mg
|
Sodium:
1344
mg
|
Potassium:
467
mg
|
Fiber:
1
g
|
Sugar:
3
g
|
Vitamin A:
32
IU
|
Vitamin C:
1
mg
|
Calcium:
131
mg
|
Iron:
2
mg
© Food And Meal
This website provides approximate nutrition information for convenience and as a courtesy only. Nutrition data is gathered primarily from the Spoonacular Database, whenever available, or otherwise other online calculators.
Alternative Method: Mushroom Oyster Hot Pot using a Slow Cooker
Ingredients:
Same as provided for the main recipe.
Procedure:
Broth Preparation:
Begin by pouring the dashi (or whichever base broth you're using) into the slow cooker.
Add soy sauce, mirin, and sake to the broth, ensuring you mix well to combine the flavors.
Layering the Ingredients:
Start by placing the mushrooms at the bottom of the slow cooker, ensuring they are spread evenly.
Gently layer the fresh oysters on top of the mushrooms.
If you're adding other ingredients, such as tofu or greens, place them on top of the oysters.
Slow Cooking:
Cover the slow cooker with its lid.
Set the slow cooker on 'Low' and allow the ingredients to simmer for 4-5 hours. This low and slow method ensures that the flavors are melded together beautifully, and the oysters remain tender.
Do ensure you don't overcook as oysters can become rubbery if cooked for too long.
Final Touches:
About 30 minutes before serving, taste the broth and adjust the seasoning if necessary. You can add a splash more soy or a drizzle of mirin, as per your preference.
If you have greens or other late additions, toss them in now to ensure they are fresh and slightly crunchy when served.
Serving:
Once done, turn off the slow cooker.
Serve the Mushroom Oyster Hot Pot in bowls, ensuring each bowl gets a generous serving of mushrooms, oysters, and the rich broth.

Serve with ponzu dipping sauce on the side and enjoy this heartwarming dish.
Cooking Tips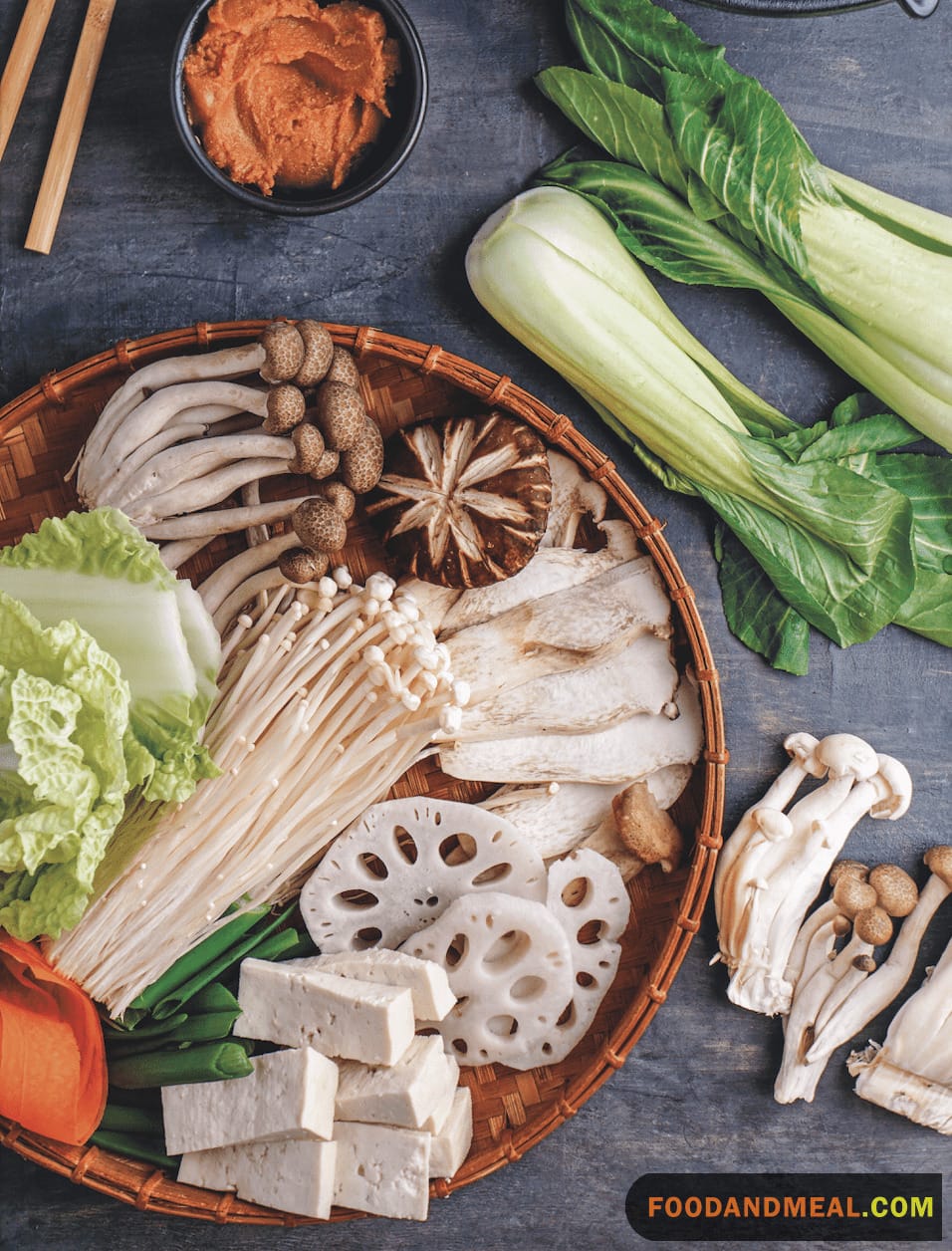 Oyster Handling: Always ensure your oysters are fresh. A bad oyster can ruin the entire dish. When cleaning, use cold water and gently scrub the shell to remove any dirt.
Balancing the Broth: The key to this dish is the harmony of flavors in the broth. Always taste and adjust accordingly. Remember, it's easier to add more seasoning later than it is to correct an overly salty broth.
Mushroom Prep: Clean mushrooms with a damp cloth instead of rinsing them. Too much water can make them soggy and dilute their rich flavor.
Serving Suggestions for Mushroom Oyster Hot Pot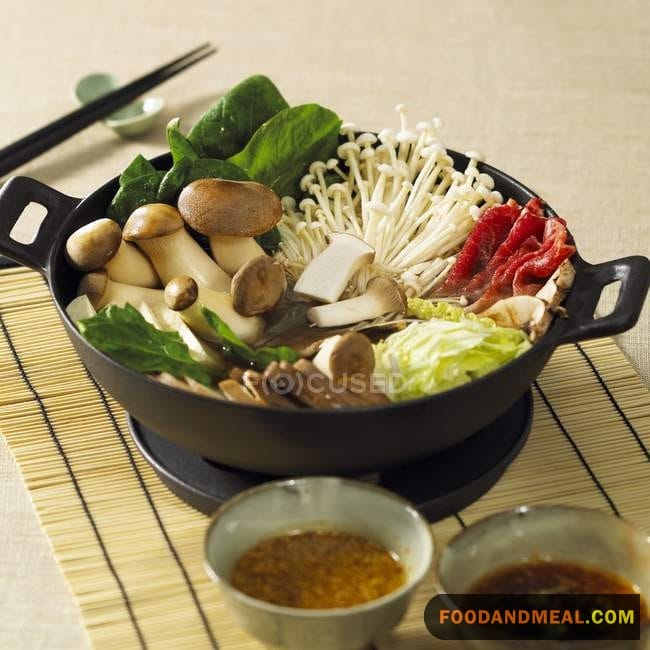 As winter blankets the world outside, there's nothing quite as comforting as a simmering pot of Mushroom Oyster Hot Pot on your table. Ideal for cozy family dinners, it's also a dish that's certain to impress your guests on special occasions.
When to Serve: This dish is perfect for colder months or rainy days when you crave something warm and soul-soothing. It's also a must-have during festive occasions like New Year's gatherings in Japan.
Audience: Mushroom Oyster Hot Pot is sophisticated enough for adult palates, yet universally loved, making it suitable for both family and guests. The richness of oysters combined with the earthy tones of mushrooms is a flavor profile many find irresistible.
Accompaniments: Serve with a bowl of steamed white rice or udon noodles to soak up the broth. For garnish, a sprinkle of green onions or a dash of chili oil can enhance the dish's complexity.
Beverage Pairing: A cold glass of sake or plum wine complements the umami of the broth beautifully. For a non-alcoholic option, cold barley tea pairs wonderfully.
FAQs on Mushroom Oyster Hot Pot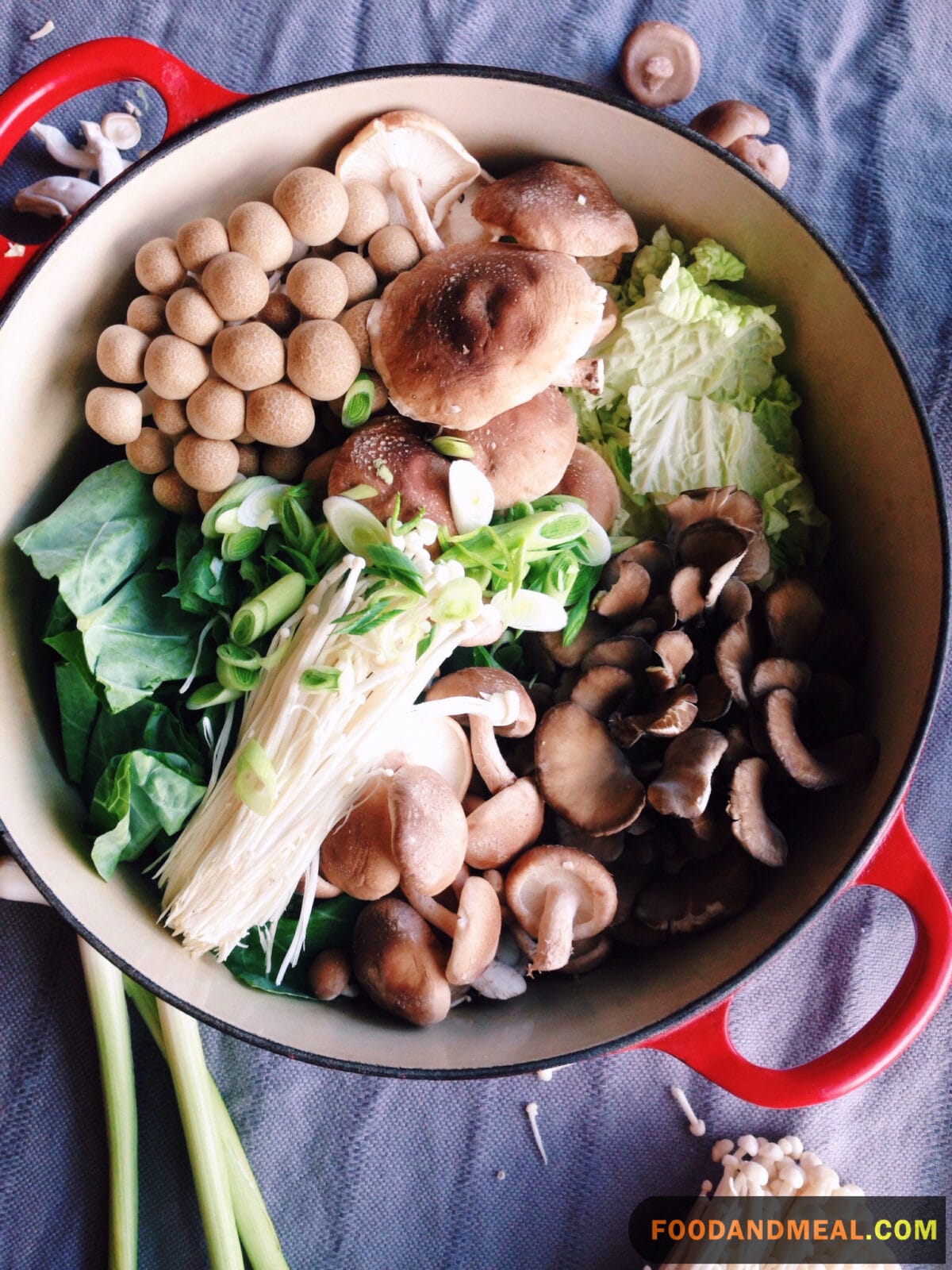 Can I use dried oysters instead of fresh ones? Certainly! Dried oysters can provide an intense flavor. If using dried, remember to soak them in water for a few hours to rehydrate.
What can I substitute for sake in the broth? If you don't have sake, you can use dry sherry or Chinese rice wine. In a pinch, a bit of white wine vinegar combined with water will do.
How long can I store leftover hot pot in the refrigerator? Leftovers can be refrigerated for up to two days. Ensure the hot pot is cooled down to room temperature before storing.
Can I freeze the leftovers? While it's possible to freeze, the texture of the oysters may change upon reheating. It's best consumed fresh or stored in the refrigerator and consumed within the suggested time frame.
The broth tastes bland. How can I fix it? You can enhance the flavor by adding a bit more soy sauce, mirin, or a splash of fish sauce for depth. Remember, always add in small increments and taste as you go.
Dive into the heart of Japanese cuisine with our easy-to-make Mushroom Oyster Hot Pot recipe. Discover, cook, and share today!
Affiliate DisclaimerAbout The Author
As an affiliate, we may earn a commission from qualifying purchases. We get commissions for purchases made through links on this website from Amazon and other third parties.