Hello, fellow food enthusiasts! It's JaimeInez from Food and Meal, back with another culinary adventure. Today, we're heading to the beautiful coastal town of Baler in the Philippines to explore a local favorite – Baler Crispy Tadyang.
Imagine this: you're sitting on a beach in Baler, watching the surfers ride the waves. A plate is placed before you, filled with golden, crispy beef ribs that instantly make your mouth water. This is Baler's Crispy Tadyang, a dish that perfectly encapsulates the laid-back, beach vibe of the town.
Baler Crispy Tadyang Recipe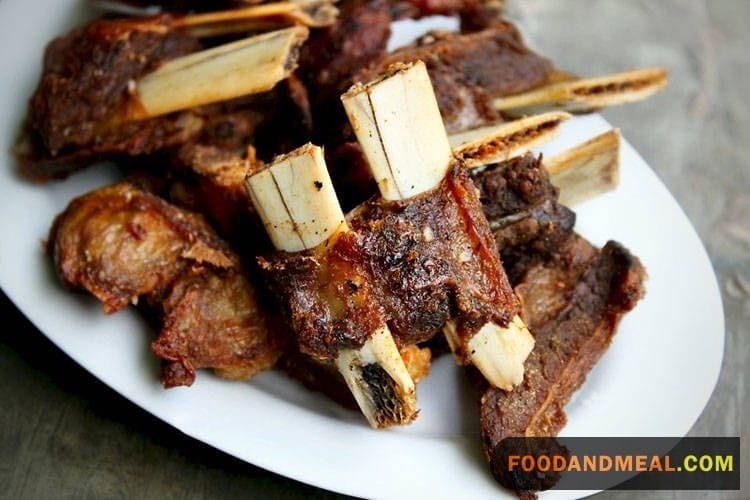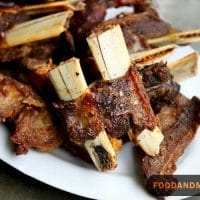 Baler Crispy Tadyang
Suman Festival of Baler, Aurora (3rd week in February). Suman or rice cake is popular in the entire country. But this native delicacy is heralded as one of the most important features of the Filipino culture in the town of Baler, Aurora province. This grand festival features a float parade, trade exhibits, beauty contests, and fairs.
Print
Add to Collection
Go to Collections
Equipment
Instructions
Place ribs and the rest of the ingredients, except for oil, in a pot and boil on medium fire.

Reduce heat to low and cook ribs in a simmer until tender, about an hour and a half.

Using a slotted spoon, transfer beef ribs in a wire rack or paper towel lined plates to drain excess moisture. Set aside to cool.

Place the ribs in the fridge to chill.

Once the meat is ready, heat oil in a pan or deep fryer and fry the ribs until brown and crispy.

For the dip, combine all the ingredients in a bowl and stir to blend.

Serve deep fried ribs with the dip.
Notes
Baler is known for its wonderful swells that make for a fantastic ride on a
surfboard. While most of the meal courses offered in Baler are on the grilled,
roasted side, it is sure delightful to have this Crispy Tadyang during a fiesta.
We might be celebrating Suman Festival for this particular place but we can't
help but feature this yummy fare that's worth traveling the province for. It
does not matter if a festival is on or not.
Share by Email
Share on Facebook
Share on Twitter
Nutrition
Calories:
683
kcal
|
Carbohydrates:
6
g
|
Protein:
2
g
|
Fat:
73
g
|
Saturated Fat:
11
g
|
Polyunsaturated Fat:
42
g
|
Monounsaturated Fat:
17
g
|
Trans Fat:
0.5
g
|
Sodium:
1087
mg
|
Potassium:
64
mg
|
Fiber:
1
g
|
Sugar:
4
g
|
Vitamin A:
36
IU
|
Vitamin C:
1
mg
|
Calcium:
21
mg
|
Iron:
1
mg
© Food And Meal
This website provides approximate nutrition information for convenience and as a courtesy only. Nutrition data is gathered primarily from the Spoonacular Database, whenever available, or otherwise other online calculators.
Cooking Baler's Crispy Tadyang with an Air Fryer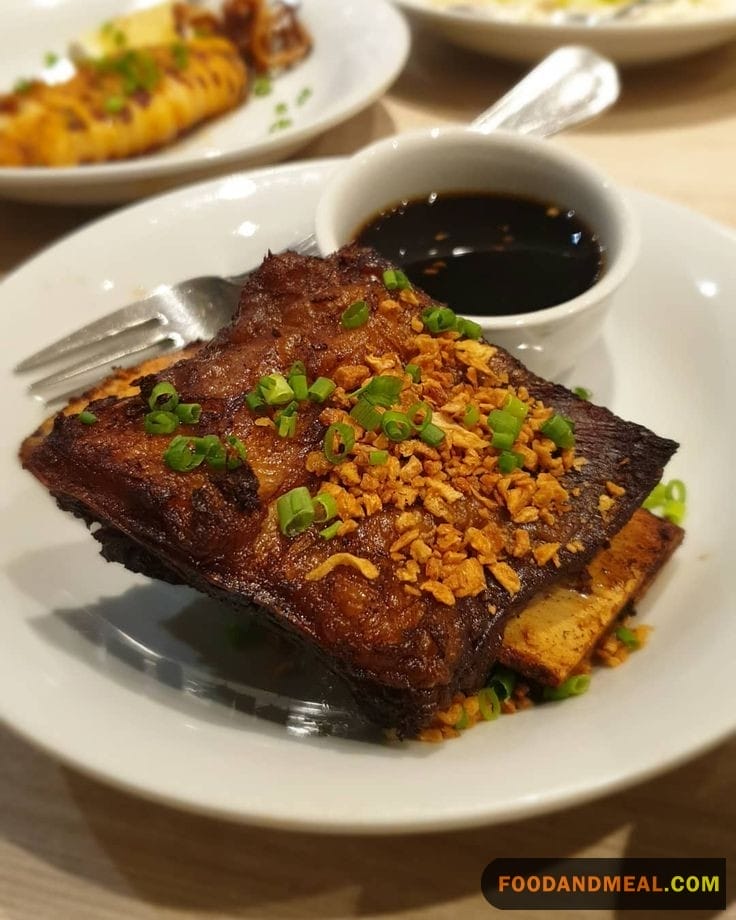 If you're a fan of healthier cooking methods like me, you'll be happy to know that you can cook Baler's Crispy Tadyang using an air fryer.
Step 1: Marinate Your Beef Ribs Start by marinating your beef ribs in your chosen blend of local spices. Let them sit in the marinade overnight to allow the flavors to penetrate deeply into the meat.
Step 2: Air Fry to Crispy Perfection Next, place your marinated beef ribs in your air fryer. Set the temperature to 180°C and cook for about 30 minutes or until they're golden and crispy.
Step 3: Rest and Serve Once your Crispy Tadyang is cooked, let it rest for a few minutes before serving. This allows the juices to redistribute, making your Tadyang even more flavorful.
Cooking Baler's Crispy Tadyang in an air fryer not only makes the process easier but also results in a less oily but still deliciously crispy Tadyang. It's a great example of how traditional dishes can adapt to modern cooking methods. So go ahead, give it a try!
Tips for making Baler Crispy Tadyang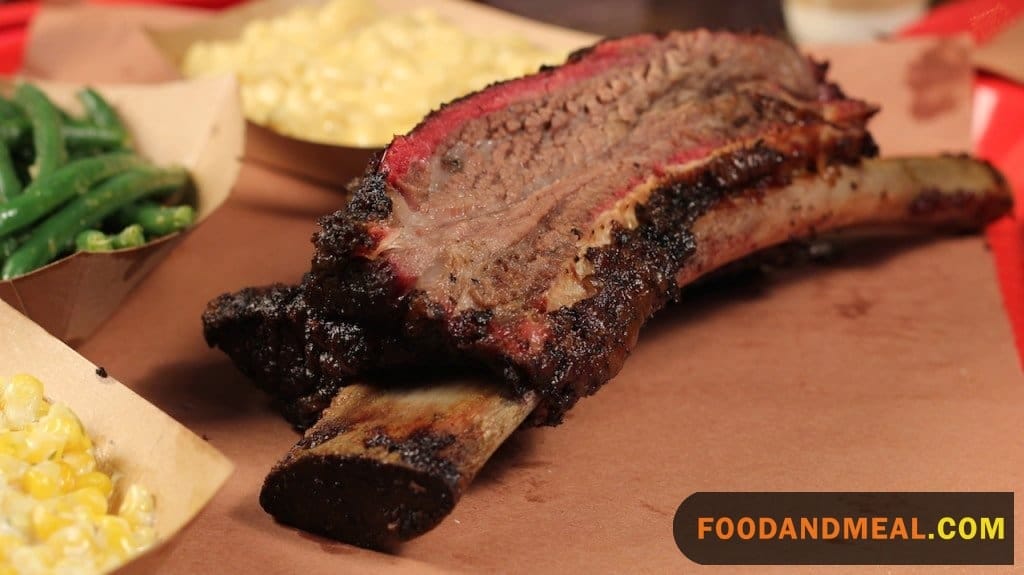 Crispy Tadyang is more than just a meal; it's a testament to the rich culinary heritage of Baler. It's a slab of beef ribs, marinated in a blend of local spices, deep-fried to perfection until it achieves a delightful crunch on the outside while remaining tender and juicy on the inside. It's the kind of dish that satisfies your hunger after a day of surfing.
Cooking Tips for Baler's Crispy Tadyang
Tip 1: Choose Quality Beef When preparing Crispy Tadyang, always opt for quality beef ribs. The better the quality, the tastier your Tadyang will be.
Tip 2: Marinate Well Marinating the beef ribs overnight allows the flavors to penetrate deeply into the meat, resulting in a more flavorful dish.
Tip 3: Fry at the Right Temperature Frying the beef ribs at the right temperature ensures that they become crispy on the outside while staying juicy on the inside.
Serving Suggestions for Baler's Crispy Tadyang
Crispy Tadyang is traditionally served with a side of steamed rice and a tangy vinegar dip. But if you're like me and love to experiment, try serving it with garlic fried rice for an extra flavor kick. And for a truly Baler experience, pair it with a cold bottle of local beer!
FAQs about Baler's Crispy Tadyang
Can I use other parts of beef for Tadyang? A: Yes, you can! But beef ribs are the traditional choice because of their perfect fat-to-meat ratio.
What can I use if I don't have an air fryer? A: You can still deep-fry your Tadyang in a regular pot. Just make sure to use enough oil to cover the beef ribs.
Can I prepare Tadyang ahead of time? A: Absolutely! You can marinate the beef ribs a day before and store them in the fridge. Just make sure to bring them to room temperature before frying.
How long does Tadyang last in the fridge? A: When stored properly, it can last for up to 3-4 days.
Can I freeze Tadyang? A: Yes, you can freeze it for up to 3 months. Just make sure to cool it completely before freezing.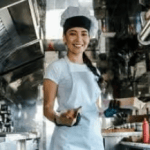 Cooking Like A Pro
Author Name : Jaime Inez
Address: Times Street, West Triangle, 1103, Quezon City, Metro Manila, Philippines
Phone:  96-2-4108596
Email: Contact@cookinglikeapro.net
Affiliate DisclaimerAbout The Content
As an affiliate, we may earn a commission from qualifying purchases. We get commissions for purchases made through links on this website from Amazon and other third parties.