Ah, the beauty of a Sesame Lamb Hot Pot – it's not just a dish; it's a comforting embrace from the heart of Japan. As the nights draw in, I am reminded of this deeply aromatic and flavorful concoction. Through years of culinary adventures, this gem has nestled close to my heart, and today, I share this treasured recipe with you.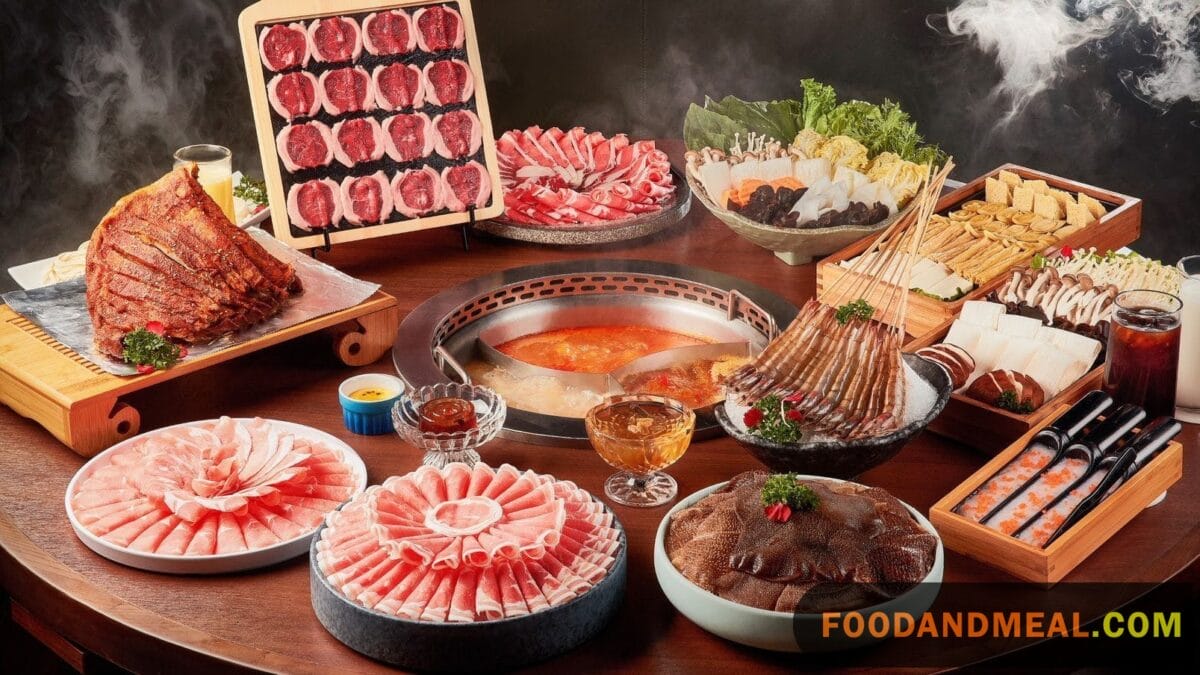 JapaneseSesame Lamb Hot Pot Recipe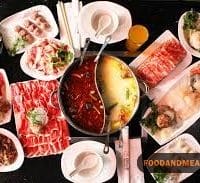 Japanese Sesame Lamb Hot Pot
Dive into the rich world of the Sesame Lamb Hot Pot, a dish that resonates with warmth, comfort, and culinary expertise. As you savor its depths, don't forget to share this delightful recipe with your fellow foodies. And hey, why not subscribe to get more of such unique recipes right in your inbox?
Print
Pin Recipe
Add to Collection
Go to Collections
Ingredients
1

lb. of

lamb, sliced thinly

4

oz. of

noodles, cellophane, soaked for 15-20 minutes in hot water

1

lb. of

cubed spinach or Bok choy

1

block of

tofu, firm

8

cups of

broth, chicken

Sesame dipping sauce, bottled
Instructions
Heat the broth in your hot pot.

Place lamb slices on a serving plate, and drained noodles in medium bowl. Put the Bok choy in separate bowl. Place around hot pot on table.

Have your guests take thin lamb slices and dip them to cook in hot broth. They can then remove the slices of lamb to their bowls. Have dipping sauce available, too.

After meat is gone, add Bok choy, tofu and noodles to pot. Cook till done. Ladle into guests' bowls.
Notes
Note on Lamb Selection: Opting for boneless lamb shoulder ensures tenderness and rich flavor. It's essential to trim off excess fat for a cleaner taste. Loved this tip? Share this recipe with fellow gourmands and introduce them to the wonders of Japanese cuisine!
Note on Broth Depth: For that unparalleled depth in your broth, a mix of both toasted sesame seeds and sesame oil works wonders. Remember, the quality of ingredients can make or break your hot pot! If this tidbit made a difference, don't forget to share this recipe with friends and encourage them to join our culinary community by subscribing.
Note on Serving: The joy of a hot pot is in its communal dining experience. Use a portable burner at the table for an authentic feel. Ensure the broth stays simmering and let everyone customize their bowl. Did this add magic to your dining experience? Spread the love - share the recipe and urge friends to subscribe for more delightful insights!
---
Share by Email
Share on Facebook
Share on Twitter
Nutrition
Calories:
100
kcal
|
Carbohydrates:
12
g
|
Protein:
50
g
|
Fat:
20
g
© Food And Meal
This website provides approximate nutrition information for convenience and as a courtesy only. Nutrition data is gathered primarily from the Spoonacular Database, whenever available, or otherwise other online calculators.
Pin Recipe
Alternative Method: Sesame Lamb Hot Pot using a Pressure Cooker
Ingredients: Same as the original Sesame Lamb Hot Pot recipe.
Method:
Preparation: Start by ensuring your lamb is properly cut into thin, bite-sized pieces. Prepare your vegetables by washing, peeling, and cutting them as required.
Searing: On the pressure cooker's sauté setting, add a splash of oil. Once hot, sear the lamb pieces in batches, ensuring each side has a golden-brown crust. This will lock in the flavor. Remove and set aside.
Building the Base: In the same pressure cooker, without removing the lamb drippings, add your garlic, ginger, and white parts of the scallions. Sauté until aromatic. Pour in a portion of your broth to deglaze the pot, scraping up the browned bits from the bottom.
Layering: Gently place the seared lamb back into the pressure cooker. Layer your vegetables on top, followed by the mushrooms. Pour in the remaining broth, ensuring it covers most of the ingredients. Add your toasted sesame seeds, sesame oil, and other seasonings.
Cooking: Secure the lid of the pressure cooker. Set it to 'High Pressure' and adjust the cooking time to 15 minutes. Once done, let it release pressure naturally for 10 minutes, then use the quick release for any remaining pressure.
Serving: Carefully open the lid. Give everything a gentle stir to mix the flavors. Taste and adjust seasoning if required. Serve your Sesame Lamb Hot Pot in bowls, garnished with the green parts of the scallions, and perhaps a sprinkle of toasted sesame seeds or a dash of chili oil for those who like it spicy.
Cooking Tips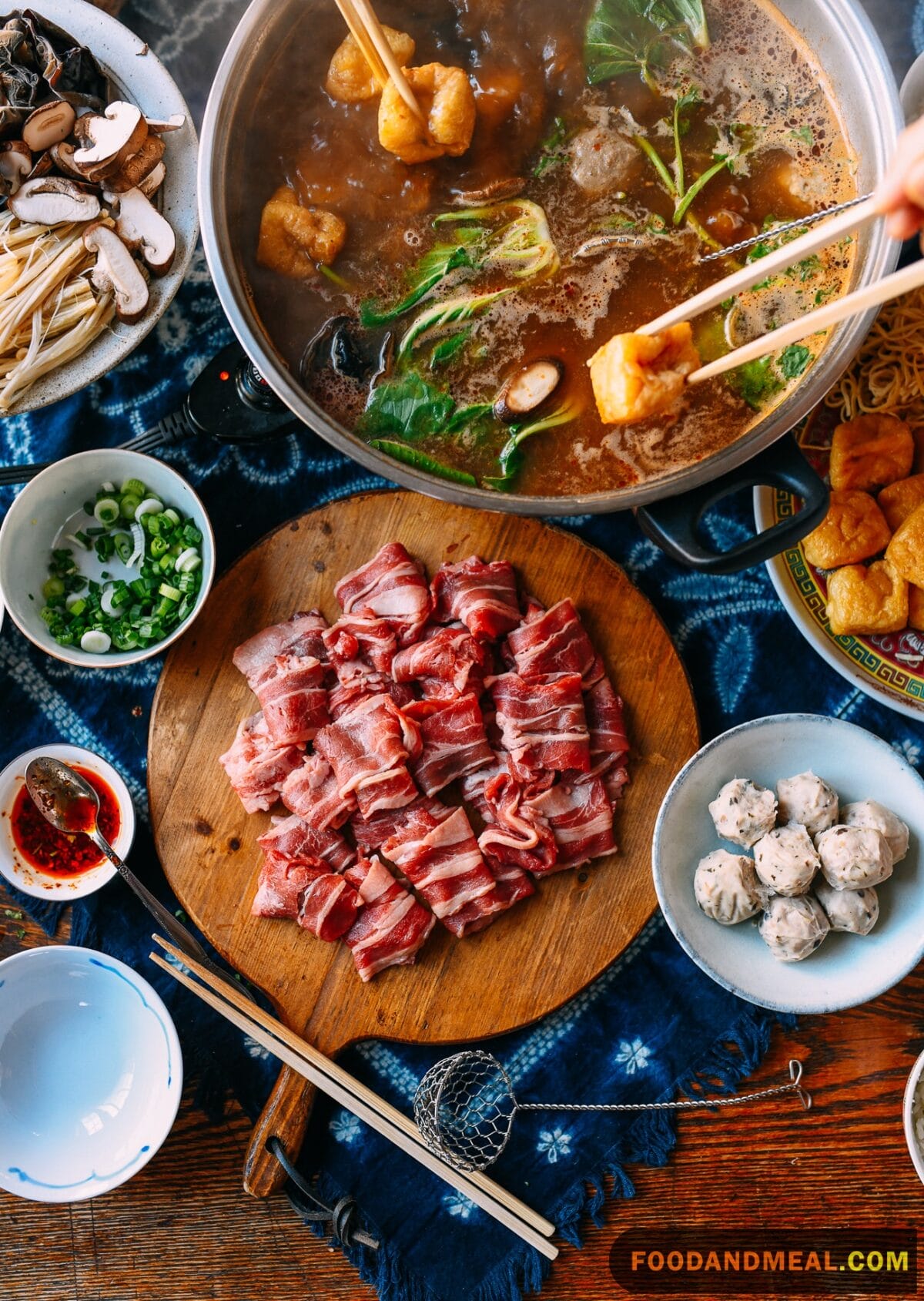 Marinate the Lamb: For an extra flavor kick, consider marinating your lamb slices in a mix of soy sauce, minced garlic, and ginger for at least 30 minutes before cooking.
Freshness is Key: Using fresh ingredients, especially when it comes to your veggies and mushrooms, can truly elevate your dish. They not only retain a crunch but also infuse the broth with a natural, wholesome taste.
Layering: Always remember, layering is crucial in a hot pot. Start with the meat at the bottom, followed by the veggies, ensuring even cooking and a more harmonious melding of flavors.
Avoid Overcooking: Especially with delicate vegetables and mushrooms. Overcooked veggies can lose their nutritional value and become too mushy.
Sesame Seeds: Toast them lightly before adding to the pot. This enhances their nutty flavor, making your hot pot even more aromatic.
Serving Suggestions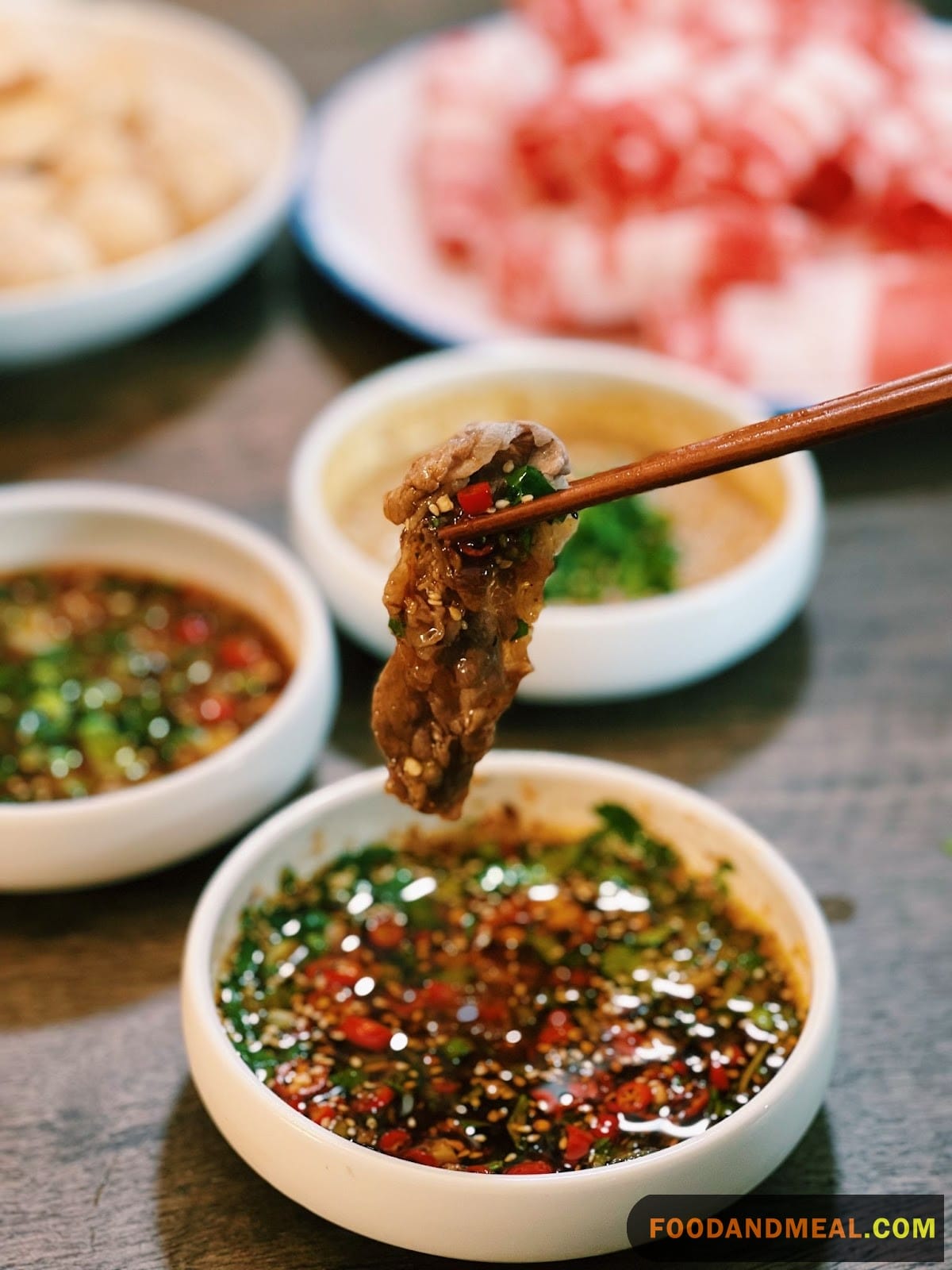 Occasion: Perfect for cold evenings or when you're longing for comfort food. It's also a fabulous choice for dinner parties; nothing beats the collective experience of sharing a hot pot with loved ones.
Audience: This dish is universally appealing. Whether it's a family gathering or a romantic dinner for two, the versatility of this hot pot will win hearts.
Complementary Sides: Consider serving with steamed jasmine or sticky rice. They soak up the broth wonderfully. A side of crisp tempura vegetables can also be a delightful contrast.
Garnishes: A sprinkle of fresh herbs, like cilantro or Thai basil, can add a fresh dimension. Thinly sliced red chilies or a splash of chili oil can be offered for those seeking extra heat.
Beverages: Green tea or sake pairs beautifully, complementing the deep flavors of the hot pot. For a non-alcoholic option, a cold barley tea can be refreshingly apt.
Alternate Serving: You can also serve this hot pot as individual bowls for a more formal setting, ensuring everyone gets a mix of meat, veggies, and that soul-satisfying broth.
List of FAQs of Sesame Lamb Hot Pot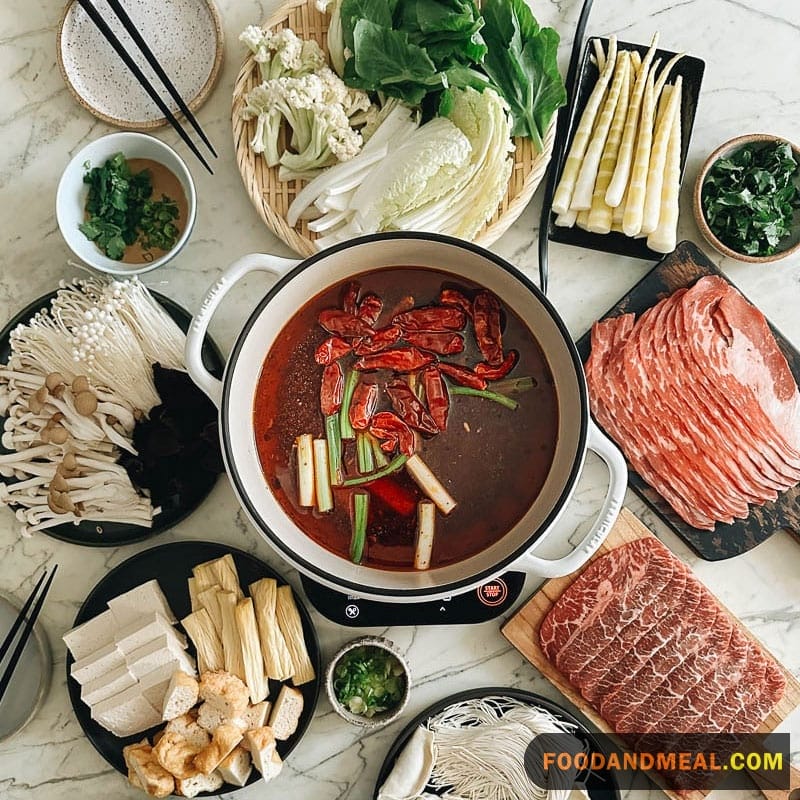 Can I use a different cut of lamb for the hot pot?
Absolutely. While I recommend using tender cuts for the best results, you can experiment with other cuts too. Just remember, tougher cuts may require a longer cooking time to achieve that melt-in-your-mouth texture.
I'm not a fan of lamb. Can I substitute it with another meat?
Of course! While lamb has a distinct flavor that pairs wonderfully with sesame, beef or even chicken can be delightful substitutes. Just adjust the cooking time according to the meat's tenderness.
How spicy is this dish?
The beauty of hot pots is their adaptability. The recipe I've shared offers a balanced heat, but you can always dial it up with some extra chili oil or dial it down by using less.
What's the best type of broth to use?
I love using a homemade bone broth as it adds depth. However, if you're short on time, store-bought broth (preferably low-sodium) works fine. For a vegetarian twist, vegetable broth is a great choice.
How do I store the leftovers?
Leftovers should be cooled to room temperature before being stored in an airtight container. Refrigerate and consume within 2-3 days for the best flavor and freshness.
Dive deep into the Sesame Lamb Hot Pot recipe – a harmony of flavors and warmth. Unlock the secret today and elevate your culinary game!
Affiliate DisclaimerAbout The Author
As an affiliate, we may earn a commission from qualifying purchases. We get commissions for purchases made through links on this website from Amazon and other third parties.