Mizutaki Hot Pot isn't just a recipe. It's an experience, an art form, a cultural journey right to the heart of Japan. As a seasoned chef with years of culinary wanderings, I'm thrilled to take you through the streets of Kyoto and into the warmth of this delightful hot pot dish.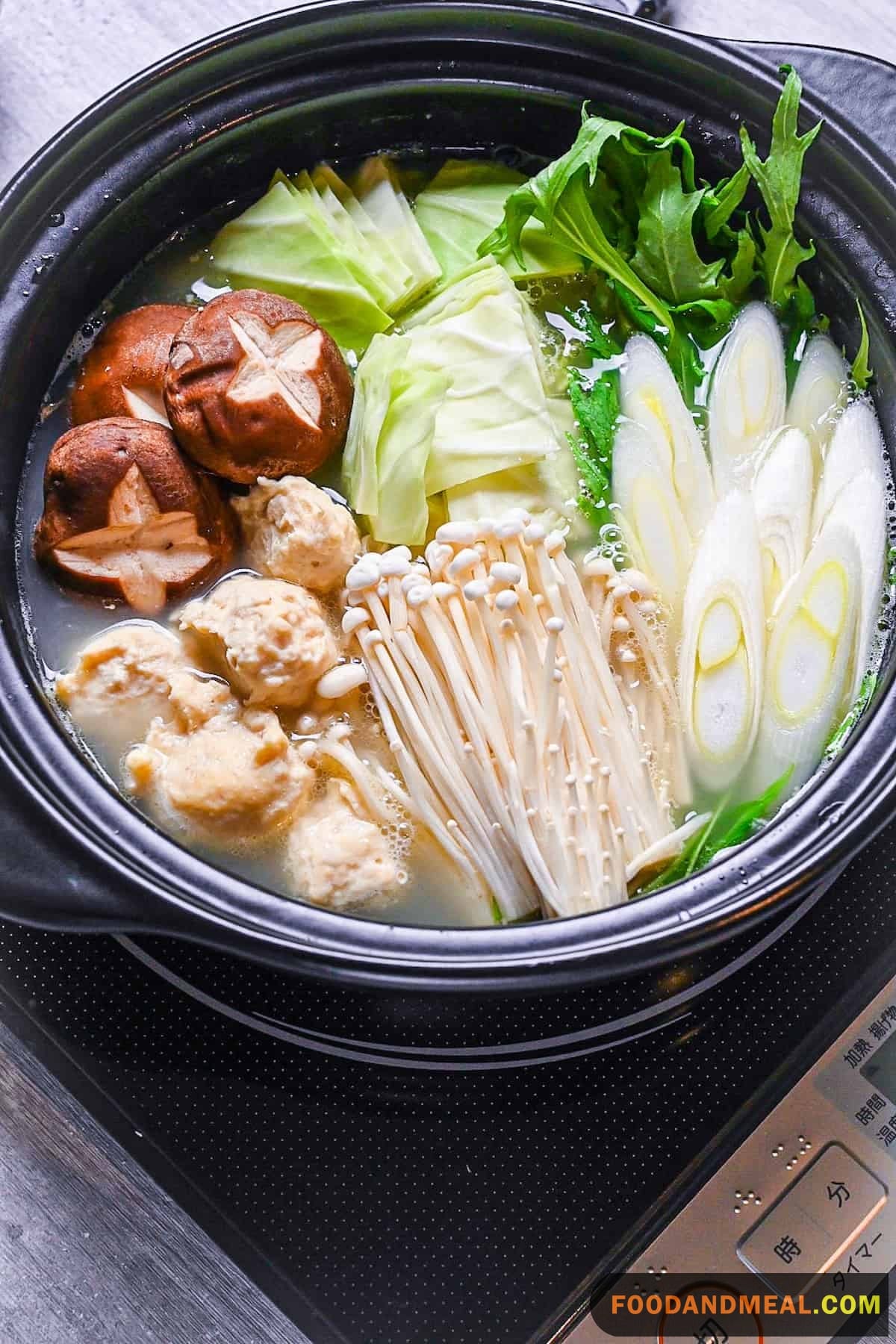 Japanese Mizutaki Hot Pot Recipe
Japanese Mizutaki Hot Pot
Embrace the warmth and depth of traditional Mizutaki Hot Pot as you explore the nuances of Japanese culinary art with us. From choosing the freshest ingredients to the perfect serving suggestions, we've got you covered. If this recipe warmed your soul as much as it did ours, don't forget to share it with your loved ones and subscribe to our blog for more delightful culinary adventures.
Print
Pin Recipe
Add to Collection
Go to Collections
Ingredients
Ingredient List:
1

piece of

kombu, large (edible kelp)

1/2

wedge-cut head of leaf

cabbage, Napa

6

sliced, skinned

chicken thighs, boneless

2

diagonally sliced leeks

1

peeled, cut into tiny pieces carrot, large

3 1/2

oz. of

sliced mushrooms, shiitake

1

handful

sprouting broccoli

Optional: glass noodles

32

fl. oz. or less of

chicken stock, light

Salt, sea
For ponzu dipping sauce:
3 1/2

fl. oz. of

soy sauce, dark

1 3/4

fl. oz. of

vinegar, brown rice

1 3/

fl. oz. of

lemon juice or yuzu

1

lemon, grated zest only
Instructions
Lay kombu in casserole base. Cover with cabbage. This creates a base for the rest of the ingredients, making it easier to arrange them.

Divide the pot in your mind into six sections. Arrange noodles and four vegetable types over cabbage, keeping them apart from each other.

Pour stock gradually over till it has reached the top of noodles and veggies. Do not immerse them completely. Season them with salt. Cover. Bring to simmer.

Simmer for 7-10 minutes, till all is cooked completely through.

To prepare dipping sauce, combine ingredients listed above under ponzu sauce.

Pass around chopsticks and small bowls so everyone can help themselves.

Each person can dip the meat into the broth to cook it. Have dipping sauce handy.
Notes
Broth Tips: The soul of Mizutaki lies in its broth. A good bone broth takes time, so be patient. If you're in a hurry, store-bought can work, but making it from scratch is where the magic truly lies. Looking for a detailed broth guide? Dive into our extensive collection on mastering broths here.
Vegetable Choices: Mizutaki is versatile. Feel free to add or replace with veggies of your liking. Shiitake mushrooms or Napa cabbage are classics! Craving more Japanese veggie delights? Check out our curated list here.
Serving Ritual: Mizutaki is best enjoyed with friends and family. Once cooked, transfer ingredients to individual bowls and pour over the hot broth. The shared experience amplifies the flavors. Yearning for more communal dining ideas? Discover our favorites in this special collection.
Share by Email
Share on Facebook
Share on Twitter
Nutrition
Calories:
351
kcal
|
Carbohydrates:
23
g
|
Protein:
423
g
|
Fat:
32
g
© Food And Meal
This website provides approximate nutrition information for convenience and as a courtesy only. Nutrition data is gathered primarily from the Spoonacular Database, whenever available, or otherwise other online calculators.
Pin Recipe
Mizutaki Hot Pot Using a Pressure Cooker
Ingredients:
Chicken pieces (preferably bone-in for a richer broth): 500g
Green onions: 4, chopped into large segments
Tofu: 1 block, cut into large cubes
Shiitake mushrooms: 200g
Napa cabbage: 1, washed and separated into leaves
Carrots: 2, sliced
Clear noodles (like glass or cellophane noodles): 100g
Water: 1.5 liters
Salt to taste
Soy sauce: 2 tbsp (adjust as per preference)
Optional: Ponzu sauce and grated daikon radish for dipping
Instructions:
Preparation: Ensure all your ingredients are prepared and within easy reach. This process will be relatively quick, and having everything organized ensures smooth sailing.
Broth Base: In the pressure cooker, place the chicken pieces, green onions, and water. Secure the lid.
Pressure Cook: Set your pressure cooker to the high setting and cook for 20 minutes. This step allows the chicken to release its flavors, creating a rich base broth.
Release Pressure & Skim: Once done, release the pressure manually according to your device's instructions. Open the lid and skim off any impurities or foam from the top of the broth.
Flavoring the Broth: Add the soy sauce to the broth, stirring well. Adjust salt as needed.
Add Vegetables: Now, layer in the Napa cabbage, carrots, and shiitake mushrooms.
Pressure Cook Again: Secure the pressure cooker's lid once more and set it to a low setting. Cook for an additional 10 minutes.
Final Touches: Manually release the pressure and open the lid. Gently stir in the tofu cubes and clear noodles, allowing them to cook in the residual heat for about 5 minutes.
Serve: Transfer the Mizutaki Hot Pot ingredients to individual bowls and pour the hot broth over each serving. Serve with optional ponzu sauce and grated daikon radish for an extra zing!
Cooking Tips for Mizutaki Hot Pot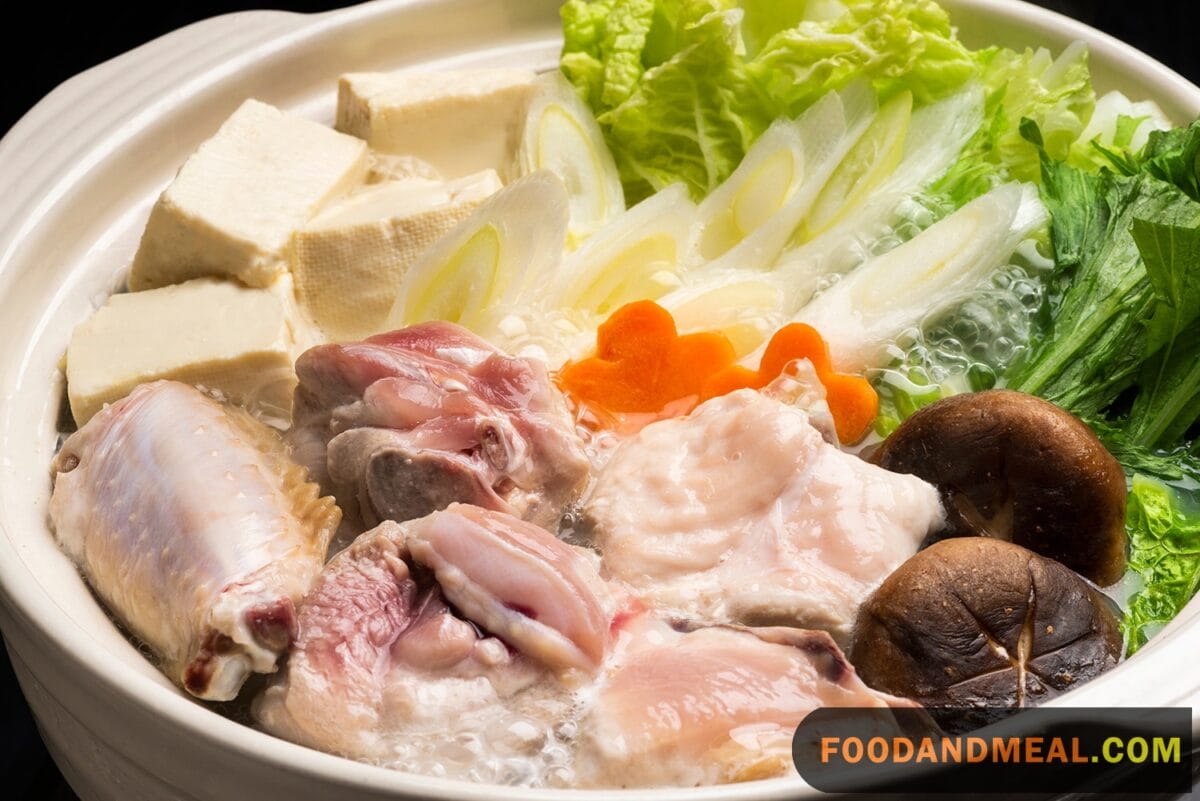 Quality Matters: Always opt for fresh, quality ingredients. Freshness plays a huge role in the flavor profile of Mizutaki.
Broth Base: The depth of Mizutaki lies in its broth. Bones, especially those with marrow, can add more richness. If using store-bought broth, choose a low-sodium version to control the saltiness.
Noodle Know-How: If using cellophane or glass noodles, soak them in water for about 30 minutes prior to cooking. This ensures they remain translucent and don't get overly soft.
Tofu Tactics: Use firm tofu if you prefer pieces that hold their shape, but for a softer, melt-in-your-mouth experience, go with silken tofu.
Common Mistakes: Avoid overcooking the vegetables. Mizutaki is best when the veggies retain a slight crunch. Also, remember, the broth is the star, so refrain from adding too many overpowering spices.
Serving Suggestions for Mizutaki Hot Pot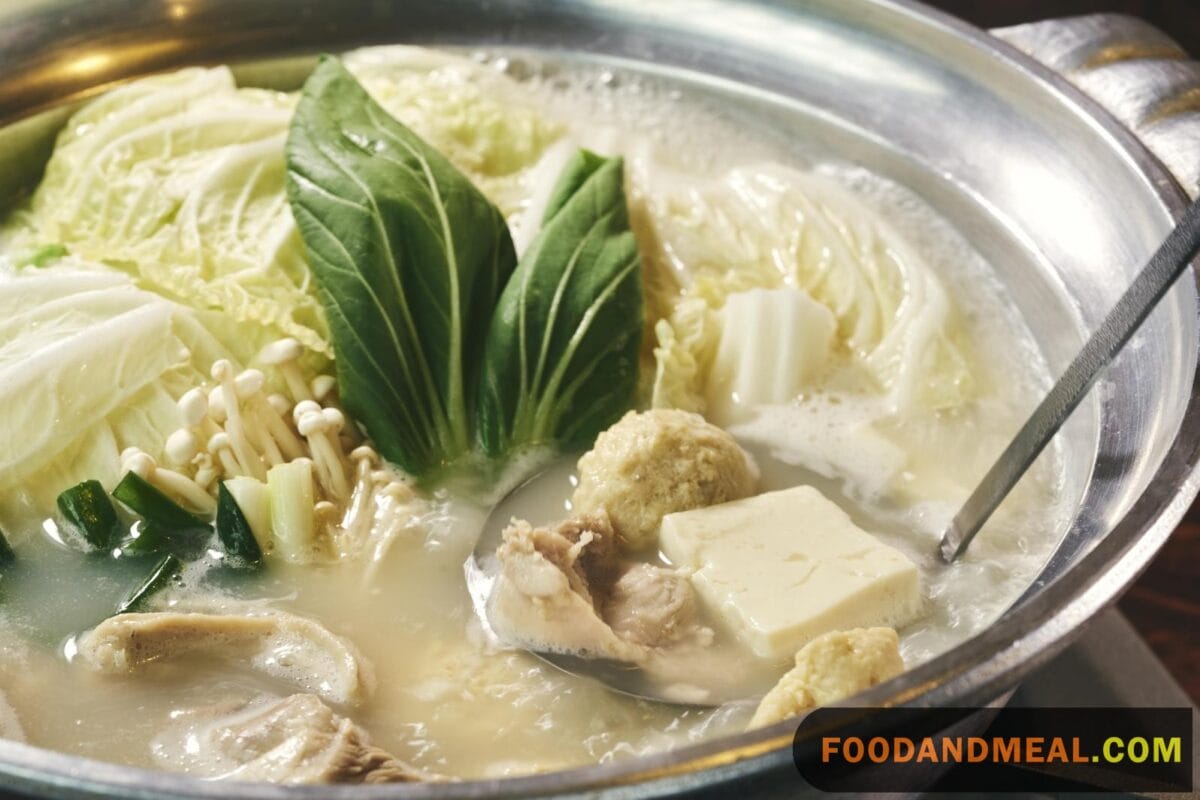 Occasions and Audience: Mizutaki Hot Pot is perfect for colder seasons, making it a winter favorite. Whether you're hosting a family gathering, an intimate dinner date, or just treating yourself, its warmth is welcoming to everyone.
Complementary Sides: While the hot pot is a meal in itself, small bowls of steamed jasmine or sticky rice can complement the main dish, absorbing the delicious broth. A light salad with a tangy dressing can also offset the deep flavors of the hot pot, providing a fresh counterpart.
Beverages: Traditional Japanese sake, especially the warm kind, goes beautifully with Mizutaki. For non-alcoholic options, try cold barley tea, which has a nutty flavor that pairs well with the richness of the hot pot.
Garnishing and Presentation: Garnish with finely sliced green onions or a sprinkle of sesame seeds. Provide dipping sauces on the side, such as ponzu or a light soy sauce mixed with minced garlic and chili flakes.
Variations: While traditionally served in one big pot, you can also serve Mizutaki in individual bowls for a more formal setting, or even as a 'hot pot bar', where guests add ingredients of their choice to their own mini pots.
5 FAQs about Mizutaki Hot Pot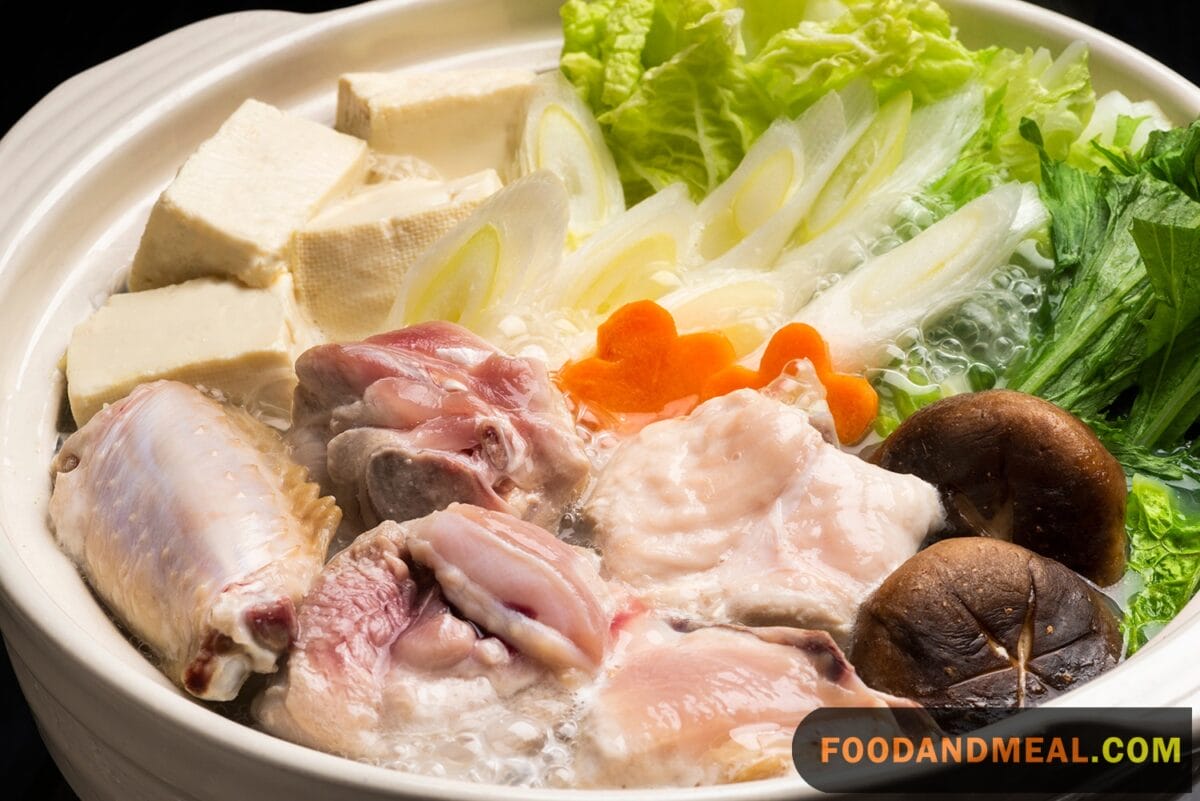 Can I use other types of meat for Mizutaki Hot Pot? Absolutely! While chicken is traditional, you can use thinly sliced beef, lamb, or even seafood. Adjust cooking times accordingly, especially for seafood, as it cooks quickly.
How do I store leftovers? Cool the leftover Mizutaki Hot Pot to room temperature, then transfer it to an airtight container. Store in the refrigerator for up to 2-3 days. For longer storage, you can freeze the broth and meat separately for up to a month.
Can I prepare Mizutaki Hot Pot in advance? Certainly. You can prepare the broth a day in advance. On the day of serving, just reheat the broth and add the fresh ingredients.
Are there vegetarian or vegan versions of Mizutaki? Yes, you can substitute the chicken with tofu or an assortment of mushrooms like shiitake, enoki, and oyster mushrooms. Use a vegetable broth or kombu (seaweed) based broth for a vegan version.
My broth lacks depth. How can I enrich it? Depth in broth often comes from simmering over a long period. If you're short on time, try adding a splash of soy sauce, a piece of kombu, or a few dried shiitake mushrooms during the simmering process. Removing them before serving can enhance the depth of your broth.
Dive into the authentic flavors of Japan with our detailed Mizutaki Hot Pot guide. Discover secrets, tips, and more. Dive in now!
Affiliate DisclaimerAbout The Author
As an affiliate, we may earn a commission from qualifying purchases. We get commissions for purchases made through links on this website from Amazon and other third parties.