Ever stumbled upon a dish that transports you directly to the bustling streets of Tokyo? With my years of cooking under the belt, I bring to you the Chicken Tofu Hot Pot—a heartwarming blend of tender chicken and silky tofu, waiting to give your taste buds an unforgettable ride.
Japanese Chicken Tofu Hot Pot Recipe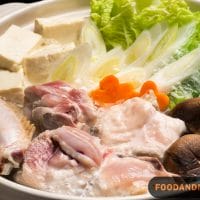 Japanese Chicken Tofu Hot Pot
Dive into the comforting flavors of our Chicken Tofu Hot Pot, a dish brimming with hearty ingredients and Japanese culinary magic. Loved our recipe? Share it with your friends and don't forget to subscribe for more delicious updates!
Print
Pin Recipe
Add to Collection
Go to Collections
Ingredients
4

oz. piece

kombu (kelp)

20 1/4

oz.

water, filtered

12 1/3

oz.

cubed chicken meat, thigh

1

bunch

Bok choy

2

carrots, large

12

mushrooms, shiitake

10 – 10 1⁄2

oz.

chunk-cut tofu, firm

Ponzu sauce, bottled
Instructions
Create dashi stock. Place water and kombu in hot pot. Bring to simmering and remove kombu.

Add the vegetables to stock and simmer for 8-10 minutes. Then add tofu. Simmer for two more minutes.

Place hot pot over fondue or portable burner on dining table. Provide your guests with bowls and skewers. Allow them to cook the chicken meat in soup and dip in the ponzu dipping sauce.
Notes
Seasoning Matters: While the Chicken Tofu Hot Pot is forgiving, it's the seasoning that makes all the difference. Remember, always season in stages to taste. Enjoyed this insight? Spread the love and share this recipe with fellow culinary enthusiasts!
Tofu Tips: Soft tofu is ideal for that melt-in-the-mouth experience. Drain it well to ensure it soaks up the pot's flavors. Loving these tidbits? Don't keep it to yourself! Share the recipe and join our community for more such gems.
Choosing the Chicken: Opt for bone-in pieces for richer flavor. However, if you're short on time, boneless works wonders too! If this was helpful, why not share the recipe and subscribe for more delightful culinary secrets?
Share by Email
Share on Facebook
Share on Twitter
Nutrition
Serving:
1
bowl
|
Calories:
14
kcal
|
Carbohydrates:
3
g
|
Protein:
1
g
|
Fat:
0.2
g
|
Sodium:
4
mg
|
Potassium:
128
mg
|
Fiber:
1
g
|
Sugar:
1
g
|
Vitamin A:
11
IU
|
Vitamin C:
0.1
mg
|
Calcium:
1
mg
|
Iron:
0.2
mg
© Food And Meal
This website provides approximate nutrition information for convenience and as a courtesy only. Nutrition data is gathered primarily from the Spoonacular Database, whenever available, or otherwise other online calculators.
Pin Recipe
Alternative Method: Preparing Chicken Tofu Hot Pot using a Pressure Cooker
Ingredients Prep: As always, start by prepping all your ingredients. Slice the chicken into bite-sized pieces, drain the tofu and cut into cubes, and prepare your vegetables and seasonings.
Searing the Chicken: On the sauté setting of your pressure cooker, add a dash of oil. Once hot, add in the chicken pieces. Sear them until they're lightly browned on all sides. This enhances the flavor immensely.
Layering Ingredients: Add your sliced vegetables (like carrots, onions, and mushrooms) over the chicken. Pour in your preferred broth, ensuring it covers the chicken and veggies but doesn't exceed the cooker's max fill line. Now, add in your seasonings (soy sauce, mirin, sake, and a dash of sugar or honey).
Pressure Cooking: Seal the pressure cooker lid and set it on the 'High Pressure' setting. Cook for about 15 minutes. This ensures the chicken is tender and the flavors meld beautifully.
Adding the Tofu: Once the 15 minutes are up, release the pressure manually. Open the lid and gently stir in the tofu cubes. Seal the lid again and let the residual heat gently warm the tofu for about 5 minutes. This ensures your tofu remains soft and doesn't crumble.
Final Touches: After the 5 minutes, release any remaining pressure, open the lid, and give everything a gentle stir. Taste and adjust the seasoning if needed. Sprinkle with thinly sliced scallions and perhaps a dash of sesame oil for added aroma.
Serving: Pour into individual bowls, ensuring each has a good mix of chicken, tofu, and veggies. Serve hot, preferably with a side of steamed rice or udon noodles.
Cooking Tips & Common Mistakes to Avoid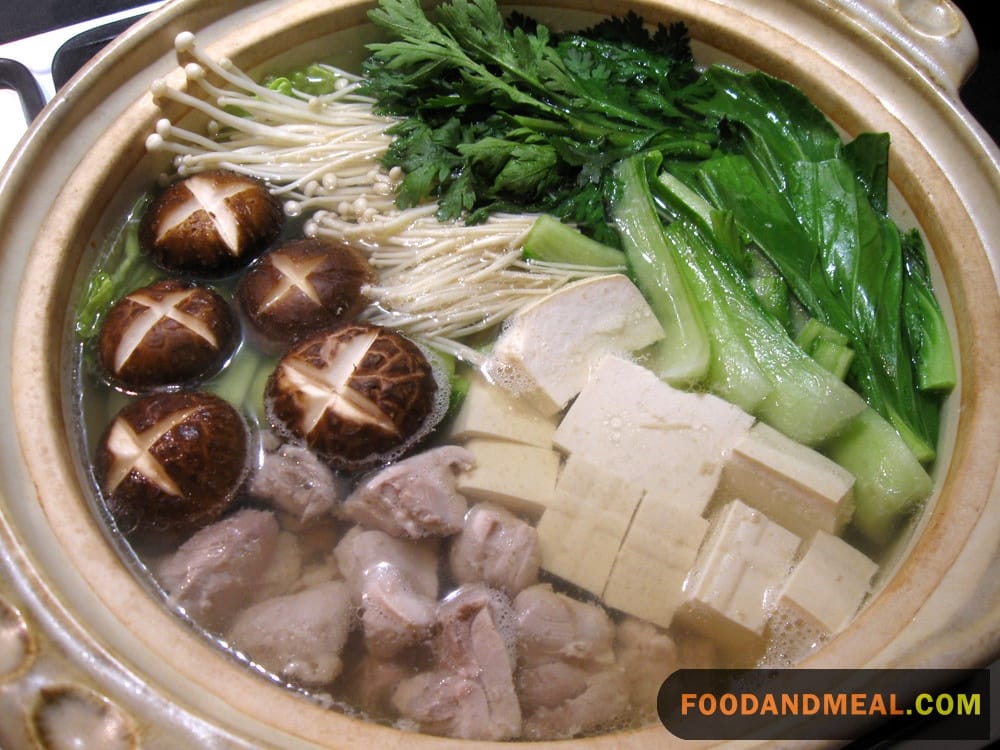 Choosing the Right Tofu: Opt for firm or extra-firm tofu for hot pot. The soft or silken variants, while delicious, can disintegrate easily in the broth.
Avoid Overcrowding: It's tempting to throw in all the ingredients at once, but resist. Overcrowding can lead to uneven cooking. Add ingredients in stages based on their cooking times.
Mind the Broth: Your broth is the heart of the hot pot. While store-bought can be convenient, a homemade broth will elevate your dish. Remember, a bad broth can't be masked, no matter how great your other ingredients are.
Don't Overcook the Veggies: Add veggies like bok choy or spinach towards the end. They cook quickly and retain a better texture with a short simmer.
Serving Suggestions for Chicken Tofu Hot Pot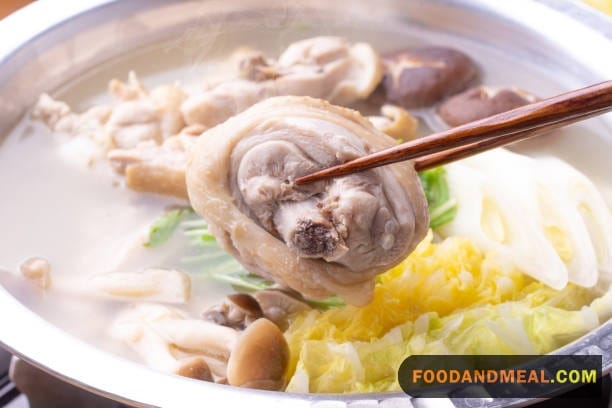 Occasion Fit: This hot pot recipe shines brightly on chilly winter evenings, providing warmth to both the belly and the soul. Planning a date night? The hot pot's gentle simmer can be the backdrop to intimate conversations. Hosting a family get-together? The communal nature of hot pot brings everyone together.
For the Little Ones: Kids are generally fans of the mild, savory flavors of this dish. To make it even more appealing, add in some colorful veggies they love, or perhaps a few dumplings.
Side Pairings: Serve this with a side of steamed jasmine or brown rice. Cold soba or udon noodles also offer a delightful contrast in temperature.
Beverage Companions: For beverages, consider serving a light sake or a floral white wine. Green tea, with its subtle bitterness, can also complement the savory notes of the hot pot.
Garnishes Galore: Freshly chopped green onions, a sprinkle of sesame seeds, or a drizzle of chili oil can be game-changers. Let your guests customize their bowls with these additions.
FAQs on Chicken Tofu Hot Pot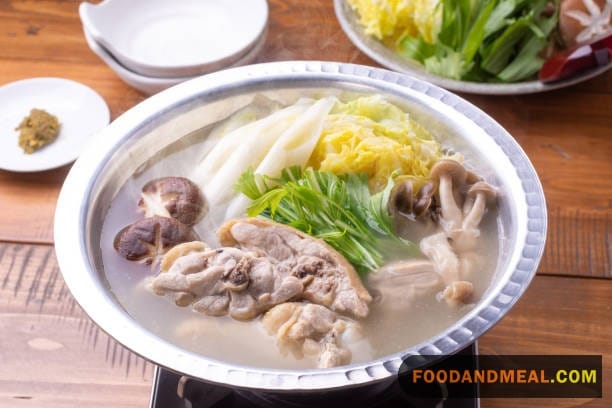 How long does the hot pot last in the fridge?Once cooled, the Chicken Tofu Hot Pot can be stored in the refrigerator for up to 3 days. Ensure you store it in an airtight container to maintain freshness.
Can I freeze the leftovers?Yes, you can freeze the hot pot, but it's best to exclude the tofu when freezing as its texture can change upon thawing. When you're ready to enjoy it again, thaw in the fridge overnight and reheat on the stove.
What other proteins can I use instead of chicken?Feel free to experiment! Thin slices of beef or pork work wonderfully. Seafood, especially shrimp or clams, can also be a delectable addition.
Is it okay to use different vegetables?Absolutely! The beauty of a hot pot is its adaptability. Use veggies you have on hand or those that are in season for best results.
My broth seems too bland. What can I do?If the broth is lacking in flavor, consider adding more seasonings. Soy sauce, miso paste, or even a touch more salt can enhance the broth's depth. Remember, always add in small increments and taste as you go.
Unearth the secrets of the Chicken Tofu Hot Pot, a classic Japanese recipe with a twist. Dive in and make your next meal unforgettable!
Affiliate DisclaimerAbout The Author
As an affiliate, we may earn a commission from qualifying purchases. We get commissions for purchases made through links on this website from Amazon and other third parties.