Enjoyed most especially in its native land, Binghamton, New York. For its name alone, the place celebrates festivals, bringing it to the height of its popularity. Let's discover how to make this chicken Spiedies in 2 method . Oven cooking or Stove Top.
Chicken Spiedies Recipe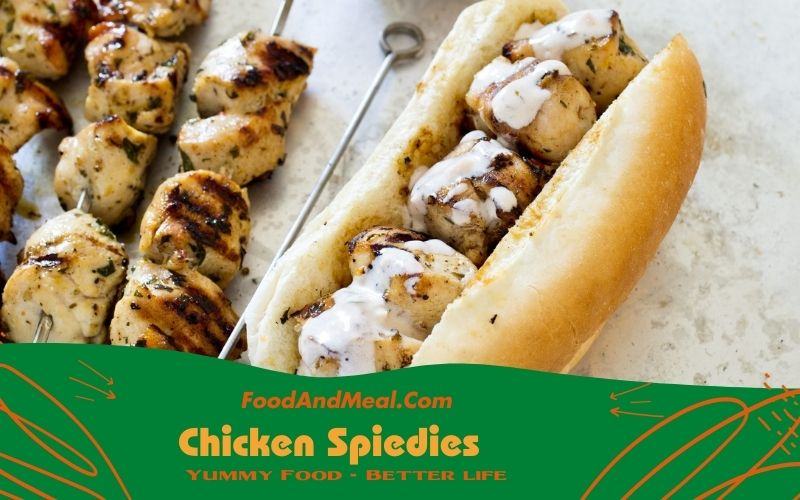 If you are looking for the perfect BBQ sauce, you can find a good spiedie recipe online. It's a good idea to use a sauce that is made with a marinade based on vinegar and oil. The sauce is a classic combination for BBQ pits and can be used for chicken spiedies. The barbecue sauce is one of the most important aspects of this delicious sandwich. If you like it, you'll be making it often.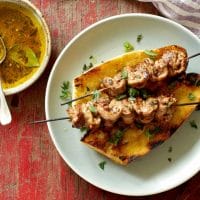 Chicken Spiedies - Binghamton, N.Y
So raise your hand if you'd like a Spiedie, maybe my Binghamton, N.Y Chicken Spiedies. And if you raised your hand, I wish I could actually give you one!! I guess the recipe for New York Chicken Spiedies will have to do.
Print
Pin
Add to Collection
Go to Collections
Ingredients
RECOMMENDED HERBS, SPICES AND SEASONINGS (To help you with flavoring your cubed meat, here is the list of herbs, seasonings and spices you may choose from)
Instructions
Spiedies – Sandwich of Binghamton, N.Y
METHOD ONE: OVEN COOKING
The meat gives off special tenderness with every morsel, plus the juice that comes off from it can be used as a sauce. All you have to do is to marinate the cubed meat pieces and cook them in a moderately high flame on the stove until the outside meat turns into brown.

Incorporate the meat and selected braising sauce (but not the marinade!) and put it into a medium-hot oven until tender. If you want it to look like it to have the skewered spiedie look, skewer the cubed meat on a roasting rack in your oven.  It is more practical to use metal skewers but just in case that this kind is not available, soak wooden skewers into the water for 30 minutes.

The longer the soaking period is better.  This process will prevent the wooden skewers to get burnt. Upon cooking, let the cooked meat rest for about 3-5 minutes before you eat.  It will give time for the juices to seep back to the center, rendering your spiedie juicier.
METHOD TWO: STOVE TOP
Before marinating the cubed meats, make a quick fry of them just enough to make them brown.  After that, stew them with a flavorful and spicy liquid over medium-low heat.

On the other hand, you may also choose to marinate the meat and sauté them later on with oil on a stove top.  Get the meat and place on the bread with the sauce of your choice.
Video
Notes
Traditional spidies require you the use of grill for those skewered choice meat to be sandwiched in between a sliced long bun later on. Originally, lamb meat is used but now, you have the prerogative to choose which meat you crave. If you don't have a grill well, we can help you with that.  Choose which method you want underneath.
Share by Email
Share on Facebook
Share on Twitter
Nutrition
Serving:
1
serving
|
Calories:
196
kcal
|
Carbohydrates:
14
g
|
Protein:
23.1
g
|
Fat:
5.2
g
|
Cholesterol:
50.6
mg
© Food And Meal
This website provides approximate nutrition information for convenience and as a courtesy only. Nutrition data is gathered primarily from the Spoonacular Database, whenever available, or otherwise other online calculators.
Calories per Ingredient
Here are the foods from our food nutrition database that were used for the nutrition calculations of this recipe.
Calories per serving of Chicken Spiedies
106 calories of Chicken Breast (cooked), no skin, roasted, (3.08 ounces)
70 calories of Wegmans Giant White Bread, (1 serving)
31 calories of Wegmans Spiedie Marinade, (1.23 tbsp)
Saving Money on Binghamton, N.Y Chicken Spiedies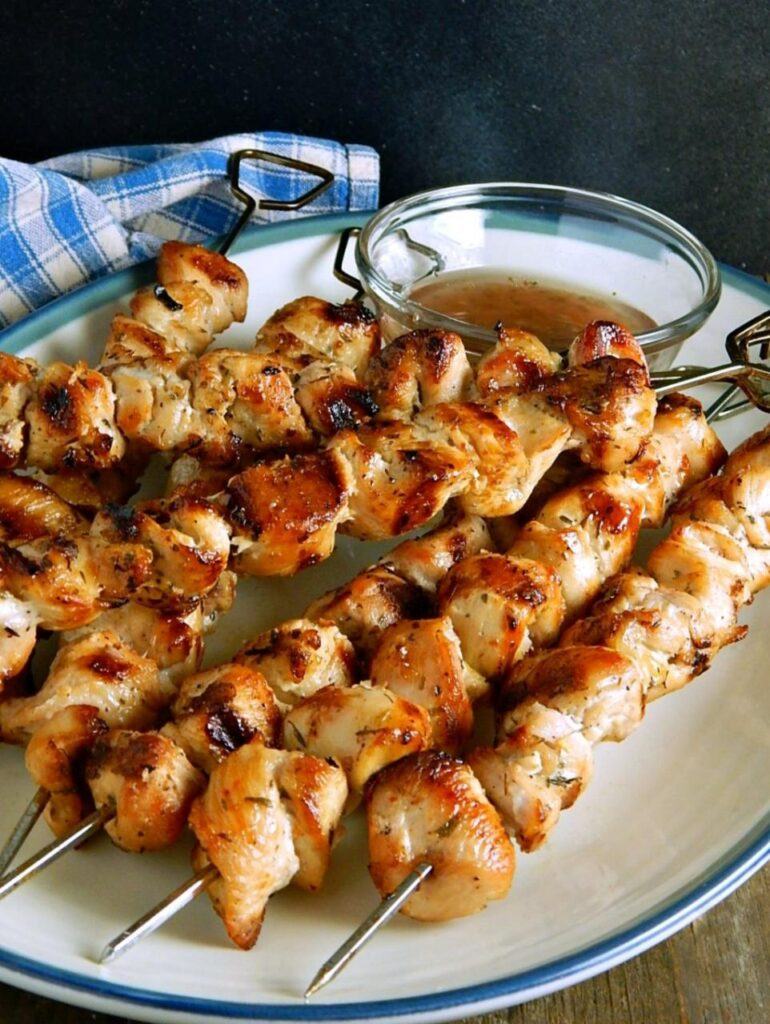 If you're cooking on a budget, consider ordering your Chicken Spiedies online. They're easy to prepare and are perfect for backyard cookouts. People in Binghamton, NY often eat Spiedies in restaurants and buy them in supermarkets. This dish is considered a staple of the area, and the locals make them at home on barbecue pits. The sauce is a special treat that is a must for anyone in the area!
Shop carefully for your chicken and know the highs and lows in your area; normally chicken will drop to a rock bottom low once a quarter or so. The larger family packs are generally less per pound so pick them up and portion in sizes your family will use and freeze.
When shopping for lemons, pay attention to the weight. Weigh several and pick the heaviest. As far as the herbs, look for packages in the produce section or check out the bulk herbs if your store has them. It really does pay to grow your own herbs in the garden or in pots. Bring them in when fall hits or just harvest and dry.
The rolls may be a challenge to find in some areas. Check your store's bakery – their selection may be better and the prices are usually lower than the groceries "bread" section. I was able to find some nice rolls in the bakery section. Aldi has a nice, soft, hoagie type of a roll, and if you wish to go higher end, maybe check out brioche rolls. If all else fails, look for a good bakery hot dog bun.
Tips for making Chicken Spiedies
The first step to making the perfect Chicken Spiedies is marinating the meat. Adding a few drops of vinegar and some salt will make the marinade even more flavorful. You can also add some beer to shorten the time for marinating. The beer will also break down the proteins in the meat more quickly, resulting in a ridiculously tender Spiedie. You can also grill the meat on a grill or place it under a broiler to brown it on all sides.
The spiedie marinade is delicious on vegetables as well. Zucchini, for example, grills beautifully. If you're not into red pepper flakes, you can leave them out and use the rest as a sauce instead of mayonnaise. You can even try spicing up the chicken spiedies with your favorite seasoning. If you're not a fan of red pepper flakes, you can substitute dried herbs for the spiedie marinade. Once the meat is skewered, you can brush the remaining marinade onto it.
You can marinate the chicken overnight and grill it. To keep the chicken moist, you can skewer it on a spit in the oven for 18 hours or more. Alternatively, you can use a grill rack. If you use wooden skewers, you can soak them in water for at least 30 minutes and use them to make the spiedies. After a day or two, the meat is fully cooked and juicy. Afterward, you can serve it with any extra marinade.
Once the chicken has marinated, you can grill it until it is tender. If you have extra marinade, you can use it on veggies. You can even grill zucchini. You can also use the marinade as a sauce on buns. To make more spiedies, you can try experimenting with different flavors. Just remember to keep your spiedies in the refrigerator for at least 2 days to get the desired taste.
You can also make Chicken Spiedies without the meat. The chicken can be grilled using a grill. Alternatively, marinate them overnight and grill until they are cooked through. You can also serve the spiedies with the extra marinade on buns. Once you have marinated the meat, you can put it on the skewers and serve it on a bun. You can make them with any flavor you want!
The best way to make Spiedies is to grill them on a grill, or use a cast iron skillet. You can cook the spiedies until they are cooked through. You can serve them hot or cold and serve them with lemon wedges. The sauce should be marinated for at least a couple of hours before grilling. Ensure the meat is fully cooked before serving. If you are grilling, you can use it on a grill or on a skewer, or just grill it on a grill.
Chicken Spiedies are a great option for parties and barbecues. The sauce is made from marinated meat and is very flavorful. Spiedies are a great addition to any BBQ. The sauce is made in Binghamton, NY, and can be purchased online. It's possible to find a spiedie recipe for chicken online. This barbecue sauce is very versatile and can be used for grilling.
Chicken spiedies can be made with beef, pork, lamb, and chicken. You can skewer them directly off the skewer or add them to salads and stir-fries. Generally, the marinade is made with olive oil, vinegar, Italian spices, and fresh mint. This recipe can be used as a base for stir-fries or for a salad. It is not recommended to marinate the meat in a marinade for more than five hours.