Crostino or 'little toast' is a traditional Italian antipasto. It consists of grilled or toasted bread slices which are conventionally topped with your choice of meat, cheese or vegetable.  However, in our today's recipe – Pomegranate and Roasted Butternut Squash Crostini, we're going to use sweet alternative toppings: pomegranate and butternut pumpkin. 
We're going to use the humble but healthy goat cheese to bring out the potential.You won't go wrong if you wish to add pomegranate and butternut squash crostini on your menu list when you invite your girlfriends for a nice chitchat.  Even the vibrant colors of pomegranate and butternut squash are enough to pep up your bonding moment.
Butternut Squash Crostini Recipe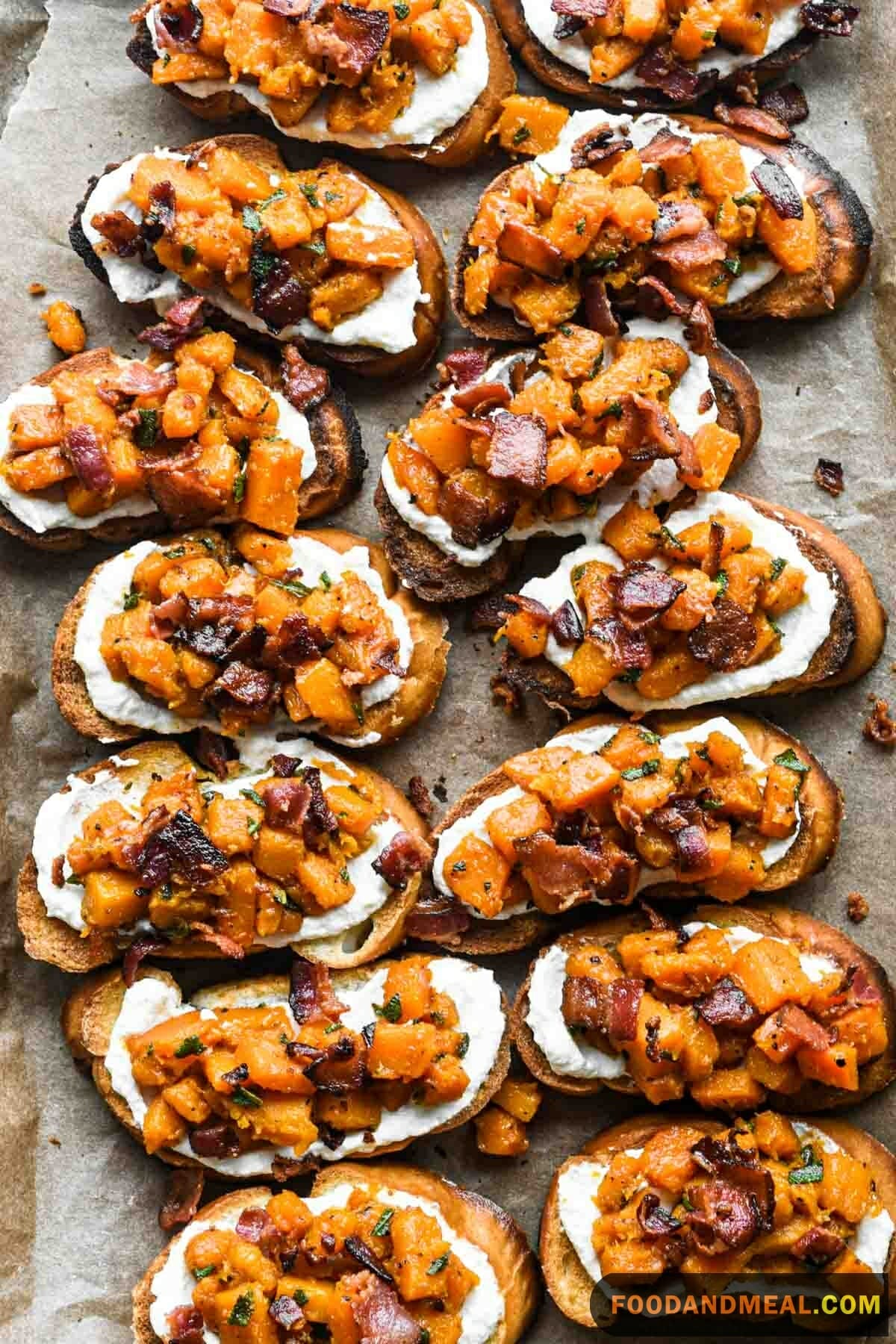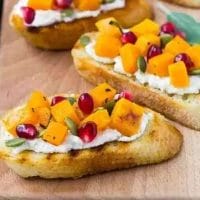 Pomegranate and Roasted Butternut Squash Crostini
This recipe makes Pomegranate and Roasted Butternut Squash Crostini, which is plenty to go around! You could even cut the slices into toast points if you require more servings. 
Print
Pin Recipe
Add to Collection
Go to Collections
Equipment
Ingredients
1

baguette

sliced into half inch thick per piece

Butternut squash

roasted and cubed

Goat cheese

Aged balsamic vinegar
Instructions
Butternut Squash Crostini with cream

Preheat broiler into 350⁰F and prepare the baguette slices on a baking sheet. Place them in a single- layer pile. Make enough spaces between each slice.

Set the bread under the broiler for some time until they are slightly toasted. After that, flip each slice onto the other side and toast again. You can toast the bread slices until they are golden which can take for about 15 minutes.

Put about 2 tablespoons of goat cheese on each baguette slice.

Assemble the crostini by topping the slices with the cubed butternut squash and pomegranate seeds.

Drizzle the crostini with balsamic vinegar and serve with your desired beverage.
Notes
Top each crostini with pan fried walnuts and rosemary. Garnish with pomegranate arils just before serving.
Share by Email
Share on Facebook
Share on Twitter
Nutrition
Serving:
1
serving
|
Calories:
150
kcal
|
Carbohydrates:
27
g
|
Protein:
4
g
|
Fat:
3
g
© Food And Meal
This website provides approximate nutrition information for convenience and as a courtesy only. Nutrition data is gathered primarily from the Spoonacular Database, whenever available, or otherwise other online calculators.
Pin Recipe
Alternative Method: Roasted Butternut Squash Crostini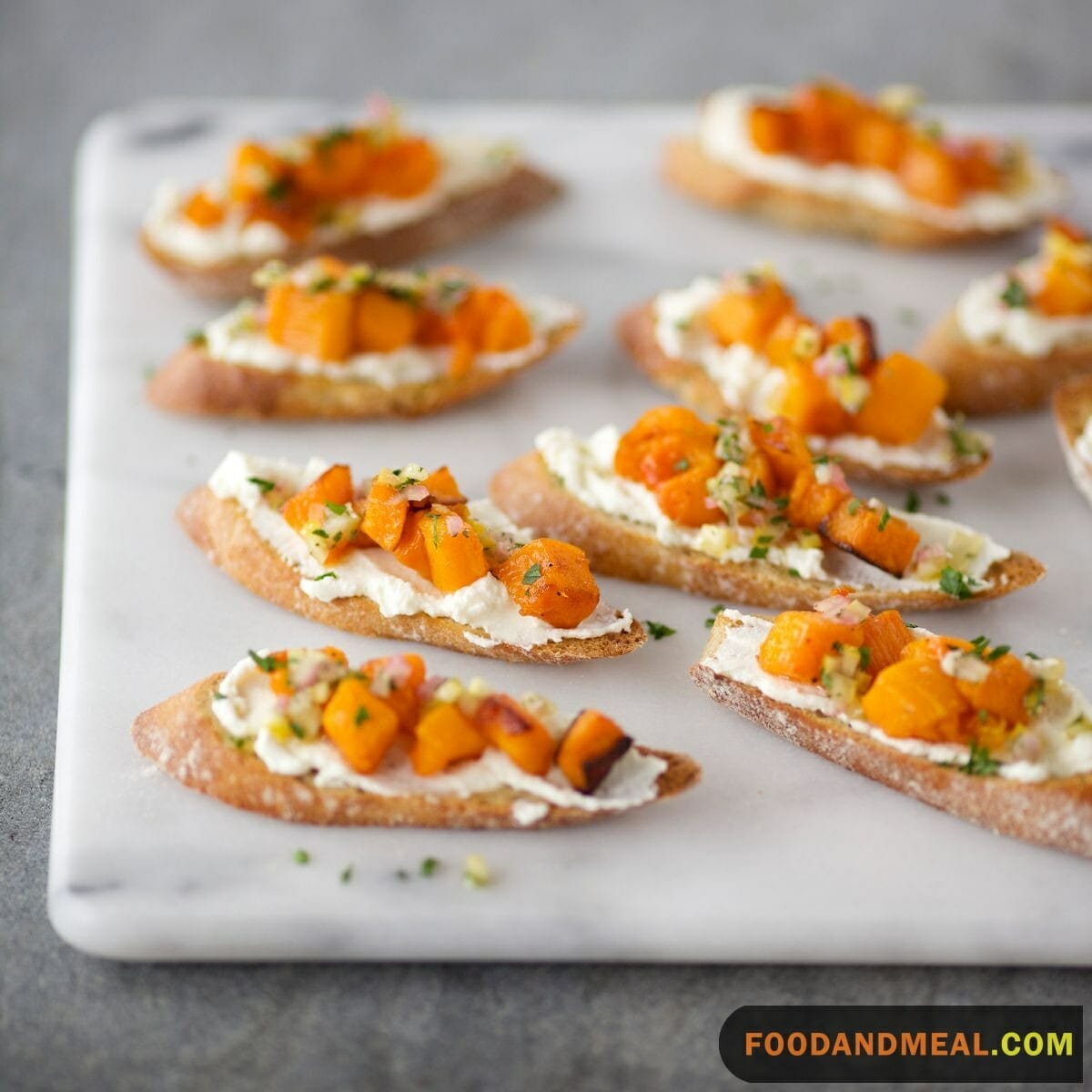 Ingredients:
1 small butternut squash, peeled, seeded, and diced into small cubes
2 tablespoons olive oil
Salt and pepper to taste
1 French baguette, thinly sliced
1 garlic clove, peeled
1/4 cup ricotta cheese
2 tablespoons honey
Fresh thyme leaves for garnish
Instructions:
Preheat your oven to 400°F (200°C).
Place the diced butternut squash on a baking sheet, drizzle with olive oil, and season with salt and pepper. Toss to coat the squash evenly.
Roast the squash in the preheated oven for 25-30 minutes or until it's tender and caramelized, giving it a gentle stir halfway through.
While the squash is roasting, rub the slices of baguette with the peeled garlic clove and toast them in the oven for 5-7 minutes, or until they're lightly golden and crisp.
Once the butternut squash is done, remove it from the oven and allow it to cool slightly.
To assemble, spread a generous dollop of ricotta cheese on each toasted baguette slice. Top with a spoonful of the roasted butternut squash.
Drizzle a touch of honey over each crostini and garnish with fresh thyme leaves.
Your Roasted Butternut Squash Crostini is ready to serve. Enjoy the rich, roasted flavors!
Tips for making Butternut Squash Crostini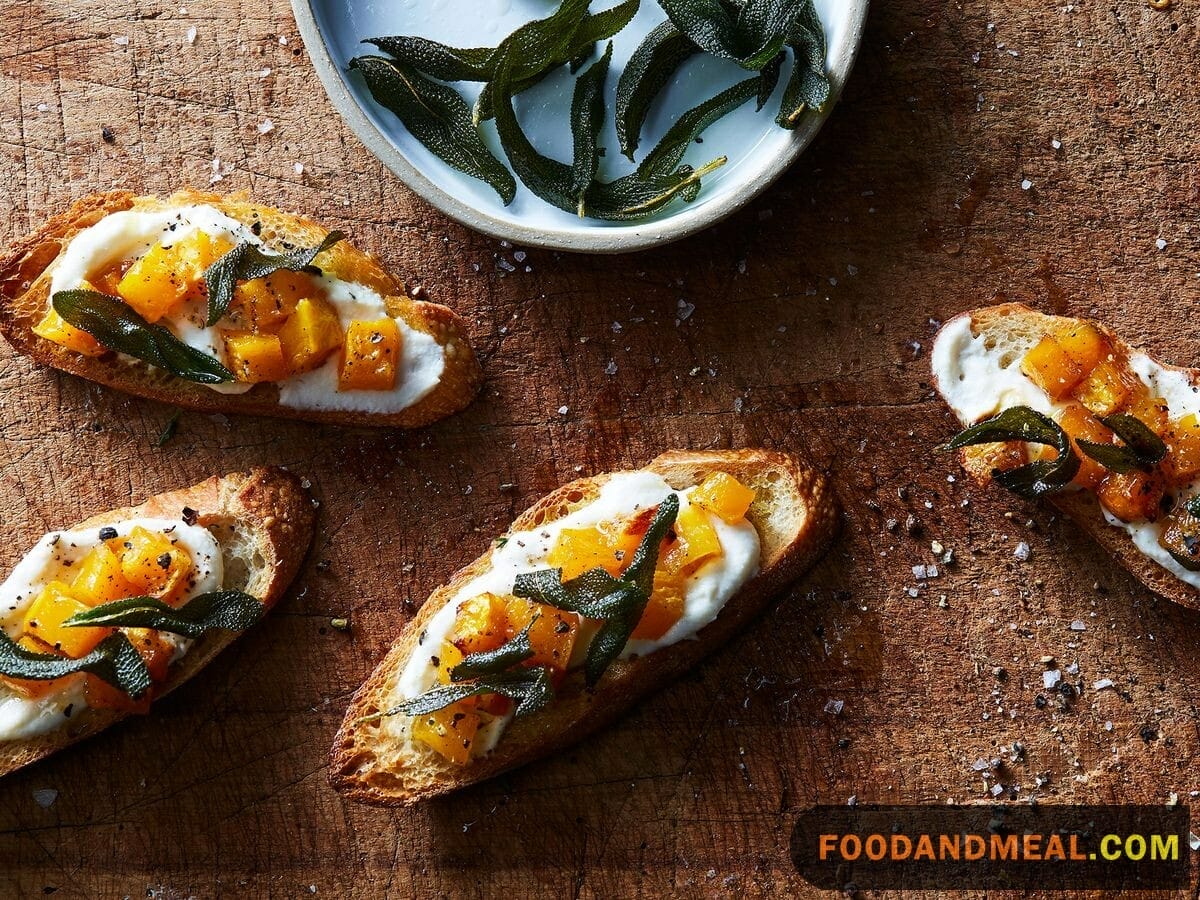 Serving Suggestions
Herbed Ricotta: Add extra flavor to your crostini by mixing fresh herbs, such as chopped rosemary or thyme, into the ricotta before spreading it on the bread.
Drizzle of Balsamic Reduction: A drizzle of balsamic reduction over your crostini adds a delightful sweet and tangy note that perfectly complements the roasted squash.
Candied Walnuts: For a textural contrast, sprinkle some candied walnuts or pecans on top of the butternut squash. The sweet crunch pairs wonderfully with the creamy ricotta.
Arugula Salad: Serve your crostini with a side of arugula dressed in a light vinaigrette. The peppery greens provide a refreshing contrast to the richness of the crostini.
Pear Slices: Thinly sliced fresh pears make a great accompaniment. Their juicy sweetness harmonizes with the flavors of the crostini.
Wine Pairing: A crisp white wine, like a Chardonnay or Pinot Grigio, complements the butternut squash crostini beautifully. For non-alcoholic options, consider a sparkling cider or a ginger kombucha.
Cooking Tips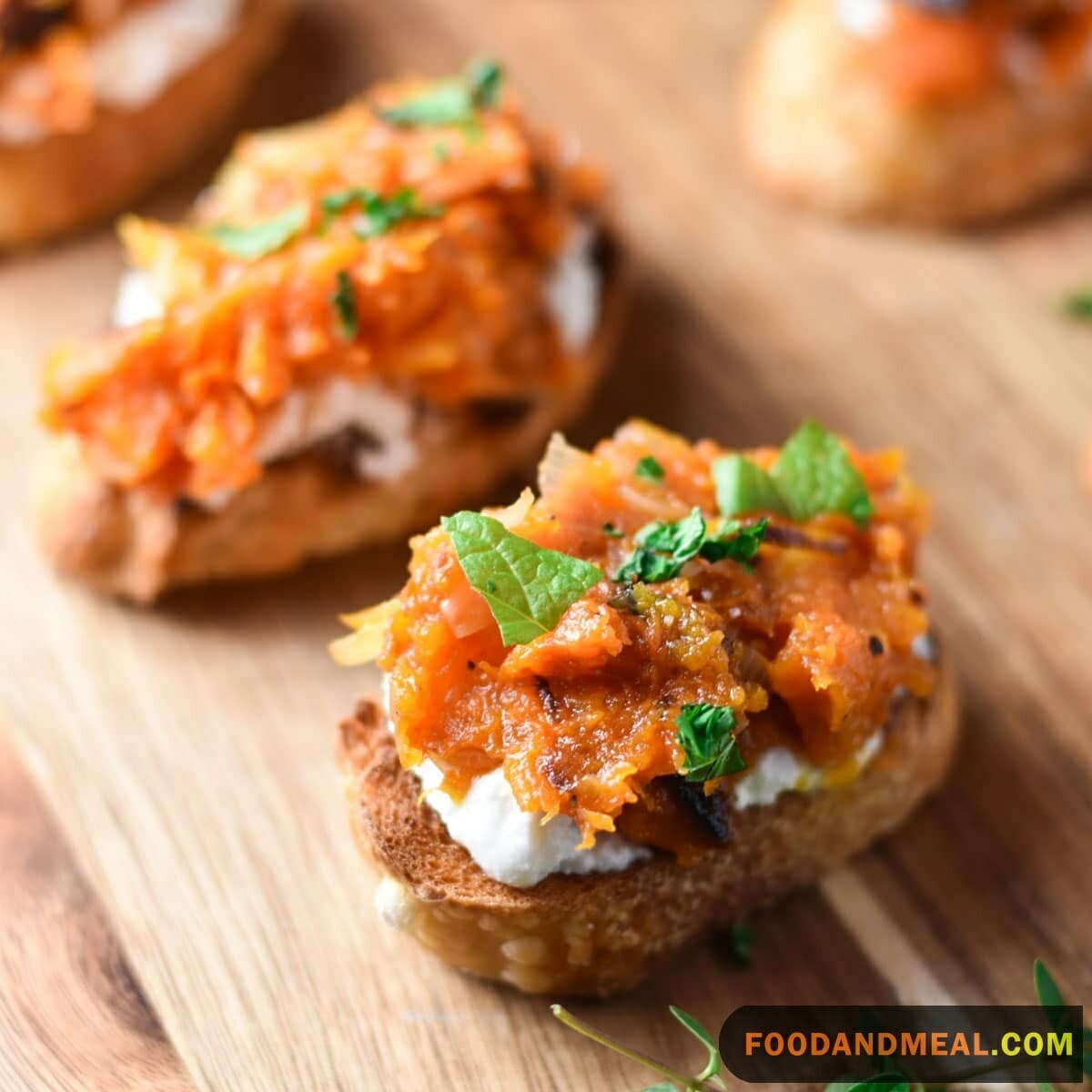 Consistent Cubes: When dicing the butternut squash, aim for consistent cube sizes to ensure even roasting. Smaller cubes will cook faster, while larger ones may need more time.
Prevent Soggy Bread: To prevent the bread from becoming soggy, ensure the roasted butternut squash isn't too watery. Pat the squash dry if necessary before placing it on the crostini.
Balance Seasoning: Taste as you season. Butternut squash can vary in sweetness, so adjust the amount of honey and seasoning to achieve your desired flavor.
Make-Ahead Friendly: You can roast the butternut squash in advance and store it in the refrigerator. Assemble the crostini just before serving to maintain the crunch of the bread.
Customize Toppings: Don't hesitate to experiment with additional toppings like crumbled goat cheese, a sprinkle of chili flakes for some heat, or a drizzle of extra virgin olive oil for richness.
FAQs about Butternut Squash Crostini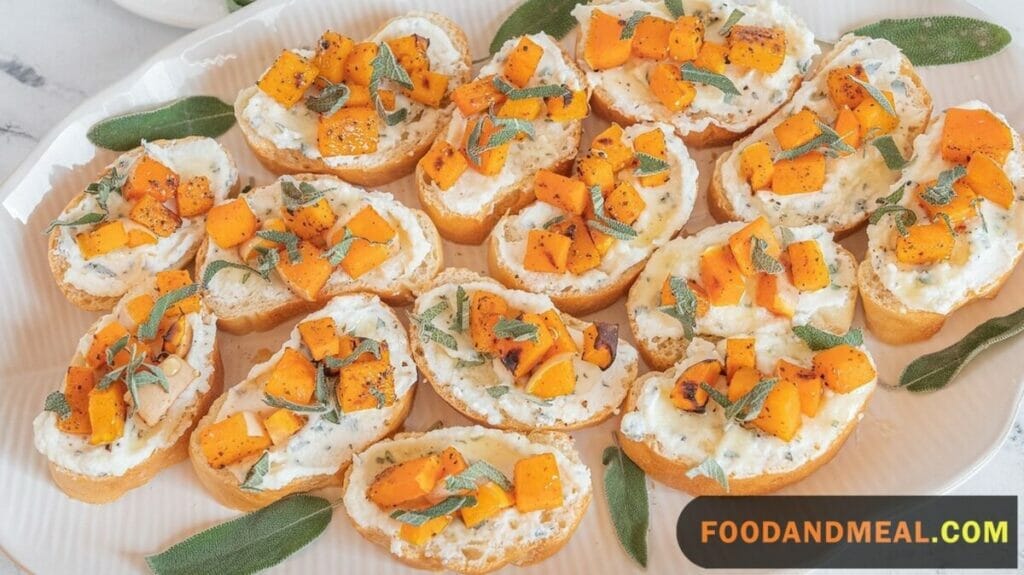 Can I use pre-cut butternut squash from the store? Absolutely! Using pre-cut butternut squash is a convenient option and saves time. Just make sure the pieces are uniform in size for even roasting.
How can I store leftovers? To store any leftover crostini, place them in an airtight container in the refrigerator. The bread may lose some crispness, so consider toasting it briefly before enjoying the leftovers.
Can I make the ricotta spread in advance? Yes, you can prepare the herbed ricotta in advance and keep it refrigerated until you're ready to assemble the crostini. The flavors will meld and become even more delicious with time.
Elevate your culinary skills with Butternut Squash Crostini. Learn the art of crafting these elegant bites. Share the recipe and subscribe for more gourmet inspiration.
Affiliate DisclaimerAbout The Content
As an affiliate, we may earn a commission from qualifying purchases. We get commissions for purchases made through links on this website from Amazon and other third parties.