These brownie cookies are based on a classic Martha Stewart recipe. So chocolatey and good, and like a cookie, can be dunked into a tall glass of milk. But when you bite it, it is soft and chewy just like a brownie. The key to achieve the brownie-like texture is to not over bake them.
Brownie Cookies Recipes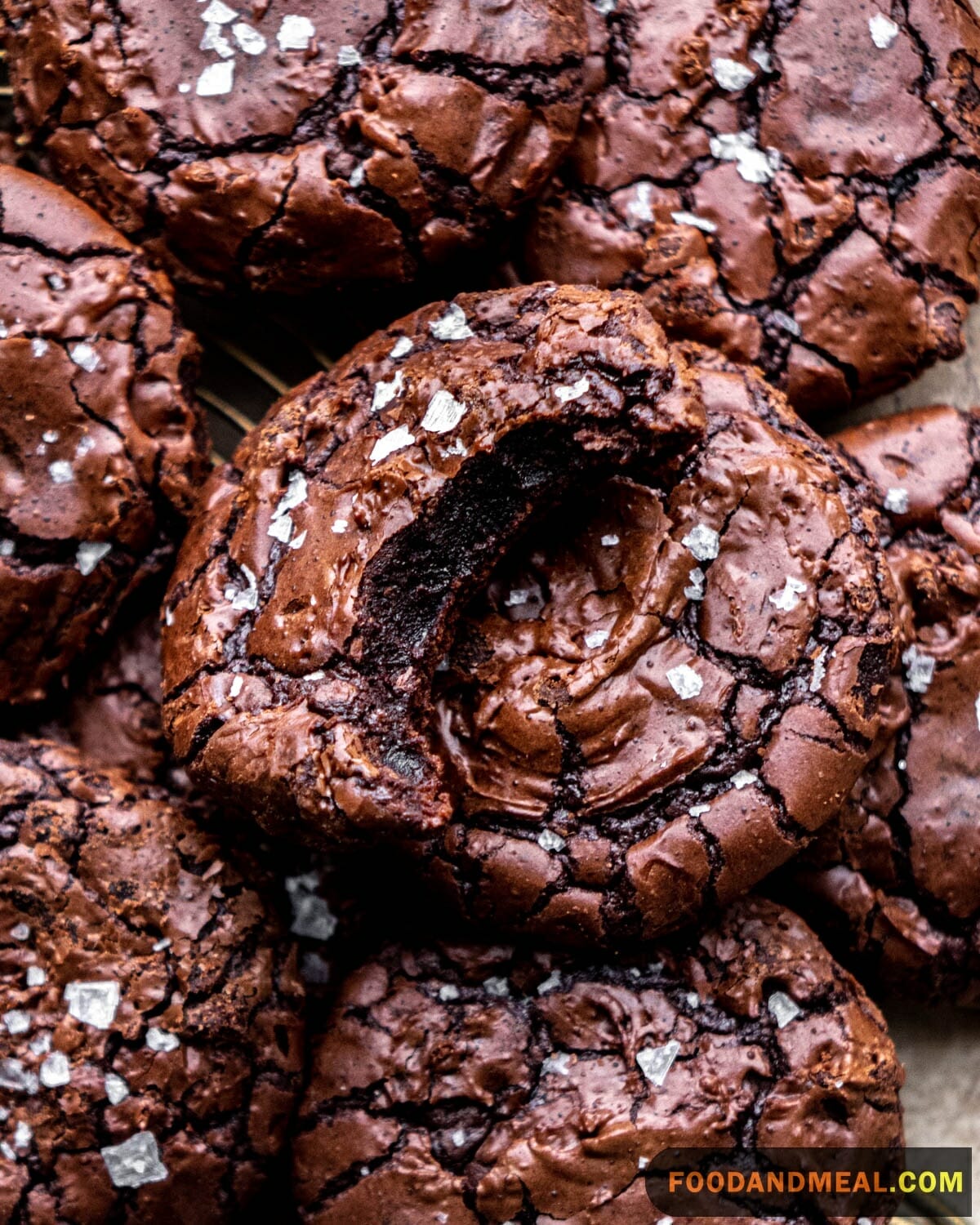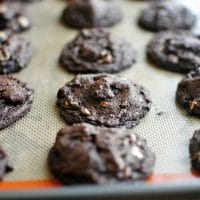 Brownie Cookies with White Chocolate
These chocolate chip cookies are delicious for any occasion. The chewy texture of the brownie cookies will delight everyone who tastes them. They're perfect for sharing with friends and family. You can make them for special occasions or to give as gifts. Just be sure to make them the right way and you'll get rave reviews. If you're looking for the best way to make brownie cookies, follow these tips. They'll make your next cookie party a success!
Print
Pin Recipe
Servings:
2
dozen cookies
Add to Collection
Go to Collections
Instructions
Preheat oven to 350 F and line a cookie sheet with parchment paper.

Melt the butter and 8 oz semi-sweet chocolate in the microwave in 20 second increments. Do not overheat as the chocolate will burn and taste bitter. Once melted, set aside and allow to cool slightly.

Combine the flour, baking powder and salt in a bowl and stir with a whisk.

In a stand mixer, beat the eggs with the sugar at high speed for 2-3 minutes until light and fluffy. Reduce mixer speed to low and add the vanilla, followed by the melted butter and chocolate mixture.

Add the flour mixture in until just combined. Lastly, add the chocolate chips to the batter.

Using a small ice cream scoop, place batter on the cookie sheet about 2 inches apart as these cookies will spread slightly. Do not worry if the batter seems runnier than other cookie recipes. This cookies has a brownie like consistency that will come together nicely in the oven.

Bake for 12 minutes (they may seem undercooked but will become firm once cooled)

Cool on cookie sheet 10 minutes, then transfer to a rack to cool completely.
Share by Email
Share on Facebook
Share on Twitter
© Food And Meal
This website provides approximate nutrition information for convenience and as a courtesy only. Nutrition data is gathered primarily from the Spoonacular Database, whenever available, or otherwise other online calculators.
Pin Recipe
Alternative Method: Brownie Cookies in an Air Fryer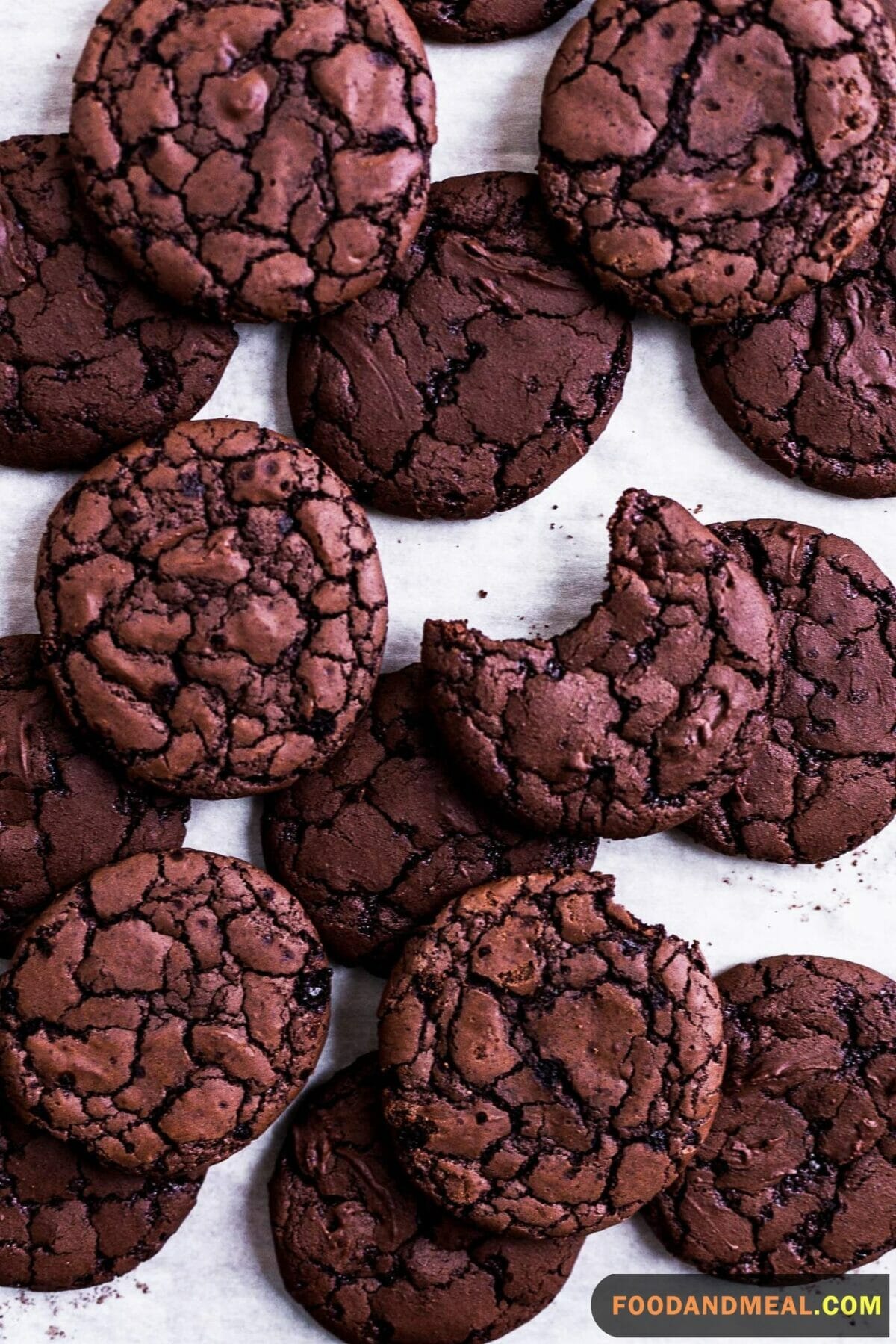 Ingredients:
1 batch of prepared Brownie Cookie dough (follow the original recipe)
Non-stick cooking spray
Instructions:
Preheat the Air Fryer: Start by preheating your air fryer to 350°F (175°C). This will take about 2-3 minutes.
Prepare the Cookie Dough: While the air fryer is preheating, prepare your Brownie Cookie dough as per the original recipe. Chill the dough in the refrigerator for about 15-20 minutes.
Shape the Cookies: Take the chilled dough and form it into cookie-sized rounds. Remember, these cookies won't spread as much as when baking in an oven, so shape them to your desired thickness.
Prepare the Air Fryer Basket: Lightly spray the air fryer basket with non-stick cooking spray to prevent the cookies from sticking.
Arrange the Cookies: Place the shaped cookie dough rounds in a single layer in the preheated air fryer basket. You may need to cook them in batches depending on the size of your air fryer.
Air Fry: Set the air fryer to 350°F (175°C) and cook the cookies for about 5-7 minutes. Keep a close eye on them, as cooking times can vary depending on your air fryer's model. The cookies are ready when the edges are firm, and the centers are slightly gooey.
Cool and Enjoy: Carefully remove the cookies from the air fryer basket and let them cool on a wire rack. They will continue to firm up as they cool. Enjoy your Brownie Cookies with a glass of milk or your favorite beverage.
Tips for making Brownie Cookies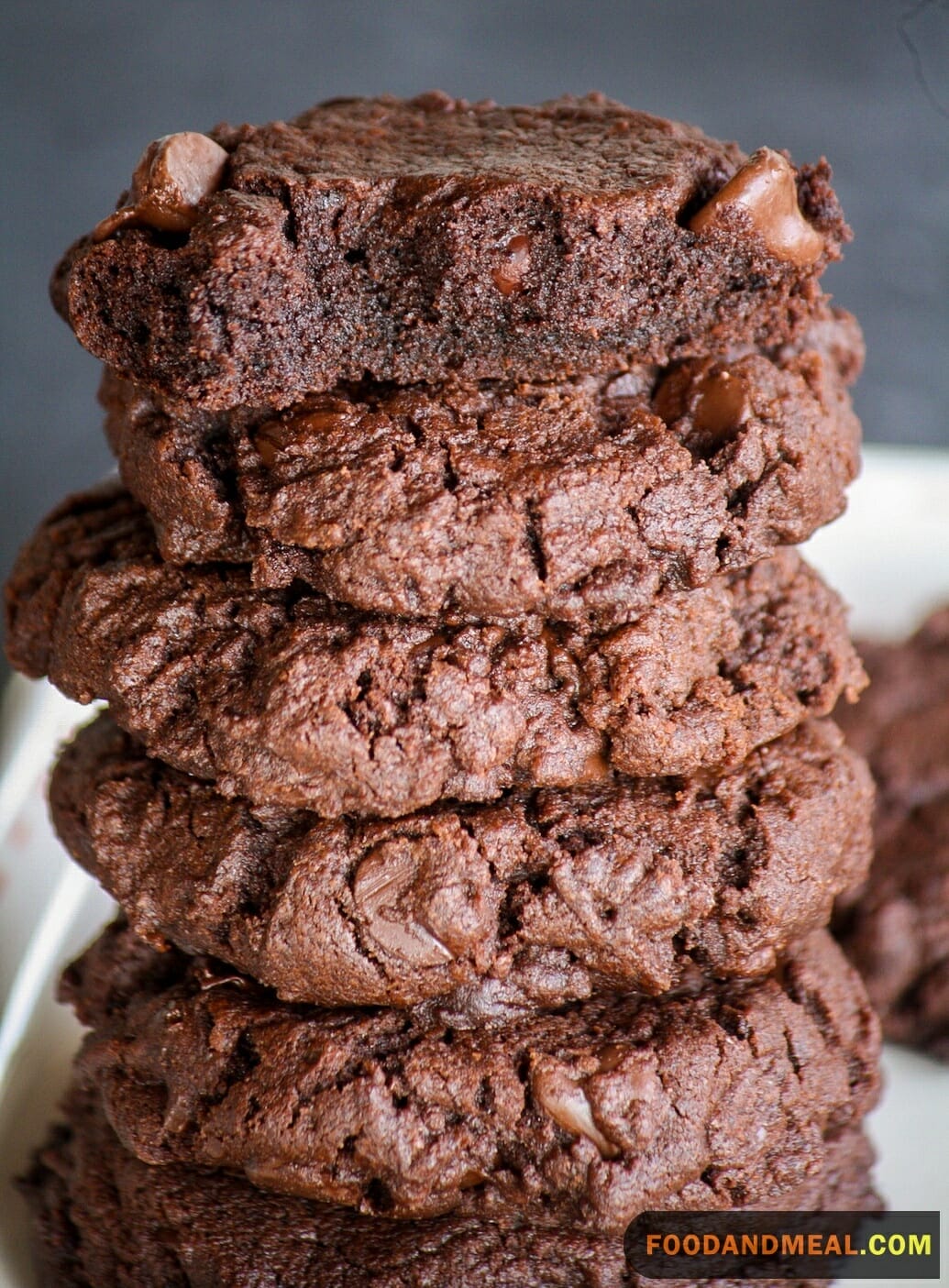 Serving Suggestions
À La Mode Delight: Elevate your Brownie Cookies by serving them warm with a generous scoop of vanilla ice cream. The contrast between the warm, gooey cookies and the cold, creamy ice cream is pure dessert magic.
Coffee and Cookies: For a cozy afternoon treat, pair your Brownie Cookies with a freshly brewed cup of coffee. The rich chocolate flavors of the cookies complement the coffee's earthy notes perfectly.
Cookie Sandwich: Get creative by making Brownie Cookie sandwiches. Spread a layer of your favorite frosting or Nutella between two cookies for an indulgent twist.
Milk's Best Friend: There's nothing quite like the classic combination of cookies and milk. Dip your Brownie Cookies into a glass of cold milk for a nostalgic and satisfying experience.
Fruit Medley: Balance the chocolatey goodness with a side of fresh berries or sliced fruits like strawberries or raspberries. The fruity sweetness pairs beautifully with the rich cookies.
Dessert Platter: Create a dessert platter with an assortment of cookies, including Brownie Cookies, alongside mini pastries, chocolates, and fruit for a delightful after-dinner treat.
Cooking Tips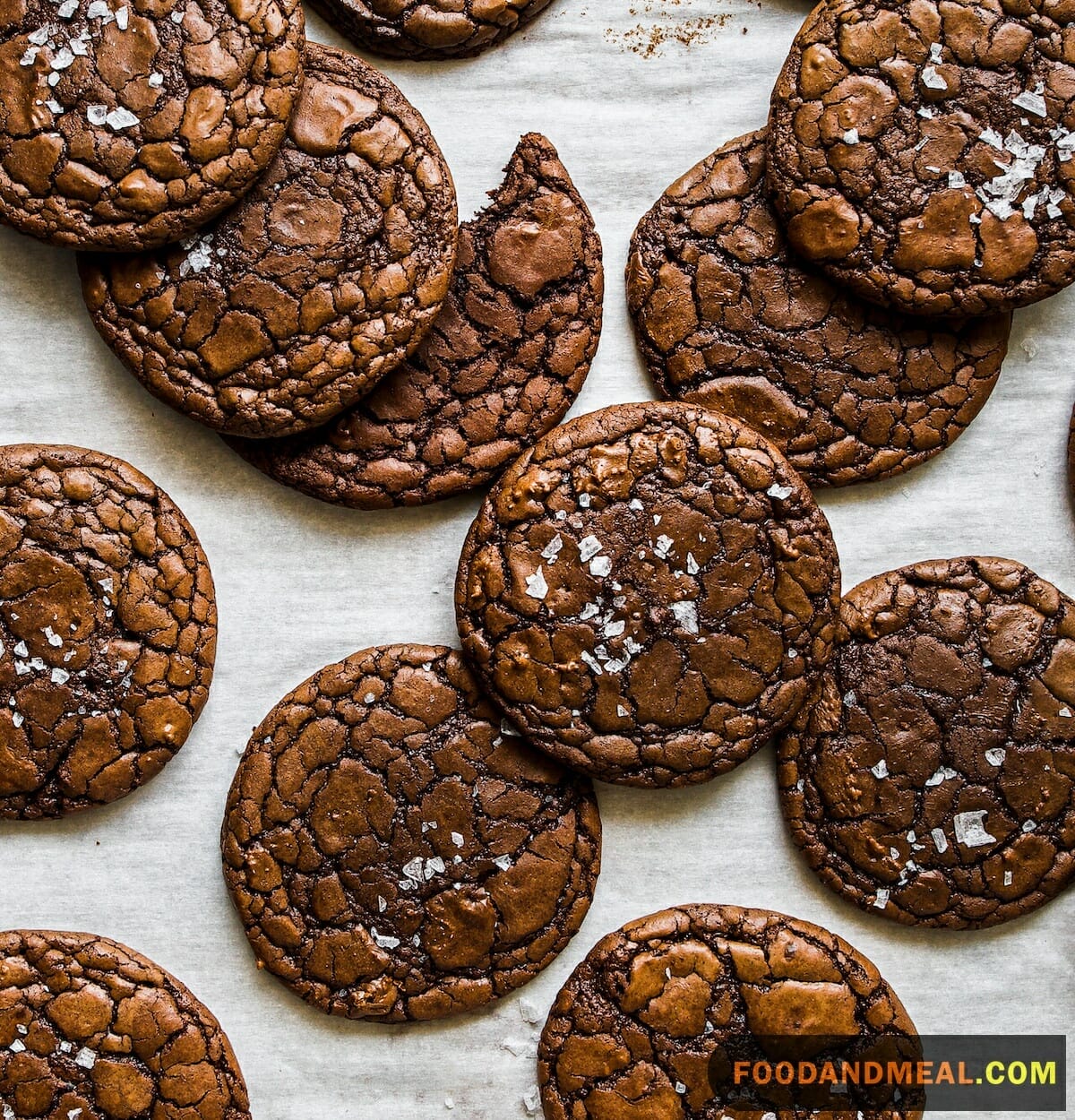 Quality Ingredients: Use high-quality cocoa powder and chocolate chips for the best flavor. Quality ingredients make a noticeable difference in the final result.
Chill the Dough: Don't skip the step of chilling the cookie dough. It prevents excessive spreading and results in cookies with the ideal texture—crispy edges and a soft, fudgy center.
Cookie Size: Pay attention to the size of your cookie dough portions. Smaller portions will yield crispier cookies, while larger portions will be softer and chewier.
Baking Time: Keep a close eye on your cookies in the oven. Overbaking can lead to dry Brownie Cookies. They are ready when the edges are set, but the centers are slightly underdone.
Cooling Rack: Transfer the cookies to a cooling rack as soon as they come out of the oven. This prevents them from continuing to cook on the hot baking sheet.
Frequently Asked Questions about Brownie Cookies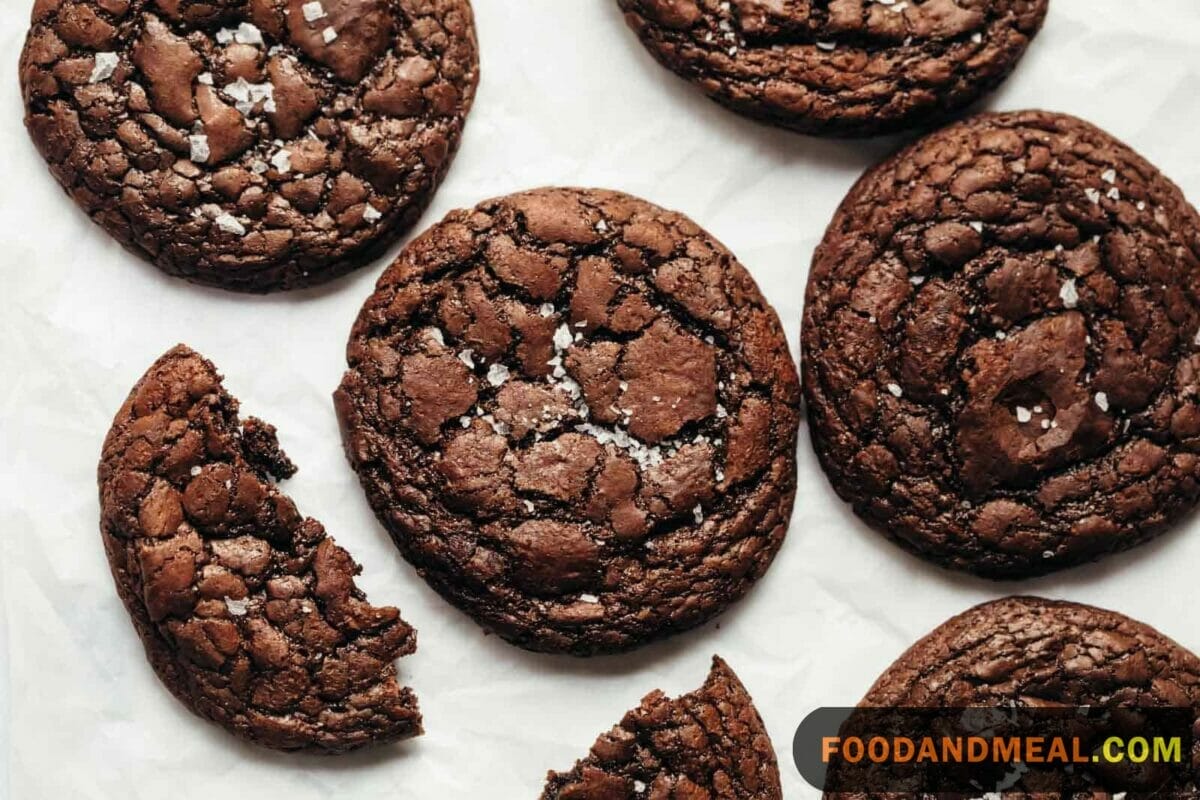 Can I freeze Brownie Cookies?
Yes, you can freeze Brownie Cookies. Allow them to cool completely, then store them in an airtight container with parchment paper between layers to prevent sticking. They can be frozen for up to three months.
How do I store leftover cookies?
Store leftover Brownie Cookies in an airtight container at room temperature for up to a week. If you want to keep them longer, freezing is your best option.
Why did my cookies turn out dry?
Overbaking is the most common reason for dry cookies. Follow the recommended baking time and keep an eye on the edges to avoid this issue.
Can I make these cookies gluten-free?
Yes, you can adapt this recipe to be gluten-free by using a gluten-free flour blend. Be sure to check that your other ingredients, like cocoa powder and chocolate chips, are also gluten-free.
How can I prevent my cookies from spreading too much?
Chilling the cookie dough is key to preventing excessive spreading. It helps the cookies hold their shape during baking, resulting in that perfect balance of crispy and chewy.
Indulge in chocolatey perfection with our Brownie Cookies recipe. Discover baking secrets, serving ideas, and more. Share the recipe and subscribe for sweet inspiration.
Affiliate DisclaimerAbout The Content
As an affiliate, we may earn a commission from qualifying purchases. We get commissions for purchases made through links on this website from Amazon and other third parties.