The heart of Japanese cuisine lies in its authentic and rich flavors. Among its many culinary jewels, the Japanese Mushroom Cabbage Hot Pot stands out for its delightful blend of earthy mushrooms and crisp cabbage. Let's embark on this flavorful journey together!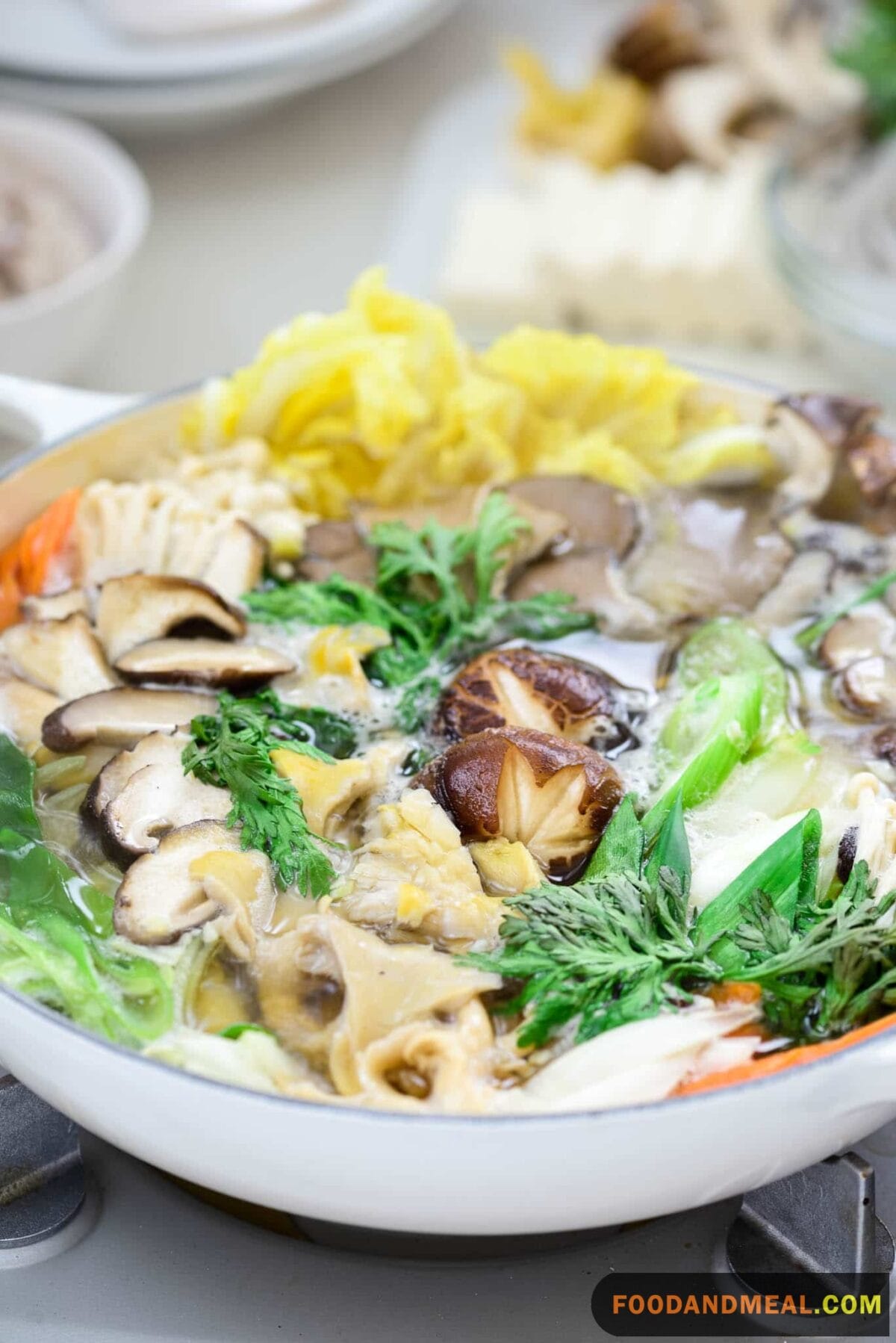 Mushroom Cabbage Hot Pot Recipe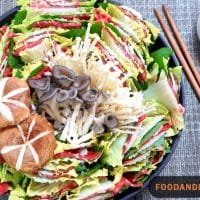 Japanese Mushroom Cabbage Hot Pot
Dive deep into the warm embrace of our Japanese Mushroom Cabbage Hot Pot. An exquisite blend of umami flavors awaits your taste buds. Loved it as much as I did? Share this divine recipe with fellow food lovers and don't forget to subscribe for more tantalizing treats from my kitchen!
Print
Add to Collection
Go to Collections
Ingredients
Instructions
Prepare broth in large pot. Combine soy sauce, mirin, sake and dashi over med-high.

Add tofu and cabbage. Bring pot to a boil. Reduce to simmer. Cover and simmer for five minutes.

Remove cover. Add udon noodles and mushrooms. Cook for five additional minutes.

Add the spinach. Cook for a minute more. Remove kombu and discard.

Allow your guests to serve themselves in individual bowls.
Notes
Using a mix of shiitake, maitake, and enoki mushrooms adds depth to the flavor. If unavailable, substitute with any locally available mushrooms but ensure they are fresh. A dash of mirin or sake can elevate the broth's flavor profile. Remember, the broth is the heart of the hot pot, so let it simmer and infuse well. While cabbage is essential, feel free to add other veggies like carrots or tofu for added nutrition and taste.
Share by Email
Share on Facebook
Share on Twitter
Nutrition
Calories:
282
kcal
|
Carbohydrates:
23
g
|
Protein:
9
g
|
Fat:
2
g
|
Saturated Fat:
0.3
g
|
Polyunsaturated Fat:
1
g
|
Monounsaturated Fat:
0.2
g
|
Sodium:
856
mg
|
Potassium:
843
mg
|
Fiber:
4
g
|
Sugar:
8
g
|
Vitamin A:
4327
IU
|
Vitamin C:
29
mg
|
Calcium:
125
mg
|
Iron:
3
mg
© Food And Meal
This website provides approximate nutrition information for convenience and as a courtesy only. Nutrition data is gathered primarily from the Spoonacular Database, whenever available, or otherwise other online calculators.
Alternative Method: Slow Cooker Japanese Mushroom Cabbage Hot Pot
Ingredients:
Same as the original recipe.
Method:
Preparation: Clean and chop your mushrooms and cabbage. If you're using other vegetables or tofu, ensure they're cut into even sizes for uniform cooking.
Broth: In a bowl, mix together your broth ingredients – soy sauce, mirin, sake, and dashi. Give it a quick taste and adjust according to preference.
Layering: Start by placing your tougher vegetables, like carrots or radishes, at the bottom of the slow cooker. Then, layer your mushrooms, followed by the cabbage and any softer vegetables or tofu.
Pouring the Broth: Gently pour your prepared broth over the layered ingredients in the slow cooker. Ensure all ingredients are submerged. If not, you might need to add a bit of water or more broth.
Cooking: Set your slow cooker on 'low' and let it simmer for about 4-5 hours. This slow, gentle cooking will let every ingredient release its flavor into the broth, creating a harmonious blend.
Serving: Once done, stir gently to mix the ingredients. Serve hot, directly from the slow cooker. Garnish with fresh green onions or any preferred herbs.
Cooking Tips
Broth is the soul: Spend time perfecting your broth. A flavorful broth can elevate your hot pot from good to "OMG, what magic is this?!"
Layering is key: Tougher vegetables at the bottom, softer ones on top. This ensures everything cooks evenly.
Avoid Overcrowding: As tempting as it might be to throw in everything but the kitchen sink, give your ingredients space. They'll reward you with better texture and flavor.
Taste as you go: Your broth's flavor will intensify as it simmers. Check periodically and adjust seasoning if needed.
The Best Ways To Serve And Enjoy Japanese Mushroom Cabbage Hot Pot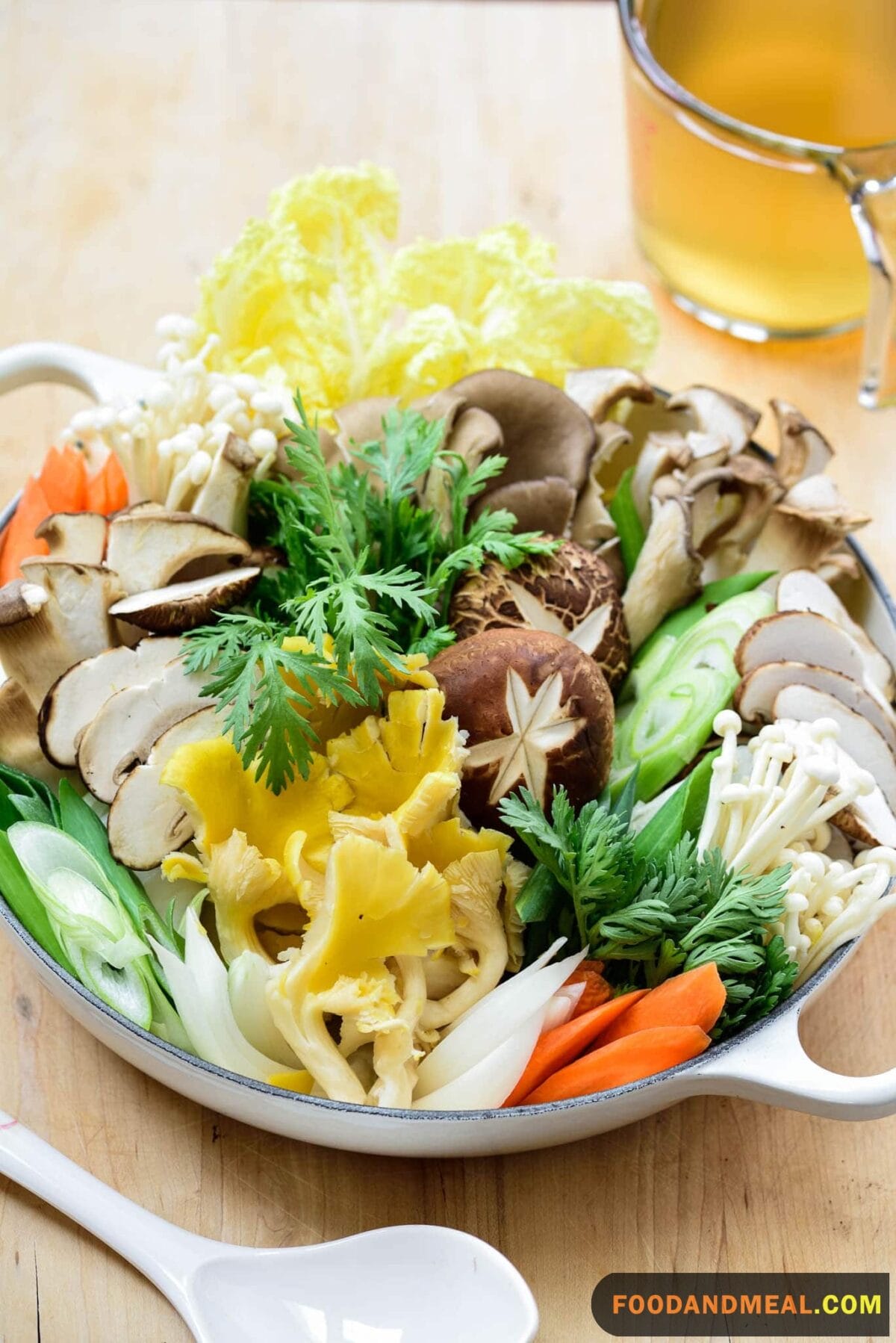 Setting the Mood: This dish screams cozy nights. Think candlelight, soft jazz in the background, and plush cushions.
For the Adults: Serve with a crisp white wine or a light Japanese beer. Their refreshing notes will balance the deep flavors of the hot pot.
Garnishing: Freshly chopped green onions, a sprinkle of sesame seeds, or even a handful of bean sprouts can add a fresh crunch.
On the Side: While the hot pot is hearty on its own, a side of steamed jasmine rice or some udon noodles can make it even more fulfilling.
For a Crowd: Hosting a party? Let guests customize their bowls. Lay out an array of toppings and let everyone dive in and create their perfect bowl.
Can I Use a Rice Cooker to Make Japanese Mushroom Cabbage Hot Pot?
Using the best rice cookers Japan offers, you can certainly prepare a delicious Japanese Mushroom Cabbage Hot Pot. This versatile kitchen appliance ensures perfectly cooked rice and can be used to simmer various ingredients simultaneously, including the mushrooms and cabbage needed for this traditional dish. Experiment with flavors to achieve the perfect taste.
FAQs of Japanese Mushroom Cabbage Hot Pot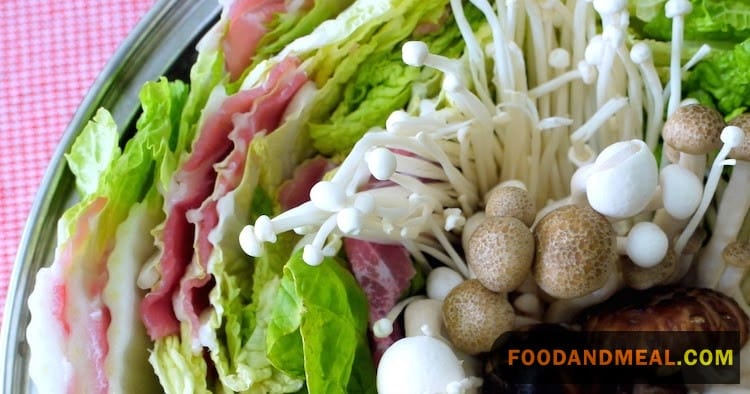 Can I use other types of mushrooms for this dish? Absolutely! Feel free to explore with shiitake, enoki, oyster, or even portobello mushrooms. Each variety will add its unique flavor and texture, making your hot pot even more exciting.
Is it necessary to use sake in the broth? While sake adds a distinct flavor to the broth, if you don't have it on hand or prefer to avoid alcohol, you can replace it with a splash of rice vinegar or simply omit it.
How long does the hot pot last in the refrigerator? Stored in an airtight container, the hot pot can last for 2-3 days in the fridge. Just ensure it cools completely before storing.
Can I freeze the leftovers? Yes, you can. However, some veggies might turn a bit mushy upon reheating. If you're planning to freeze, avoid adding soft vegetables like tofu or leafy greens until you're ready to reheat and consume.
How can I make the broth richer? For a deeper, umami-rich flavor, consider adding a splash of soy sauce, a piece of kombu, or even some miso paste. Taste and adjust as you go!
Explore the rich, umami-filled world of our Japanese Mushroom Cabbage Hot Pot recipe. Share the joy and subscribe for culinary wonders from around the globe.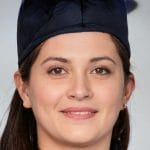 Hi! I'm Nazia of 'Nazia Cooks', a self-taught baker and cook residing in Chennai. Rooted in the rich South Indian culinary landscape, my palate has expanded to embrace global flavors. I revel in crafting fusion dishes, melding traditions to birth unique tastes.
Affiliate DisclaimerAbout The Content
As an affiliate, we may earn a commission from qualifying purchases. We get commissions for purchases made through links on this website from Amazon and other third parties.