Hello there, JaimeInez here! I'm thrilled to welcome you back to Food and Meal, where we celebrate the joy of cooking and the love for food. Today, I'm excited to share with you my recent culinary adventure with a delightful Filipino dish – the Bulacan Crispy Pata. This journey has been nothing short of amazing, and I can't wait to dive into the details with you. So, let's embark on this gastronomic exploration together!
Bulacan Crispy Pata Recipe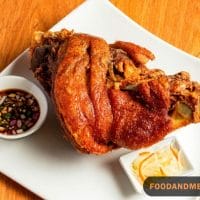 Bulacan Crispy Pata
Obando Fertility Rites of Obando, Bulacan (May 17-19). As unique as it can be, this fiesta has very specific target audience: couples who want to conceive. This fiesta is in celebration of Santa Clara (the patron saint of the childless), San Pascual Baylon (the shepherd who danced in prayer), and Our Lady of Salambao (the Immaculate Conception image that was caught by a fisherman through a salambao net.
Print
Add to Collection
Go to Collections
Equipment

Instructions
Place pork leg together with the rest of the ingredients, except for garlic powder, 2 teaspoons of salt, ground black pepper, and oil, in a pot and boil.

Reduce heat to low and simmer for an hour or until the meat is tender.

Transfer pork leg in a strainer and set aside to cool.

Rub pork leg with garlic powder, pepper, and remaining salt. Allow to sit for 15 minutes.

Once the meat is ready, heat oil in a deep fryer over medium fire.

Fry pork leg until crispy and golden brown, turning once.

Place in a paper towel lined plate to drain excess fat and serve.
Notes
Yes, it's true. Filipinos can't get enough of crispy, juicy pork they serve it
many ways. Crispy Pata is another dish of this kind, this time using not the
whole pig as with lechon or the pork belly as with lechon kawali but pork
hock or pork leg. The pork leg is cleaned thoroughly, then, boiled in a pot of
spices and seasonings until tender before it is deep fried to a crisp.
Norzagaray, a municipality in Bulacan, is known for serving the best tasting
Crispy Pata but you certainly can find this dish as well during the fiesta in
Obando or elsewhere in Bulacan and the rest of the Philippines. That's howpopular this dish is.
Share by Email
Share on Facebook
Share on Twitter
Nutrition
Calories:
3870
kcal
|
Carbohydrates:
3
g
|
Protein:
1
g
|
Fat:
436
g
|
Saturated Fat:
67
g
|
Polyunsaturated Fat:
250
g
|
Monounsaturated Fat:
99
g
|
Trans Fat:
3
g
|
Sodium:
3525
mg
|
Potassium:
54
mg
|
Fiber:
1
g
|
Sugar:
0.04
g
|
Vitamin A:
101
IU
|
Vitamin C:
1
mg
|
Calcium:
48
mg
|
Iron:
1
mg
© Food And Meal
This website provides approximate nutrition information for convenience and as a courtesy only. Nutrition data is gathered primarily from the Spoonacular Database, whenever available, or otherwise other online calculators.
About Bulacan Crispy Pata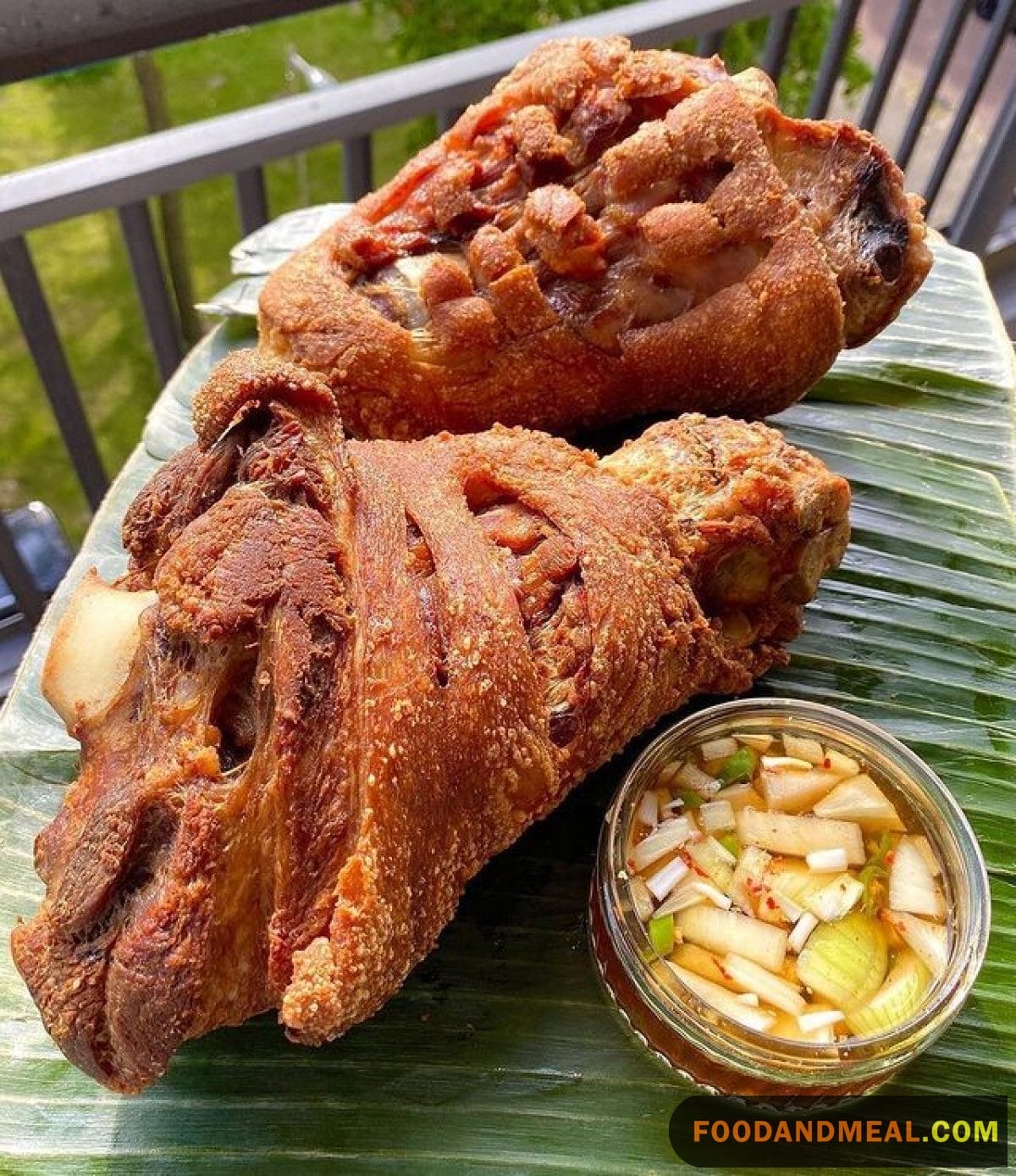 Bulacan Crispy Pata is a celebrated Filipino dish originating from the province of Bulacan. This dish features pork leg that's been simmered, drained, and deep-fried until it achieves a perfect balance of tender meat and crispy skin. The result is a flavorful, texturally satisfying dish that's often served during special occasions and family gatherings, making it a symbol of celebration in Filipino culture.
Cooking Tips for Bulacan Crispy Pata
Quality of Ingredients: Always opt for fresh pork leg. The quality of your pork can significantly impact the taste of your Crispy Pata.
Simmering Process: Simmer the pork leg in a flavorful broth to infuse it with taste before frying. This step is crucial to achieving the signature flavor of Crispy Pata.
Achieving Crispiness: Ensure the pork leg is thoroughly dried after simmering and before frying to achieve the desired crispiness.
Serving Suggestions for Bulacan Crispy Pata
Sauce Pairing: Serve your Crispy Pata with a side of soy-vinegar dipping sauce to complement the rich flavors of the pork.
Rice Companion: A side of steamed rice makes a great pairing with Crispy Pata, balancing out its richness.
Vegetable Side: A simple, refreshing vegetable salad can provide a nice contrast to the hearty Crispy Pata.
FAQs About Bulacan Crispy Pata
What Makes Bulacan Crispy Pata Special? Bulacan Crispy Pata is special due to its perfect balance of tender meat and crispy skin, achieved through a careful process of simmering and deep-frying.
Can I Use Other Parts of the Pork? While you can experiment with other parts, using the pork leg is traditional and recommended for Crispy Pata.
How Can I Store Leftovers? Leftovers can be stored in an airtight container in the refrigerator for up to 3 days. Reheat in an oven or air fryer to maintain crispiness.
Can I Make It Healthier? While Crispy Pata is inherently a rich dish, serving it with a side of vegetables and opting for a smaller portion size can make it part of a balanced meal.
In conclusion, Bulacan Crispy Pata is more than just a dish; it's a culinary tradition that brings joy and celebration to the Filipino table. The process of making it involves careful preparation and cooking techniques, but the result is a satisfying dish that's worth every effort. Whether you're a seasoned cook or a beginner, I hope these tips and suggestions inspire you to try making your own Bulacan Crispy Pata at home. Happy cooking!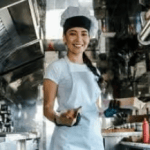 Cooking Like A Pro
Author Name : Jaime Inez
Address: Times Street, West Triangle, 1103, Quezon City, Metro Manila, Philippines
Phone:  96-2-4108596
Email: Contact@cookinglikeapro.net
Affiliate DisclaimerAbout The Content
As an affiliate, we may earn a commission from qualifying purchases. We get commissions for purchases made through links on this website from Amazon and other third parties.