If you have ever been to Nigeria, you've probably seen or tasted the famed Nigerian Moi Moi. It's one of the simplest and most delicious dishes in the African country, made with ground beans and spices. Although the dish is readily available in Nigerian and African grocery stores, it can be difficult to find in the US. You can try looking in your local international or African grocery store for the ingredients, or visit an Asian market, which usually carries a large variety of ethnic foods and snacks.
A key to making Poulet Yassa is letting it marinate overnight. The chicken, like all African fowl, needs time to tenderize. Because of this, it is best to marinate the chicken overnight before frying. Then, simply slather the chicken in the marinade until it's ready. The marinade is essential to making this dish. It is also delicious with fish.
Nigerian Moi Moi Recipe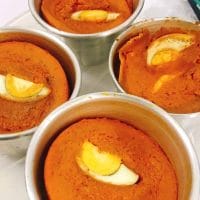 Equipment
Ingredients
5

cups

black-eyed beans

4

boiled eggs

de-shelled and sliced

3

raw eggs

3

scotch bonnet pepper

4

tbsp

palm oil

3

tbsp

crayfish

3

tsp

melted butter

optional

3

bouillon/stock cubes

3

cups

of water
Instructions
Soak the beans in hot water (preferably overnight).

Peel the beans by placing them in a food processor with 4 cups of hot water.

Let the food processor work for 3 minutes and check whether most of the beans are cut into pieces. Otherwise, let the food processor work for a few more minutes

Put the beans with water in a large bowl and turn using your hand.

Pour the water through a sieve, collect the loose skins, and repeat this process until all of the skins are gone from the beans.

Mix the beans, onions, peppers, and 3 cups of water in a blender and blend until smooth.

Transfer the blended mixture into a large bowl, add 2 raw eggs to it, and keep aside.

Combine the salt, palm oil, stock cubes, and ground crayfish with ½ cup of boiling water and let cool. Leave it to cool, and then add to the blended mixture.

Mix the mixture well with a spatula or an electric mixer for 5 minutes.

Taste and adjust seasoning.

Boil 6 cups of water in a large saucepan over medium heat.

Grease a loaf pan, pour some of the mixtures into the pan and add some sliced hard-boiled eggs. Pour some more batter over it and cover with aluminum foil.

Place the pan filled with the mixture into the pot with boiling water (it must not be covered with water). Cover the pot with an airtight lid and reduce the heat to a minimum. Steam for 45 to 60 minutes

Bring down from the heat and leave to cool.

Enjoy!
Video
Notes
Moi Moi is one of the Nigerian food recipes that is prepared cold. All the mixing and adding of ingredients is done off the stove. That is to say, once you start cooking, there is no going back! You cannot decide to add more salt or seasoning or a new ingredient later. So getting it right at the mixing stage is very important.
If you are cooking Moi Moi in a small pot on high heat, then it will only take about 45 minutes to get done while when you are cooking a large pot of Moi Moi, it will definitely take more than one hour.
Serve with chilled fruit juice or coconut juice. You can also serve with Peppered Fish and as a side dish to Jollof Rice, Fried Rice or Fried Plantains. For breakfast, serve with Custard or Akamu (Pap, Ogi).
Share by Email
Share on Facebook
Share on Twitter
Nutrition
Calories:
476
kcal
|
Carbohydrates:
46
g
|
Protein:
25
g
|
Fat:
22
g
|
Saturated Fat:
10
g
|
Polyunsaturated Fat:
3
g
|
Monounsaturated Fat:
8
g
|
Trans Fat:
1
g
|
Cholesterol:
266
mg
|
Sodium:
709
mg
|
Potassium:
828
mg
|
Fiber:
14
g
|
Sugar:
12
g
|
Vitamin A:
2749
IU
|
Vitamin C:
104
mg
|
Calcium:
106
mg
|
Iron:
6
mg
© Food And Meal
This website provides approximate nutrition information for convenience and as a courtesy only. Nutrition data is gathered primarily from the Spoonacular Database, whenever available, or otherwise other online calculators.
Unlike the dough, the Nigerian moi moi is traditionally served with Jollof rice or fried plantain. It is also served with other types of food such as jollof rice and fried plantain. A Nigerian moi moi dish is typically served on special occasions, especially at weddings. And it is traditionally wrapped in banana leaves or foil papers to preserve its freshness. It is a healthy alternative to heavy pastry and can be enjoyed anytime, anywhere. The recipe we share with you is a guideline for preparing the traditional West African staple.
The most popular and authentic way to cook Nigerian Moi is with banana leaves or ewe eran leaves. The traditional way of cooking this dish is to wrap it in banana or ewe eran leaves, and steam it in a big body of water. You can use any kind of banking dish, including banana or corn starch, to prepare it. Depending on the recipe, you can even make a unique shape for your Nigerian Moi-Moi.
In order to create a delicious Nigerian Moi-Moie, you need to know how to prepare it. While the process may seem time-consuming and difficult, the end result is worth it. Unlike heavy pastry, this dish is full of protein and can even be a great substitute for the rich, fatty meals in restaurants and fast-food joints. But you should know that Moi can be quite difficult to make. If you have ever tasted it, you probably already know how delicious and versatile it is.
Would you like to read other West African recipes? Please visit some posts below: