Daifuku is a popular wagashi in Japan. It is a round mochi filled with a sweet filling, most commonly anko. Served with green tea, daifuku is one of the most popular wagashi in Japan. Here's what you need to know to enjoy this delicious treat. If you love wagashi, you will love daifuku. Listed below are some recipes and interesting facts about this wagashi.
Daifuku – Mochi with Sweet Bean Filling Recipes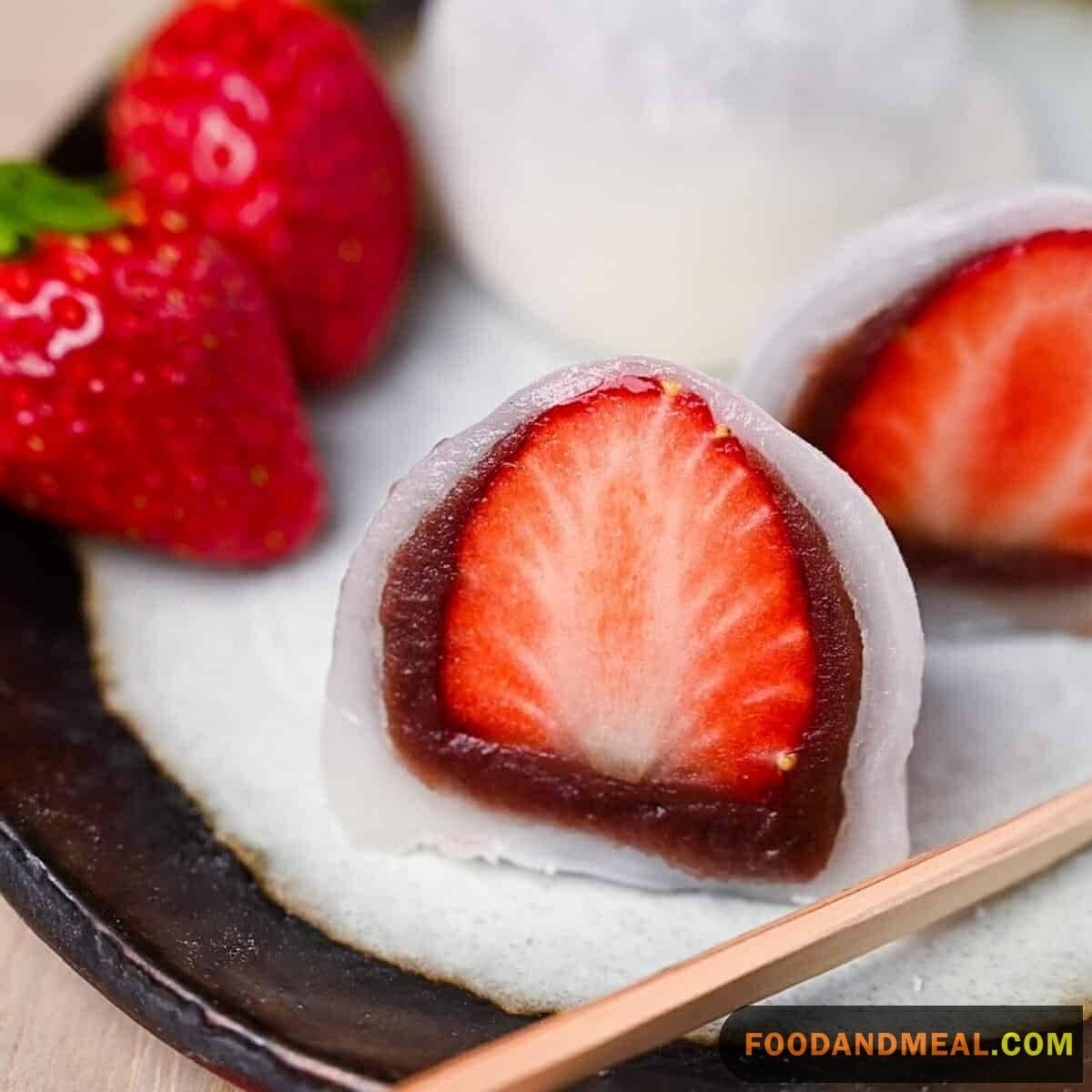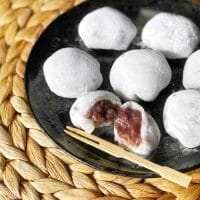 Daifuku
Modern daifuku recipes consist of mixing rice flour with water and heating the mixture in a steamer or microwave. The dough is then shaped into a sheet and cut into rectangular blocks. Each block is then stretched and flattened to form an outer shell for the daifuku. The filling is then placed inside the shell. The dough cools to harden and hardens to form the final form. The daifuku is then ready to eat.
Print
Pin Recipe
Add to Collection
Go to Collections
Equipment
Ingredients
For coating
4

tablespoons

potato starch or cornstarch

2

tablespoons

sugar
Instructions
Whisk together the mochiko, sugar, water, salt, and rice vinegar in a microwavable bowl.

Add the food coloring (optional) and whisk until the batter turns pink.

Cover the bowl loosely with plastic wrap, and microwave on high for 9 minutes.

Taste a small piece of mochi. If it is still grainy, microwave for 1 more minute.

Use a cookie scoop to portion the sweet red bean paste into12 smooth balls.

Mix the mochi coating ingredients, and sprinkle half of it onto a large cutting board.

Dump the hot mochi onto the cutting board.

Using the flat edge of a large chef knife, push the mochi into an even rectangle shape.

Working while the mochi is still hot, cut the mochi slab evenly into 12 small rectangles.

Take one piece and flatten it with your hands. Put a ball of red bean paste in the middle and carefully fold the rectangle corners upward.

Pinch the edges around the filling to seal.

Dust the bottom and top with the mochi coating. Smoothen and place, sealed side down, on a plate or tray.

Repeat for the remaining mochi. Cover with plastic wrap and store at room temperature.

Best eaten the same day.
Notes
There are several varieties of daifuku. The most popular are the pale pink, white, and pale green varieties. The most common variety is the anko, which is a pink or white mochi filled with a red bean paste. These wagashi are served with green tea, and are very popular in Japan. But they are not the only type of wagashi. If you have a sweet tooth, it will be the best way to satisfy your craving.
Share by Email
Share on Facebook
Share on Twitter
Nutrition
Serving:
6
serves
|
Calories:
311
kcal
|
Carbohydrates:
74
g
|
Protein:
2
g
|
Fat:
1
g
|
Saturated Fat:
1
g
|
Polyunsaturated Fat:
1
g
|
Monounsaturated Fat:
1
g
|
Sodium:
98
mg
|
Potassium:
31
mg
|
Fiber:
1
g
|
Sugar:
37
g
|
Calcium:
5
mg
|
Iron:
1
mg
© Food And Meal
This website provides approximate nutrition information for convenience and as a courtesy only. Nutrition data is gathered primarily from the Spoonacular Database, whenever available, or otherwise other online calculators.
Pin Recipe
Alternative Preparation Method: Steaming Daifuku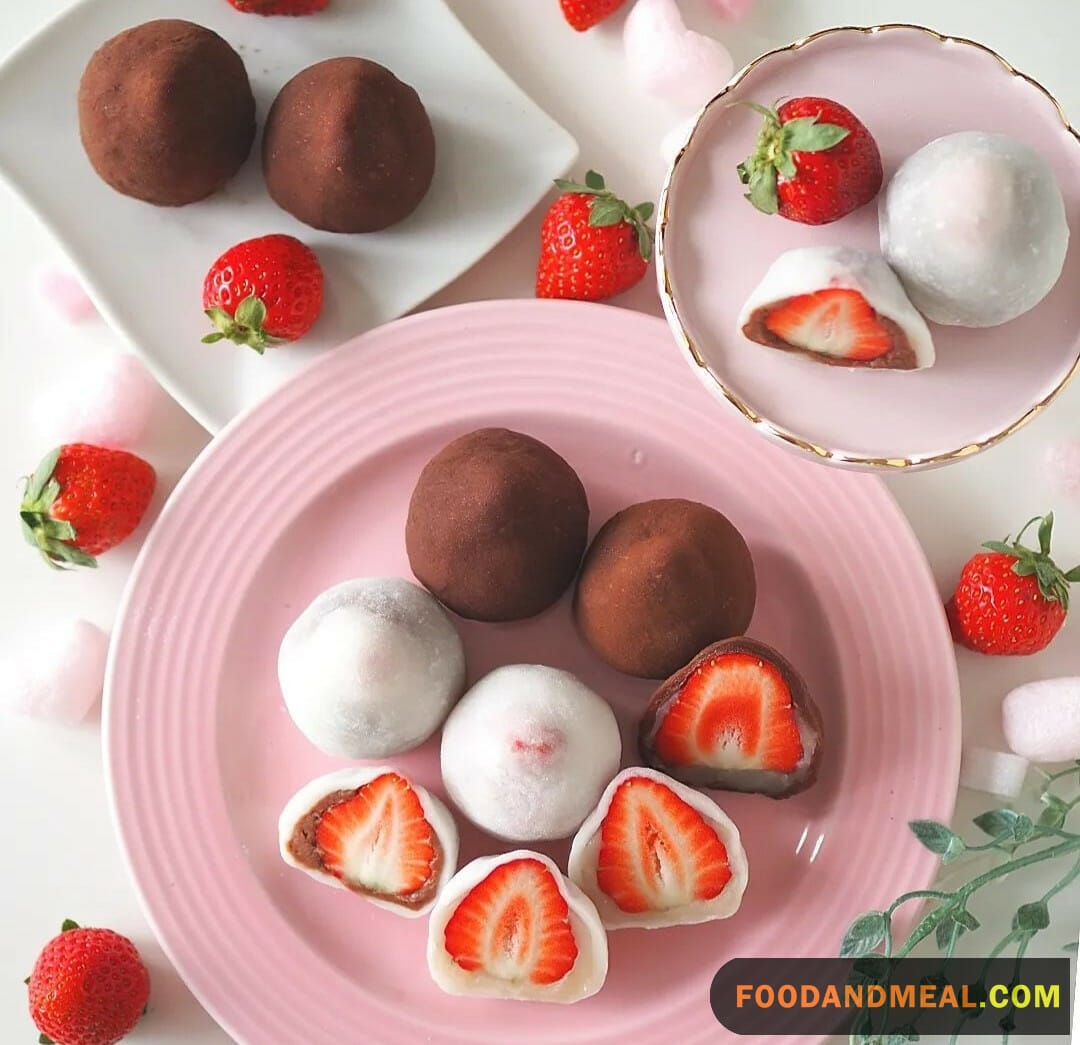 Ingredients:
Prepared Daifuku dough
Sweet red bean paste
Cornstarch (for dusting)
Bamboo steamer
Steamer pot or wok
Parchment paper
Banana leaves (optional)
Instructions:
Prepare the Daifuku Dough: Follow the steps in the original recipe to prepare your Daifuku dough.
Form Daifuku Balls: Take a portion of the prepared dough, usually about the size of a ping pong ball. Flatten it in your palm and add a small amount of sweet red bean paste in the center. Carefully enclose the paste with the dough, ensuring there are no gaps. Shape it into a smooth ball.
Dust with Cornstarch: Lightly dust each Daifuku ball with cornstarch to prevent sticking.
Assemble the Steamer: Line the bamboo steamer with parchment paper or, for a more traditional touch, banana leaves (lightly blanched to make them more pliable).
Arrange Daifuku: Place the prepared Daifuku balls in the steamer, making sure to leave some space between them to allow for expansion. Cover the steamer.
Steam the Daifuku: Fill a steamer pot or wok with water, making sure it doesn't touch the bottom of the bamboo steamer. Bring the water to a simmer. Place the bamboo steamer on top, ensuring it's stable. Steam the Daifuku for about 15-20 minutes until they become soft and slightly translucent.
Serve: Carefully remove the Daifuku from the steamer using a spatula or bamboo steamer lid. Allow them to cool for a few minutes.
Enjoy: Daifuku can be enjoyed immediately while still warm, but they can also be stored in an airtight container for later enjoyment.
Tips for making Daifuku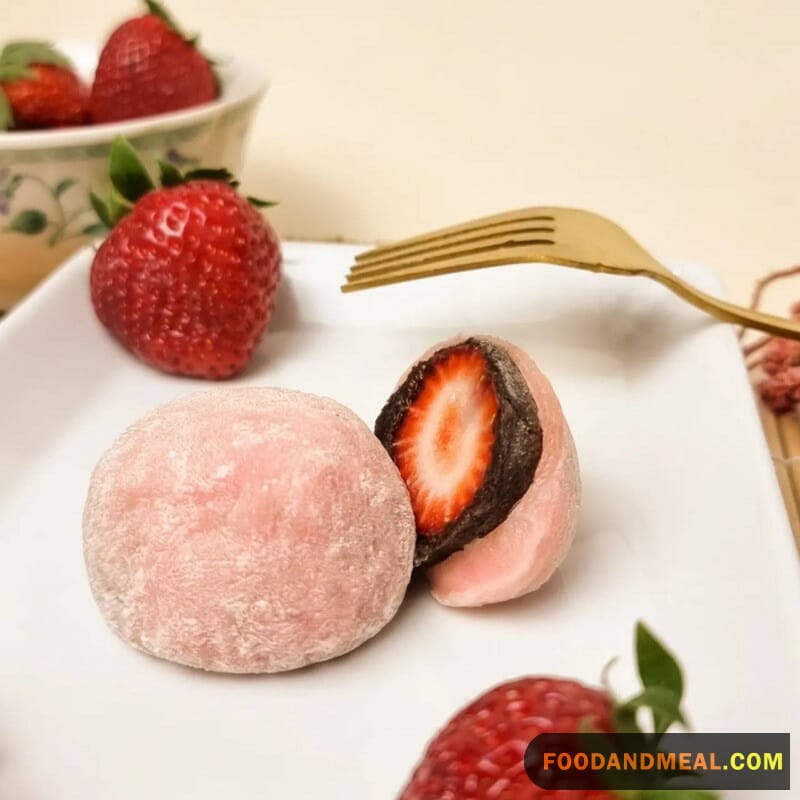 Cooking Tips for Perfect Daifuku
Moist Hands: When working with the dough, keep your hands moist but not overly wet. This prevents the dough from sticking to your hands and makes it easier to handle.
Evenly Sized Balls: Try to make the dough balls as even in size as possible. This ensures uniform cooking and a consistent texture.
Seal Tightly: When enclosing the sweet red bean paste, make sure there are no gaps or tears in the dough. A tight seal is crucial to prevent the filling from oozing out during cooking.
Cornstarch Dusting: Dusting the Daifuku with cornstarch is essential to prevent sticking, especially if you plan to store them for later.
Don't Over-steam: Over-steaming can lead to overly sticky and gooey Daifuku. Stick to the recommended steaming time for the best texture.
Use a Lid: When steaming, it's essential to keep the lid on to maintain a consistent temperature. Avoid lifting the lid frequently, as this can affect the cooking time.
Enjoy Fresh: Daifuku are best when freshly made, but they can be stored in an airtight container for a day or two. If you plan to store them, separate layers with parchment paper to prevent sticking.
Serving Suggestions for Daifuku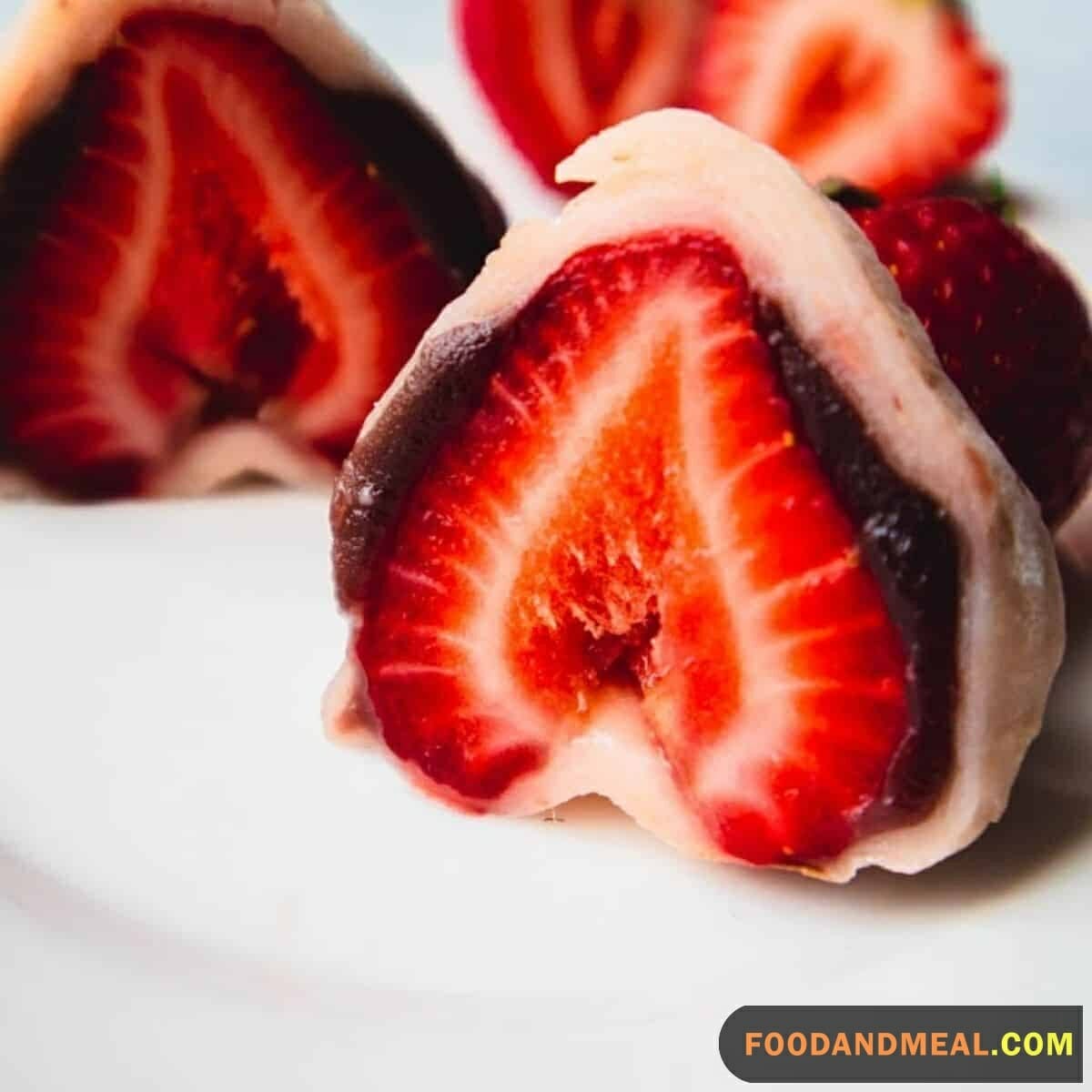 Green Tea: Daifuku and green tea are a classic pairing. The slightly bitter notes of green tea complement the sweetness of Daifuku perfectly.
Fruits: Serve with a side of fresh fruits like strawberries, lychee, or mandarins. The combination of textures and flavors is delightful.
Ice Cream: For a playful twist, serve Daifuku with a scoop of your favorite ice cream. The hot-cold contrast is truly satisfying.
Red Bean Soup: Daifuku can be served in a warm red bean soup, creating a delightful and traditional Japanese dessert.
Sesame Seeds: Roll your Daifuku in sesame seeds for an extra layer of flavor and a pleasant crunch.
Frequently Asked Questions (FAQs) about Daifuku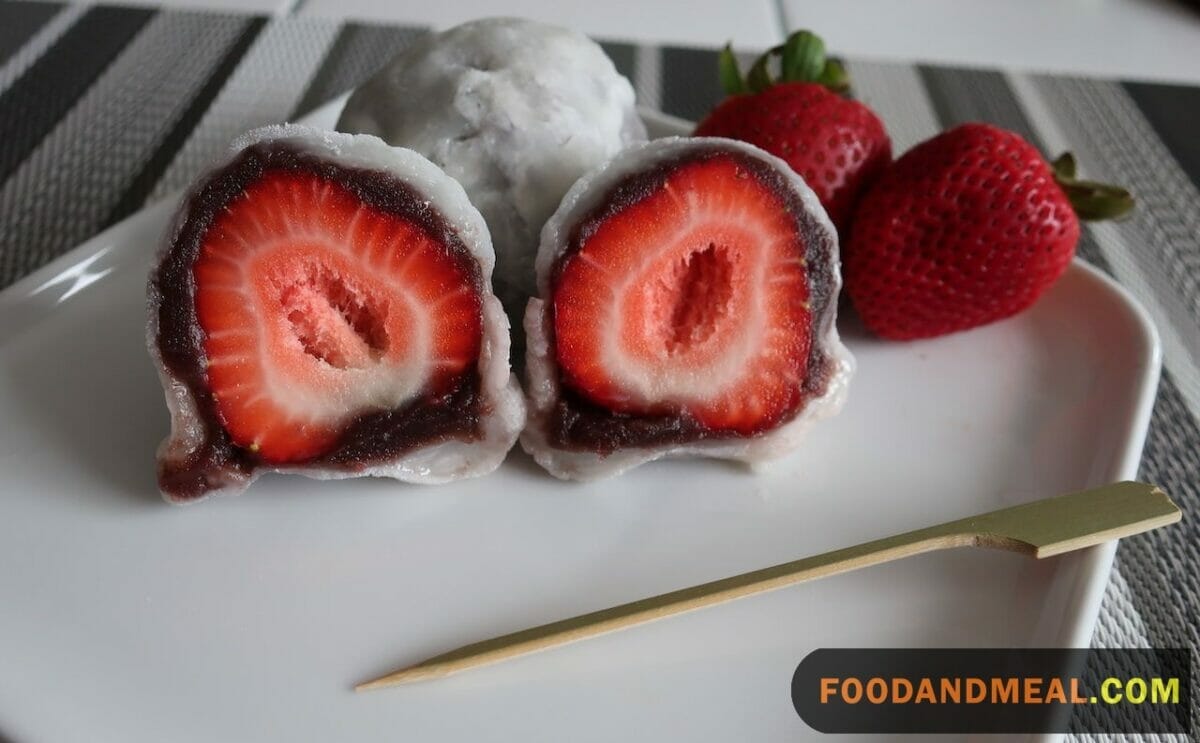 Can I store Daifuku? Yes, you can store Daifuku in an airtight container at room temperature for a day or two. Separate layers with parchment paper to prevent sticking. For longer storage, freeze them, and re-steam to enjoy later.
What's the best way to reheat Daifuku? To reheat frozen Daifuku, steam them again for 5-10 minutes until they become soft and tender.
My Daifuku turned out too sticky. What should I do? If your Daifuku are too sticky, it might be due to over-steaming. To fix this, lightly dust them with cornstarch and gently pat off any excess.
Can I make Daifuku in advance for a special occasion? Yes, you can prepare Daifuku a day or two in advance. Just ensure you store them correctly to maintain their freshness.
Can I use other fillings besides sweet red bean paste? Absolutely! Daifuku can be filled with various sweet fillings such as chocolate, fruit preserves, or ice cream for a creative twist.
Explore the art of Daifuku with our step-by-step recipe. Craft these chewy Japanese delights at home and subscribe for more culinary adventures.
I'm James F Anderson, a noted sous chef from London and a Le Cordon Bleu alumnus. My career began in a Michelin-starred Parisian eatery, where my blend of classic and contemporary cooking, using seasonal ingredients, earned accolades. Recognized in culinary publications and on cooking shows, I'm committed to mentoring aspiring chefs and delivering memorable dining experiences, marking me as a standout talent in the culinary world.
Affiliate DisclaimerAbout The Content
As an affiliate, we may earn a commission from qualifying purchases. We get commissions for purchases made through links on this website from Amazon and other third parties.