A simple yet satisfying salad is an excellent option for vegetarians. Many people are unaware that a delicious and healthy vegetable-based meal can be prepared with just a few simple ingredients. The key is to use high-quality, fresh ingredients. These days, there is an abundance of low-calorie food products that can be added to salads for variety and flavor. Below are the top 10 healthy salad recipes you should include in your daily meals.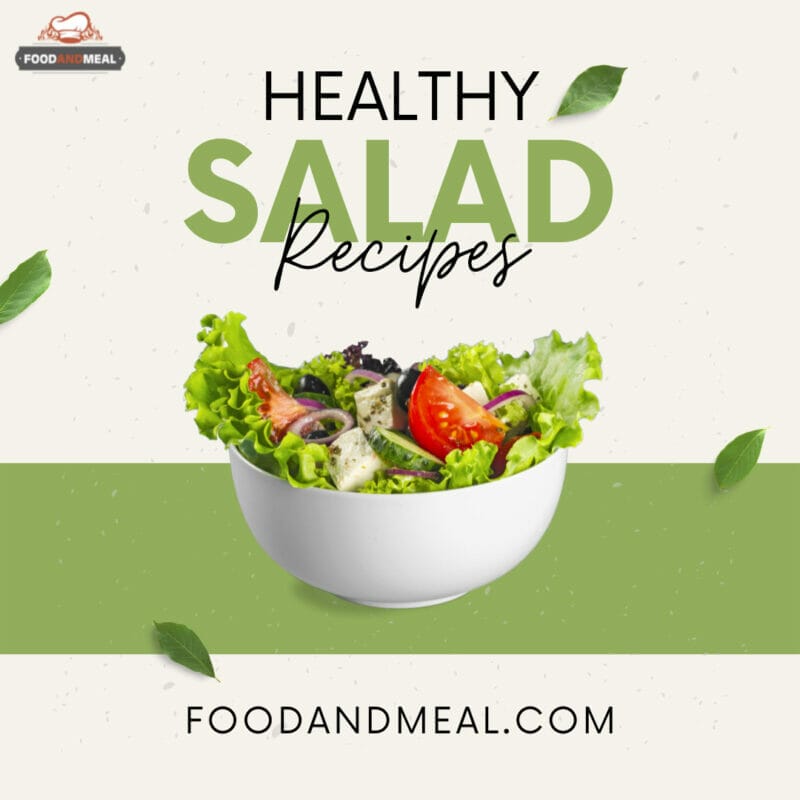 Top 10 healthy salad recipes for your "eat clean" diet
Pesto Ranch Pasta Salad
This easy-to-make, delicious pasta salad is a fantastic addition to any meal. With just a few ingredients, it can be whipped up in no time. It's perfect for picnics and potlucks. The creamy dressing and fresh, crunchy ingredients make this dish a great option for entertaining. Also, it's great for parties, since it makes a great meal in its own right.
Check out this recipe

Steakhouse Salad with Fig Balsamic Dressing
A classic steakhouse salad is enhanced by a delicious fig balsamic dressing. Using a ripe fig and a splash of Dijon mustard adds the perfect balance of savory and sweet flavors. Its tangy, yet fruity taste will make your dinner guests ask for more. It's a great dish to serve to guests for a special occasion or for a picnic.
Check out this recipe
Mesclun and Artichoke Salad
A mesclun and artichoke salad is an excellent option for a light lunch or dinner. It is very easy to prepare, is delicious, and looks beautiful. Moreover, mesclun is packed with vitamins and minerals. So, you should not skip it! And don't forget to serve it with a flavored dressing. It's one of the most delicious salads you'll ever have.
Check out this recipe

Egg Salad
Another recipe that is popular among families is Egg Salad. This simple salad can be easily prepared at home with just a few ingredients. If you are looking for a simple recipe, use hard-boiled eggs. You can also add diced tomatoes and chives. For more complex egg salad, you can add extra vegetables. A good idea is to use some mayo. You can make it a creamy dressing to enhance the flavors.
Check out this recipe

Greek veggie with Thyme by Air Fryer
Greek vegetables with Thyme are filled with healthy fats, fiber, and protein. This dish also uses black-eyed beans (called louvi xero), which are also known as mauromatika. Served with a delicate tomato broth, these black-eyed peas will be smothered in a delightful, hearty flavor. This delicious dish can be made ahead of time, but you'll need to soak the beans the night before.
Check out this recipe

Paleo Baked Potato Salad
This simple recipe is a great alternative to mashed potatoes and is a delicious addition to any meal. It contains all the nutrients you could ever ask for. This dish also has several health benefits, and it's also delicious! To make it, all you need are a few ingredients and a few minutes of your time!
Check out this recipe

Amish Macaroni Salad
Amish Macaroni Salad is a childhood favorite that makes a perfect summer treat. It is creamy, tangy, and the perfect combination of sweet and savory. Here are some tips to make this tasty recipe. Serve it with your favorite summer cocktail and you'll be sure to impress everyone. Enjoy! Here are a few of the ingredients that go into making this dish. Listed below are a few of my favorite ingredients.
Check out this recipe

Greek Yogurt Buffalo ranch dressing
Low Carb Greek Yogurt Buffalo ranch dressing! High protein and takes minutes to make with low sugar buffalo sauce. An easy meal prep lunch you can toss over a salad, on bread, in a wrap or tortilla.
Check out this recipe

How to Cook and Prepare Ragda Patties - 6 easy steps
The street food of Maharashtra, ragda patties are mashed potato patties topped with pea sauce. They are similar to chhole tikki, a dish popular in North India. While most people associate these with street food vendors, they are also a common offering at Indian fast food restaurants. Let's explore Ragda Patties easy recipe
Check out this recipe

Greek Veggie Mix by Air Fryer
Greek vegetable salads are great for summer or winter, and can be eaten with crusty bread and wine. You can also add extra veggies to make your dish even more filling. To make your salad even more amazing, try adding a few extra vegetables to the mix. This Greek Veggie Mix pairs well with crusty bread, grilled fish, or a salad. This dish is versatile, healthy, and perfect for all occasions.
Check out this recipe

What salad is and the origin of salad
When we think of salad, we often imagine hearty foods full of vegetables or greens and a mixture of different ingredients. So you may be surprised when knowing that the meaning of "salad" does not mostly relate to vegetables. In particular, the term "salad" is derived from the French word "salade", which is short for "herba salata", which is from the Latin "sal". "Sal" means "salt", which implies that salad dishes refer to any ingredient that can be mixed together, then covered with a salad dressing that contains salt.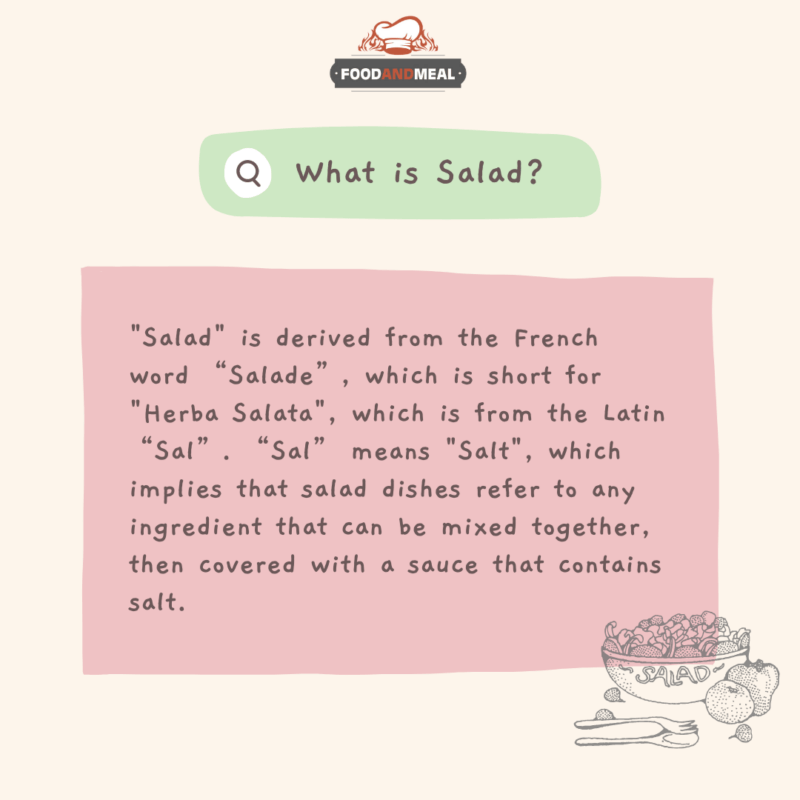 Many researchers believe that salad first appeared in the Mediterranean Sea, more specifically the country of Greece. At the very beginning, the salad consisted of vegetables mixed together with salt and vinegar and was used as an appetizer. This is because the ancient Greeks believed that this way of eating was good for the digestive system. Later, more and more ingredients were added to the salad, so far we can see a lot of meat such as chicken, bacon, sausage, etc. in this dish.
The collapse of the Roman Empire then made this dish unnoticed by Europeans. At that time, Europeans believed that salad recipes were not good for health because all raw foods might contain pathogens, potentially. Nevertheless, fortunately, the salad recipes were gradually being proven to have health benefits, so it was starting to come back in Western meals. At the end of the 19th century, the salad was once again "boycotted" in the United States, and only recently became popular with Americans.
What happens if you eat salad everyday?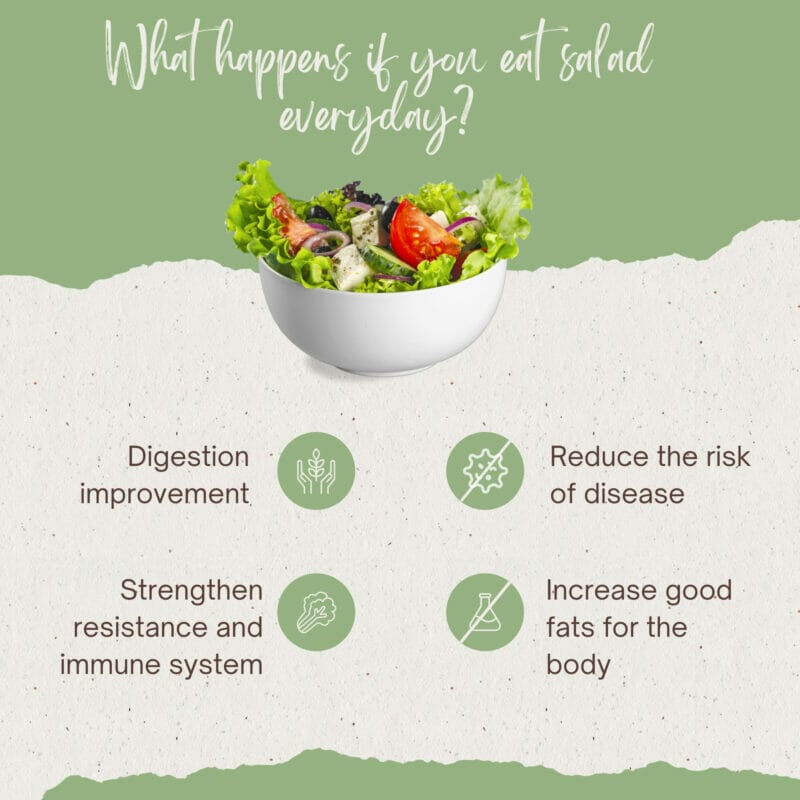 Eating a dish of healthy salad with a nutrient salad dressing everyday may provide you with ample amounts of vitamins and minerals along with a good dose of fiber and antioxidants. Below are some typical benefits of salad that may foster you to consider adding this dish to your daily meal.
The main ingredient of healthy salad recipes is vegetables that contain either soluble fiber or insoluble fiber (sometimes both). Soluble fiber is partially digested, which makes you feel full for longer. Insoluble fiber, on the other hand, can be completely digested and is very helpful for the beneficial bacteria in the gut.
Reduce the risk of disease
A study by the US National Cancer Institute found that a diet full of vegetables can fight cancer of the head and neck, even if you drink and smoke.
Therefore, a habit of eating salad daily can make up (at least a little) for some of your unhealthy habits. Foods that can protect the body from disease include tomatoes, carrots, beans, peas, string beans, peppers, apples, pears, and strawberries. Add them to your daily salad to boost your health.
Strengthen resistance and immune system
In healthy sald recipes, the ingredients contain vitamin C vegetables helping increase the production of white blood cells in the blood, which are key to fighting inflammation.
Increase good fats for the body
Not all fat is the body's enemy. You need to limit saturated fats that have a potential artery-clogging and consume more unsaturated fats to improve cholesterol levels in the body. Unsaturated fats also help with the digestion and absorption of certain phytochemicals with high nutritional value, such as lycopene (found in tomatoes) and lutein (found in dark green vegetables).
Great sources of monounsaturated fats include olive oil, nuts and avocados – all of which can be added to salads.
When is the best time to eat salad?
The busy life may make you familiar with the meals not eaten according to any norms, ceremony, or order. However, if you participate in some "luxury" parties, you can see the dressed salads are often served first.
This fact is true for some countries in America or Asia, but in some countries in Europe, salad dishes are often served after the main course.
There is quite a bit of controversy regarding when to use salads. American experts believe that enjoying the first salad will help reduce the number of calories absorbed by the body because the salad makes you feel full, thereby preventing overeating later. Many therapists also recommend that eating a salad first can increase the effectiveness of your diet.
However, in France, many nutrition experts believe that using healthy salads after the main dish can assist with digestion. This is because vegetables/greens are rich in fiber helping to digest well the amount of food consumed previously. Beyond this, salad helps to clean your mouth, so you can be ready to enjoy dessert right later. 
In short, the order of appearance of the salad in a meal seems to be tied to the regional culture and beliefs of diners rather than scientific issues. So, depending on your diet, you can choose to enjoy salad before, after, or even during the main course. You should opt to eat salads made from fresh vegetables and less fat salad dressing first if you want to control your portion. Also, you are able to choose to eat salad after the main course if you especially pay attention to your digestive system. Or you want to stabilize your stomach to have a good sleep. 
Best of all, you should change your salad timings to be able to optimize the benefits salad brings; at the same time, this can limit a few unexpected reverse effects of consuming this kind of dish too regularly.
Is it really good to eat a lot of salad?
It is popular to hear good facts about salad, but consuming too much salad with high-calorie salad dressing during a meal or a day can cause some reverse effects, and this is bad for your health, of course. 
In the study from the Journal of the Academy of Nutrition and Dietetics, it was found that people who ate salad regularly also showed higher amounts of sodium, fat, sugar, and refined grains. The researchers also showed that salad dressing may be made with lots of high-calorie ingredients like cheese, a variety of nuts and seeds, chips, butter, and cream sauces. These ingredients can spike a salad's calories by 800 or more. 
In addition, eating too many salads can make you feel bloated. As mentioned above, salads are rich in fiber, both soluble and insoluble fibers, which are very beneficial for your gut. However, soluble fiber can be a bit of a hassle because it's broken down by bacteria in the large intestine, which can create excess gas and bloating, especially if you haven't eaten a lot of fiber before. The bloating usually goes away as your body gets used to absorbing more fiber.
Conclusion
Do you feel interested when we offer you such an exciting healthy salad recipes tour? Salad sounds very familiar but there are still some things you don't know about it, such as the reverse side of this dish, or the mystery behind its name. All has been explained in this blog. We know that some of you will immediately click on the healthy salad recipes provided in the first section, and some will scroll right to the bottom of the page to read the conclusion. But, please, don't take this tour too quickly, you will miss out on a lot of important things!  
Enjoy!
Affiliate DisclaimerAbout The Content
As an affiliate, we may earn a commission from qualifying purchases. We get commissions for purchases made through links on this website from Amazon and other third parties.