Welcome to a culinary journey that takes you to the enchanting islands of Cape Verde. Today, we're diving into the heart of Cape Verdean cuisine with a traditional dish called Cachupa. It's not just a meal; it's a piece of Cape Verde's culture. Join me as we explore the flavors, history, and secrets behind this beloved recipe.
Cachupa Rica (Cape Verde) Recipe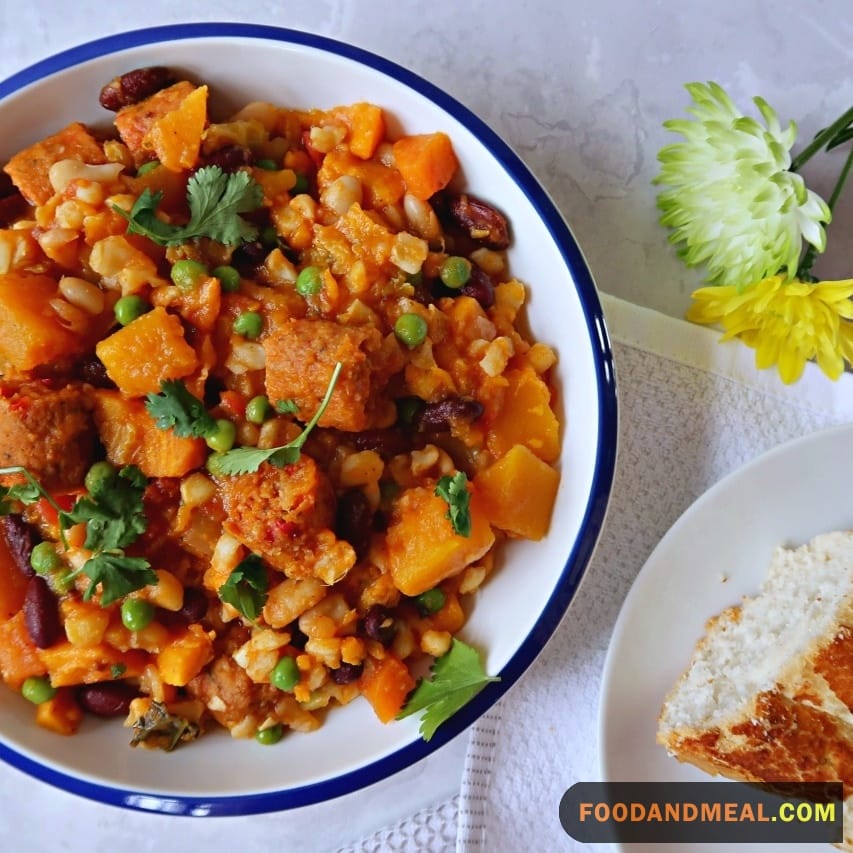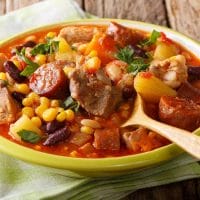 Cachupa Rica (Cape Verde) Recipe
The preparation can be an authentic ritual, starting the day before with the placing of hominy and beans in warm water. Yams, chicken and sausages, bay leaves, and sweet potatoes, and other ingredients that give life to this recipe.
Print
Add to Collection
Go to Collections
Ingredients
5

cups

hominy

(soak overnight in warm water)

3

garlic cloves

peel and dice

1

medium onion

finely chopped

1

cup

dried lima beans

soak overnight in warm water

1

cup

dried kidney beans

soak overnight in warm water

2

lbs

beef

you can substitute with pork spareribs

1

blood sausage

sliced

2

lbs

cabbage or kale

chop roughly

1

cup

fresh green beans

1

chourico or linguica sausage

sliced finely

¼

lbs

lean bacon

sliced finely

2

lbs

plantains

peel and slice

2

lbs

sweet potatoes

peel and dice 1-inch

2

lbs

yams

peel and dice 1-inch

2

lbs

fresh tomatoes

quartered

2

lbs

squash

peel and dice 1-inch

1

lbs

chicken

cut into chunks

Cilantro

chopped

Sofrito seasoning

Fried onion, garlic, and tomato used as a base for cooking sauces and dishes
Instructions
Combine 6 cups of water, 2 tablespoons of olive oil, garlic, onion, and bay leaves in a saucepan. Allow it to boil. Add the hominy and the beans. Cook until they are slightly tender.

Fry the ribs, the chouriço or the linguiça, the bacon, and the blood sausage in a separate pan and then add the green beans, the plantains, the cabbage, the sweet potatoes, the yam, and the squash. Stir thoroughly and put it aside.

Season the chicken with salt and pepper and fry in a pan with olive oil until golden brown. Add the tomatoes and the mixture of meat and vegetables to the Hominy and beans mixture. Simmer over medium heat for 40 minutes. Add the sofrito as you like and let it cook for another 20 minutes. Turn the heat off and leave it covered for at least 30 minutes.

Put the meat and vegetables on the plate. Garnish with chopped cilantro. Serve the main dish in a separate plate.

Enjoy!
Notes
Cachupa is time-consuming to prepare, so you should plan to cook this dish a day in advance.
Share by Email
Share on Facebook
Share on Twitter
Nutrition
Calories:
1125
kcal
|
Carbohydrates:
161
g
|
Protein:
51
g
|
Fat:
34
g
|
Saturated Fat:
12
g
|
Polyunsaturated Fat:
3
g
|
Monounsaturated Fat:
13
g
|
Trans Fat:
1
g
|
Cholesterol:
116
mg
|
Sodium:
1027
mg
|
Potassium:
3877
mg
|
Fiber:
28
g
|
Sugar:
37
g
|
Vitamin A:
30814
IU
|
Vitamin C:
129
mg
|
Calcium:
250
mg
|
Iron:
10
mg
© Food And Meal
This website provides approximate nutrition information for convenience and as a courtesy only. Nutrition data is gathered primarily from the Spoonacular Database, whenever available, or otherwise other online calculators.
Alternative Method: Pressure Cooker Cachupa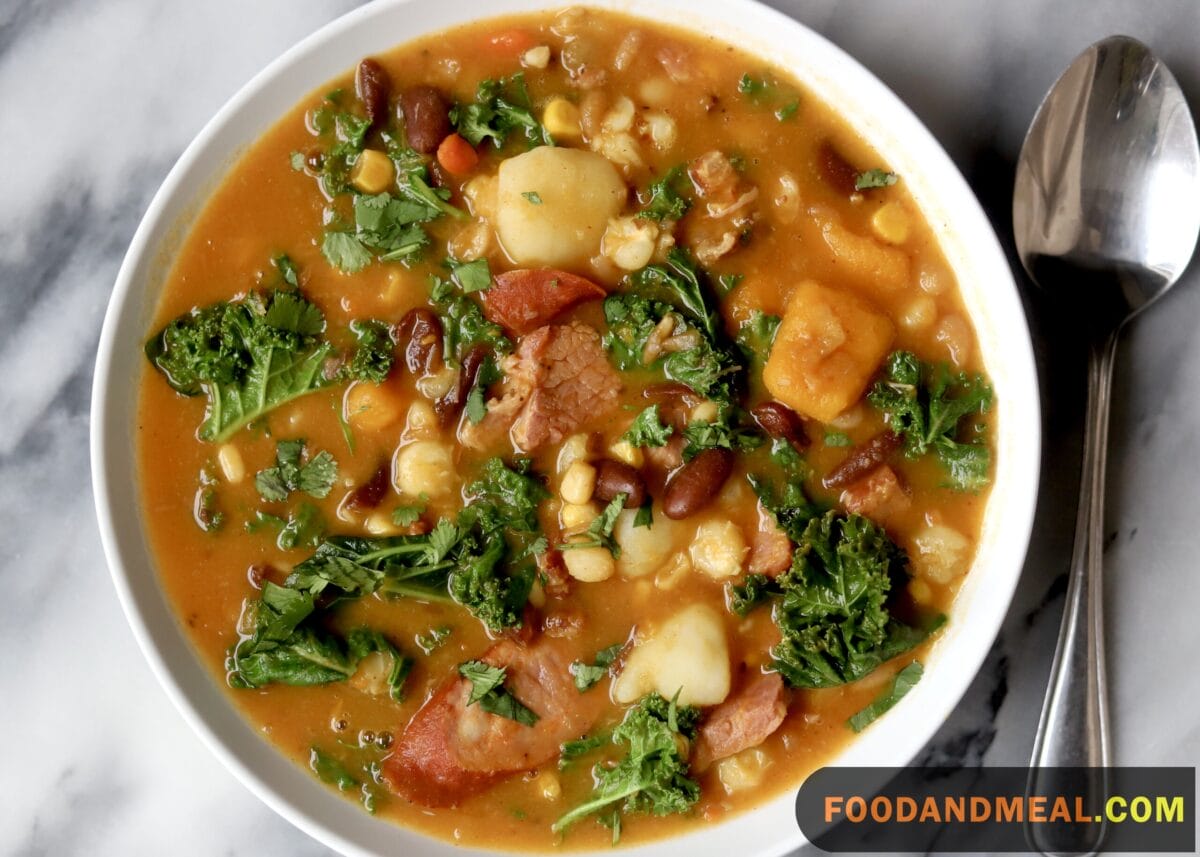 Ingredients:
1 cup corn kernels
1 cup hominy corn
1 cup kidney beans
1/2 lb pork, cubed
1/2 lb chorizo sausage, sliced
1/2 lb chicken thighs, bone-in
1/2 lb pumpkin, diced
1/2 lb sweet potatoes, diced
1 onion, chopped
3 cloves garlic, minced
1/4 cup olive oil
1/2 tsp paprika
1/2 tsp ground cumin
Salt and pepper to taste
4 cups water
Fresh parsley, for garnish
Hot sauce, for serving
Instructions:
Begin by sautéing the onions and garlic in olive oil using the sauté function of your pressure cooker until they're translucent.
Add the pork, chicken, and chorizo to the pot. Sear the meat until it's browned on all sides. This step enhances the depth of flavor.
Stir in the paprika and cumin, allowing the spices to bloom for a minute.
Add the corn kernels, hominy, kidney beans, pumpkin, and sweet potatoes into the pressure cooker.
Pour in the water and season everything with salt and pepper.
Secure the lid of your pressure cooker and set it to high pressure. Cook for approximately 20 minutes.
Once the cooking time is up, release the pressure carefully, and open the lid.
Check the consistency and add more water if needed. Cachupa should have a thick, stew-like texture.
Garnish with fresh parsley and serve hot with a side of hot sauce for those who enjoy an extra kick.
Tips for making Cachupa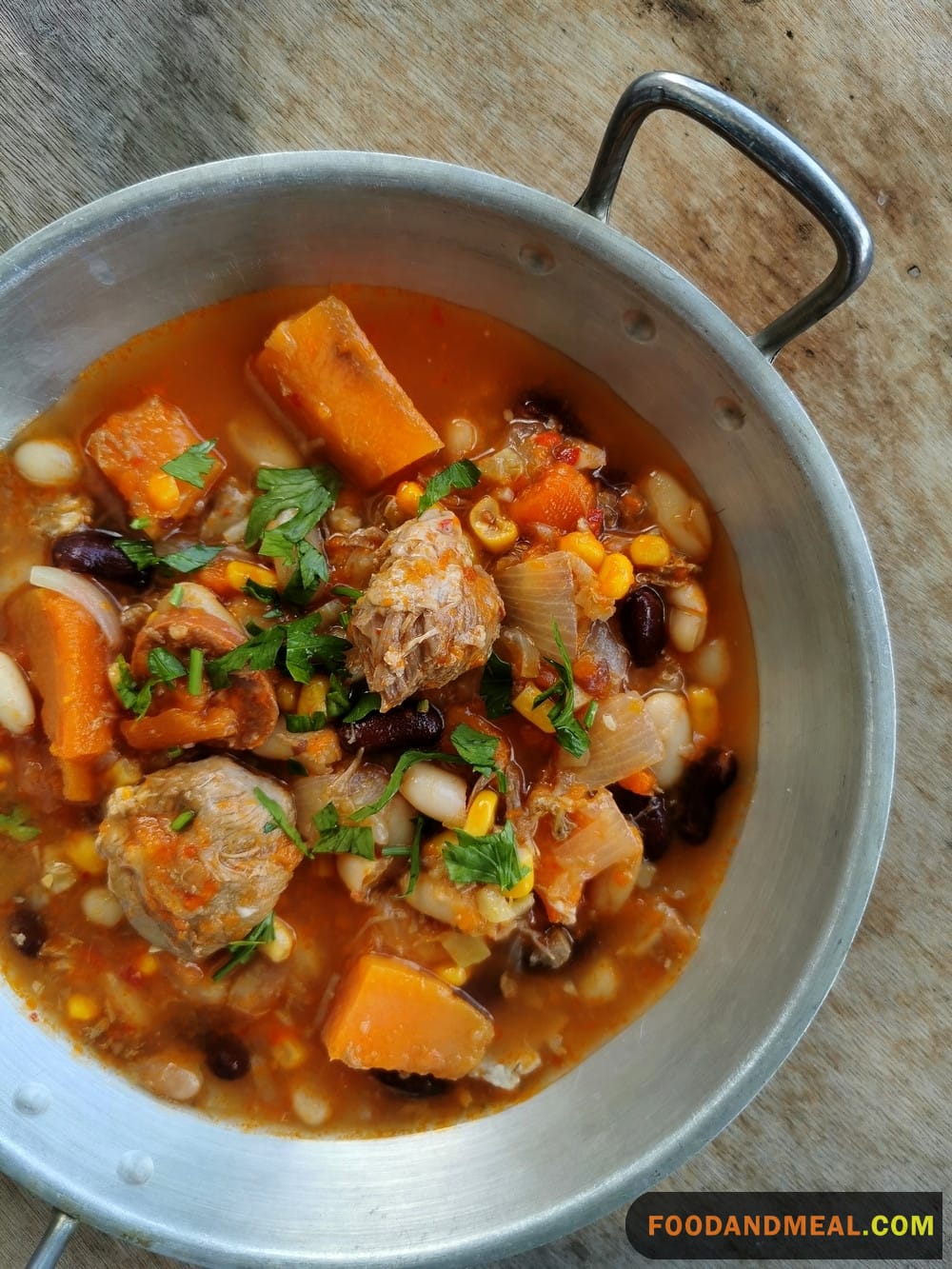 Cooking Tips
Soak the Corn and Beans: If using dried corn and beans, soak them overnight. This reduces cooking time and ensures they cook evenly.
Layer Ingredients: In a traditional Cachupa, ingredients are layered to create distinct flavors. Start with meats and slowly add vegetables, allowing them to simmer together.
Low and Slow: For the stovetop method, be patient. Cachupa requires slow simmering for the best flavors. Don't rush the process.
Balance Flavors: Taste as you go and adjust seasonings. It's all about achieving the perfect balance of salt, spices, and textures.
Use a Heavy Pot: A heavy-bottomed pot helps distribute heat evenly, preventing ingredients from sticking to the bottom.
Serving Suggestions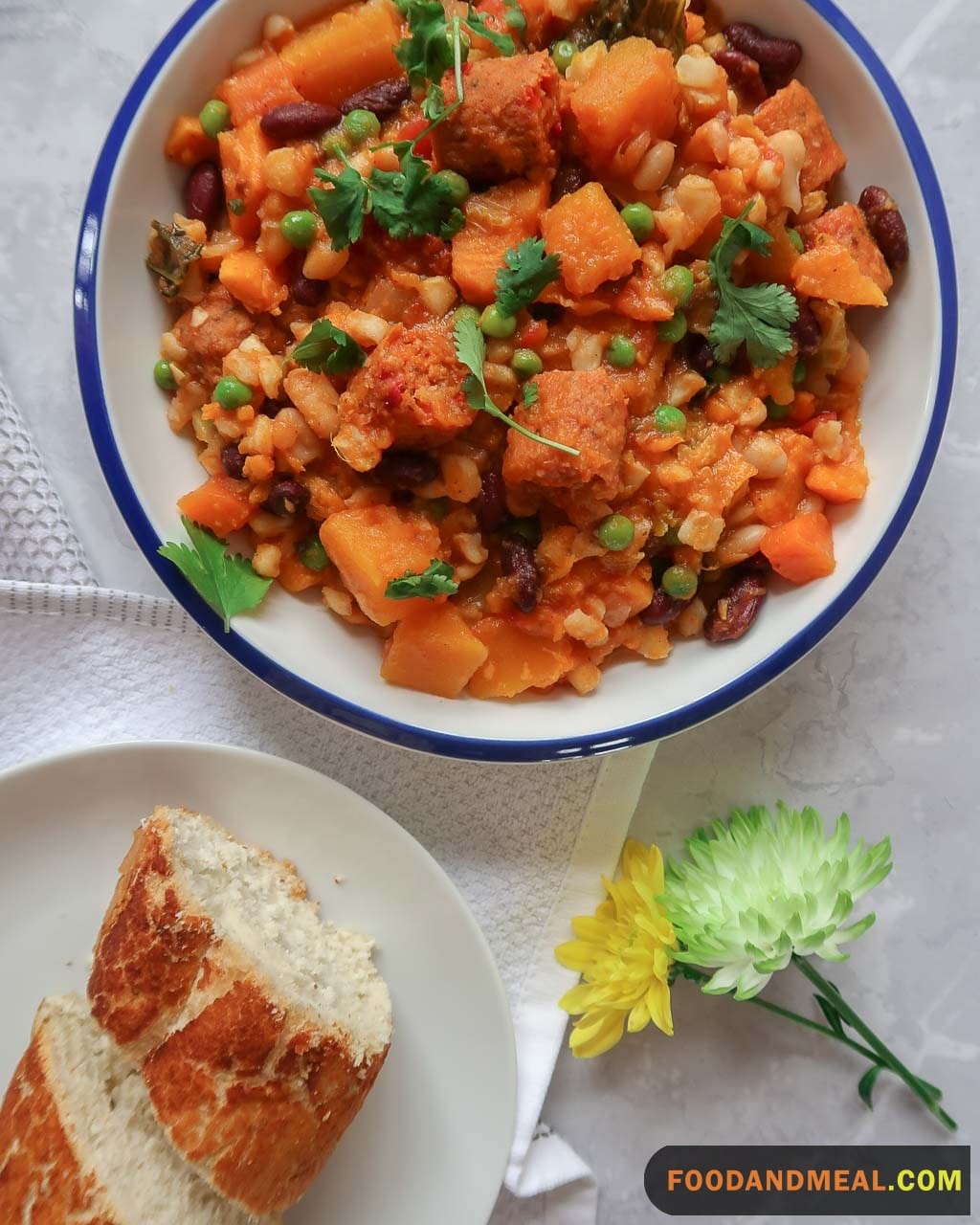 Garnishes: Top your Cachupa with fresh cilantro, chopped scallions, or a drizzle of olive oil for a burst of flavor and color.
Hot Sauce: Cape Verdeans love their pimenta (hot sauce). Serve some on the side for those who enjoy a spicy kick.
Bread: Enjoy Cachupa with traditional cornbread or crusty bread. The bread is perfect for soaking up the flavorful broth.
Side Salad: A simple tomato and cucumber salad with a lemon vinaigrette is a refreshing side to complement the dish.
Corn on the Cob: Add whole corn cobs to your Cachupa for an extra layer of texture and flavor.
FAQs about Cachupa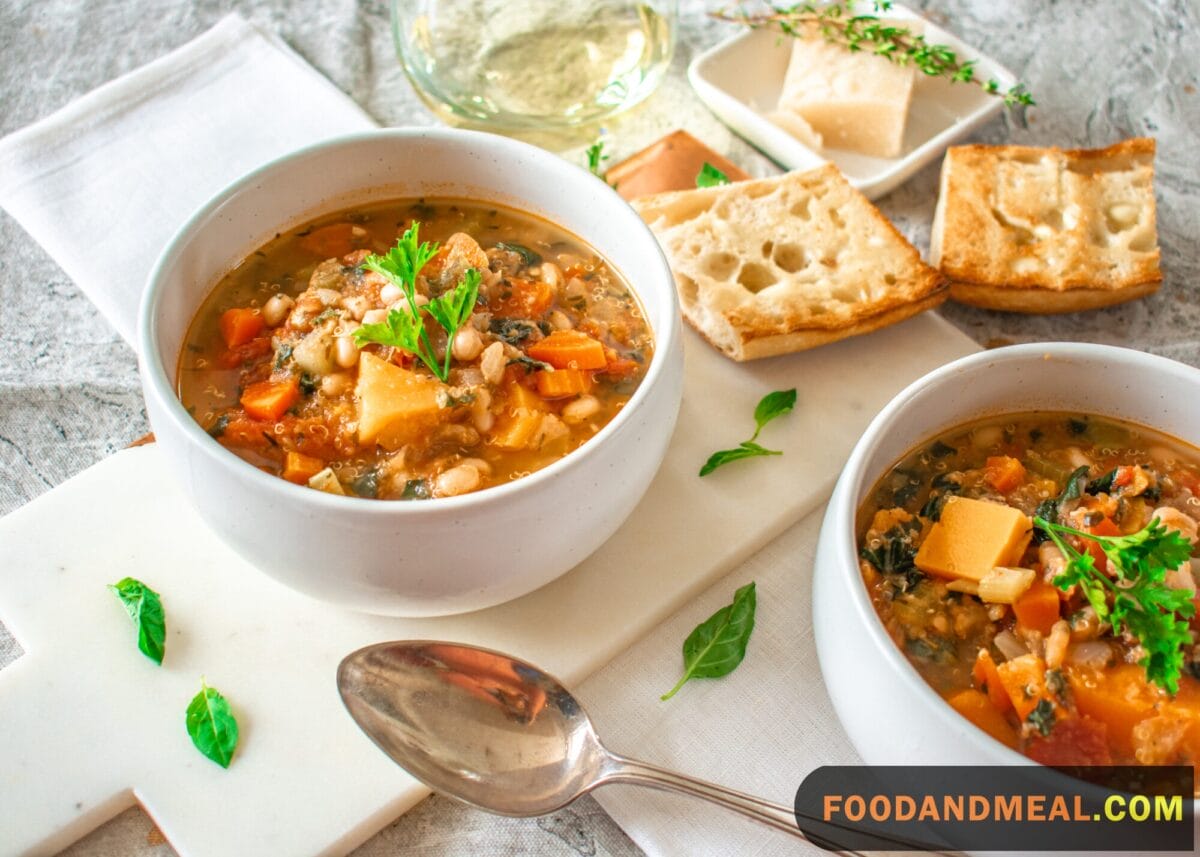 Can I make Cachupa in advance? Yes, Cachupa tastes even better the next day. Store it in the refrigerator for up to three days.
What if I can't find some traditional ingredients? You can adapt by using similar ingredients; the key is the slow cooking process.
Can I freeze Cachupa? Yes, you can freeze Cachupa for up to three months. Thaw and reheat gently.
Is Cachupa a gluten-free dish? Yes, Cachupa is naturally gluten-free. Just ensure your ingredients are not cross-contaminated.
How can I reheat Cachupa without overcooking it? Reheat Cachupa slowly on the stovetop with a little extra water to maintain its texture.
Explore the rich flavors of Cape Verde with our Cachupa recipe. Your culinary adventure begins here! Don't miss out.
I'm Kelly Atkinson, with a passion for dissecting the world of home goods. My reviews stem from thorough testing and a love for sharing detailed insights. Each piece I write offers a glimpse into my explorative journey, aiming to guide readers to informed choices with authenticity and precision, making every review a blend of exploration and expertise.
Affiliate DisclaimerAbout The Content
As an affiliate, we may earn a commission from qualifying purchases. We get commissions for purchases made through links on this website from Amazon and other third parties.