Soft candlelight, a gentle serenade playing in the background, and a plate of Fettuccine Alfredo – the makings of an evening so beautiful, it feels like a dream. Every strand of pasta, wrapped in creamy goodness, tells tales of my culinary adventures. Come, let's embark on this flavorful journey together.
When you just love the cheesiness of Italian pasta dishes, it's hard to ignore fettuccine alfredo.  This one classic recipe involves fettuccine pasta tossed and rolled with the heavenly creaminess of butter and Parmesan cheese.  You won't sweat in cooking this pasta, plus you can be pretty creative to individualize this dish.
Fettuccine Alfredo Recipe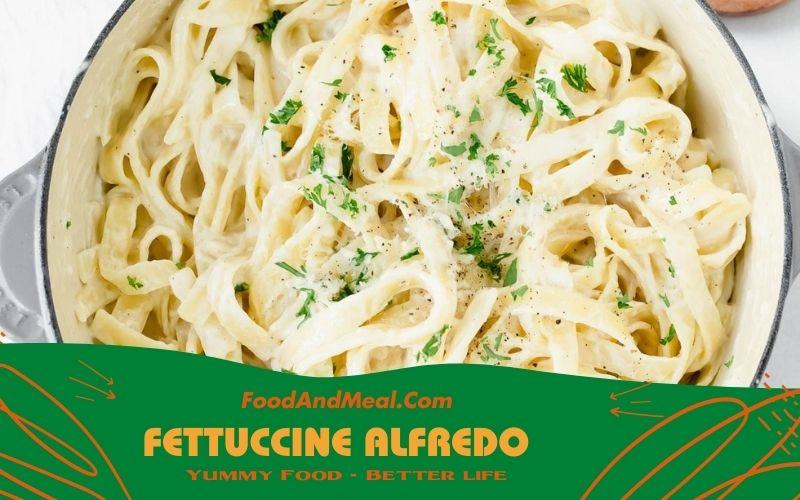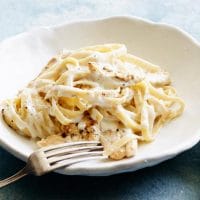 Fettuccine Alfredo
Fettuccine Alfredo is a classic Italian pasta recipe. It combines fresh fettuccine with butter and Parmesan cheese, which emulsifies the liquids to make a creamy sauce. This dish has many benefits. It is a great choice for a weeknight meal, especially if you're watching your waistline! It's also a great way to make your family's favorite pasta dish even better!
Print
Pin Recipe
Add to Collection
Go to Collections
Equipment
Ingredients
1

lb.

chicken

boneless, skinless, and cut into strips

1

lb.

fettucine

12

oz.

of mushrooms

thinly sliced

2

cups

of heavy cream

3/4

cup

of grated parmesan cheese

2

tbsp.

of unsalted butter

4

cloves

Garlic

peeled only (do not chop)

Ground white pepper
For Serving:
parsley

finely chopped

just more parmesan cheese

please
Instructions
Prepare fettuccine pasta according to the instructions given by the manufacturer. (Usually, the instructions are found at the back of the packaging.)

Get your chicken strips and season with salt and white pepper.

Heat up skillet and pour a little amount of olive oil. Put the unsalted butter and let it melt.  You pour oil so that your butter won't actually burn.

Saute the seasoned chicken strips and mushrooms into the butter.

Get a small saucepan and simmer garlic cloves into the cream for about 10 minutes.

Pour the cream into the pan of the chicken and get the garlic cloves off the cream.

Next, put and mix in the parmesan cheese into the chicken and cream sauce.

Toss the pasta and the sauce together. Serve the already made fettuccine alfredo with the extra parmesan and finely chopped parsley.
Notes
Pro Tip: Opt for full-fat heavy cream for that lush, velvety texture in your Alfredo sauce. Craving more such culinary insights? Subscribe now for exclusive tips from my kitchen!

Note: Freshly grated Parmesan is the game-changer. The pre-grated ones often contain anti-caking agents that can affect the sauce's smoothness.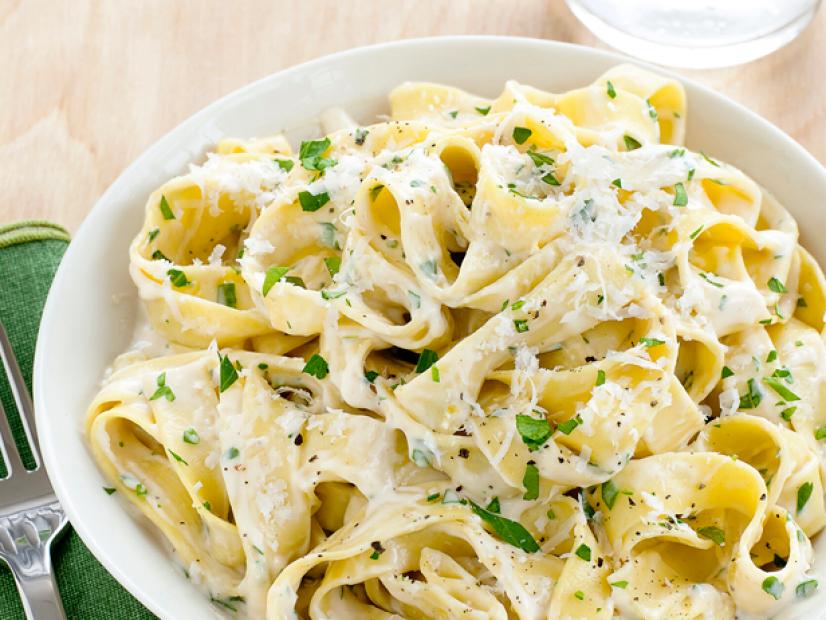 Share by Email
Share on Facebook
Share on Twitter
Nutrition
Serving:
1
cup
|
Calories:
415
kcal
|
Carbohydrates:
48.19
g
|
Protein:
16.27
g
|
Fat:
17.18
g
© Food And Meal
This website provides approximate nutrition information for convenience and as a courtesy only. Nutrition data is gathered primarily from the Spoonacular Database, whenever available, or otherwise other online calculators.
Pin Recipe
Creamy Fettuccine Alfredo Pasta Recipe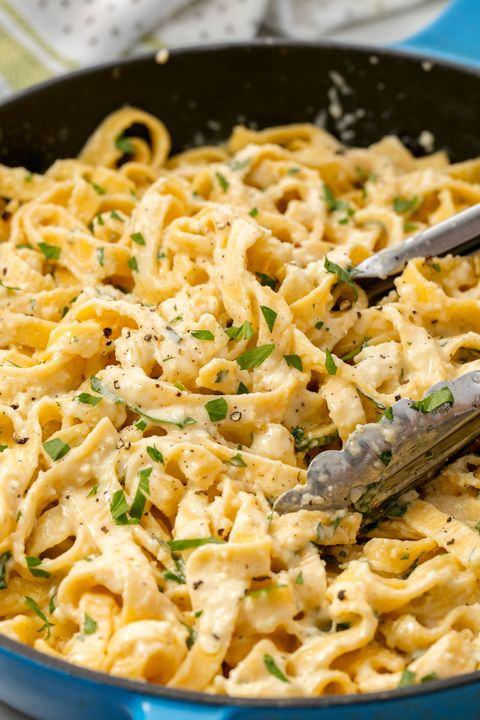 Ingredients
1 lb fettuccine
1 stick butter
1 ½ cups heavy cream
2 cups parmesan cheese, grated
Salt & Pepper, to taste
Instructions
Bring a large pot of salted water to a boil. Cook the fettuccine according to the instructions on the box.
In a small frying pan, add the butter and cream. Simmer for 2-3 minutes on a medium flame, to thicken the cream. Add in the grated parmesan and stir until melted. Add salt and pepper to taste.
Pour the drained fettuccine into the alfredo sauce and mix with tongs until all the pasta is coated in the sauce. Serve immediately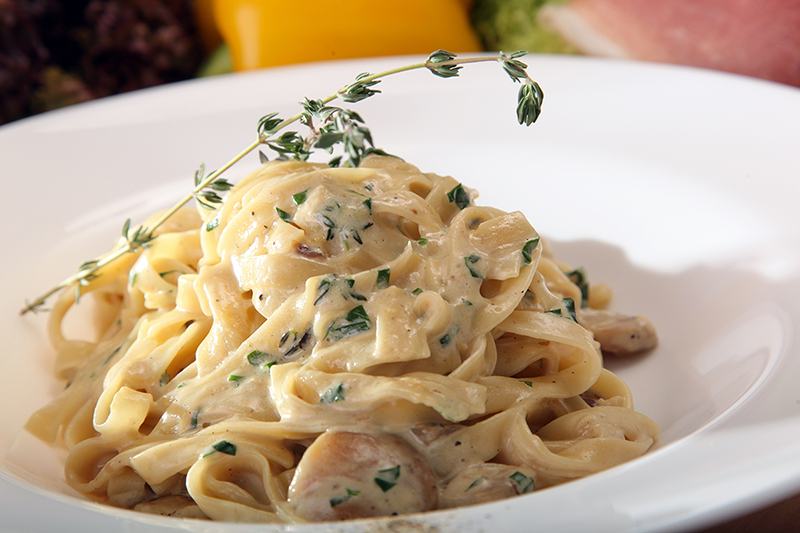 Fettuccine Alfredo – The Instant Pot Method
Ah, the Instant Pot! A marvel of modern culinary engineering. When traditional meets contemporary, there's a certain magic that happens, and our beloved Fettuccine Alfredo is no exception. The Instant Pot method brings a new dimension to the dish, preserving its essence but adding a touch of modernity. Let's embark on this alternative cooking voyage: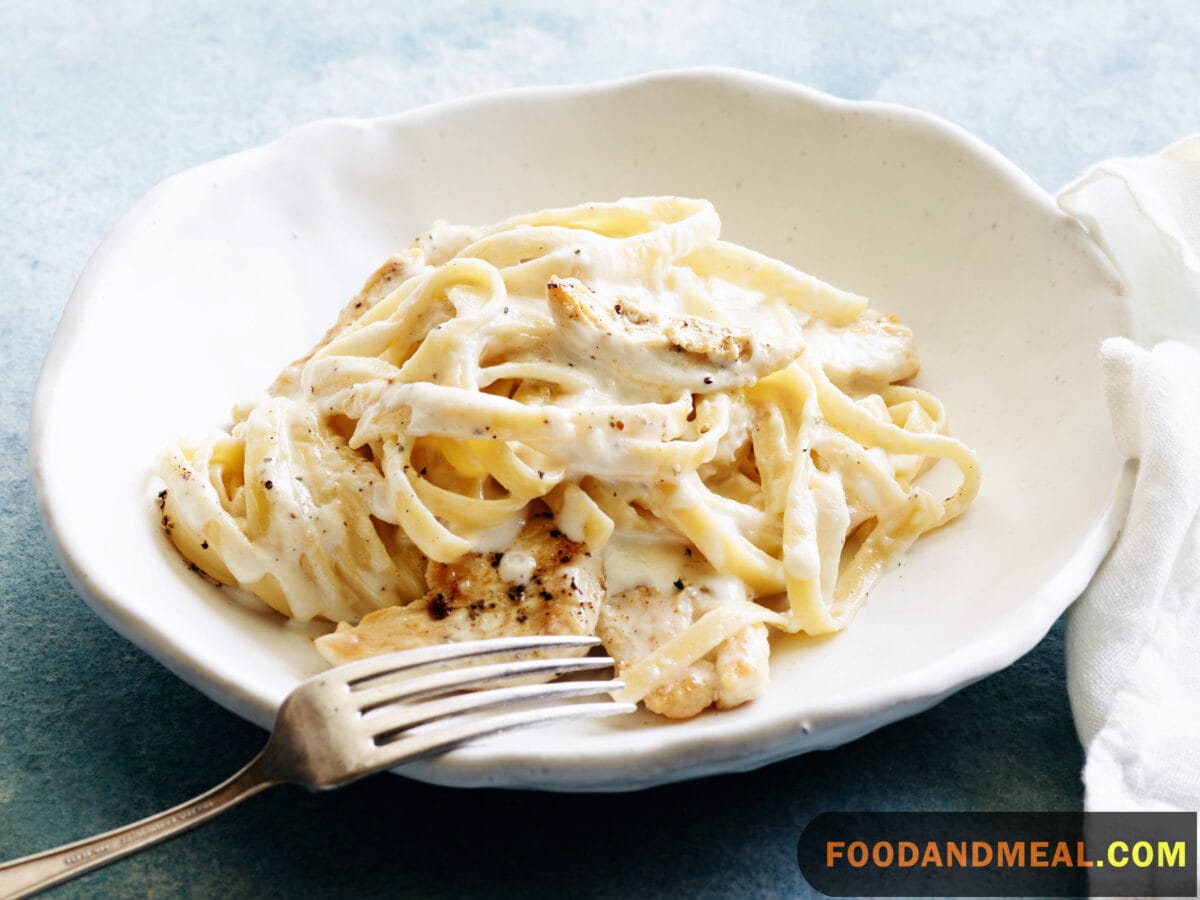 Ingredients
Fettuccine pasta
Fresh heavy cream
Unsalted butter
Freshly grated Parmesan cheese
Garlic cloves, minced
Salt and freshly ground black pepper
Fresh parsley, chopped (for garnish)
Chicken broth (or water)
Procedure
Preparation: Start by turning your Instant Pot to the sauté function. Once it indicates that it's hot, add in the butter, allowing it to melt.
Garlic Infusion: Add the minced garlic to the melted butter. Sauté until it's fragrant, ensuring it doesn't brown, as this can add a bitter taste.
Pasta In: Break the fettuccine in half to fit the Instant Pot. Layer them in a crisscross fashion (this minimizes sticking). Pour in the chicken broth or water, ensuring the pasta is fully submerged.
Pressure Cooking: Secure the Instant Pot lid, set the valve to sealing, and cook on high pressure for half the time suggested on the pasta package (typically around 4-6 minutes).
Cream and Cheese: Once done, do a quick release. Turn back to the sauté function. Stir in the heavy cream. Once the mixture starts simmering, gradually add the freshly grated Parmesan, constantly stirring. The sauce will thicken upon standing.
Seasoning: Season with salt and freshly ground black pepper to taste. If the sauce is too thick, you can add a splash of milk or chicken broth to adjust consistency.
Garnish and Serve: Finish with chopped fresh parsley and maybe an extra sprinkle of Parmesan for good measure.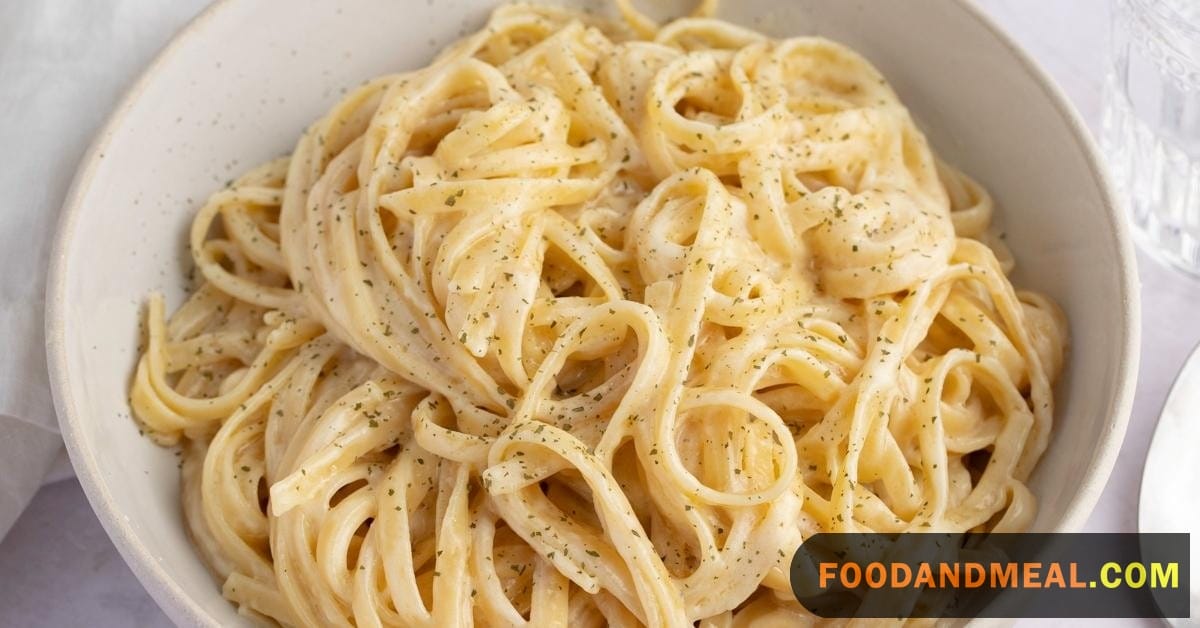 Serving: Dish out your creamy Fettuccine Alfredo, pair with a glass of white wine, and embrace the magic of the Instant Pot.
This Instant Pot version not only simplifies the process but also ensures consistently perfect results. The quick pressure cooking retains the vibrant flavors, making this rendition of Fettuccine Alfredo just as heartwarming and delightful as the traditional method. Enjoy!
Our Recommended
Read more
Best 10+ Pressure Cooker Recipes – Weeknight Wins
At 'Food and Meal', a pressure cooker isn't just hardware, but culinary magic. Within its robust frame, flavors intensify under precise pressure, transforming simple ingredients into gourmet dishes. It's not…
Tips for making Fettuccine Alfredo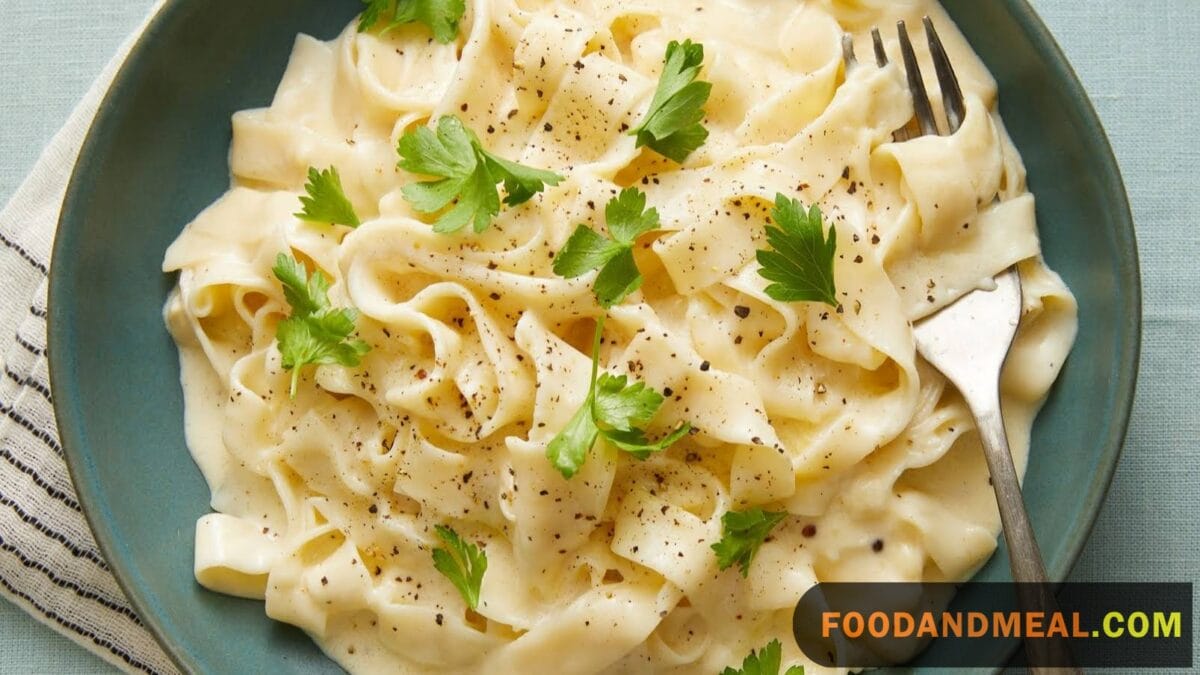 FAQs on Fettuccine Alfredo
The world of Fettuccine Alfredo is delightful, yet it does come with its curiosities. Here are some of the questions I frequently get from fellow culinary aficionados:
1. Can I use a different type of pasta instead of fettuccine?
Absolutely! While fettuccine is traditional, you can use tagliatelle, linguine, or even spaghetti. Just adjust the cooking time based on the pasta thickness.
2. How can I make my Fettuccine Alfredo dairy-free?
You can substitute the heavy cream with coconut milk or cashew cream and use a dairy-free Parmesan cheese alternative. The taste profile will change, but it'll be a delightful variation.
3. Why is my Alfredo sauce too runny?
The sauce might not have simmered enough, or the cheese might not have melted completely. Remember, the sauce thickens upon standing, so give it a few minutes before serving.
4. Is adding chicken or shrimp to the recipe a good idea?
Certainly! Grilled chicken or sautéed shrimp pairs wonderfully with the creamy Alfredo sauce, adding protein and flavor depth.
5. How do I store leftover Fettuccine Alfredo?
Place the leftovers in an airtight container and refrigerate for up to 3 days. Reheat gently on the stove, adding a splash of milk to refresh the sauce if needed.
Serving Suggestions for Fettuccine Alfredo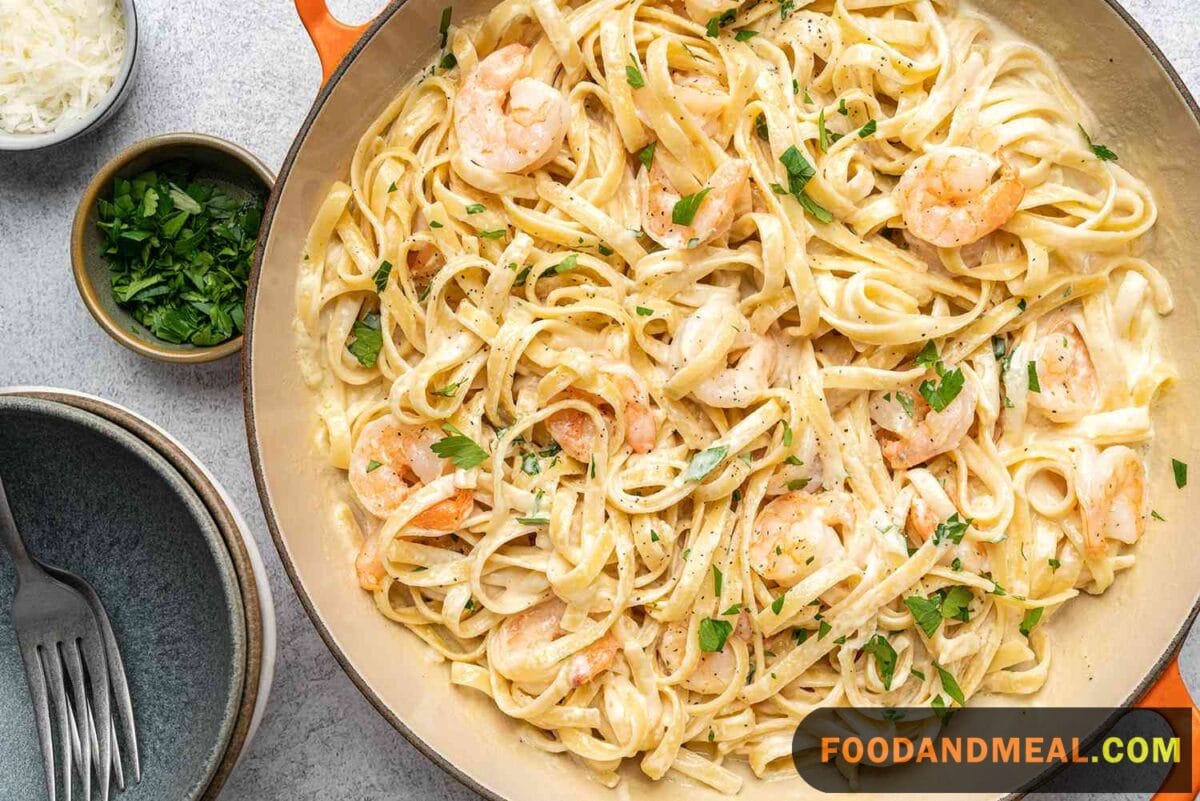 When a dish as sublime as Fettuccine Alfredo graces your table, the accompaniments can enhance the entire dining experience:
Sides:
Bruschetta: The tanginess of tomatoes and the freshness of basil provide a delightful contrast.
Roasted Asparagus: The slight char and crunch can add another dimension to your plate.
Garlic Spinach Sauté: A hint of garlic and the earthiness of spinach pair beautifully.
Garnishes:
Crushed Red Pepper: For those who love a hint of spice.
Chopped Chives: Adds a subtle oniony flavor and a dash of color.
Lemon Zest: A little zest can lift up the creamy richness.
Beverages:
Pinot Grigio: Its crispness cuts through the creaminess beautifully.
Sparkling Water with a Lemon Wedge: For a refreshing non-alcoholic option.
Ways to Serve:
Stuffed Bell Peppers: Hollowed bell peppers, filled with Alfredo, and baked to perfection.
Alfredo Lasagna: Layer with chicken or veggies for a creamy twist to traditional lasagna.
Cooking Tips for Fettuccine Alfredo
Ah, Fettuccine Alfredo! While it may seem straightforward, a few nuanced steps can elevate your dish from good to spectacular:
Tips:
Quality Matters: Always use high-quality pasta. It's the star and deserves to shine.
Freshly Grated Cheese: Pre-packaged grated cheese might contain anti-caking agents, affecting the smoothness of your sauce.
Consistent Heat: A consistent low to medium heat ensures the sauce doesn't split or curdle.
Common Mistakes to Avoid:
Overcooking the Pasta: Al dente is the way. The pasta should have a slight bite to it.
Using Low-Fat Ingredients: This is a rich dish. Using low-fat versions can compromise the taste and texture.
Rinsing the Pasta: Don't rinse the pasta post-cooking. The starch helps the sauce adhere better.
Perfecting Fettuccine Alfredo is about embracing its spirit – love, warmth, and indulgence. Each time you prepare it, let these emotions guide your hands, and the result will be nothing short of spectacular.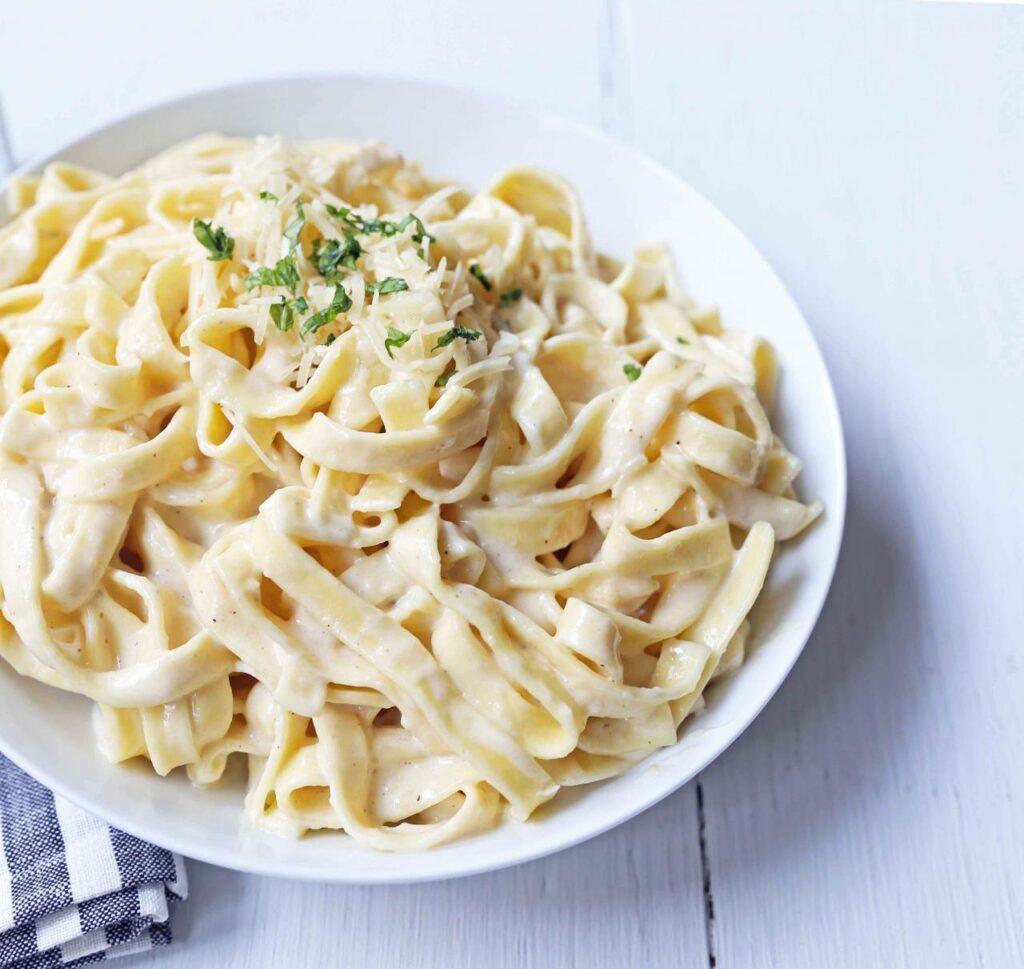 The tapestry of Fettuccine Alfredo is rich with flavors, stories, and memories. As you plate up this masterpiece, remember the heartbeats and whispers behind each strand. Enjoyed our recipe? Share the love and joy. To keep the culinary magic alive, don't forget to subscribe to our chronicles.
Thanks for your visiting our FoodAndMeal.Com website. Like and share this recipe if it is useful for you.
Experience the culinary brilliance of Chef John at Food And Meal Restaurant. With over 20 years of global expertise, My innovative creations and unwavering dedication to cooking have earned me a well-deserved reputation. My passion for gastronomy is showcased in every dish, combining fresh, local ingredients with harmonious flavors and captivating presentations. My ability to tell a story through my food reflects my profound understanding of culture and emotion.
Affiliate DisclaimerAbout The Content
As an affiliate, we may earn a commission from qualifying purchases. We get commissions for purchases made through links on this website from Amazon and other third parties.