Spam musubi is often associated with sushi as it uses sushi rice and nori.  Nevertheless, it claims its own name and well… it is spam musubi.  If you're also associating it with Japanese, don't worry because you have enough reason to think so.  Only that, spam musubi is not a Japanese native but is hailed from the wonderful island country of Hawaii.In Hawaii, musubis are sold everywhere—in cafeterias, school canteens and convenience stores.  This dish is very flexible as it can be consumed as breakfast, lunch, dinner or snack.  If you want a taste of it, then this recipe is made just for you.
Homemade Musubi Maker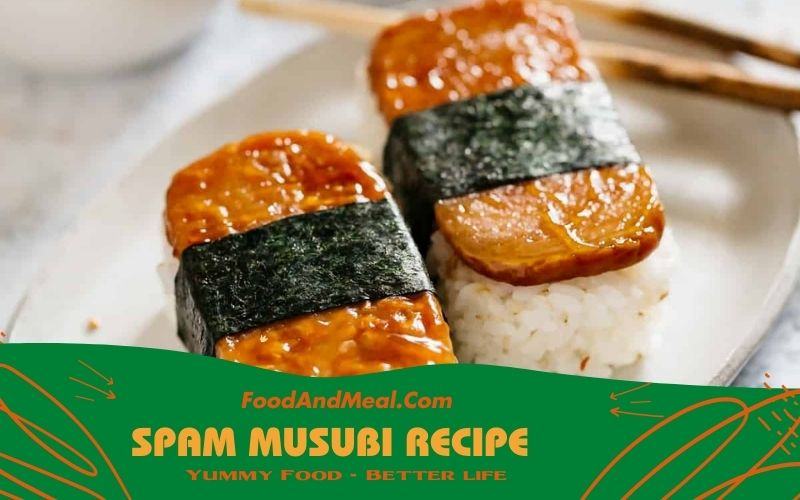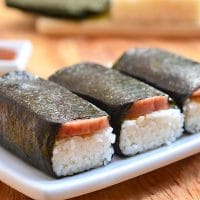 Spam Musubi
A pair of pantry staple ingredients, rice and spam, make a simple, no-fuss guilty pleasure comfort food "Spam Musubi". You can make this popular Japanese infusion Hawaiian hybrid rice balls with minimal effort.
Print
Pin
Add to Collection
Go to Collections
Equipment
Ingredients
Ingredients
1

can of Spam

3

cups

sushi rice

not cooked

furikake or li hingmui
Instructions
(Note: As you can notice there are no provided measurements except for the sushi rice.  This is because you have work according to your personal taste and preference.)

Remember this ratio: every 1 can of spam is enough for every 3 cups of rice. Boil the three cups of rice and commence do the next steps.

Open the can of Spam, get the meat and slice it into 8 equal slices.

Incorporate soy sauce and sugar in a bowl, adjusting it to the taste you prefer.

Fry the Spam slices in a skillet over medium-high heat.

After a minute or two, put the soy sauce and sugar mix onto the Spam. Carefully mix the mixture with the meat and keep on frying until Spam is crisp.

Transfer the Spam into a plate and begin the assembling.

Cut the nori strips in half lengthwise and put inside the musubi maker.

Scoop a generous amount of rice into the mold. Using the handle of musubi-maker, press down the rice hard.  This will make the consistency of your musubi compact so it can be eaten easily.

Layer furikake over rice and put Spam over it. Put another layer of furikake and another layer of rice over it. Press the contents again until they attain the standard firmness.

Take the musubi off from the maker and wrap it with nori. Spam musubi is best eaten when it is freshly cooked.
Video
Notes
It is important to prepare each ingredient carefully to make your musubi delicious.
Share by Email
Share on Facebook
Share on Twitter
Nutrition
Serving:
1
piece
|
Calories:
103
kcal
|
Carbohydrates:
16
g
|
Protein:
2.8
g
|
Fat:
26
g
© Food And Meal
This website provides approximate nutrition information for convenience and as a courtesy only. Nutrition data is gathered primarily from the Spoonacular Database, whenever available, or otherwise other online calculators.
what is Spam Musubi?
Just in case you have never heard of "Spam Musubi". Spam is canned ham, and Musubi means rice balls in Japanese. It is a type of rice ball very popular in Hawaii. Fried sliced spam on top of pressed shaped rice and tied up with a strip of Nori seaweed.
The Japanese are big fans of Spam Musubi, and they do so for a variety of reasons. The grilled Spam is sandwiched between two pieces of rice, and the nori, which is used in traditional onigiri, encases the meat inside. The savory combination makes a delicious snack or light lunch. The contrasting textures make it a perfect snack or meal. Here are some reasons why Spam musubi is so popular.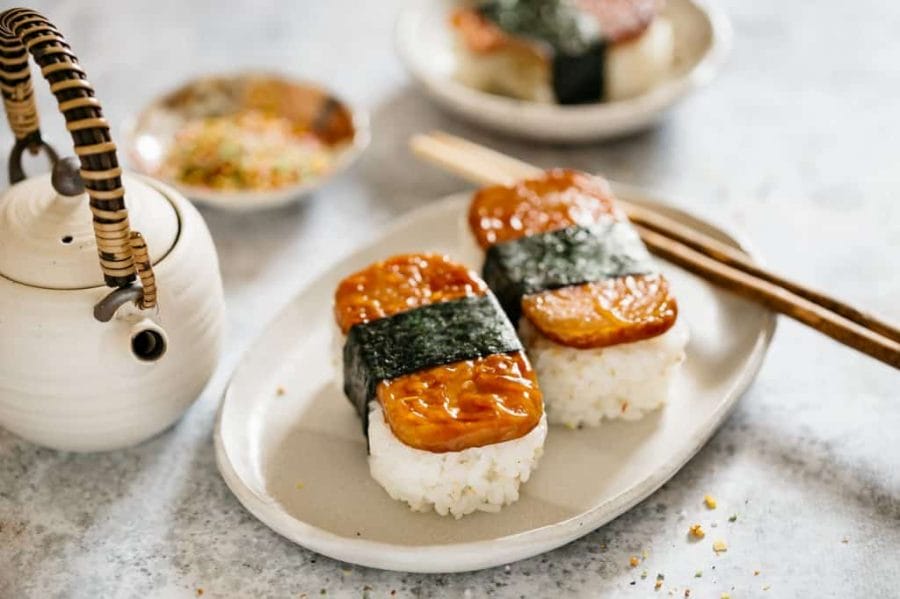 What is Spam?
Spam is a canned meat made mostly with ham. When I lived in Hawaii I had SPAM all the time, mainly because it was pretty much all I could afford. I had it for breakfast with eggs and rice. I had it for dinner with noodles and rice. And for lunch, I made this Spam Musubi. You can buy Spam Musubi in Hawaii at any grocery store or gas station. On the mainland, it is available in most grocery stores where you buy canned meats.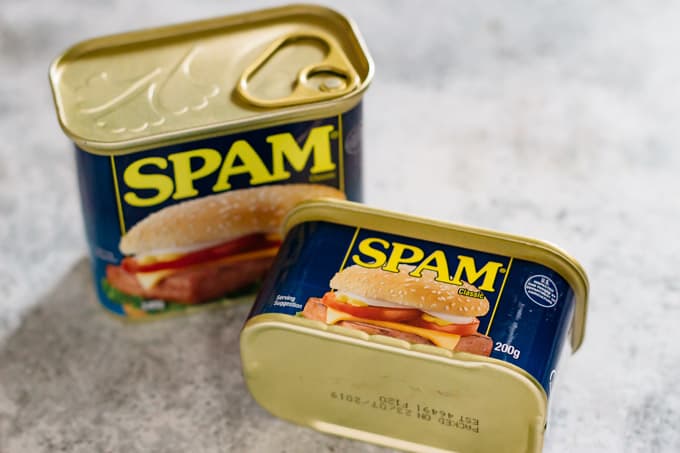 If you are making a lot of musubi and saving it. Wrap individually in some plastic wrap and keep it in the fridge for up to a week. When you are ready to eat it, unwrap and place in the microwave for 15-20 seconds.
Tips for making Spam Musubi
First, cut the Spam into thin slices. Place the strips under the musubi mold, and then fry the SPAM in a single layer. Once the SPAM is lightly browned, add one or two more strips of nori and fill the mold with three inches of rice. Next, place the fried SPAM on top of the rice, and use a rice press to compact it. The beaten eggs will be layered in the middle of the Spam musubi.
Once the rice is cooked, you can top the musubi with Furikake. You can either put the Spam on top of the musubi, or you can place it in the center of the rice. The Spam is much easier to eat in the middle of the rice, because it isn't prone to falling apart. When assembling a spam musubi, make sure to use extra nori and a teaspoon of soy sauce to give it a crunchy texture.
The nori is usually not toasted, and is a little chewy. Instead, try toasted nori. This will add a slight tang to the flavor and add a crunch to the musubi. If you like the taste of sesame, you should consider the non-toasted variety. The final step to making Spam musubi is to add the sauce. This sauce is incredibly delicious!
The musubi is the most popular dish in Hawaii. It is served everywhere from family dinners to group gatherings. Adding nori to the spam makes it even more delicious. When making spam musubi, it is important to add the salt. Traditionally, the spam is served with the musubi maker. You can also use a rice cooker to make musubi rice. Once the rice is cooked, you can prepare the spam.
When making spam musubi, you need to prepare a teriyaki sauce. You can also use a spicy sauce if you prefer. Basically, it is the same as making sushi. When preparing a spam musubi, it is important to follow the instructions carefully and use the right ingredients. You can also serve it in a sushi bar. This dish is perfect for parties, and it can be eaten with any kind of rice.
To make spam musubi, you need to soak the nori strip in water. Then, you need to place the nori strip in the center of the musubi. Using the handle of the mold, you should push the rice out. After that, you can wrap the musubi with the nori strip. Afterwards, add the furikake and Spam. The musubi is ready to serve.
The musubi mold is also a necessity. It should be made of rice that is soft enough to hold the Spam inside. Otherwise, it will be too floppy to be eaten and won't have the desired texture. Once you've made the mold, use the musubi paddle to scoop the rice into it. Then, using the musubi paddle, squeeze the rice into the shape of the musubi.
The rice is a key component of Spam musubi. The quality of the nori is critical to the musubi's success. Choose brand-name nori that is labeled with a color or letter. If you aren't sure what type of nori you want to use, look for a product that comes with reviews. This way, you can choose a brand you can trust and be sure that your mummy will be happy with your food.
In Hawaii, SPAM luncheon meat was a staple of their daily meals. It was a great source of protein and had a unique flavor. In the US, they still have the canned luncheon meat in their homes. The Japanese also have a tradition of eating it in a variety of ways, and the SPAM in Hawaii is often sliced, fried, or wrapped in a nori sheet.