Welcome to a culinary journey that will transport you straight to the heart of the Mediterranean. I'm thrilled to share this exquisite recipe for cooking codfish in a way that embraces the rich, vibrant flavors of the region. If you're ready to embark on a flavor-filled adventure, you're in the right place. Let's dive into the magic of Mediterranean cuisine.
Cook Codfish in a Mediterranean Recipe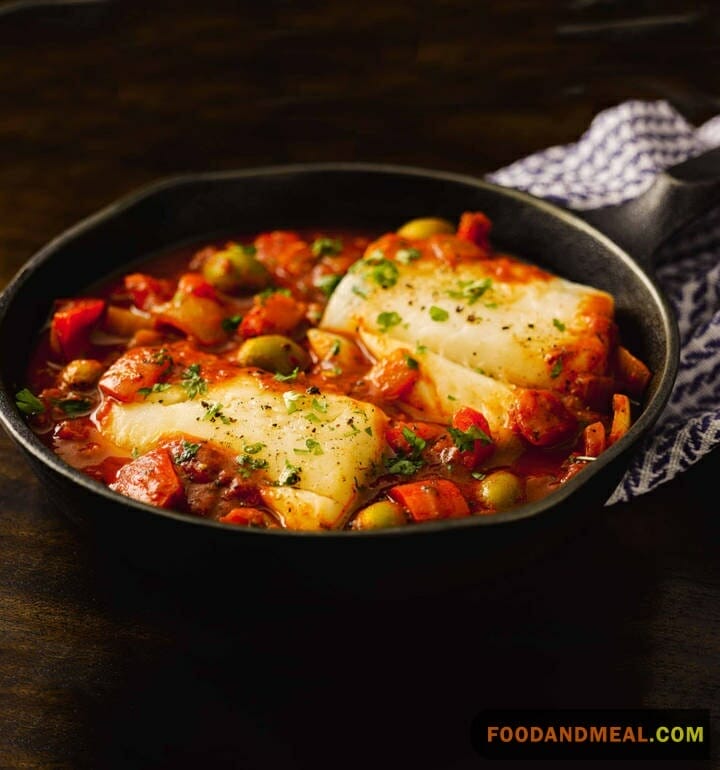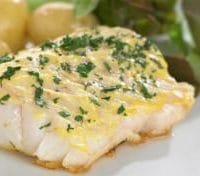 Cook Codfish in a Mediterranean
If you are wondering what to serve for dinner on Easter or during the Christmas holiday, you may want to try this delicious dish. It can be prepared in 15 minutes, and has a unique flavor that will appeal to everyone. In addition to being very tasty, this dish is also easy to prepare. The best way to make this meal is to prepare it ahead of time.
Print
Pin Recipe
Add to Collection
Go to Collections
Equipment
Ingredients
Codfish fillet

Shallots

sliced into ½ inch

Garlic

chopped

Roma tomatoes

chopped

Anchovy paste

Olives

can be oil-brined Phicholine, Kalamataornicoise

White wine

dry

Gremolata
Instructions
Step 1:
Preheat your oven for about 375⁰ Using paper towels or a clean dry towel, pat the cod fillets dry.  Next, season both cod sides with a dash of salt and ground pepper. (Note: Be impartial of salt as the other Mediterranean seasonings are already salty.)
Step 2:
Saute the alliums (garlic and shallots) in medium heat until their consistency is already translucent. After sautéing, put the cooked alliums in a baking dish for 5 minutes.
Step 3:
Saute chopped Roma tomatoes for about 5 minutes.
Step 4:
Tear or roughly chop the herbs such as basil, rosemary, thyme, mint, oregano and parsley. Add them into the tomatoes and drizzle with olive oil.  You can then add the secondary flavoring like the anchovy paste and/ or balsamic vinegar at this point.
Step 5:
After a couple of minutes, add the tomatoes and herbs into the baking dish. You can also adjust the taste by putting additional salt and pepper to better suit your taste.
Step 6:
Sprinkle the olives at the top of the tomatoes.
Step 7:
Pour dry white wine over the ingredients. Just estimate the amount wherein your ingredients won't be soupy but just enough to make steam and aroma but does not overcome the taste of the dish.
Step 8:
Put the codfish fillets side by side over the base ingredients, maintaining half inch space in between. Drizzle the top with olive oil and put the baking dish inside the oven.  Bake the cod for 15-20 minutes with the cod reaching the internal temperature of 145⁰
Step 9:
If you don't have gremolata at hand, you can prepare by mixing finely chopped parsley, garlic and lemon zest.
Step 10:
Take the cod out and sprinkle gremolata on the cods themselves and serve.
Notes
Codfish is naturally gluten free and can be substituted with other types of white fish. You can also substitute it with grilled chicken or tofu. It is also a delicious meal for vegetarians. You can use other fish instead of cod, if you are averse to it. You can also substitute a piece of chicken or grilled tofu. This recipe is also great for people with dietary restrictions, and anyone can eat it.
Share by Email
Share on Facebook
Share on Twitter
Nutrition
Serving:
100
g
|
Calories:
432
kcal
|
Carbohydrates:
34
g
|
Protein:
12
g
|
Fat:
2
g
© Food And Meal
This website provides approximate nutrition information for convenience and as a courtesy only. Nutrition data is gathered primarily from the Spoonacular Database, whenever available, or otherwise other online calculators.
Pin Recipe
Alternative Preparation Method: Baked Mediterranean Codfish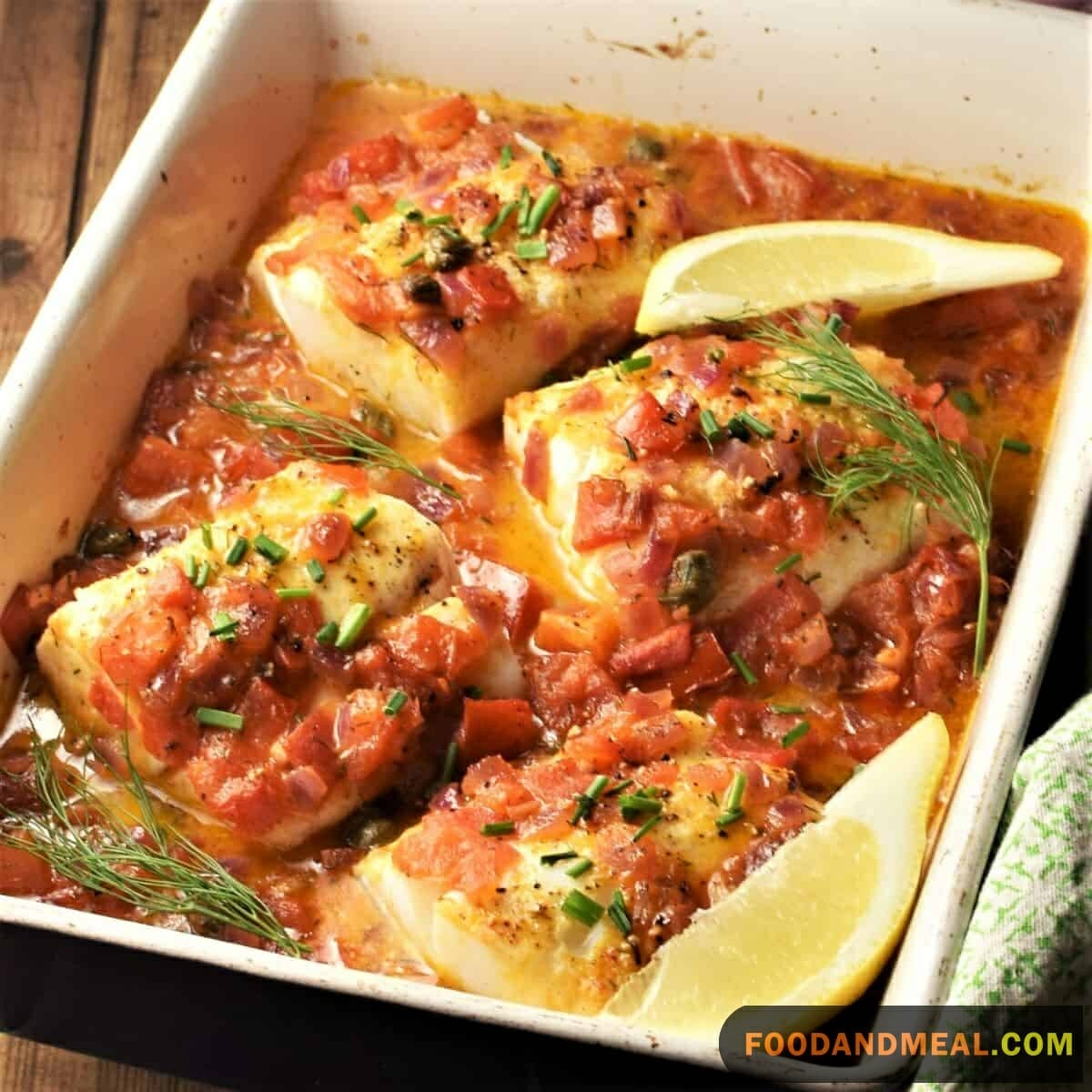 Ingredients:
4 codfish fillets
1/4 cup extra-virgin olive oil
4 cloves of garlic, minced
1 lemon, thinly sliced
1/4 cup fresh basil leaves
1/4 cup fresh oregano leaves
Salt and black pepper to taste
Instructions:
Preheat the Oven: Preheat your oven to 375°F (190°C) and position the rack in the middle.
Prepare the Baking Dish: Take a baking dish large enough to accommodate the codfish fillets in a single layer. Drizzle a bit of olive oil over the bottom to prevent sticking.
Season the Codfish: Place the codfish fillets in the baking dish. Drizzle them with the remaining olive oil and season with salt and pepper. Ensure the fillets are evenly coated.
Layer the Aromatics: Sprinkle the minced garlic evenly over the codfish. Next, arrange lemon slices, basil leaves, and oregano sprigs on top of each fillet. These aromatic elements will infuse the fish with delightful Mediterranean flavors as they bake.
Cover and Bake: Cover the baking dish with aluminum foil, ensuring it's sealed tightly. This will trap the steam and help the fish cook evenly. Place the dish in the preheated oven and bake for about 20-25 minutes, depending on the thickness of your fillets. The codfish is done when it flakes easily with a fork.
Serve: Carefully uncover the baking dish, and the fragrant aroma of Mediterranean cuisine will fill your kitchen. Gently transfer the codfish fillets to serving plates, spooning the flavorful juices and aromatics from the baking dish on top. Serve hot.
Tips for making Cook Codfish in a Mediterranean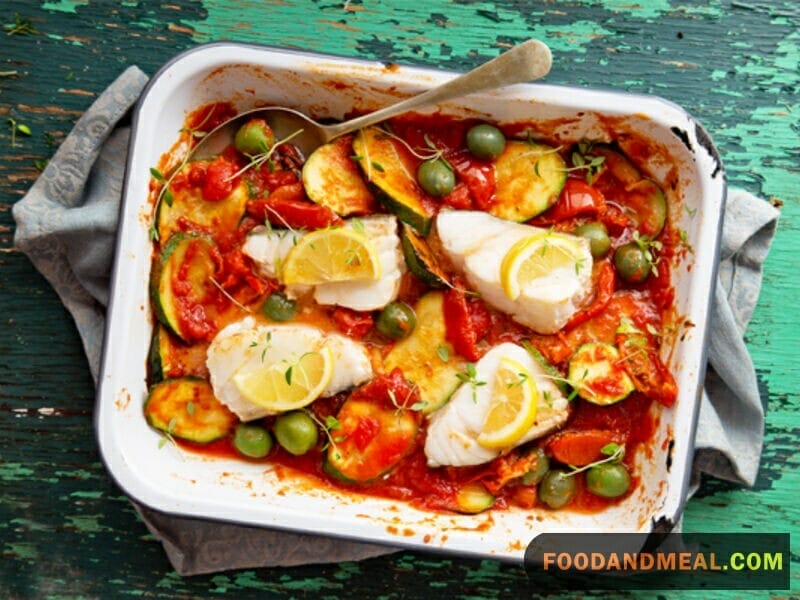 Cooking Tips
Select Quality Codfish: Start with the freshest codfish you can find. Look for fillets that are pearly white, moist, and free of any off-putting odors. Freshness is key to capturing the essence of Mediterranean flavors.
Marinate for Flavor: Allow your codfish to marinate with the Mediterranean seasonings for at least 30 minutes, or even longer if you have the time. This extra step infuses the fish with that unforgettable Mediterranean taste.
Watch the Oven: When baking the codfish, be cautious not to overcook it. Codfish should be cooked just until it's tender and flakes easily with a fork. Overcooking can result in a dry, less flavorful dish.
Don't Overcrowd the Baking Dish: Ensure there's enough space between the fillets in the baking dish. Overcrowding can lead to uneven cooking and steaming, which we want to avoid for that delicious, slightly crispy texture.
Using an Overpowering Olive Oil: Be mindful of the olive oil's intensity. You want the oil to complement the dish, not overpower it. Use a high-quality extra-virgin olive oil but don't go overboard with it.
Neglecting the Marination: Skipping or rushing through the marination step can lead to a lack of Mediterranean flavors. Give the fish time to soak in the seasonings.
Overloading with Aromatics: While we love the aroma of garlic, lemon, basil, and oregano, it's possible to overdo it. Use these aromatics moderately to avoid overpowering the codfish.
Skipping the Foil Cover: The foil cover during baking is essential for retaining moisture. Skipping this step can result in dry fish.
Serving Suggestions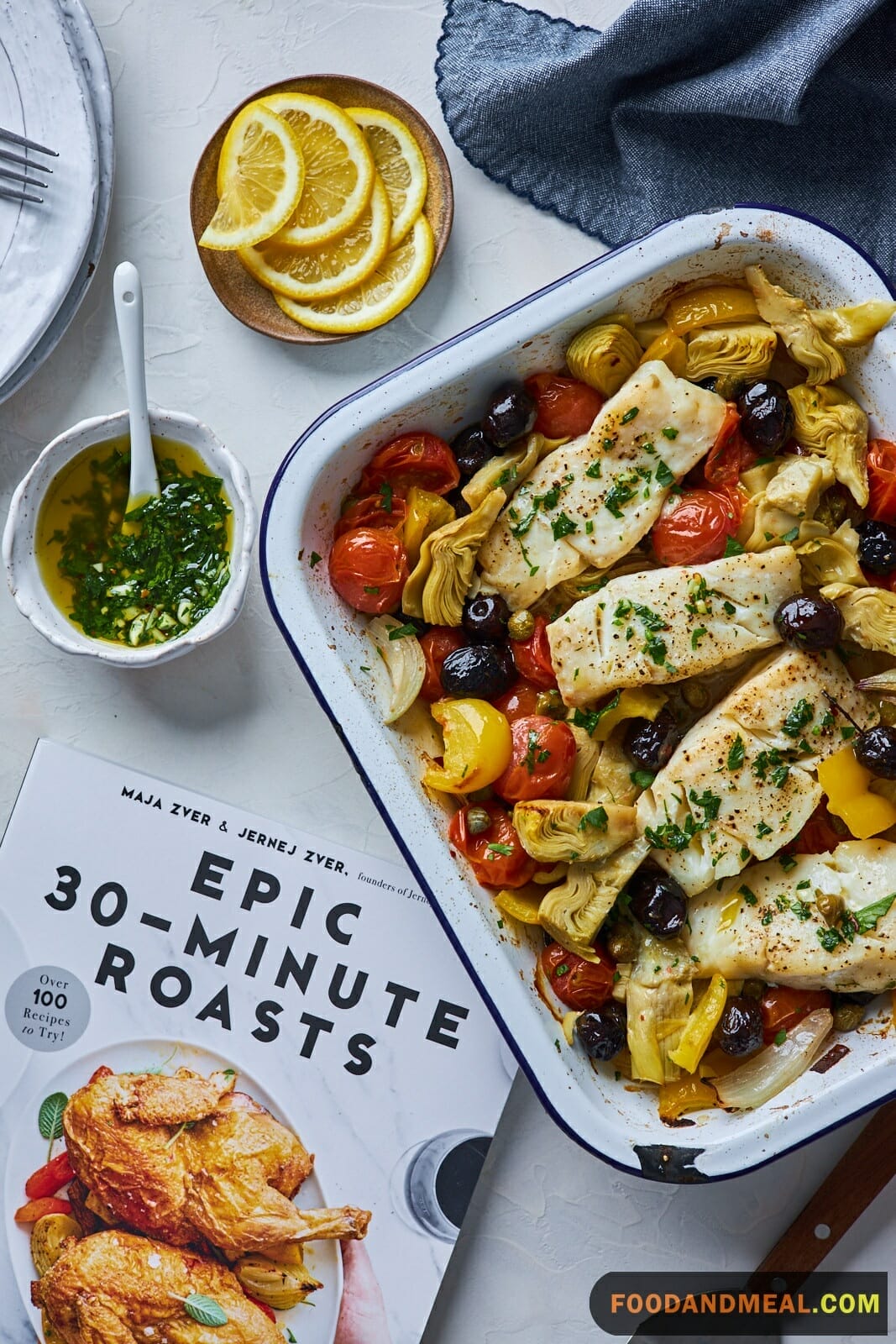 Recommend Sides and Garnishes:
Couscous: Serve your Mediterranean codfish over a bed of fluffy couscous. Its light texture and neutral flavor beautifully complement the dish.
Greek Salad: A classic Greek salad with cucumbers, tomatoes, red onions, Kalamata olives, and feta cheese, drizzled with olive oil and a touch of lemon, provides a refreshing side dish.
Roasted Vegetables: Roasted Mediterranean vegetables like bell peppers, zucchini, and eggplant add depth and variety to your plate.
Tzatziki: A dollop of tzatziki, a creamy yogurt and cucumber sauce with a hint of garlic and dill, is a delightful accompaniment.
Fresh Bread: Warm, crusty bread is perfect for soaking up the flavorful juices left in the baking dish.
Different Ways to Serve the Dish:
Family Style: Serve the codfish fillets in the middle of the table on a large platter, allowing everyone to help themselves to their desired portion.
Individual Plates: For a more formal presentation, plate each fillet individually and garnish with lemon slices and fresh herbs.
Tacos or Wraps: Create Mediterranean-style tacos or wraps by placing codfish in warm pita or tortillas with a generous spoonful of Greek salad and a drizzle of tzatziki.
Mediterranean Bowl: Build a Mediterranean bowl with couscous as the base, add roasted vegetables, codfish, and drizzle with your favorite Mediterranean sauces.
Lunchbox Delight: Leftover Mediterranean codfish is excellent for a flavorful and healthy workday lunch. Simply pack it with some couscous, a side
Frequently Asked Questions about Cook Codfish in a Mediterranean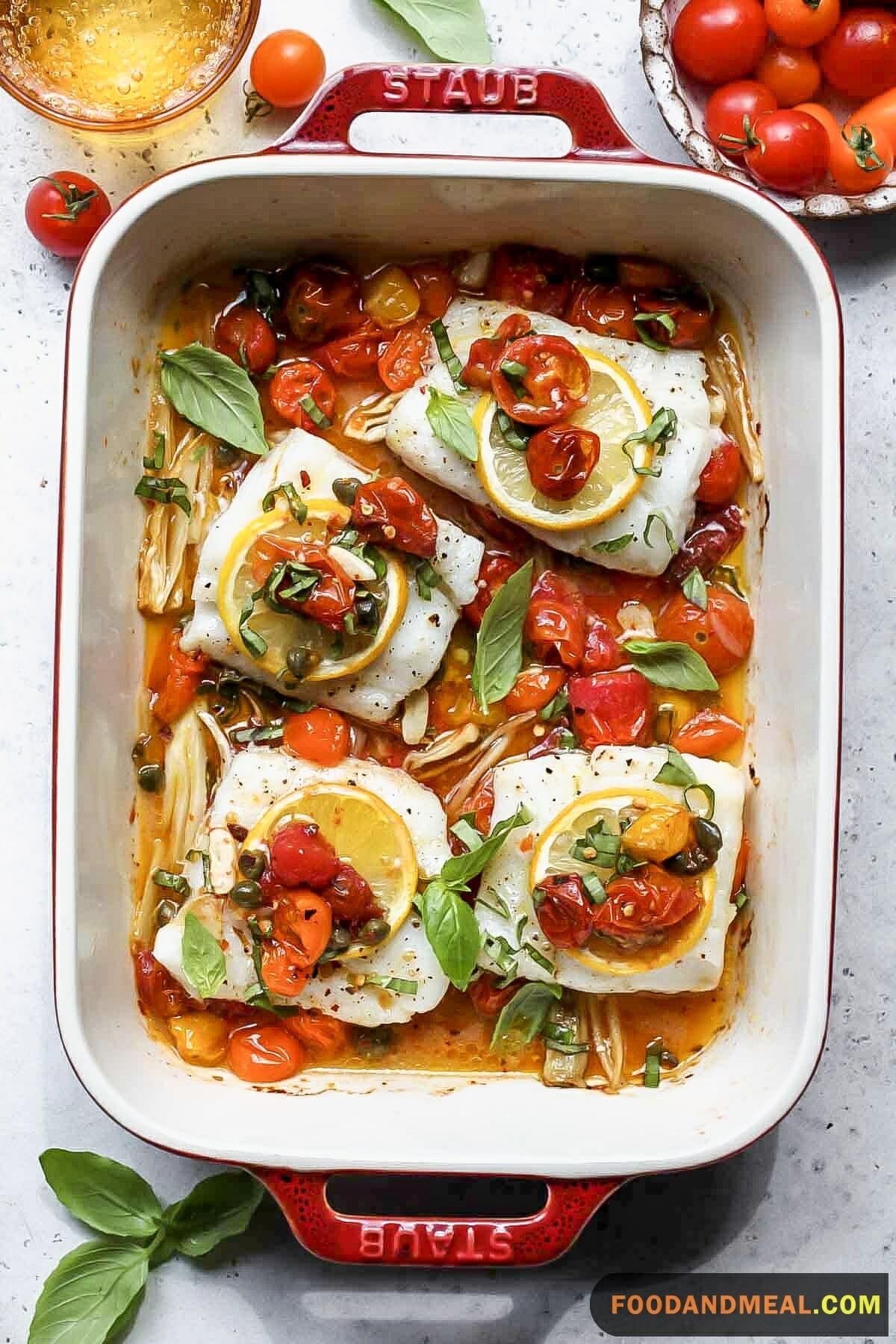 What type of codfish is best for this recipe? The best codfish for this recipe is fresh, white, flaky cod. It's readily available at your local fish market or grocery store. You can also use frozen cod if fresh isn't an option.
Can I prepare this dish in advance for a dinner party? Yes, you can! Marinate the codfish in advance, even the night before, for a more intense flavor. When ready to serve, simply bake and enjoy. It's a great time-saver for hosting.
What's the ideal marinating time for the codfish? The ideal marinating time is around 30 minutes to an hour. This allows the fish to absorb the flavors without becoming too salty. You can adjust the marinating time to suit your taste.
Are there any suitable alternatives to couscous as a side dish? Certainly! You can substitute couscous with rice, quinoa, or even a fresh green salad. Mediterranean cuisine offers a variety of side dish options, so feel free to get creative.
How do I store any leftover codfish? To store leftover codfish, place it in an airtight container and refrigerate. Consume within 2-3 days. The flavors often intensify, making it even more delicious the next day.
Explore the world of Mediterranean cuisine with our Codfish recipe – a blend of marination, baking tips, and exquisite serving suggestions. Uncover the secrets of perfecting this delightful dish.
Experience the culinary brilliance of Chef John at Food And Meal Restaurant. With over 20 years of global expertise, My innovative creations and unwavering dedication to cooking have earned me a well-deserved reputation. My passion for gastronomy is showcased in every dish, combining fresh, local ingredients with harmonious flavors and captivating presentations. My ability to tell a story through my food reflects my profound understanding of culture and emotion.
Affiliate DisclaimerAbout The Content
As an affiliate, we may earn a commission from qualifying purchases. We get commissions for purchases made through links on this website from Amazon and other third parties.