The beauty of these naturally delicious Strawberry Fruit Roll Ups snacks is that they will keep up to 2 weeks. You can vary the fruit according to season and even flavor these with chocolate or top with nuts.
You sweeten the strawberries with a bit of sugar, and add lemon juice. Puree the strawberries until smooth for a few minutes. In this step, you bring the mixture to a boil and keep stirring for about 20-25 minutes, or until the mixture has thickened and reduced in volume. Make sure you keep stirring to prevent burning the puree. Once reduced, you can add a dash of vanilla extract for added flavor.
Spread the reduced mixture onto a buttered cookie sheet to which you add parchment paper. This will be your fruit roll up wrapper. Bake in the oven at 200 F till the puree is dry but still sticky, It takes about 2 hours 45 minutes.
Your fruit leather is now ready to be sliced and rolled!
Homemade Strawberry Fruit Roll Ups Recipes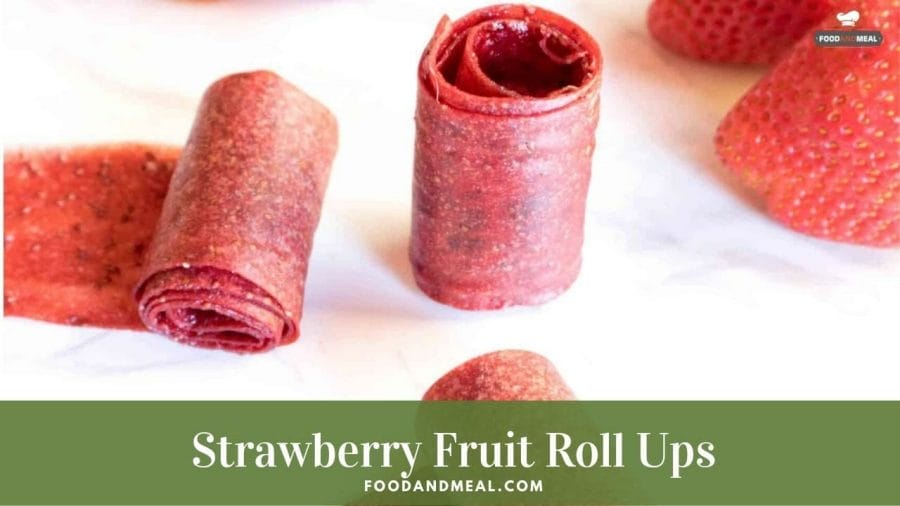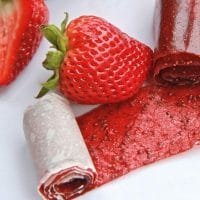 Strawberry Fruit Roll Ups
To make these delicious STRAWBERRY FRUIT ROll UPS, you should start by preparing the fruit filling. You can use sugar, pear juice concentrate, corn syrup, and/or silpat to make them easier to roll up. Afterwards, you can dry them in the oven. The time to dry them will depend on the temperature of your oven. When the center is no longer tacky, you are done.
Print
Pin
Add to Collection
Go to Collections
Instructions
Cover a cookie sheet with butter, and cover with parchment paper. Add an extra inch of paper to seal the roll ups once cooked.

Preheat oven to 200 F.

In a food processor, puree the strawberries, sugar and lemon mixture.

In a medium saucepan, bring the strawberry mixture to a boil and keep stirring for about 20-25 minutes, or until the mixture has thickened and reduced in volume. Make sure you keep stirring to prevent burning the puree.

Once reduced, add a dash of vanilla extract for added flavor.

Spread the reduced mixture onto the prepared cookie sheet. This will be your fruit roll up wrapper.

Bake the strawberry mixture for 2h45 minutes, or until the texture is dry but still sticky to the touch (test with a back of a spoon). Cool on a rack.

Using a sharp knife, divide the fruit leather into 15 strips and roll using the parchment paper.
Video
Notes
If you want a natural version of strawberry fruit roll ups, you can use jam instead. Fruit leather is also made from jam, which contains citric acid, fruit pectin, vitamin C, and natural flavor. Some brands contain additional ingredients, including yellows 5 and 6, sulphur dioxide, and artificial flavor. In addition, many Fruit Roll Ups are high in fat, so using a pear juice concentrate can help you create a healthier and more tasty snack.
Share by Email
Share on Facebook
Share on Twitter
Nutrition
Serving:
1
serving
|
Calories:
183
kcal
|
Carbohydrates:
47
g
|
Protein:
1
g
|
Fat:
1
g
|
Saturated Fat:
1
g
|
Polyunsaturated Fat:
1
g
|
Monounsaturated Fat:
1
g
|
Sodium:
2
mg
|
Potassium:
182
mg
|
Fiber:
2
g
|
Sugar:
43
g
|
Vitamin A:
14
IU
|
Vitamin C:
70
mg
|
Calcium:
19
mg
|
Iron:
1
mg
© Food And Meal
This website provides approximate nutrition information for convenience and as a courtesy only. Nutrition data is gathered primarily from the Spoonacular Database, whenever available, or otherwise other online calculators.
Using a silpat to roll up STRAWBERRY FRUIT ROLL UPS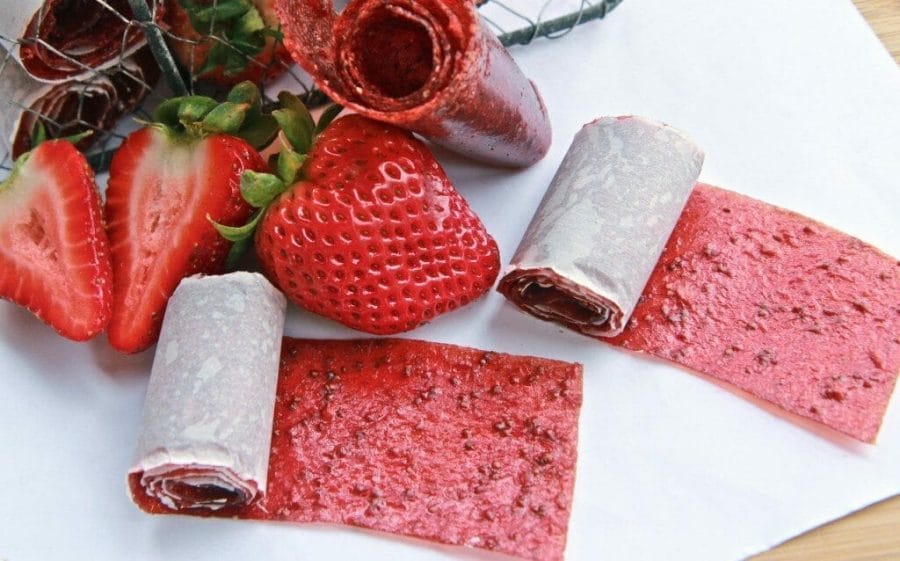 If you've made fruit leather in the past, you may be wondering what you should do next. You can either dry them in a dehydrator or bake them in a preheated oven at the lowest temperature. If you're using a conventional oven, the fruits will take six to eight hours to dry. If you're using a dehydrator, use the lowest temperature setting. Place your pans side by side and bake at a low temperature for 6 to 8 hours. If they're unable to stick to your finger, they're done.
First, prepare your baking sheet. If you're using parchment paper, you can use it to cover a non-stick surface. You can also use a silpat for easier clean-up. Using a silpat will make rolling up your fruit roll ups easier. Make sure you use a silpat if your baking sheet is 12X17.
When baking your fruit roll-ups, be sure to line it with parchment paper or a silicone mat. The parchment paper and silpat will prevent the fruit from sticking to the baking sheet and dripping on the edges. If they get too dry, they may be hard to remove once they've cooled. But if you want to prevent that from happening, lining your baking sheet with parchment paper or a silicone mat is the best option.
A silpat provides a layer of insulation that helps prevent your rolls from becoming too wet when baking. While parchment paper can be used to roll up fruit leather, using a silpat provides an extra layer of protection against heat. The silpat also gives the rolls an extra layer of protection, allowing them to be baked for a long time. This way, they'll stay fresh for up to a month.
Using pear juice concentrate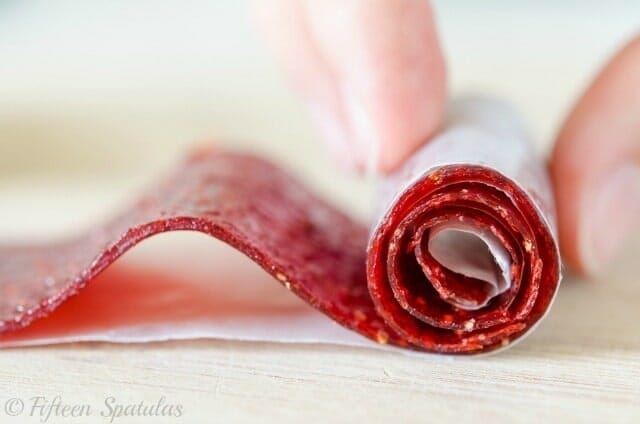 Using a pear juice concentrate in strawberry fruit roll ups will help produce a healthier and more delicious finished product than using pure sugar. Sugar is not as evenly dehydrated and results in a product that feels sticky and damp. A pear juice concentrate can be purchased at the frozen foods section of your local grocery store. Be sure to buy one that is a pure juice concentrate and not the concentrated version, which may contain added sugar or other ingredients. Pureed pears and calcium water should be used instead.
You can use almost any fruit you like to make your own strawberry fruit leather. All you need to do is combine one teaspoon of fruit puree with 1/4 cup of sweetener and bake. Strawberry fruit leather is an excellent, healthy snack. You can also make other types of fruit leather. Try using tomato paste or a variety of fruits. You'll be surprised by how versatile fruit leather can be! The recipe is simple and easy to make.
Using pear juice concentrate in strawberry fruit roll ups will produce a more fruity snack than using plain strawberry juice. While many fruit strips are fruit flavored candy, some contain artificial ingredients that are not beneficial to your health. For example, Annie's Real Peely Fruit Tape contains pear juice concentrate, apple juice concentrate, and raspberry and strawberry puree. You can even find fruit strips that contain citric acid and maltodextrin in their recipes.
Using corn syrup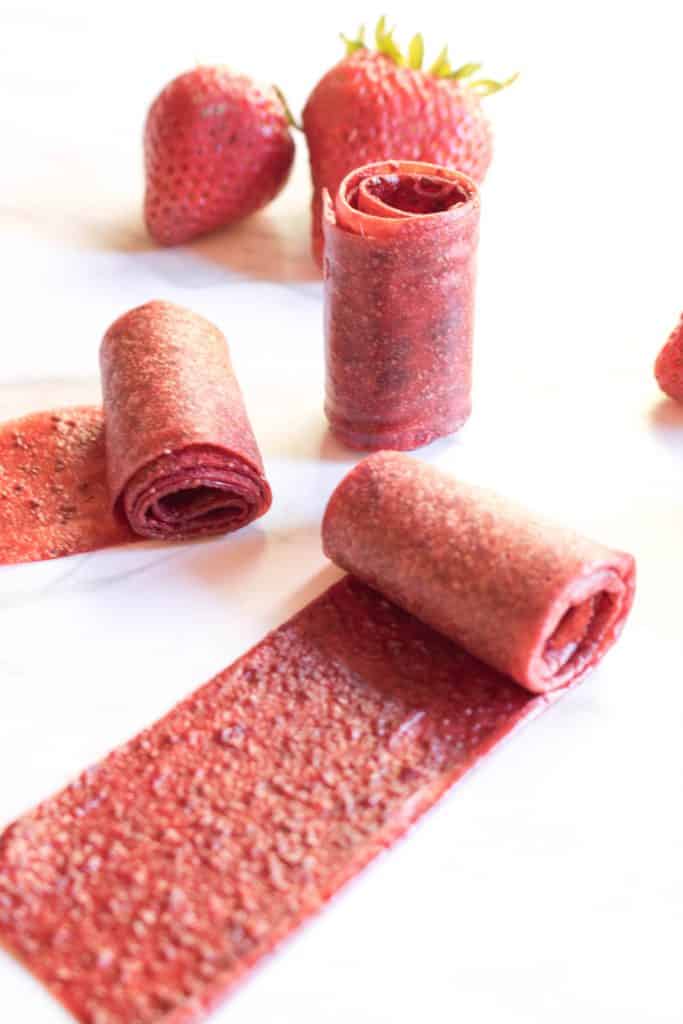 Using corn syrup for strawberry fruit roll up is an easy way to make a delicious and healthier alternative to store bought fruit roll-ups. These sweet treats are a great addition to picnics, road trips, and school lunches. The sugary, chewy texture of these snacks is very similar to a candy bar. Moreover, you can make them yourself at home without a food processor.
In addition to using corn syrup, you can also use fruit pectin or a different fruit puree. Choosing a brand that does not contain corn syrup or other ingredients that might make you sick is a great way to make these tasty treats healthier. Many people will agree with that! In addition to sugar, fruit roll ups may also contain other ingredients such as palm oil, partially hydrogenated cottonseed oil, and natural flavors and colors.
When making fruit roll ups at home, it is important to check the process frequently to ensure the best results. Ensure that the fruit leather is dry enough to keep for up to two weeks. For maximum results, store in an airtight container or zip-top plastic bag. Then, store them in a cool, dry place away from heat sources. You can also freeze them for up to a year.
Using sugar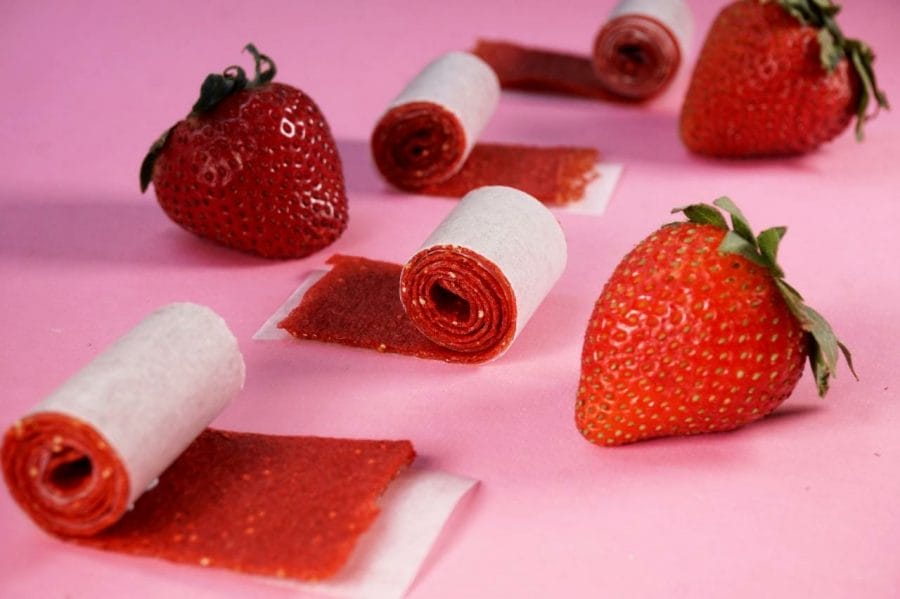 The first step to making fruit roll-ups is to puree the strawberries. About 1 pound of strawberries will yield 4 1/2 cups of puree. Cut the strawberries into chucks and spread them out evenly. Make sure to spread them evenly so that the sugar does not stick to your fingers once baked. Bake the rolls ups for about 20 minutes, until the sugar starts to turn slightly brown. If the fruit rolls ups are too sticky, you can add a little water.
You can experiment with different fruits and flavors. The sweeter the fruit, the less sugar you need to use. Test one before you make the full batch. As they dry, the flavors intensify and the recipe may need more or less sugar. Alternatively, you can use frozen fruit. Make sure to allow the frozen fruit to completely defrost before using it for fruit roll-ups. To make fruit roll-ups, you can use a pastry bag and a disposable plastic sheet.
Thanks for your visiting our FoodandMeal blog. Like and share this recipe if it is beneficial for you.