Print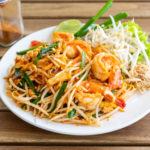 How to cook Pad Thai – Fried rice noodles
---
Author:

Prep Time:

10 mins

Cook Time:

20 mins

Total Time:

30 mins
Description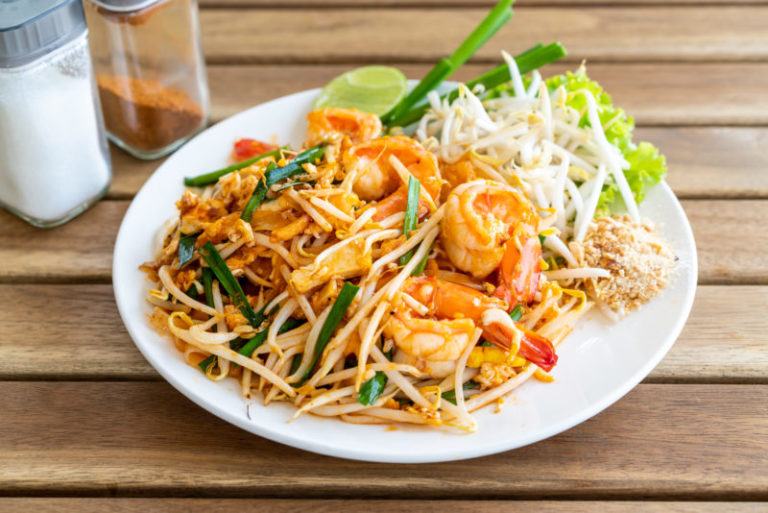 pad thai (stir-fried rice noodles with shrimps) – Thai food
Pad Thai – Thai fried rice noodle is typically made with rice noodles, shrimp, chicken, beef or tofu, peanuts, a scrambled egg, and bean sprouts, among other vegetables.
---
Scale
Ingredients
250 g

large rice noodles

500 g

boneless chicken breast

2

peppers

6

greens onions

4

lime wedges

3

cloves of garlic

500

ml bean sprouts

2

eggs 125 ml fresh coriander

125

ml unsalted peanuts

125

ml sweet chili sauce

80

ml nuoc mâm sauce

3

c. lime juice

1

C. 1 teaspoon tabasco

2

c. peanut or sunflower oil
---
Instructions
Bring a large pot of water to a boil. Throw in the noodles and remove the pan from the heat. Let stand 3 to 4 min until they have softened.  Stir with a fork to separate them well. Drain, rinse with cold water and set aside.
In a bowl, mix the sweet chili sauce, nuoc mâm, lime juice and tabasco.  Book. In a wok, heat a tablespoon of oil over medium-high heat.  Add the finely chopped garlic and the peppers cut into strips. Cook, stirring, for about 4 min. Book.
Heat the rest of the oil in the wok, add the minced chicken and cook for 4 to 5 minutes, stirring, until golden brown.  Reserve in a dish.
Reduce to medium heat. In the wok, add the lightly beaten eggs and cook for a min, until they are firm.  Add the sprouted beans, half of the finely chopped green onions and half of the chopped cilantro.  Then add the reserved noodles and peppers.
Continue cooking, continuing to mix for 1 min.  Add the chicken and the reserved sauce mixture and stir gently lifting the noodles to coat them well.  Add half of the coarsely chopped peanuts and leave on the heat for another min.
Serve the Thai pad sprinkled with the rest of the green onions, cilantro and peanuts.  Garnish with a lime wedge.
Notes
This Pad Thai – Fried rice noodles recipe is very easy and approachable can be made in under 25 minutes.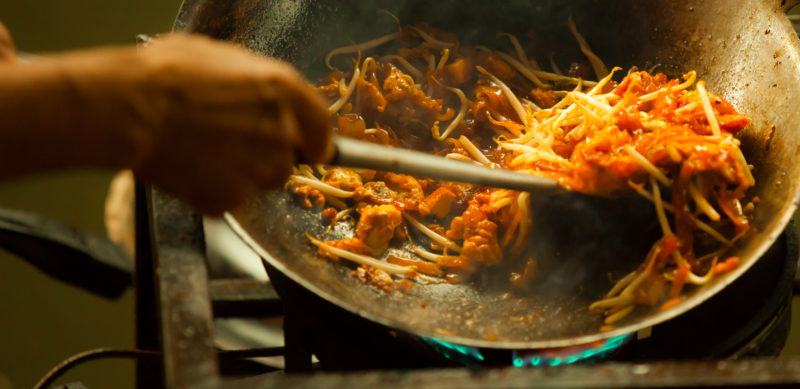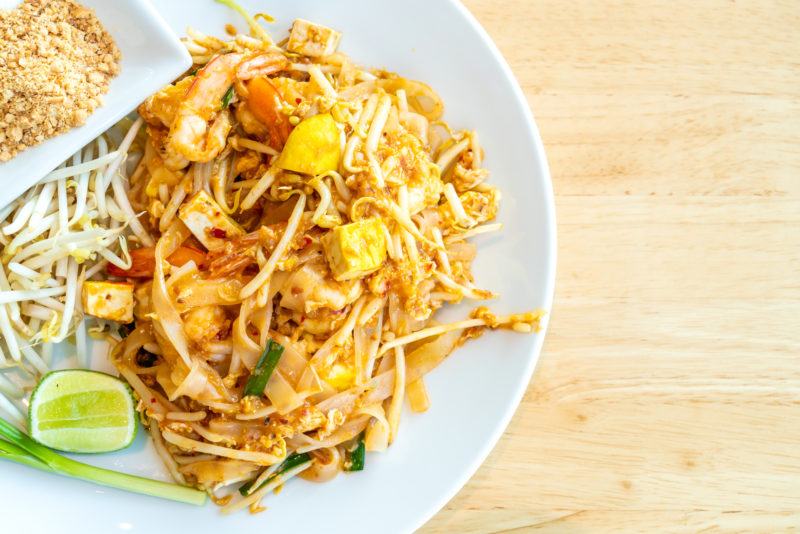 Keywords: pad thai, pad thai recipes,