This easy Chicken Meatballs recipe for chicken meatballs is sure to please any crowd. With a few simple ingredients and a few simple steps, you'll be cooking tasty Italian food in no time. The flavor and protein content of this dish will leave your family raving about it.
Chicken Meatballs Recipe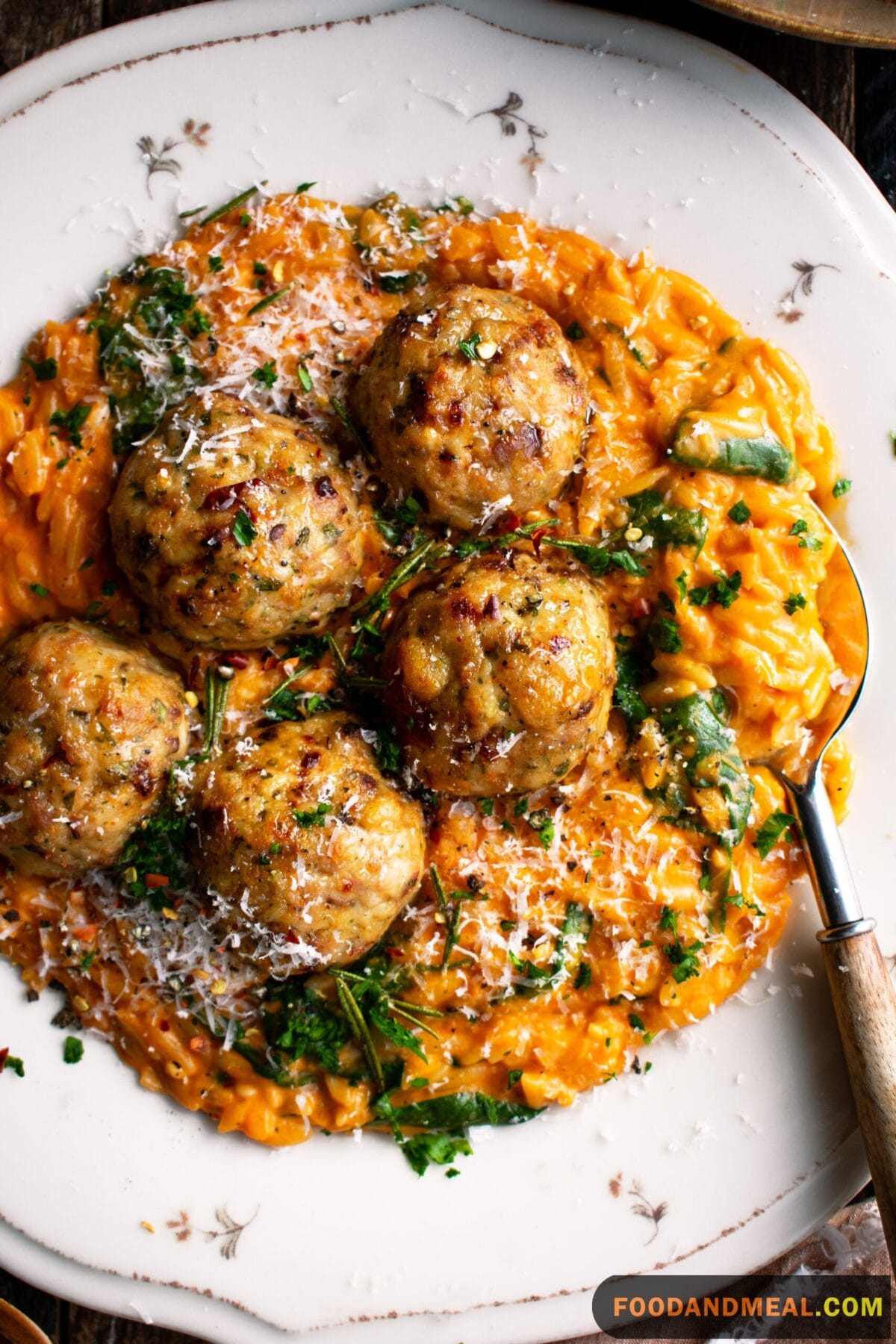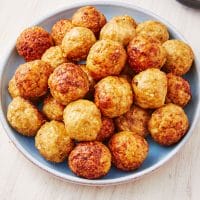 Chicken Meatballs ( Oven )
How to make Chicken Meatballs? - a great substitute for pork meatballs in your favorite spaghetti.  You can also eat them as viand or a main ingredient for a soup.  You may also fry them and eat them as they are, with or without sauce.
Print
Pin Recipe
Add to Collection
Go to Collections
Ingredients
Optional Ingredients
½

tsp.

basil leaf

dried, or oregano
Instructions
Step 1:
Preheat the oven in a 350°F temperature. Proceed into lining the baking pan with aluminum foil. (You can use also jelly roll pan but line it with foil, too.)
Step 2:
Pour olive oil into a heated skillet (over a medium low flame) and sauté the onions until you see the transparent consistency. Set aside the onions after sautéing.
Step 3:
Cut the chicken thighs into small pieces and don't forget to trim off the fat. Place the bits into the processor and hit the button.
Step 4:
As the chicken begin to be coarsely minced, add the sautéed onions, milk, bread bits, egg white, parsley and other seasonings. Grind the ingredients until finely processed.
Step 5:
Next, form the mixture into 1-inch balls and don't forget to dampen your hands with water as you work on them.
Step 6:
Get the baking pan and align all the meatballs. Roast the meatballs at 400°F for 25-30 minutes. (If you choose to cook the balls with sauce of your choice, put the balls with the sauce in a saucepan.  Bring into simmer, cover for about 30-35 minutes and serve hot.)
Notes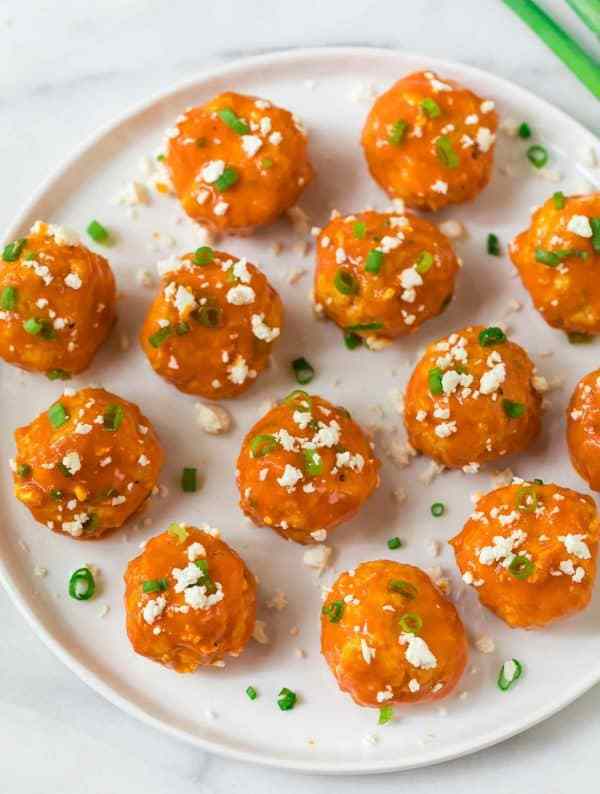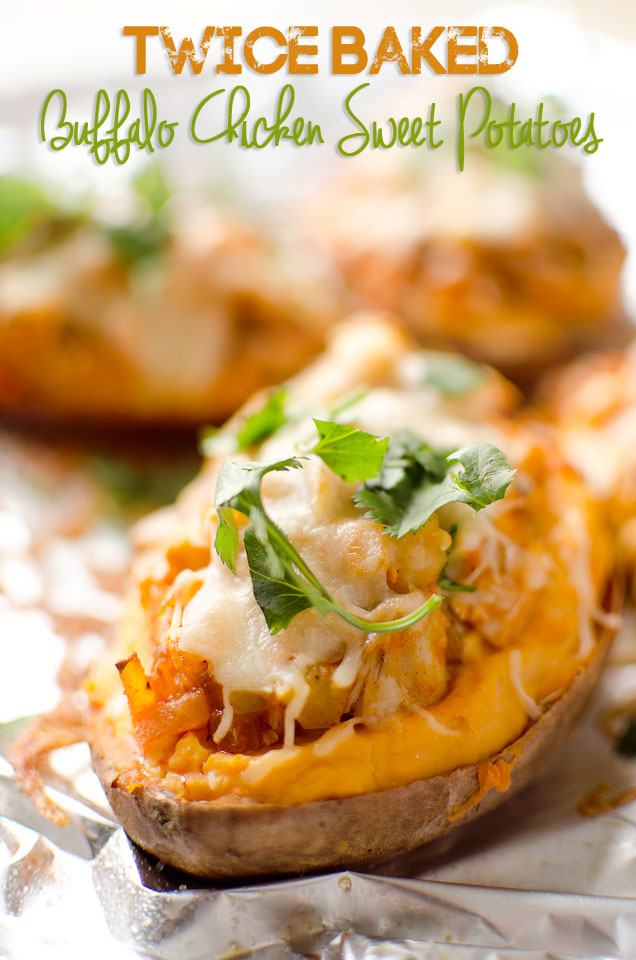 Share by Email
Share on Facebook
Share on Twitter
Nutrition
Serving:
1
meatball
|
Calories:
70
kcal
|
Carbohydrates:
2.2
g
|
Protein:
5.8
g
|
Fat:
4.3
g
|
Saturated Fat:
1.2
g
|
Cholesterol:
31
mg
|
Sodium:
125
mg
© Food And Meal
This website provides approximate nutrition information for convenience and as a courtesy only. Nutrition data is gathered primarily from the Spoonacular Database, whenever available, or otherwise other online calculators.
Pin Recipe
Preparing Chicken Meatballs in a Slow Cooker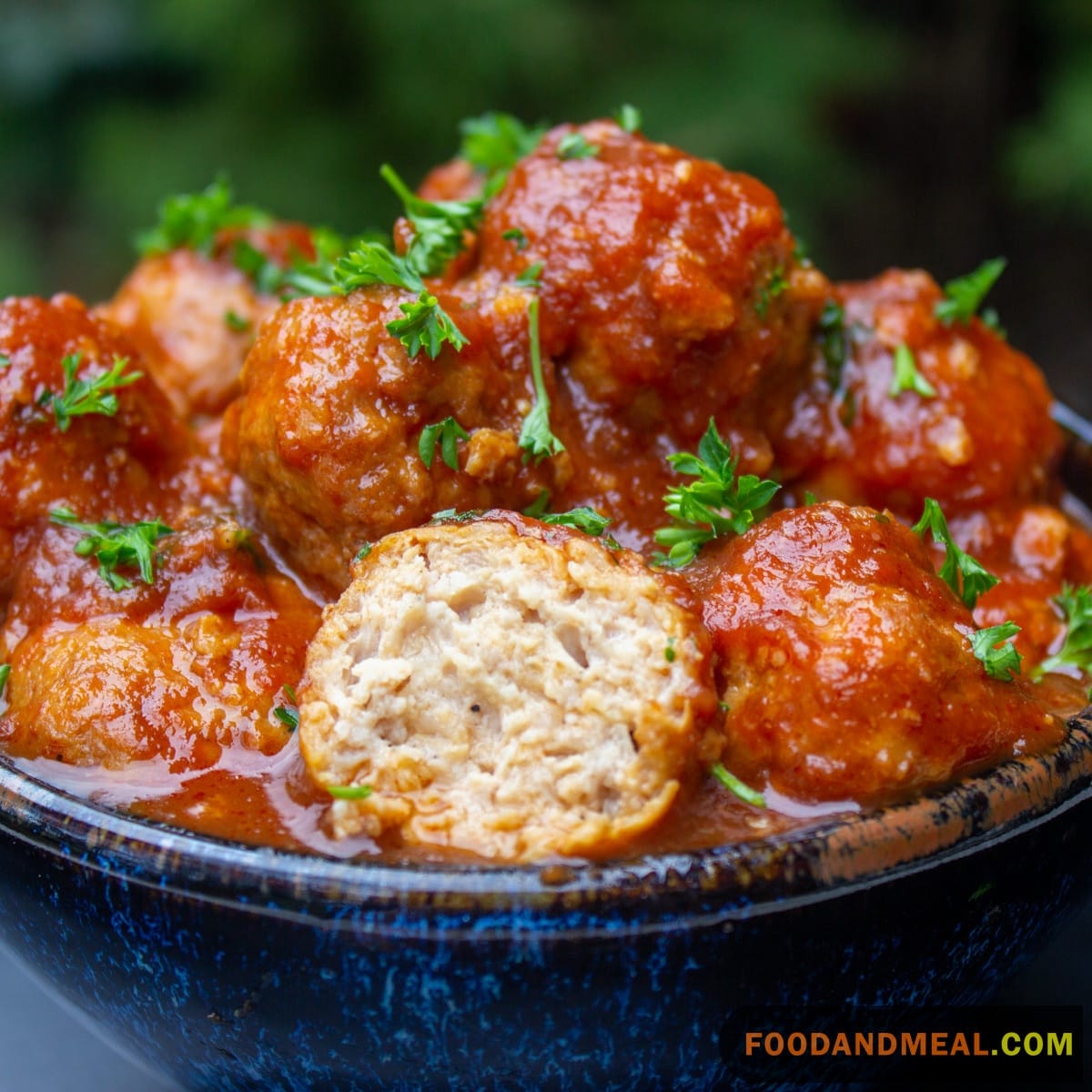 Oh, the slow cooker! It's a lifesaver on busy days, isn't it? And guess what? It can work wonders with our chicken meatballs recipe too. Let me walk you through this alternative method.
First, let's prepare the chicken meatballs as usual. Combine your ground chicken, breadcrumbs, egg, and seasonings in a bowl. Get your hands in there and mix until everything is well combined. Then, shape the mixture into small, bite-sized meatballs.
Now, here comes the fun part. Instead of baking or frying, we're going to place these raw meatballs at the bottom of the slow cooker. Make sure they're in a single layer and not overcrowded. We want them to cook evenly.
Next, pour your favorite sauce over the meatballs. It could be marinara, barbecue, teriyaki – whatever tickles your taste buds. The sauce will not only flavor the meatballs but also keep them moist during the long cooking process.
Now, put the lid on and set your slow cooker to low. The meatballs will need about 4-6 hours to cook. Yes, it's a bit of a wait, but trust me, the result is worth every minute. The slow cooking process allows the flavors to meld beautifully, resulting in incredibly tender and flavorful meatballs.
Once the meatballs are cooked through, give them a gentle stir to ensure they're all nicely coated in the sauce. And voila! Your slow cooker chicken meatballs are ready to be devoured. Serve them over pasta, rice, or with some crusty bread on the side. Enjoy the melt-in-your-mouth goodness!
Remember, slow cooking is more of an art than a science. Feel free to adjust the cooking time based on your slow cooker's settings and how tender you like your meatballs. Happy slow cooking!
Tips for making chicken Meatballs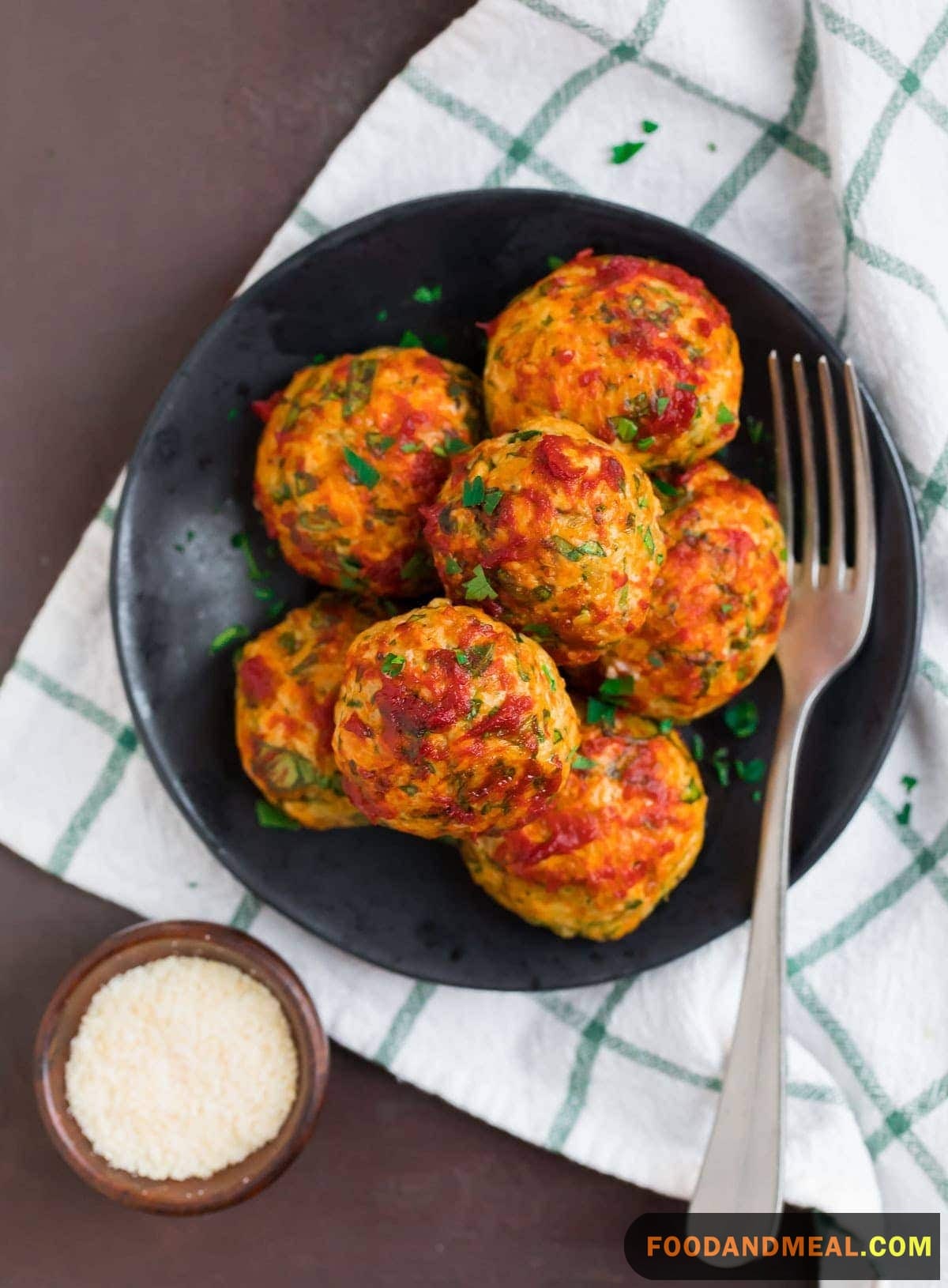 Serving Suggestions for Chicken Meatballs
Ah, chicken meatballs! They're like little flavor bombs that can be dressed up or down depending on the occasion. Let's talk about some delicious ways to serve them.
For sides, consider something light and refreshing to balance out the richness of the meatballs. A crisp green salad with a tangy vinaigrette, or perhaps some steamed vegetables lightly seasoned with herbs.
As for garnishes, a sprinkle of freshly grated Parmesan cheese or a handful of chopped fresh basil can add a wonderful finishing touch. And don't forget a good drizzle of high-quality olive oil for an extra layer of flavor.
When it comes to beverages, a medium-bodied red wine like a Merlot or a Sangiovese can complement the savory flavors of the chicken meatballs beautifully. If you prefer non-alcoholic drinks, a chilled glass of iced tea or a sparkling water with a squeeze of lemon would work just as well.
And who says chicken meatballs only belong on spaghetti? Try serving them in a sub roll for a hearty meatball sandwich. Or skewer them with some colorful veggies for a fun and healthy kebab option. You could even shrink them down to bite-size and serve as appetizers at your next party!
Cooking Tips for Chicken Meatballs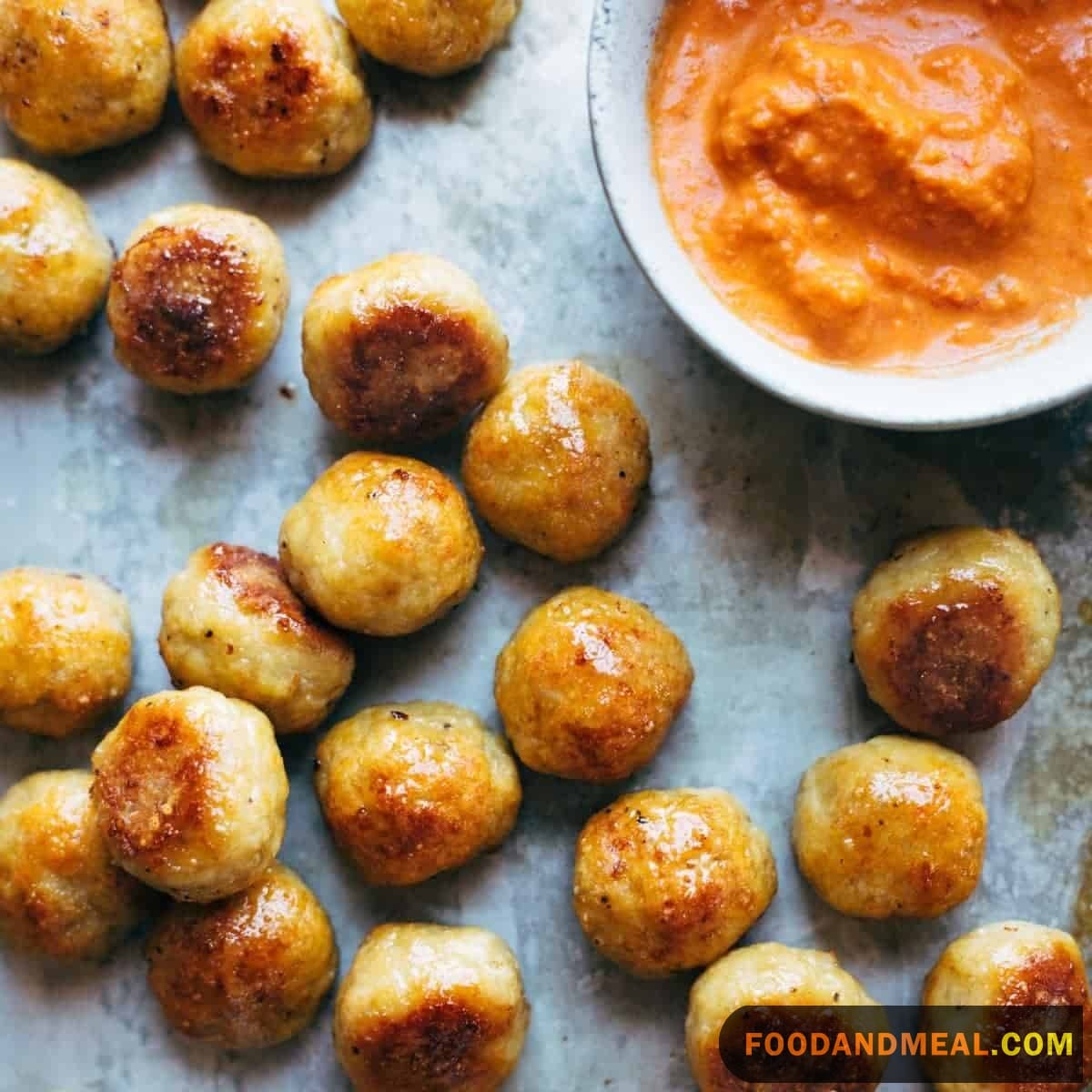 Now, let's talk about some tips and tricks to make your chicken meatballs the star of the show.
Firstly, don't overmix your meatball mixture. Overmixing can result in tough meatballs. Combine the ingredients until they're just mixed, no more.
Secondly, try to keep your meatballs all the same size. This ensures they cook evenly. A cookie scoop can be a handy tool for this.
A common mistake to avoid is overcooking your meatballs. Overcooked meatballs can become dry and tough. Remember to check the internal temperature to ensure they're cooked just right.
Another tip is to cook a small test meatball before shaping and cooking the whole batch. This allows you to taste and adjust the seasoning if needed.
Lastly, don't rush the browning process. Browning the meatballs well on all sides helps to lock in the juices and creates a delicious crust. So take your time, it's worth it!
Frequently Asked Questions About Chicken Meatballs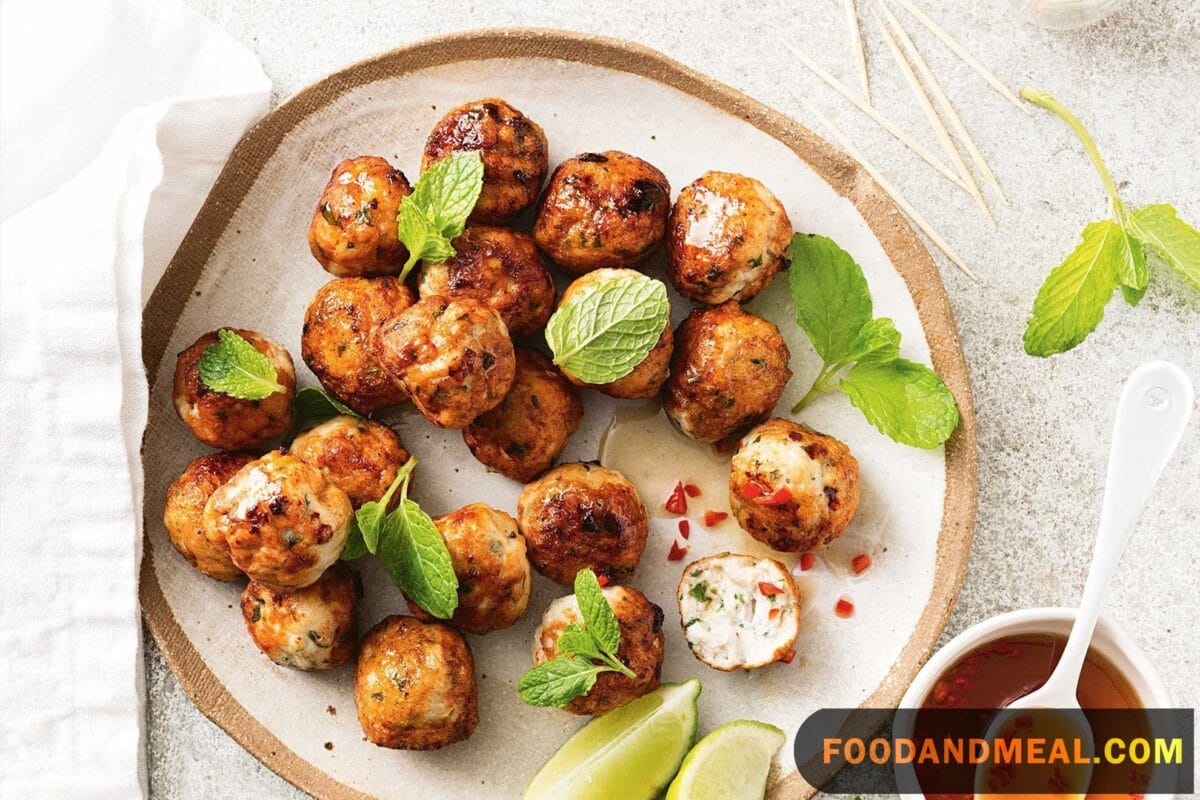 How should I store leftover chicken meatballs? Leftover chicken meatballs can be stored in an airtight container in the refrigerator for up to 3-4 days. To reheat, simply microwave them or warm them up in a saucepan over medium heat.
Can I freeze cooked chicken meatballs? Absolutely! Cooked chicken meatballs freeze well. Just let them cool completely, then place them in a freezer-safe bag or container. They can be frozen for up to 3 months.
What's the best way to reheat frozen chicken meatballs? You can reheat frozen chicken meatballs directly from the freezer. Just place them in a saucepan with some sauce, cover, and simmer over low heat until they're heated through.
Can I use ground turkey instead of chicken for the meatballs? Yes, you can! Ground turkey can be a great substitute for ground chicken in meatball recipes. Just keep in mind that turkey might be a bit leaner, so your meatballs could come out a bit drier.
How do I know when my chicken meatballs are cooked? Chicken meatballs are cooked when they reach an internal temperature of 165°F (74°C). The best way to check this is by using a meat thermometer.
Delve into the tantalizing world of our homemade Chicken Meatballs recipe. Packed full of flavor and easy to make, these meatballs are a must-try. Don't forget to share this delightful recipe with your loved ones and subscribe to our blog for more culinary adventures.
Experience the culinary brilliance of Chef John at Food And Meal Restaurant. With over 20 years of global expertise, My innovative creations and unwavering dedication to cooking have earned me a well-deserved reputation. My passion for gastronomy is showcased in every dish, combining fresh, local ingredients with harmonious flavors and captivating presentations. My ability to tell a story through my food reflects my profound understanding of culture and emotion.
Affiliate DisclaimerAbout The Content
As an affiliate, we may earn a commission from qualifying purchases. We get commissions for purchases made through links on this website from Amazon and other third parties.