In the realm of culinary delights, few dishes offer the comfort and satisfaction that lasagna does. But what if we told you there's a delightful twist to this classic favorite? Enter Pepper Chicken Lasagna Rolls, a fusion of flavors that's bound to tantalize your taste buds.
In this culinary journey, we'll uncover the secrets to crafting these delectable rolls, from cooking the perfect lasagna noodles to filling them with savory chicken and smothering them in marinara sauce. So, grab your apron, sharpen your skills, and let's dive into this exquisite recipe that's sure to elevate your cooking game.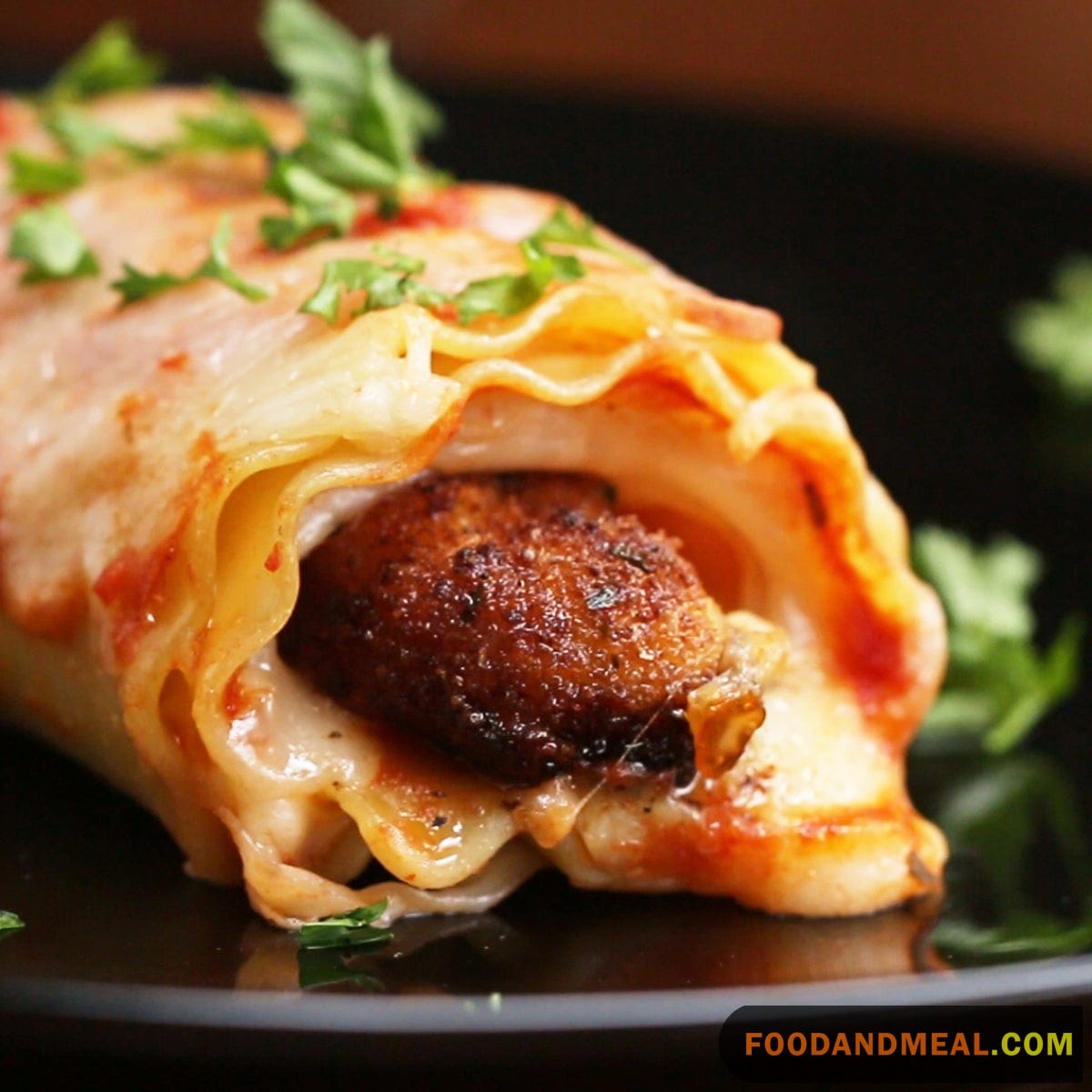 Pepper Chicken Lasagna Roll Recipe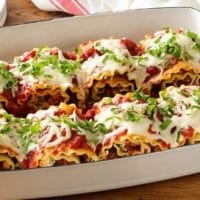 Roasted Red Pepper Chicken Lasagna Rolls
Roasted red pepper chicken lasagna rolls are a quick and easy dinner that will please anyone. This dish will make the house smell fantastic! The flavor of roasted red peppers is heavenly, and the roll-ups will be the perfect size for any family.
Print
Pin Recipe
Add to Collection
Go to Collections
Instructions
Roasted Red Pepper Chicken Lasagna Rolls

Prepare the lasagna sheets as per package instruction. After that, submerge the sheets into cold water until you are ready to use them.

Preheat your oven for about 375°F and prepare your 9×13-inch baking pan by spraying the bottom with cooking spray.

Using your food processor, process roasted red peppers, garlic together with olive oil until the mixture attain a fine consistency. Set aside the quarter cup of the red pepper mixture.

Stir together the remaining roasted red peppers and shredded chicken into a medium-sized bowl.

Into another bowl, incorporate ricotta, mozzarella, salt and pepper together.

Assemble the lasagna sheets by draining and patting them dry. Line wax paper on flat surface and line the lasagna sheets atop the wax paper.

Spoon about 2-3 tbsp. of ricotta mixture onto a lasagna sheet and spread the mixture across the entire sheet.

Put an ample or generous amount of chicken mixture on top of ricotta and spread it across the sheet.

Gently roll the lasagna sheets and remember that they should be loosely wrapped.

Place the lasagna roll on the baking sheet with the seam side down.

Repeat steps no. 7-10 until all lasagna sheets are done.

Divide the ¼ cup of red pepper mixture you set aside on top of the lasagna roll.

Sprinkle mozzarella cheese on the top of the rolls if you want.

Bake the roasted red pepper chicken lasagna rolls uncovered for about 25-30 minutes or at least until the mixture is warm and bubbly plus the cheese has already melted.
Notes
The perfect side dish for the evening! Once the chicken is done roasting, you can mix it with the ricotta mixture, cheese, garlic and spinach. Pour the mixture into the casserole dish and cover with the remaining layers.
Next time we will post how to prepare Roasted Red Pepper Chicken . And do you know how to cook chicken thighs?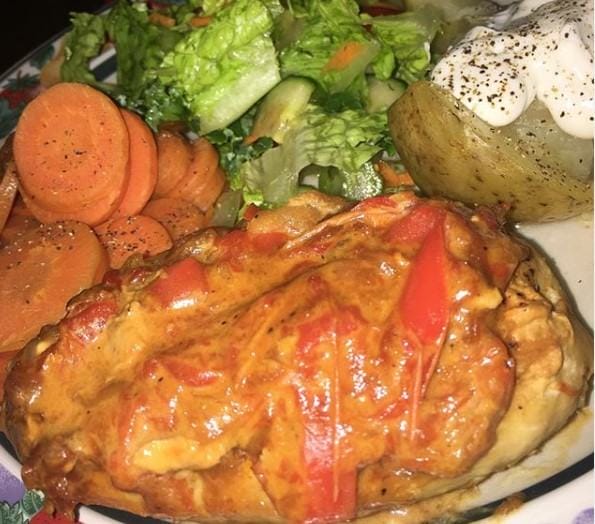 Share by Email
Share on Facebook
Share on Twitter
Nutrition
Serving:
1
serving
|
Calories:
510
kcal
|
Carbohydrates:
58
g
|
Protein:
40
g
|
Fat:
12
g
|
Saturated Fat:
5
g
|
Polyunsaturated Fat:
1
g
|
Monounsaturated Fat:
5
g
|
Trans Fat:
1
g
|
Cholesterol:
67
mg
|
Sodium:
1422
mg
|
Potassium:
550
mg
|
Fiber:
4
g
|
Sugar:
3
g
|
Vitamin A:
716
IU
|
Vitamin C:
27
mg
|
Calcium:
547
mg
|
Iron:
2
mg
© Food And Meal
This website provides approximate nutrition information for convenience and as a courtesy only. Nutrition data is gathered primarily from the Spoonacular Database, whenever available, or otherwise other online calculators.
Pin Recipe
Alternative Method: Oven-Baked Pepper Chicken Lasagna Rolls
Ingredients:
8 lasagna noodles
2 cups cooked and shredded chicken
1 cup ricotta cheese
1 cup shredded mozzarella cheese
1/2 cup grated Parmesan cheese
1/2 cup marinara sauce
1/2 cup diced bell peppers (red and green)
1/2 teaspoon crushed red pepper flakes (adjust to taste)
1/2 teaspoon garlic powder
Salt and pepper to taste
Fresh basil leaves for garnish
Instructions:
Preheat Your Oven: Preheat your oven to 375°F (190°C).
Cook Lasagna Noodles: Boil the lasagna noodles in a large pot according to the package instructions until they are al dente. Drain and set them aside.
Prepare Filling: In a mixing bowl, combine the shredded chicken, ricotta cheese, half of the mozzarella cheese, half of the Parmesan cheese, diced bell peppers, crushed red pepper flakes, garlic powder, salt, and pepper. Mix everything well to create a flavorful filling.
Assemble the Rolls: Lay out a cooked lasagna noodle on a clean surface or a cutting board. Spread a generous scoop of the chicken and cheese mixture evenly along the length of the noodle. Roll it up carefully, ensuring the filling is secure inside.
Layer with Sauce: Spread a thin layer of marinara sauce on the bottom of a baking dish. Place the rolled lasagna noodles seam-side down in the dish.
Top with More Sauce and Cheese: Pour the remaining marinara sauce over the rolls, making sure they are well-covered. Sprinkle the remaining mozzarella and Parmesan cheese over the top.
Bake: Cover the baking dish with aluminum foil and bake in the preheated oven for about 20-25 minutes, or until the cheese is bubbly and golden brown.
Garnish and Serve: Remove the foil, and broil for an additional 2-3 minutes to achieve a beautiful, golden crust. Garnish with fresh basil leaves before serving.
Enjoy: Serve the oven-baked Pepper Chicken Lasagna Rolls hot, and savor the delightful flavors.
Tips for making Pepper Chicken Lasagna Rolls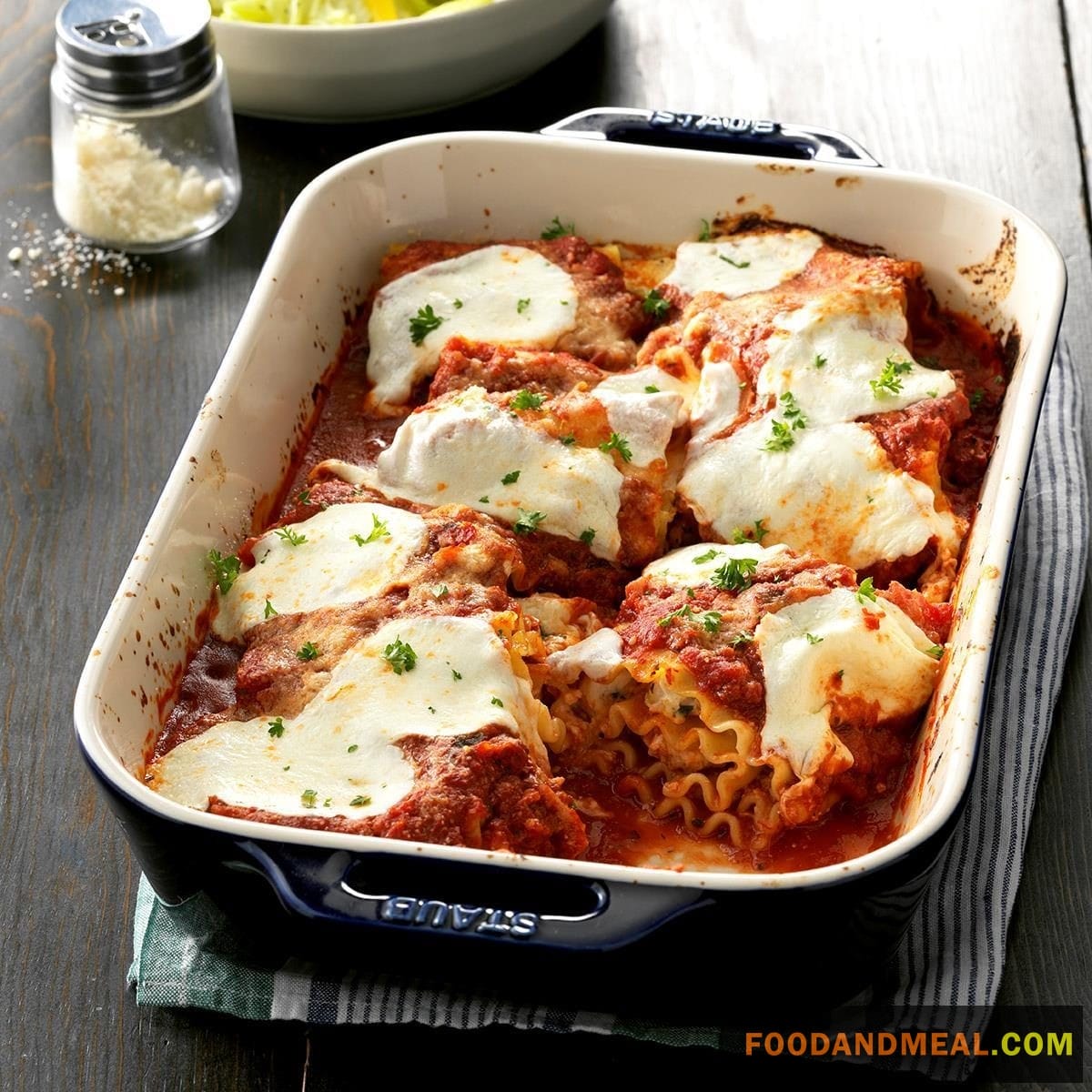 Serving Suggestions: Elevate Your Meal
Start with Sides: Pair your Pepper Chicken Lasagna Rolls with a selection of sides that enhance the flavors and textures. Here are some ideas:
Garlic Bread: The classic choice! Toasted garlic bread is the perfect companion to soak up that delicious marinara sauce.
Crisp Caesar Salad: A refreshing Caesar salad with crunchy romaine lettuce, croutons, and creamy Caesar dressing adds a delightful contrast to the richness of the rolls.
Roasted Vegetables: A medley of roasted vegetables, such as bell peppers, zucchini, and cherry tomatoes, adds color and freshness to your plate.
Garnishes That Impress: To add an extra touch of sophistication to your Pepper Chicken Lasagna Rolls, consider these garnishes:
Fresh Basil Leaves: A few fragrant basil leaves on top not only add a pop of color but also infuse a hint of freshness.
Grated Parmesan Cheese: A sprinkle of freshly grated Parmesan cheese takes the flavor to another level.
Chopped Fresh Herbs: Consider garnishing with finely chopped fresh herbs like parsley or chives for a burst of herbal aroma.
Beverages to Sip Along: Pairing the right beverage can elevate your meal experience:
White Wine: A crisp, chilled white wine like Sauvignon Blanc or Pinot Grigio complements the flavors and cuts through the richness of the dish.
Iced Tea: For a non-alcoholic option, a glass of iced tea, either sweetened or unsweetened, is a refreshing choice.
Sparkling Water: The effervescence of sparkling water cleanses the palate between bites and enhances the overall dining experience.
Serve with Style: While traditional plating is delightful, consider these creative ways to present your Pepper Chicken Lasagna Rolls:
Family-Style: Arrange the rolls on a large platter and let everyone help themselves.
Individual Plates: For an elegant touch, serve each guest with their own set of rolls on individual plates.
Bento Boxes: If you're aiming for a unique presentation, consider bento-style boxes with compartments for rolls, salad, and garnishes.
Cooking Tips: Mastering the Art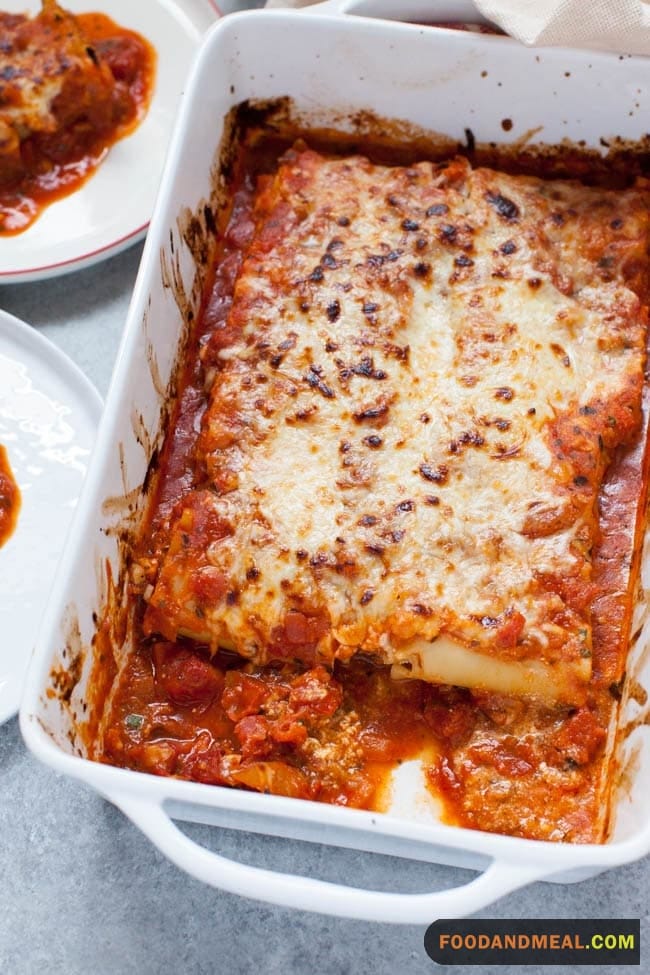 Cook Noodles Al Dente: Boil the lasagna noodles until they are al dente, as they will continue to cook in the oven. Overcooked noodles can become mushy and less enjoyable.
Shred the Chicken Well: Ensure your chicken is finely shredded for a consistent filling texture. A fork or your fingers can do the job efficiently.
Don't Overstuff the Rolls: While it's tempting to overstuff, a moderate amount of filling is key. Overfilling can make rolling challenging and result in filling spillage.
Seal the Rolls Tightly: When rolling the lasagna noodles, make sure they are tightly sealed to prevent the filling from leaking during baking.
Use Quality Marinara Sauce: Opt for a high-quality marinara sauce or, better yet, make your own for the best flavor. It's a crucial element of the dish.
FAQs of Pepper Chicken Lasagna Rolls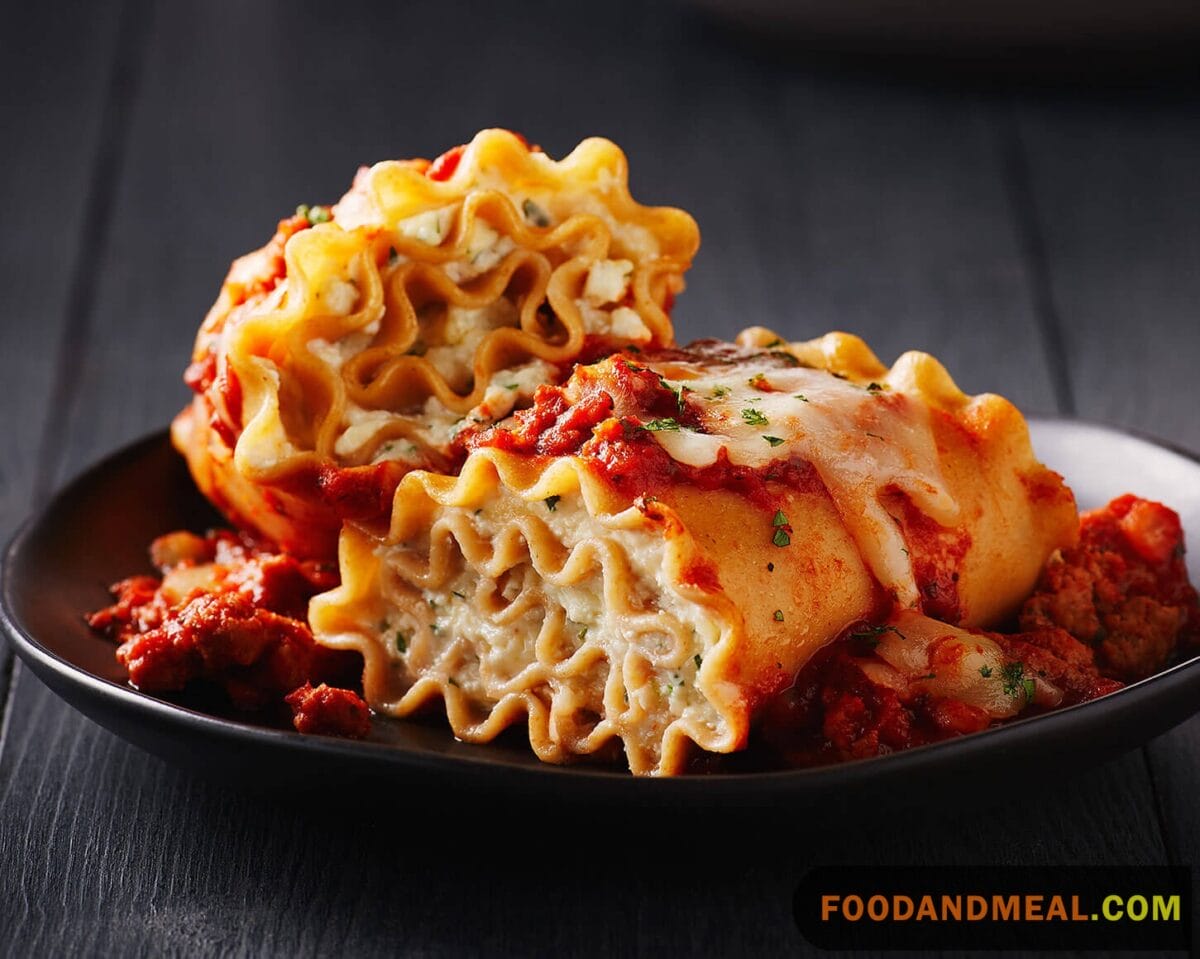 Can I Make These Rolls Ahead of Time? Absolutely! You can prepare the rolls in advance and refrigerate them for up to 24 hours before baking. This is a great option for planning meals ahead.
What's the Best Way to Store Leftovers? To store leftover Pepper Chicken Lasagna Rolls, place them in an airtight container and refrigerate for up to 3 days. Reheat in the microwave or oven for a delicious second meal.
Can I Freeze These Rolls? Yes, you can freeze unbaked Pepper Chicken Lasagna Rolls. Wrap them individually in plastic wrap and aluminum foil, then freeze for up to 3 months. When ready to enjoy, bake them from frozen—no need to thaw.
What's a Good Vegetarian Alternative? For a vegetarian twist, substitute the chicken with sautéed spinach or mushrooms and ricotta cheese. Follow the same assembly and cooking instructions.
Can I Use Gluten-Free Noodles? Absolutely! If you prefer gluten-free options, you can use gluten-free lasagna noodles to make this dish suitable for those with dietary restrictions.
As you savor the last bite of these Pepper Chicken Lasagna Rolls, we hope you've enjoyed this delightful culinary adventure. Keep exploring the world of cooking, and don't hesitate to return for more inspiring recipes and tips. For a steady stream of culinary inspiration, subscribe to our blog and become part of our vibrant foodie community. Until next time, happy cooking!
Experience the culinary brilliance of Chef John at Food And Meal Restaurant. With over 20 years of global expertise, My innovative creations and unwavering dedication to cooking have earned me a well-deserved reputation. My passion for gastronomy is showcased in every dish, combining fresh, local ingredients with harmonious flavors and captivating presentations. My ability to tell a story through my food reflects my profound understanding of culture and emotion.
Affiliate DisclaimerAbout The Content
As an affiliate, we may earn a commission from qualifying purchases. We get commissions for purchases made through links on this website from Amazon and other third parties.