Welcome to a culinary journey where we infuse the earthy charm of rosemary into succulent grilled chicken thighs. I'm excited to share this recipe that's a true masterpiece of flavors, and it's perfect for any occasion.
Grilled Rosemary Chicken Thighs Recipes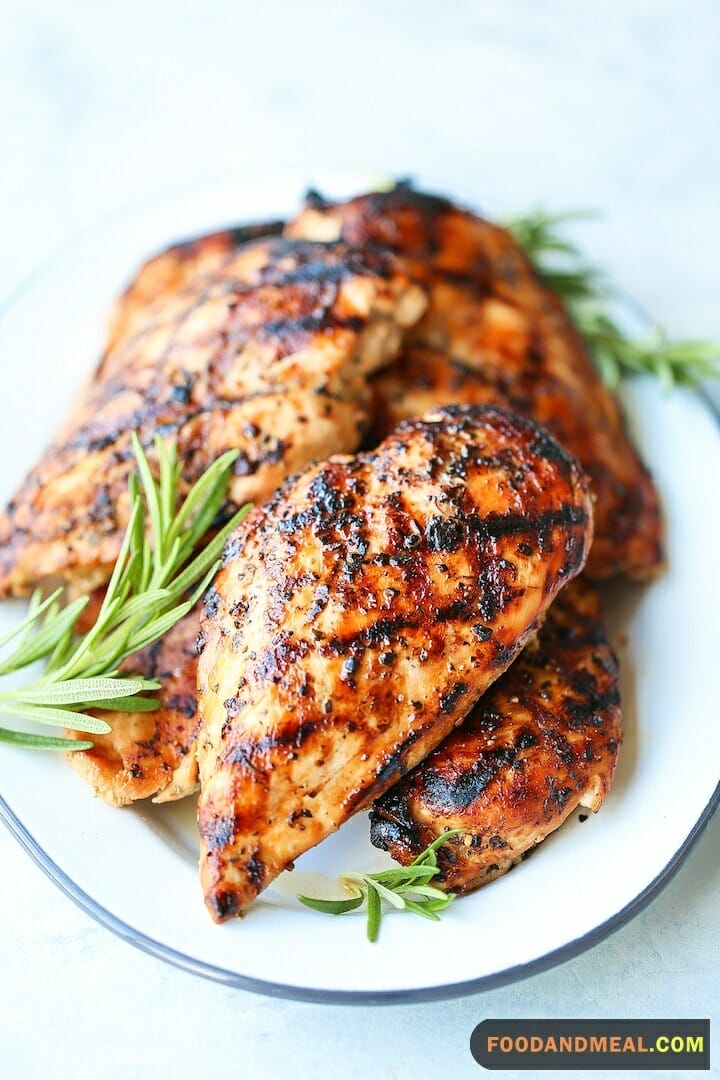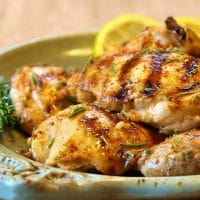 Grilled Rosemary Chicken Thighs
The perfect summer dish is lemon rosemary chicken. The lemon zest adds a tart taste, while the rosemary imparts a savory taste. You can prepare this recipe anytime of the year. The marinade can be prepared ahead of time and stored in the fridge for up to two weeks. Here's how to make it. Use the marinade for other dishes too. It will keep well in the fridge for a few days.
Print
Add to Collection
Go to Collections
Instructions
Make a garlic paste by mashing the minced garlic with a little kosher salt. Place the chicken pieces in a non-reactive bowl. Spread the garlic paste evenly on the chicken pieces.

Make the marinade: Combine the Dijon mustard, brown sugar, olive oil, balsamic vinegar, lemon juice, lemon zest, and chopped rosemary in a small bowl. Mix well with a whisk.

Pour the marinade onto the chicken, making sure all pieces are coated. Place chicken in fridge to marinate for at least 4 hours, and up to 24.

Thread the chicken onto metal skewers. If using wooden skewers, soak them in water for at least 30 minutes before grilling. Reserve the marinade as it will become your glaze.

Heat grill to medium-high for 10 minutes.

In the meantime, heat a small sauce pan over medium-high heat. Pour the marinade onto the pan and add 2-3 tablespoons water. Cook for 7-10 minutes or until sauce has thickened.

Grill chicken evenly on all sides until browned, a few minutes on each side. Adjust seasonings to taste

The marinade will have cooked down into a deep coloured glaze and can be poured on top of the chicken or used as a dipping sauce.
Notes
For this delicious chicken recipe, you must use a chicken thigh that registers at 165 degrees Fahrenheit. The thighs should rest for at least 5 minutes before being served. Then, you should prepare the marinade by mixing the rosemary and garlic with the lemon juice. After that, you should place the chicken thighs on a grill for a few minutes on each side. The thigh should be cooked at a temperature of 165 degrees Fahrenheit.
Share by Email
Share on Facebook
Share on Twitter
Nutrition
Serving:
4
servings
|
Calories:
649
kcal
|
Carbohydrates:
6
g
|
Protein:
38
g
|
Fat:
52
g
|
Saturated Fat:
12
g
|
Polyunsaturated Fat:
9
g
|
Monounsaturated Fat:
26
g
|
Trans Fat:
1
g
|
Cholesterol:
221
mg
|
Sodium:
415
mg
|
Potassium:
525
mg
|
Fiber:
1
g
|
Sugar:
4
g
|
Vitamin A:
192
IU
|
Vitamin C:
5
mg
|
Calcium:
38
mg
|
Iron:
2
mg
© Food And Meal
This website provides approximate nutrition information for convenience and as a courtesy only. Nutrition data is gathered primarily from the Spoonacular Database, whenever available, or otherwise other online calculators.
Alternative Method: Baked Rosemary Chicken Thighs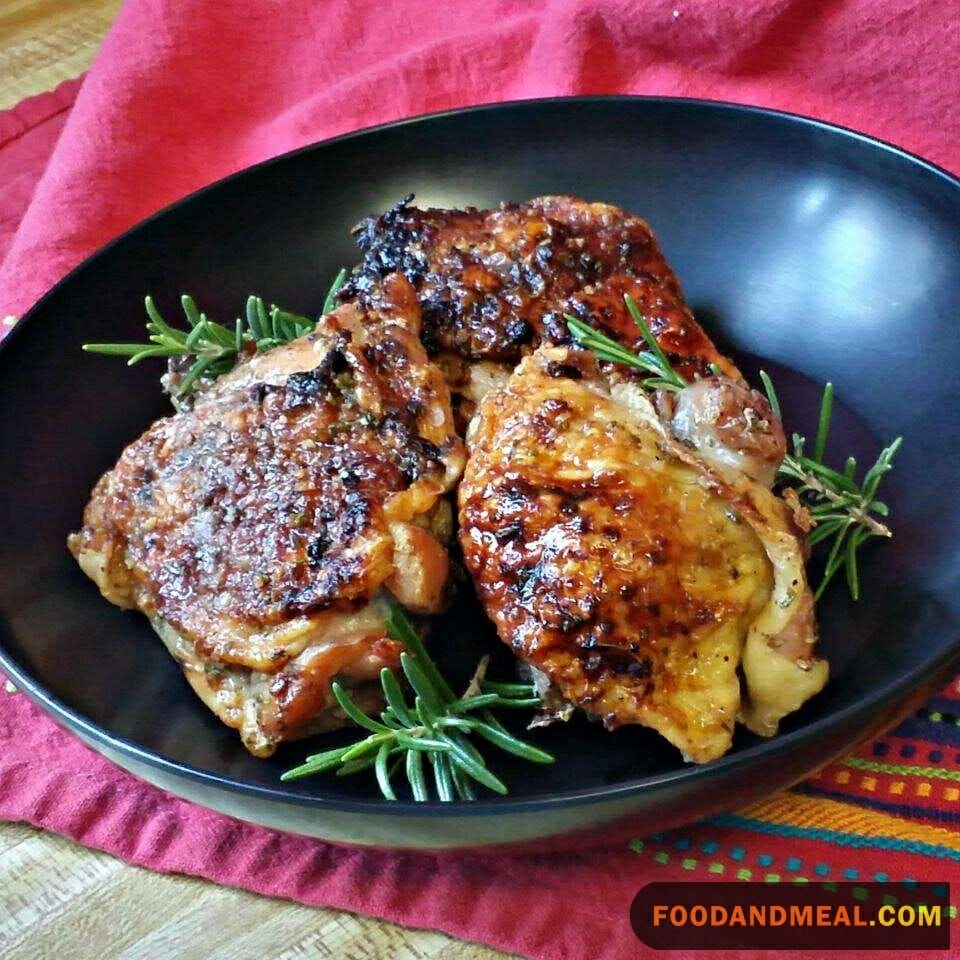 Rosemary-infused magic: Your taste buds are in for a treat.
Ingredients:
4 bone-in, skin-on chicken thighs
2 tablespoons olive oil
2 tablespoons fresh rosemary, finely chopped
3 cloves garlic, minced
1 teaspoon salt
1/2 teaspoon black pepper
1 lemon, sliced
1/2 cup chicken broth
Instructions:
Preheat the Oven: Preheat your oven to 375°F (190°C) and position the rack in the middle.
Prepare the Chicken: In a small bowl, combine the olive oil, chopped rosemary, minced garlic, salt, and black pepper. Mix well to create a flavorful marinade.
Marinate the Chicken: Place the chicken thighs in a large resealable plastic bag or a shallow dish. Pour the marinade over the chicken and massage it in, ensuring each thigh is coated evenly. Let it marinate for at least 30 minutes, allowing the flavors to meld.
Arrange in a Baking Dish: Take a baking dish and arrange the marinated chicken thighs in it, skin-side up. Pour any remaining marinade over the chicken.
Add Lemon Slices: Place lemon slices around and on top of the chicken thighs. The citrusy aroma will complement the rosemary beautifully.
Pour Chicken Broth: Pour the chicken broth into the bottom of the baking dish. This will keep the chicken moist and add extra flavor.
Bake: Cover the baking dish with foil and place it in the preheated oven. Bake for about 35-45 minutes or until the chicken thighs reach an internal temperature of 165°F (74°C).
Broil for Crispy Skin: To achieve a crispy skin, remove the foil and broil the chicken for an additional 2-3 minutes, keeping a close eye to prevent burning. This step is optional but highly recommended for that extra texture.
Serve: Once done, remove the chicken from the oven, and let it rest for a few minutes. Serve the baked rosemary chicken thighs with pan juices and roasted lemon slices for added zest.
Tips for making Grilled Rosemary Chicken Thighs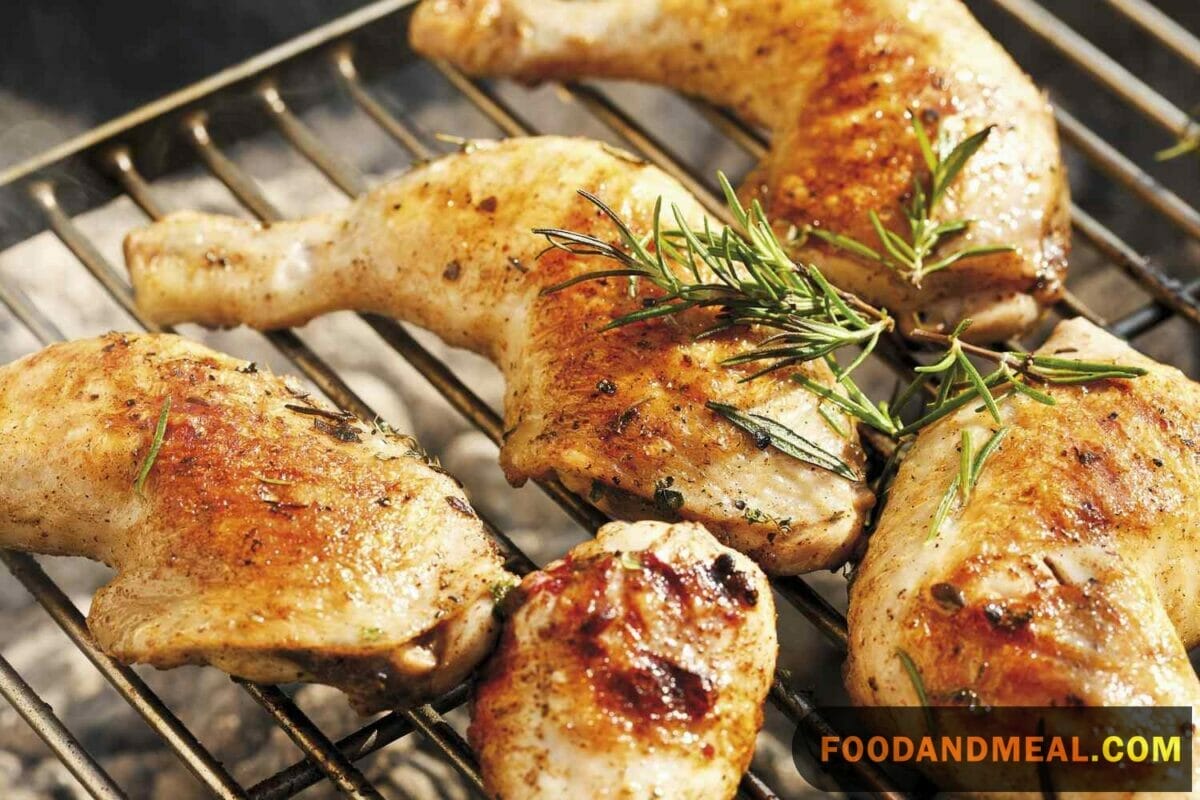 Cooking Tips
Marinate for Flavor: Give your chicken thighs ample time to marinate. A minimum of 30 minutes allows the rosemary and garlic to infuse the meat with their aromatic goodness.
Preheat the Grill or Oven: Whether you're grilling or baking, make sure your grill or oven is fully preheated. This ensures even cooking and that delicious sear.
Use an Instant-Read Thermometer: To avoid overcooking and drying out the chicken, invest in an instant-read thermometer. Chicken thighs are done at 165°F (74°C).
Oil the Grill Grates: Before placing the chicken on the grill, oil the grates to prevent sticking and achieve those beautiful grill marks.
Keep the Lid Closed: While grilling, resist the urge to constantly check and flip the chicken. Keep the lid closed to maintain a consistent temperature.
Baste for Extra Flavor: During grilling, baste the chicken thighs with the marinade or a mixture of olive oil and rosemary to enhance the flavor.
Rest Before Serving: After cooking, let the chicken rest for a few minutes. This allows the juices to redistribute, keeping the meat juicy and tender.
Serving Suggestions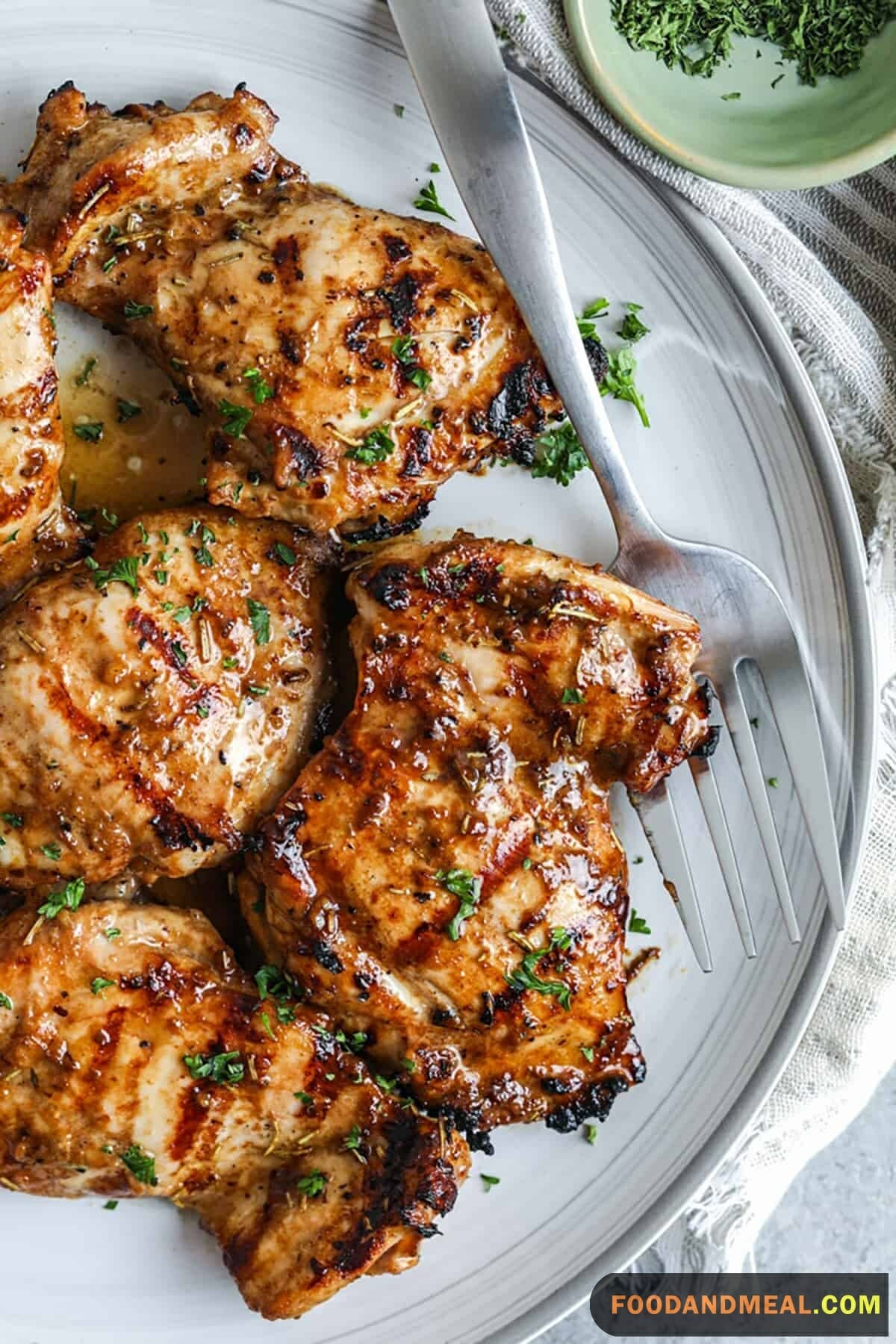 Roasted Vegetables: Serve with a side of roasted seasonal vegetables, like asparagus, bell peppers, or zucchini, drizzled with olive oil and a sprinkle of fresh rosemary.
Mashed Potatoes: Creamy mashed potatoes make a classic and satisfying side dish. Garnish with chopped chives for extra flair.
Fresh Garden Salad: A crisp, refreshing salad with mixed greens, cherry tomatoes, cucumbers, and a light vinaigrette adds a burst of freshness to the plate.
Couscous or Quinoa: Opt for a healthy grain like couscous or quinoa cooked with vegetable broth and herbs for a wholesome side.
Garlic Bread: A slice of warm, toasted garlic bread is always a hit. It's perfect for soaking up those flavorful juices.
Citrus Beverages: Complement the citrusy notes of the dish with a glass of fresh-squeezed lemonade or a crisp white wine.
Frequently Asked Questions about Grilled Rosemary Chicken Thighs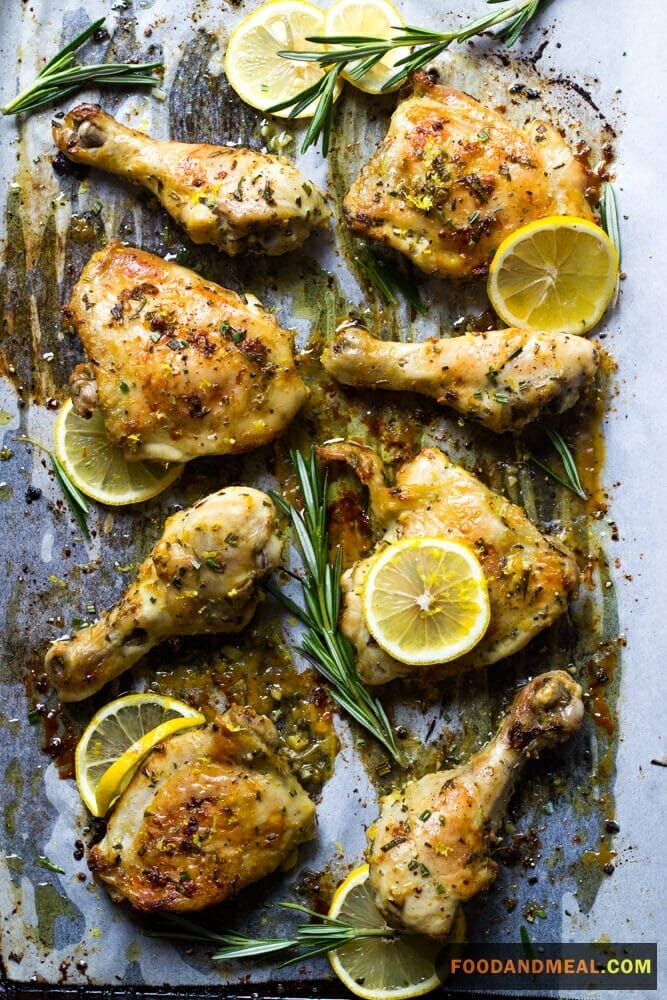 Can I use boneless, skinless chicken thighs for this recipe? Absolutely! While bone-in, skin-on thighs add extra flavor, boneless, skinless thighs will work too. Adjust cooking time slightly as they may cook faster.
Can I grill this recipe indoors on a grill pan? Certainly! A grill pan on the stovetop can mimic the grill's sear and flavor. Preheat the grill pan and follow the same instructions for grilling.
How can I store leftovers? Store any leftover grilled rosemary chicken thighs in an airtight container in the refrigerator. They'll stay delicious for up to 3-4 days.
Can I freeze the cooked chicken thighs? Yes, you can freeze them. Wrap each thigh individually in plastic wrap, then place them in a resealable freezer bag. They'll keep well for up to 2-3 months.
What if I don't have fresh rosemary? Dried rosemary can be used as a substitute. However, use half the amount since dried herbs are more potent than fresh ones.
Grilled rosemary chicken: Elevate your meals with this flavorful recipe. Learn to grill like a pro and explore delectable sides. Make every meal memorable.
I'm Tracy F Hilton, a devoted culinary professional shaped by a mix of natural aptitude and refined skills from a top culinary school. In the dynamic kitchen environment, I'm a catalyst for seamless operations and timely, high-quality dish preparation. My culinary creations are a blend of art and skill, offering visually and gustatorily delightful experiences. A learner at heart, I'm continuously honing my craft, embracing new techniques, and culinary innovations. My positive, collaborative nature is amplified in fast-paced settings, showcasing my commitment to team efficiency and guest satisfaction. Each dish I present is a meticulous blend of tradition and innovation, promising an unforgettable dining experience that marries taste, aroma, and aesthetic appeal in perfect harmony. Join me on a gastronomic journey where each bite encapsulates a rich, evolving narrative of flavors and culinary artistry.
Affiliate DisclaimerAbout The Content
As an affiliate, we may earn a commission from qualifying purchases. We get commissions for purchases made through links on this website from Amazon and other third parties.