Every once in a while, a recipe comes along that wraps you in warmth, evoking memories of family dinners, laughter, and love. My Italian Noodle Casserole does just that. Marrying rich flavors and tender pasta, it's a dish that stands testament to timeless Italian culinary artistry. Join me as we navigate this delicious journey together.
Italian Noodle casserole is a layer of cheesy goodness, creamy egg noodles and meaty sauce topped again with shreds of Cheddar cheese.  Every portion consists of sinful bites. To add more to the taste and enhance the health factor of this recipe, you can add portions of veggies into the meat sauce and change sour cream into Greek yoghurt.
Noodle Casserole Recipe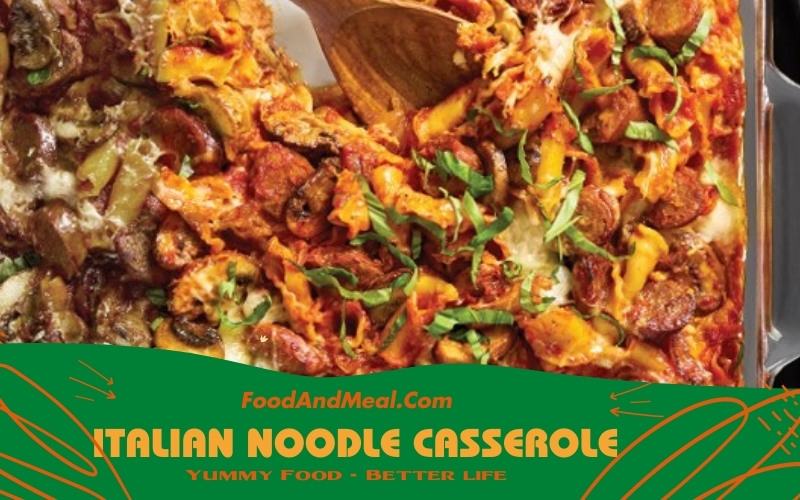 Italian Noodle Casserole is an easy recipe to make and will impress your guests. It can be made with ingredients from the grocery store. If you have guests over, this casserole will be a great option for dinner. You can prepare this dish ahead of time, allowing it to sit and absorb the flavor. If you have visitors, this delicious casserole will be a hit with everyone! It's easy and healthy to prepare and tastes great for any meal!
Italian Noodle Casserole
The heart of Italy thrives in its cuisine. With every recipe, there's a tale, a legacy, a tradition. Today, I'm sharing a piece of my heart, a slice of my Italian sojourn - the ethereal Italian Noodle Casserole. Come, immerse yourself in its rich legacy.
Print
Pin Recipe
Add to Collection
Go to Collections
Instructions
Preheat your oven for a temperature of 450-degree Fahrenheit.

Cook the pasta as per the direction of the manufacturer or cook it al dente.

Coat 9×13 inch casserole dish with oil or cooking spray. You can also use a glass baking dish to substitute the casserole dish if you don't have one.

Put your skillet over a medium flame and place the ground beef, onion, salt and pepper. Cook the beef until it attains a brown hue which means that it's thoroughly cooked.  Drain the beef, removing the excess grease in the process.

Add the zucchini and garlic into the beef and sauté for another 5 minutes.

Pour the tomato sauce and Italian seasoning before bringing it into a simmer. Add salt and pepper if you want an enhanced taste.

Drain the pasta and transfer into a bowl. Add the Greek yoghurt and cream cheese, then transfer the pasta mixture into the coated casserole dish or glass baking dish.

Pour the already made sauce onto the pasta then sprinkle with cheddar and parmesan cheese.

Bake the casserole for about 15-20 minutes into a 450-degree Fahrenheit temperature.

Serve Italian noodle casserole with your favourite red wine or drinks.
Notes
Pasta Perfect: Opt for a high-quality pasta variety. Trust me, it makes all the difference in achieving that impeccable texture. Love the recipe? Share your Italian Noodle Casserole moments with our community and inspire others.
Layering Love: The magic lies in the layers. Take your time, savor the process, and layer each ingredient with love. Touched by the magic of this dish? Spread the word and encourage your friends to subscribe for more culinary gems.
Herb Hints: Fresh herbs can elevate the casserole's flavor profile. A sprinkle of fresh basil or oregano can be game-changing.
Share by Email
Share on Facebook
Share on Twitter
Nutrition
Serving:
1
serving
|
Calories:
626
kcal
|
Carbohydrates:
68
g
|
Protein:
34
g
|
Fat:
26
g
|
Saturated Fat:
14
g
|
Polyunsaturated Fat:
1
g
|
Monounsaturated Fat:
8
g
|
Trans Fat:
1
g
|
Cholesterol:
80
mg
|
Sodium:
2173
mg
|
Potassium:
1702
mg
|
Fiber:
8
g
|
Sugar:
21
g
|
Vitamin A:
2262
IU
|
Vitamin C:
40
mg
|
Calcium:
440
mg
|
Iron:
6
mg
© Food And Meal
This website provides approximate nutrition information for convenience and as a courtesy only. Nutrition data is gathered primarily from the Spoonacular Database, whenever available, or otherwise other online calculators.
Pin Recipe
Preparing Italian Noodle Casserole Using a Slow Cooker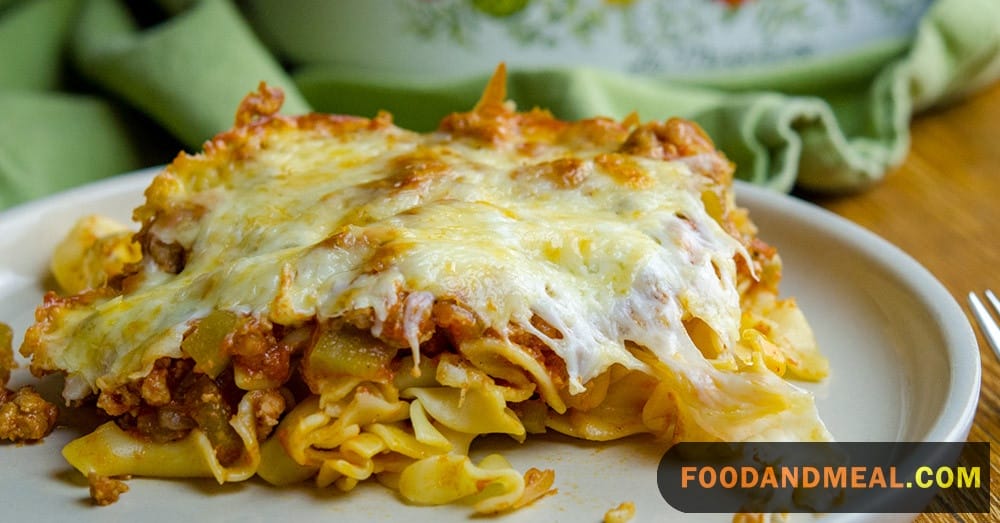 Ah, the slow cooker! An absolute gem in the culinary world. Using it for our beloved Italian Noodle Casserole not only eases the process but infuses every bite with an intensified depth of flavor. Here's how you can recreate the magic with this nifty appliance:
Ingredients
The same as the original recipe.
Instructions
Initial Prep: Start by boiling your noodles just until they're al dente. Remember, they'll continue cooking in the slow cooker, so we don't want them too soft. Drain them and set aside.
Sauté: In a skillet, heat a splash of olive oil over medium heat. Add in your finely chopped onions, garlic, and any other veggies you're using. Sauté until they're translucent and fragrant.
Mixing the Proteins: In the same skillet, add your choice of protein – be it ground beef, sausage, or a plant-based alternative. Cook until browned. If you're using any canned tomatoes or sauces, pour them into the skillet and let the mixture simmer for about 5 minutes, allowing the flavors to meld.
Layering: In your slow cooker, start with a thin layer of the meat and sauce mixture at the bottom. Follow this with a layer of your partially cooked noodles. Sprinkle a generous helping of cheese (mozzarella, parmesan, or ricotta – your pick!) over the noodles. Repeat the layers, finishing with a final layer of cheese on top.
Cooking Time: Cover your slow cooker and set it to LOW. Let your casserole cook for about 3-4 hours. Keep an eye after the 3-hour mark to ensure the edges don't get too crispy (unless that's your thing!).
Finishing Touch: Once cooked, turn off the slow cooker and let the casserole sit for about 15 minutes. This rest period allows it to set, making serving easier.
Garnish & Serve: Just before serving, sprinkle with fresh herbs like basil or parsley for a pop of color and added aroma.
Enjoy the ease of this method and the delicious, heartwarming results. The slow cooker infuses an unparalleled depth to the casserole, making every bite a cozy embrace of Italian flavors. Buon appetito!
Tips for making Noodle Casserole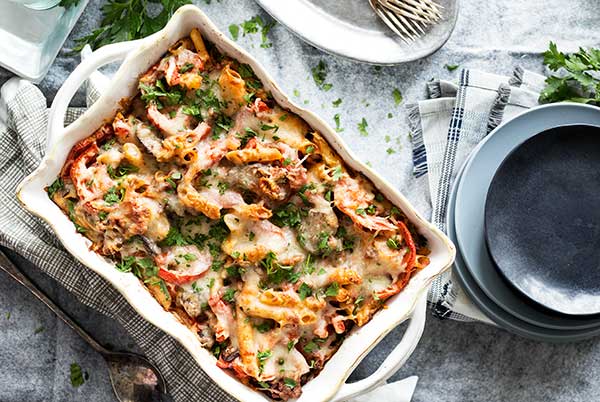 List of 5 FAQs on Italian Noodle Casserole
Can I use gluten-free noodles for this casserole? Absolutely! Gluten-free noodles work well in this recipe. Just ensure you cook them al dente to prevent them from getting too mushy in the casserole.
How do I ensure my casserole doesn't turn out too dry? The key is layering. Ensure you have enough sauce in each layer and particularly on top. Also, if using a slow cooker or oven, cover the dish properly to trap in moisture.
Is it possible to make this casserole vegetarian? Certainly! You can substitute the meat with plant-based proteins, mushrooms, or even a medley of veggies like zucchini, bell peppers, and eggplant.
How long can I store the Italian Noodle Casserole leftovers? Leftovers can be stored in the refrigerator for up to 3-4 days. Ensure it's kept in an airtight container to maintain freshness.
Can I freeze the casserole for future use? Yes, you can. Once the casserole has cooled, slice it into portion sizes, wrap in freezer-safe wrap or foil, and freeze. When ready to eat, thaw in the refrigerator overnight and reheat in the oven.
Cooking Tips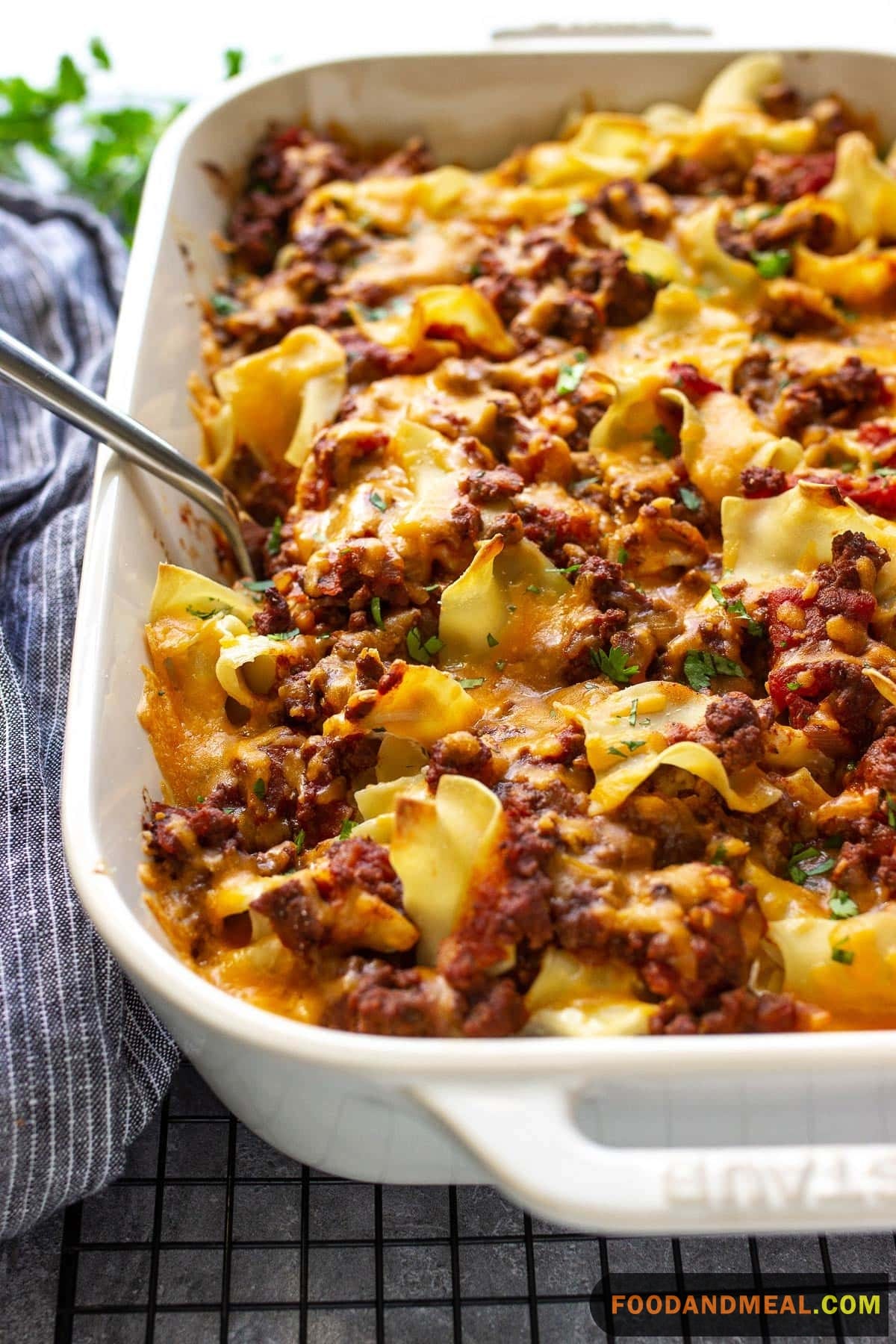 Navigating through the culinary seas, I've stumbled, learned, and perfected. Here are some nuggets of wisdom to elevate your Italian Noodle Casserole:
Choice of Pasta: Opt for a sturdy noodle like penne or rigatoni. They hold up well and soak in the flavors beautifully.
Sauce Consistency: A good casserole hinges on the sauce. Ensure it's not too runny; otherwise, you'll end up with a soggy dish. If using canned or jarred sauce, consider reducing it a bit on the stovetop first.
Cheese Galore: Layer cheese within and on top for that gooey, golden finish. Combining different types, like mozzarella for meltiness and parmesan for sharpness, enhances the dish.
Avoid Overcooking: Especially when using the slow cooker method, keep an eye on the casserole during the final stages of cooking to ensure it doesn't get overcooked.
Serving Suggestions to Complement Italian Noodle Casserole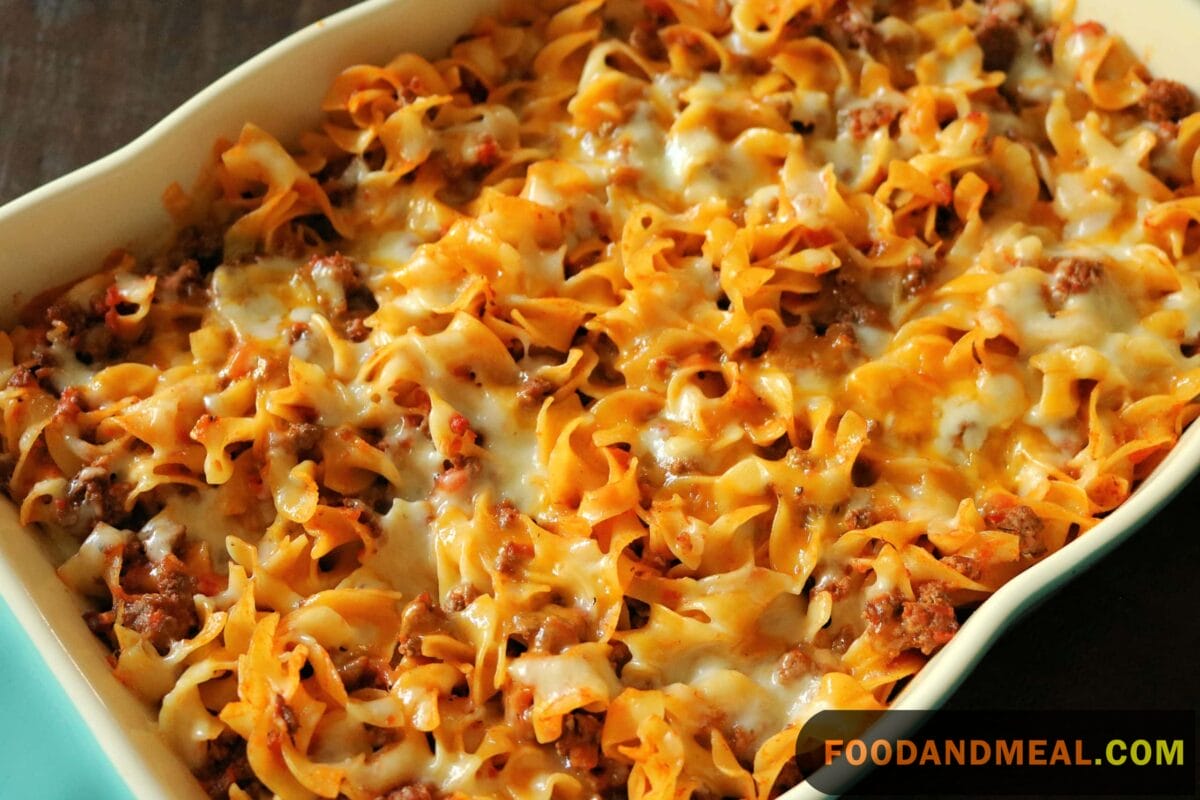 The canvas of flavors in our Italian Noodle Casserole is broad, and with the right accompaniments, it's a symphony. Here's how you can amplify the experience:
Side Salads: A crisp, fresh salad works wonders alongside the hearty casserole. Think classic Caesar or even a Mediterranean salad with olives, feta, and sun-dried tomatoes.
Bread Galore: A side of garlic bread or focaccia is ideal for scooping up any lingering sauce on your plate.
Wine Pairings: A glass of Chianti or Sangiovese, with its robust flavor profile, complements the rich casserole beautifully.
Garnish: A sprinkle of fresh herbs – basil, parsley, or even a dash of red chili flakes for those who love some heat.
Alternate Serving: Consider serving individual casserole portions in ramekins. It adds a touch of elegance and ensures a crisp edge for every serving.
Relish every bite, sip, and moment. This isn't just food; it's an experience.
From the rustic kitchens of Italy to your dining table, our Italian Noodle Casserole promises an exquisite journey. Loved the flavors? Spread the joy and share the recipe. For more such culinary gems, hit that subscribe button!
Thanks for your visiting our FoodAndMeal.Com blog. Like and share this recipe if it is useful for you.
Experience the culinary brilliance of Chef John at Food And Meal Restaurant. With over 20 years of global expertise, My innovative creations and unwavering dedication to cooking have earned me a well-deserved reputation. My passion for gastronomy is showcased in every dish, combining fresh, local ingredients with harmonious flavors and captivating presentations. My ability to tell a story through my food reflects my profound understanding of culture and emotion.
Affiliate DisclaimerAbout The Content
As an affiliate, we may earn a commission from qualifying purchases. We get commissions for purchases made through links on this website from Amazon and other third parties.