Close your eyes and imagine the sizzle of a hot pan, the aroma of fragrant spices, and the anticipation of a dish that promises culinary ecstasy. Today, I'm excited to share my culinary creation – Spicy Stir-Fried Rice Cakes. Join me in exploring a symphony of tastes that's perfect for those who dare to embrace the spice.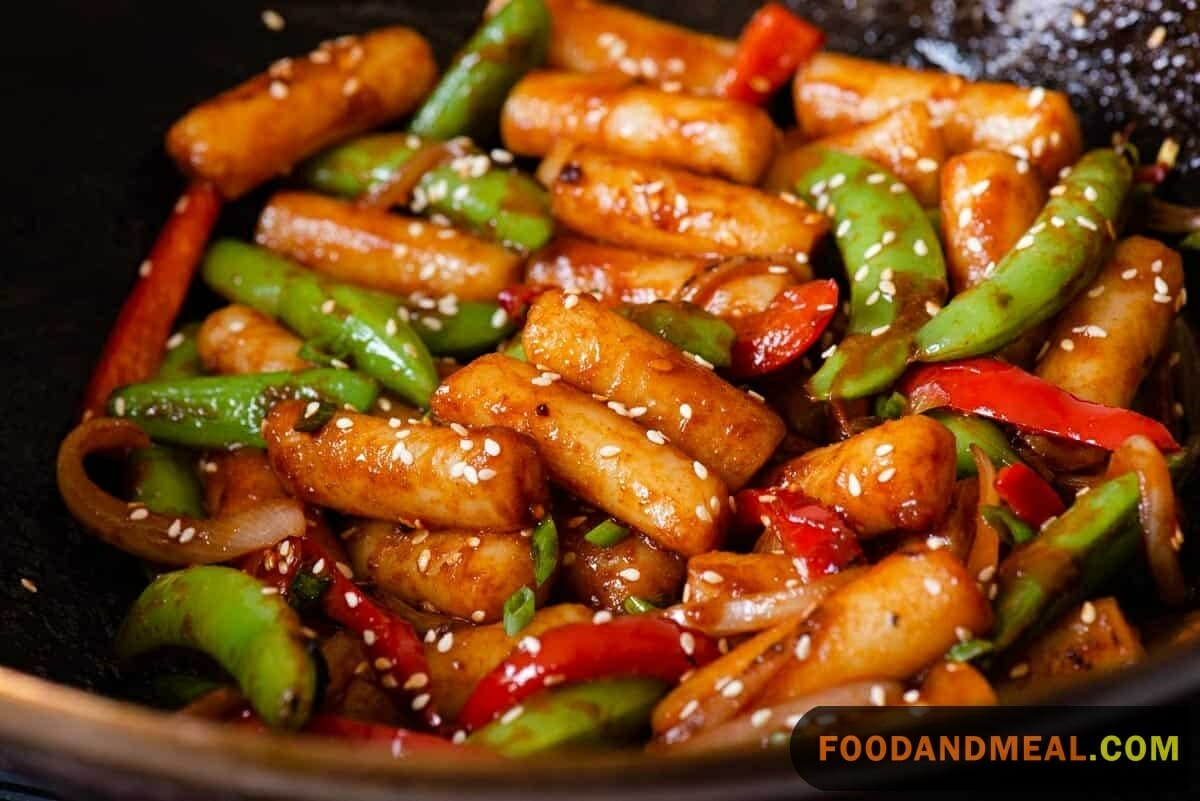 Spicy Stir-Fried Rice Cakes Recipe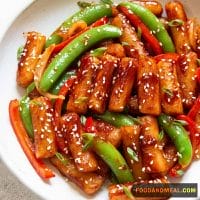 SPICY STIR-FRIED RICE CAKES
Prepare to be spellbound by the captivating fusion of spice and harmony in Spicy Stir-Fried Rice Cakes. Crafted with precision and passion, this recipe takes you on a journey where every bite unveils layers of flavors. Sharing is caring – spread the joy by sharing this recipe with fellow food lovers and subscribe to my blog to continue discovering culinary wonders.
Print
Add to Collection
Go to Collections
Equipment

Ingredients
1

pound

cylindrical rice cakes (duk), cut into 2-inch pieces

3

cups

water, at room temperature

1

tablespoon

gochujang

1

teaspoon

gochugaru

1

tablespoon

sugar

2

teaspoons

minced garlic

1 1/2

tablespoons

soy sauce

1

cup

rectangular fish cakes (omuk), cut into 1-inch pieces

3

shiitake mushrooms, soaked for 30 minutes, drained, and sliced into pieces

2

cups

chopped napa cabbage
Instructions
Soak the rice cakes in cold water for about an hour. Drain and set aside.

In a wide, shallow saucepan, mix 3 cups water with the gochujang, gochugaru, sugar, garlic, and soy sauce and bring to a boil over high heat. Add the fish cakes and stir to combine. Return to a boil and add the mushrooms, cabbage, and rice cakes. Bring up to a boil again and cook for about 3 minutes, and then turn off the heat. The sauce will thicken while it sits, but you can serve it immediately.
Notes
VARIATION TIP: A popular fusion dish in Korea is tteokbokki carbonara, or rice cakes in a creamy sauce that is like an Italian carbonara sauce. Add pancetta, 1 cup half-and-half, and 1⁄4 cup grated
Parmesan cheese to the sauce while cooking. For a less spicy version, omit the gochujang.
Share by Email
Share on Facebook
Share on Twitter
Nutrition
Calories:
23
kcal
|
Carbohydrates:
5
g
|
Protein:
1
g
|
Fat:
0.1
g
|
Saturated Fat:
0.02
g
|
Polyunsaturated Fat:
0.1
g
|
Monounsaturated Fat:
0.02
g
|
Sodium:
386
mg
|
Potassium:
45
mg
|
Fiber:
0.3
g
|
Sugar:
4
g
|
Vitamin A:
156
IU
|
Vitamin C:
1
mg
|
Calcium:
7
mg
|
Iron:
0.3
mg
© Food And Meal
This website provides approximate nutrition information for convenience and as a courtesy only. Nutrition data is gathered primarily from the Spoonacular Database, whenever available, or otherwise other online calculators.
Cooking Tips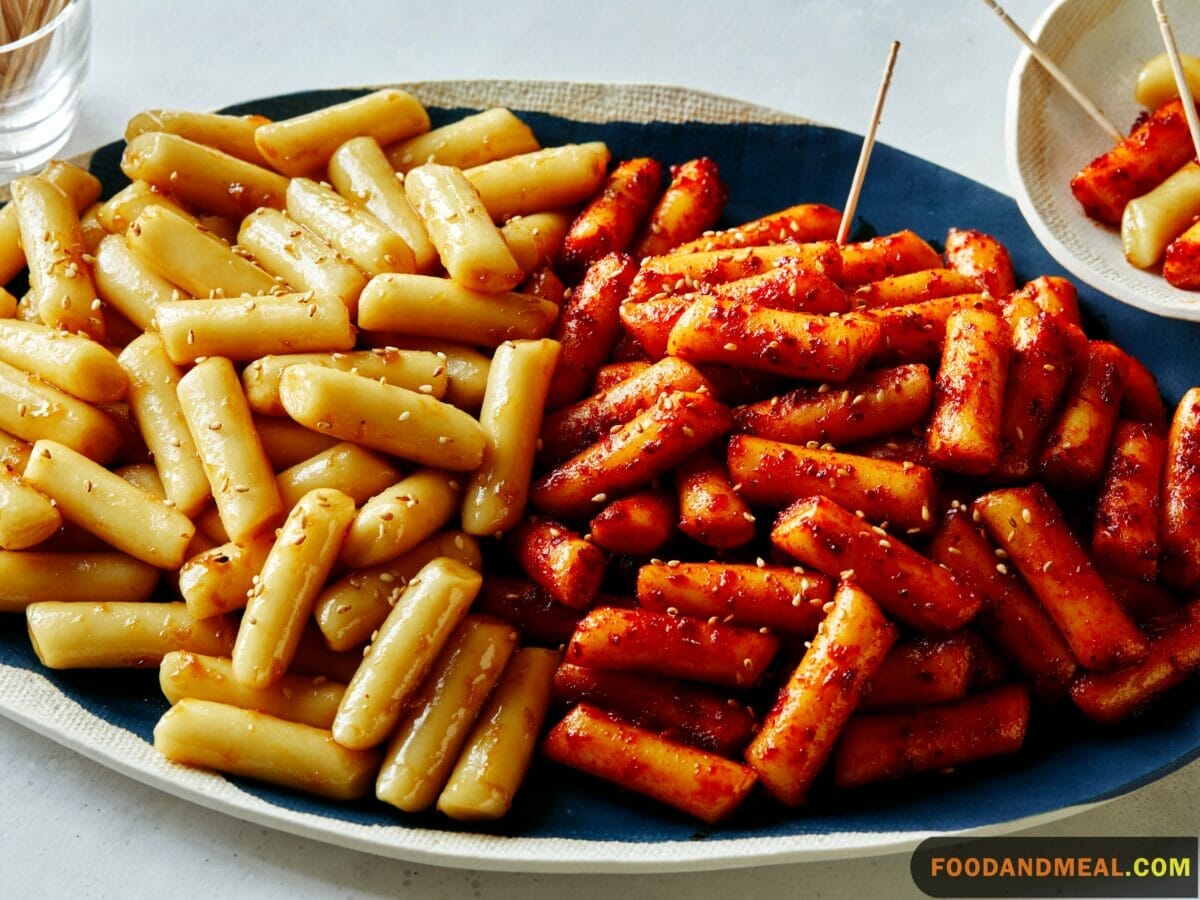 Prep Excellence: Cut rice cakes into uniform pieces for even cooking and a harmonious bite.
Sauce Fusion: Mix the sauce ingredients separately before adding to the stir-fry. This ensures an even distribution of flavors without overwhelming the dish.
High Heat Adventure: Use high heat for that irresistible sear and to prevent the dish from becoming soggy.
Vegetable Crunch: Add veggies towards the end to retain their vibrant colors and maintain their delightful crunch.
Common Mistakes to Avoid:
Overcooking Rice Cakes: Overcooked rice cakes can become mushy. Strive for the perfect balance between tender and chewy.
Sauce Overload: While the sauce is the star, a little goes a long way. Begin with a modest amount and adjust to your taste.
Serving Suggestions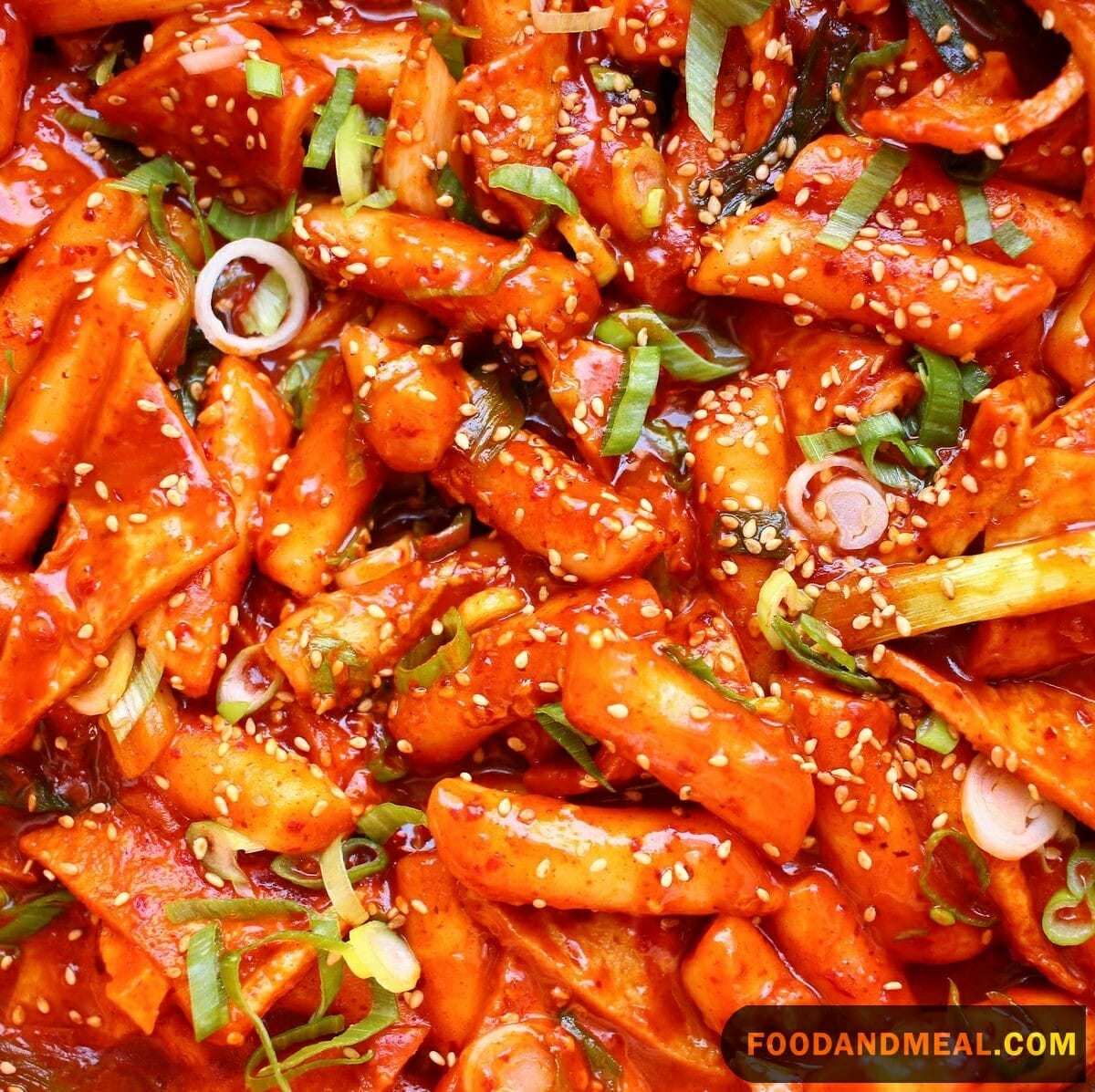 Late-Night Cravings: Satisfy those late-night cravings with a spicy kick. Spicy Stir-Fried Rice Cakes make for a delightful midnight snack.
Spice Enthusiasts: Share this dish with friends who revel in the joy of bold flavors and culinary adventures.
Lunch or Dinner: Whether as a quick lunch or a flavorful dinner, this dish is perfect for those seeking a delightful departure from the ordinary.
Recommended Sides, Garnishes, and Beverages:
Sides: Serve with a simple cucumber salad or a side of kimchi for a refreshing contrast.
Garnishes: Top with chopped green onions, sesame seeds, and a drizzle of sesame oil for an extra layer of aroma and flavor.
Beverages: Pair with a cooling glass of iced tea or a soothing yogurt-based drink to balance the heat.
Versatile Serving Styles:
Single Skillet Delight: Present the dish in the skillet for an inviting, communal dining experience that highlights its sizzling appeal.
Bowl Indulgence: Serve in individual bowls, allowing each guest to savor the dish's captivating aroma and complex flavors.
Snack Platter: Transform it into a shareable snack platter for gatherings, encouraging guests to dive into the bold flavors.
Frequently Asked Questions of Spicy Stir-Fried Rice Cakes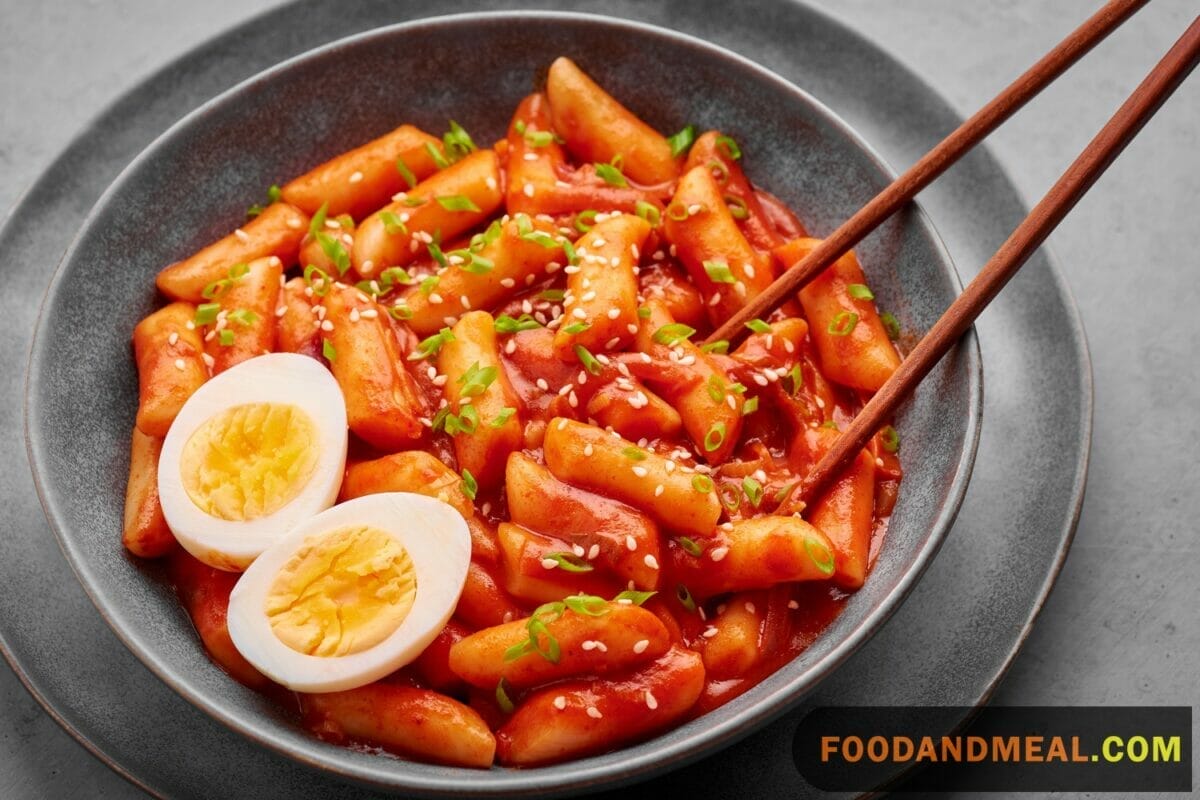 Can I use different types of rice cakes for this recipe? A: Absolutely! While cylindrical rice cakes are traditional, you can experiment with other shapes like flat ovalettes for a unique twist.
Can I adjust the spice level? The dish carries a notable kick, but you have full control. Adjust the amount of gochugaru (red pepper flakes) to suit your spice tolerance.
Can I make this dish vegetarian or vegan? Absolutely. Simply omit the meat and ensure your sauces and condiments align with your dietary preferences.
What are other protein options besides meat? You can delight in tofu, tempeh, or even mushrooms as protein alternatives – each contributing its distinct texture and flavor.
Can I make a milder version for kids or those sensitive to spice?  Certainly. Start with a smaller amount of gochugaru and adjust gradually, ensuring a milder yet flavorful experience.
Can I refrigerate leftovers of Spicy Stir-Fried Rice Cakes? Absolutely. Store leftovers in an airtight container in the refrigerator for up to 2-3 days.
How to reheat leftovers? For best results, reheat in a skillet with a splash of water to prevent sticking. This ensures the rice cakes retain their delightful texture.
And there you have it – the enchanting Spicy Stir-Fried Rice Cakes unveiled! The pleasure of cooking is best when shared. Pass on this fiery recipe and stay tuned by subscribing to my blog for more gastronomic escapades. Until then, may your kitchen continue to sizzle with flavor and creativity. Happy cooking and happy sharing!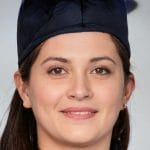 Hi! I'm Nazia of 'Nazia Cooks', a self-taught baker and cook residing in Chennai. Rooted in the rich South Indian culinary landscape, my palate has expanded to embrace global flavors. I revel in crafting fusion dishes, melding traditions to birth unique tastes.
Affiliate DisclaimerAbout The Content
As an affiliate, we may earn a commission from qualifying purchases. We get commissions for purchases made through links on this website from Amazon and other third parties.