Hey, foodies! There's something utterly captivating about Thai cuisine – the way it tantalizes your senses and leaves an indelible mark on your palate. Today, I'm here to share my Thai Mussels in Basil Coconut Sauce, a dish that harmonizes the aromatic wonders of Thailand with the richness of coconut. Let's ignite those burners and ignite our senses!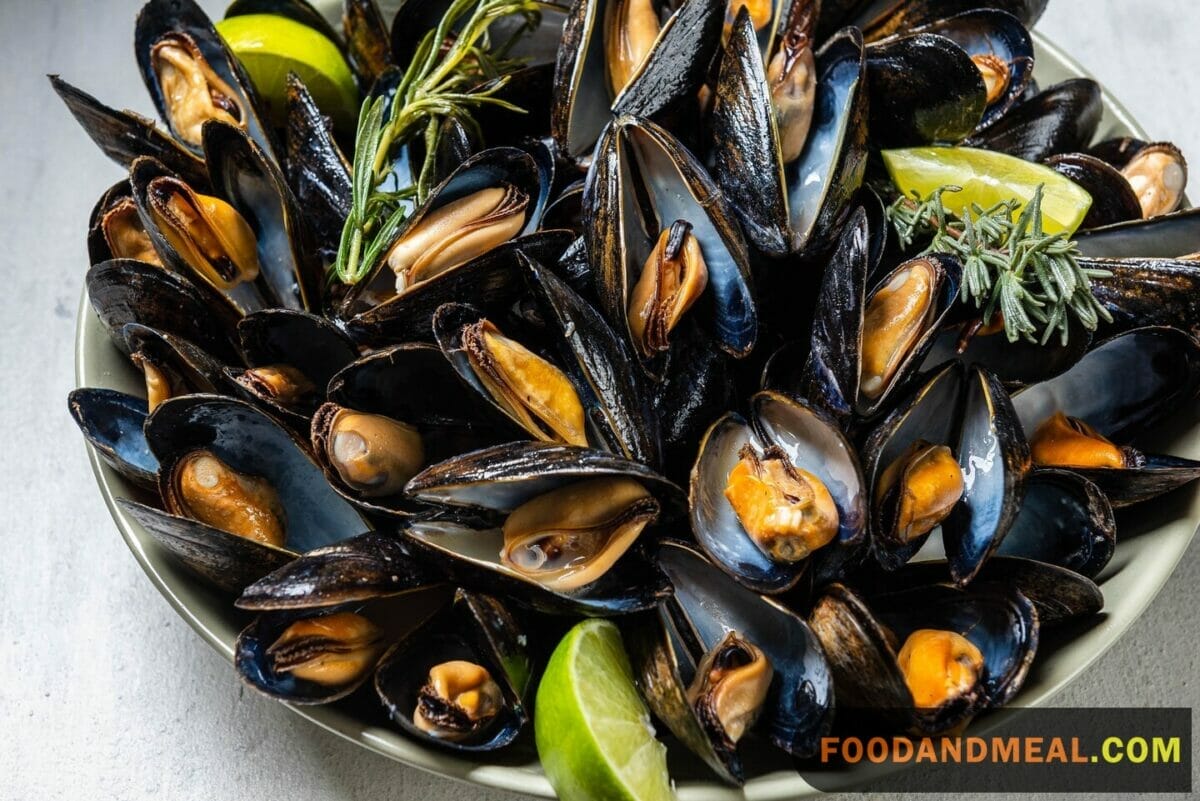 Thai Mussels in Basil Coconut Sauce Recipe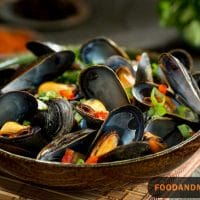 Thai Mussels in Basil Coconut Sauce Recipe
As we bid adieu to this culinary exploration, let's not forget the joy of sharing. Delight your friends and family by sharing this exceptional Thai Mussels in Basil Coconut Sauce recipe. And why not subscribe to our blog for more gastronomic adventures? Your taste buds will thank you!
Print
Add to Collection
Go to Collections
Instructions
Add the chopped onion and olive oil.

Cook your chopped onion and then add the mussels.

When the mussels are half cooked then add the galangal, fish stock, minced garlic and ginger.

Cook your ingredients until it starts boiling.

Add in the shredded coconut, basil leaves and rest of the ingredients into your curry.

Cook your ingredients for ten minutes.

Garnish it with cilantro leaves.

Your dish is ready to be served.
Notes
A Symphony of Aromas: The fragrance of Thai basil and the tropical allure of coconut milk dance together in this dish, creating an olfactory symphony that'll make your kitchen feel like a five-star restaurant.
Selecting the Perfect Mussels: Opt for fresh, plump mussels. Give them a tap – if they close, they're good to go. Discard any that remain open.
Customize Your Heat: Adjust the level of spiciness to your liking by tinkering with the amount of Thai red curry paste. Remember, it's all about finding that sweet spot where the heat complements the other flavors.
Share by Email
Share on Facebook
Share on Twitter
Nutrition
Calories:
314
kcal
|
Carbohydrates:
17
g
|
Protein:
9
g
|
Fat:
25
g
|
Saturated Fat:
19
g
|
Polyunsaturated Fat:
1
g
|
Monounsaturated Fat:
4
g
|
Cholesterol:
8
mg
|
Sodium:
1246
mg
|
Potassium:
485
mg
|
Fiber:
2
g
|
Sugar:
11
g
|
Vitamin A:
493
IU
|
Vitamin C:
6
mg
|
Calcium:
78
mg
|
Iron:
4
mg
© Food And Meal
This website provides approximate nutrition information for convenience and as a courtesy only. Nutrition data is gathered primarily from the Spoonacular Database, whenever available, or otherwise other online calculators.
Cooking Tips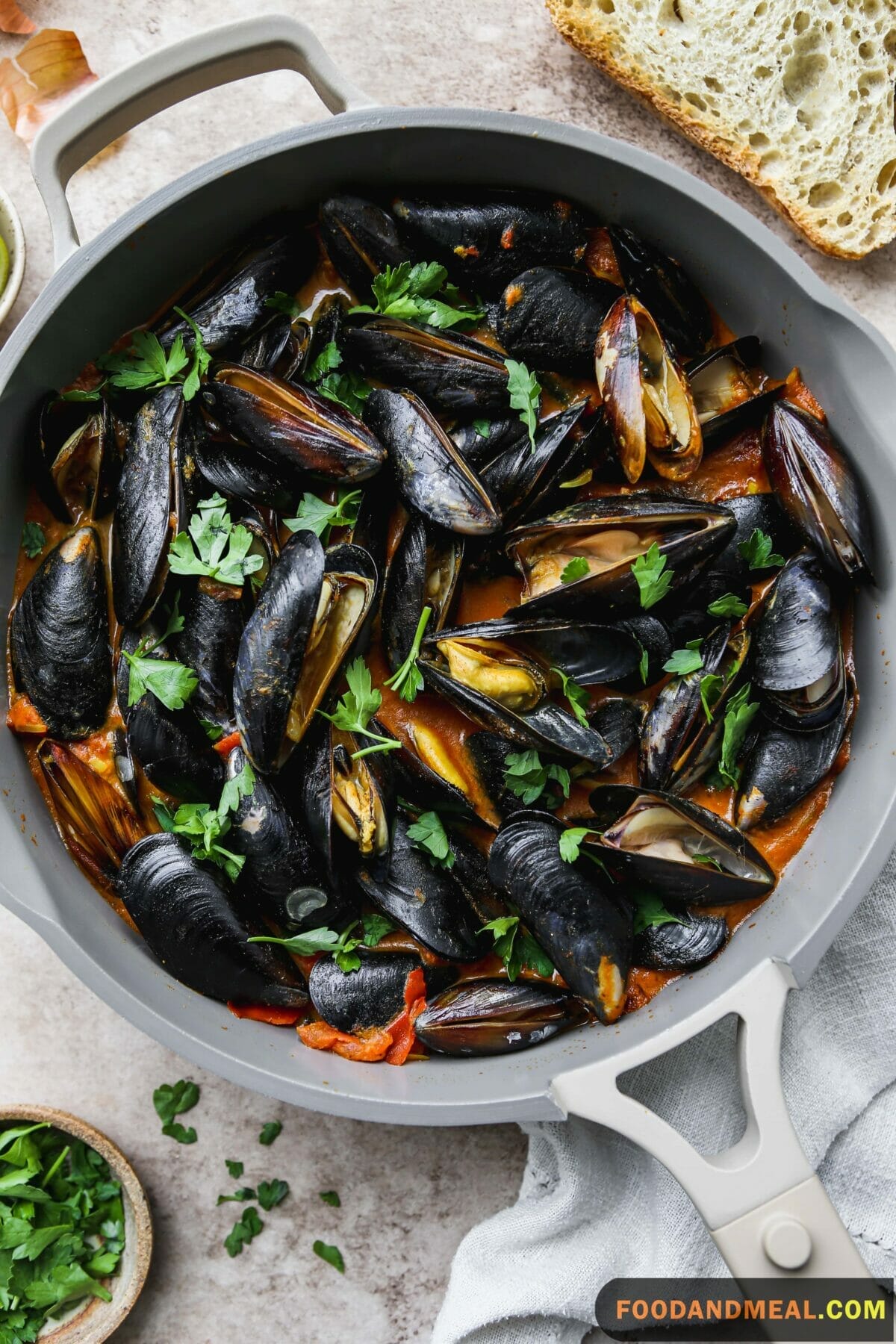 Tips for the Best Results:
Embrace Freshness: Use fresh mussels for the finest flavor and texture. These gems of the sea deserve the spotlight.
Thai Basil's Aromatic Dance: This dish owes much of its charm to Thai basil. Use it generously for an authentic explosion of aroma.
Choosing Your Coconut: Cream or Milk: Select coconut cream for a luxuriously rich sauce or coconut milk for a lighter touch – it's all about your preference.
The Art of Gentle Simmering: Once those mussels hit the pan, let them dance in a gentle simmer. Vigorous boiling can lead to tough mussels.
Common Mistakes to Avoid:
Timing is Key: Mussels are like fine poetry – overcook them, and they lose their charm. Aim for tender, plump perfection.
Lime's Zesty Elegance: Don't skip that final squeeze of lime. It's the secret ingredient that brightens the entire ensemble.
Taming the Beard: Before cooking, ensure you've removed the mussels' beards. This small step prevents unwanted chewiness.
Serving suggestions
Perfect Occasions:
Intimate Dinners: Transform a regular evening into a romantic affair with Thai Basil Coconut Mussels. The combination of flavors will create an enchanting experience for you and your partner.
Festive Gatherings: Add a touch of exotic elegance to your next gathering. Your guests will be captivated by the unique blend of fragrances and flavors.
Potluck Parties: Be the star of the potluck with a dish that's both impressive and approachable. Its striking presentation will steal the show.
Audience:
Seafood Enthusiasts: If your audience includes seafood lovers, this dish is a guaranteed hit. The succulent mussels and aromatic sauce are a match made in culinary heaven.
Adventurous Foodies: For those who love exploring international flavors, these Thai Basil Coconut Mussels are a delightful journey to the heart of Thailand's culinary culture.
Complements and Variations:
Sides: To complete the experience, serve your mussels over a bed of fluffy jasmine rice. The rice will soak up the rich coconut sauce, creating an unbeatable combination.
Garnishes: Elevate your dish with a sprinkle of chopped fresh cilantro, thinly sliced red chili for a touch of heat, and toasted coconut flakes for a pleasant crunch.
Beverages: Pair this dish with a crisp white wine like Sauvignon Blanc to enhance the flavors. Alternatively, offer Thai iced tea for an authentic Thai dining experience.
FAQs of Thai Mussels in Basil Coconut Sauce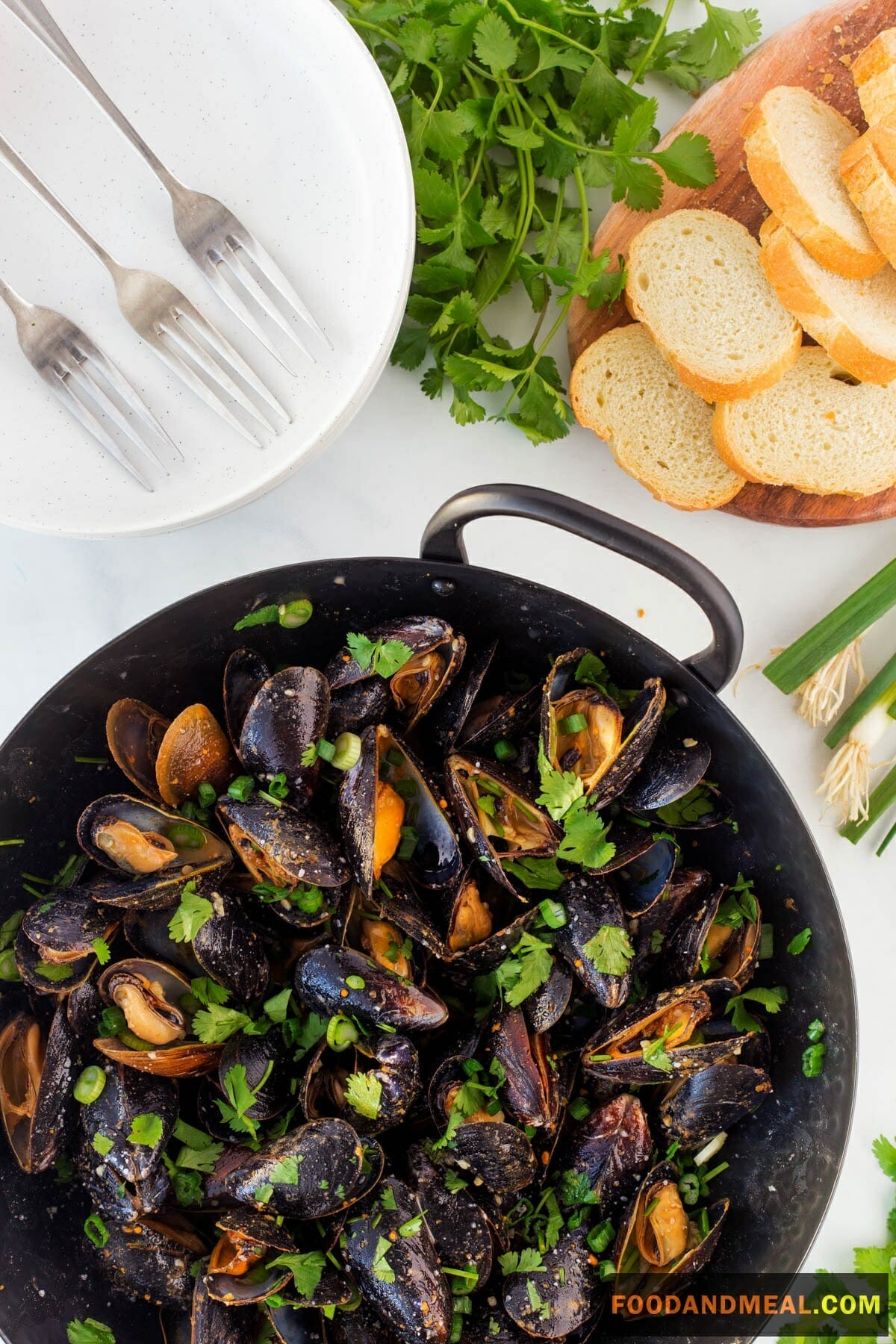 Can I use frozen mussels for this recipe? Absolutely! If using frozen mussels, make sure to thaw them according to the package instructions before cooking. Fresh mussels are preferred for the best texture and flavor, but frozen mussels can still yield delicious results with proper preparation.
How do I store leftovers? To store leftover Thai Basil Coconut Mussels, remove the mussels from their shells and place them in an airtight container. Pour the sauce over them to keep the flavors intact. Refrigerate the container promptly and consume within 1-2 days for optimal freshness.
Can I make this dish in advance? While the flavors of Thai Basil Coconut Mussels deepen with time, mussels are best enjoyed freshly cooked. However, you can prepare the sauce in advance and refrigerate it. When ready to serve, cook the mussels and combine them with the sauce for an exceptional taste experience.
Can I use a different type of seafood? Certainly! This versatile sauce pairs well with various seafood options. If you're not a fan of mussels, consider using shrimp, clams, or even a firm white fish like cod. Adjust the cooking times accordingly to ensure the seafood is perfectly cooked.
Can I make the dish less spicy? Absolutely. The level of spiciness in Thai Basil Coconut Mussels can be adjusted to suit your taste preferences. Begin with a small amount of Thai red curry paste and gradually add more if you desire more heat. Remember, it's all about achieving the balance of flavors that resonates with you.
Tantalize your senses with Thai Mussels in Basil Coconut Sauce  . Dive into Thai culinary elegance, combining basil's aroma and coconut's creaminess. Try the recipe now!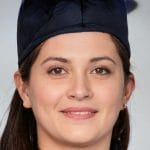 Hi! I'm Nazia of 'Nazia Cooks', a self-taught baker and cook residing in Chennai. Rooted in the rich South Indian culinary landscape, my palate has expanded to embrace global flavors. I revel in crafting fusion dishes, melding traditions to birth unique tastes.
Affiliate DisclaimerAbout The Content
As an affiliate, we may earn a commission from qualifying purchases. We get commissions for purchases made through links on this website from Amazon and other third parties.