Ah, the Japanese Seafood Hot Pot. A dish where every spoonful captures the very essence of the ocean, mingled with the rich traditions of Japan. Having mastered this delight over my years of culinary exploration, I'm bursting with eagerness to take you on this flavorful voyage. Let's embark together, shall we?
Japanese Seafood Hot Pot Recipe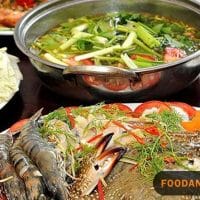 Japanese Seafood Hot Pot
Dive deep into the aromatic and delightful world of Japanese Seafood Hot Pot with this comprehensive guide. From fresh ingredients to cooking tips, this recipe is a culmination of tradition and culinary passion. If you've relished this journey as much as I did, share it with fellow foodies and don't forget to subscribe for more such delectable tales!
Print
Pin Recipe
Add to Collection
Go to Collections
Ingredients
1 1⁄2

quarts

of water, filtered

1

pc.

of kombu kelp for the dashi stock

1

teaspoon

of stock powder, bonito

1 3⁄4

fl. oz

of mirin

1

teaspoon

of salt, sea

1 3⁄4

fl. oz.

of sake

1

tablespoon

of soy sauce, reduced sodium

1⁄4

head

of cabbage, Napa

4

mushrooms, shiitake

2

mushrooms, enoki

1

pkt.

of mushrooms, Maitake or desired type

1

leaf

of mizuna

4

scallops, boiled

8

prawns

10

oysters

2

cod fillets

1

thigh, chicken

1

block of tofu
Instructions
Combine kombu and water in pot. Add ingredients and place pot over med heat.

Peel shells of prawns and leave tails. Rinse thoroughly. Rinse oysters, too. Drain.

Slice cabbage into 1" pieces.

Place cabbage into pot started in step 1 above. Cover. Simmer on med. heat till the cabbage has wilted.

Cut mushrooms and chicken in bite sized pieces. Rinse scallops. Cut salmon and cod in three portions each.

When cabbage becomes tender, add scallops. Cover pot. Cook completely through.

Place tofu and mushrooms around outside of pot. Arrange prawns, oysters, salmon and cod in middle. Simmer for 3-5 minutes. Skim off scum, if any.

Turn heat off. Add mizuna leaves.

Provide guests with skewers so they can cook their own chicken pieces in the hot broth. Allow them to ladle their own soup portions into their bowls, too.
Notes
Taste Test: Always remember to taste your broth as it simmers. Each ingredient adds a unique touch, and balancing them is an art. Done right, you're in for a mesmerizing experience! Loved the journey? Share this recipe and subscribe to our blog for more culinary adventures!
Ingredient Quality: Opting for fresh seafood is crucial. It's not just about the dish; it's about honoring the tradition. So, take that extra step, find the freshest catch, and let your pot sing the songs of the ocean. Impressed by the depth of flavors? Spread the love - share the recipe and join our community by subscribing!
Serving Suggestion: The essence of a hot pot is in sharing. Serve it straight from the stove, letting everyone dive into the flavors and bond over the warmth. Feeling the warmth? Share the joy of this recipe with friends and ensure you're subscribed for more heartfelt recipes!
Share by Email
Share on Facebook
Share on Twitter
Nutrition
Calories:
513
kcal
|
Carbohydrates:
1
g
|
Protein:
102
g
|
Fat:
9
g
|
Saturated Fat:
1
g
|
Polyunsaturated Fat:
3
g
|
Monounsaturated Fat:
2
g
|
Cholesterol:
274
mg
|
Sodium:
308
mg
|
Potassium:
2378
mg
|
Fiber:
0.4
g
|
Sugar:
0.4
g
|
Vitamin A:
216
IU
|
Vitamin C:
5
mg
|
Calcium:
97
mg
|
Iron:
3
mg
© Food And Meal
This website provides approximate nutrition information for convenience and as a courtesy only. Nutrition data is gathered primarily from the Spoonacular Database, whenever available, or otherwise other online calculators.
Pin Recipe
Japanese Seafood Hot Pot: Pressure Cooker Version
Ingredients:
[Same as provided previously]
Method:
Prep Your Ingredients: Clean your seafood meticulously. Slice the fish fillet into bite-sized pieces, cut the chicken into thin strips, and ensure the shrimp are properly cleaned and deveined. Roughly chop the cabbage leaves, and keep the mushrooms whole or halved, depending on their size.
Layering is Key: Start with your broth ingredients. Into your pressure cooker, pour the dashi followed by the soy sauce, mirin, and sake. Give it a gentle stir to ensure they are mixed.
Add Ingredients Sequentially: Begin with ingredients that take longer to cook. Add the chicken pieces first, followed by fish fillets. Place the clams and shrimp on top. Next, layer in the mushrooms, harusame noodles, cabbage, and finally, the spinach.
Cooking: Seal the pressure cooker and set it to high pressure. Cook for 15 minutes. It might seem quick, but under pressure, flavors meld rapidly!
Release & Serve: Once done, allow for a natural pressure release for about 5 minutes, then quick release the remaining pressure. Open the lid cautiously.
Serve: Pour into individual bowls and serve with a side of ponzu dipping sauce. The beauty of this dish is in the melding of the flavors, each ingredient having lent its essence to the broth and absorbed the richness of others in return.
Cooking Tips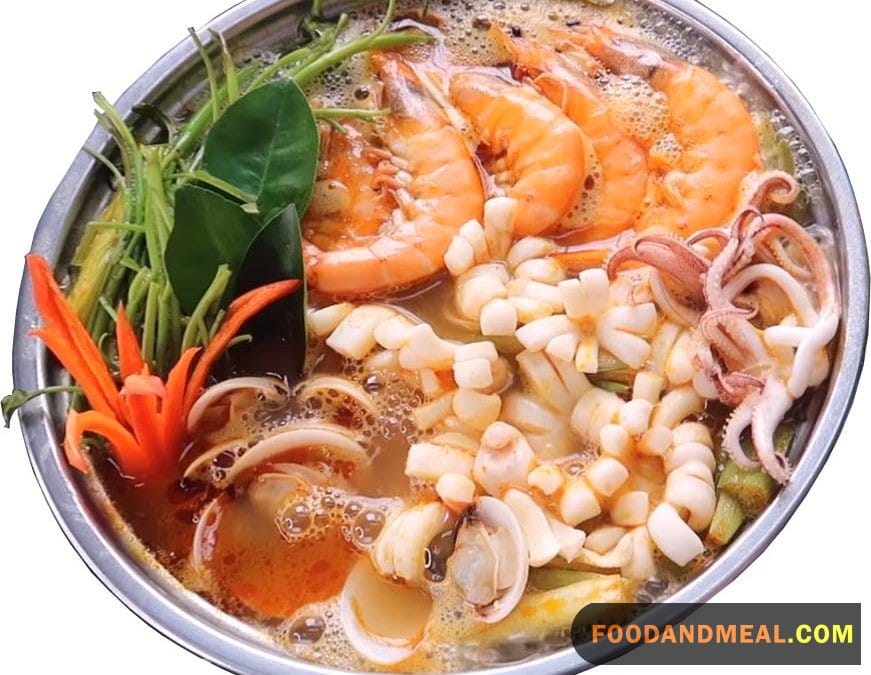 Creating the perfect Japanese Seafood Hot Pot can be a breeze if you keep a few key pointers in mind. Here are some tips to guide your culinary journey:
Seafood Selection: Always opt for fresh seafood. The aroma and taste of fresh seafood are unmatched and crucial for this dish.
Dashi Broth: If you're short on time, instant dashi granules are available. However, making it from scratch with kombu and bonito flakes elevates the taste.
Heat Management: If not using a pressure cooker, make sure the simmer is gentle. Boiling vigorously can cause the seafood to overcook.
Harusame Noodles: They can be sticky. Rinse them under cold water after cooking to ensure they don't clump together.
Don't Overcrowd: While it's tempting to throw in everything, ensure there's enough space for ingredients to cook evenly.
Serving Suggestions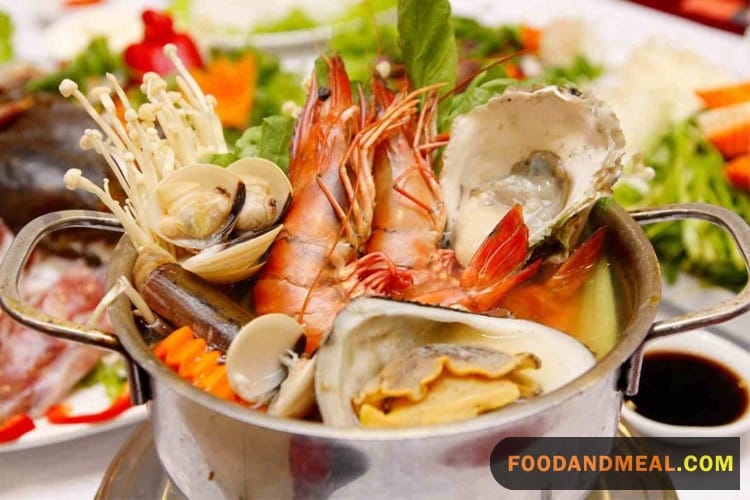 When setting the table for your Japanese Seafood Hot Pot, ambiance is everything. This dish, with its rich flavors and warm broth, is perfect for a chilly evening. Here are some suggestions to elevate your dining experience:
Occasion: Ideal for intimate gatherings or family dinners, this Hot Pot is a crowd-pleaser. Its warmth and shared nature make it perfect for fostering connections.
Audience: Seafood lovers will be your biggest fans, but it's also an impressive dish to introduce others to the delights of Japanese cuisine.
Sides & Garnishes: Consider sides like steamed white rice or sticky rice. It pairs beautifully with the robust flavors of the Hot Pot. As for garnishes, sprinkle some finely chopped green onions or a bit of zested lemon peel for a burst of freshness.
Beverage Pairing: A light sake or a crisp white wine complements the seafood flavors. If alcohol isn't your choice, green tea or a cold barley tea would be refreshing.
Plating: You can either serve it communal-style, letting everyone dig in, or you can plate individual servings, ensuring each plate has a good mix of all the ingredients.
5 FAQs of Japanese Seafood Hot Pot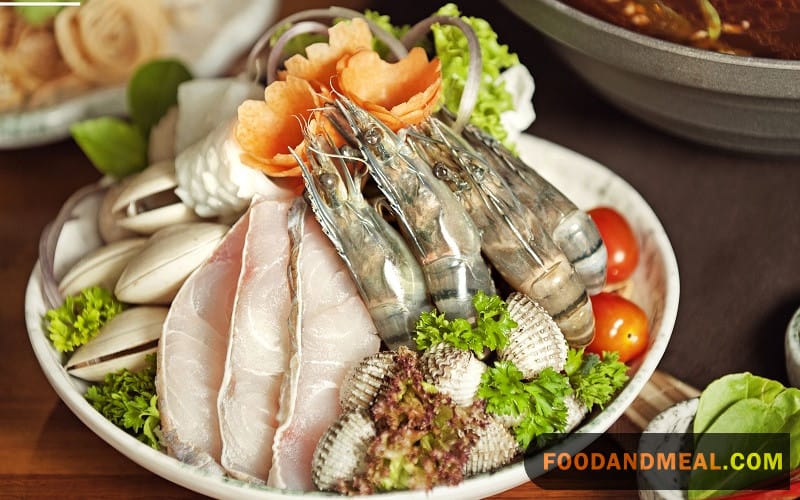 Can I use other types of fish in the Hot Pot?
Absolutely! While white fish fillet is recommended, feel free to experiment with salmon or even squid. Adjust cooking times accordingly.
How long does the leftover Hot Pot last in the fridge?
You can store leftovers in an airtight container in the refrigerator for up to two days. However, it's best enjoyed fresh.
Can I freeze the Hot Pot?
It's not advisable to freeze due to the varied textures, especially the seafood, which might turn rubbery upon reheating.
What if I can't find harusame noodles?
You can substitute with glass noodles or thin rice noodles. Adjust cooking time based on the noodle's packaging instructions.
Is there a vegetarian version of the Seafood Hot Pot?
Of course! Substitute seafood with tofu, assorted veggies, and use a vegetable broth in place of dashi.
Dive into the rich world of Japanese Seafood Hot Pot! This easy-to-follow guide will leave your taste buds craving more. Discover the recipe now!
Affiliate DisclaimerAbout The Author
As an affiliate, we may earn a commission from qualifying purchases. We get commissions for purchases made through links on this website from Amazon and other third parties.