An easy and delicious chicken marinade that also works very well with salmon. Perfect for summer barbecues and year round. Use the marinade on chicken thighs, chicken breasts, or drumsticks. If using on salmon, you can omit the mayonnaise, as the fish is tender enough on its own. Leave the marinade on for 6 hours up to overnight for chicken, and 1/2 hour for salmon.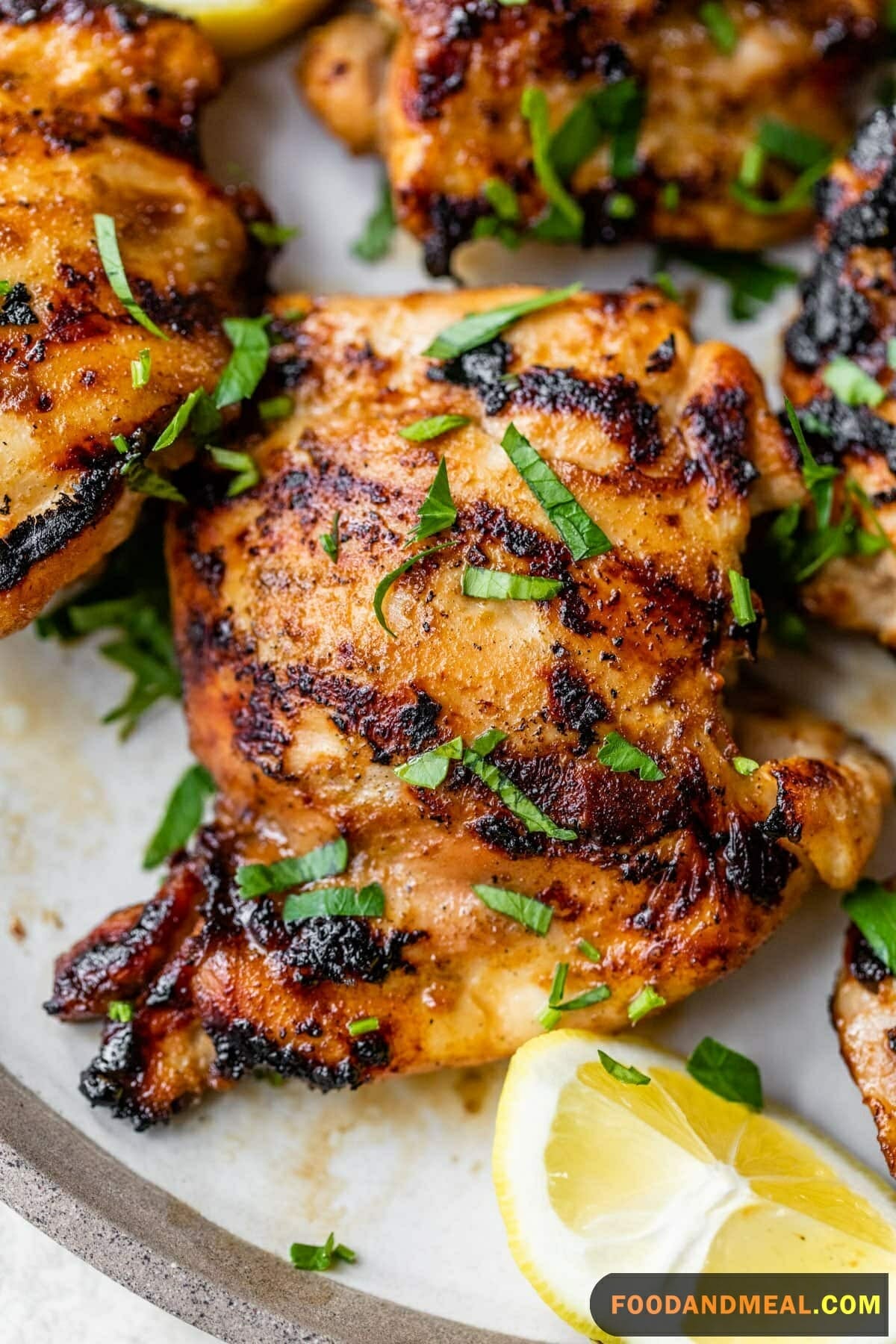 Chicken Marinade Recipes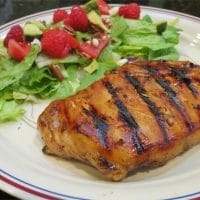 Raquel's Chicken Marinade
If you're planning a barbecue this summer, this recipe will make the chicken taste incredible. It's the perfect summer recipe for a grilled chicken or a tender piece of fish. The marinade is also great for grilling. The flavors combine perfectly with the tender pieces of chicken. It is a great marinade for all sorts of dishes, but it's especially delicious on chicken. If you're looking for a quick and easy recipe, Raquel's Chicken Marinade is a great choice.
Print
Add to Collection
Go to Collections
Ingredients
8

boneless chicken thighs

2

garlic cloves minced

2

tablespoons

mayonaise

2

tablespoons

Dijon mustard

1

tablespoon

parsley

minced

1

tablespoon

Montreal chicken spices

I use Mc Cormick's

Juice of half a lemon
Instructions
Place the chicken thighs in a large bowl. Add the marinade ingredients. Mix until the chicken pieces are well coated. Place in the refrigerator for 4 hours and up to overnight.

Heat a grill and cook the chicken thighs until nicely browned on both sides.
Notes
The flavors in Raquel's Chicken Marinade are bright, sour, and delicious. You can make the marinade a day in advance and keep in the fridge until you're ready to use it. The chicken can also be prepared up to 24 hours ahead. The marinade will keep in the refrigerator for up to 4 days. This recipe is perfect for grilled chicken, fish, and other meats.
Share by Email
Share on Facebook
Share on Twitter
Nutrition
Serving:
1
serving
|
Calories:
548
kcal
|
Carbohydrates:
1
g
|
Protein:
37
g
|
Fat:
43
g
|
Saturated Fat:
11
g
|
Polyunsaturated Fat:
11
g
|
Monounsaturated Fat:
17
g
|
Trans Fat:
1
g
|
Cholesterol:
224
mg
|
Sodium:
304
mg
|
Potassium:
481
mg
|
Fiber:
1
g
|
Sugar:
1
g
|
Vitamin A:
270
IU
|
Vitamin C:
1
mg
|
Calcium:
24
mg
|
Iron:
2
mg
© Food And Meal
This website provides approximate nutrition information for convenience and as a courtesy only. Nutrition data is gathered primarily from the Spoonacular Database, whenever available, or otherwise other online calculators.
Alternative Method: Oven-Roasted Chicken Marinade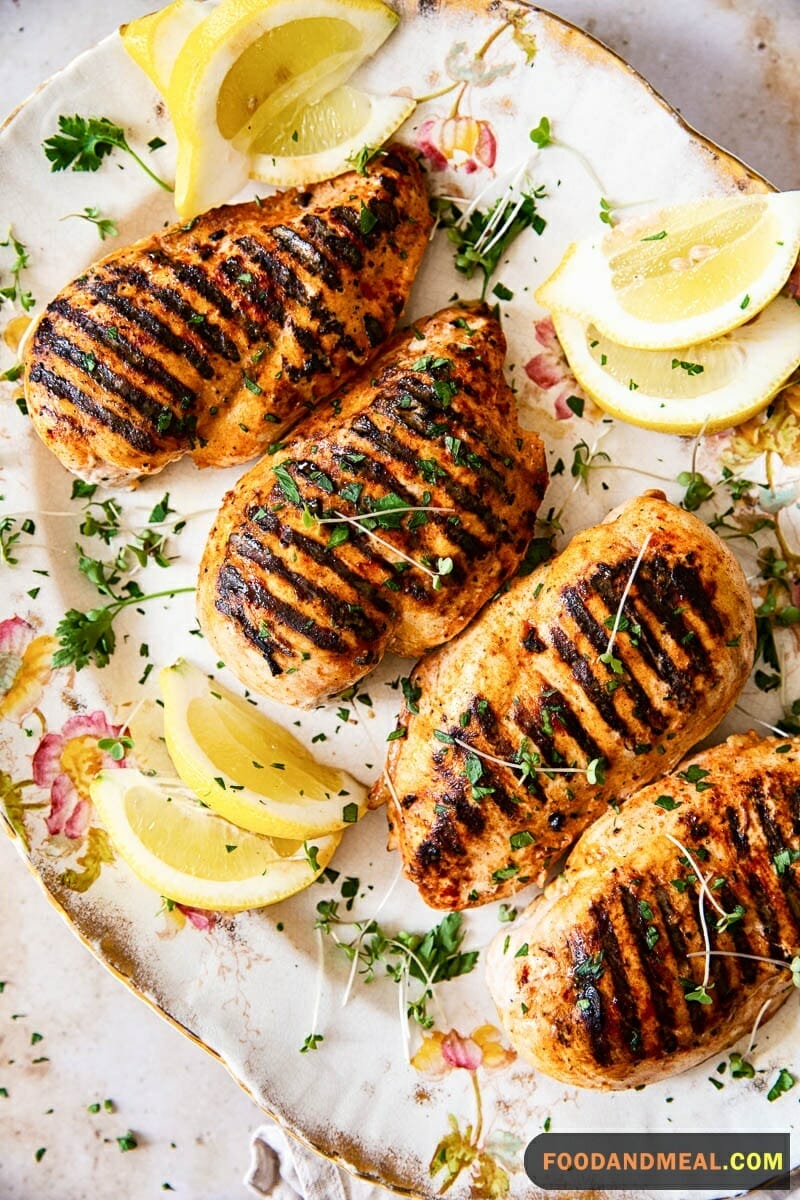 Ingredients:
4 bone-in, skin-on chicken thighs
1/2 cup of your favorite chicken marinade
Salt and pepper, to taste
Cooking spray or olive oil for greasing
Instructions:
Marinate the Chicken: Place the chicken thighs in a bowl or a resealable plastic bag. Pour your favorite chicken marinade over the chicken. Seal the bag or cover the bowl and refrigerate for at least 2 hours, or overnight for the best results.
Preheat Your Oven: Preheat your oven to 375°F (190°C). While the oven is heating, remove the chicken from the refrigerator and let it come to room temperature.
Prepare the Baking Dish: Grease a baking dish with cooking spray or a light coating of olive oil. This prevents the chicken from sticking to the dish and helps achieve a beautiful golden brown finish.
Season the Chicken: Remove the chicken from the marinade, allowing any excess to drip off. Season both sides of the chicken thighs with salt and pepper.
Arrange in the Baking Dish: Place the chicken thighs in the prepared baking dish, skin-side up. Make sure they are not overcrowded to ensure even cooking.
Roast in the Oven: Roast the chicken in the preheated oven for about 30-35 minutes or until the internal temperature reaches 165°F (74°C). The chicken will become golden brown and crispy on the outside while staying juicy on the inside.
Rest and Serve: Once done, remove the chicken from the oven and let it rest for a few minutes. This allows the juices to redistribute and ensures moist and flavorful meat.
Serve and Enjoy: Serve the oven-roasted chicken thighs hot with your favorite side dishes or a fresh salad. Drizzle any remaining marinade over the top for an extra burst of flavor.
Tips for making Chicken Marinade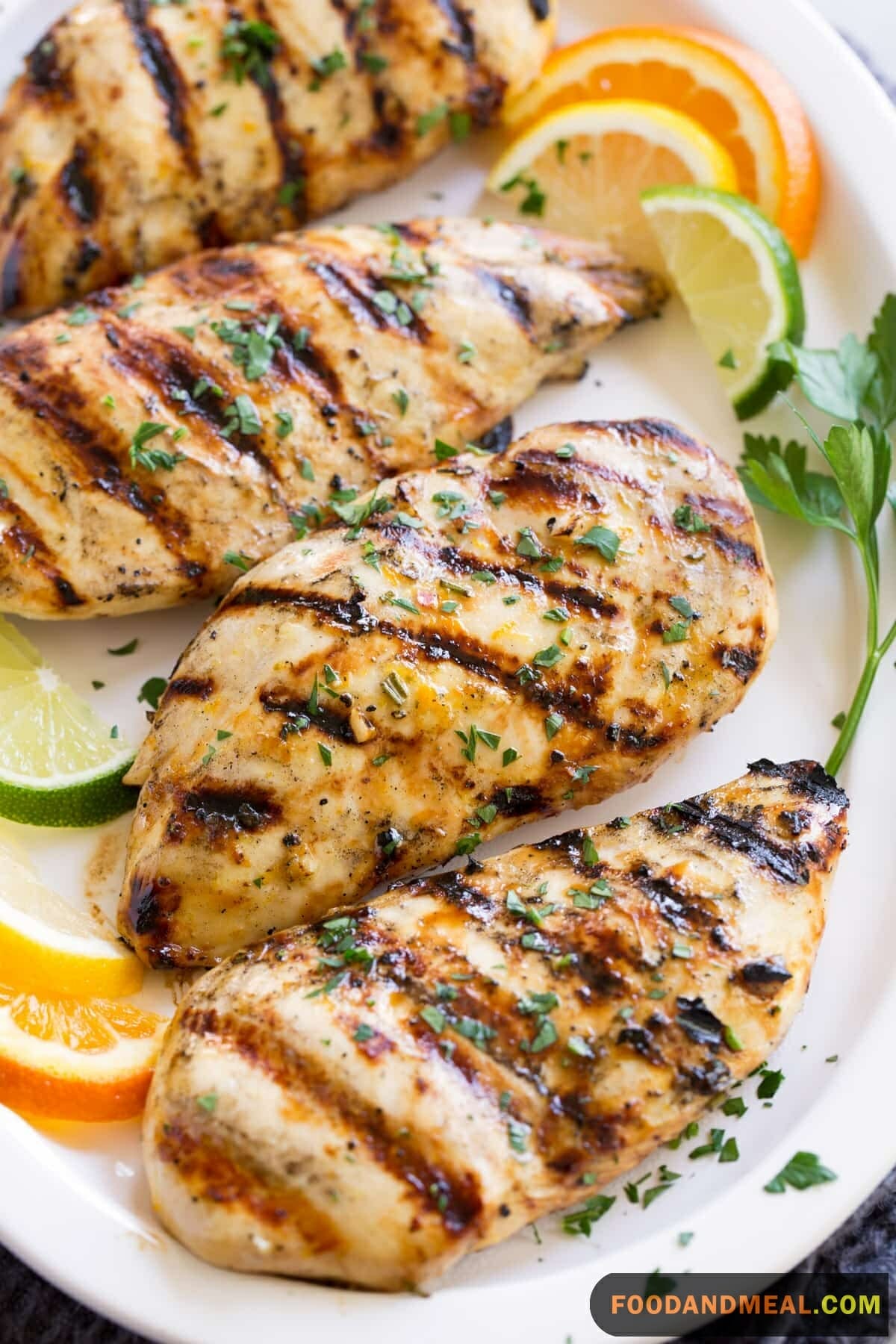 Serving Suggestions
Herb-Infused Rice: Serve your succulent chicken thighs over a bed of fragrant herb-infused rice. Simply mix cooked rice with chopped fresh herbs like parsley, cilantro, and dill for a burst of freshness.
Roasted Vegetables: Pair your oven-roasted chicken with a medley of roasted vegetables such as carrots, bell peppers, and zucchini. Drizzle them with a balsamic glaze for an extra layer of flavor.
Tangy Coleslaw: A zesty coleslaw with a tangy dressing can be a delightful side dish. The crispness of the coleslaw complements the tender, flavorful chicken.
Fresh Green Salad: Create a refreshing green salad with mixed greens, cherry tomatoes, cucumbers, and a lemon vinaigrette. The acidity and crunch balance the richness of the chicken.
Garlic Bread: Serve your chicken marinade with warm, crusty garlic bread for a satisfying meal. The bread is perfect for soaking up any delicious marinade left on your plate.
Cooking Tips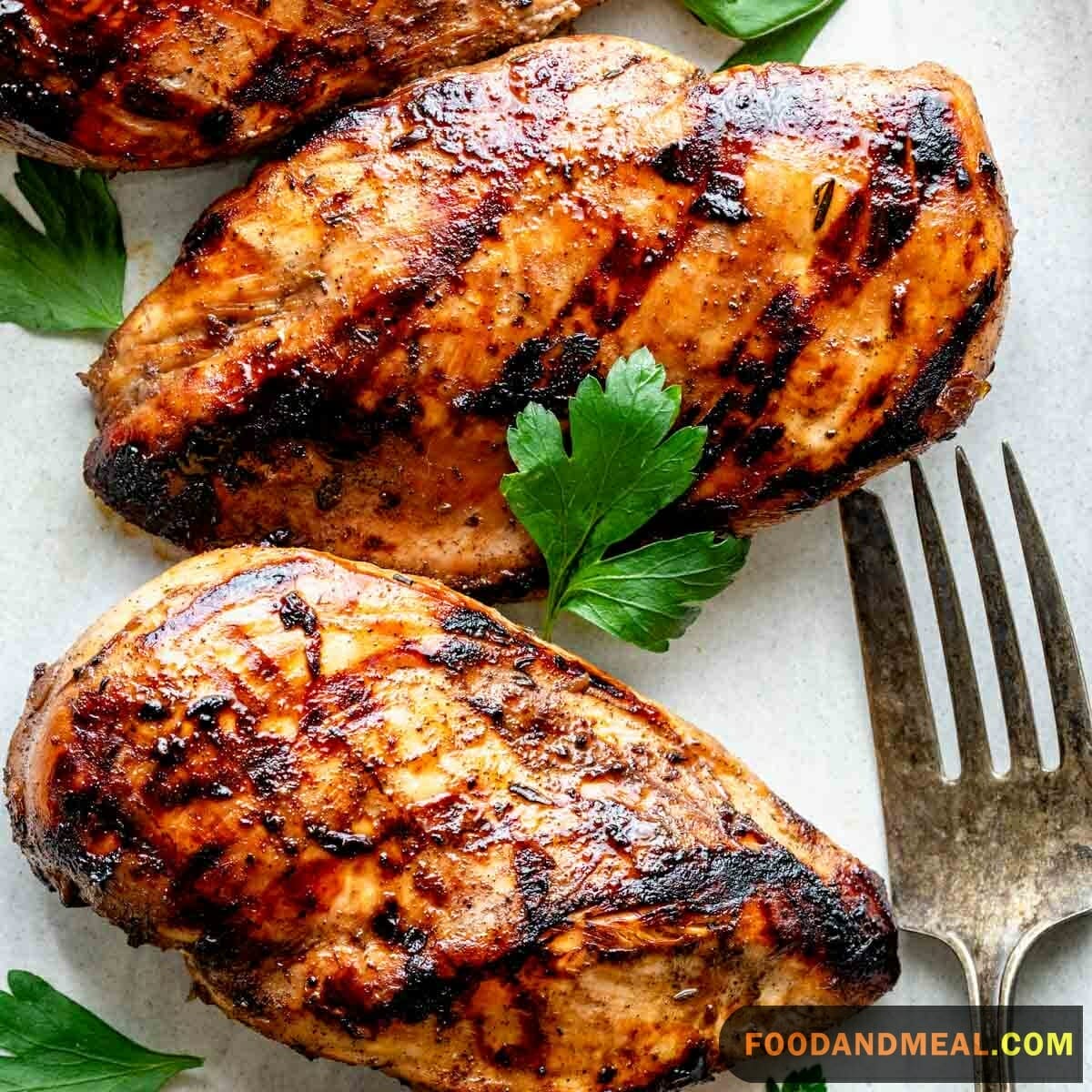 Marinade Time: Don't rush the marinating process. Let your chicken soak in the flavors for at least 2 hours or overnight in the refrigerator. The longer, the better!
Room Temperature Chicken: Allow the marinated chicken to come to room temperature before cooking. Cold chicken takes longer to cook and may result in uneven doneness.
Pat Dry Before Roasting: Before placing the chicken in the oven, pat it dry with a paper towel. This helps achieve a crispy skin and ensures even cooking.
Use a Meat Thermometer: To avoid overcooking, invest in a meat thermometer. Chicken is safe to eat when the internal temperature reaches 165°F (74°C).
Resting is Key: After roasting, let your chicken rest for a few minutes. This allows the juices to redistribute, ensuring a juicy and flavorful bite.
FAQs about our Chicken Marinade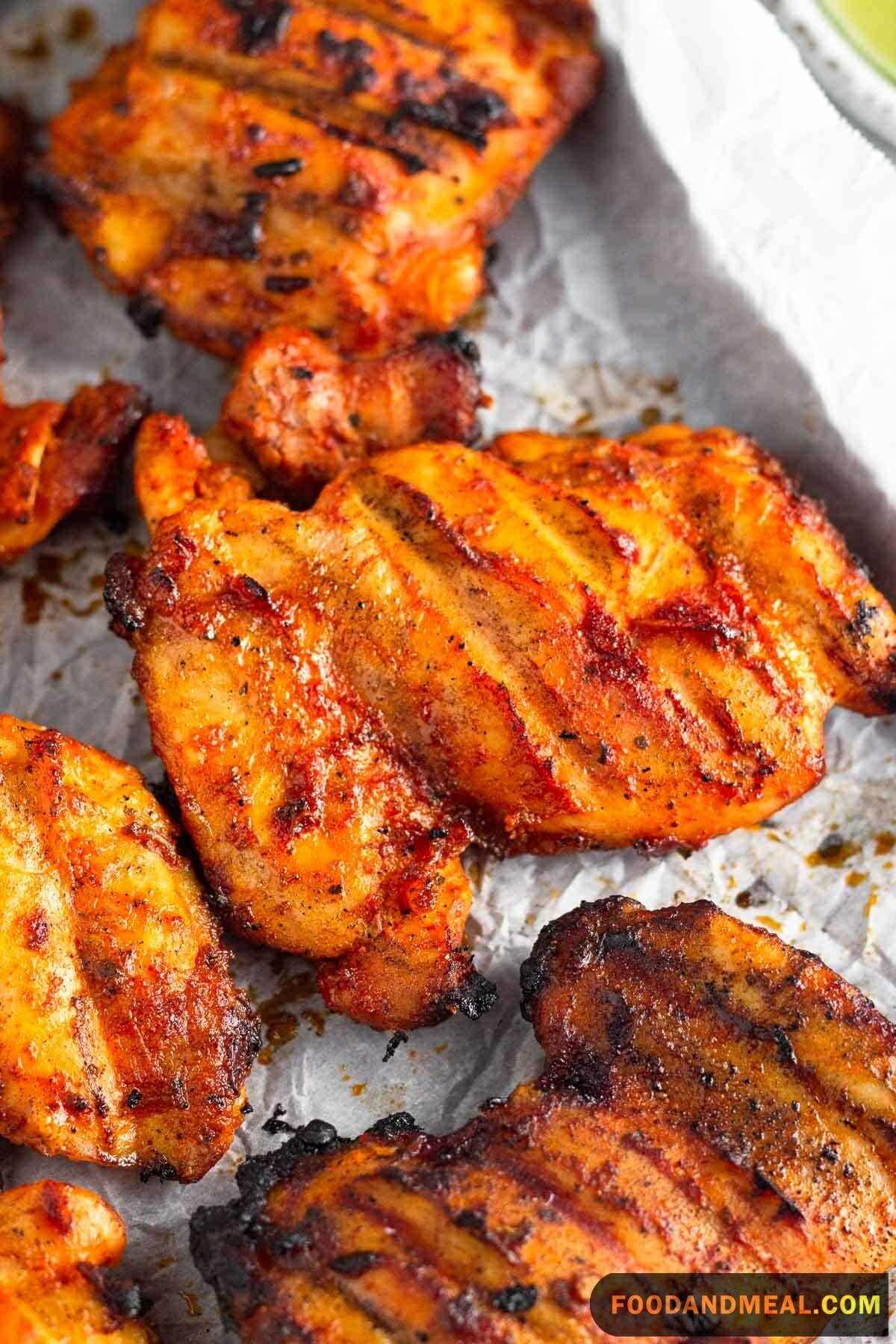 How long can I marinate the chicken? Marinating times can vary, but for optimal flavor infusion, marinate chicken for at least 2 hours. Overnight marination yields the most flavorful results.
Can I use boneless chicken with this marinade?Absolutely! This marinade works wonderfully with boneless chicken, including chicken breasts or tenderloins. Adjust cooking times accordingly to ensure they are fully cooked but tender.
Can I freeze the marinated chicken for later use?Yes, you can. Place the marinated chicken in an airtight container or freezer bag and store it in the freezer for up to three months. Thaw in the refrigerator before cooking.
Can I use the marinade for other meats or vegetables? Certainly! This versatile marinade is great for pork, beef, tofu, or even as a flavor boost for roasted vegetables. Adjust marinating times accordingly based on the protein or veggies you're using.
How should I store leftover cooked chicken? To store leftover cooked chicken, place it in an airtight container and refrigerate it for up to three days. For longer storage, freeze it in a freezer-safe container for up to two months. Reheat gently in the oven or microwave when ready to enjoy again.
Experience culinary excellence with our Chicken Marinade recipe. Elevate your chicken dishes and share the love by subscribing to our blog for more mouthwatering creations.
I'm Tracy F Hilton, a devoted culinary professional shaped by a mix of natural aptitude and refined skills from a top culinary school. In the dynamic kitchen environment, I'm a catalyst for seamless operations and timely, high-quality dish preparation. My culinary creations are a blend of art and skill, offering visually and gustatorily delightful experiences. A learner at heart, I'm continuously honing my craft, embracing new techniques, and culinary innovations. My positive, collaborative nature is amplified in fast-paced settings, showcasing my commitment to team efficiency and guest satisfaction. Each dish I present is a meticulous blend of tradition and innovation, promising an unforgettable dining experience that marries taste, aroma, and aesthetic appeal in perfect harmony. Join me on a gastronomic journey where each bite encapsulates a rich, evolving narrative of flavors and culinary artistry.
Affiliate DisclaimerAbout The Content
As an affiliate, we may earn a commission from qualifying purchases. We get commissions for purchases made through links on this website from Amazon and other third parties.