Friends, gather around, because today we're venturing into the vibrant world of Korean cuisine. What's on the menu? An irresistible Roasted Chicken Wings Korean Recipe, full of aromatic spices, and a tangy kick. A dish that has delighted my taste buds and I'm sure it'll do the same for yours.
Roasted Chicken Wings Korean Recipe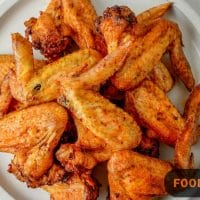 ROASTED CHICKEN WINGS
Dive deep into our Roasted Chicken Wings Korean Recipe, enhanced with vibrant flavors and an irresistible crunch. Dive into a world where tradition meets modern culinary techniques. Love the journey? Don't forget to share this lip-smacking recipe with fellow food enthusiasts and hit that subscribe button for more delightful dishes!
Print
Pin Recipe
Add to Collection
Go to Collections
Equipment

Ingredients
Instructions
In a large bowl, mix the ginger, sesame oil, soy sauce, sugar, honey, garlic, onion, and gochujang together. Stir until well combined.

Add the chicken and toss to coat well. Marinate the chicken in the refrigerator for at least 1 hour (2 to 3 hours would be better).

Preheat the oven to 400°F.

Heat a large nonstick skillet over medium-high heat.

Remove the chicken from the marinade (reserving the marinade) and brown the chicken on all sides.

Transfer the chicken to a shallow roasting pan, and pour the reserved marinade over the top.

Bake in the oven for 40 to 50 minutes, turning once and basting with the sauce after 20 minutes.
Notes
VARIATION TIP: Serve these with celery sticks, carrot sticks, and blue cheese dressing for a Korean twist on Buffalo wings.
Share by Email
Share on Facebook
Share on Twitter
Nutrition
Calories:
87
kcal
|
Carbohydrates:
23
g
|
Protein:
0.1
g
|
Fat:
0.04
g
|
Saturated Fat:
0.003
g
|
Polyunsaturated Fat:
0.01
g
|
Monounsaturated Fat:
0.003
g
|
Sodium:
2
mg
|
Potassium:
23
mg
|
Fiber:
0.1
g
|
Sugar:
22
g
|
Vitamin A:
8
IU
|
Vitamin C:
1
mg
|
Calcium:
2
mg
|
Iron:
0.1
mg
© Food And Meal
This website provides approximate nutrition information for convenience and as a courtesy only. Nutrition data is gathered primarily from the Spoonacular Database, whenever available, or otherwise other online calculators.
Pin Recipe
Air Fryer Method: Roasted Chicken Wings Korean Recipe
Ingredients: Same as the main recipe.
Method:
Preparation: Begin by marinating the chicken wings with all the required ingredients as mentioned in the original recipe. Allow them to rest and soak in the flavors for at least an hour, preferably overnight.
Preheat the Air Fryer: Set your air fryer to 375°F (190°C). Give it a few minutes to warm up. It's crucial to always preheat, as this ensures even cooking.
Arrange the Wings: Lightly spray the air fryer basket with a bit of cooking spray to prevent sticking. Place the marinated wings in a single layer in the basket, ensuring they're not overcrowded. You might need to cook in batches, depending on the size of your air fryer.
Cook: Fry the wings for about 12-15 minutes. Then, using tongs, flip each wing and continue cooking for another 12-15 minutes. By the end, they should sport a gorgeous golden-brown hue and be tantalizingly crispy.
Sauce: While the wings are getting their crisp on, prepare the Korean sauce as directed in the original recipe. Once the wings are done, toss them in the sauce, ensuring each wing is generously coated.
Serve: Dish out these glistening, crispy wings onto a plate, sprinkle some sesame seeds, and perhaps some finely chopped green onions for that extra oomph. Pair with a chilled drink, and you're in for a delightful treat!
Cooking Tips for Roasted Chicken Wings Korean Recipe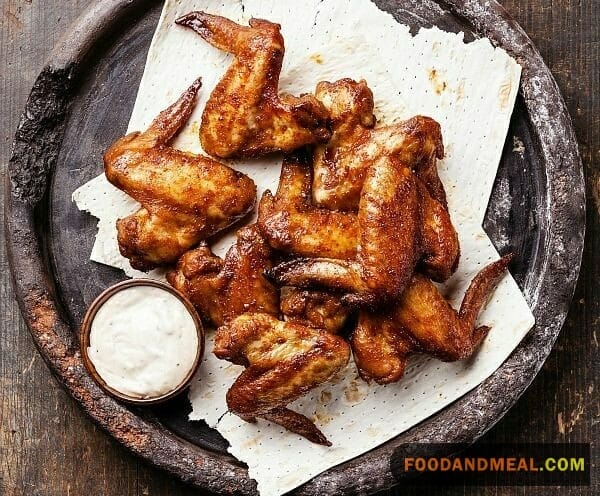 Perfecting the Marinade: The soul of Korean chicken wings lies in its marinade. Always let your chicken wings marinate for at least 2 hours. Overnight is even better. This ensures the flavors seep in, making each bite a flavorful delight.
Dry Them Out: Before roasting, ensure your wings are as dry as possible. Pat them down with paper towels. This ensures that they roast and don't steam, giving you that crispiness we all crave.
Space Matters: When arranging the wings on a roasting tray, make sure they aren't crowded. Giving them space ensures even cooking and that delectable crispy finish.
Rotate for Evenness: Halfway through the cooking, turn the wings. This ensures even cooking and coloration on all sides.
Sauce Brushing: For those who love their wings with an extra kick, consider brushing them with a bit more sauce in the last 10 minutes of roasting. This caramelizes the sauce onto the wings, making them sticky, sweet, and extra flavorful.
Serving Suggestions for Roasted Chicken Wings Korean Recipe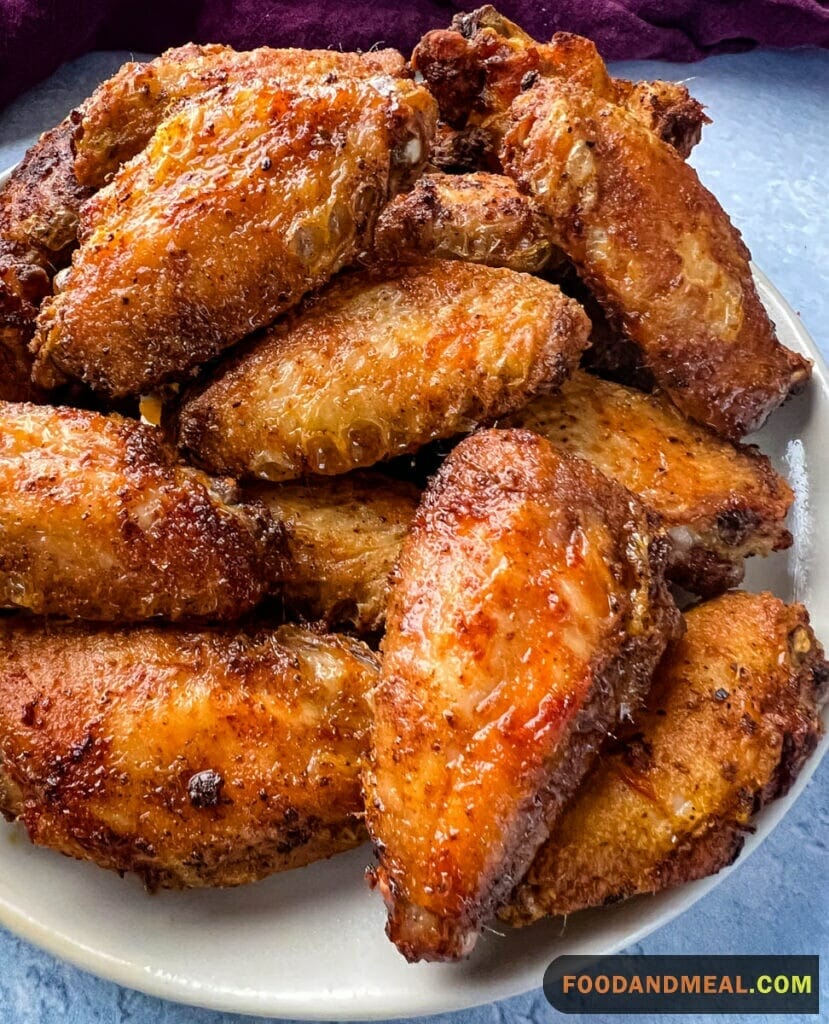 Pair with Kimchi: The spicy, tangy, and fermented flavors of kimchi cut through the richness of the wings, offering a refreshing palate cleanser with every bite. It's a classic Korean side that truly complements the wings.
Cooling Cucumber Salad: A simple cucumber salad with a light dressing of rice vinegar, a touch of sugar, and sesame seeds can be a perfect companion. It provides a cooling effect against the spiciness of the wings.
Sticky Rice: Consider serving these wings with a side of steamed sticky rice. The mild and sticky nature of the rice balances out the spicy and saucy profile of the wings, creating a harmonious taste experience.
Beverage Pairings: Cold beers are a traditional favorite with spicy foods, and they work wonders with these wings. If you're looking for non-alcoholic options, a cool barley tea or a sparkling water with a splash of lemon can be delightful.
Dipping Sauces: While the wings are already packed with flavor, you can always serve them with a variety of dipping sauces. A creamy ranch, blue cheese, or even a tangy yogurt dip can add another layer of taste. For those who love heat, a spicy Korean gochujang dip can be a game-changer.
FAQs: Roasted Chicken Wings Korean Recipe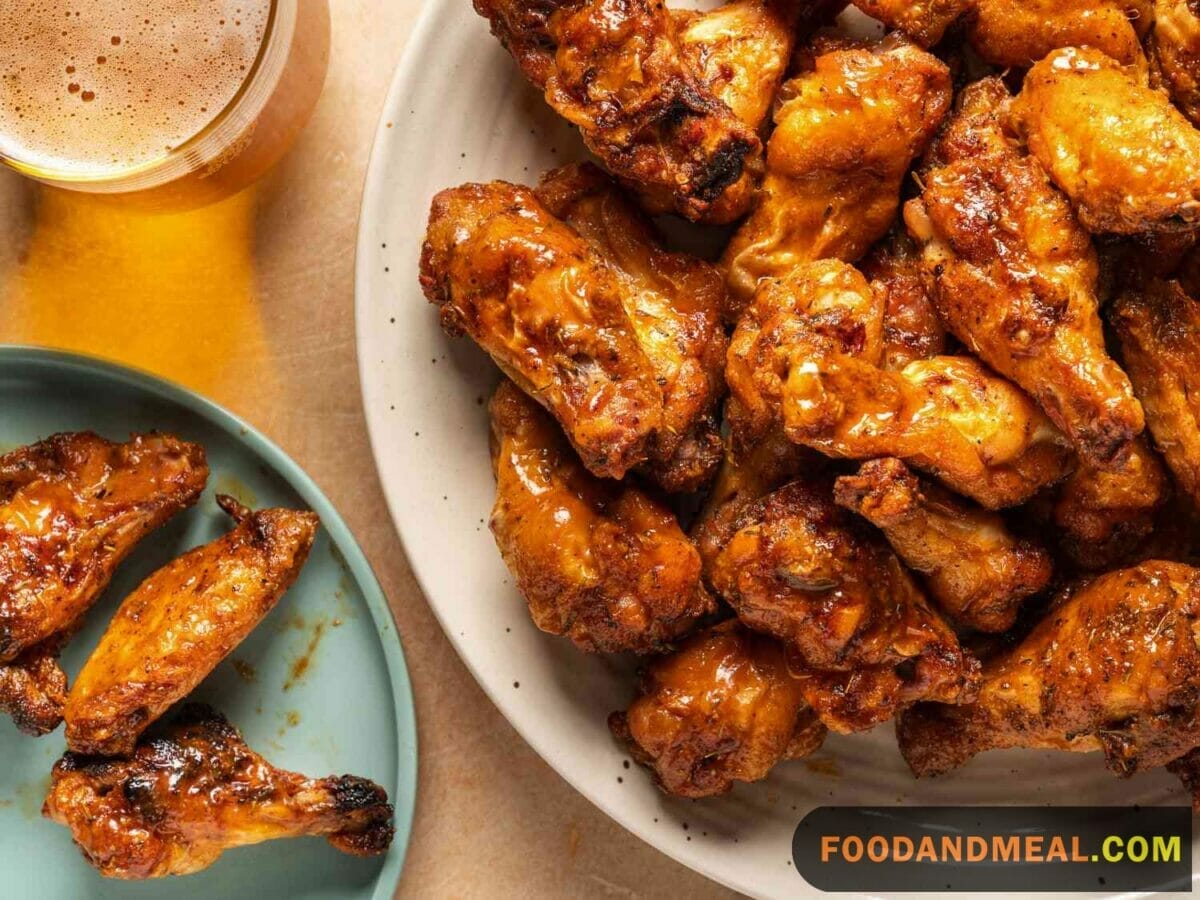 What makes the Korean version of roasted chicken wings unique?
The Korean version of roasted chicken wings is distinguished by its use of traditional spices and sauces, notably gochujang (Korean chili paste), soy sauce, ginger, and garlic. This combination gives the wings a spicy kick with a hint of sweetness and depth.
Can I use frozen chicken wings for this recipe?
Absolutely! If you're using frozen wings, ensure you thaw them completely before marinating. Pat them dry to remove any excess moisture to achieve the perfect crispy texture when roasting.
How do I store leftovers, and for how long?
Leftover roasted chicken wings can be stored in an airtight container in the refrigerator for up to 3-4 days. When reheating, it's best to use an oven or air fryer to maintain the crispiness of the wings. Avoid using a microwave as it can make them soggy.
Can I make a vegetarian version of this recipe?
Certainly! While the essence of this dish lies in the chicken, you can use cauliflower florets or tofu as a vegetarian substitute. They'll soak up the flavors of the marinade beautifully, giving you a delightful veggie version of the dish.
I don't have gochujang. Is there a substitute I can use?
While gochujang offers a unique taste and spiciness, if you're in a pinch, you can substitute it with a combination of red chili paste and a touch of honey or sugar for sweetness. However, remember the flavor might slightly differ from the authentic Korean taste.
Dive into our authentic Roasted Chicken Wings Korean Recipe. Perfectly crispy, flavored wings await you! Share the love and subscribe for more.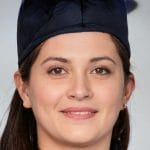 Hi! I'm Nazia of 'Nazia Cooks', a self-taught baker and cook residing in Chennai. Rooted in the rich South Indian culinary landscape, my palate has expanded to embrace global flavors. I revel in crafting fusion dishes, melding traditions to birth unique tastes.
Affiliate DisclaimerAbout The Content
As an affiliate, we may earn a commission from qualifying purchases. We get commissions for purchases made through links on this website from Amazon and other third parties.