Welcome to a culinary journey that combines bold flavors and heartwarming comfort: the Spicy Cod Stew. Join me in unraveling the secrets of this authentic Korean recipe that marries succulent cod fish, vibrant veggies, and fiery red pepper flakes. Whether you're a seasoned chef or new to the kitchen, this guide will lead you to a bowl of pure delight. Let's dive in and uncover the magic of this unforgettable dish together.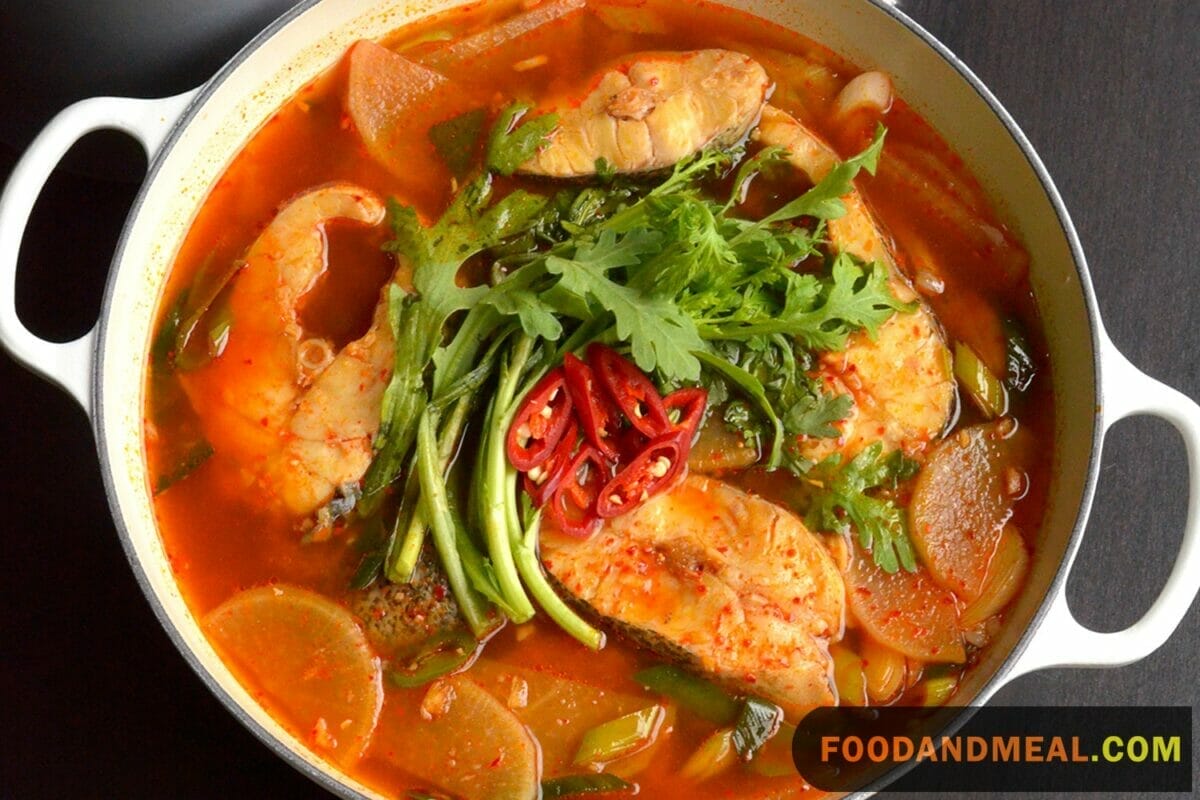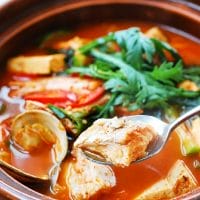 SPICY COD STEW
Discover the secrets to creating a mouthwatering Spicy Cod Stew that balances the richness of cod fish with the perfect amount of heat. Explore cooking tips, serving suggestions, and FAQs to enhance your culinary journey.
Print
Add to Collection
Go to Collections
Ingredients
1

whole cod, filleted and the head separated

8

ounces

Korean white radish or daikon, peeled and cut into 1-inch pieces

2

garlic cloves, chopped

1

red Korean chile (or Spanish), halved and seeded

1

green Korean chile, halved and seeded

1/2

sweet onion, sliced into strips

1

tablespoon

gochugaru

3

tablespoons

gochujang or gluten-free gochujang

1

tablespoon

soy sauce or gluten-free soy sauce

2

scallions, cut into 1-inch pieces

1⁄2 (12- or 14-ounce)

block firm tofu, cut into large cubes

4

ounces

edible chrysanthemum leaves

1/2

zucchini, halved lengthwise and sliced
Instructions
Cut the cod into several pieces.

In a medium pot over medium-high heat, bring 31⁄2 cups water and the fish head to a boil. Reduce the heat to medium and add the radish, garlic, red chile, green chile, onion, gochugaru, gochujang, and soy sauce. Cook for 5 to 6 minutes. Don't stir too much while the stew is cooking to keep the broth clear.

Season the broth with salt and pepper.

Remove the fish head and discard. Add the fish pieces to the broth and simmer until the fish is tender, 3 to 4 minutes.

Add the scallions, tofu, chrysanthemum leaves, and zucchini and simmer for 2 to 3 minutes more. Do not stir anymore after this point. Season with salt and pepper.
Notes
INGREDIENT TIP: For vegetable variations, you can include soybean sprouts, pumpkin, mushrooms, scallions, watercress, or Korean parsley (minari or water dropwort). Some cooks and restaurants also add clams, oysters, or other shellfish. Radish, zucchini, and chiles are the essentials for me if I'm making this at home.
SUBSTITION TIP: If you can't find chrysanthemum leaves, you can substitute watercress or even spinach.
Share by Email
Share on Facebook
Share on Twitter
Nutrition
Calories:
6
kcal
|
Carbohydrates:
1
g
|
Protein:
0.3
g
|
Fat:
0.3
g
|
Saturated Fat:
0.1
g
|
Polyunsaturated Fat:
0.2
g
|
Monounsaturated Fat:
0.1
g
|
Sodium:
33
mg
|
Potassium:
39
mg
|
Fiber:
1
g
|
Sugar:
0.1
g
|
Vitamin A:
593
IU
|
Vitamin C:
0.01
mg
|
Calcium:
7
mg
|
Iron:
0.3
mg
© Food And Meal
This website provides approximate nutrition information for convenience and as a courtesy only. Nutrition data is gathered primarily from the Spoonacular Database, whenever available, or otherwise other online calculators.
Cooking tips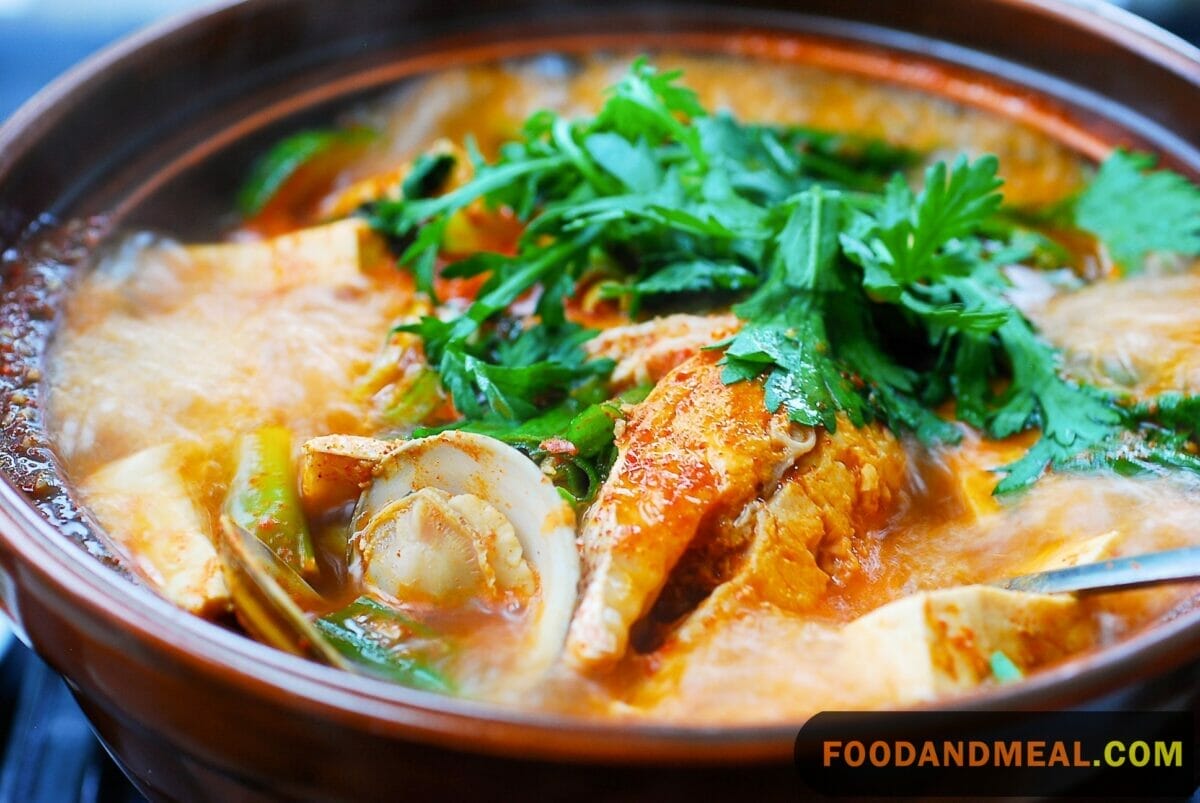 Fresh is Best: Opt for high-quality, fresh cod fish to elevate the taste and texture of your stew.
Even Spiciness: Adjust the amount of red pepper flakes to suit your spice preference. Start with a smaller quantity and gradually add more if needed.
Proper Simmering: Allow the stew to simmer gently. Rapid boiling can break apart the delicate fish and vegetables.
Layered Flavors: Sauté your aromatics like garlic and onions to build a flavorful base before adding the other ingredients.
Balancing Saltiness: Soy sauce and fish sauce contribute saltiness. Taste as you go and adjust accordingly to avoid over-salting.
Garnish Gracefully: Fresh cilantro, green onions, or sesame seeds make fantastic garnishes, enhancing both taste and presentation.
Storage Savvy: If you have leftovers, store them in an airtight container in the fridge. Reheat gently to maintain the integrity of the dish.
Customize Veggies: Feel free to add or substitute vegetables based on your preference and seasonal availability.
Serving suggestions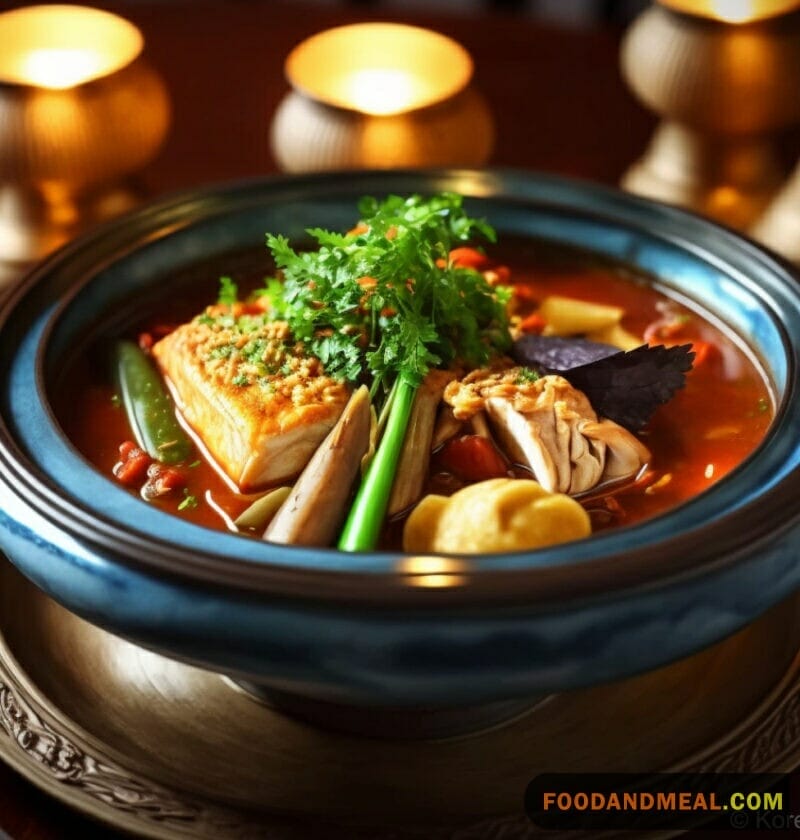 Classic Pairing: Accompany your stew with a bowl of steamed white rice. The fluffy rice complements the spicy and savory flavors of the stew.
Banchan Variety: Include a spread of traditional Korean side dishes, known as banchan. Kimchi, pickled radishes, and spinach namul are fantastic choices.
Crunchy Contrast: Balance the warmth of the stew with a refreshing cucumber salad. Thinly slice cucumbers and toss them with a light sesame dressing.
Savory Pancakes: Korean seafood or vegetable pancakes, known as "jeon," make a delightful addition. They offer a crispy texture and an extra layer of taste.
Dipping Delight: Provide a small dish of gochujang dipping sauce on the side. This sweet and spicy sauce adds an extra kick and depth of flavor.
Steamed Greens: Steam some hearty greens like bok choy or spinach as a nutritious side. Drizzle with a bit of sesame oil for extra richness.
Korean Noodles: If you're looking to make it a heartier meal, consider serving the stew with chewy Korean glass noodles, also known as dangmyeon.
FAQs: Spicy Cod Stew Korean Recipe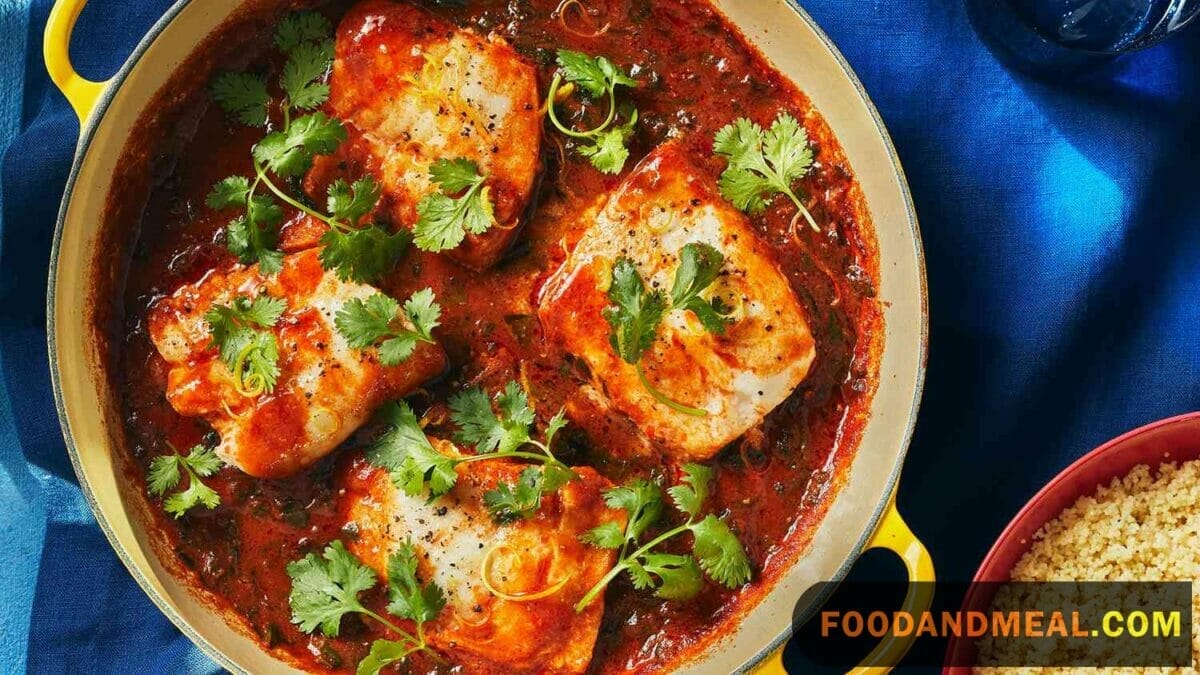 Can I adjust the spice level? Absolutely! The spice level can be adjusted by increasing or decreasing the amount of gochugaru (Korean red pepper flakes) you use. Start with a smaller amount if you're sensitive to heat and gradually add more to achieve your desired spiciness.
Can I use other types of fish? Yes, you can adapt this recipe to your taste. While cod is a popular choice for its firm texture and mild flavor, you can substitute it with other white fish like haddock, pollock, or halibut.
Can I make this stew vegetarian? Certainly! To make a vegetarian version, omit the fish and replace it with tofu or mushrooms. Use vegetable broth and adjust the seasoning to your preference.
Can I freeze leftover stew? While it's possible to freeze leftover stew, the texture of fish can change after freezing. If you plan to freeze it, remove the fish before freezing and add it back when reheating. Keep in mind that the broth might thicken upon freezing.
What's the best way to reheat the stew? To reheat the stew, gently warm it on the stovetop over medium heat. Be cautious not to overheat, as the fish can become tough. If the stew thickens upon reheating, you can add a splash of water or broth to adjust the consistency.
Can I adjust the vegetables used? Absolutely! Feel free to experiment with different vegetables. Carrots, zucchini, and mushrooms are excellent options. Just ensure to adjust the cooking time based on the vegetables you choose.
Savor the rich symphony of tastes in our Spicy Cod Stew. Elevate your cooking game with this Korean delight, perfect for all occasions. Join us on a culinary adventure by subscribing today.